Detection & Warning Signs of Imminent Sinkhole Collapse - Visual & Other Clues Indicating the Risk of Developing Sinkholes

SINKHOLE DETECTION, WARNING SIGNS - CONTENTS: What are the methods for detection of active or previously-active sinkholes?How do we inspect a property for signs of sink holes, subsidences, collapses? Types of sink holes, signs of sink holes. Causes of sinkholes. Sink hole damage and risks. When to hire a geotechnical engineer for sinkhole or soil testing
POST a QUESTION or READ FAQs about sinkholes: what causes sinkholes, what are sinkhole warning signs, and what visual clues can indicate that sinkholes have occurred or are a risk at a property
InspectAPedia tolerates no conflicts of interest. We have no relationship with advertisers, products, or services discussed at this website.
Sinkhole & subsidence warning signs:
This article describes the visual signs that a sinkhole is likely or is already developing in an area: sinkhole warning signs.
We also discuss what sinkholes are and why they occur, describes their effects on buildings, and gives building and site inspection advice useful in identifying areas where there is an increased risk of sink holes at properties.
Green links show where you are. © Copyright 2015 InspectApedia.com, All Rights Reserved.
Guide to Detecting & Diagnosing Sinkholes and Sudden Soil Subsidence or Yard Collapse at Properties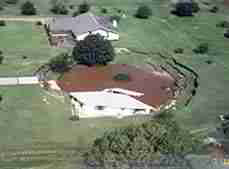 - Daniel Friedman - Florida Suncoast ASHI Educational Seminar - 1 May 2004, updated 2007, 2008, 2014
Portions of this text are extracted, quoted, or paraphrased from references provided; a key resource author was Sarah Cervone at Reference-1.
The bare minimum that a property owner needs to know about sinkholes or any other sudden subsidence of soils at a property is that these conditions might be very dangerous. Someone falling into a sink hole or into a collapsing septic tank could be seriously injured or even die.
If a suspicious hole, subsidence, or depression appears at a property the owner should rope off and prevent access to the area to prevent anyone from falling into the opening, and then should seek prompt assistance from a qualified expert, geotechnical engineer, septic contractor, excavator, or the like.
See "Developing your X-Ray Vision - A Promotion Theory for Forensic Observation of Residential Construction - Levels of Fear, and how to use them to find and report significant, hidden problems, http://InspectAPedia.com/structure/x-ray.htm
Also see The Nature of Vision - Inspecting Complex Systems - When and Why Inspectors "See" or "Don't See" Things Which are Present - InspectApedia.com/vision/vision.htm. Comments and content suggestions are invited.
How big are sinkholes?
Most sinkholes are 10 to 12 feet in diameter.
A discussion of foundation repair methods such as driven piers, helical piers, or other structural repair methods may seem in order, but if a sink hole is big enough to swallow a home, the first order of business for areas where those problem soils are found (California sinkholes, Florida sinkholes, Pennsylvania sinkholes over mines, Texas sinkholes, often over salt domes and possibly affected by wastewater disposal back into the ground during oil drilling, others) is to recognize the signs that sinkholes have plagued a neighborhood and/or that a sinkhole is possible, probable, or an imminent risk.
Synonyms and similar terms for sink holes include: shake hole, swallow hole, swallet, doline, cenote, moulin, and glacier mill.
Significant to property inspectors, the first signs that a sinkhole was developing in Dasietta Texas was the opening up of cracks in the ground and in the roadway on the morning of the collapse. Because a sinkhole can develop suddenly and expand rapidly, the sudden appearance of cracks in the earth should be taken as a serious safety hazard at any location, more so in an area where sinkholes are known to occur.
What about cases where a sinkhole collapse may be ongoing or imminent? Recognizing indicators of potential sinkholes can reduce but not eliminate this risk. This limitation should be stated clearly by any home inspector in an area where sinkholes are known to occur or wherever one is suspected.
If a sinkhole is already visible near an inspected property or if signs of a sinkhole are observed this information should be cited by the inspector as a potential safety concern and significant expense requiring immediate professional action.
Is it a sinkhole or some other kind of soil collapse? Does a soil collapse threaten nearby buildings? Is a soil collapse dangerous?
Examples of other possible buried components that can lead to sudden or gradual soil subsidence, apparent sink holes, and collapses are given below. These, too, can be very dangerous, as we describe in the case of collapsing cesspools or even buried trees and stumps. But their probable impact on nearby structures may be less than from a classic sinkhole provided the collapse is not already close - within 50 feet - of a building.
Be careful: excavation or soil subsidence near a building can lead to a dangerous foundation collapse. Here are some other collapsing ground hazards:
Collapsing cesspools - very dangerous - see CESSPOOL SAFETY WARNINGS
Dug wells with unsafe covers - very dangerous
Collapses and soil subsidence over buried trees and stumps - potentially very dangerous, especially to children and pets
Yard collapses over abandoned drywells, cesspools, septic tanks - very dangerous -
See SEPTIC & CESSPOOL SAFETY.
Buried swimming pools, vehicles, even old garbage dumps that were later built-over (such as in Hyde Park, New York)
Abandoned, buried building foundations not completely demolished and filled-in
Cracks, gaps, ravines opened by earthquakes
Risk of mudslides and collapsed homes in steep slope un-stable areas such as some areas in California
Note on cesspool collapse hazard - question about sudden back yard cave in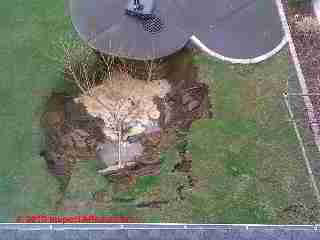 Earlier this evening, after a day of rainfall, our backyard caved in. Currently there is a hole in the ground about 12x10ft and 6-7 feet in depth.

After the initial collapse, there was some growth in the diameter but that appears to have stabilized. The closest edge is about 6-7 feet away from the actual house.

[Photo at left shows the New York "sinkhole".]

See Sinkholes in New York for details of this case and our advice on what to do about this sudden yard collapse in New York.
Watch Out: Immediately rope off the area of any soil subsidence or suspected old septic tank or cesspool area, and mark it plainly as unsafe so that a wandering neighbor, adult or child, does not go near nor fall into this hole. It could be quite dangerous.
See CESSPOOL SAFETY WARNINGS for examples of potentially fatal cesspool collapse hazards.
Real Sinkhole Detection and Warning Signs
Visual Indicators of Extra Risk of Sinkhole Formation
Although a sinkhole can form without warning, specific signs can signal potential development: [7]
Site and Neighborhood Observations - ordered from general-area to site-specific to property-specific
Indications on maps of the locations of likely sinkholes.[8]
Areas known to be of thin supporting layers of sand and clay soil (look at any local excavation projects) (Sinkholes develop more frequently north of Tampa Bay where the limestone base is closest to the land surface and the supporting sand and clay layers are thin. [9])
Areas known to be soil over salt domes see TEXAS SUBJGIKES for an example.
An actual sinkhole is present on or near the subject property (duh!)
Slumping or falling fenceposts, trees, foundations on or near the property
Previously-buried fenceposts, foundations, trees, become exposed [because of sinking ground]
Small rills, gullies, or bare soil areas develop [soil particles being carried away to sinkhole]
Cracked earth, a circular pattern of ground cracks outlining the sinking area. Sudden earth cracking should be taken as a very serious sinkhole or earth collapse risk. See Texas Sinkholesfor an example.
Undercut stream banks and fallen trees along a drainage way
Sudden formation of small ponds [of rainfall forming where water has not collected before]
Wilting vegetation [small circular areas, because moisture that normally supports the vegetation is draining into a developing sinkhole - wilting is not always a sinkhole indicator]
Circular or oval depressions in cultivated fields that may or may not pond standing water after rain events
Areas of cultivated fields which are not being plowed
Areas of oil drilling or underground mining which remove large volumes of liquids or solids from the earth
Areas of oil drilling where wastewater produced by drilling is pumped back into the ground may cause dissolution of salt domes and lead to local sinkhole collapses see TEXAS SINKHOLES for a possible example.
Gradual, localized ground settlement [does not always indicate a sinkhole]
Sudden ground openings
Sudden ground settlement
Interrupted electrical or plumbing service to a building or neighborhood due to undermined, settled buried mechanical lines.
Broken water mains or sewer mains can lead to street, sidewalk, and property sinkholes and sudden, very dangerous subsidences
Visual Indicators of Extra Risk of Sinkhole Formation (continued)
Building and Water Supply Observations
Silt buildup, fresh mud deposits, muddy water [in wells? in a pond or stream?] Muddy or cloudy well water from nearby wells can indicate an early stage of sinkhole development.
Structural cracks in walls, floors

[10]

Doors or windows that don't close properly [traced to building foundation movement]
Records of sewer or water main breaks
Temporal Sinkhole Triggers
Following a period of heavy or prolonged rain (washing-in supporting soils)
Following a period of drought (lowering the water tables, leaving cavities)
Following a period of housing development (adding pressure on supporting soils)
Over pumping existing water supply wells, or drilling of additional wells in an area (lowering the aquifer)
Diverting surface water from a large area and concentrating it in a single point
Artificially creating ponds of surface water
Engineering Methods for Detecting Sinkholes
Soil borings or other direct testing - Borings can be reduced by reconnaissance scannings using the following methods:
Electromagnetics (EM) and DC Resistivity: detect variations in subsurface electrical properties related to anomalously thick or wet soils (electrical conductivity highs similar to our use of moisture meters in homes), or voids in the electrically conductive clay soil mantle (electrical conductivity lows)
Spontaneous Potential (SP): detects naturally-occurring minute electrical currents or potentials commonly associated with concentrated vertical water infiltration (Streaming potentials)
Micro-gravity: detects minute variation in gravity (subsurface voids create missing mass and lower gravity)
Seismic Refraction: profiles the top-of-rock which may display conical depressions of a type associated with subsidence sinks or deep gouges or cutters which represent sinkhole-prone lineaments.
Ground-penetrating radar [12]
What to do if a Sinkhole is observed or suspected at a property during a home inspection
This constitutes an immediate potential safety concern. ASHI Standards require you make appropriate notifications.
Notify all parties: occupants, owners, real estate agents, buyers
Notify the local Water Management District
Fence or rope the hole off or arrange for this action to be taken immediately
Keep children away!
Protect the area from garbage and waste
The property owner should be advised to contact their homeowners insurance company
You may inform the parties that there are engineering firms specializing in detection and evaluation of potential or evident sinkholes
Record in your report the notifications and actions you took
Sinkhole Warning - How Much Time Do You Have ?
A rapid sinkhole caused by well drilling or other sudden alterations to the terrain may not give any warning signs. Otherwise, the collapse process usually occurs gradually enough that a person may leave the affected area safely.
The final breakthrough leading to a sudden sink hole collapse can develop over a period of a few minutes to a few hours. [13] or select a topic from the More Reading links shown below.
Continue reading at SINKHOLES - IMMEDIATE SAFETY ACTIONS or select a topic from the More Reading links shown below.
Or see SINKHOLES & SUBSIDENCES - home
Suggested citation for this web page
SINKHOLE DETECTION, WARNING SIGNS at InspectApedia.com - online encyclopedia of building & environmental inspection, testing, diagnosis, repair, & problem prevention advice.
More Reading
Green link shows where you are in this article series.
...
Frequently Asked Questions (FAQs)
Question: insurane company won't cover sinkhole damages
(Aug 20, 2011) Jackie Venable said:
What resources does a homeowner have when insurance company will not inspect the property and refused to cover any damages?
Reply:
Jackie, you may need to consult an independent insurance adjuster who will function as your advocate. S/he will in turn charge a fee, hire experts to evaluate the problem and basis for your claim, will negotiate with the insurance company in your behalf, and generally annoy them.
Question: sinkhole below brick sidewalk?
(Mar 13, 2013) Anonymous said
A brick just fell though and there ia sand about six inches below. It ia a sidewalk. What do u think
Reply:
Anon,
I think you should rope off the area and ask the city to take a look - could be a water main or other thing undermining the walk - you haven't said where you area or if it's a sinkhole prone area.
Question: cracks across a street need inspection
(Jan 28, 2014) Anonymous said:
My street has 30 cracks from one curb to the neighbors across the street. How do I get someone out to inspect them?
Nickie
Reply:
Call your city building department
Question: my yard appears to be sinking, what do I do?
(Feb 18, 2014) Anonymous said:
I am starting to see areas in my back yard that appear to be sinking. I have been watching them for a few months and they appear to be getting larger. What should I do?
(Mar 7, 2014) lee said:
there is a crack coming in the back yard seems to be getting wide quite quickly also around the foundation of house in same area the ground is sinking near the foundation leaving a wide gap all happening quickly we don't live in a comon sink hole area
Reply:
Anon you don't say where you live - in some areas sink holes are a common and serious hazard
But just from your description it sounds as if you ought to
1. from a good distance away rope off or prevent access to the sinking area immediately
2. call your city building department and ask for an onsite inspection and advice
If you want to send us photos using the CONTACT link found at page bottom or top I may be able to comment further; do keep us posted.
Lee
There are lots of causes of sudden subsidence besides a geological formation associated with sinkholes; examples are underground water piping or sewer line leaks, buried stumps and trees, or collapse due to mining activity; for safety it would make sense to ask for help from your building department as a start, and to rope off or keep people out of the area.

Question: husband stepped into a hole yesterday that was approx. 1 ft. deep - Kentucky Sinkhole warnings
(Mar 12, 2014) Anonymous said:
My husband stepped into a hole yesterday that was approx. 1 Ft. deep. We have had smaller ones outside under our large weeping Willow tree. Our neighbor has a underground well close to our home, which is close to our Weeping Willow tree. (75 ft.). The hole he stepped in was close to an entrance to his building outback.
He had to put something over it until he can fill it in. He has filled other holes up in the past. Our house has a door that won't close right, and a crack in our ceiling over the same door, (The crack has been there for years, but is getting worse, and in the garage ceiling. Last year it was my sons bedroom door that was hard to shut, but it is okay now. Just was wondering what could be going on. Thank you. Sandy
I live in Eastern Daviess County Ky. Thanks
Reply:
Sandy, if it were just a small hole opening up in a yard I might suspect settlement around old buried debris.
But when you add that a door no longer closes and the ceiling is cracked, those suggest more serious foundation settlement - enough that it's worth having a more expert assessment. Foundation settlement can occur due to sinkholes but also due to soil compaction combined with water movement (roof spillage, surface drainage, underground water etc).
Certainly sinkholes do occur in Kentucky. Recently (3/5/2014) the Washington Post reported that a sinkhole opened beneath the Corvette Museum in Bowling Green south of Louisville.
And as has been studied by the University of Kentucky, there are karst formations in your state - a principal source of sinkhole formation.
I suggest contacting your building department to ask for some assistance. We can't say if the sinkhole risk to you is urgent or not based just on a text exchange.
I will add Kentucky karst references and information to the article above.
I add according to the U.K. experts at the Kentucky Geological Survey - U.K., www.uky.edu/KGS/gis/sinkpick.htm no sinkholes have been mapped in Daviess - your county in Kentucky.
So if investigation confirms that you and your neighbor are seeing actual sinkholes that could be important
Question: sinkhole risks to adjacent properties
(July 27, 2014) JoAnne Hahn said:
If there is a repaired sinkhole in an adjacent property is my house at greater risk?
Reply:
Joanne
We can't assess that sinkhole risk by text. You need an onsite spent. On one hand we now know your house is in an immediate sinkhole area. On the other we can't guess how unspecified work at a neighbor might reduce or increase your risk.
The risk to your house depends on the type of sinkhole and the general sinkhole risk in your area too.
Question: pulling slate out of the ground exposed a tiny hole
(Aug 22, 2014) kim said:
I pulled a few pieces of slate out of the ground in my driveway, I noticed a quarter sized hole. It was weird, so I took the hose to see if it would fill up, but it didn't.
Water just kept running into the hole, and then I touched the rocks around the edges of the hole and they were just falling away. So I stopped.
I don't know if this is serious, but it was definitely starange, The hole was only about 10to 12 inches around, but the hole wouldn't fill up after a few mins. of putting water in it? What is that about?
The quarter sized hole was inside of the 10-12 inch hole where I pulled out the piece of slate.
Kim
Reply:
Kim I can't know what you are seeing, but it MIGHT be an old cover over an old septic tank or drywall and so is indeed qyuite possibly very dangerous.
Or it might be a rodent hole - not dangerous unless you get bitten.
You want to rope off the area and keep people away until an excavator or other expert has figured out what's there. Nobody but a mouse is going to fall into a quarter-sized opening, but if there is a larger hidden problem you don't want someone falling into the opening.
Ask a Question or Search InspectApedia
Questions & answers or comments about sinkholes: what causes sinkholes, what are sinkhole warning signs, and what visual clues can indicate that sinkholes have occurred or are a risk at a property
Use the "Click to Show or Hide FAQs" link just above to see recently-posted questions, comments, replies, try the search box just below, or if you prefer, post a question or comment in the Comments box below and we will respond promptly.
Search the InspectApedia website
Technical Reviewers & References
Publisher's Google+ Page by Daniel Friedman
Click to Show or Hide Citations & References
"A Hole in the Ground Erupts, to Estonia's Delight", New York Times, 9 December 2008 p. 10.
History of water usage in Estonia: (5.7 MB PDF) jaagupi.parnu.ee/freshwater/doc/the_history_of_water_usage_systems_in_estonia.pdf
Thanks to reader Y.Z., Whitestone, NY for discussing a back yard collapse 4/1/2010
"A Hole in the Ground Erupts, to Estonia's Delight", New York Times, 9 December 2008 p. 10.
History of water usage in Estonia: (5.7 MB PDF) jaagupi.parnu.ee/freshwater/doc/the_history_of_water_usage_systems_in_estonia.pdf
"Quebec Family Dies as Home Vanishes Into Crater, in Reminder of Hidden Menace", Ian Austen, New York Times, 13 May 2010 p. A8. See http://www.nytimes.com/
"Quick Clay", Wikipedia search 5/13/2010 - http://en.wikipedia.org/wiki/Quick_clay
Florida DEP - Department of Environmental Protection, & Florida Geological survey (http://www.dep.state.fl.us/geology/default.htm) on Florida sinkholes: Effects of Sinkholes on Water Conditions Hernando County, Florida, Brett Buff, GIS in Water Resources, 2008, Dr. David R. Maidment, Photos - Tom Scott, Florida Geographic Survey - Web Search 06/09/2010 - http://www.dep.state.fl.us/geology/geologictopics/jacksonsink.htm
and - http://www.dep.state.fl.us/geology/geologictopics/sinkhole.htm
also see
Lane, Ed, 1986, Karst in Florida: Florida Geological Survey Special Publication 29, 100 p.

Foundation Engineering Problems and Hazards in Karst Terranes, James P. Reger, Maryland Geological Survey, web search 06/05/2010, original source: http://www.mgs.md.gov/esic/fs/fs11.html
Maryland Geological Survey, 2300 St. Paul Street, Baltimore, MD 21218
"Frost Heaving Forces in Leda Clay", Penner, E., Division of Building Research, National Research Council of Canada, Canadian Geotechnical Journal, NRC Research Press, 1970-2, Vol 7, No 1, PP 8-16, National Research Council of Canada, Accession number 1970-023601, Quoting from original source

The frost heaving forces developed under a 1 ft. (30.5 cm) diameter steel plate were measured in the field throughout one winter. The steel plate was fixed at the ground surface with a rock-anchored reaction frame. heave gauges and thermocouples were installed at various depths to determine the position and temperature of the active heaving zone. The general trend was for the surface force to increase as the winter progressed. when the frost line approached the maximum depth the force was in excess of 30,000 lb (13,608 KG). Estimates of the heaving pressure at the frost line ranged from 7 to 12 psi (0.49 to 0.84 KG/cm) square during this period. The variation of surface heaving force was closely associated with weather conditions. Warming trends resulting in a temperature increase of the frozen layer caused the forces to decline.

"Geoscape Ottowa-Gatineau Landslides", Canada Department of Natural Resources, original source http://geoscape.nrcan.gc.ca/ottawa/landslides_e.php - quoting from that source:

Leda clay slopes in the Ottawa valley are vulnerable to catastrophic landslides. More than 250 landslides, historical and ancient, large and small, have been identified within 60 km of Ottawa. Some of these landslides caused deaths, injuries, and property damage, and their impact extended far beyond the site of the original failure. In spectacular flowslides, the sediment underlying large areas of flat land adjacent to unstable slopes liquefies. The debris may flow up to several kilometres, damming rivers and causing flooding, siltation, and water-quality problems or damaging infrastructure. Geologists and geotechnical engineers can identify potential landslide areas, and appropriate land-use zoning and protective engineering works can reduce the risk to property and people.

Deposits of Leda clay, a potentially unstable material, underlie extensive areas of the Ottawa-Gatineau region. Leda clay is composed of clay- and silt-sized particles of bedrock that were finely ground by glaciers and washed into the Champlain Sea. As the particles settled through the salty water, they were attracted to one another and formed loose clusters that fell to the seafloor. The resulting sediment had a loose but strong framework that was capable of retaining a large amount of water. Following the retreat of the sea, the salts that originally contributed to the bonding of the particles were slowly removed (leached) by fresh water filtering through the ground. If sufficiently disturbed, the leached Leda clay, a weak but water-rich sediment, may liquefy and become a 'quick clay'. Trigger disturbances include river erosion, increases in pore-water pressure (especially during periods of high rainfall or rapid snowmelt), earthquakes, and human activities such as excavation and construction.

After an initial failure removes the stiffer, weathered crust, the sensitive clay liquefies and collapses, flowing away from the scar. Failures continue in a domino-like fashion, rapidly eating back into the flat land lying behind the failed slope. The flowing mud may raft intact pieces of the stiffer surface material for great distances.

Kochanov, W. E., 1999, Sinkholes in Pennsylvania: Pennsylvania
Geological Survey, 4th ser., Educational Series 11, 33 p., 3rd printing April 2005, Pennsylvania Department of Conservation and Natural Resources / Bureau of Topographic and Geologic Survey, DCNR Educational Series 11, Pennsylvania Geological Survey, Fourth Series, Harrisburg,
1999 - web search 06/05/2010, original source: http://www.dcnr.state.pa.us/topogeo/hazards/es11.pdf - Quoting from the document introduction:
The first 18 pages of this booklet contain an explanation of how sinkholes develop. In order to tell the sinkhole story, it is important to discuss a number of related geologic disciplines. The words used to describe sinkholes and these disciplines may be a bit unfamiliar. However, general explanations are given throughout the booklet to help clarify their meanings. Key words are printed in bold type for emphasis. The more important ones are defined in a Glossary that begins on page 29. The remaining sections, starting with "Sinkholes in the Urban Environment" (page 18), deal with sinkholes and their impact on our environment. This includes recognition of subsidence features and sinkhole repair.
Thanks to reader Y.Z., Whitestone, NY for discussing a back yard collapse 4/1/2010
[1] Sarah Cervone, [web page] data from the APIRS database, Graphics by Ann Murray, Sara Reinhart and Vic Ramey, Vic Ramey is the editor. DEP review by Jeff Schardt and Judy Ludlow. The web page is a collaboration of the Center for Aquatic and Invasive Plants, University of Florida, and the Bureau of Invasive Plant Management, Florida Department of Environmental Protection contact: varamey@nersp.nerdc.ufl.edu [A primary resource for this article
[2] Center for Cave and Karst Studies or the Kentucky Climate Center, both at Western Kentucky University
Vanity Fair - web search 06/04/2010 http://www.vanityfair.com/online/daily/2010/06/what-caused-the-guatemala-sinkhole-and-why-is-it-so-round.html
Sinkholes, [on file as /vision/Sinkholes_Virginia_DME.pdf ] - , Virginia Division of Mineral Resources,
Virginia Department of Mines, Minerals and Energy, www.dmme.virginia.gov Virginia Department of Mines, Minerals and Energy Division of Mineral Resources 900 Natural Resources Drive, Suite 500 Charlottesville, VA 22903 Sales Office: (434) 951-6341 FAX : (434) 951-6365 Geologic Information: (434) 951-6342 http://www.dmme.virginia.gov/ divisionmineralresources.shtml - Web search 06/09/2010
Wikipedia - web search 06/04/2010 - http://en.wikipedia.org/wiki/Guatemala_City
Sink Hole & Related Engineering References
Newton, J. G., 1987, Development of sinkholes resulting from man's activities in the eastern United States: US Geological Survey Circular 968, 54 p.
Sinclair, W. C., 1982, Sinkhole development resulting from ground-water withdrawal in the Tampa Area, Florida: U.S. Geological Survey Water-Resources Investigations 81-50, 19 p.
White, W. B., 1988, Geomorphology and Hydrology of Karst Terrains: Oxford University Press, New York, 464 p.
Williams, J. H. and Vineyard, J. D., 1976, Geologic indicators of subsidence and collapse in karst terrain in Missouri: Presentation at the 55th Annual Meeting, Transportation Research Board, Washington, D.C.
Barry F. Beck, A. J. (1999). Hydrogeology and Engineering Geology of Sinkholes and Karst. Rotterdam, Netherlands: A. A. Balkema.
Beck, B. F. (2003). Sinkholes and the Engineering and Environmental Impacts of Karst. Huntsville, Alabama: The American Society of Civil Engineers.
Beck, B. F. (2005). Sinkholes and the Engineering and Envrionmental Impacts of Karst. San Antonio, Texas: The American Society of Civil Engineers.
Tony Waltham, F. B. (2005). Sinkholes and Subsidence, Karst and Cavernous Rocks in Engineering and Construction. Chichester, United Kingdom: Praxis Publishing.
Whitman D., G. T. (1999). Spatial Interrelationships Between Lake Elevations, Water Tables, and Sinkhole Occurence in Central Florida: A GIS Approach. Photogrammetric Engineering and Remote Sensing , 1169-1178.
Cited References from this article:
#3. Detecting Sinkholes with Geophysics, Enviroscan, Inc., Lancaster PA 717-396-8922 email@enviroscan.com www.enviroscan.com 2003
Books & Articles on Building & Environmental Inspection, Testing, Diagnosis, & Repair
The Home Reference Book - the Encyclopedia of Homes, Carson Dunlop & Associates, Toronto, Ontario, 25th Ed., 2012, is a bound volume of more than 450 illustrated pages that assist home inspectors and home owners in the inspection and detection of problems on buildings. The text is intended as a reference guide to help building owners operate and maintain their home effectively. Field inspection worksheets are included at the back of the volume. Special Offer: For a 10% discount on any number of copies of the Home Reference Book purchased as a single order. Enter INSPECTAHRB in the order payment page "Promo/Redemption" space. InspectAPedia.com editor Daniel Friedman is a contributing author.

Or choose the The Home Reference eBook for PCs, Macs, Kindle, iPad, iPhone, or Android Smart Phones. Special Offer: For a 5% discount on any number of copies of the Home Reference eBook purchased as a single order. Enter INSPECTAEHRB in the order payment page "Promo/Redemption" space.
Best Practices Guide to Residential Construction, by Steven Bliss. John Wiley & Sons, 2006. ISBN-10: 0471648361, ISBN-13: 978-0471648369, Hardcover: 320 pages, available from Amazon.com and also Wiley.com. See our book review of this publication.
Decks and Porches, the JLC Guide to, Best Practices for Outdoor Spaces, Steve Bliss (Editor), The Journal of Light Construction, Williston VT, 2010 ISBN 10: 1-928580-42-4, ISBN 13: 978-1-928580-42-3, available from Amazon.com
The Journal of Light Construction has generously given reprint permission to InspectAPedia.com for certain articles found at this website. All rights and contents to those materials are ©Journal of Light Construction and may not be reproduced in any form.
Appliances and Home Electronics, - energy savings, U.S. Department of Energy
Avongard foundation crack progress chart for structural crack monitoring
Basement Moisture Control, U.S. Department of Energy
Building Pathology, Deterioration, Diagnostics, and Intervention, Samuel Y. Harris, P.E., AIA, Esq., ISBN 0-471-33172-4, John Wiley & Sons, 2001 [General building science-DF] ISBN-10: 0471331724 ISBN-13: 978-0471331728
Building Pathology: Principles and Practice, David Watt, Wiley-Blackwell; 2 edition (March 7, 2008) ISBN-10: 1405161035 ISBN-13: 978-1405161039
The Circular Staircase, Mary Roberts Rinehart
Construction Drawings and Details, Rosemary Kilmer
Crawl Space Moisture Control, U.S. Department of Energy
Diagnosing & Repairing House Structure Problems, Edgar O. Seaquist, McGraw Hill, 1980 ISBN 0-07-056013-7 (obsolete, incomplete, missing most diagnosis steps, but very good reading; out of print but used copies are available at Amazon.com, and reprints are available from some inspection tool suppliers). Ed Seaquist was among the first speakers invited to a series of educational conferences organized by D Friedman for ASHI, the American Society of Home Inspectors, where the topic of inspecting the in-service condition of building structures was first addressed.
Design of Wood Structures - ASD, Donald E. Breyer, Kenneth Fridley, Kelly Cob een, David Pollock, McGraw Hill, 2003, ISBN-10: 0071379320, ISBN-13: 978-0071379328
This book is an update of a long-established text dating from at least 1988 (DJF); Quoting:
This book is gives a good grasp of seismic design for wood structures. Many of the examples especially near the end are good practice for the Californa PE Special Seismic Exam design questions. It gives a good grasp of how seismic forces move through a building and how to calculate those forces at various locations. THE CLASSIC TEXT ON WOOD DESIGN UPDATED TO INCLUDE THE LATEST CODES AND DATA. Reflects the most recent provisions of the 2003 International Building Code and 2001 National Design Specification for Wood Construction. Continuing the sterling standard set by earlier editions, this indispensable reference clearly explains the best wood design techniques for the safe handling of gravity and lateral loads. Carefully revised and updated to include the new 2003 International Building Code, ASCE 7-02 Minimum Design Loads for Buildings and Other Structures, the 2001 National Design Specification for Wood Construction, and the most recent Allowable Stress Design.
Building Failures, Diagnosis & Avoidance, 2d Ed., W.H. Ransom, E.& F. Spon, New York, 1987 ISBN 0-419-14270-3
Domestic Building Surveys, Andrew R. Williams, Kindle book, Amazon.com
Defects and Deterioration in Buildings: A Practical Guide to the Science and Technology of Material Failure, Barry Richardson, Spon Press; 2d Ed (2001), ISBN-10: 041925210X, ISBN-13: 978-0419252108. Quoting:
A professional reference designed to assist surveyors, engineers, architects and contractors in diagnosing existing problems and avoiding them in new buildings. Fully revised and updated, this edition, in new clearer format, covers developments in building defects, and problems such as sick building syndrome. Well liked for its mixture of theory and practice the new edition will complement Hinks and Cook's student textbook on defects at the practitioner level.
Guide to Domestic Building Surveys, Jack Bower, Butterworth Architecture, London, 1988, ISBN 0-408-50000 X
"Avoiding Foundation Failures," Robert Marshall, Journal of Light Construction, July, 1996 (Highly recommend this article-DF)
"A Foundation for Unstable Soils," Harris Hyman, P.E., Journal of Light Construction, May 1995
"Backfilling Basics," Buck Bartley, Journal of Light Construction, October 1994
"Inspecting Block Foundations," Donald V. Cohen, P.E., ASHI Reporter, December 1998. This article in turn cites the Fine Homebuilding article noted below.
"When Block Foundations go Bad," Fine Homebuilding, June/July 1998
Straw Bale Home Design, U.S. Department of Energy provides information on strawbale home construction - original source at http://www.energysavers.gov/your_home/designing_remodeling/index.cfm/mytopic=10350
More Straw Bale Building: A Complete Guide to Designing and Building with Straw (Mother Earth News Wiser Living Series), Chris Magwood, Peter Mack, New Society Publishers (February 1, 2005), ISBN-10: 0865715181 ISBN-13: 978-0865715189 - Quoting:
Straw bale houses are easy to build, affordable, super energy efficient, environmentally friendly, attractive, and can be designed to match the builder's personal space needs, esthetics and budget. Despite mushrooming interest in the technique, however, most straw bale books focus on "selling" the dream of straw bale building, but don't adequately address the most critical issues faced by bale house builders. Moreover, since many developments in this field are recent, few books are completely up to date with the latest techniques.
More Straw Bale Building is designed to fill this gap. A completely rewritten edition of the 20,000-copy best--selling original, it leads the potential builder through the entire process of building a bale structure, tackling all the practical issues: finding and choosing bales; developing sound building plans; roofing; electrical, plumbing, and heating systems; building code compliance; and special concerns for builders in northern climates.
...