Balanced Building Ventilation
POST a QUESTION or READ FAQs about balanced air ventilation systems for buildings and how to design indoor air ventilation systems to cut heating & cooling costs
InspectAPedia tolerates no conflicts of interest. We have no relationship with advertisers, products, or services discussed at this website.
Balanced building air ventilation systems & heating or cooling cost savings:
Here we explain how to calculate the heating cost savings from using HRVs and ERVs to replace a Ventilation-Only system with balanced fresh air ventilation systems, heat recovery ventilators, and energy recovery ventilators to improve indoor air quality in homes.
We also provide a MASTER INDEX to this topic, or you can try the page top or bottom SEARCH BOX as a quick way to find information you need.
How to Estimate Heat Cost Savings from Installing an Energy Recovery Ventilator (ERV) or Heat Recovery Ventilation (HRV) System
Page top sketch of HRV or ERV ventilation design is from Best Practices Guide to Residential Construction, by Steven Bliss, courtesy of Wiley & Sons.
See VENTILATION, WHOLE HOUSE STRATEGIES for our article series on indoor ventilation for buildings.
Question: Is there a formula to figure (close guesstimate) the heat loss that can be given a dollar figure
I just started managing a 15 story building of about 810,000 Cubic ft of heated space There are 3 exhaust fans on the roof with a total of 6450 CFM of heated air being pulled out of the building 24 hours a day.
That's 9,288,000 cubic feet of ventilation a day, That equals 11.46 times the total cubic feet of the whole building a day.
My question is, is there a formula to figure (Close guesstimate) the heat loss that can be given a dollar figure. I am trying to convince the heat vac guys to install timers to cut the run time down by half and I would like to put a figure to that amount of savings.
This building ventilation system is simply on or off; there is no monitoring system controlling it. The ventilation fans run continuously 24 hrs a day. This system was designed back around 1975 when energy cost was not a big issue.
This building is occupied by older people. average age of 75 or so. There are only 27 units in the whole building: 3 penthouses at 6000 sq.ft. and 24 units at 3000 sq. ft. each. There are 2 vacant units at present and usually at least 4 units are empty in winter due to snow birds going where it is warmer in cold weather, and because 3 penthouses serve as second homes and so are rarely occupied). .
I don't think that moisture is a problem in this building: it is located in Denver at 5000' and at almost zero humidity! The climate here sucks the moisture right out of your skin and the fans send it into the atmosphere. So we are pumping heated air in the winter and cooled air in the summer right out the door [or in this case, the roof].
I want to suggest that the ventilation fan timers be set to shut off at around 11:00 PM, turning back on at 6:00 AM, off again at 12 noon and back on from 5 PM until 11:00PM.
At about 810,000 cubic ft, even at only 12 hours of ventilation run time we are still moving about 6 times the building volume in a 24 hour period. Also I noticed we buy our fuel kind of like a commodity option so If we don't use the agreed upon amount we are penalized which raises the MMBTU by 1.0
- Regards, J.J.
Reply: Example Heat Loss and Heat Cost Savings from Using an HRV or ERV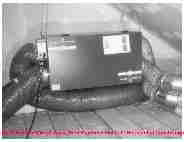 A competent onsite inspection by an expert usually finds additional clues that help accurately diagnose a problem or in this case to more accurately calculate the heating cost of the venting system you describe.
You'll want to review the various building ventilation strategies beginning at VENTILATION, WHOLE HOUSE STRATEGIES, and
Next you should compare
VENTILATION, EXHAUST ONLY with VENTILATION, BALANCED.
Those building ventilation options are discussed at this website, adapted from Best Practices Guide to Residential Construction.
HRV illustration at above left is from Best Practices Guide to Residential Construction, by Steven Bliss.
That said, here are some things to consider:
You Have Described an Exhaust-Only Ventilation System
The volume of air that is being removed from the building must be made up by incoming air from outdoors
As you have not described any air-to-air heat exchange system, the outgoing heated air is at a net energy cost to the structure. We think you're correct that the effect in heating cost can be calculated. While we cannot offer an exact formula for your building (there are surely other variables), we can give some ideas and a calculation that may help:
If you compared the present exhaust-only "total-loss"system with the addition of air-to-air heat exchangers (balanced ventilation) sized to handle the volume of air you are exhausting, the efficiency of the air-to-air system would define how much energy could be regained, measured in BTUs for example. Of course the value varies depending on the difference between indoor and outdoor temperature. You'd work in degree days or average temperature differences.
The cost of the air to air heat exchange equipment and its installation to make it work in the building would need to be subtracted from the energy savings to figure the net benefit.
Recommended Air Changes per Hour - Formulas & Calculation Examples
Watch out: the use of the building ventilation system is surely part of an indoor air quality and fresh air requirement. You will want to look at the current building air change rate (ACH) and to compare it to ASHRAE recommendations before you adjust the ventilation fan rate.
But as it sounds from your description as if your building uses an "exhaust only" air venting system, indeed it is the most expensive way to improve IAQ. See ASHRAE Standard 62.1 and the ASHRAE handbook for recommended ACH
A typical ACH figure would be 5 cubic feet per minute (CFM) per person of occupancy. You could also look directly (by measurement) at the CO2 levels in your building during its time of maximum occupancy as a measure of air freshness.
Your building contains by your estimate about 810,000 cubic feet of space. If we assume that's all occupied space, and if we use your figure of 6450 CFM of exhaust-only ventilation,
810,000 cu Ft / (6450cfm) = 125.6 CFM which would be far in excess of the ASHRAE recommendation.
Your system is venting 11.46 times the total cubic feet of the whole building a day at 6450 CFM.
ASHRAE (Standard 62.1 (CII buildings) and ASHRAE Standard 62.2 (low rise residential buildings) and the ASHRAE Handbook) recommends ventilation rates dependent upon floor area. The minimum ACH was 0.35, but no less than 15 CFM/person. As of 2003, the standards changed to 3 CFM/100 sq. ft. in addition to the 7.5 CFM/person standard.
In 1973, in response to the 1973 oil crisis and conservation concerns, ASHRAE Standards 62-73 and 62-81) reduced required ventilation from 10 CFM (4.76 L/S) per person to 5 CFM (2.37 L/S) per person. This was found to be a primary cause of sick building syndrome.
Current ASHRAE standards (Standard 62-89) states that appropriate ventilation guidelines are 20 CFM (9.2 L/s) per person in an office building, and 15 CFM (7.1 L/s) per person for schools. In commercial environments with tobacco smoke, the ventilation rate may range from 25 CFM to 125 CFM. - Wikipedia websearch 02/04/2011
Here are some looks at the ventilation rate vs. the ASHRAE standard when we plug in your data:
A. Using the 3 CFM of venting per 100 sq. ft. guideline:
20 occupied units at 3000 sq. ft. = 60,000 sq. ft. of occupied space on average. At 3 CFM of ventilation per 100 sq. ft. :
(60,000 sq. ft. /100) x 3 = 1800 CFM required ventilation rate based on occupied square feet of space
6440 actual / 1800 required = 3.5 - that is the ventilation rate is more than 3.5 times the required CFM based just on square feet of floor space. But we also need to look at the CFM per occupant guidelines and the ACH guidelines.
B. Using the 7.5 CFM of venting per occupant guideline:
Let's figure an average of 2 people per unit (empty nesters) in an average of 20 units = average occupancy of 60 people.
60 people x 7.5 CFM = 450 CFM required ventilation based on the average number of occupants
6450 CFM of ventilation in your building, according to the 7.5 CFM per person standard would support (6450 / 7.5) = 850 people!
It looks as if we have a higher CFM rate than is needed based on the number of occupants. Even using a standard of 20 CFM we'd just be at 1200 CFM total ventilation rate, considerably below 6450. But these two calculations are not the end of the suggested ventilation rate analysis.
C. Using the 0.35 Air Changes per Hour Guideline
11.46 ACH/day actual = 11.46 / 24 = 0.4775 ACH - better than the 0.35 minimum ACH recommended, but not way out of line.
0.48 - 0.35 = 0.13 ACH over the minimum.
0.13 / 0.48 = 0.27 or 27% over the minimum.
In sum, it sounds as if the building is being vented more than necessary. Based on calculation "C" above you could reduce your ventilation rate by about 25% and still meet the recommended fresh air standards. We consider calculation "C" as the limiting factor because it exceeds the recommended ventilation standards by less than the other two calculations above.
Watch out: These calculations are theoretical only. We are not qualified HVAC engineers. Before changing the building's ventilation system, an inspection and a consult a qualified HVAC engineer would be appropriate. We'd start by reviewing the data to be sure the starting numbers are correct, then repeating these calculations.
Also other variables will affect the needed ventilation rates, including building layout and uses, temperatures, pollution concentrations (probably low in your case), etc.
Why does Calculation "C" - ACH - Form the Limiting Ventilation Rate Value for This Building?
More about Building Occupancy
One more part of the equation. 9 apartments have only 1 person 8 apartments are not full time tenants as I mentioned they are gone form 50% to 90 % and the balance only have 2 people average age being the 70 something but several are in their 90s and 80s They don't cook much and laundry is minimal and bathing is probably minimal as older people are afraid of the shower/tub experience. (Not saying they are dirty just water conservative. Bottom line do yo think we could get to 50% run time and if so considering heat and air what would the approximate savings be? I appreciate the advice of getting an engineer in and doing an analysis of the building.
Can We Match ACH and Ventilation to Lower Building Occupancy?
Earlier we concluded that "C" or ACH (air changes per hour) appeared to be the measure by which your building was closest to the ASHRAE ventilation recommendations limitation.
Here are two more considerations that explain why we don't think that a 50% reduction in ventilation rate (dropping the ACH below 0.35ACH) would be a good idea:
IAQ and fresh air ventilation are even more critical for the elderly - as they may be more vulnerable to respiratory illness and air quality complaints
More technically, while you point out that some of the building areas are unoccupied, we have (so far) no data indicating that building ventilation is controlled by separate individual areas that could be shut down without affecting other areas. So you wouldn't want to reduce the fresh air or air change rate below the minimum for the whole building just because some areas are unoccupied. Doing so would simultaneously reduce the IAQ and fresh air for the occupied areas as well, dropping the occupied areas ACH below 0.35.
Only if we knew more specifics about how air moves in this specific building (for example with controls that allow ventilation to be increased or decreased within specific apartments or building areas) could we make a reliable plan to drop the ACH rate for unoccupied arts of the structure without fearing that the ACH in the occupied areas would be insufficient.
Consider Using Heat Recovery Ventilators to Reduce Heating Costs
However, pending changes in the numbers for your building, below we suggest an approach to estimating the heating cost savings that may accrue from using an HRV or simply by reducing the exhaust fan rate.
You should consider installation of HRVs (Heat Recovery Ventilation) to recover the heat from the exhausted air to return it to the building. HRVs recover only heat and are used primarily in cold climates, while Energy Recovery Ventilators ERVs also recover humidity - which you may not need. ERVs are generally lower in efficiency, that's why we point to HRVs.
Quoting from VENTILATION, BALANCED from Best Practices Guide to Residential Construction, by Steven Bliss:
Used primarily in cold climates, heat-recovery ventilators (HRVs) pass two air streams by one another within a plastic or aluminum heat exchanger, recapturing 60 to 75% of the heat from the outgoing air stream. This unit, installed in an attic, is hung from chains to reduce noise and vibrations.
Recovery of heat from the exhaust air typically ranges from 60 to 75%, if properly installed and balanced. During the summer, if air-conditioning is used, the heat transfer reverses, cooling the incoming hot air. Systems generally have exhaust ports in rooms that generate moisture or pollutants, including bathrooms, laundry, and kitchen and supply ports in bedrooms, living rooms, and other main living spaces.
We took a look at your question using advice and calculations in Air-to-Air HEAT EXCHANGERS for Healthier Energy-Efficient Homes [PDF] by Kenneth Hellevang and Carl Pederson, from North Dakota State University.
According to at least one study that published data from the Home Ventilating Institute (link below), in a heating climate an HRV can operate at a sensible heat recovery efficiency of 60 to 66 % (down to 20% in a cooling climate).
To calculate an estimate you'd need the floor area, number of square feet, a factor for the division of the interior space into individual rooms (affecting airflow), the building infiltration rate or air changes per hour or number of hours for a complete building air change, the fuel heating cost and the cost of electricity (to operate the heat recovery ventilator) and of course installation costs which for a building like yours might be quite significant. You'll also need the heating degree days figure for your area (HDD).
The Heat Cost Savings Formula for Reducing Building Ventilation Rate
With that data the
Heat saved each year (in BTUs) = CFM x HDD X EF x 25.92
where
CFM = cubic feet per minute
BTU = british thermal unit
HDD = heating degree day figure for your area (65 degF - average daily temperature)
EF = energy efficiency of the heat exchanger (we use a conservative 50% for a reason explained below)
25.92 = a constant, the specific weight of air
Example: using your 9,280,000 cubic feet per day (there are 1440 minutes in a day): 9,280,000 / 1440 = 6,444 CFM [are you sure about that data?]
Using a MADE up HDD of 4500 (about half of Fargo ND's figure per year - you didn't say where your building is located)
BTU/year saved = 64,444 x 4500 x 0.50 x 25.92
BTU/year saved = 3758 million BTUs for your building - IF our input numbers are really correct.
Now if you know your energy cost per heating BTU you can with this formula wildly guesstimate the heating cost effect of a HRV OR of of a 50% reduction in airflow out (turning off the roof fans for half the time or reducing the ACH rate by 50%.)
Heat & IAQ Considerations are Different for Commercial and Large buildings
Our energy savings expert Steven Bliss adds these comments:
In general, commercial buildings have much larger "internal gains" from people, equipment, lighting, etc., than homes and many need to be air-conditioned year-round for that reason. This would complicate the analysis.
The natural rate of air leakage, plus the rate of mechanical ventilation are not strictly additive – more 1 plus 1 = √2. Achieving the recommended level of air exchange may need to take natural air leakage into account.
In homes, at least, air-to-air heat exchangers only deliver the rated performance in extremely tight houses. One reason is that balancing the airflows in a leaky house is not possible. The net result is poor performance and too much ventilation.
See AIR LEAK DETECTION TOOLS for help with building energy loss due to air leaks.
We are not sure how air-to-air heat exchangers work – or if they work at all – at the scale considered in the large building discussed above. The type of equipment, if it exists, is not your little Vermont one-family home basement air-to-air heat exchanger.
Ventilation is primarily for people, not for buildings (except perhaps for removal of moisture – usually not a concern in commercial buildings). So we are not sure it makes sense to blast large quantities of air out the roof at night, unless the building is used around the clock.
Look Again at the Building Air Change Hourly Rate
In sum, from your initial data and the numbers you provided for your building, a careful look at the actual and required air changes per hour data is needed. You may be able to find significant reductions in heat cost by simply making sure that the air exchange rate or ACH is correctly set.
...
Continue reading at VENTILATION, BALANCED or select a topic from closely-related articles below, or see our complete INDEX to RELATED ARTICLES below.
Or see BACKDRAFTING HEATING EQUIPMENT
Or see VENTILATION, WHOLE HOUSE STRATEGIES
Suggested citation for this web page
VENTILATION, BALANCED HEAT COST SAVINGS at InspectApedia.com - online encyclopedia of building & environmental inspection, testing, diagnosis, repair, & problem prevention advice.
Or use the SEARCH BOX found below to Ask a Question or Search InspectApedia
...
Frequently Asked Questions (FAQs)
Try the search box below or CONTACT US by email if you cannot find the answer you need at InspectApedia.
...
Ask a Question or Search InspectApedia
Questions & answers or comments about balanced air ventilation systems for buildings and how to design indoor air ventilation systems to cut heating & cooling costs
Use the "Click to Show or Hide FAQs" link just above to see recently-posted questions, comments, replies, try the search box just below, or if you prefer, post a question or comment in the Comments box below and we will respond promptly.
Search the InspectApedia website
Technical Reviewers & References
Click to Show or Hide Citations & References
Books & Articles on Building & Environmental Inspection, Testing, Diagnosis, & Repair
The Home Reference Book - the Encyclopedia of Homes, Carson, Dunlop & Associates Ltd., Toronto, Ontario, 2010, $69.00 U.S., is available from Carson Dunlop, and from the InspectAPedia bookstore. The 2010 edition of the Home Reference Book is a bound volume of more than 450 illustrated pages that assist home inspectors and home owners in the inspection and detection of problems on buildings. The text is intended as a reference guide to help building owners operate and maintain their home effectively. InspectAPedia.com ® author/editor Daniel Friedman is a contributing author. Field inspection worksheets are included at the back of the volume.
Animal Allergens: Dog, Cat, and Other Animal Dander - Cleanup & Prevention Information for Asthmatics and regarding Indoor Air Quality.
ASHRAE resource on dew point and wall condensation - see the ASHRAE Fundamentals Handbook, available in many libraries. The following three ASHRAE Handbooks are also available at the InspectAPedia bookstore in the third page of our Insulate-Ventilate section:
Best Practices Guide to Residential Construction, by Steven Bliss. John Wiley & Sons, 2006. ISBN-10: 0471648361, ISBN-13: 978-0471648369, Hardcover: 320 pages, available from Amazon.com and also Wiley.com. See our book review of this publication.
Brick nogging used as soundproofing is mentioned in this article on Popular Forest
Brick Nogging, Historical Investigation and Contemporary Repair, Construction Specifier, April 2006. Historical use of brick in timber-framed buildings, drawing on the investigations of the Kent Tavern in Calais, VT. "Brick nogging is a European method of construction which was brought to the new world in the early-nineteenth century. It was a common construction method that employed masonry as infill between the vertical uprights of wood framing." -- quoting the web article review.
Photo of very rough in-wall brick nogging at an architects website
Building Research Council, BRC, nee Small Homes Council, SHC, School of Architecture, University of Illinois at Urbana-Champaign, brc.arch.uiuc.edu. "The Small Homes Council (our original name) was organized in 1944 during the war at the request of the President of the University of Illinois to consider the role of the university in meeting the demand for housing in the United States. Soldiers would be coming home after the war and would be needing good low-cost housing. ...  In 1993, the Council became part of the School of Architecture, and since then has been known as the School of Architecture-Building Research Council. ... The Council's researchers answered many critical questions that would affect the quality of the nation's housing stock.

How could homes be designed and built more efficiently?
What kinds of construction and production techniques worked well and which did not?
How did people use different kinds of spaces in their homes?
What roles did community planning, zoning, and interior design play in how neighborhoods work

Construction Drawings and Details, Rosemary Kilmer
"An Example of Colonial Paneling", Norman Morrison Isham, The Metropolitan Museum of Art Bulletin, Vol. 6, No. 5 (May, 1911), pp. 112-116, available by JSTOR.
Dust from the World Trade Center collapse following the 9/11/01 attack: the lower floors of this building contained spray-on fire-proofing asbestos materials.
Energy Savers: Whole House Systems Approach to Energy Efficient Home Design [copy on file as /interiors/Whole_House_Energy_Efficiency_DOE.pdf ] - U.S. Department of Energy
"Energy Savers: Whole-House Supply Ventilation Systems [copy on file as /interiors/Energy_Savers_Whole-House_Supply_Vent.pdf ] - ", U.S. Department of Energy energysavers.gov/your_home/insulation_airsealing/index.cfm/mytopic=11880?print
"Energy Savers: Whole-House Exhaust Ventilation Systems [copy on file as /interiors/Energy_Savers_Whole-House_Exhaust.pdf ] - ", U.S. Department of Energy energysavers.gov/your_home/insulation_airsealing/index.cfm/mytopic=11870
"Energy Savers: Ventilation [copy on file as /interiors/Energy_Savers_Ventilation.pdf ] - ", U.S. Department of Energy
"Energy Savers: Natural Ventilation [copy on file as /interiors/Energy_Savers_Natural_Ventilation.pdf ] - ", U.S. Department of Energy
"Energy Savers: Energy Recovery Ventilation Systems [copy on file as /interiors/Energy_Savers_Energy_Recovery_Venting.pdf ] - ", U.S. Department of Energy energysavers.gov/your_home/insulation_airsealing/index.cfm/mytopic=11900
"Energy Savers: Detecting Air Leaks [copy on file as /interiors/Energy_Savers_Detect_Air_Leaks.pdf ] - ", U.S. Department of Energy
"Energy Savers: Air Sealing [copy on file as /interiors/Energy_Savers_Air_Sealing_1.pdf ] - ", U.S. Department of Energy
Fiberglass: Indoor Air Quality Investigations: Health Concerns About Airborne Fiberglass: Fiberglass in Indoor Air from HVAC ducts, and Building Insulation
Humidity: What indoor humidity should we maintain in order to avoid a mold problem?
Ice Dam Leaks in building attics and roof cavities, how to inspect for evidence of leaks, identify causes, and correct bad attic ventilation, improper roof venting, and these causes of attic mold or roof structure damage
"Insulation: Adding Insulation to an Existing Home," U.S. Department of Energy - tips on how to do your own check for the presence of absence of insulation in a home
Insulation: Selecting Insulation for New Home Construction, U.S. Department of Energy - "Your state and local building codes probably include minimum insulation requirements, but to build an energy-efficient home, you may need or want to exceed them. For maximum energy efficiency, you should also consider the interaction between the insulation and other building components. This is called the whole-house systems design approach."
Insulation Types, table of common building insulation properties from U.S. DOE. Readers should see INSULATION R-VALUES & PROPERTIES our own table of insulation properties that includes links to articles describing each insulation material in more detail.
Nogging: See this photo of exposed bricks on a building exterior on a building exterior in Canada. [Thanks to Carson Dunlop, Toronto - see References below].
Mold spores in the Home - a Photo ID Library for detection and identification of mold allergens.
How to Find and Test For Mold in buildings A "how to" photo and text primer on finding and choosing the right spots to test for mold in buildings
Stuff that is not mold but is often mistaken for it - things you may not want to test. Also, not all "black mold" is toxic - here are examples of harmless black mold.
Mold-Resistant Building Practices, advice from an expert on how to prevent mold after a building flood and how to prevent mold growth in buildings by selection of building materials and by anti-mold construction details.
"Weather-Resistive Barriers [copy on file as /interiors/Weather_Resistant_Barriers_DOE.pdf ] - ", how to select and install housewrap and other types of weather resistive barriers, U.S. DOE
...
Air Leaks, Moisture Problems, Vapor Barriers & Ventilation in buildings - References, Products
Basement Moisture Control, U.S. Department of Energy
Building Pathology, Deterioration, Diagnostics, and Intervention, Samuel Y. Harris, P.E., AIA, Esq., ISBN 0-471-33172-4, John Wiley & Sons, 2001 [General building science-DF] ISBN-10: 0471331724 ISBN-13: 978-0471331728
Building Pathology: Principles and Practice, David Watt, Wiley-Blackwell; 2 edition (March 7, 2008) ISBN-10: 1405161035 ISBN-13: 978-1405161039
Crawl Space Moisture Control, U.S. Department of Energy
Energy Recover Ventilation Systems for buildings, U.S. Department of Energy
Energy Savings Methods: Whole House Systems Approach, U.S. Department of Energy
Log Homes: Minimizing Air Leakage in Log Homes, U.S. Department of Energy
Log Homes: Controlling Moisture in Log Homes, U.S. Department of Energy
Log Homes: Log Home Design, U.S. Department of Energy
Moisture Control in buildings, U.S. Department of Energy
Moisture Control in Walls, U.S. Department of Energy
Quality Standards for the Professional Remodeling Industry, National Association of Home Builders Remodelers Council, NAHB Research Foundation, 1987.
Quality Standards for the Professional Remodeler, N.U. Ahmed, # Home Builder Pr (February 1991), ISBN-10: 0867183594, ISBN-13: 978-0867183597
Natural Ventilation for buildings, U.S. Department of Energy
R-Value of Wood, U.S. Department of Energy
Spot Ventilation for houses, U.S. Department of Energy
Slab on Grade Foundation Moisture and Air Leakage, U.S. Department of Energy
Straw Bale Home Design, U.S. Department of Energy
"Vapor Barriers or Vapor Diffusion Retarders", U.S. DOE: how vapor barriers work, types of vapor diffusion barriers, installing vapor barrier
Ventilation for energy efficient buildings, Purpose, Strategies, etc.,
Weather-Resistive Barriers, how to select and install housewrap and other types of weather resistive barriers, U.S. DOE
Whole House Ventilation Systems, U.S. Department of Energy
Whole-House Balanced Ventilation Systems, U.S. Department of Energy
Whole-House Exhaust Ventilation Systems, U.S. Department of Energy
Whole-House Supply Ventilation Systems, U.S. Department of Energy
...