Fire & Ember Resistant Ridge & Eaves Vents

Products resist entry of fire embers into the roof structure
InspectAPedia tolerates no conflicts of interest. We have no relationship with advertisers, products, or services discussed at this website.
Self-closing ridge, soffit & eave vents for fire protection:
This article describes products & research on self-closing soffit & eaves & ridge vents designed to reduce or stop the passage of embers into the roof cavity of a building through the building eaves or ridge during exposure of a building to nearby heat and fire from a forest fire, brush fire, or adjacent building fire.
The building fire shown above is discussed in a separate article on fire retardant treated plywood, live link given at the end of this article.
We also provide a MASTER INDEX to this topic, or you can try the page top or bottom SEARCH BOX as a quick way to find information you need.
Roof Structure Fire Resistance: self-closing ridge & soffit or eave vents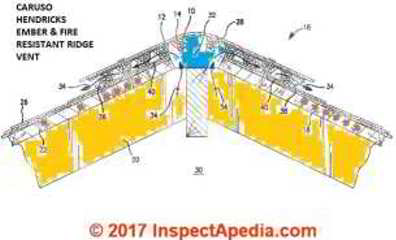 We lost our home recently to a fire in northern CA and have to rebuild from dirt.
I was told that we might have to install some sort of automatic soffit vent closing system that closes off when it senses heat from a fire.
I've tried looking at the 2013 CA Fire codes and did not see anything like that there. Have you heard of such a thing and if so where can I find more information on it?
[Click to enlarge any image] Shown here, a detail from Caruso & Hendricks ember & fire resistant self-closing ridge vent.
Charlie
Indeed there are self-closing eaves vents or soffit vent products that reduce the chances of fire-embers moving up into a building attic through the eaves vents.
These products have been discussed and inventions disclosed since at least the 1970's where the idea was explored as a way to provide fire closure of duct systems (Thwaites 1976).

I searched both google and google scholar to report on patents and products for automatic soffit vent closing mechanism for fire protection.
[Click to enlarge any image] Shown here, excerpts from the Caruso Hendricks Ember and Fire Resistant Vent patent (2007).
Watch out: before buying and installing self-closing eaves vents or soffit vents for fire protection you should check with your local fire inspector for suggestions and to learn what systems are approved were you live.
However there are fire stopping soffit vent strips provided by several manufacturers, of whom the most patents and products I found were provided by Vulcan Technologies.
Soffit vent closing mechanisms are both mechanical (using a combination of a fusible link and a magnetically operated closure) and chemical (for lack of a better word) using products that exude material to close off vent openings when exposed to high temperatures of a nearby fire.
The latter type of soffit intake vent strops have a closing mechanism that works by extruding or exuding material that closes off the soffit vent intake openings when exposed to the high temperatures of a fire.
Watch out: Both of these approaches to avoiding fire spread into a building roof or attic space through the soffit intake vents use a one-time activated method to close the vent opening. If the building survives the fire the vent closure system will need to be replaced.
Here is an example from Vulcan Technologies:
Vulcan VSC2120-5 Fire Stopping Soffit Vent. 2 inch Wide Vent Area (3-1/2 inches overall flange width) x 24 inch pieces. 5 Pieces/Carton. Price/Carton (10 feet total).

Vulcan Fire Stop Honeycomb Matrix with Screen Mesh built into galvanized steel frame.
Net Free Vent Area: 96 sq. in. (per 10', 5 pieces installed)
Vulcan Vent matrix is 1/4" hexagon expanded aluminum, coated with an intumescent coating from Firefree Coatings Inc. The coating swells up when exposed to high temperatures and loses off the cells, effectively blocking off fire & ember intrusion.
The Vulcan Vent™was designed to meet the new California Building code SFM 12-7A of the California Wildland Urban Interface fire code program.
Overall width is 3.5". Exposed vent face is 2" wide. 24" length/piece.
See the California Approval document [PDF] given below.
Fire-stopping soffit vents should meet the California Building Code SFM 12-7A of the California Wildland Urban Interface fire code program. Here are excerpts from that code and part of a discussion of the absence of a method of acceptance for special eave vents and a resolution that permits use of a fire-resistant soffit vent from Vulcan Technologies.
Model Building Code Section(s) at Issue: 2007 CBC Section 704A.2 Attic Ventilation:
704A.2.1 General. When required by Chapter 15, roof and attic vents shall resist the intrusion of flame and embers into the attic area of the structure, or shall be protected by corrosion-resistant, noncombustible wire mesh with 1/4-inch (6mm) openings or its equivalent.
704A.2.2 Eave or cornice vents. Vents shall not be installed in eaves and cornices. Exception: Eave and cornice vents may be used provided they resist the intrusion of flame and
burning embers into the attic area of the structure.
Self-Closing Soffit Vent Products, Technologies, Patents, Research & Standards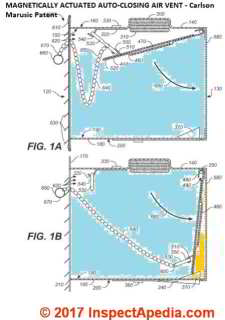 ASTM E 119 Standard Test Methods for Fire Tests of Building Construction and Materials, Available from https://www.astm.org/Standards/E119
ASTM E 2886 Standard Test Method for Evaluating the Ability of Exterior Vents to Resist the Entry of Embers and Direct Flame Impingement, available from https://www.astm.org/Standards/E2886.htm
Abstract:

5.1 This test method evaluates the ability of exterior vents that mount vertically or horizontally to resist the entry of embers and flame penetration through the vent.

Note 3—A comparison study between the vertical air flow apparatus and a horizontal air flow apparatus, developed at the National Institute of Standards and Technology (NIST), has been conducted.

A summary of the results of that comparison study are presented in Section X1.3 of the Appendix. 5.2 Flame Intrusion Test—Refer to the Significant and Use Section in Test Method E2912 for information related to the direct flame impingement on the vent.

1. Scope

1.1 This fire-test-response standard prescribes two individual methods to evaluate the ability of a gable end, crawl space (foundation) and other vents that mount on a vertical wall or in the under-eave area to resist the entry through the vent opening of embers and flame.

The ability of such vents to completely exclude entry of flames or embers is not evaluated. Roof ridge and off-ridge (field) vents are excluded from this standard. Acceptance criteria are not provided in this standard.

Note 1—Test Method E2912 records information relevant to evaluate completely excluding the entry of flames through the venting device.

1.2 Ember entry and flame penetration are evaluated separately using different test procedures. A commentary and summary of the development of the ember test apparatus are given in Appendix X1.

1.3 These laboratory tests are used to evaluate the response of vents when subjected to ember and flame exposures under controlled conditions.
California Office of State Fire Marshal, "FINAL REAONS for PROPOSED BUILDING STANDARDS" of the Office of the State Fire Marshal regarding the adoption by reference of the 2009 Edition of the International Building Code (IBC) with amendments into the 2010 California Building Code (CBC) California Code of Regulations Title 24, Part 2 [PDF],
Excerpt:

The eave and cornice vent provisions of the existing California Building Standards Code originated from the widely held professional opinion that eaves and cornices were the most hazardous location for vents, more hazardous than gable vents or roof vents for example.

The Task Force heard national fire scientists who directly questioned whether vents located under eaves were more hazardous than vents in other locations such as walls directly exposed to wind-driven embers exposure.

While there was a difference of opinion among experts about the relative severity of vent location exposure and hazard, the Task Force concluded that there was no scientific basis or well documented substantiation that ember and wildfire exposure to under eave locations was more severe than other ventilation opening locations such as gable vent.

The SFM proposes to maintain existing provisions for special eave protection requirements until there is a well substantiated resolution to this issue while at the same time maintaining a cautious approach to new provisions based on this conventional wisdom.
Carlson, Thomas R., Rados R. Marusic, and Theresa Carlson-Marusic. "Magnetically actuated auto-closing air vent." U.S. Patent 8,062,108, issued November 22, 2011.
Abstract:

A self-closing vent intended for use in attics, crawl spaces, joist cavities, exterior walls, interior walls, or other structural element which allows for the free flow of air from outside a building to interior spaces during normal use.

The vent includes a damper blade pivotally connected to, and disposed within, the vent housing, which is held in an open position by a temperature sensitive fusible link. Two, and preferably three, permanent magnets provide the force for driving the damper blade into a closed and locked position.

A first magnet disposed in a side of the vent housing and a second magnet disposed on the damper blade are disposed with opposing (repelling) polarities when the damper blade is held in the open position.

A third magnet disposed proximate the back of the vent housing is oriented so as to attract the magnet disposed on the damper blade.

Thus, when the fusible link is broken by high temperatures, the first magnet propels the damper blade toward the closed position, and the third magnet attracts the damper blade to assist in putting it into a fully closed position.

The third magnet and second magnet then cooperate to effect a secure closure, which is supplemented by mechanical locks disposed in the vent housing.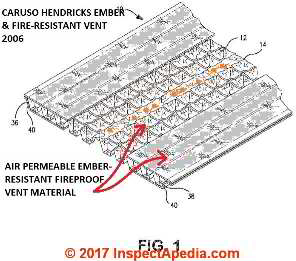 Caruso, George, and Bill Hendricks. "Ember and Fire-Resistant Vent." U.S. Patent Application 11/875,034, filed October 19, 2007.
Abstract:

An air intake or exhaust vent for an external roof or wall of a building.

The vent is made of an elongate strip of ventilation material providing a plurality of ventilation passageways therethrough permitting air flow therethrough. In addition, an ember-resistant, fireproof material or coating is located on portions of the ventilation material that communicate with ambient atmosphere.

Accordingly, wind blown embers are prevented from igniting and passing into and/or through the vent.
Edlich, Richard, Kathryne L. Winters, William B. Long III, and L. D. Britt. "Prevention of Residential Roof Fires By Use of a Class" A" Fire Rated Roof System." Journal of long-term effects of medical implants 14, no. 2 (2004).

Abstract:

Because residential roof fires remain a life-threatening danger to residential homeowners in the United States, we describe in detail a national fire prevention program for reducing residential roof fires by use of an Underwriters Laboratories Inc. (UL) and National Fire Protection Association Class A fire rated roof system.

This Class A system should comply with the test requirements for fire resistance of roof coverings, as outlined in UL 790 or in ASTM International (ASTM) E-108. Both the Asphalt Roofing Manufacturer's Association (ARMA) and the National Roofing Contractors Association (NRCA) have set up guidelines for selecting a new roof for the homeowner.

Class A, fiber-glass-based asphalt roofing shingles represent an overwhelming share of the United States residential roofing market, and, as such, the Class A rated roofing system remains an excellent alternative to wood shingles and shakes.

Fortunately, the Class A fire rating is available for certain wood shingle products that incorporate a factory-applied, fire resistant treatment. However, in this circumstance, wood products labeled as Class B shakes or shingles must be installed over spaced or solid sheathing that have been covered either with one layer of j in. (6.4 mm) thick noncombustible roof board, or with one layer of minimum 72-lb. fiber-glass-based mineral surfaced cap sheet, or with another specialty roofing sheet to obtain the Class A fire rating. Clay, tile, slate, and metal have been assigned Class A fire ratings in the codes (but often without testing).

These alternative roofing materials are often considerably more expensive.

Proper application, ventilation, and insulation of roofing systems are required to prevent heat and moisture buildup in the attic, which can damage the roofing system, making it more susceptible to water leakage as well as ignition in the event of a fire.

The NRCA has devised excellent recommendations for the homeowner to prequalify the contractor.

In addition, a warranty for any new roofing material is important for the homeowner to ensure that the roofing can be repaired by the contractor or manufacturer during the specified warranty period, in case of contractor error or a manufacturing defect.

In addition, the homeowner should ensure that the warranty is transferable to any future owner of the home to allow the buyer to have the same warranty benefits as the original owner.

The State of California has mandated strict roofing requirements to prevent residential fires. In the absence of this legislation in other states, the homeowner must follow the guidelines outlined in this collective review to ensure that a roofing system with Class A fire protection is installed.

Other fire safety precautions that should also be considered mandatory are to include smoke alarms, escape plans, and retrofit fire sprinklers.
Loar, Ronald J. "Self-closing vent." U.S. Patent 7,191,845, issued March 20, 2007.
Abstract:

A self-closing vent has its frame and honeycomb screen coated with an intumescent material.

When affixed to an external wall or eave of a building, the vent is normally open, allowing free flow of air into and out of the building, but when exposed to the heat of a fire, such as a wildfire, the intumescent expands to close the vent, thereby preventing an external fire from entering the building.
Manzello, Samuel L., Sayaka Suzuki, and Yoshihiko Hayashi. "Exposing siding treatments, walls fitted with eaves, and glazing assemblies to firebrand showers." Fire Safety Journal 50 (2012): 25-34.
Abstract:

An experimental campaign was undertaken to determine vulnerabilities of siding treatments, walls fitted with eaves, and glazing assemblies to firebrand bombardment using the NIST Dragon installed in the Building Research Institute's Fire Research Wind Tunnel Facility (FRWTF).

Experiments were also conducted to determine if firebrands can produce ignition in fine fuels placed adjacent to the wall assembly and whether the subsequent ignition of fine fuels could lead to ignition of the wall assembly itself. These experiments are the first to investigate these vulnerabilities in a systematic fashion. The results of these experimental findings are presented.
Manzello, Samuel L., Seul-Hyun Park, Sayaka Suzuki, John R. Shields, and Yoshihiko Hayashi. "Experimental investigation of structure vulnerabilities to firebrand showers." Fire Safety Journal 46, no. 8 (2011): 568-578.

Abstract:

Attempting to experimentally quantify the vulnerabilities of structures to ignition from firebrand showers has remained elusive. The coupling of two facilities has begun to unravel this difficult problem. The NIST Firebrand Generator (NIST Dragon) is an experimental device that can generate a firebrand shower in a safe and repeatable fashion.

Since wind plays a critical role in the spread of WUI fires in the USA and urban fires in Japan, NIST has established collaboration with the Building Research Institute (BRI) in Japan. BRI maintains one of the only full scale wind tunnel facilities in the world designed specifically for fire experimentation;

the Fire Research Wind Tunnel Facility (FRWTF). The present investigation is aimed at extensively quantifying firebrand penetration through building vents using full scale tests.

A structure was placed inside the FRWTF and firebrand showers were directed at the structure using the NIST Dragon. The structure was fitted with a generic building vent, consisting of only a frame fitted with a metal mesh.

Six different mesh sizes openings were used for testing. Behind the mesh, four different materials were placed to ascertain whether the firebrands that were able to penetrate the building mesh assembly could ignite these materials.

Reduced scale test methods afford the capability to test new vent technologies and may serve as the basis for new standard testing methodologies. As a result, a new experimental facility developed at NIST is presented and is known as the NIST Dragon's LAIR (Lofting and Ignition Research).

The NIST Dragon's LAIR has been developed to simulate a wind driven firebrand attack at reduced scale. The facility consists of a reduced scale Firebrand Generator (Baby Dragon) coupled to a bench scale wind tunnel.

Finally, a series of full scale experiments were conducted to visualize the flow of firebrands around obstacles placed downstream of the NIST Dragon.

Firebrands were observed to accumulate in front of these obstacles at a stagnation plane, as was observed when the structure was used for firebrand penetration through building vent experiments, due to flow recirculation. The accumulation of firebrands at a stagnation plane presents a severe threat to ignitable materials placed near structures.
Page, John B. "Cooling tower with fire stop." U.S. Patent 9,341,413, issued May 17, 2016.
Abstract:

A cooling tower with a plurality of fill packs has a fire stop with openings disposed below the fill packs, a water distribution system for distributing water onto the fill packs, and a cold water basin disposed below the fire stop for collecting water which has past through said fill packs.

The openings in the fire stop occupy at least 80% of the area over which the fire stop extends. The fire stop is made of an intumescent material with an expansion ratio sufficient to close said openings when said material intumesces.
Simontacchi, John, Steve Beck, and Ronald J. Loar. "Self-closing vent assembly." U.S. Patent 7,413,024, issued August 19, 2008.
Abstract:

A self-closing vent has its frame and a honeycomb screen coated with an intumescent material.
When affixed to a wall with an opening the vent is normally open, allowing free flow of air through the opening, but when exposed to the heat of a fire, the intumescent material expands to close the vent, thereby preventing spread of the fire through the opening.

The intumescent material preferably is FireFree 88, in a coating thickness of about 5 to 15 mils. In one preferred embodiment the vent opening is in a vehicle, between an engine compartment and a passenger space.
Thwaites, Peter John, and Dennis William Green. "Fire-protective cellular service ducting." U.S. Patent 4,093,818, issued June 6, 1978.
Abstract:

The invention provides an assembly for accommodating service lines which comprises a length of ducting, a block of structural cellular material which fills the internal cross section of the ducting over at least a part of the length of the ducting, said block having cell walls which define cells which extend in the length direction of the ducting and on the cell walls a coating of intumescent material expandable to close the cells under fire conditions.

With the block positioned where the ducting passes through a fire-resistant wall, the spread of fire through the ducting is usefully opposed.

Using thermoplastic ducting, which has heretofore been contra-indicated, results superior to those obtainable with steel ducting are achieved.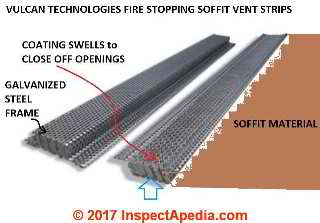 PRODUCTS ACCEPTED FOR USE / Vulcan Technologies Eave Vents, 09-03, [PDF] California Department of Forestry & Fire Protection, CAL FIRE, Office of the State Fire Marshal (OSFM). Notice: this acceptance expired on 07-01-2009. Retrieved 2017/09/03, original source: http://www.bestmaterials.com/PDF_Files/vulcan-Acceptance-Policy-2009-03-20.pdf
Vulcan Technologies, Inc., Elisa Vivas, [no address], California, Tel: 415-459-6488, Website: www.vulcantechnologies.com Email: info@vulcantechnologies.com
Website excerpts:

Vulcan Vents are listed by the California State Fire Marshal under category 8165 of the Building Material Listing Program. [ The conmpany's soffit and eaves vents ] prohibit flame intrusion through a structure's ventilation system.

Approaching fire generates heat whichtriggers the vulcan vent to close. The vent is coated with a non-toxic FireFree™ intumescent coating, which expands when exposed to a heat source of approximately 350° Farenheit thereby closing the 1/4 inch (or smaller) vent openings.
VULCAN VENT® Tech, PRODUCT DESCRIPTION, [PDF], document by Vulcan Technologies, retrieved 2017/09/03, original source: Bestlouver LLC, Naples, FL 34114 Tel: 866-257-7449 Email: mjhbestlouver@aol.com, retrieved from http://www.bestlouver.com/files/VulcanVent.pdf
Western Fire Center, Inc., TESTING OF A FLAME AND EMBER-RESISTANT SOFFIT VENT CONSTRUCTION (Based on Proposed Draft California State Fire Marshall Interim Test Method for Evaluating the Ability of Vents to Resist Entry of Embers and Flame Impingement) Report# 07059.08054.1 [PDF], Conducted For: Vulcan Technologies/ Gunter Manufacturing Testing Conducted: September 20, 2007 And August 4, 2008 Revised Report Issued: January 16, 2009, retrieved 2017/09/03, original source: http://www.guntermfg.com/index_files/WFCI-2.pdf
Editor's notes: Combustion Points & Fire Spread Notes for Common Building Exterior Siding or Roofing Materials
Experts describing both ignition temperatures and fire spread have commented on temperatures and fire conditions that help understand the possible role and efficacy of a self-closing soffit or eaves vent or ridge vent on buildings. It appears that while vinyl siding is not as highly flammable as some of our readers fear, its behavior during a fire can be a factor in fire spread.
Bowker, Gary, "HOW FIRE RACES to the EAVES", [PDF] FireRecruit.com, (2014), retrieved 2017/09/03, original source: https://www.firerecruit.com/articles/1669607-How-fire-races-to-the-eaves
Excerpt:

... fire exposure temperatures to vinyl siding can far exceed those temperatures noted for auto-ignition. Vinyl siding softens and sags and will often drop out of the way when exposed to flame.

The combustible underlayment is then exposed to direct flame contact, which is a significant factor.
Havel, Gregory, Fire Engineering® CONSTRUCTION CONCERNS: MISLEADING MARKETING, [PDF] (April 2015), retrieved 2017/09/03, original source: http://www.fireengineering.com/content/dam/fe/online-articles/documents/2015/Havel4715a.pdf

Excerpt:

According to material safety data sheets (MSDS) from lumber manufacturers, the autoignition temperature of wood dust (saw dust) ranges from 400°F to 500° F (204°C to
260°C), depending on the species of wood and its moisture content. According to MSDS and marketing materials from vinyl siding manufacturers, the auto-ignition temperature of
rigid vinyl is 730°F (387°C).
InspectAPedia is an independent publisher of building, environmental, and forensic inspection, diagnosis, and repair information provided free to the public - we have no business nor financial connection with any manufacturer or service provider discussed at our website. We do not sell products nor services.

...
Continue reading at FIRE RETARDANT PLYWOOD or select a topic from the More Reading links or topic ARTICLE INDEX shown below.
Or see FIRE RATINGS for ROOF SURFACES
Or see SOFFIT INTAKE VENT BLOCKED
Or see WOOD ROOF COATINGS & FIRE RATINGS
Suggested citation for this web page
ROOF VENTILATION, FIRE RESISTANT at InspectApedia.com - online encyclopedia of building & environmental inspection, testing, diagnosis, repair, & problem prevention advice.
Or use the SEARCH BOX found below to Ask a Question or Search InspectApedia
Or see
Or use the SEARCH BOX found below to Ask a Question or Search InspectApedia
...
Ask a Question or Search InspectApedia
Try the search box just below, or if you prefer, post a question or comment in the Comments box below and we will respond promptly.
Search the InspectApedia website
Technical Reviewers & References
Click to Show or Hide Citations & References
...
Wikipedia provided background information about some topics discussed at this website provided this citation is also found in the same article along with a " retrieved on" date. Because Wikipedia and other website entries can be amended in real time, we cite the retrieval date of such citations and we do not assert that the information found there is always authoritative.
Books & Articles on Building & Environmental Inspection, Testing, Diagnosis, & Repair
Our recommended books about building & mechanical systems design, inspection, problem diagnosis, and repair, and about indoor environment and IAQ testing, diagnosis, and cleanup are at the InspectAPedia Bookstore. Also see our Book Reviews - InspectAPedia.
...
Publisher InspectApedia.com - Daniel Friedman