Clothes Dryer Fire Hazards
Fire hazards at dryers & dryer vent ducts, & dryer lint traps; safety warnings
InspectAPedia tolerates no conflicts of interest. We have no relationship with advertisers, products, or services discussed at this website.
Clothes dryer fire hazards, causes, warnings:
This article describes fire hazards at clothes dryers or in the clothes dryer exhaust vent or duct or fires due to lint filters, long dryer vent runs, clogged dryer vents, or lint clogged dryers themselves.
This article series describes good practices for clothes dryer vent installation, lint traps, wall vents, filters, and screens. We include a list of clothes dryer fire safety hazards and other clothes dryer installation or maintenance mistakes that are either unsafe or that interfere with effective, economical dryer operation. We discuss types of dryer vent ducting and dryer vent doors or opening protection devices.
We also discuss the requirement that clothes dryers, bath ventilation fans, and kitchen vent fans each require their own properly installed exhaust venting system.
Page top photo: New Jersey homeowner Brian Gilligan demonstrates cleaning lint from the wall vent of a clothes dryer installed on the second floor of this home. When access to a dryer vent termination is
We also provide a MASTER INDEX to this topic, or you can try the page top or bottom SEARCH BOX as a quick way to find information you need.
inconvenient it is less likely to be regularly inspected and cleaned, creating risk of a fire.
Mr. Gilligan uses a cellphone calendar app to provide a regular reminder that the vent needs to be cleaned of blocking lint. Closeups of the lint-clogged dryer screen are shown in the article below.
Fire Hazards, Gas Leaks & Other Hazards from Clogged or Improperly-Installed Clothes Dryer Vents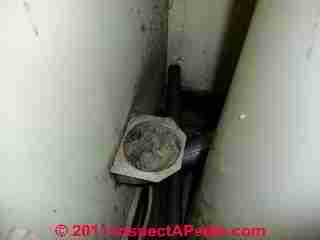 Photo: the through-wall connector for this LP gas powered clothes dryer was almost completely blocked. We discovered this clogging during renovations and construction at this home.
Temperature measurements of the replacement clothes dryer system with a new and un-blocked dryer vent are given at CLOTHES DRYER TEMPERATURES.
The appliance industry attends two safety standards for electric and gas fired clothes dryers, published by UL (electric clothes dryers) and ANSI (gas powered clothes dryers). [5] [6]
But industry standards for clothes dryer safety cannot alone overcome poor housekeeping by consumers who forget to clean lint filters or who never inspect the dryer vent outlet for lint clogging or other damage.
Here we offer additional clothes dryer safety recommendations and warnings that can help to prevent a clothes dryer fire and that will also improve clothes dryer performance while lowering the operating cost for clothes drying.
In a study evaluating house fires that occurred during 1998, approximately 15,600 fires, including 20 deaths and 370 injuries were traced to clothes dryer fires. - US CPSC [2]
The heat level in a clothes dryer nearly doubles (89% increase) when the dryer exhaust vent system becomes 75% blocked. If you look at our photos above, we illustrate that even six months of use can lead to significant blockage at the dryer vent outlet.
We suspect that the point of ignition in a clothes dryer fire will most likely occur close to the heat source, or on occasion at an overheating electrical connection or motor - locations inside the dryer itself. But as long as the dryer continues to run, the draft not only blasts the fire rapidly into a larger, hotter conflagration, it also offers to spread the fire into the building walls or ceilings through the vent duct system.
How to Avoid a Clothes Dryer Fire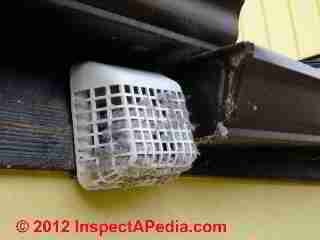 Inspect the laundry dryer vent system for lint clogging annually (or more often depending on your level of usage) as well as whenever you see other signs of trouble such as abnormally hot dryer contents. At this New York home the factory-provided dryer vent screen guarantees rapid lint-clogging and risks a clothes dryer fire.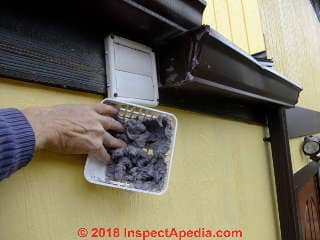 Our photos above illustrates one of two easy places to check the dryer vent system for clogging. Shown is the interior of a through-wall dryer vent elbow into which a vertical riser vent duct had been installed.
We simply pulled up the vertical section of vent ducting to inspect this low spot in the vent system. The clothes dryer itself was located on the other side of the wall shown at left. Inspecting in this location avoided having to pull out or move the dryer to inspect the vent at the dryer back.
The vent connection at the dryer back is the other easy place to inspect for lint clogging on the input end of the dryer vent system.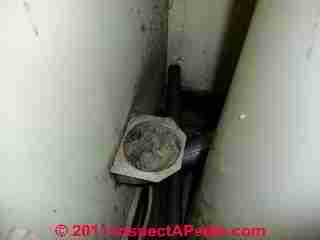 Watch out for long, twisted clothes dryer vent runs
Watch out: long clothes dryer exhaust vent runs and vent ducting that includes multiple bends and elbows are more likely to become lint-clogged and unsafe than shorter direct vents between the clothes dryer and its exterior wall vent.
Such duct systems are also more difficult if not impossible to inspect and clean. In the dryer vent installation we illustrated above in this article we used solid steel dryer vent ducting and elbows and we made sure that the entire vent system could be accessed, inspected, and cleaned from both ends.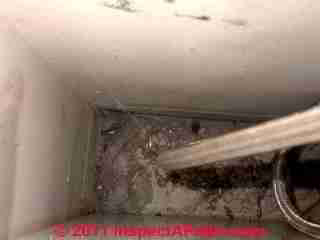 Inspect for lint and debris behind and under laundry appliances: at least once a year, check and clean up lint as well as other dropped stuff you will find behind clothes dryers and washing machines.
Watch out: when pulling out a clothes dryer to inspect its exhaust vent connections and piping for clogging or leaks be sure not to damage or loosen any electrical or gas piping (if your dryer is fueled by gas).
A loose or damaged gas connection risks leaks and an explosion or fire hazard. While you're at it, check the condition of the flexible gas tubing connecting the gas fired dryer to the building gas piping and replace the tubing if it is old, uncoated, corroded, crimped, or otherwise suspect.
Also see GAS PIPING, VALVES, CONTROLS.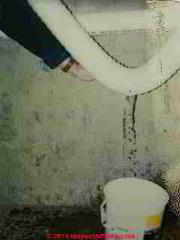 Photo: sagging flexible clothes dryer vent in this crawl space led to a stunning accumulation of water (condensation) that ultimately blocked the dryer exhaust entirely.
Because the hanging flex-vent was in a limited-access crawl area the problem went un-discovered for several years until the author found it during a home inspection.
Watch out: clogged clothes dryer vents, regardless of the type, cause, or location of a blockage, are likely to cause the clothes dryer to overheat and risk a building fire.
If you notice that the clothing is abnormally hot at the end of a dryer cycle you should check all of the lint screens in the system and the dryer vent ducting to be sure that all blockages are cleared.
Watch out: while it would be uncommon, an improperly installed dryer vent duct system that includes low horizontal ducting connected to vertical rising ducting in the building can draw sewer gases or other odors from outdoor sources right back into the building when the dryer is not operating.
See BACKDRAFTING & SEWER/SEPTIC ODORS for details.

Watch out: inspect all vent system exit screens including kitchen (KITCHEN VENTILATION DESIGN), bath (BATHROOM VENTILATION DESIGN), and especially laundry dryer vent outside screen regularly. We have found clothes dryer vents completely blocked with lint and debris. A blocked clothes dryer laundry vent is a fire hazard.
Watch out: when drying clothing that may contain volatile chemicals like gasoline, cooking oils, cleaning solvents that were not completely removed during the wash cycle. The volatile gases coming off of these clothes (or rags or other materials) in the clothes dryer can lead to a fire or explosion. [2]
Use metal clothes dryer vent piping: plastic clothes dryer vent piping can spread a fire:
Once a fire starts, the plastic vent hose burns, spreading the fire. (Beers 2003)
Question: clothes dryer running very hot, undersized dryer vent
My sister in law lives in Mississippi. The house is on a slab. The dryer runs very hot. The exhaust runs through the slab and out the front of the house under the porch. However, the size is too small. They told me the builder did not use a wide enough channel for the exhaust hose to run through.
Therefore they have used their dryer for perhaps twenty years, running the clothes through twice, with no recourse for action to remedy the situation. PLease tell me if you can suggest a brilliant remedy! - Sue 8/12/2012
Reply:
Sue, as you might have seen in the article above, the condition you describe makes me nervous - as a blocked dryer vent - which the one you describe surely is - is inviting a dryer fire and a house fire.

I am not convinced there is "no recourse" - and I would certainly STOP using the dryer immediately, until the problem is accurately diagnosed and fixed -either by cleaning and confirming the adequacy of the existing vent (which sounds like a bad design) or by installing a different dryer vent that exhausts outside the building through a building wall
Question: Lint Clogging at the Exterior Dryer Wall
I scanned your article and found where you talk about "lint clogging at an exterior dryer wall." In the past 30 or so years I've either been lucky by living in a home that had preventative-maintence-free exhausts or I've been negligent and lucky in the sense that a fire has not occurred.

I guess today I've learned that I must clean my exterior dryer wall, with louvers, on a near monthly basis.
Moved into my current home about a year ago and about ever six weeks I'm getting a clogged exterior vent. Being that my washer/dryer set is used, I'm a second owner, I was thinking it was a malfunction of the dryer rather than just routine maintenance. Thanks for setting me straight. - Don 9/3/2012
Reply:
Indeed, Don, even when we find that the factory lint screen is properly in place in the clothes dryer itself, and when ducting is short, smooth, and properly installed, lint collects at the dryer vent termination at the building outside wall, and while their clog-up rate varies, all dryer vents should be inspected and cleaned frequently - at least monthly - for safety.
Question / Comment: details of safe clothes dryer vent operation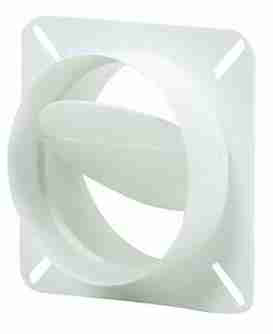 You say, "We secure connected dryer vent duct sections using self-tapping sheet metal screws and we cover and tape all vent section connections using metal foil tape as well."
And you say," Install a secure, self-closing screened exhaust vent cover outside the building at the end of the clothes dryer vent line in order to prevent rodents or birds from entering the ductwork.
[Clothes dryer vent termination] screens shall not be installed at the duct termination. Ducts shall not be connected or installed with sheet metal screws or other fasteners that will obstruct the exhaust flow - Section 504.4 of the IMC (International Mechanical Code), 2nd and 3rd sentence.
- Darrin Hussy 11/8/2012
Reply:
Thanks for the concerned comment Darrin [...] Also it's important to read with care.
We agree that SMS screws in the wrong place can become a hazard, but your note confuses that worry with the importance of installing a screen or operable bird and rodent resistant cover on the dryer outlet outdoors.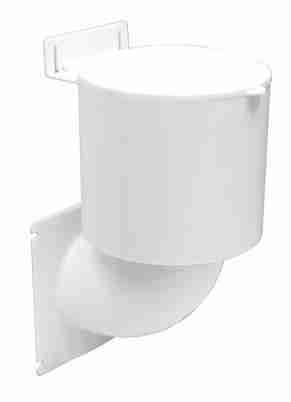 Even the Dundas "Draft Blocker" dryer vent (above left) and the Lambro Dryer Vent (at left) can be invaded by small animals, and even these wide-opening clothes dryer vents need periodic inspection and lint cleaning.
Serious fires can ensue if we don't keep birds or other animals out of dryer vents. Dryer vent coves that are protected from animal entry are important just as avoiding or cleaning out lint clogging is important to avoid fires and improve dryer performance. Where rodent entry is more of a problem (for example at vents close to ground) some homeowners install coarse screens to try to keep out rodents.
In our opinion, ALL dryer vent terminations and screen types (coarse or obviously dangerous fine screens) need frequent inspection and cleaning to avoid overheating and fire hazards.
What thus needs to be clear is the distinction between a screen ( fine openings that quickly clog with lint) and rodent or animal screens or other devices to keep those animals out of the dryer vent duct.

The latter is absolutely necessary. I'll include your warning above to make sure that's clear, and we welcome further clarifying or safety suggestions from you or other readers.
The Lambro Dryer Vent (shown at above left) avoids the vent screen issue by incorporating a top that opens (to rain or snow) when the dryer is operating and closes otherwise. There are similar designs that avoid opening at the top. UltraSeal sells a similar design clothes dryer vent.
But on Amazon we found a reader review complaining that the device did not resist UV damage from sunlight, presenting an absurd and dangerous additional photo of this same product held shut with a bungee cord - inviting an overheated dryer and a fire!

Thanks

Daniel
Reader follow-up:
I have always believed that a back draft damper at the dryer vent outlet also served to keep pests out. I have never read any code that says a screen is acceptable. Nor a code that allows sheet metal screws; Some allow pop rivets but many local codes don't even allow those. I have been in the HVAC trade for 19 years so if i confused what your article meant then i imagine that most common homeowners would also. thanks for reading. - Darrin Hussey
Reply:
Unfortunately, Darrin, even simple backdraft dampers at clothes dryer vent terminations are not rodent or bird proof, nor are they free of lint clogging, though the wider the operable door or louver, the more slowly lint tends to collect.
As the article above amply illustrates, even a single single-flapper dryer vent termination can clog completely with lint, leading to additional lint collection inside the dryer vent duct itself, and risking a serious building fire.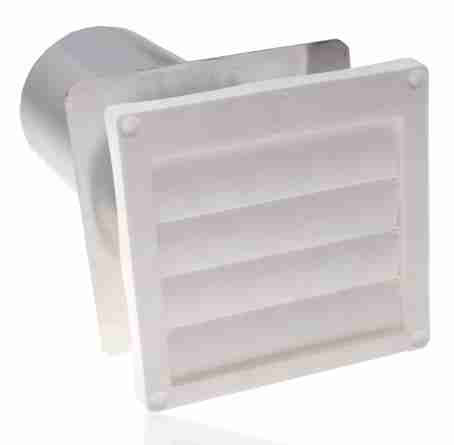 But in addition, the entry of animals into dryer vents is a safety concern too. As is confusion over the right names for clothes dryer vent termination parts.

Indeed it is a tough call deciding what to call various building parts and components. Our general editing rule is to use the correct or industry or trade name but to include references to the popular name used by consumers. That's because consumers and other readers search for the name they know, not the proper one.

In this case, there are products sold as "rodent screens" to cover exterior clothes dryer vents to keep out birds, squirrels, etc.
A web search for clothes dryer vents performed in November 2012 found that the dominant and highest-level products returned by the search all used the word "screen" in their product description.
We agree that using an actual fine mesh or other small screen on a dryer vent means that lint will collect there, blocking the vent, increasing clothes dry time, and worse, risking a clothes dryer fire. That fire hazard is the theme of the article on the page above.
At above left is a Whirlpool clothes dryer vent that uses louvers - a design resistant to larger animals and without a finer-meshed clog-prone screen.
Watch out: in our experience even this dryer vent cover needs periodic inspection and lint-removal.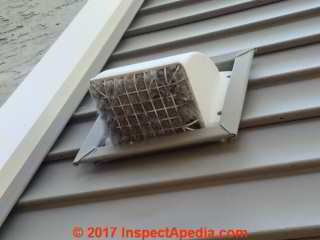 Watch out: clothes dryer vent termination safety warnings:
DO NOT PUT A SCREEN that will block or collect lint on the exterior of a clothes dryer vent as you may cause dryer overheating and a fire. Notice that even the 3/8-inch dryer vent screen shown at left and discussed in the article above quickly clogs with lint and has to be cleaned frequently.

Photos of this lint clogged clothes dryer vent in a Haddonfield New Jersey home courtesy of Brian Gilligan.

This screen came with the dryer vent; after testing and demonstrating what it did (it clogs quickly). Still, in this location (about ten feet above ground level the dryer vent is also readily accessible to squirrels and birds.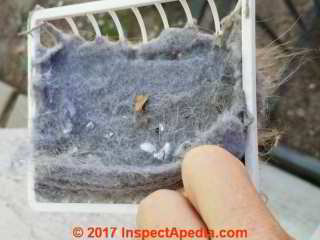 DO INSTALL OR USE AN APPROVED DRYER VENT COVER "rodent screen" or similar device (some are shown in the article above) to be sure that animals don't enter the dryer vent duct, as if they do, a nest or animal or dead animal also blocks the dryer vent, causing the same hazards we've been discussing. Dryer vents that are close to ground, close to a roof surface, or close to any other readily accessible building surface are readily invaded by mice, birds, squirrels etc.

Note that quite a few dryer vent backdraft dampers are readily opened and accessed by small animals so they may not be sufficient to keep them out. This is less the case for multi-vaned louver type backdraft dampers than for the larger round type or rectangular type "flapper" damper covers.
Sheet Metal Screws in clothes dryer vents: In some locations (not all) a sheet metal screw can obstruct the dyer vent as well as it can serve as a lint collection point.

This is especially so for longer screws protruding well into the vent duct space and for screws of any type used in high number, protruding into the duct cross section.
Clothes Dryer Lint Trap Fire & Safety Hazards
Warnings About Auxiliary Lint Filters for Clothes Dryers are at CLOTHES DRYER LINT FILTER HAZARDS

Watch out: Clothes Dryer Lint Traps: like the unit illustrated above and sold a variety of manufacturers and online stores are intended to be installed somewhere between the clothes dryer outlet and the dryer vent outlet - these are are also not recommended in some dryer installation manuals, are prohibited by some building codes, and can similarly cause overheating and fires.
Requirements for Independent Exhaust for Bath, Clothes Dryer & Kitchen Exhaust Fans
Question: is it safe to vent kitchen exhaust, bath vent exhaust and dryer vent all into the same exhaust system?
I recently bought a building and noticed that all three units have a similar arrangement consisting of a single galvanized rectangular duct for clothes dryer, bathroom and kitchen hood...all three discharge into the same duct.
The result is that when the clothes dryer is on moisture backfeeds into the kitchen and bathroom.
The only way to keep moisture out of the building is to run all fans at the same time. This house built in 1854 is a brownstone/row house it was renovated in 1980 and is in Albany, NY.
Funny thing is that I had the house inspected by a home inspector prior to purchasing it.
Is this now or has it ever been an acceptable practice? What's the least intrusive solution?
I wouldn't think that lint and kitchen grease is a desirable combination...one of the apartments had a screen on the vent discharge that was completely blocked by lint...very impressive!
Should I be able to see this mentioned in the city building code and could it have ever been accepted practice?
Do you think it is so unacceptable that it might result in an immediate revocation of a certificate of occupancy?
- Anonymous by private email 2017/12/14
Reply: no that is improper and unsafe
The kitchen exhaust, clothes dryer exhaust, and bath venting each needs its own independent exhaust vent to the building exterior.
You will not find any model code that approves the exact situation you describe: a single, shared bath, kitchen, and clothes dryer exhaust venting you describe. You may also find that codes cannot anticipate every crazy idea that an installer may latch upon, so the code writers try to give guidelines that are broad enough to communicate the intent.
The revocation of a CO - I'm doubtful, but the answer to that question lies with your local building department - they are the final legal authority. Certainly I'd expect a local building official to agree with my assessment that separate vents are needed.
2006 International Mechanical Code SECTION 504 CLOTHES DRYER EXHAUST
504.1 Installation.
Clothes dryers shall be exhausted in accordance with the manufacturer's instructions.
Dryer exhaust systems shall be independent of all other systems and shall convey the moisture and any products of combustion to the outside of the building.
2006 IMC SECTION 505 DOMESTIC KITCHEN EXHAUST EQUIPMENT
505.1 Domestic systems.
Where domestic range hoods and domestic appliances equipped with downdraft exhaust are located within dwelling units, such hoods and appliances shall discharge to the outdoors through sheet metal ducts constructed of galvanized steel, stainless steel, aluminum or copper.
Such ducts shall have smooth inner walls and shall be air tight and equipped with a backdraft damper.
2006 IRC, Chapter 15 Exhaust Systems, SECTION M1502 CLOTHES DRYER EXHAUST
M1502.1 General.
Dryer exhaust systems shall be independent of all other systems, and shall convey the moisture to the outdoors.
I'm not quick to defend home inspectors but in this instance I would not necessarily expect a home inspector to detect the issue at the time of an inspection.
Few inspectors would notice the effects of an exhaust fan for one area on other building areas as they wouldn't leave the fan running. Still an astute inspector might notice that there are three different vents in the building and only one vent outlet.
Watch out: In my opinion the installation is unsafe, particularly where there are kitchen greasy exhausts. The risks include a building fire as well as vent system blockages, a grease/lint fire, a clothes dryer fire, moisture problems in the building or moisture damage from dysfunctional venting and perhaps other snafus I've not considered.
To choose the least-intrusive solution will depend on building layout and construction.

Reader follow-up: legal recourse toward the seller for improper venting
What I'm grasping for is a legal recourse toward the seller of the property. Is there any way this installation could be justifiable and grandfathered?
Reply:
That legal question is one for your attorney. I'm not optimistic that there is legal recourse relying on a seller to have technical knowledge of three different building ventilation codes. Usually in real estate the purchase is a caveat-emptor transaction in which the emptor is expected to perform her own due-diligence.
Regarding the building department's position:
Work may have been done without a permit or inspections.
Often a building department has not actually inspected a property and will not inspect it for code compliance unless
- requested to do so by the property owner
- required to do so as part of a building permit or approval for new work, modifications, or renovations
"Grandfathered" is often used loosely in real-estate to mean that nobody has raised an issue about something at a property. Properly used in my opinion "grandfathered" means that there is an explicit written statement, code, or policy that states that a specific condition, construction, or building is exempt from current building codes and standards.
In my opinion no building code official who is worth her salt would "approve" the installation you describe as it is unsafe, but as I've stated, the final legal authority for such questions is always the local building code compliance official.
Watch out: In my opinion it is dangerous to focus first on placing blame for an unsafe condition when in fact the condition could cause a fire, injury, or loss. First priority is always to take steps to make a building safe for its occupants.
Do that now, documenting the conditions using an independent third party if you need that information for litigation.
Research & Codes on Clothes Dryer Venting & Dryer Fire Hazards
See CLOTHES DRYER FIRE RESEARCH - for a complete list of articles on fires traced to clothes dryers
2003 IMC Chapter 4 VENTILATION [PDF] International Mechanical Code
2006 IMC Chapter 5 EXHAUST SYSTEMS [PDF] International Mechanical Code
2006 IRC Chapter 15 - EXHAUST SYSTEMS [PDF] International Residential Code
Abbott, John A. Prevention of Fires and Explosions in Dryers: A User Guide. No. 432. IChemE, 1990.
ASHRAE Standard 62.2-2007: Ventilation and Acceptable Indoor Air Quality in Low-Rise Residential Buildings
requires all clothes dryers to be vented directly outdoors,
ASHRAE 62.2-2013 Ventilation and Acceptable Indoor Air Quality in Low-Rise Residential Buildings defines the roles of and minimum requirements for mechanical and natural ventilation.
Abstract:

ASHRAE 62.2-2013 Ventilation and Acceptable Indoor Air Quality in Low-Rise Residential Buildings defines the roles of and minimum requirements for mechanical and natural ventilation systems and the building envelope intended to provide acceptable indoor air quality in low-rise residential buildings.

As in the previous editions of this standard, there are three primary sets of requirements and a number of secondary ones. The three primary sets involve whole-building ventilation, local demand-controlled exhaust and source control.

The secondary requirements focus on properties of specific items needed to achieve the main objectives of the standard. Standard 62.2 applies to spaces intended for human occupancy within single-family houses and multi-family structures of three stories or fewer above grade, including manufactured and modular houses and considers chemical, physical and biological contaminants that can affect air quality.

For this edition, mechanical ventilation rates have been increased to reflect the elimination of the default assumption of a leakage rate of 2 cfm per 100 ft2.

Other significant changes were made regarding climate limitations on pressurization and depressurization, carbon monoxide alarms, and calculations and weather data for estimating annual leakage. In total, this edition incorporates the contents of 17 addenda into the 2010 edition.
Beers, Jonathan. "Dryer Venting." HOME ENERGY 20, no. 6 (2003): 14-16. This article notes that " Once a fire starts, the plastic vent hose burns, spreading the fire."
Flynn, Jennifer D. US Structure Fires in Nursing Homes. National Fire Protection Association, 2008.
Franklin, Frederick F. "Survey of electrical fires." FIRE J. 78, no. 2 (1984): 41-44.
Geis, Aelred D. "Effects of building design and quality on nuisance bird problems." (1976).
Hayden, A. C. S. "Residential combustion appliances: venting and indoor air quality." Environmental progress 7, no. 4 (1988): 241-246.
Hoddenbach, Gerard, Jerry Johnson, N. P. S. Chief, and Carol DiSalvo. "RODENT-EXCLUSION MANUAL."
NFPA, "Dryer Safety Tips", Nationbasl Fire Protection Association (2013), retrieved6 Aug 2015, original source: http://www.nfpa.org/safety-information/for-consumers/causes/dryers-and-washing-machines/dryer-safety-tips
Sherman, Max H. "ASHRAE and residential ventilation." Lawrence Berkeley National Laboratory (2003).
Sherman, Max. "ASHRAE's New Residential Ventilation Standard." ASHRAE Journal 46, no. 1 (2004): S149.
Sherman, Max. "Residential Ventilation Standard." EETD Newsletter (2001).
Timm, Robert M., and Gerald R. Bodman. Rodent-proof Construction: Structural. Cooperative Extension, Institute of Agriculture and Natural Resources, University of Nebraska-Lincoln, 1983
U.S. CPSC, "Final Report on Electric Clothes Dryers and Lint Ignition Characteristics - May 2003", [PDF] cpsc.gov, original source: http://www.cpsc.gov/pagefiles/117075/dryer.pdf
Wijayasinghe, Mahendra. "Fire losses in Canada: Year 2007 and selected years." (2011).
Wright, Frank Lloyd. "Environmental Barriers." New York Times (1953).
...
Continue reading at DRYER VENTING FAQs, or select a topic from closely-related articles below, or see our complete INDEX to RELATED ARTICLES below.
Or see APPLIANCE DIAGNOSIS & REPAIR
Or see MOISTURE CONTROL in BUILDINGS - home
Or see VENTILATION in BUILDINGS
Or see this
Article Series
Suggested citation for this web page
CLOTHES DRYER FIRE HAZARD WARNINGS at InspectApedia.com - online encyclopedia of building & environmental inspection, testing, diagnosis, repair, & problem prevention advice.
Or use the SEARCH BOX found below to Ask a Question or Search InspectApedia
...
Ask a Question or Search InspectApedia
Questions & Answers on bathroom vent fan and fan ducting installation procedures, codes, standards.
Try the search box just below, or if you prefer, post a question or comment in the Comments box below and we will respond promptly.
Search the InspectApedia website
Technical Reviewers & References
Click to Show or Hide Citations & References
John Cranor, ASHI certified home inspector (house-whisperer.com) in Richmond, VA, can be reached by email to: johncranor@verizon.net or by telephone at

804-747-7747

. Technical review, email, 1/2012
[2] "Overheated Clothes Dryers Can Cause Fires, CPSC Document # 5022 Updated June 2003", U.S. Consumer Product Safety Commission, www.cpsc.gov., websearch 11/25/2011, original source: cpsc.gov/cpscpub/pubs/5022.html
[3] "Electric and Gas Clothes Dryers, Staff Evaluation and Contractor Report", US CPSC Memorandum, 25 Feb 2000
[4]"Report on Electric and Gas Clothes Dryers", U.S. CPSC Memorandum, 25 Feb 1999, the Clothes Dryer Project, March 1999
[5] UL Standard 2158, voluntary standard for electric clothes dryers
[6] ANSI Z21.5 1 (CGA 7.1) voluntary safety standard for gas powered clothes dryers
[7] "Healthy Indoor Air for America's Homes, Indoor Air Hazards Every Homeowner Should Know About - room by room assessment", U.S. Government Publications, web search, 11/30/2011, original source: http://publications.usa.gov/epublications/indoorair-hazards/assessment.htm More about this information source, quoting the US Government website:
... Federal Citizen Information Center (FCIC) has been a trusted one-stop source for answers to questions about consumer problems and government services. FCIC, part of the General Services Administration's Office of Citizen Services and Innovative Technologies, has traditionally provided publications to consumers via the publications distribution center in Pueblo, Colorado. The Pueblo.GSA.gov website was where consumers could go to find information and order publications on a variety of topics from the federal government.
Publications.USA.gov replaces the former Pueblo.GSA.gov.
[8] "The Facts About Clothes Dryer Exhaust Systems", John Cranor, the ASHI Reporter, April 2005,American Society of Home Inspectors,® Inc., 932 Lee Street, Suite 101, Des Plaines, Illinois, 60016, Tel: 847-759-2820, website: ashi.org, original source: ashireporter.org/articles/articles.aspx?id=161
Books & Articles on Building & Environmental Inspection, Testing, Diagnosis, & Repair
Our recommended books about building & mechanical systems design, inspection, problem diagnosis, and repair, and about indoor environment and IAQ testing, diagnosis, and cleanup are at the InspectAPedia Bookstore. Also see our Book Reviews - InspectAPedia.
...