How to Inspect & Troubleshoot Mobile Homes, Double wides, Caravans, Manufactured Homes, & Trailers

MOBILE HOMES, DOUBLEWIDES, TRAILERS - home - CONTENTS: Mobile home, trailer, doublewide, manufactured home inspection & troubleshooting guide. Definition and description of mobile homes, double wides, trailers, caravans and campers. Lists of defects found on mobile homes, trailers, double-wides, caravans, static caravans

Guide to Safety and building codes for mobile homes - what building codes regulate mobile homes & doublewide homes. Wind & tie-down regulations for mobile homes & double-wides

POST a QUESTION or READ FAQs about inspection of the condition of manufactured homes, mobile homes, mobile home, caravan, static caravan or trailer or doublewide problem diagnosis procedures, & their care, repair, & maintenance
InspectAPedia tolerates no conflicts of interest. We have no relationship with advertisers, products, or services discussed at this website.
How to Inspect Double-Wides, Mobile Homes, Trailers or Manufactured Housing for Defects: detailed procedures, defect lists, references to standards. Here we explain where to look for costly or dangerous problems on mobile homes, trailers, or double-wides. We address all of the major parts and systems of mobile home structures and suggest field inspection procedures as well as common hidden problem and common repair procedures.
Green links show where you are. © Copyright 2014 InspectApedia.com, All Rights Reserved.
INTRODUCTION- to the Inspection of Mobile Homes for Defects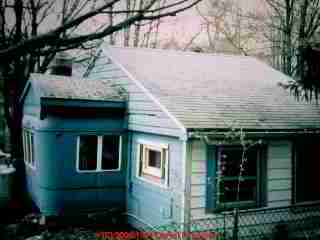 Ver.14 , updated through 2014 - Steve Vermilye, New Paltz NY and Daniel Friedman, Poughkeepsie NY, Hudson Valley ASHI Chapter Seminar, Newburgh NY, January 4, 2000, NY Metro ASHI Fall 99 Seminar, Holiday Inn Crowne Plaza, White Plains NY, October 2, 1999.
With deep sorrow we report that our friend and associate, Steven T. Vermilye of New Paltz NY (photo at the top of this page) passed away on 19 June 2001, so of course you will have difficulty contacting him by normal means.
Steve was a leader in the home inspection profession, recognized nationally as well as among New York State professional home inspectors for his competence, kindness, honesty, humility, humor, and for his unequivocal commitment to the welfare of his clients.
Steve led our interest in mobile home inspections by offering us an opportunity to join with him to work pro-bono in behalf of agricultural workers in the Hudson Valley -- a service which we continue in his memory.
Definitions: If you are not sure if your home is a mobile home, trailer, double-wide, caravan, or a modular or panelized-built or factory built home, please see DEFINITIONS of Mobile Home, Doublewide, Modular, Panelized Construction
We found so many unsafe and un-healthy conditions in the trailers and mobile homes occupied by migrant farm workers that there was almost no safe habitable housing at the facility.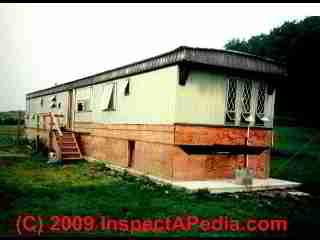 The facility owner, responding to suggestions from our report and from the N.Y. Office of the Attorney General and an attorney representing farm workers made extensive improvements in farm worker housing as a result of Steve's initiative.
Many of the photographs used to illustrate defects and needed repairs at these mobile homes, trailers, and double-wides came from Steve or from our own photos when we worked together.
We all miss Steve Vermilye and his passing remains a great loss. If the information in this report assists anyone in assuring that their home is more safe and secure than it would have been otherwise, that benefit is thanks to Steven Vermilye -- this information is one of his many gifts to the people for whom he cared deeply -- Daniel Friedman.
Consumer Reports (2/98) points out common weak spots surveyed and recommends that buyers hire a home inspector. But many inspectors are not familiar with the special problems found in mobile homes.
Price: $15-$70K; 15 million in U.S.;
"mobile homes" aka "manufactured housing" per the industry - confused with modulars & panelized.
single mobile home vs. double-wide trailers (specs)
single wide mobile homes

typical 1000 sq ft, $24,000.,
more problems with floors, roofs, windows, doors

multi-wide mobile homes, double wide trailers, popout trailers and manufactured homes

typical 1600 sq ft, $43,000.
more problems with joining of the sections

1x lumber and siding "trailer" construction vs. more recent
land often not-owned; rented 50% of the time
1974 HUD Code (Red seal certification label on newer units); inspections @ factory; HUD-complying homes do not have to comply with local Building codes! HUD regulations have loopholes and need work.
7 States: AZ, AR, CA, FL, TX, VA, W. Va. - have funds for warranty claims; NOT NYS.
82% of respondents reported overall satisfaction with M. H. (C. R. survey)
But more than 50% report at least one major problem, even for homes less than 5 years old. (C. r. survey)
Definitions: What is a Mobile Home, Trailer, Camper, Doublewide mobile home, Modular Home, Factory-Built Home, Panelized-Construction-Built Home?
These terms are defined at Trailer vs Mobile Home vs Modular vs Panelized Construction an explanation of terms and how to identify these structures.
PRIORITIES OF INSPECTION & Reporting of Mobile Home Defects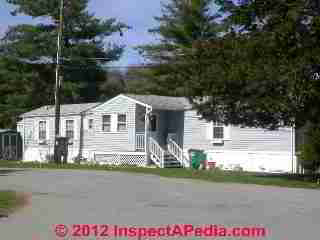 MOBILE HOME FIRE SAFETY - Fire Safety Defects in Mobile Homes
Electrical - aluminum wiring, owner-modified or otherwise unsafe wiring
Heating, flues, chimneys
Safety Exits - doors and push-out windows; unsafe steps and rails at entry doors;
Smoke detectors critical - short exit time for this construction
The double-wide home shown at left, as seen from a distance, appears to be in good condition, but only on close and thorough inspection can we become confident about the condition of and potential safety hazards at any home.
Mobile Home & Trailer STRUCTURAL & SAFETY DEFECTS in Mobile Homes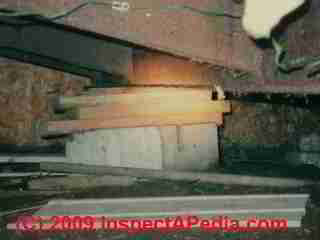 Movement (impacts electrical & flues) - look for evidence of movement that may have disturbed piers, foundation supports, or mechanical system connections - areas of serious safety hazards
Storm Damage such as blown off of foundation, roof damage, missing skirting
Floor Collapse (the extensive use of particle board for subflooring exposes these structures to high risk of hidden damage and floor collapse due to roof, exterior or plumbing leaks
Mobile home & manufactured home tie-downs - to secure the structure against wind damage
Trailer or mobile home foundations and tie-downs are discussed in detail at MOBILE HOME STABILIZING SYSTEMS
OTHER COMMON MOBILE HOME & TRAILER DEFECTS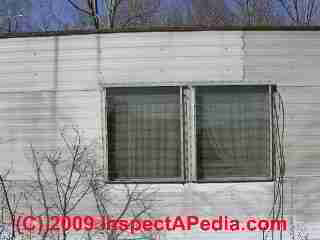 Roof leaks
Leaks at windows and doors (photo at left)
Plumbing leaks
Heating systems not maintained, possibly unsafe
Rot and insect damage at points of leakage into walls and floors
Wet or contaminated crawl areas, especially where enclosed
MOBILE HOME LABELS - Mobile Homes and Manufactured Housing Labels & Certifications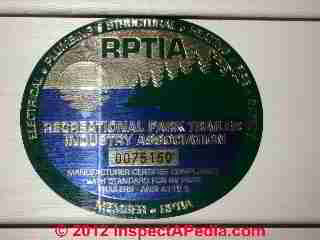 INSTALLATION MANUAL - For new/recent mobile home, every manufacturer is required to provide instructions on site preparation, installation and anchoring.
Manufacturer's CERTIFYING LABEL - on rear section outside or near the main entry door, HUD Insignia
DATA PLATE - near the main electrical panel or other visible & accessible location (under sink for many manufactured homes): name of mfg., serial and HUD ID, zone information (see Structure discussion)
DAMAGE DURING TRANSPORT: if the unit was damaged during transport it no longer conforms to the standards and should not be accepted by the code official;
Definitions: What is a Mobile Home, Trailer, Doublewide, Modular Home, Factory-Built Home, Panelized-Construction-Built Home?
The following is the opinion of the author and has not had a technical review by other industry experts. Various trailer, mobile home, and modular housing manufacturers may disagree with some of these views. Corrections and content suggestions are welcome.
Characteristics of Trailers as Living Space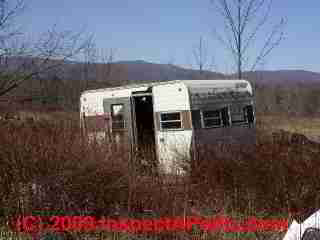 Trailer traditionally describes a usually small, wheeled, home with a history and image of flimsy construction such as wooden 1x3 wall framing clad with aluminum siding, virtually no insulation, and low quality leaky windows.
"Trailers" up until the 1970's (my estimate) included both campers which really were intended to be towed by a car or truck and moved often from site to site (though some were left parked for decades at campgrounds), and also lightweight factory-made homes which were intended to be towed once to a home site and then kept there.
Our photo (left) shows a trailer that was finally abandoned as a living space. The little blue structure used as an addition to the left of the small house in the photo at the top of this page was undoubtedly a small camper.
No one building "trailers" calls them that any longer because of the "flimsy" image. The closest thing to a "trailer" in current products on the market are motor homes and campers. The least-costly campers (such as our pickup truck "slide-on camper") built after 2000 are probably considerably better constructed than the "trailers" of old.
In current language (2009), a "trailer" is either a "mobile home" that is more than 20 years old (see below), or it is a camper designed to be moved easily and often from site to site. (Or in different usage, a "utility trailer" is a utility vehicle intended to haul goods or large items and designed to be fastened to the back of a car or truck, and a "tractor trailer" is of course a larger (typically 40 ft long) hauling system for moving goods by highway from city to city.)
Trailers may have had their wheels left on, but normally they'd be set on a masonry pier foundation and a skirt installed around to hide the under-trailer area.
Characteristics of Mobile Homes as Living Space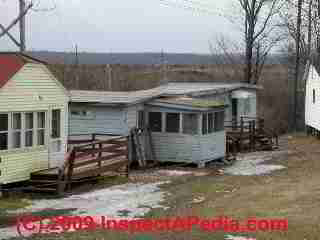 In the past few decades (to 2006), "trailer" manufacturers have considerably improved the quality of construction of such homes. The national manufacturing and building code standards for these structures have also been improved. Perhaps in part to escape the less than wholesome image of "trailer", manufacturers use the term "mobile home" to describe what is usually larger and better made home than "trailers" of old, though perhaps with similar materials.
Mobile homes are built in a factory and are designed to be moved (once and uncommonly, perhaps once again) on its own wheels attached to its own frame to a site where a foundation is prepared and connections to utilities are made. In the U.S., states have regulations about the siting, foundation, steps and entry, wiring, plumbing, tie-downs for wind and storm safety that apply to these homes. Some examples of mobile home regulations for New York State are this website. Individual state regulations will vary - you'll want to see what your state requires. Even within states regulations vary as wind and weather conditions do also.
Examples of mobile home improvements include stronger overall wall and roof construction, less leaky roof covering, and windows that are less notoriously leaky. In addition newer mobile homes have, for fire safety, bedroom windows that can be pushed out to a wide opening for emergency exit in case of fire - an important safety improvement. Usually building departments grandfather in older structures, but sometimes they will insist that certain life-safety improvements be made, for example if an older mobile home is being brought to a new site in a new community. If this is the case one or two windows may need to be replaced to provide this important safety improvement.
When there is a severe storm or hurricane, mobile home communities are among the worst damaged as a strong wind can completely turn over or demolish mobile homes. For this reason, mobile homes set up in high wind-risk zones have extra requirements for tie-downs to secure the building against upset during a storm.
Mobile homes may arrive on wheels but they will be jacked enough to be set on some type of approved building foundation, such as masonry piers or a masonry foundation.
In case these terms are not confusing enough, some mobile home makers like to call these "factory built homes". But that use of "factory-built homes" is confusing too since modular homes are also "factory built" but are quite different from trailers or mobile homes.
Characteristics of a "Doublewide" Mobile Home or Trailer
Some manufacturers provide mobile homes constructed to be joined together, side by side to form a double-width living unit. While a double-wide mobile home is basically constructed by the same materials and methods just described above, the tie-down and connection requirements for these living units may be different in some jurisdictions, since their risk of being blown away in high winds is different. Other installation and support requirements, such as connection of the two units and placement of foundation support will also have to accommodate this variation.
More Reading
Green link shows where you are in this article series.
...
Frequently Asked Questions (FAQs)
Question: where can I find the HUD Section 184 Red Tag on my Home?
Where would the section 184 Red Tag be located on a 1983-West single wide? - Suzanne
Reply: first see if your home qualifies under HUD Section 184 financing rules
Suzanne,

Section 184 refers to manufactured home financing assistance available in the United States from HUD. A red tag indicating that the home qualifies for financing under Section 184 is installed on homes that are eligible. If the Section 184 red tag is missing, the house is not eligible for Section 184 financing. Only manufactured homes built after June 15, 1976 qualify. The tag is mounted outside on the rear of the unit.

This HUD financing pertains to manufactured homes sometimes referred to as "doublewides". So even though your 1983 single wide is newer than the 1976 cutoff year, it may not qualify as qualifying housing by the HUD rules, and it won't bear the RED TAG you are asking about.
Other HUD Section 184 Indian Home Loan Guarantee Program rules that determine if a home qualifies for 184 financing (and thus will bear a red tag) include: [1]

The manufactured home bears a red tag certifying that its construction complies with the Federal Manufactured Home Construction & Safety Standards
The home mortgage term is for 30 years or less, covers the unit and its building site or an appropriate site lease document was executed
The home was built after 15 June 1976
One- to four-family principal residences that qualify as standard housing under Section 184 (including units in condominiums, planned unit developments, and manufactured housing that is permanently affixed to the property, but not including cooperatives), fee simple properties located on Indian trust land or land located in an "Indian area"
The home is classified and taxed as "real estate" - this will exclude

single-wides
homes lacking a suitable skirt and adequate insulation (in freezing climates) to protect the mechanicals
homes that are not new and/or that were moved from another site and homes not mounted on a permanently-attached foundation system with their transportation axles and tongue removed (i.e. the home can't easily be simply towed to another site)
homes located in a 100 year flood plain (including the level of ground below the home or its basement or crawl space
Examples of mobile home labels are found at MOBILE HOME LABELS.
Question: what types of windows are found on mobile homes?
I have a question not a comment. Hope you can get back to me on this. We are buying a 1974 mobile home. What kind of windows are in that type of home. Are they roll outs or pull up windows? - Linda
Reply:
You can see some common mobile home window types in this article:

- sliders
- double hung windows
- single hung windows
- jalousie windows
Watch out: At least on older homes these windows are often leaky and may have caused hidden wall and floor damage. Check under the carpet or in the crawl area of your home, especially in floor areas below windows or doors.
Question: Who is responsible for the mailbox serving my mobile home ?
problem who is responsible for mail boxes the property owner o the resident ? ranaheim@roadrunner.com
Reply:
Ranaheim

I don't think there is a single right answer to the mailbox responsibility question as it varies perhaps by local jurisdiction and certainly by the practical matter of where the mailboxes are physically located.

In general a building or home owner is responsible for the condition of a mailbox that is attached to or part of their home or that is on their own property.

If the mailboxes at your home are grouped in a gang in a row at the front of your complex, you might expect the property owner to maintain the support system for the mailboxes. But certainly any individual who cares about their mail delivery will want to make sure that their box is secure, and that it remains accessible in all weather (such as deep snow cover).
Question: How can I track down what's causing high moisture in a doublewide manufactured home?
I have a double wide manufactured home that I'm renovated. It has vinyl siding and perforated soffits common on manufactured homes. We've noticed moisture high in the walls all around the home and can't identify the cause. Any ideas? Thank you, - T.B. - Colorado
Reply:
A competent onsite inspection by an expert usually finds additional clues that help accurately diagnose a problem with too much moisture in a home. That said, gee, with absolutely no information whatsoever about the home you mention, I'd be just arm-waving to offer a specific diagnosis.
But I can suggest some directions of investigation for tracking down a moisture problem:
Generally the approach is to find the water sources and water or moisture traps.
That is, high indoor moisture, enough to put condensation on walls, might be tracked down to one or both of:
Leaks or moisture sources that are wetting the building interior or its ceiling, wall or floor cavities or space below. These could be leaks from outside or moisture generation (cooking, showers, plants, even plumbing leaks) inside.
Traps that keep moisture in the building because it is not adequately vented. Indeed from your note I infer that there is a gabled (peaked/sloped) roof over the home, but we can't be sure that it has working venting or just some perforated soffit panels placed over solid plywood soffits. Or you may have soffit intake but no ridge outlet venting.
If I'm right that you're in Colorado, you're not in such a high humidity area as the Southeastern U.S. That in turn makes me wonder if there is not either water below the home or leaks in or into it from roof, windows or doors (notorious leakers on older manufactured homes).
If the moisture is uniform around all of the interior of the home I suspect it could be coming from a source that would equally wet the whole structure - below the entire structure up through floors, or leaks across a wide area of roof. Observing moisture high on walls may just indicate where the cool walls are in contact with warmer, high-moisture-content air inside the home. (Warm moist air rises).
If your renovation permits, you might need to make some test cuts to be sure you know where water is and is not, and to be sure you're not renovating by putting a new skin over a rotting or inset infested structure.
Sorry I can't be smarter but that's about as much arm-waving as I can dare with no more information. If you'd like to send some photos or further description of what's there and what you're seeing, that may permit some further suggestions.
At WATER ENTRY in BUILDINGS we collect a series of building moisture or water entry diagnosis & cure articles that might be helpful.
Follow-Up: wet walls traced to frost or ice in the home eaves and attic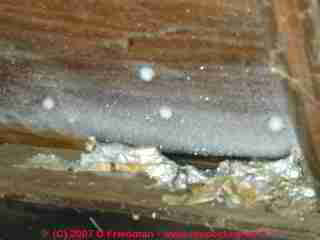 Thanks for the reply. I managed to find a manufactured home installer who immediately knew what I was talking about. It turns out all this is a universal problem with manufactured homes (and some stick built homes) in cold, high wind areas.
The soffits are vented continuously. Snow actually drifts inside the soffit then, when the weather warms, melts and some water runs down the walls. As this can happen many days after the initial precipitation it's often mistaken for a condensation issue.
The installer didn't have any suggestions for a solution. In fact, he said if I came up with anything to let him know. Any ideas?
Reply:
We have seen several points of frost or even ice accumulation at house eaves and even deeper into the attic in uninsulated HVAC ductwork.
Clues that point to the attic ice or frost accumulation as the source of indoor leaks and moisture
I think a diagnostic clue that can help track down apparent building leaks or moisture on walls that originates in the attic may be the observation of leaks in a warming weather trend after a long cold spell. Also the moisture shows up only on the exterior walls, not on building interior walls. It doesn't have to be snow blowing into the soffits - which is unusual; anything that allows moisture condense, collect, and freeze in the attic or in attic HVAC ducts can produce such leaks when things thaw out.
The cause your installer cited, snow drifts in the soffits, is possible but more common are some of these other problems that can produce the same symptoms:
ROOF ICE DAM LEAKS - a combination of inadequate insulation and/or improper attic ventilation causes ice dams along roof edges or eaves; water backs up above the ice dam and leaks through the roof, into attic and walls below.
WIND WASHING INSULATION At EAVES - in high wind areas and homes using blown-in or loose-fill attic insulation, winds can push back insulation from the outer edges of the attic, exposing the wall top and ceiling area close to exterior walls to heat loss, condensation, ice and frost formation, and later, when weather warms, melting ice and frost show up as leaks in the interior
WATER & ICE IN DUCT WORK - occurs when uninsulated or under-insulated HVAC ducts in a cold attic ceiling receive moist indoor air during freezing weather.
How do we fix these problems of ice and frost formation in the attic ... it depends. First let's accurately diagnose the cause by a careful inspection in the attic. Wind-wash will be obvious - insulation will have been disturbed. Ice dam leaks leave characteristic stains that we illustrate in that article.
Fixing ice dam leaks: add insulation, or add ice and water shield under shingles at roof eaves; improve attic venting, including not just soffit intake but adequate ridge outlet
Fixing wind-washed insulation at house eaves: replace insulation, or replace loose fill with batt insulation, held in place or air flow above assured using baffles in the eaves that let soffit intake air pass over not through the insulation
Fixing ice and frost in ductwork: correct indoor moisture sources, close off ceiling registers for A/C systems that are not used in cold weather; insulate the HVAC duct work
Details about these attic frost, ice, or moisture problems that show up as "leaks or moisture on building walls" and how they are fixed are in the articles cited above.
At Inspect Attics for Moisture or Mold we discuss inspecting (and correcting) building attics for evidence of condensation, moisture, or even ice.
Question: leaky windows and roof defects on 1998 modular home
I have friends that bought a 1998 Modular Home that was set-up as a display model. They bought it in March 1999. It had single-pane aluminum frame windows...and the panes are not even sealed on all edges...and move in the frame. Likewise the double-hung parts of the windows are not airtight and sweat profusely. When were the double-pane windows mandated to be installed in modular homes ? Also, they have a roof problem. In 2008 in August 23-25 it rained 22 to 24 inches.
Since that time I have noticed that all around the perimeter of the roof...the roof has many places where the decking is sunken in. the shingles do not overhang the required one inch or so...and are right even with the edge of the eave drip flashing. What I suspect is that the water, curled under the shingles and wicked back under the shingles ad saturated the roof decking. I have looked into one area...and the decking has rotted though and water has been poring into the wall cavity. I saw that the top sill plate is rotted through. All of the interior of the house has a vinyl wallpaper...and no black mold has come through that I can see. The living and dining rooms don't show any signs of black mold either.
This manufacturer has many complaints and problems from various owners around the US. The manufacturer seems to be ignoring them all. I would like some specifics from anyone to get these problems addressed. Thanks. - Aubrey 1/29/2012
Reply:
In case your home is actually modular construction, not a mobile home or doublewide, please see MODULAR HOME CONSTRUCTION s
Aubrey you should have a professional home inspection performed so that you have a reasonably accurate, complete list of building problems and defects that need to be addressed, and so that you know the priority of repairs. I suggest this because given what you've already seen, it could be a mistake to think that the issues you've seen are all of the problems or even the most important ones. In general the priorities of repair are
Fix unsafe conditions at the home
Fix building defects for mechanical systems that are needed that just don't work - such as reliable heat, electricity, plumbing
FIx building defects that are causing rapid costly damage - such as leaks, insect attack
Once you have a repair and maintenance plan for your home, you and your attorney can address the question of who is responsible to pay for these repairs.
Let us know the name and model and manufacturer of your home and send along any photographs of problems if you can and we'll be glad to research and comment further.
Question: Why does my doublewide always feel uncomfortably warm
Why does my doublewide always feel uncomfortably warm especially at night when trying to sleep and even with the temperature at 70 to 71 degrees? - Daniel Phipps 4/16/2012
Reply:
Daniel that question has me stumped. There are so many possible reasons:

- a medical problem
- windows shut
- no ventilation
- bedroom close to a heating appliance that is "on" such as a water heater
- air conditioning system that is not working properly, has a blocked filter, blocked cool air return, dirty blower fan, etc. - see MOBILE HOME COOLING

Check your own sensations against actual room temperature - I'm not sure if that's what your comment about "even with the temp .." meant.
Question: how do I get someone to inspect our doublewide, and how much will it cost
I am interested in buying a 1989 doublewide manufactured home in a retirement community in Hudson, Florida. I want to have it inspected. Where should I go to find a reliable manufactured home inspector in that area ?
How much should I expect to pay for the inspection?
Thanks so much for helping us. - Jackee 7/13/2012
Reply:
Anon, I'd start outside the home, inspecting the roof and roof edges for evidence of leaks or animal entry.

Jackie: unfortunately not all professional home inspectors are willing to inspect manufactured homes, doublewides, trailers, etc. Nevertheless I would start by contacting any of the overabundant number of home inspectors nad home inspector associations in Florida (ASHI, FABI, for example), to locate an experienced inspector in your area. Then call and ask if the inspector has experience with your type of housing and is willing to inspect it.

Fees are typically in the hundreds of dollars. But it would be a false economy to hire someone who is cheap but incompetent, or even free but does not know your type of home structure well. The risk is that the inspection is free or cheap but the cost to fix problems and surprises that such an inspector missed can be enormous.
Question: horrible tuna fish smell from double wide home ceilings
I bought a 2008 double wide and i have this terrible smell that smells like tuna that seems to be coming from the ceilings? - Anonymous 7/15/2012
Reply:
Anon, at ODORS & SMELLS DIAGNOSIS & CURE we provide procedures for tracking down and curing smells and odors in buildings. In your home, I'd also inspect outside as well as inside for evidend of leaks into the roof / ceiling structure, or animal entry there. Check first for safe and un-blocked heating and ventilation flues as a blockage there by a dead animal would also be unsafe.
Aside from animals, leaks into the ceiling could have produced a mold problem.
Don't forget to inspect and check in the crawl space too - odors travel in structures so you could be fooled about a source.
Question: my homeowners insurance covers "accessible ductwork" from the air conditioning - what does that include?
I have home owners insurance, and it says it covers "accessible ductwork from the air condtioning unit to the point of attachment at register" what does that mean? Is my ductwork under the house covered? - Anonymous 7/17/2012
Reply:
Discussion of "accessible" building components vs inaccessible

Anon: re "accessible ductwork" - indeed that word has been the subject of lots of debate - the final answer lies with your insurance company and perhaps the onsite tech. Generally for building inspectors the term "readily accessible" is used to mean that the component can be approached, seen, touched, without having to cut anything apart or disassemble anything not intended to be opened by a homeowner.

For a service technician, "accessible" means it's reasonably possible to get to it - in my OPINION - without having to cut holes in ceilings, walls, floors. So if "under the house" is an area that can be physically accessed, say by entering a crawl space that is not itself so tight or unsafe as to be not enter-able, then in my OPINION the ducts are accessible.

When we debated this question at a home inspection association it was after an inspector had fallen to his death while crawling up a building-mounted but loose roof access ladder. He felt that he HAD to access the building roof but there was no other means for him to do so. He was killed.

A result of that terrible experience was a decision that ultimately we do not ever want to demand that anyone, inspector, nor service technician, attempt to "access" a building component or area if s/he has a reason for not doing so, such as a personal judgement about safety.

However that doesn't mean that a problem needing attention goes forever ignored. Rather it means that ultmately arranging safe functional access may take more time, trouble, and special arrangements. And cost accordingly.
Question: do mobile homes have an attic?
we r currently buying a 1971 dw mobile home, it has been bricked in. this type of mobile home have a attic? - q Cecilia Jones 8/6/2012
Reply:
Cecilia,

I've rarely found a doublewide that has a usable attic, though there may be access to look into that space via an access hatch or a gable-end louvered vent. I would certainly ask the inspector to check that area as you'll want to know about insulation and about the roof leak history.

Also I'm confused about "bricked-in" - use the CONTACT US link on any of our pages to send me some photos and I may be able to comment further.
Question: building codes for manufactured home steps
what are the florida codes for a Manufactured Home steps. Can they be steal attached or wooded removable - Melissa 7/18/2012
Reply:
Melissa,
Specific examples of unsafe steps and railings at mobile homes and manufactured homes can be found "Stairs, steps & railing safety hazards at Caravans, Doublewides, Mobile Homes, Trailers" found in our article on MOBILE HOME EXTERIOR DEFECTS.
Because there are many trip and fall hazards that maybe present at stairs and railings, see our separate articles STAIRS, RAILINGS, LANDINGS, RAMPS and CODES for STAIRS & RAILINGS. In addition to those specifications for safe steps and railings, most states require safe and securely-attached entry and exit stairs at both the primary entry to the home and also to a secondary safety or fire exit pathway from the home. Some later model manufactured homes are provided with emergency egress windows (push out or pop out) but there should be at least two exit doors at opposite ends of the structure.
Question: Rental-unit double-wide mobile home with no insulation, no heat, flickering lights: is this normal?
Do these come pre trimmed in the inside? Or do I have to pull them off and insulate underneath them? Im renting and its costing me 600 a month to heat. I don't think the renters insulated it at all. I pull a piece of trim from around the slider door and no insulation there. The pipes, no caulk or anything. I can throw a penny down to the ground from the bath pipes. It is a double wide. The house has a gap in the floor where it looks like the house is coming apart. I can stick a long needle rite threw it to the ground. - Kevin 8/13/12
Do Double wide Mobile come pre trimmed to the sellers in the inside? Or do the businesses that sell them have to have to pull them off and insulate underneath them? I'm renting a 2004 and its costing me $500-$600 a month to heat. I don't think the renters insulated it at all.  I pulled a piece of trim from around the slider door and no insulation there. I put my hand underneath the cement foundation and the floor. No insulation there as well.
The heat comes out semi cold. It only has a 56000 BTU heater and is new. But.. This seems low for a 40X60 or 40X70 Im not sure which one this is. But it runs for house trying to get the house warm. The dishwasher water freezes in the inside of it during the winter. I tried pulling it out to see why. But its hooked in. Cold air rushes from the light sockets to where it blows a lighter out. I came from a 3 story victory. So I know little about pre-manufactured homes. The pipes, no caulk or anything. I can throw a penny down to the ground from the bath pipes. I have caulked around it now.
The house has now  formed a gap in the floor where it looks like the house is coming apart. I can stick a long needle rite threw the carpet it to the ground. Is the house just settling? Also the electric is $300-to $400 a month. The light bulbs flash like a strobe light all the time. They had a 12,000 volt cow fence hooked and water  for their 50 head of cows in when we got here. After paying for that (unknowingly) for 6-8 months I realized that it was hooked in.
When I turn off the electric to the house. The fence and water  would turned off. So they put in a separate pole. But the lights still flicker and the fuse box blows fuses all the time (for no reason) like if I have the washer on. I have two small girls. The renters say this is all normal. - Computer Geekz - 8/13/12

Reply:
In order to sort out the question of what are common construction practices and what is usually included or not with a manufactured home, we first need to get a couple of confusing terms straightened out.
You originally posted question about double-wide mobile home construction in our article on modular construction (MODULAR HOME CONSTRUCTION) .
In a separate article we define modulars, factory built homes, comparing them with caravans, trailers, mobile homes, doublewides: see DEFINITIONS of Mobile Home, Doublewide, Modular, Panelized Construction, where we give details about the differences in these types of construction.
Double-wides and mobile homes are not built using the same structural materials, codes, standards as modular homes. Details about double-wide homes and mobile homes are discussed separately beginning in the article starting at the top of this page: MOBILE HOMES, DOUBLEWIDES, TRAILERS.
Do the same building codes regulate the construction of modular homes and caravans, trailers, doublewides, mobile homes?
No. A modular home is built using conventional 2x4 or 2x6 wood framing much like a stick built house, but it is constructed in several sections that are then trailered to a building site, set upon a conventional building foundation or slab, and fastened together there. The floor of each section is built strong enough to be placed on a temporary trailer for transport to the building site where the trailer chassis is removed prior to assembly of each section.
Building codes and standards for modulars are essentially the same as for a stick-built residential home. Even when the modular home is built in a different state from which it is to be assembled, the home must comply with state building codes.
What building codes regulate mobile homes & doublewide homes?
A double-wide or mobile home or trailer (also called house trailers or "static caravans") is typically built to different building standards than a conventional stick-built house or modular built house. These homes are completely assembled in a factory and trailered to a site where they are parked. The structure includes a permanently-attached trailer chassis, axle, wheels, trailer hitch that are used to deliver the home and can (in concept) be used to move it later.
Unlike modular homes whose constructions are regulated by state and local building codes, mobile homes, double-wides and trailers, are regulated by the U.S. Department of Housing and Urban Development (HUD), via the Federal National Mfd. Housing Construction and Safety Standards Act of 1974.
This national regulation has allowed many manufacturers to distribute nationwide because they are immune to the jurisdiction of local building authorities. There are, however, windzones adopted by HUD that home builders must follow. Depending on where a mobile home is located, these wind zone regulations can require special anchoring or tie downs to reduce the chances of the home being overturned in a storm.
Based on the description in your posted comment/question and your email, you are describing a double-wide mobile home.
FAQs about the properties of double-wide homes:
Do these [double wide homes] come pre trimmed in the inside?
- Yes double-wide and mobile homes are usually sold completely finished, including wall and ceiling, coverings, trim, appliances, and fixtures. However depending on the manufacturer it may be possible to buy these units without some of these features installed, intended to be finished by a buyer. A typical example might be leaving out carpeting and offering carpet choices.
Do I have to pull them [wall finishes, ceiling finishes, trim] off and insulate underneath them in a double-wide?
- No it would be unusual for a completed double-wide home to be sold uninsulated unless it were a specially-contracted version as I've mentioned above. And it would make no sense whatsoever to complete a home's interior finishing, trim, wall coverings etc., and then expect a buyer to tear these off in order to insulate the structure. Also in our OPINION it is not normal for a tenant renting a double-wide or mobile home to be expected to insulate, install heat, install electrical wiring.
The heat [in my double-wide] comes out semi cold.
- This is not a normal nor proper condition. Either your heating system is not working and needs repair, or as you suggest, your unit was not properly constructed and insulated, perhaps routing heating air ducts through a cold, uninsulated space. I can only SPECULATE that perhaps your home was contracted for and sold as an incomplete unit, or was sold for and moved from a different climate.
The light bulbs [in my double-wide home] flash like a strobe light all the time.
- Watch out: You are describing an unsafe condition that includes risk of overheating electrical circuits, amateur or improper electrical wiring, and a risk that could include a fire, personal injury, property loss or even death. As you say you are a tenant, not the property owner, our advice is
turnoff any electrical circuits that are behaving oddly as you describe
notify the property owner immediately orally and in writing that your home is unsafe and not safely habitable, requesting that inspection and repairs be made by a properly qualified and licensed electrician or other professional (such as for the heat) as needed.
Keep us posted on how things progress - what we learn may help other readers. I've kept your questions here because this is where you posted them and we want you to find our reply But details about how mobile homes and double-wide homes are built, inspected, and maintained is at MOBILE HOMES, DOUBLEWIDES, TRAILERS.
Reader follow-up:
I crawled underneath today. There is nothing there. No blanket insulation......(nothing) lol WOW - Computer Geekz - 8/15/12
Question:
(Oct 28, 2011) michael lavalle said:
the claton home that was delivered is not what i order .blue prints all wroung
(Mar 6, 2012) Plumbing los gatos said:
I have learned something new from you this morning Daniel. I have worked with a great many different plumbing systems over the years, but I had never heard of this system before. I have printed this one out and have added it to my plumbing information binder.
Reply:
Los Gatos: thanks for the note; I'm not sure what new topic you refer to, but glad to be of use; we welcome questions about our website articles and are glad to research further to work on answers when needed. It benefits everyone. Daniel
Question: I was startled out of my skin to see a cat jump into the living room from a floor vent
(Aug 29, 2012) Maxine Payne said:
The red tag was apparently covered up when vinyl siding was installed. Now I want to sell the property, but I can't because I do not have the red tag number. How do I get the red tag number?
(Aug 29, 2012) Greg Filian said:
The flashing of the lights mentioned are they in the whole house or just one outlet? If it's just one outlet it may be just the outlet, if it's the whole house the problem may be at the main connection.
(Sept 8, 2012) Gail said:
I am looking at buying a double wide through an estate sale. The "trustee" of the estate is the deceased owners daughter, who know very little to anything about mobile homes (as I).
I am hiring an inspector, how ever he wont be available for 3 weeks and I have an immediate concern...
While standing in the living room I was startled out of my skin to see a cat jump into the living room from a floor vent ( vent cover was pulled off) I looked into the vent and it appears to be completley open - no duct work - just a view of the ground beneath. The daughter said that that was common and is there for ventilation. LOL Tell me this isnt so!
Reply:
Gail,
Thank you SO much for the wonderful cat - HVAC system question.
Yes I can tell you "it isn't so" - that is, it is not good practice to simply leave floor vents in a home open to the outdoors such that anything, including a cat (or worse, a raccoon) can hop in for a visit.
I can imagine a few reasons why you might have found the missing duct work and open floor vent, all adding up to some more trouble and work for you. For example most likely there was a heating or heating and cooling system that used air but that has disintegrated, been damaged, fallen off, or was simply removed and abandoned.
Sometimes too, when warm or cool air delivery into a home is poor in flow rate or quantity, people try to improve system operation by adding more return air to the system by just cutting an opening that lets outdoor air into the system somewhere. The problem is this is the most expensive possible way to heat or cool a home since it's a "one way" design - we take un-conditioned air from outside, heat it or cool it, then try moving it into the living area.
Really the most significant implication of the cat in the hat, I mean cat in the vent discovery in your possible future home's heating sysem is that it's a red flag to watch out for other work done or "problems solved" by the same person on that home - as you may find other amateur workmanship that lengthens the list of repairs and improvements needed to make the home safe and habitable to normal standards.
Keep me posted, and send along photos if you can (use the CONTACT US link at page bottom or top) - especially if ... the cat comes back.
Daniel Friedman
I suppose a less ridiculous explanation that the owner could have invented might have been to explain

"Oh I forgot to tell you, that's just Marion, my mom's cat. Marion comes with the house. The hole in the floor is her pet door."

Question: is the center wall in a doublewide structurally significant?
(Sept 21, 2012) T.Oliver B said:
In a 1977 "double-wide", is the center (longitudinal) wall structurally significant?
I'd like to lose most of it. I've see a mobile office taken apart, and each halve had a massive
2x4 laminated "header?", and apparently had no need for a longitudinal wall. Will I see the same
in the old double-wide I recently purchased? It's pretty solid, overall, and the roofline is good.
The center wall is thinnish, and doesn't "feel" structuraly significant. It feels a bit cheesy...
I'm betting that it's not structural.
Any thoughts? I haven't seen into the "attic" yet; perhaps this weekend...
t.oliverbridges@gmail.com
Reply:
You want to take a careful look at framing from the attic. If trusses or ceiling joists are one piece from wall to wall tou may be ok
Question: roof is crooked and doors won't shut in cold weather
(Feb 13, 2014) Re-Posted with space after periods in the text: (3 hours ago) Joseph Matteini said:
It has been very cold 0 degrees plus or minus for a month. My enclosed front porch has sliding windows. slanting roof. The roof is higher on the left side above the doorway,making the door notshut evenly. The differencene is one inch. This is also starting on the inside door to the home. This has never happened before.This is an open porch of redwood and steps before the porch. It is an 1985 mobie home. HELP!
Reply:
Joseph,
Without seeing the actual home or sharp diagnostic photos I can only guess that you have either
1. a sagging roof in danger of collapse - THIS IS UNSAFE and needs prompt attention; if this is the case you may need someone to rake snow off of the porch roof as well as to inspect for damage to the structure. We don't want the porch roof to fall in on you
2. A second possibility is that the roof structure has not sagged and begun to collapse but instead frost heaves have pushed up one end of the porch foundation. The hazards if this is the case are more subtle: there could be hidden damage to the floor structure - another collapse risk, or there may be just a trip hazard due to a sloped floor.
If the floor to the porch is level and has not changed, but the roof slope has changed then my first guess is more likely correct.
Watch out: doors that don't open or shut can be unsafe - you can be trapped in the event of a fire
Question: can I install insulated wall panels on my old singlewide home?
(Feb 17, 2014) Dianne Adams said:
I have lived in a poor sad single wide with large add-on for about 15 years. This mobile was made in the early 1970's I believe. The outside walls seem to be some type of cheesy SIP (Sealed Insulated Panel)of many years ago. On either side of the "I" beam the material of the SIP is coming apart. I would like to install insulted vinyl paneling myself if at all possible to save as much money as possible. I am somewhat...handy with electric screwdriver and saw and such.
Would you think I might possibly be able to install these insulted panels myself? Do you recommend a particular type or brand? What 'rating' should I look for? Thanks in advance. Oh! I live in high desert in the very center of California - elevation about 2300 feet - temperature range 20 degrees or so (above zero) in winter and up to 110 degrees in the summer. I am FAR more concerned about the HEAT than the cold. I currently am not using an form of heat except clothes. I have an entirely electric house and can't afford to run electric heaters but that's OK as long as I don't melt in the summer. One entire wall of the room that I use like 95% of the time has the sun hitting it all day long. That is the wall I want to address first...
Any comments or suggestions would be greatly appreciated!
Thanks again!
Dianne & Jaemeister & Silly Sally & Lacey & Rubee & Poo Poo Pa Choo & Mona Lisa & Bella Cruz & little g.g. (all dogs) & Pebbles & Pumpkin & Coco (cats) & Mister (male finch) and a bunch of fowl - 14 hens and one lucky rooster!
Reply:
Dianne,
You could most likely install a thin layer of insulating board, then flashing tape around windows and doors, then your finish siding; perhaps taping the insulating board seams will improve the insulation's performance;
But I'd want to be sure we have a clear understanding of the wall structure so we're not creating a moisture trap;
Also, siding jobs often turn out to be a bit more work than one anticipated: as you are making the exterior wall thicker you end up either having to build-out the trim around windows and doors or living with a home whose windows and doors look like sunken eyes - this is a cosmetic or aesthetic concern only, that is as long as you've properly sealed around those openings so as not to have leaks into the walls.
If your home has a nearly flat roof, most likely adding insulation on the ceilings inside, or inside the roof, or as some mobile home owners do, building a gable roof over the original structure, will do more to reduce heat gain (your main concern) than adding insulation on the walls.
So priorities are probably the roof (or interior ceilings if you have space), and the sun-beaten wall.
Question: mobile home doors stick
(Feb 25, 2014) lisa kirshkaln said:
I too, like Joseph M. seem to be having a problem. I have noticed both my front and back doors are getting harder to close, the deadbolt in not inline anymore. and some of my floors and walls have separated by an inch or more, my ceilings seem to look like they are being jacked up in spots
. I do have an a-frame roof over the top of the mobile home.(metal) no snow build up. and some of my walls look a little slanted. I assume its from the frost heaves but what can be done. it has ruined quit a few walls and ceilings already. and do you know if home owners ins. would cover this type of problem. (my floors make noises now) I live in Maine, and we will still have some frost heaves for quite some time. thank you for any advice you can give.
Reply: frost heave movement in a mobile home, doors hard to open or shut - unsafe conditions!
Lisa it sounds as if your home is suffering from frost heave movement, and I speculate that with the current weather conditions this is not a time when actual repairs are possible. Here are some immediate concerns and suggestions:
1. Fire safety: be sure that you have working smoke alarms and that you can get the exit doors open. The worst would be to become trapped in a home, unable to exit, in the event of a fire.
2. Electrical and gas or oil safety: if building movement has torn or moved wiring or plumbing enough to break connections those systems could be unsafe. If you smell fuel odors and these can be trace to a gas leak it's time to get out and ask for emergency assistance. If electrical switches or outlets or appliances that used to work start behaving oddly there is an electrical hazard - shut those circuits off and ask for help from a licensed electrician. There could be similar damage to plumbing drains that could be unsanitary, below the home, but those are less immediately life threatening.
3. Structural safety: when walls, ceilings, or floors seem to have moved, if movement has actually broken apart structural connections I'd be worried about a collapse. I don't know how your home is built so can't have a clear opinion about how much movement would be dangerous, but in concept, if a floor starts feeling bouncy when it wasn't before, and/or if you could stick a finger into a space between floor and wall or ceiling and wall, a more expert assessment is pretty urgent. When the problem is a frost heave movement and there has been some structural movement it may be possible (and not so costly) to provide temporary support or to add connectors for safety.
Finally, yes contact your homeowners' insurance company and ask for an inspection and assistance.
Keep me posted; you can also send photos for further comment = using our CONTACT link at page top or bottom.
Question: trouble financing a 1975 singlewide - what are the regulations?
(Feb 25, 2014) Anonymous said:
I have a beautiful remodeled 1975 singlewide trailer with 2 large additions we are selling we have a interested buyer but the banks wont finance it due to the fact that's its a 1975> what are the federal laws re:1976 cut off?
Reply:
Anon
I think you or the bank are referring to the Federal Manufactured Home Construction and Safety Standards (commonly known as the HUD Code) that went into effect June 15, 1976. The bank is saying that a home built before June 15 1976 was not regulated to standards that they are willing to finance.
Here is what the U.S. HUD says about this key date:
Homes built prior to June 15, 1976, even with modifications, do not meet the HUD standards and cannot be accepted as compliant with the HUD Code. As the homeowner, you may find a licensed engineer willing to inspect your home for compliance with your state's housing code. FHA does not insure mortgages on manufactured homes built prior to June 15, 1976. Most other mortgage insurance firms follow FHA's policy.
Question: knocking sound in home blamed on low water pressure - when the furnace kicks on
(Mar 17, 2014) Jeani said:
We have a 1987 Holiday Manor double wide that we love except for the noisy heating system. Right before the furnace kicks on, there is a knocking sound that travels throughout the house starting out slow and getting faster and faster as it moves through the rooms. It's loud enough that it wakes us up at night. Any suggestions? It's a natural gas furnace and is the original one that came with the house. We had a local heating contractor check it out and their explanation was that the water pressure is too low. They put in a backflow preventor and a shut off valve off the water line so you don't have to drain the furnace to service the whole system but didn't have any other solution. Any suggestions? The heat works, but boy oh boy, the noise is awful!
Reply:
Jeani,
Low water pressure to a building would not normally affect the operation of a heating boiler; a service tech might indeed check water level and pressure in the boiler itself to be sure it's within normal operating levels and pressures (typically 12 psi when the boiler is cold).
Search InspectApedia for "heating system noises" for articles offering further help. Indeed banging radiator pipes or baseboards can be common on heating systems.
Question: how do I figure out who made my manufactured home?
Sharon said:
How can I find the name of the manufacturer and model, and possibly a serial number of a 1971 manufactured home? The title says Make: MALB, Body: HS. The home now has vinyl siding so any label is concealed.
Reply:
Sharon, in the article above at
MOBILE HOME LABELS - Mobile Homes and Manufactured Housing Labels & Certifications
we list some locations where you might find the data tag on your mobile home - that's where the manufacturer should be identified. On a home as old as yours there may be no tag. At that point I'd start asking my neighbors who have similar-aged homes.
...
Ask a Question or Search InspectApedia
Questions & answers or comments about inspection of the condition of mobile homes, mobile home or trailer or doublewide problem diagnosis procedures, & their care, repair, & maintenance.
Try the search box just below or if you prefer, post a question or a comment in the Comments box below and we will respond promptly.
Search the InspectApedia website
Technical Reviewers & References
Related Topics, found near the top of this page suggest articles closely related to this one.
Click to Show or Hide Citations & References
[1] Section 184 Indian Home Loan Guarantee Program, U.S. Department of Housing & Urban Development, web search 1/5/2012, original source: portal.hud.gov/hudportal/HUD?src=/program_offices/public_indian_housing/ih/homeownership/184 - Quoting:
The Section 184 Indian Home Loan Guarantee Program is a home mortgage specifically designed for American Indian and Alaska Native families, Alaska Villages, Tribes, or Tribally Designated Housing Entities. Section 184 loans can be used, both on and off native lands, for new construction, rehabilitation, purchase of an existing home, or refinance.
Also see Freddie Mac & Fannie Mae
[2] Native American Housing Loan Guarantee Program HUD Section 184 Loans At A Glance, FannieMae, web search 1/5/12, original source: efanniemae.com/sf/mortgageproducts/pdf/section184aag.pdf
[3] Mobile Home Inspections - Daniel Friedman & Steven T. Vermilye
[4] Trailer vs Mobile Home vs Modular vs Panelized Construction an explanation of terms and how to identify these structures.
[5] "Modular Home Construction, special defects and inspection methods" Dan Friedman, NY Metro ASHI Seminar, Holiday Inn, Crowne Plaza, White Plains NY, October 4, 1996
[7] Trailer vs Mobile Home vs Modular vs Panelized Construction an explanation of terms and how to identify these structures.
[8] "Modular Home Construction, special defects and inspection methods" Dan Friedman, NY Metro ASHI Seminar, Holiday Inn, Crowne Plaza, White Plains NY, October 4, 1996
[9] New York State: "Manufactured Homes: an installation guide for the code enforcement official," undated. [Div. of Code Enforcement & Admin. - 518-474-4073, George E. Clark, Jr., Director] - this is a guide tool, not an enforcement code or standard.
[10] HUD State Administrative Agency (for 36 states) (NY: 518-474-4073) - for complaints
[11] Manufactured Housing Institute, 2101 Wilson Blvd. Ste. 610, Arlington VA 22201 703-558-0400 www.mfghome.org
[12] NYMHA, 35 Commerce Ave., Albany NY 12206-2015 518-435-9859 800-721-HOME (they want the Star Program to provide for separate assessment of manufactured homes)
[13] Consumer Reports: www.consumerreports.org - special report 2/98
[14] Mobile Home Inspection Checklist, Florida, Town of Lady Lake Building Department
[15] Thanks to home inspector Peter Bennett for eagle-eye editing assistance regarding spelling at this web article series. Little Silver, NJ 07739 Office 732-758-9887 Fax 732-758-8993 Cell 732-245-9817 afullhouseinspectionco@gmail.com
[16] Wikipedia provided background information about some topics discussed at this website provided this citation is also found in the same article along with a " retrieved on" date. NOTE: because Wikipedia entries are fluid and can be amended in real time, we cite the retrieval date of Wikipedia citations and we do not assert that the information found there is necessarily authoritative. - Entry on Mobile Homes, original source: http://en.wikipedia.org/wiki/Mobile_home#Regulation, retrieved 8/14/2012
Books & Articles on Building & Environmental Inspection, Testing, Diagnosis, & Repair
The Home Reference Book - the Encyclopedia of Homes, Carson Dunlop & Associates, Toronto, Ontario, 25th Ed., 2012, is a bound volume of more than 450 illustrated pages that assist home inspectors and home owners in the inspection and detection of problems on buildings. The text is intended as a reference guide to help building owners operate and maintain their home effectively. Field inspection worksheets are included at the back of the volume. Special Offer: For a 10% discount on any number of copies of the Home Reference Book purchased as a single order. Enter INSPECTAHRB in the order payment page "Promo/Redemption" space. InspectAPedia.com editor Daniel Friedman is a contributing author.

Or choose the The Home Reference eBook for PCs, Macs, Kindle, iPad, iPhone, or Android Smart Phones. Special Offer: For a 5% discount on any number of copies of the Home Reference eBook purchased as a single order. Enter INSPECTAEHRB in the order payment page "Promo/Redemption" space.
Crawl Space Moisture Control, U.S. Department of Energy
Domestic Building Surveys, Andrew R. Williams, Kindle book, Amazon.com
Defects and Deterioration in Buildings: A Practical Guide to the Science and Technology of Material Failure, Barry Richardson, Spon Press; 2d Ed (2001), ISBN-10: 041925210X, ISBN-13: 978-0419252108. Quoting:
A professional reference designed to assist surveyors, engineers, architects and contractors in diagnosing existing problems and avoiding them in new buildings. Fully revised and updated, this edition, in new clearer format, covers developments in building defects, and problems such as sick building syndrome. Well liked for its mixture of theory and practice the new edition will complement Hinks and Cook's student textbook on defects at the practitioner level.
Moisture Control in Buildings, U.S. Department of Energy
Moisture Control in Walls, U.S. Department of Energy
...