Masonite™ & Similar Hardboard Ingredients

History & Ingredients; no asbestos
InspectAPedia tolerates no conflicts of interest. We have no relationship with advertisers, products, or services discussed at this website.
What are the ingredients in Masonite™ & does or did it contain asbestos?
This article series describes and provides photographs that aid in identifying various types of hardboard as well as softer fiberboard sheathing and insulating board & fiberboard sheathing materials used on building walls and roofs, such as Homasote, Celotex, Insulite, and Masonite insulating board sheathing products.
Our page top photo shows the back side of an early hardboard interior-use product labeled "GENUINE MASONITE DE LUXE QUARTRBOARD".
We also provide a MASTER INDEX to this topic, or you can try the page top or bottom SEARCH BOX as a quick way to find information you need.
Is there Asbestos Content in Hardboard Masonite™
Reader Question: is this painting on hardboard shedding dangerous asbestos into my home?
2019/01/03 Anonymous asked:
This painting was painted in black (painted) weave thin fibre board
Does this seem to be asbestos
The edge is frayed so I covered the back with cardboard and sellotaped edges
Really value your thoughts

Can I leave this in the house? - Anonymous by private email
Reply: No. Recommendations for risk reduction & painting preservation of works on Masonite™ type hardboard
In my opinion the risk of asbestos contamination or asbestos health hazards from the painting in your photos in the conditions shown is probably zero because Masonite™ type hardboard generally does not contain asbestos.
However, because the painting edges are damaged as visible on the back, I do have some recommendations to reduce risk and to preserve the work.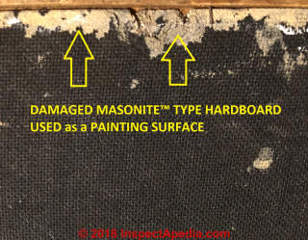 1. No asbestos: it is not likely that your hardboard "Masonite" type board that was painted-over in oil or acrylic contains asbestos - hardboard is a wood or cellulose product.
As we note at HDF HIGH DENSITY FIBERBOARD, synonyms or equal product names besides Masonite™ include Hernit, Karlit, Quartrboard, TreeTex, Torex, and "pressboard".
In the photo of the back surface of your HDF or Masonite™ like product, notice the characteristic window-screen like imprint on the back surface of the hardboard material, its brown colour, and its hardness or density in comparison with much softer (and usually much thicker) MDF or LDF fiberboard products that we describe at FIBERBOARD SHEATHING.

Below I give the original patent information describing the ingredients in Masonite hardboard. In the UK where your painting is located, I expect the formulation to be about the same.

Where there have been reports of asbestos contamination in related products it was a cross-contamination issue found in some softer fiberboard sheathing (that is not hardboard) and of course in cement-based asbestos-cement board or millboard - a completely different, non-cellulose, product.
2. Damaged painting hardboard support: Although the probability of a detectable release of asbestos fibres probably zero for your painting on fiberboard, because the board edges shown on the painting back surface are damaged, the wood-material shedding risk is not zero and the painting hardboard support deserves preservation.
- the front surface of the board is completely over-painted

- the edges of the board are surrounded by framing

- the back surface of the board appears damaged and could be shedding material, for which some action is needed
3. Recommendation for preservation: [If this is a valuable artwork you should also check with an art conservator before doing anything to the painting]]

To encapsulate the board back to stop any measurable shedding of the hardboard fibers, and also to preserve the board and painting, including reducing the chances of moisture absorption through the board backer that can sometimes lead to brown bleed-through to the painting surface, you might spray the back with a clear lacquer sealant.
That will also further prevent even the smallest potential shedding of material.
Watch out: in reading the articles I recommend below, be sure you distinguish between hard fiberboard such as the Masonite™ type hardboard on which your painting was executed, and the considerably softer (and possibly asbestos-contaminated) medium or low density fiberboard products such as fiberboard building sheathing that is the main focus of the articles below.
More information about the ingredients in hardboard such as Masonite™ are given below on this page.
Information useful to your question and for preservation of your painting are at
Reader reply:
I have covered the back.
The board edges where damaged are actually painted in cream paint it's not the colour of the board your seeing but the paint colour over the damage
Thanks a lot for your detailed reply
History of Masonite™ Hardboard & Ingredients of Masonite™-like Hardboard or Fiberboard
As you will read in these patent disclosures by William H. Mason, the inventor of Masonite hardboard, asbestos was not an ingredient in Masonite hardboard products.
A 1932 patent does describe the use of asbestos in the equipment used to produce masonite hardboard. For that reason it is very slightly possible that one might detect a rare asbestos fiber in Masonite™ if the hardboard producing equipment such as an asbestos coated roller was damaged.
In sum, the probability of detectable asbestos in Masonite™ is effectively zero.
FIBERBOARD ROOFING & FIBER-WOOD ROOFING for examples of uses of hardboard or fiberboard as an roof shingles
HARDBOARD SIDING - examples of applications of hardboard or Masonite type products in construction
HDF HIGH DENSITY FIBERBOARD Products defined
Mason, William H. "Process and apparatus for disintegration of wood and the like." U.S. Patent 1,578,609, issued March 30, 1926.
Mason, William H. HARD GRAINLESS FIBER PRODUCTS and PROCESS of MAKING SAME [PDF] U.S. Patent 1,663,505, issued March 20, 1928.

Note: The word "asbestos" does not appear at all in this original fiberboard, i.e. Masonite hardboard patent disclosure from William H. Mason, its inventor.

Excerpt: The raw material, such as wood in small pieces or chips, is first converted into fiber.

The fiber is preferably prepared by explosion from a gun through a constricted outlet- 'or outlets under high pressure, preferably steam pressure of about 275# to 1000# per sq. in., but the wood may-be ground or transformed into fiber in other Ways, so long as practically all the constituents are disintegrated into substantially fibrous state and the fibers are not unduly chopped or shortened.

Chemically digested fiber from which the lignins have been substantially removed is not adapted for the purposes of my invention, practically all, or at least the larger part of the natural lignins present in the wood or woody-material being necessary to be retained and incorporated in my product in order to obtain thorough cohesion throughout.- the fibrous body.
Mason, William H. "Process and apparatus for disintegration of fibrous material." U.S. Patent 1,824,221, issued September 22, 1931.
Mason, William H. "PROCESS for the MANUFACTURE of VEGETABLE FIBER PRODUCTS [PDF] U.S. Patent 1,844,861, issued February 9, 1932. Original Assignee, Masonite Corporation.

In explaining the manufacture of Masonite™ hardboard we read that indeed asbestos might be used as a component of the press used to form the hardboard, but asbestos was not an ingredient in the hardboard material itself.

Excerpts:

My invention relates to an improved process for the manufacture of vegetable fiber products of cellulose and lignin compacted or welded together under pressure-accompanied by heat,

and has for its object the treatment of the material in such a manner as to obtain a product of maximum rigidity and strength to resist flexure and other stresses, and to prevent or minimize any 10 tendency which it may have to stick to the surface of the press platens or other molding surface.

The invention is in the nature of an improvement upon the process disclosed and broadly claimed in U. S. Patent No. 1,663,505, granted March 20, 1928.

The raw material used is one which contains lignin and cellulose, for example, wood chips obtained from saw mill waste, although other materials may be used provided they contain lignin in sufficient quantity to bind or Weld the cellulose fibers together in compact relation when subjected to moisture, heat and pressure.

The raw material is first thoroughly disintegrated into fiber by any process in which at least the principal part of the l1gn1n 1s retained, as, for example, the process disclosed and claimed in U. S. Patent No. 1,578,609, granted March 30, 1926,

in accordance with which the fiber is obtained by subjecting the wood chips in a closed high pressure chamber to penetration by an elastic fluid such as steam at high pressure, and progressively discharging the same through a constricted outlet from said chamber while substantially maintaining the pressure in the pressure chamber, whereby the sudden expansion of the fluid is utilized for disintegrating the material.

It is possible to increase or prolong the time interval employed for the closing of the press while still avoiding the heating of the material above 212 F. before the application thereto of a pressure of 200 lbs. or more per square inch by providing the upper surfaces of the movable press platens with means for retarding the flow of heat therefrom,

for example a layer of asbestos may be applied directly to the platen surface, and a wire mesh screen above the asbestos. In addition to the provision of such means, the wet lap sheets may be placed upon steel surface plates outside of the press and conveyed thereby into the press, the surface plates resting upon the wire mesh screen and forming the pressing surface.
Mason, William H. "Acoustical board." U.S. Patent 1,875,074, issued August 30, 1932.
Mason, William H. "Liquid separation." U.S. Patent 1,875,075, issued August 30, 1932.
Mason, William H. "Composite structural unit." U.S. Patent 1,995,264, issued March 19, 1935.

Excerpt:
My invention relates to composite units for structural purposes, as for example, parquetry and tile floor and wall construction, panelling, etc. The preferred material used in the manufacture of such units is fibrous board, preferably lignocellulose fiber board.
Mason, William H., Robert M. Boehm, and Koonce Wilbur Euclid. "Molding composition and process of making same." U.S. Patent 2,080,078, issued May 11, 1937.
Mason, William H. "Process of making ligno-cellulose fiber products." U.S. Patent 2,120,137, issued June 7, 1938.
Patent Excerpt:

My invention relates to vegetable fiber products that are highly hard, strong water-resistant and dense, and process of making same.

My new process comprises the drying of a sheet 5 or blank of ligno-cellulose fiber, which before drying is light and porous, to a state of practically complete freedom from moisture, followed by simultaneous application of high heat and high pressure to the previously dried sheet or blank.

The thorough preliminary drying may be accomplished in various ways, and in one or more steps or subdivisions. About the simplest mode of preparing the dried blank is to form the wet fiber into a sheet from a water bath, pass through squeeze rolls, and dry thoroughly in a hot air drier.

To obtain a final product of maximum density, it is desirable to prepare the dried blank so as to be itself of quite high density, and, when manufacturing fiat products such as boards or sheets,

such dense blanks may be formed as by drying the moist fiber sheet under heat and pressure in a multiple hot platen press or equivalent apparatus, having provision for escape of moisture during drying, such as a wire screen interposed between the fiber mass and a press platen.
Mason, William H. "Momentary-pressure process of making ligno-cellulose products." U.S. Patent 2,140,189, issued December 13, 1938.
MASONITE ANNOUNCES INTENTION to PHASE OUT HARDBOARD SIDING [PDF] press release.
Mccorkle, James B. "Process of producing primed hardboard." U.S. Patent 2,654,296, issued October 6, 1953.
...
Continue reading at ASBESTOS TESTING LAB LIST or select a topic from closely-related articles below, or see our complete INDEX to RELATED ARTICLES below.
Or see ASBESTOS IDENTIFICATION IN BUILDINGS - home
Or see FIBERBOARD SHEATHING IDENTIFICATION- how to identify various brands of cellulose-based insulating board or fiberboard sheathing
Or see this
Article Series Contents
Suggested citation for this web page
HARDBOARD Masonite™-like INGREDIENTS at InspectApedia.com - online encyclopedia of building & environmental inspection, testing, diagnosis, repair, & problem prevention advice.
Or use the SEARCH BOX found below to Ask a Question or Search InspectApedia
...
Ask a Question or Search InspectApedia
Try the search box just below, or if you prefer, post a question or comment in the Comments box below and we will respond promptly.
Search the InspectApedia website
Technical Reviewers & References
Click to Show or Hide Citations & References
"Method and apparatus for drying moving material", Treadway B. Munroe et als, assigned to Dahlberg & Co., U.S. Patent No. 1,598,980, 7 September 1926, described a method and apparatus for drying sheets of artificial heat insulating lumber, known on the market as Celotex, improving the original process.
"Reenforced composition board", Treadway B. Munroe et als, U.S. Patent No. 1,578,344, 30 March 1926
"Method of and apparatus for drying moving material", U.S. Patent 2,376,612, Carl G. Muench, New Orleans, assigned to Celotex Corporation, described a method and apparatus for drying sheets of artificial heat insulating lumber, preferably formed by the felting of bagasse fiber along with other materials necessary to make a satisfactory structural fiber board. 22 May 1945
"Sound-absorbing board for walls and ceilings," U.S. Patent 1,554,180, Sept. 15, 1925, Wilber S. Trader, assignor to Dahlberg & Company, Chicago IL. described an interior-use sound insulating product.
Building Failures, Diagnosis & Avoidance, 2d Ed., W.H. Ransom, E.& F. Spon, New York, 1987 ISBN 0-419-14270-3
Building Pathology, Deterioration, Diagnostics, and Intervention, Samuel Y. Harris, P.E., AIA, Esq., ISBN 0-471-33172-4, John Wiley & Sons, 2001 [General building science-DF] ISBN-10: 0471331724 ISBN-13: 978-0471331728
Building Pathology: Principles and Practice, David Watt, Wiley-Blackwell; 2 edition (March 7, 2008) ISBN-10: 1405161035 ISBN-13: 978-1405161039
Books & Articles on Building & Environmental Inspection, Testing, Diagnosis, & Repair
Our recommended books about building & mechanical systems design, inspection, problem diagnosis, and repair, and about indoor environment and IAQ testing, diagnosis, and cleanup are at the InspectAPedia Bookstore. Also see our Book Reviews - InspectAPedia.
...