Wood Framing Toe-Nailing Connections
Guide to using slant-driven nails for wood framed joists, studs, sill plates, top plates, & beams
TOE NAILED FRAMING CONNECTIONS - CONTENTS: toe-nailing framing lumber: where, how & how many nails should be used, at what angle, to what depth, to provide a strong toe-nailed joint between a stud or rafter or joist and its abutting beam, plate or ridgeboard?
POST a QUESTION or READ FAQs about toe nailing in wood frame construction
InspectAPedia tolerates no conflicts of interest. We have no relationship with advertisers, products, or services discussed at this website.
Wood frame toe nailing: how to toe-nail joists, studs, & beams in wood framed structures.
This article describes the proper method for strong "double-shear" angled or toe nailing of joists or studs that butt into beams or top or shoe plates in wood framed buildings. Properly done, toe-nailing makes very strong wood framing connections. But mistakes like choosing the wrong nail size, wrong nail placement, or wrong number of nails can mean weak joints and a weak structure.
Wood framing connections & connectors: this article series explains the proper selection and installation of structural connectors, brackets & tie plates used to connect deck or porch framing and support members.
Green links show where you are. © Copyright 2017 InspectApedia.com, All Rights Reserved.
Guide for Toe Nailing Wood Framing Connections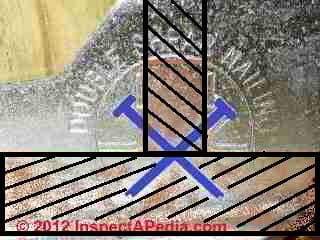 Definition of toe-nailing: framing nails driven on an angle from opposing sides and through the nailed-through wood framing member into the nailed-to framing member so that the "crossed" opposed toe-nails form both a shear-resistant and a withdrawal-resistant connection between the framing members.
[Click to enlarge any image]
Toe-nailing or slant-driven nails are commonly used where it is not possible to drive through the side plate or top plate into the framing member, and has been historically widely used for connecting studs to the top or bottom plate, beam to plate, and rafter to plate or ridge board connections.
We will 5illustrate several of these toenail or slant-nail connections in this article.
Toe-nailing is used both stand-alone, without steel framing connectors and also toe-nailing is specified for the installation of some (not all) framing connectors.
Definition of shear loading & lateral loading of wood framing connections:
Shear loads or lateral load are across the framing nails while withdrawal loads are those that tend to pull the framing nails out of the nailed-to member.
Toe-Nails Instead of Joist Hangers are OK for Framing Lumber Butt-Joint Connections, but Don't Over-Nail and Don't Under-Nail
It is not necessary to use steel joist hangers (FRAMING CONNECTORS & JOIST HANGERS) if the joist is properly toe-nailed from either side into the ledger board, provided that the proper size and number of nails are used.
Our illustration (above left, adapted from a Double-Shear stamping on a steel joist hanger) explains why toe-nailed lumber connections can be very strong. We drew in spray-brown color, a representation of wood framing members showing the abutting of 2x lumber (vertical in the illustration) with a header or beam (horizontal in the illustration).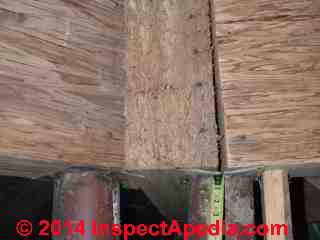 The crossed nails, when applied close together (as guided by the framing connector or by the hand of a competent framing carpenter), form a very strong wood-to-wood connection. Use of toe-nailing, or angled opposed framing nails (Double-Shear in Simpson Strong-Tie's patented[10] joist hanger such as the item adapted above), can permit the use of fewer total nails in a wood frame construction.
Our photo at left shows an unsuccessful use of toenailing in a failed attempt to connect intersecting glulam beams. The nails (those brown spots) pulled, broke, bent, and allowed the connection to fail.
The steel Lally columns are also not properly located an installed.
These beams are not properly connected and their structure is in danger of collapse. That some movement has already occurred is evident in the gap above my tape measure.
The strength of a toe-nailed wood framing connection will be affected by:
How close to opposite one another the two nails are placed
Using nails of sufficient length to adequately penetrate both wood members
Nailing the toe-nails at the proper angle (45 degrees).
Placing nails high enough from the edges of the abutting member (vertical in our sketch) as to have adequate purchase and to avoid simply splitting out a little chip of the edge of the 2x.
Placing nails low enough in that same member to be sure that the length of the nail penetrates both the abutting member and the nailed-to facing member.
Using the correct number of nails specified for the lumber sizes involved.
The species and grade of the lumber being used and of course the condition of the lumber
The type of loading: shear loading or lateral loading versus withdrawal loading that will be applied to the connection
How Many Nails to Use When Toe-Nailing
Because the "toe-nails" cross one another in the header or ledger board when used to secure a deck joist, this connection can actually be stronger than straight-in or end-nailing the deck joists from the other side of the ledger or girder. But using too many nails (below left) or too few nails (below right) is a mistake that results in a weak connection and potentially an unsafe structure.
Using Too Many Nails when Nailing Wood Framing
Using too many nails in a framing lumber connection when toe-nailing or in any position for that matter will also cause a weak framing connection that can lead to structural collapse.
That's because an excessive number of nails actually fractures the lumber. If you click-on and enlarge our photo at above left you'll see that the contractor fractured the vertical stud near its top. Our photo (left) shows about 30 nails shot by the builder during framing of this home.
The framer was trying to drive a recalcitrant stud into position. Clamps might have worked better. This stud was so split as to lose its structural integrity, and replacement of this wall stud was needed.
Too few nails when toenailing framing
Using too few toe-nails in a framing lumber connection is going to make a weak structure that could collapse. For code compliant nailing see the nail schedules in the applicable building code for your area. For example see the UBC Table 25-Q Nailing Schedule. A few examples are cited below.
Studs: 2x4: 4 nails - In the bottom of a 2x4 stud we use two nails per side, opposite one another, crossing in the nailed-to member.
Studs, 2x6: 6 nails - In the bottom of a 2x6 stud we'd use 3 (and in some cases 4) nails per side.
Joist to ledger board: varies by joist depth. In a 2x6 joist I'd use 8 nails, 4 per side.
Rafters: At the birds' mouth cut of a rafter connecting to the top plate we use three nails per side, two down through the top of the birds' mouth into the top plate and one (on either side) of the rafter's vertical portion of the bird's mouth cut into the face of the top plate.
Girder or beam to post, plate or other connections: must be specified by the design
Examples of Nailing Schedule for Toe-Nailed or Slant-Nailed Wood Framing Connections

Wood Frame Connection Type
Number of Nails Required
Blocking or Bridging, between joists / rafters

3-8d into top plate

2-8d into joists at each end of the block or bridging

Ceiling joist to top plate of wall
3-8d toenails
Cross bridging between joists
2-8d nails
Header to studs
4-8d toenails
Rafter to top plate
3-8d toe-nails (see notes in text above)
Floor or ceiling joist to sill plate or girder top
3-8d toenails
Wall stud (2x4) to top plate
2 - 16d end-nails (through the plate from below, into the stud end)
Wall stud (2x4) to sole plate or "shoe"
4 - 8-d toe-nails
or
2 - 16d end-nails (through the plate from below, into the stud end)

Notes & References:

1994 Uniform Building Code Table 23-I-Q Excerpts

Other code & data source citations for nailing schedules are given below

Watch out: It is essential that nails be driven from both sides of the member for a proper toe-nailed connection.
How to keep the framing member in position when toe-nailing
Framing tip: if you've marked the stud, rafter, or joist location on the nailed-to plate or ridge board you may find that as you toe-nail the first nail into the side the nailed-through member begins to slide past the placement line.
If the movement of the nailed-through member off of the layout line is 1/8" or less, go ahead and finish the first nail, but then start the second nail on the opposite side of the nailed-through member. As you finish that nail you will drive the nailed-through member back to its exact position on the layout line.
If the movement off of the layout line is more than 1/8", stop nailing the first toe-nail and start the second opposite-side toenail to move the member back into position. Rather than tippy-tap back and forth on the two sides, you should be able to fully drive the second nail even if it moves the member back over the layout line up to 1/8" in the opposite direction. When you finish nailing the first toenail you'll drive the member back into perfect position.
Then finish the remaining toenails, taking turns to nail from opposing sides.
Where to Place the Nails When Toe-Nailing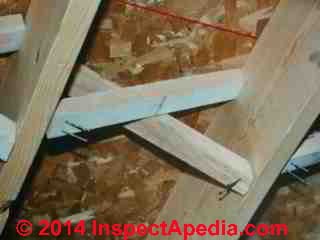 At left is an example of angle or slant nailing that is not "toe nailing" because the nails for each connection are being driven into only one side of the mated wood members. That's ok for this application.
Incidentally, you may notice that the joist bridging shown at left was nailed at its upper end before the subfloor was set in place. But no one remembered to finish the job. The nails in the bridging ends show proper placement and angle for nailing into the joist bottom edges.
First let's understand the objective: we want the toe-nailed nails to accomplish the following:
Avoid splitting the nailed-through member: this means don't start the toenail to close to the very end of the nailed-through member. Usually 3/4" to 1 1/4" before the end of the nailed through member will work.
Obtain sufficient depth or bite into the nailed-to framing member. This means we want 3/4" or more of nail fully into the body of the nailed-to member. Choose a nail of the right size (see below) and right location to achieve this.
If you're not sure about the angle (about 50° to 60° up from horizontal) or starting location of your nail from the end of the member, hold your toenail across an example of the to-be-connected lumber where the end of the nailed-to member is visible. You'll be able to see the depth to which it's going to penetrate.
Toenail or Slant-nailing Spacing Specifications

Location
Minimum Clearance Distance
Minimum end-distance to start the toenail:

7/8"

Minimum edge distance to start the toenail

7/8"

Minimum center-to-center distance for spacing toenails
1 3/4"

Notes

Some model building codes such as the UBC specify the spacing for slant nailed or toenailed connections, with differing requirements depending on whether the objective is to reduce shear loading or lateral loading versus withdrawal loading. Building code specifications for nailing schedules also include assumptions about the wood species and grade, typically Douglas-fir/larch or Southern Pine lumber.
What size nails should be used for toe-nailing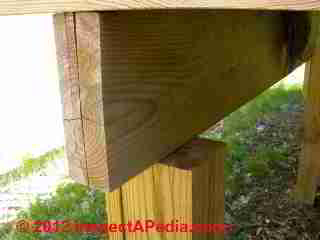 Our photo (left) shows a built-up girder sitting atop a wood post with no visible connection.
But in my OPINION the typical "toenailing" of this girder to the post top that some builders may use would still be an inadequate connection. This connection, discussed in detail at FRAMING CONNECTORS & JOIST HANGERS, is an unsafe structure that risks collapse.
Reader question: (July 22, 2012) Ron said: 3" or 3 1/4" for toe nailing 2x lumber?
Reply: Ron,
In the article above you can see an illustration of toe-nailing showing nails crossing into the nailed-to member for strength.
The required nail size for toenailing or slant-nailing depends on the application, location, type of connection, and size of lumber involved.
The nail size also affects the number of nails required.
For example in connecting a wall stud to the sole plate we use 2 end-driven 16d nails OR 4 8d toenails.
As another example, where making structural connections of larger lumber sizes using 16d (3 1/2") common nails, the Uniform Building Code (UBC) requires 1 3/4" of penetration into the nailed-to member.
For nailing typical 2x studs to a bottom plate or top plate the UBC requires 4 8d common nails, two per side of the stud.
A 3-inch nail or 10d nail would be big enough for most common framing situations. In fact some framing texts (Wagner, Willis H, "Modern Carpentry" (1976)) describe using four 8d toenails, most likely again out of a concern to avoid splitting problems.
Driven a properly-sized nail on a proper angle through the 1 1/2" of thickness of 2x lumber you've got 1- 3/4" bite into the lumber below; Toe nailing can be quite strong if properly installed - with nails in pairs set on opposing sides and at opposing angles so that they "cross" inside the nailed-to wood. But if "toe nailing" is done only from one side the framing connection is not strong and in my opinion not proper.
It's also important to locate the toenail correctly - if it's too close to the bottom of the vertical stud or end of the horizontal framing joist it will split the wood and won't have enough bite in the nailed-through member.
If on the other hand the toenail is too high in the nailed-through member it won't have enough bite in the nailed-to member. I toenail about an inch from the end of the nailed-through member and on an angle that I can visualize as sending a good portion of the nail into the body of the nailed-into member.
How to avoid splitting when toenailing or slant-nailing wood framing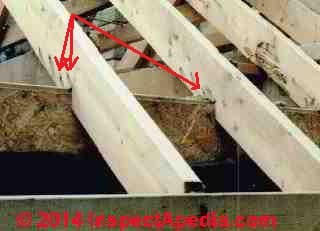 Start by keeping the toenails a sufficient distance from the end of the nailed-through member but not so high that you won't have adequate penetration into the nailed-to member.
In our photo at left I point out the location of two of the four required toenails for nailing the rafter to the top plate at the birds' mouth cut. I don't see any splitting but I'm worried that the nails may be a bit high. Depending on the size of nail used there may not be adequate penetration into the top plate.
Photo courtesy of Carson Dunlop Associates, a Toronto engineering & home inspection firm and home inspection education company.
Framing tip: experienced carpenters learn to place the long axis of the diamond-shaped cut tip of a common framing nail across the wood grain of the nailed-into member.
This position minimizes splitting. As you take the nail out of your nail apron with your left hand, just place the tip of your third finger on the nail tip and use your thumb and forefinger to roll the nail so that you feel its long axis against the flat of your third finger. With the nail in that position, as you start the fastener, place the long axis of the nail point across the wood grain.
A 3 1/2 inch common nail or 16d might be over-sized for toe-nailing and is likely to split the 2x, especially if nailed near the edges of the lumber.
You originally asked this question in an article on framing connectors. Framing connectors, an alternative to toenailing, are nailed straight into the respective framing members using common, galvanized but short framing connector nails, not full length common nails.
Toe-nailing & Slant-Nailing References
Breyer,Donald E., Kenneth Fridley, Kelly Cobeen, David Pollock, Design of Wood Structures - ASD, McGraw Hill, 2003, ISBN-10: 0071379320, ISBN-13: 978-0071379328
Harris, Samuel Y. P.E., AIA, Esq., Building Pathology, Deterioration, Diagnostics, and Intervention, ISBN 0-471-33172-4, John Wiley & Sons, 2001 [General building science-DF] ISBN-10: 0471331724 ISBN-13: 978-0471331728
Wagner, Willis H, Modern Carpentry, Building Construction Details in easy-to-understand form, [at Amazon] The Goodheart-Wilcox Co., Inc., 1976, ISBN 0-87006-208-5
Watt, David , Building Pathology: Principles and Practice, Wiley-Blackwell, 2d edition (March 7, 2008) ISBN-10: 1405161035 ISBN-13: 978-1405161039
1994 Uniform Building Code Table 23-I-Q, Table 23-II-8-1, Table 25Q
"Residential Addition Submittal Checklist", City of Ripon, Public Works Department, excerpts from model building codes including the UBC nailing schedule, retrieved 5/20.14, original source http://www.cityofripon.org/Building/PDF/09-Residental-Addition.pdf
Wisconsin Administrative Code, Chapter SPS 321, Construction Standards, retrieved 5/20/14, original source: http://docs.legis.wisconsin.gov/code/admin_code/sps/safety _and_buildings_and_environment/320_325/321.pdf
This article series discuss best porch & deck construction practices, including choice of framing materials, decking or flooring choices & installation, how to select and use deck and porch structural and flooring fasteners, actual deck & porch framing construction details & connections, deck joist & beam span tables, how to build leak-proof rooftop decks, construction of covered & screened porches, deck & porch railing construction & materials, choices of finishes and stains for decks & porches, and past & current deck lumber preservative treatments with related health & environmental concerns.
...
Continue reading at FRAMING FASTENERS, NAILS, SCREWS or select a topic from closely-related articles below, or see our complete INDEX to RELATED ARTICLES below.
Or see CONNECTORS, FASTENERS, TIES or see FRAMING CONNECTORS & JOIST HANGERS
Suggested citation for this web page
TOE NAILED FRAMING CONNECTIONS at InspectApedia.com - online encyclopedia of building & environmental inspection, testing, diagnosis, repair, & problem prevention advice.
...
Frequently Asked Questions (FAQs)
Try the search box below or CONTACT US by email if you cannot find the answer you need at InspectApedia.
...
Ask a Question or Search InspectApedia
Use the "Click to Show or Hide FAQs" link just above to see recently-posted questions, comments, replies, try the search box just below, or if you prefer, post a question or comment in the Comments box below and we will respond promptly.
Search the InspectApedia website
Technical Reviewers & References
Click to Show or Hide Citations & References
Steve Bliss's Building Advisor at buildingadvisor.com helps homeowners & contractors plan & complete successful building & remodeling projects: buying land, site work, building design, cost estimating, materials & components, & project management through complete construction. Email: info@buildingadvisor.com
Steven Bliss served as editorial director and co-publisher of The Journal of Light Construction for 16 years and previously as building technology editor for Progressive Builder and Solar Age magazines. He worked in the building trades as a carpenter and design/build contractor for more than ten years and holds a masters degree from the Harvard Graduate School of Education. Excerpts from his recent book, Best Practices Guide to Residential Construction, Wiley (November 18, 2005) ISBN-10: 0471648361, ISBN-13: 978-0471648369, appear throughout this website, with permission and courtesy of Wiley & Sons. Best Practices Guide is available from the publisher, J. Wiley & Sons, and also at Amazon.com
Best Practices Guide to Residential Construction, by Steven Bliss. John Wiley & Sons, 2006. ISBN-10: 0471648361, ISBN-13: 978-0471648369, Hardcover: 320 pages, available from Amazon.com and also Wiley.com. See our book review of this publication.
Building Pathology, Deterioration, Diagnostics, and Intervention, Samuel Y. Harris, P.E., AIA, Esq., ISBN 0-471-33172-4, John Wiley & Sons, 2001 [General building science-DF] ISBN-10: 0471331724 ISBN-13: 978-0471331728
Building Pathology: Principles and Practice, David Watt, Wiley-Blackwell; 2 edition (March 7, 2008) ISBN-10: 1405161035 ISBN-13: 978-1405161039
Decks and Porches, the JLC Guide to, Best Practices for Outdoor Spaces, Steve Bliss (Editor), The Journal of Light Construction, Williston VT, 2010 ISBN 10: 1-928580-42-4, ISBN 13: 978-1-928580-42-3, available from Amazon.com
Design of Wood Structures - ASD, Donald E. Breyer, Kenneth Fridley, Kelly Cobeen, David Pollock, McGraw Hill, 2003, ISBN-10: 0071379320, ISBN-13: 978-0071379328
This book is an update of a long-established text dating from at least 1988 (DJF); Quoting:
This book is gives a good grasp of seismic design for wood structures. Many of the examples especially near the end are good practice for the California PE Special Seismic Exam design questions. It gives a good grasp of how seismic forces move through a building and how to calculate those forces at various locations. THE CLASSIC TEXT ON WOOD DESIGN UPDATED TO INCLUDE THE LATEST CODES AND DATA. Reflects the most recent provisions of the 2003 International Building Code and 2001 National Design Specification for Wood Construction. Continuing the sterling standard set by earlier editions, this indispensable reference clearly explains the best wood design techniques for the safe handling of gravity and lateral loads. Carefully revised and updated to include the new 2003 International Building Code, ASCE 7-02 Minimum Design Loads for Buildings and Other Structures, the 2001 National Design Specification for Wood Construction, and the most recent Allowable Stress Design.
Manual for the Inspection of Residential Wood Decks and Balconies, by Cheryl Anderson, Frank Woeste (Forest Products Society), & Joseph Loferski, October 2003, ISBN-13: 978-1892529343, $39.00 at Amazon.com or at the InspectAPediaBookstore
Wagner, Willis H, Modern Carpentry, Building Construction Details in easy-to-understand form, [at Amazon] The Goodheart-Wilcox Co., Inc., 1976, ISBN 0-87006-208-5
[1] Eric Galow, Galow Homes, Lagrangeville, NY. Mr. Galow can be reached by email: ericgalow@gmail.com or by telephone: 914-474-6613. Mr. Galow specializes in residential construction including both new homes and repairs, renovations, and additions.
[2] Mark Morsching, Everflashing, Tel: 800-550-1667, Email: everflashing@gmail.com. The Everflashing product comes in G-185 and Stainless Steel and is intended for use with treated lumber with copper in it. Everflashing produces a variety of specialty flashing products including flashings for use with decks at deck ledgers and deck perimeters.
[3] Cleveland Steel Structural Fasteners, 26001 Richmond Rd., Bedford Heights, OH 44146,| Phone: 216.464.9400, Fax: 216.464.9404, E-mail: info@clevelandsteel.com, Website: http://clevelandsteel.thomasnet.com/category/construction-hardware-division?
[4] Daytona Bolt & Nut, 815 N. Beach Street, P.O. Box 1391, Daytona, FL 32114, P: 386-255-0248, F: 386-257-5985, E-mail:Daytona@DaytonaBolt.com
[5] Schuler Mfg. & Equip. Co. Inc., 63724 Richland Road, Griswold, Iowa 51535, Tel: (712) 774-2228 Website: http://www.schulermfg.net/
[6] Simpson Strong Tie®, Tel:1-800-999-5099, Website: http://www.strongtie.com/
[7] "Tamlyn Structural Lumber Connectors, Masonry / Concrete Products, Pest Control, [catalog & reference guide]", Tamlyn, 13623 Pike Road, Stafford, TX 77477, USA Toll Free 800-334-1676, Phone: 281-499-9604, Fax: 281-499-8948, (photo, above left), Website: http://tamlyn.com/ [copy on file as /structure/Framing/Connectors Framing/Tamlyn_Structural_Connector_Cat.pdf]
[8] Incom Distributor Supply, PO Box 868, Fort Wayne IN 46801, Tel: 260-748, 5469, Website: http://shop.incomsupply.com/shop/, "... a growing nationwide network of over 500 Commercial Industrial Distributors" Incom Inc, 73-5600 Kauhola St Ste C, Kailua Kona, HI 96740, Tel: (808) 329-1311
[9] USP Structural Connectors®, Tel: 1-800-328-5934, Email: uspcustomerservice@mii.com, Website: http://www.uspconnectors.com/
[10] Double Shear Joist hangers include a cut-out/stamping that provides distributed, and properly-angled 45-degree nailing positions (load points) in the joist hanger. The angles assure proper toe-nailing of the hanger nails. Double shear nailing hangers are a patented [since 1984] feature of Simpson Strong-Tie ZMAX galvanized joist hangers. Other companies such as Silva Timber Products (in the U.K.) produce similar double-shear joist and truss hanger products.
[11] Silva Timber Products, Unit 4, Albright Road Widnes, Cheshire, WA8 8FY, Tel: 0151 495 3111, Fax: 0151 495 2255, Website: http://www.silvatimber.co.uk/, Email: enquiries@silvatimber.co.uk
Books & Articles on Building & Environmental Inspection, Testing, Diagnosis, & Repair