Fiberboard Building Wall, Ceiling & Roof Sheathing

Insulating Board Sheathing, Sound Insulation Board Product Guide
POST a QUESTION or READ FAQs about fiberboard building sheathing: how to identify fiberboard products, fiberboard uses, fiberboard, Celotex, Homasote, Insulite & other brands, fiberboard ingredients, does fiberboard contain asbestos?
InspectAPedia tolerates no conflicts of interest. We have no relationship with advertisers, products, or services discussed at this website.
Fiberboard insulating sheathing used on or in buildings:
Definition, ingredients, history, use, fire resistance & insulating properties of fiberboard sheathing. Fiberboard was used indoors as both a finish-surface to be painted or as a base to which plaster and then paint were applied.
This article describes and provides photographs that aid in identifying various insulating board sheathing materials used on building walls and roofs, such as Homasote, Celotex, Insulite, and Masonite insulating board sheathing products.
We also provide a MASTER INDEX to this topic, or you can try the page top or bottom SEARCH BOX as a quick way to find information you need.
Fiberboard Building Sheathing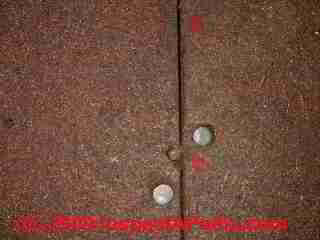 Beaverboard®, black board, buffalo board, gray board, cane board, Celotex®, Homasote®, Insulite®, Nu-Wood® are some of the many names of fiberboard or plant-fiber board sheathing products used on roofs, exterior walls, interior walls & ceilings.
Here we provide fiberboard product names and we describe the components, properties, and applications of various fiberboard, hardboard, and insulating board or sound deadening board products.
We also answer questions such as do Celotex® or Homasote® or other fiberboard and insulating board products contain asbestos? fiberboard water resistance, fiberboard recycling.
Article Series Contents
What is Fiberboard Insulating Sheathing?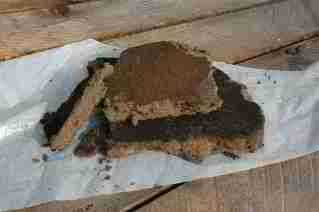 Fiberboard insulating sheathing board was used and continues in use as a structural wall sheathing board 15/32-inches thick (one board was 1/2") and with R-value of about 1.5.
Fiberboard insulating sheathing was and continues to be made of plant cellulose such as wood fibers, combined with a binder, a water-resistive coating or component (such as paraffin and/or asphalt), and other treatments that we detail below. Structural properties and moisture resistance were confirmed by US FPL testing. Moisture uptake did not exceed 2.2%. [15]
An extensive description of the composition of fiberboard products is found at FIBERBOARD SHEATHING INGREDIENTS.
Our photo shows bits of damaged fiberboard interior wall sheathing removed by the author [DF] during inspection and repair of a water-damaged area.
Shown at the start of this article is brown fiberboard sheathing used to enclose a soffit overhang. Fiberboard products have been widely used on building exteriors as a non-structural wall sheathing, even on some roofs as roof sheathing, and on building interiors as a ceiling or wall covering.
At DRYWALL, FIBERBOARD, PLASTER INTERIORS we also discuss other interior sheathing boards that were used on interior walls and ceilings.
At FIBERBOARD SHEATHING MOLD CONTAMINATION we discuss mold growth on or in fiberboard sheathing.
At SIDING HARDBOARD we discuss hardboard exterior building siding such as sold under the Abatibi and Boise Cascade brands.
At SHEATHING, EXTERIOR PRODUCT INDEX we describe products used on building exterior walls & roofs as a structural sheathing or as a nail-base sheathing.
Also see SHEATHING, GYPSUM BOARD used on both exteriors and interiors of buildings, and SHEATHING, OSB as well as SHEATHING, PLYWOOD for a discussion of these common building roof and wall sheathing products.
A History of Fiberboard Insulating Sheathing
In addition to plywood, OSB, and gypsum board, impregnated fiberboard produced in 4 ft. widths and varying lengths up to 12-feet has been used as exterior building insulating sheathing in North America since at least 1909 (see our discussion of Homasote™, below and see Masonite™ and other hardboard Sheet and Siding Building Materials).
Actually hardboard is older than that. According to the Boston Museum of Fine Arts, fiberboard was first patented in 1858 and was produced by a number of manufacturers (listed below) and made of a variety of plant fibers (including bagasse from sugar cane) or wood chips, wood byproducts, and by one company waste paper and by another company flax shives [12][15] .
Indeed it was Lyman's 1858 invention of a method for separating the fibers of wood, probably born from other work on improving the cotton gin, felting hat bodies, and making paper, that made these products possible.[13]
Fiberboard wall sheathing (an example fiberboard product photograph is shown at above left), when intended for use on a building exterior is installed by nailing directly to the wall studs, most often with let-in diagonal bracing or plywood panel bracing at the building corners to assure building rigidity.
A 1955 U.S. FPL report offers the early history of growth in the use of insulating fiberboard sheathing.
Insulating fiberboard sheathing is used extensively in house construction. In 1920 insulating board accounted for only about 4 percent of the sheathing used for new residential construction. In 1940 its use had risen to 20 percent and by 1950 to 30 percent.
It is more popular in certain regions of the country than others. In 1950 about 50 percent of the wall sheathing used in the Middle West [of the U.S.] was of fiberboard, while in the Pacific Northwest where lumber is more easily obtained, insulating fiberboard was used in only about 10 percent of the new houses erected. [15]
In earliest use, fiberboard sheathing material was sold as a means of insulating the home at little additional cost since it was used to replace the horizontal or diagonal tongue-and-groove board sheathing that was in wide practice up to the 1940's or 50's.
But despite early claims (later dropped) that wood fiber sheathing was a structural material, in homes where fiberboard sheathing was used, additional framing was commonly constructed at the building corners as diagonal bracing to stiffen the building walls.
Modern product literature for fiberboard insulation[2] and standards for products such SturdyBrace® Structural Fiberboard Sheathing [14] make clear that the product is produced and used as structural sheathing. Quoting:
STURDYBRACE® improves the structural integrity of homes and light commercial buildings and eliminates the need for corner bracing. The product meets codes for wind shear and seismic conditions [2]
Synonyms for Fiberboard Insulating Sheathing
Synonyms for fiberboard include: brown board or Brownboard, insulating board, Celotex (CELOTEX HISTORY & PRODUCTS), Homasote, Insulite, "fibre-board (Br.); fibreboard (Br.); carton-fibre (Fr.); carton fort (Fr.); aglomerado de madeira (Port.); particle board; composition board; wallboard; hardboard; fiber board; high-density fiberboard (HDF); medium-density fiberboard (MDF); low-density fiberboard (LDF)[11]
Additional fiberboard insulating sheathing product names appear throughout this article series.
Also see UNIDENTIFIED Fiberboard Products.
Fiberboard Manufacturers & Product Brand Names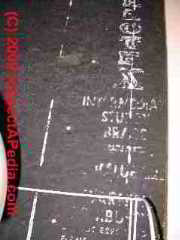 Photo: Celotex fiberboard marking identification. [Click to enlarge any image]
Note: our separate article SHEATHING, FIBERBOARD IDENTIFICATION includes identifying markings and photos of many of these products.
Alphabetical list of fiberboard products & brands
Homasote Wallboard & Sheathing Products
Homasote®;

440 SoundBarrier
Firestall®
EasyPly® Roof Deck
Thermasote® Nailbase Roof Insulation
N.C.F.R.® Thermasote® Nailbase Roof Insulation
List of Fiberboard products & brands, continued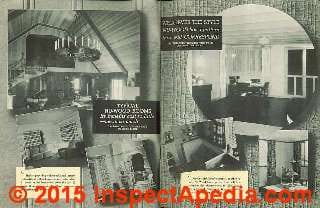 See this Fiberboard Identification Key FIBERBOARD SHEATHING IDENTIFICATION
What is Fiberboard Insulating Sheathing Made Of?
This discussion has moved to a separate article now found at FIBERBOARD SHEATHING INGREDIENTS
Fire Ratings & Fire Resistance of Fiberboard Sheathing
This topic has moved to FIBERBOARD SHEATHING FIRE RATINGS
Importance of Protecting Fiberboard Insulating Sheathing from Water
This discussion is moved to PROTECT FIBERBOARD from WATER
Fiberboard Roof Sheathing
Fiberboard products were also used for roof sheathing produced by several manufacturers.
Watch out: OPINION-DF: where fiberboard roof sheathing was used alone to support roof shingles or other roof coverings, and noting that fiberboard products and their performance varies by manufacturer, application, and installation details, some fiberboard products may become fragile with age, traffic, or leaks, risking roof shingle blow-off, or worker fall injuries.
On a roof replacement job one of our workers [DF] stepped onto an area where the roof decking had been damaged by leaks, and broke through to the attic below. Any significant or chronic water leakage in a roof whose shingles are supported by fiberboard insulating sheathing risks a roof surface collapse.
According to Homasote[1], at least two important clarifications are in order:
Our roof application is a structural roof deck (2' X 8') product which in  the 46 years I've been associated with Homasote has never failed if installed properly. Our deck will wick out any water if installed properly.
One should not refer to fiberboards as if all fiberboards were the same. Our [Homasote®] products are much denser then the other fragile ones manufactured in the U.S. and are thus considered superior by the industry.
Homasote® roofing products include
Firestall®
EasyPly® Roof Deck
Thermasote® Nailbase Roof Insulation
N.C.F.R.® Thermasote® Nailbase Roof Insulation
When stripping existing roof shingles to perform a shingle tear-off for re roofing, Homasote® and other fiberboard roof sheathed roofs require special precautions to avoid damaging the roof sheathing during shingle tear-off. Homasote® provides the following advice: [Quoting from "Roof Shingle Tear-Off Procedure for Homasote Products" available from Homasote ].
The removal of existing shingles to re-roof Homasote roof deck or nailbase roof insulation requires a change from the conventional tear-off method used to re-roof wood surfaces.
To strip existing shingles from a Homasote roofing product, the following must be done:
Instead of getting under shingles with a "shoveling motion" and then scraping forward to get the nails out you must use a stripping tool or roof shovel to pry up shingles away from the deck, by pulling the nails straight out.
Care must be taken so that the roof shovel does not damage the surface of the deck.
Inspect the condition of the deck as the tear-off continues.

Any stubborn nails remaining after the shingles are removed should be pulled out using a crowbar or claw hammer along with a wood block as a fulcrum to prevent damage to the deck.
Inspect the stripped deck for any signs of deterioration or physical damage. Any damaged areas should be replaced with the same Homasote product.
Prepare deck for the new finish roof installation in accordance with standard roofing practice and the roofing materials manufacturer's installation instructions. The Homasote Company requires the use of a ring-shank roofing nail for all shingle installations.
Installation instructions, general requirements and the most up-to-date information on Homasote roofing products are available from Homasote.®.
Fiberboard Sound Insulation
Fiberboard products are also used for sound insulation, such as Homasote's 440 SoundBarrier used on walls and over subflooring or in ceilings.
According to Homasote this system is recognized in UL L500 Series Floor/Ceiling assemblies.
Also see CANEBOARD PANELS - soft cellulose fiber panel boards also referred to as cane-board, Caneite, softboard, greyboard, pinboard
Identify Fiberboard & Insulating Sheathing Board & Plasterboard Products
This topic has moved to FIBERBOARD SHEATHING IDENTIFICATION
Fiberboard Sheathing Asbestos, Off-gassing, VOCs, Health & Environmental Questions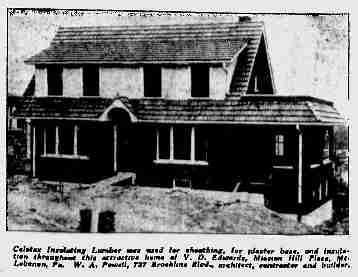 ASBESTOS: Is there Asbestos Content in Insulating Board Products such as Celotex, Homasote, Insulite or Nu-Wood?
Asbestos is not an "official" ingredient in fiberboard insulating sheathing. However there are possibilities of cross-contamination of such products by asbestos as asbestos was processed at some of the same fabrication facilities that also made wood or vegetable fiber board products.
See details at SHEATHING, FIBERBOARD ASBESTOS CONTENT
and at FIBERBOARD SHEATHING MSDS
OFF-GASSING: Question: off-gassing hazards from low density fiberboard roof sheathing vs MDF Sheathing
5/9/2014 Anonymous said:
Are there any cases of individuals suffering health issues from exposure to a fiberboard roof? I"m thinking of off gassing due to excessive exterior heat conditions.
Reply:
Offgassing from fiberboard roof? Most likely you're asking about fiberboard roof sheathing, right? I'm doubtful you'll be able measure significant offgassing from low density roof sheathing products in service such as soft density or low density fiberboard.
However more recently there are indeed MDF products sold for use as structural panels including roof sheathing.
Details are at DEFINITION & CHARACTERISTICS of MDF Medium-Density Fiberboard
The article above on this page describes low density fiberboard products and explains that describes how that sheathing material is produced describes wood products and waxes. So to start we'll want to get clear what sort of roof sheathing you are actually describing.
Research on Fiberboard Building Materials & VOC Emissions
Here are some helpful citations that describe the ingredients, manufacturing process, and research of several types fiberboard products. You will find citations (including some I give below) of outgassing of MDF fiberboard products used in other applications (not the soft "Homasote®" type roof sheathing board).
Ongoing research on the use of plant fibers or cellulose to produce fiberboard products as well as on numerous treatments for fire retardance, water proofing, and insect resistance make clear that interest in use of vegetable waste, wood waste, and other cellulosic fibers as well as treatments for those products continues to the present, and the list of materials used to produce fiberboards, from bamboo to willows, continues to grow.
Akbulut, Turgay, S. Nami Kartal, and Frederick Green III. "Fiberboards treated with N'-N-(1, 8-Naphthalyl) hydroxylamine (NHA-Na), borax, and boric acid." Forest products journal 54, no. 10 (2004): 59.
Ayrilmis, Nadir, Theodore L. Laufenberg, and Jerrold E. Winandy. "Dimensional stability and creep behavior of heat-treated exterior medium density fiberboard." European Journal of Wood and Wood Products 67, no. 3 (2009): 287-295.
Ayrilmis, Nadir. "Effect of fire retardants on internal bond strength and bond durability of structural fiberboard." Building and environment 42, no. 3 (2007): 1200-1206.
Baer, Norbert S., and Paul N. Banks. "Conservation notes: Microenvironments." (1987): 301-305.
Çavdar, Ayfer Dönmez, Murat Ertaş, Hülya Kalaycıoğlu, and Mehmet Hakkı Alma. "Some properties of thin medium density fiberboard panels treated with sunflower waste oil vapor." Materials & Design (1980-2015) 31, no. 5 (2010): 2561-2567.
Abstract:

The objective of this study was to investigate the effect of hot waste oil vapor on some of the physical and bending properties of commercially manufactured thin medium density fiberboard (tMDF) panels. The samples were treated with waste oil vapor at a temperature of 220 °C for 10 and 20 min time durations.

Based on the findings in this work, the water absorption and thickness swelling of the samples were improved by the treated panels with hot vapor oil and heat. It appears that the samples had some discoloration as a result of treatment processes. It was also observed that modulus of rupture (MOR) and modulus of elasticity (MOE) of the samples were adversely influenced.

However, it seems that the thermal conductivity of the samples enhanced by such treatments. Panel products treated with these processes could have some promising potential in various applications including outdoor use.
Carvalho, Luísa, F. Magalhães, and João Ferra. "Formaldehyde Emissions from Wood-Based Panels-Testing Methods and Industrial Perspectives." [PDF] Nova Science Publishers, Inc., Hauppauge, NY (2012): 73-107.
Chow, Poo. "Phenol adhesive bonded medium-density fiberboard from Quercus rubra L. bark and sawdust." Wood and fiber Science 11, no. 2 (2007): 92-98.
Abstract:

Twelve-millimeter-thick medium density fiberboards made from double-disc, steam-pressure-refined red oak sawdust fibers at 6.5 and 9.0% phenol-formaldehyde levels for both, with and without the addition of sodium pentachlorophenate, meet most of the specifications required for exterior-grade, medium density, class 1 commercial particleboard and medium density hardboard.

Panels made from red oak bark fibers showed inferior properties to panels made from red oak sawdust fibers. However, at a 9% resin level, untreated bark fiberboard exhibited acceptable modulus of elasticity in bending, internal bond, and face screw-holding values. The addition of the preservative to the adhesive had the effect of decreasing all of the strength properties and the linear expansion values of all untreated panels at three resin levels.

Three-layer type of panels made from red oak sawdust fiber faces and red oak bark fiber core had higher bending strength, stiffness, and face screw-holding values, but lower internal bond and tensile strength parallel to face values than a homogeneous type of panel made from a mixture of equal weight of sawdust and bark fibers.

Three-layer panels also showed lower linear expansion values than the homogeneous type of panel. At a 6.5% resin level, both homogeneous and three-layer types of panels had acceptable strength properties except for the tensile strength parallel to face and linear expansion values.
Corneau, Diane. "Effectiveness of barriers to minimize VOC emissions including formaldehyde." Forest products journal 56, no. 9 (2006).
Craddock, Ann Brooke. "Construction materials for museum storage." (1988).
Cane, Simon. "Museum density fibre board." Conservation news (United Kingdom Institute for Conservation of Historic and Artistic Works) 41 (1990): 13.
DeStefano, Jim, P. E., and David S. Gromala. "By Dirk M. Kestner, PE; Jennifer Goupil, PE; and Emily Lorenz, PE."
FIBERBOARD PLASTER BASE SYSTEMS - historical research on the development of plasterboard and fiber-based plaster board systems.
Gilbert, Nicolas L., Mireille Guay, Denis Gauvin, Russell N. Dietz, Cecilia C. Chan, and Benoît Lévesque. "Air change rate and concentration of formaldehyde in residential indoor air." Atmospheric Environment 42, no. 10 (2008): 2424-2428.
Gilbert, Nicolas L., Denis Gauvin, Mireille Guay, Marie-Ève Héroux, Geneviève Dupuis, Michel Legris, Cecilia C. Chan, Russell N. Dietz, and Benoît Lévesque. "Housing characteristics and indoor concentrations of nitrogen dioxide and formaldehyde in Quebec City, Canada." Environmental Research 102, no. 1 (2006): 1-8.
Li, Xiaobo. "Physical, chemical, and mechanical properties of bamboo and its utilization potential for fiberboard manufacturing." (2004).
LI, Xiao-ping, Zhang-kang WU, Zhong-yong XU, and Xue-bao LIU. "Manufacture of industrial hemp stalk based on light heat preservation materials Ⅱ-heat Insulation properties of gypsum and cement panels." Wood Processing Machinery 1 (2014): 003.
Love, Thomas. "Pressed ceramic fiber board and method of manufacture." (patent) US20020098336 A1 (2002)
Minnesota Department of Health, "INFORMATION SHEET FOR FORMER CONWED WORKERS", [PDF] September 1993, retrieved 2015/12/04, original source: http://www.health.state.mn.us/divs/hpcd/cdee/occhealth/conwedfact.html

Note: Excerpts of this document and a discussion of the question of asbestos in Nu-Wood ceiling tiles are at
ASBESTOS CEILING TILE FAQs
Pan, Mingzhu, Dingguo Zhou, Tao Ding, and Xiaoyan Zhou. "Water resistance and some mechanical properties of rice straw fiberboards affected by thermal modification." BioResources 5, no. 2 (2010): 758-769.
Sean, S. Trek, and Michel Labrecque. "Use of short-rotation coppice willow clones of Salix viminalis as furnish in panel production." Forest products journal 56, no. 9 (2006): 47.
Excerpting & paraphrasing from the authors' abstract:

This study proposes substituting traditional raw materials in the wood composite paneling industry with a fast-growing willow species, thereby alleviating shortages of raw material in a cost-efficient manner and at the same time preserving our natural resources from overexploitation. ... experimental board production, 3-year-old stems of Salix viminalis L. were manufactured in the laboratory ...
Suchsland, Otto, George E. Woodson, FIBERBOARD MANUFACTURING PRACTICES in the United States, [PDF], USDA, United States Department of Agriculture, Forest Service Agriculture Handbook No. 640, 1986,
Introduction:
This handbook introduces the reader to the manufacture and fabrication of fiberboard as practiced today in the United States. A brief history of this industry is followed by a discussion of some important technological and chemical factors as well as a survey of the raw material base.

The bulk of the book describes the equipment and the processes including the insulation board process, the wet and dry hardboard processes, and the medium-density fiberboard process. Modern finishing processes are discussed in some detail, and an entire chapter is devoted to the important subject of water use and water treatment.

The concluding chapter deals with product properties and applications including a discussion of various commercial standards. A special effort has been made throughout to illustrate the subject with in-plant photos and to explain important concepts by means of schematic drawings.
Teoh, Yi Peng, Mashitah Mat Don, and Salmiah Ujang. "Assessment of the properties, utilization, and preservation of rubberwood (Hevea brasiliensis): A case study in Malaysia." Journal of Wood Science 57, no. 4 (2011): 255-266.
Ustaomer, Derya, and Mustafa Usta. "The effects of boron compounds and different melamine contents in MUF resins on some properties of MDF panels." BioResources 7, no. 1 (2011): 0437-0446.
Wilson, Rich, Kathleen Snodgrass, "EARLY 20TH-CENTURY BUILDING MATERIALS: FIBERBOARD AND PLYWOOD", [PDF] U.S. Forest Service, Technology & Development Program, March 2007, retrieved 2015/12/04, original source: http://www.fs.fed.us/t-d/pubs/htmlpubs/htm07732308/
Youngquist, John A., Brent E. English, Roger C. Scharmer, Poo Chow, and Steven R. Shook. "Literature review on use of nonwood plant fibers for building materials and panels." (1994).
Zhang, Luoping, Craig Steinmaus, David A. Eastmond, Xianjun K. Xin, and Martyn T. Smith. "Formaldehyde exposure and leukemia: a new meta-analysis and potential mechanisms." Mutation Research/Reviews in Mutation Research 681, no. 2 (2009): 150-16
Research on Structural Support & Shear Braccing Where Fiberboard Panels are in Use
Erickson, E.C.O., Eng., "Rigidity and Strength of Wall Frames Braced with Metal Strapping", [PDF] US Forest Products Service, USDA, Agriculture-Madison, 1960, Report No. R1603,
Holladay, Martin, "4 Options for Shear Bracing Foam-Sheathed Walls", Fine Homebuilding, The Taunton Press, Inc. 63 South Main St., PO Box 5506 Newtown, CT 06470-5506 USA Phone: 203-426-8171 , No. 220, retrieved 2016/09/28, original source: http://www.finehomebuilding.com/2011/05/19/4-options-for-shear-bracing-foam-sheathed-walls
Simpson Strong Tie, 20-Gauge 14 Ft. 2 In. Wall Bracing, Model RCWB14, Simpson Strong-Tie Company Inc., Tel: (800) 999-5099, Website: https://www2.strongtie.com
Research on Mold in or on Fiberboard Sheathing or Panel Products
See research cited at
Disposal of Fiberboard Demolition Debris:
Reader Question: can we dispose of fiberboard by using it as mulch?
Is Celotex recyclable? We just removed some and I wondered if it could just be broken up on the ground like mulch or does it have chemicals in it. - Karen Bradshaw 7/25/11
Reply: fiberboard sheathing or insulating boards are not recommended as yard mulch
Karen the recycle-ability of fiberboard sheathing products like Celotex or Homasote is an interesting one. These products that are made principally of wood fibers or other plant fibers and a binder and are usually disposed of as construction debris.
The properties of insulating fiberboard sheathing were thoroughly described by the U.S. Forest Products Laboratory in a 1955 report[15] as well as in original and current manufacturer's product literature and MSDS sheets.
But watch out: trying to break up any fiberboard product into small mulch like fragments risks creating an irritating or problematic dust hazard for eyes and respiration.
I'm unsure how well the binder or coating chemicals are bonded to the material (some products used paraffin), but I wouldn't use this product for mulch in any case. Some newer insulating boards may contain plastics and some older ones appear to contain bituminous coatings or binders.
You will find that the treatments used to make these insulating boards moisture resistant and to impart stiffness also mean that they will not break down or bio-degrade as a yard mulch.
MSDS data for fiberboard insulating sheathing products
Fiberboard exterior or interior sheathing sheets are benign products for the most part, though wood dust particles from any wood material can be a potential hazard.
See FIBERBOARD SHEATHING MSDS for details.
Mold Growth & Wood Boring Insect Susceptibility of Fiberboard Building Insulating Sheathing Products
Moved to FIBERBOARD SHEATHING MOLD CONTAMINATION
...
Continue reading at SHEATHING FIBERBOARD CONSTRUCTION or select a topic from closely-related articles below, or see our complete INDEX to RELATED ARTICLES below.
Or see SHEATHING, FIBERBOARD ASBESTOS CONTENT - do some wood or cellulose-based fiberboard or insulating board products contain asbestos? Maybe.
Or see INSULATION IDENTIFICATION GUIDE - home for identification of various insulating board products
Or see this
Article Series Contents
Suggested citation for this web page
FIBERBOARD SHEATHING at InspectApedia.com - online encyclopedia of building & environmental inspection, testing, diagnosis, repair, & problem prevention advice.
Or use the SEARCH BOX found below to Ask a Question or Search InspectApedia
...
Frequently Asked Questions (FAQs)
Try the search box below or CONTACT US by email if you cannot find the answer you need at InspectApedia.
Question: putting stone veneer on fiber board sheeting?
(June 19, 2014) Amy VonArx said:
What are the spec's for putting stone veneer on fiber board sheeting? Do I have to cover with OSB or plywood sheeting first? My house was built in 1964 and has this on it. I want to stone veneer the front porch area.
Reply:
Amy, masonry veneer walls are typically supported by a structural ledger of steel, or by a foundation wall, and are also secured by mechanical connections to the building structural wall. There are also requirements for moisture barriers, weep or drain openings, and other derails.
Search InspectAPedia for
STONE VENEER WALLS
And
BRICK VENEER WALLS
To see articles discussing the topicc. Let us know if that material is unclear.

Question:
(July 29, 2014) Dan and linda said:
We have USG (black board) fiberboard as sheathing. I plan on re.sheathing over top of USG board with 1/2 plywood, than tyvek prior to siding house.
Any concerns with trapping moisture with this technique, or do I have to remove USG board?
Reply:
D&L
Presuming you are in a heating climate where the vapor barrier is in the building interior wall I don't see an issue with moisture from the double sheathing you intend. Be sure to use house wrap properly installed and flashed on the exterior walls.
Question:
(July 30, 2014) Dan and Linda said:
We are in NJ, is the vapor barrier considered inside or outside?
Reply:
in NJ the vapor barrier would go on the inside surface of the studs, i.e. the interior side of exterior walls, beneath the drywall.
This article series beginning at
inspectapedia.com/Energy/Vapor_Barrier_Condensation.php
discussed vapor barriers & their placement.
This article:
inspectapedia.com/BestPractices/Housewrap_Installation_Specifications.php
discusses placement of housewrap.
Question:
(Oct 11, 2014) judy said:
my handyman has used masonite board as a barrier to replace some discarded metal radiator covers. they are right next to the radiator and separated from the room by flimsy wood decorative covers. are there any health related risks (such as off gassing) from this arrangement?
Reply:
The material is basically wood fibers and a water resistant treatment such as waxes.
Question:
(Dec 18, 2014) Bob Shup said:
My sons crawl space has fiberboard glued to the concrete walls(for insulation value I assume), can we attach polyisocyanurate foam insulation board directly over the fiberboard? I'm trying to avoid the mess of removing the 60 year old fiberboard. Thanks for the help.
Reply:
(Dec 18, 2014) Bob Shup said:
My sons crawl space has fiberboard glued to the concrete walls(for insulation value I assume), can we attach polyisocyanurate foam insulation board directly over the fiberboard? I'm trying to avoid the mess of removing the 60 year old fiberboard. Thanks for the help.
Question: is Upsonite a Fire Risk?
(Feb 23, 2015) EH said:
Concerned about buying a home with Upsonite (upson board). Is there a fire risk? Would installing conventional drywall over the upson suffice?

Reply:
I'd consider fire-rated drywall not conventional drywall. See FIBERBOARD SHEATHING FIRE RATINGS
Question: asbestos in fiberboard?
(Mar 15, 2015) April said:
My home was built 1939. It is a story and a half. I have two closets on the upper floor that are finished with a fiberboard type of product. I am unsure exactly what the material is or what it is made of. Both the walls and trim are comprised of this material, and they are painted.
I am concerned that it could be an asbestos containing product because we have both exterior asbestos siding and some asbestos insulation around the ductwork in the basement. Would this material be fiberboard or something else?
Reply:
April:
Fiberboard as discussed here is not an asbestos material. Naturally I cannot possibly know what material is installed in your home from just an e-text.
But if you are not disturbing the material and it's in good condition, whatever it's made of it's unlikely that it's producing a measurable level of fibres in the air.
Question: fiberboard sheathing damage from an ice dam leak
(Mar 26, 2015) Marcus said:
We had an ice dam, have 1/2 fiberboard as sheathing, with 6.5 inch exposed wod shake siding with a 3/8 fiberboard in between coarses of shake, the board got soaked, how will this affect the performance of the board longterm, will the siding be more likely to fall off as the board may lose strength?
Reply:
Marcus
Typical fiberboard sheathing is treated with waxes and coatings to resist water absorption. I'm doubtful that strength loss is the first concern. More likely I'd be worried that water entered the wall cavity where it can trigger a problem mold reservoir or damage electrical wiring / devices.
I'd pick a most-suspect spot that got most-wet and make a small exploratory opening from the building interior to see what's going on in the wall cavity.
...
Ask a Question or Search InspectApedia
Try the search box just below, or if you prefer, post a question or comment in the Comments box below and we will respond promptly.
Search the InspectApedia website
Technical Reviewers & References
Click to Show or Hide Citations & References
[1] Homasote® Company, 932 Lower Ferry Road, West Trenton, NJ 08628-0240 Tel: 800-257-9491 Ext 1332, or from outside the U.S. call 609-883-3300. Website: http://www.homasote.com/ , Email: Sales@homasote.com.
Thanks to Homasote CEO Warren Flicker for technical review and comment on this article.
Mark Cramer Inspection Services Mark Cramer, Tampa Florida, Mr. Cramer is a past president of ASHI, the American Society of Home Inspectors and is a Florida home inspector and home inspection educator. Mr. Cramer serves on the ASHI Home Inspection Standards. Contact Mark Cramer at: 727-595-4211 mark@BestTampaInspector.com
John Cranor is an ASHI member and a home inspector (The House Whisperer) is located in Glen Allen, VA 23060. He is also a contributor to InspectApedia.com in several technical areas such as plumbing and appliances (dryer vents). Contact Mr. Cranor at 804-747-7747 or by Email: johncranor@verizon.net
[2] Celotex Corporation, PO Box 31602, Tampa FL 33631, with offices in Atlanta, Chicago, Cincinnati, Dallas, Oakland and Philadelphia, and plants in six U.S. States is headquartered in Tampa, FL. Celotex is a national manufacturer of residential and commercial building materials. Website: www.celotex.com Tel: 800-CELOTEX
"Insulation Selector Guide", Celotex Corporation, web search 6/29/12, original source: http://www.silvercote.com/PDF/ThermaxInsulSelectorGuide.pdf, [copy on file as CelotexThermaxInsulSelectorGuide.pdf ]
"Celotex Blue Ridge Fiberboard", SturdyBrace®, produced by Blue Ridge Fiberboard Inc., 250 Celotex Dr., Danville VA 24541, product literature, web search 6/29/2012, original source: blueridgefiberboard.com/pages/sturdybrace.php, [Copy on file as Celotex_BlueRidge_SturdyBrace.pdf].
MSDS: original source: blueridgefiberboard.com/pages/sturdybrace/pdfs/SturdyBrace-msds-br.pdf
"Guide Specifications: SturdyBrace® Structural Fiberboard Wall Sheathing", 6/29/12, original source: blueridgefiberboard.com/pages/sturdybrace.php [Copy on file as SturdyBrace-guidespecs.pdf]
[3] Douglas Leen, Petersburg AK 99833, contributed the photograph of insulating board scraps from roof insulation removed from a building. Dr. Leen provides such a wide range of services, collectables, and historical information about the Northwest that a succinct description is difficult: flying dentist goes anywhere, antique forestry posters, historic campers, the tugboat Katahdin, in Alaska, Washington, and Wyoming. Mr. Leen can be contacted at mail@dougleen.com or at 907-518-0335
[4] Georgia Pacific: information about DensGlas gypsum board building sheathing can be found at the company's website at gp.com/build/product.aspx?pid=4674
[5] "Roof Shingle Tear-Off Procedure for Homasote Products", PDF document, Homasote Co., 932 Lower Ferry Road, West Trenton, New Jersey 08628-024, U.S.A. 800-257-9491 website: at www.homasote.com
[6] Thermafiber, Inc., (now a division of Owens Corning®) at Thermafiber, Inc., 3711 Mill Street, Wabash, IN 46992, Tel: 888-834-2371 (U.S. & Canada) - 260-563-2111 Website: www.thermafiber.com or Thermafiber technical services at 888-834-2371 (U.S. & Canada) ; Phone: 260-569-0801, Fax: 260-563-8979 or Email: technicalservice@owenscorning.com
[7] Weaver: Beaver Board and Upson Board: Beaver Board and Upson Board: History and Conservation of Early Wallboard, Shelby Weaver, APT Bulletin, Vol. 28, No. 2/3 (1997), pp. 71-78, Association for Preservation Technology International (APT), available online at JSTOR.
[8] Pittsburgh Press, "Yesterday - in costly homes alone, Today even the simplest home can have this hidden comfort", The Pittsburgh Press, 19 April 1925, classified ads section. Web search 6/22/12, [Copy on file as Celotex_Ad_023_PP.jpg and more]
[9] pending research
[10] Patents pertaining to building insulation & insulating board, Celotex & Insulating Board type products

"Sound absorbing board for walls and ceilings", Patent No. 1,554,180, issued to W.S. Trader, September 15,1925, first disclosed a wallboard constructed from "Celotex", a felted mass of strong bagasse fibers, so compacted as to be capable of use as an artificial lumber in that it can be sawed and nailed, and has sufficient strength in many cases to be substituted for lumber. That same patent mentions "Insulite", a building board made from wood pulp tailings and which likewise has a porous fibrous body portion and which is possessed of considerable strength so that the same can be nailed, etc. Celotex was preferred as an insulating material because its internal cells produce a sound-deadening insulating effect.
"Method and apparatus for drying moving material", Treadway B. Munroe et als, assigned to Dahlberg & Co., U.S. Patent No. 1,598,980, 7 September 1926, described a method and apparatus for drying sheets of artificial heat insulating lumber, known on the market as Celotex, improving the original process.
"Reenforced composition board", Treadway B. Munroe et als, U.S. Patent No. 1,578,344, 30 March 1926
"Insulating Structural Board", U.S. Patent 2,159,300, Armen H. Tashjian et als, assigned to William B. Miller, Lakewood OH, 23 May 1939, describes insulating structural boards of laminated construction for use as roof or floor slabs, and refers to "Standard insulating fiber boards, such as "Celotex", "Masonite", "Insulite", etc. that had excellent insulating properties but have relatively slight structural strength in flexure or bending under load, hence are not and cannot be used as structural slabs for load sustaining purposes, as roof or floor slabs, for example. [Adding structural strength ran into the problem of reducing the insulating value of the product.]
"Sound-absorbing chamber", Treadway B. Munroe et als, U.S. Patent No. 1,705,778, 19 March 1929 (using Celotex to construct a sound deadening chamber.
"Method of and apparatus for drying moving material", U.S. Patent 2,376,612, Carl G. Muench, New Orleans, assigned to Celotex Corporation, described a method and apparatus for drying sheets of artificial heat insulating lumber, preferably formed by the felting of bagasse fiber along with other materials necessary to make a satisfactory structural fiber board. 22 May 1945
"Sound-absorbing board for walls and ceilings," U.S. Patent 1,554,180, Sept. 15, 1925, Wilber S. Trader, assignor to Dahlberg & Company, Chicago IL. described an interior-use sound insulating product.

[11] "Insulite Co. v. Reserve Supply Co.," 60F.2d 433 (1932), Circuit Court of Appeals, Eighth Circuit, July 26, 1932. Web Search t/23/12. Quoting:
Rabbeted joints in material to which plaster or other material is applied are found in the Jones patent, No. 886,813. In this patent the composition is made up of plaster of paris, cement, or other like substance, combined with hair, wood fiber, sawdust, wool, wood shavings, excelsior, straw, or similar substances. The length of the lath covers three joists instead of four. The boards are arranged in staggered relation to each other and the joints are shiplapped. The specification states that after the boards or blocks are placed in position they may be covered with wallpaper or other similar material, which, of course, would include plaster.

"Machine for perforating Insulite Boards", U.S. Patent No. 1,306,283, Patented 10 June 1919, John K. Shaw, inventor from Minneapolis MN, describes improvements for machines for perforating Insulite Boards.
"Before you Build write for this mailing piece and a sample of Insulite", [advertisement], The Literary Digest, 13 September 1940.

[12] Museum of Fine Arts, Boston, web search 6/22/12, original source: http://cameo.mfa.org/browse/record.asp?subkey=3644 [Copy on file as MFAB_Fiberboard.pdf]
[13] "Separating the Fiber of Wood", A.S. Lyman, U.S. Patent No. 21,077, 3 August 1858
[14] Standards pertaining to fiberboard insulating sheathing:

ASTM C 208-95 (2001) – Standard Specification for Cellulosic Fiber Insulating Board. Type IV Grade 2 (Structural Wall Sheathing).
ASTM C 846-94 (2003) – Application of Cellulosic Fiber Insulating Board for Wall Sheathing.
ASTM D 1554 - Definitions of terms Relating to Wood Based Fiber and Particle Panel Materials.
ASTM E-72 (1997)- Standard Method for Conducting Strength Tests of Panels for Building Construction.
ANSI /AHA - A194.1, Cellulosic Fiberboard.
U.S. Department of Commerce: PS57-73, Cellulosic Fiber Insulating Board
A.F.A. (2003): Fiberboard Sheathing test results

[15] "Properties of insulating fiberboard sheathing", Forest Products Laboratory (U.S.) Luxford, R. F. (Ronald Floyd), 1889 (1960), original report 1955, citation:hdl.handle.net/1957/2489, web search 6/29/12, original source: http://ir.library.oregonstate.edu/xmlui/handle/1957/2489
Basement Moisture Control, U.S. Department of Energy
Building Failures, Diagnosis & Avoidance, 2d Ed., W.H. Ransom, E.& F. Spon, New York, 1987 ISBN 0-419-14270-3
Building Pathology, Deterioration, Diagnostics, and Intervention, Samuel Y. Harris, P.E., AIA, Esq., ISBN 0-471-33172-4, John Wiley & Sons, 2001 [General building science-DF] ISBN-10: 0471331724 ISBN-13: 978-0471331728
Building Pathology: Principles and Practice, David Watt, Wiley-Blackwell; 2 edition (March 7, 2008) ISBN-10: 1405161035 ISBN-13: 978-1405161039
Design of Wood Structures - ASD, Donald E. Breyer, Kenneth Fridley, Kelly Cobeen, David Pollock, McGraw Hill, 2003, ISBN-10: 0071379320, ISBN-13: 978-0071379328
This book is an update of a long-established text dating from at least 1988 (DJF); Quoting:
This book is gives a good grasp of seismic design for wood structures. Many of the examples especially near the end are good practice for the California PE Special Seismic Exam design questions. It gives a good grasp of how seismic forces move through a building and how to calculate those forces at various locations. THE CLASSIC TEXT ON WOOD DESIGN UPDATED TO INCLUDE THE LATEST CODES AND DATA. Reflects the most recent provisions of the 2003 International Building Code and 2001 National Design Specification for Wood Construction. Continuing the sterling standard set by earlier editions, this indispensable reference clearly explains the best wood design techniques for the safe handling of gravity and lateral loads. Carefully revised and updated to include the new 2003 International Building Code, ASCE 7-02 Minimum Design Loads for Buildings and Other Structures, the 2001 National Design Specification for Wood Construction, and the most recent Allowable Stress Design.
Diagnosing & Repairing House Structure Problems, Edgar O. Seaquist, McGraw Hill, 1980 ISBN 0-07-056013-7 (obsolete, incomplete, missing most diagnosis steps, but very good reading; out of print but used copies are available at Amazon.com, and reprints are available from some inspection tool suppliers). Ed Seaquist was among the first speakers invited to a series of educational conferences organized by D Friedman for ASHI, the American Society of Home Inspectors, where the topic of inspecting the in-service condition of building structures was first addressed.
Domestic Building Surveys, Andrew R. Williams, Kindle book, Amazon.com
Defects and Deterioration in Buildings: A Practical Guide to the Science and Technology of Material Failure, Barry Richardson, Spon Press; 2d Ed (2001), ISBN-10: 041925210X, ISBN-13: 978-0419252108. Quoting:
A professional reference designed to assist surveyors, engineers, architects and contractors in diagnosing existing problems and avoiding them in new buildings. Fully revised and updated, this edition, in new clearer format, covers developments in building defects, and problems such as sick building syndrome. Well liked for its mixture of theory and practice the new edition will complement Hinks and Cook's student textbook on defects at the practitioner level.
Historic Preservation Technology: A Primer, Robert A. Young, Wiley (March 21, 2008) ISBN-10: 0471788368 ISBN-13: 978-0471788362
R-Value of Wood, U.S. Department of Energy
"Vapor Barriers or Vapor Diffusion Retarders", U.S. DOE: how vapor barriers work, types of vapor diffusion barriers, installing vapor barrier
Books & Articles on Building & Environmental Inspection, Testing, Diagnosis, & Repair
Our recommended books about building & mechanical systems design, inspection, problem diagnosis, and repair, and about indoor environment and IAQ testing, diagnosis, and cleanup are at the InspectAPedia Bookstore. Also see our Book Reviews - InspectAPedia.
...