Asbestos in Fiberboard Building Sheathing & Insulating Board
POST a QUESTION or READ FAQs about fiberboard building sheathing: how to identify fiberboard products, fiberboard uses, fiberboard, Celotex, Homasote, Insulite & other brands, fiberboard ingredients, does fiberboard contain asbestos?
InspectAPedia tolerates no conflicts of interest. We have no relationship with advertisers, products, or services discussed at this website.
Asbestos content of fiberboard sheathing products:
Asbestos hazards for fiberboard panels, sheathing, insulating board & ceiling coverings or tiles. Does or did Celotex® fiberboard or or Georgia Pacific® fiberboard or Homasote® or other fiberboard and insulating board products contain asbestos?
This article addresses worries about asbestos in fiberboard insulating sheathing - a question that comes up during building demolition and renovation.
The short answer is "no" but the history is interesting. We include research citations and testing lab referrals for concerned readers.
Fiberboard sheathing and Insulating Board products that were cellulose-based and that are discussed here include these brands and names: Beaverboard, Blackboard, Brownboard, Celotex insulating lumber, Georgia Pacific insulating board, Gold Bond insulating board panels, Homasote, Insulite, Nu-Wood Sta-Rite, and others.
This article series describes and provides photographs that aid in identifying various insulating board & fiberboard sheathing materials used on building walls and roofs, such as Homasote, Celotex, Insulite, and Masonite insulating board sheathing products. Here we provide fiberboard product names and we describe the components, properties, and applications of various fiberboard, hardboard, and insulating board or sound deadening board products.
We also provide a MASTER INDEX to this topic, or you can try the page top or bottom SEARCH BOX as a quick way to find information you need.
Is there Asbestos Content in Insulating Board Products: Beaverboard, Celotex, Gold Bond, Homasote, Insulite, Nu_Wood?
Article Index - Insulating Board & Sheathing Board Products Asbestos Content
Is there Asbestos in Beaverboard?
6/25/2014 Sara said:
Does Beaver Board contain asbestos? I am cleaning out my grandmothers home and her basement has a Beaverboard ceiling. The home is approximately 65 years old but not sure how long the tiles have been in the basement
Sarah:
No, BEAVERBOARD is a wood fiber product not an asbestos-product. See BEAVERBOARD Identification for details.
Does blackboard sheathing, fiberboard, Homasote, Celotex dark or black insulating board contain asbestos?
Reader Question: Could my Georgia Pacific regular sheathing PS 57 and ASTM C 208 black board fiberboard sheathed house contain asbestos?
(Dec 15, 2012) Lisa said:
i live in a BISF house the interior walls are some kind of board they look like fibre board and are a light brown some are more grey..could they contain asbestos?
(Aug 8, 2015) Sue S said:
Doing some remodeling and we found this under the drywall - Georgia Pacific regular sheathing PS 57 and ASTM C 208 black board. Do you know if this product contains asbestos or a wood product?
Reply: Fiberboard sheathing is a wood product.
Sue:
Fiberboard sheathing is normally a cellulosic product - that is, made from wood fibers. Here is what Georgia Pacific says - retrieved today from their site:
Georgia-Pacific regular fiberboard sheathing is certified and labeled by an ICC-ES recognized agency as meeting the requirements in ASTM C208, the Standard Specification for Cellulosic Insulating Board.
Similarly, ASTM C 208 is a standard for cellulosic (wood fiber) boards from which we excerpt:
This specification covers the principal cellulosic fiber insulating board types, grades, and sizes. Insulating board covered by this specification consists of six types: Types I, II (Grades 1 and 2), III (Grades 1 and 2), IV (Grades 1 and 2), V, and VI.
Cellulosic fiber insulating board shall be manufactured from refined or partially refined ligno-cellulosic (wood or cane) fibers, by felting or molding process, into homogeneous panels. The insulating board shall conform to the physical properties specified.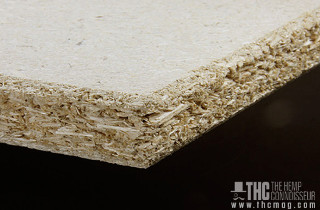 Fiberboard panels are also constructed using hemp, as we illustrate above, touted by THC a hemp enthusiast magazine. As the article sports a silly pseudonym we haven't cited the author more directly. The magazine's email: info@thcmag.com
Also see CANEBOARD PANELS - separate article, and to identify this material
Reader Question: Well I am curious about the black board?
Well I am curious about the black board? Our house was built in 1962 and I need to drill through the black board to run electrical! Some of it is super brittle and falling apart anyway.
Was any of that stuff made with asbestos? What are chances it has asbestos in it? - Brett 9/4/2011
I was tearing off parts an outside wall connected to the garage to add insulation to the wall, after removing the plywood and tar paper I ran into Celotex fiber/black board.

I have a picture of it to upload if at all possible, but what I can see is that it is black fiber board with Celotex in yellow writing with patent pend. underneath the logo.
The house was built in 1950 and I am concerned this product actually may contain asbestos. Is there any way you can confirm or deny this or point me in the right direction to find out. - Jon T. 11/5/2011
Reply: Asbestos is not an ingredient in fiberboard insulating sheathing. See the product description & MSDS information above
Brett and Jon: it's easy to drill through "black board" Homasote or Celotex type building insulating sheathing. Generally the product is made from wood fibers, not asbestos - See the insulating board MSDS data sheet quotations in the FAQ discussion just above.

Though I've heard rumor, not fact, claiming that some fiberboard insulating sheathing products contained asbestos, I have been unable to find an authoritative source that confirmed that worry for any of those products.
Take a look at the insulating board MSDS data in the FAQ above about yard mulch and you'll see clear statements from the manufacturers on this matter.
Reader comment:
I only have to drill small hole to run wiring! Some of it's already crumbling and brittle! It's black on outside looks like wood inside. I too have not been able to find anything confirming or not confirming this concern! I'm stuck with new electrical to run and deciding if this is health issue or or not. Thank you again - Brett
Reply:
Sounds as if the risk is nil, Brett. In addition to the comment we made above (wood fibers are not asbestos), you can minimize dust release by moistening the drilling area a bit. It's unlikely that there would be a measurable hazard from drilling a single wire-sized hole.
Too, if you have a generic objection to even small amounts of dust from any building material, you have the option of HEPA vacuuming during and after drilling to keep the dust out of the air.
See IDENTIFY Celotex® Insulating Board and Fiberboard Products
Is this a brown insulation board? I worry that it contains asbestos.
Reader Question: does the brown insulating board found under bowling alley lane material contain asbestos?
I am writing to you because I found your website after realizing I may have been handling asbestos-containing materials for the past year or so without knowing.
I don't know how it didn't occur to me sooner, but now I'm really scared and don't know where to turn for help.
I'm a teacher in NYC and, unrelated to my teaching, about a year ago I started working with old bowling lane flooring.
On the underside of bowling lane floors there is a fiberboard type material I believed was used for sound dampening.
I've handled and ripped off this material so many times without once thinking what it was- I think I was told it was Homasote and harmless.
Since many of these bowling lanes were installed many years ago, it worried me even more. Now I'm not so sure what it is and scared at the thought of what it could be.
I've spent the last few hours panicked at the computer searching for information, trying not to show my wife how scared I am.
If there is any way you could call me or share any information, I would be so grateful.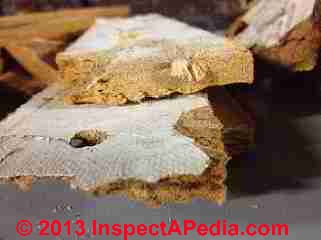 Your website seems like the work of a very knowledgeable expert in this area so I'm turning to you for some advice. Attached below is a photo of some of the material- it is the black strips of material stapled to the black underside of the wooden board on the left.
Again, thank you in advance for any information you can offer. Feel free to call any time of day or night.
Thank you for taking the time to speak with me yesterday. I really appreciate your advice and insight into my situation. I attached a link below to a bunch of photos of this material that was attached to the back of three different pieces of the bowling lane.
There are just strips of this material attached with staples to the underside every few feet of the bowling lane. Some is black on the outside, some is white, and some is just like a brown cardboard color-- it all looks fairly similar on the inside.
If you can let me know what you think ASAP, that would be great- I know you told me not to be, but I am really worried about all this- I've been a mess all week at school.
Also, if you have those names or contact info for anyone who might be willing to test this material for me, that would also be incredibly helpful. I can't thank you enough for your help with this- feel free to call or email me back with any information. - A.S. 11/5/2013
Reply: The material looks like and probably is a wood fiber insulating board - not asbestos-containing. But protect yourself from demolition dust.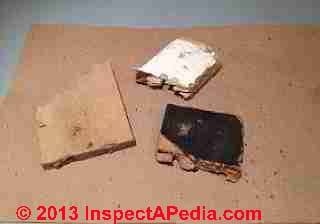 The material I can see in your online photos is almost certainly wood fiber based Homasote type insulating board. That is not an asbestos product. You can see more examples of this product
If nevertheless you want to have as sample of the material tested for asbestos content, the cost is usually minor - about $50. U.S. You can use any certified asbestos testing laboratory - and can find one via help given
As we discussed by telephone, you should, however protect yourself from breathing dust during any demolition project.
While the material you are working with was sandwiched between other building materials: bowling alley lane surfacing and the subflooring atop the floor structure - a location where it was rather protected unless the building flooded. In that location I speculate the material would be less likely to be contaminated by other exposures.

Nevertheless, breathing high levels fine dust particles that can be released into the air by the disassembly or demolishing of building is a health risk. Ultra fine particles, down in the 1u range are probably low in dust from fiberboard sheathing, but of course I don't know what else is in the environment where you are working.
To be ultra safe while working you'd wear a HEPA-rated dust mask. At a very minimum I recommend you wear a paper N-95 dust mask as well as other appropriate protection (eyes, hands) when disassembling and demolishing these materials.
If you decide to have a section of the material tested for asbestos, I would choose a piece of the insulating board that has that white skin or coating - to check that those products were not made with a facing of asbestos paper.
The history of fiberboard insulating products is interesting in that while the product itself is not an asbestos-based material, there were some questions of cross contamination with asbestos because of the manufacturing location of some brands.
However to date, except for Kollman (1975) I have not found scholarly studies nor other information that confirmed that wood fiberboard based insulating board did actually contain asbestos.
Also see FIBERBOARD SHEATHING IDENTIFICATION
Reader Question: I was worried it contains asbestos but just looks too dark to be to me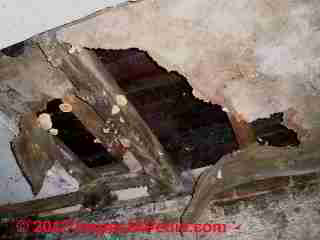 I know you guys know a lot about asbestos containing products and just wanted advice on a wood like fibre board I found in a cellar, I was worried it contains asbestos but just looks too dark to be to me and more like other wood fibre boards you discuss on your website.
Any views would be appreciated. Picture attached! (feel free to republish as you like). - B.K. 06/29/2012
Reply:
A competent onsite inspection by an expert usually finds additional clues that help accurately diagnose a problem - in the case of your photo it looks as if that area has been quite wet for some time - nice mushrooms growing - watch out for rotted ceiling joists or rafters.
It appears that the original ceiling was a brown fiberboard product that was later covered by drywall - visible in the left side of your picture. Your home is an old one - the roof sheathing boards visible where the ceiling has collapsed in from leaks were cut with a machine-operated pit saw.
Depending on the building's location, that could be a structure built before 1900.
Fiberboard products have been around in the U.S. since about 1858, though they were not widely used until the 1940's.

The brownboard in your (not so sharp) photo looks to me like a wood fiber product.
Depending on the age of the building and its location (in the U.S. ?)  that ceiling could have been originally installed using an insulating fiberboard from any of fourteen manufacturers, so there are indeed variations in both original color, and in color after wetting and age.

Can you tell me the thickness of the material? Insulating fiberboard's were usually 15/32" thick, with a few 1/2" thick; Hardboard such as some Masonite products can be 1/4? or thinner, and are hard. In your photo the board looks thicker than that, but the way it is tearing left me to consider a hardboard product.
I'd be glad for you to send me about 2 sq. in. in a clean ziplok bag, so that I can examine it in the lab (pro-bono, no fee). Unfortunately though I won't be able to examine it closely until our lab returns to the U.S. in January.
Question: What is Celotex Insulating Lumber? Do insulating board products contain asbestos?

I have a home built in 1940 that used a brown fiber board called "Celotex Insulating Lumber" looks like is was designed to be used as sheathing and lath.
Made in either Chicago on Louisiana. Anyone familiar with this? Or know if it contained asbestos? - Dan Theisen 1/30/12
Reply:
Dan, Celotex, a Chicago company, has been a producer of a wide variety of insulating sheathing boards for a long time and the company continues to produce modern insulating board products as well.
Celotex Insulating Lumber was introduced by the Celotex corporation in 1922, making it
"... possible for the first time to build a completely insulated house practically without extra cost". [8]
Our illustration (left) shows Celotex insulating lumber on the exterior of a Lebanon PA home.
There was some question, not substantiated by any research I could find, that because some wood fiber board products may have been made at the same site where asbestos-containing materials had been used, that there may have been some cross contamination; that theory has not been supported.
Checks & MSDS Citations for Asbestos Content in Fiberboard Insulation
A review of the patents and product description for Celotex insulating lumber products shows that asbestos was not among the product's ingredients.
See IDENTIFY Celotex® Insulating Board and Fiberboard Products.
For more about Celotex sheathing and products see CELOTEX HISTORY & PRODUCTS.
Also see FIBERBOARD SHEATHING INGREDIENTS and also
see FIBERBOARD SHEATHING MSDS for details about the ingredients or constituents of fiberboard sheathing products. They vary but ther're basically cellulose, bonder, and waterproofing.
In "Insulite Co. vs. Reserve Supply Co", a 1932 lawsuit, relevant patents and ingredients are described, including a composition of plaster of paris, cement, or other like substance, combined with hair, wood fiber, sawdust, wool, wood shavings, excelsior, straw, or similar substances. (Asbestos was not cited in the product description. )[11]
Watch out: ** Wood dust is listed by the IARC as a human carcinogen (Group 1).
In other words, the dose makes the poison for all substances.
Really?: we have read a few accounts indicating that while asbestos was not an ingredient in fiberboard insulating sheet products, some of these products may have been manufactured at or near facilities previously used to process asbestos materials.
The question of cross-contamination arose but I have not yet found a report of actual asbestos contamination in fiberboard from that source (nor others).
Does Gold Bond Insulating Board (IB) Contain Asbestos?
Reader question: does this Gold Bond brown or black insulating board contain asbestos?
These photos are of insulating board found n the electric cupboard.
I would appreciate any feedback on this board, I'd not really noticed it until the renovations when I'd started seeing articles on building materials , but now I've realized it's exposed in the door well and my son has been crawling around there I'm pretty worried!
Many thanks - Anonymous by private email 2017/09/19
Reply: Probably not
Wood-based or cellulose-based insulating board like the product we show here would not be expected to contain asbestos unless by accidental cross-contamination by having been made at the same location where asbestos products were being manufactured.
The Gold Bond IB shown above looks like a wood-fibre based insulating board, typically covered with an asphalt or wax coating to improve its moisture resistance.
It should not be shedding much material of any kind unless it's being sawn or chopped or demolished.
I note the brown wood fibers where the black coating has been lost or worn away (red arrow in photo just above) where I see light material between two insulating board panels I am guessing that is the surface of a stud or of some other material.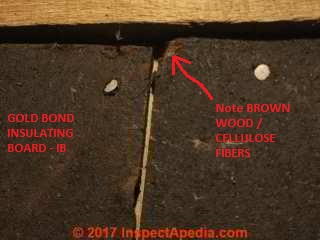 However at ASBESTOS PRODUCING COMPANIES where you will find National Gypsum in that alphabetic list, we discuss a number of Gold Bond™ products, all produced by National Gypsum, that did indeed contain asbestos.
Those were principally gypsum-based or cement-asbestos based materials.
National Gypsum, who made Gold Bond products, did produce other asbestos-containing gypsum based (plasterboard) products and also asbestos-containing cement-board products as well as other asbestos products such as some coatings.
See IDENTIFY National Gypsum Gold Bond® Brand Insulating Board
General information about wood or cellulose based insulating board products is
The use of asbestos in gypsum panels or "drywall" panels (plasterboard) is discussed
at ASBESTOS in DRYWALL and also
Reader follow-up: plan to test Gold Bond insulating board for asbestos
Very much appreciate the info! It is comforting to know it is wood based, I have been worrying since I saw that big Gold Bond logo on it and Googled the company. I actually sent a sample off to pro lab to be tested yesterday so I will update you when I get the results, perhaps it will reassure another of your readers.
I couldn't find much info on their insulation board online. In the door well on the same wall. I had mentioned there are several layers of exposed drywall/plasterboard (I'm assuming), likely old, so I will definitely treat that with caution, and look into it before demolition.
Again, thank you for the info and I'll keep you updated! - Anon 2017/09/21
Reader follow-up: results of lab-test for asbestos in Gold Bond fiberboard sheathing - negative
2017/12/06 reader anon updated us on the tests she had performed for asbestos content in Gold Bond brand fiberboard.
... sorry I am so long getting back to you! Lab results came back as 90% cellulose and 10% Bitumen, a relief! Thanks for your help with this, - Anonymous by private email
How to Distinguish Cellulose or Fiberboard IB from Plaster or Gypsum or Cement-Board Products that are More-Likely to Contain Asbestos
To distinguish between gypsum-based or plaster-based panels or cement-asbestos panels that may have contained asbestos (or are known to have contained asbestos) and cellulose or wood fiber board, look for a hard white or gray core in your insulating board or sheathing board panels.
If your panels are brown or tan cellulose-like fibers throughout, often with a waxy or dark asphalt surface coating (added for water resistance) those are a cellulose product, not a plaster or asbestos cement product.
See FIBERBOARD SHEATHING INGREDIENTS and
see FIBERBOARD SHEATHING MSDS about the ingredients or constituents of fiberboard sheathing products.
See SHEATHING, GYPSUM BOARD for a separate description of gypsum or plaster based wall sheathing board.
Does or Did Homasote® Contain Asbestos
No, not according to the company nor in research that we cite at the Homasote® article given just below.
Homasote® company history, current product list, product composition & contact information are
at HOMASOTE HISTORY & PRODUCTS
Do Nu-Wood Sta-Rite Cellulose ceiling tiles contain asbestos?

Reader Question: 2015/11/30 Leslie said:
I've been poking around the net trying to find out about tiles in a 1960 Maine lake house that fortunately still has the box in the attic Nu-Wood Stay-Lite cellulose fiber ceiling tiles 40-004 class d
This question was posted originally at ASBESTOS CEILING TILES
Reply: cellulose is not asbestos but there were asbestos warnings for workers at several Nuwood processing mills.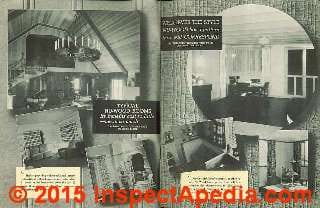 [Click to enlarge any image] Shown here: Nu-Wood products catalog pages from 1936.
Leslie, the Sta-Lite cellulose ceiling tile photo that you posted is self-described as a 12" x 24" painted-bevel cellulose product #40-004 - that's wood fibers not asbestos. These products are classified as low-density fiberboard. Quoting the U.S. FPL,
Fiberboard is a generic name for construction panels made of wood or vegetable fibers. (Wilson 2007).
Here is how the manufacturer itself described Nu-Wood panels:
Made of clean wood fiber, this new wall and ceiling treatment consists of specially designed and accurately fitting tile, plank and wainscot units, in large, easy-to-handle sheets. A high degree of insulation value is built into these Nu-Wood products.
The image you contributed will be added here to assist other readers and to invite further comment that may give us more information. Thank you.
I'd be grateful if you'd take another look at the box for any other labels or markings. Please also use our page bottom CONTACT link to email photos of both sides of the ceiling tiles themselves as well as an installed ceiling if one is present in your home.
Nu-Wood is described by the U.S. Forest Service Technology & Development Program as a cellulose (wood-based) fiberboard product that was produced as early as 1938 including brand names Masonite, Nu-Wood, Du-X and Fir-Tex.
Those early products were not ceiling tiles but rather wood-fiber hardboard or softboard sheets used as a finish material or as a lath or base for plaster walls and ceilings.
Related products included other familiar brand names beaverboard, caneboard, Celotex, Homasote, Insulite, Masonite, Gold Bond, National Gypsum, Nu-Wood, and Upson Board are described by links given at the MORE READING section of this article.
These include principally wood-based or cellulose or plant-based products not asbestos products except for plaster or gypsum based wall sheathing.
However for some of these wood-based or cellulose products, cross contamination with asbestos did occur. See our NU-WOOD discussion just below for an example.
It is noteworthy that these products indeed included some ceiling products and installations as the U.S. Forest Products lab has documented, illustrating a fiberboard ceiling in a ranger station. Excerpting from the US FPL document cited below we include that image here: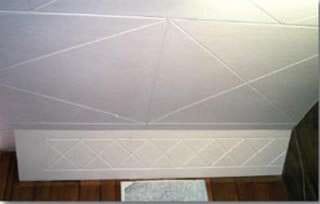 However a number of asbestos and mesothelioma information sources point out that some fabrication plants that at one time processed asbestos materials also processed wood-fiber products and thus there were hazards of cross-contamination and worker exposure to asbestos in those locations.
None of those references that I have read (this is not an exhaustive research) confirmed asbestos hazards in the cellulose products themselves, even though such is technically possible. An example follows:
Watch out: further research is needed to confirm the relationship between Nuwood and Nu-Wood ceiling products but we have found a warning issued by the Minnesota State Health Department cautioning that workers were exposed to airborne asbestos fibers when working in three Nuwood production areas at the Cloquet plant in Minnesota between 1958 and 1974.
Excerpts and the document reference are given below.
Asbestos was used at the Conwed Corporation (Wood Conversion Company) plant in Cloquet, Minnesota, in making ceiling tiles and other products from 1958 through 1974. Mixing, sawing, grinding, and other processes used in making these products created asbestos-containing dusts that were inhaled by many workers.
This is how most workers were exposed to asbestos.
Asbestos was used at the Cloquet plant in the manufacturing process during the years 1958-1974, and this is when the greatest number of workers were exposed. It is possible, however, that some workers were exposed to asbestos outside this time period.
For example, workers involved with maintenance and repair of equipment that had asbestos insulation, such as steam pipes and boilers, may have been exposed to asbestos before or after this time period.
We do not have information on actual levels of asbestos in the plant air. Asbestos dust levels probably varied at different locations and at different times. Overall, people who worked in the following departments probably had more exposure to asbestos than other workers:
Nuwood Board Mill
Nuwood Finishing
Nuwood Shipping
Balsam Wool Pump Mill
Lo Tone
Maintenance and Repairs
People who worked in the dustiest jobs for the longest periods of time would have had the most exposure to asbestos.
Anyone who worked at Conwed's Cloquet plant at any time during the years 1958-1974 may have been exposed to asbestos-containing dusts. Company records and other sources of information show that nearly 6,000 workers were employed for some period of time during those years.
The Minnesota Department of Health has been working for several years to identify and locate all former Conwed workers employed during those years.
Several types of asbestos from different suppliers were used at different times at Conwed during the 1958-1974 time period. Although all types of asbestos can cause asbestosis and lung cancer, the risk of mesothelioma may depend on the type of asbestos.
Conwed has not provided the State with information about the types and amounts of asbestos used during different years.
Most workers wore their work clothes home or took them home for washing. Asbestos-containing dusts could have been carried into the home on the workers' clothing, shoes, or hair.
Any exposure to family members in the home would be small compared to exposures in the plant. The risk of disease from these household exposures would be very small.
Watch out: Court documents assert that some Conwed ceiling tiles and/or some Simpson ceiling tiles and other products contained asbestos. (Wagner v. Bondex, Simpson, & Conwed, 2012). See SIMPSON CEILING TILES for details.
Research: Asbestos found in Nu-Wood, Wood Conversion Company, Bondex, Simpson Timber products
ASBESTOS CEILING TILES - home
IDENTIFY NU-WOOD PANELS - separate article
Minnesota Department of Health, "INFORMATION SHEET FOR FORMER CONWED WORKERS", [PDF] September 1993, retrieved 2015/12/04, original source: http://www.health.state.mn.us/divs/hpcd/cdee/occhealth/conwedfact.html
FIBERBOARD SHEATHING IDENTIFICATION How to recognize/identify Celotex®, Homasote®, Masonite® Nu-Wood® and other insulating fiberboard building sheathing products used as exterior wall sheathing and as interior wall & ceiling surfaces at InspectApedia.com
SIMPSON CEILING TILES - details, photos, Q&A
Wagner & Wagner v. Bondex, Simpson, Conwed, Missouri Court of Appeals, Western District, WD72474 & WD72619, 19 June 2012, retrieved 2015/12/04, original source: http://www.courts.mo.gov/file.jsp?id=54841,

Full title: LOIS J. WAGNER, ROBIN G. ) WAGNER and WENDE L. WAGNER, Individually and as Wrongful Death Beneficiaries of ROBERT WAGNER, Appellant-Respondent, v. BONDEX INTERNATIONAL, INC., and SIMPSON TIMBER COMPANY, Respondent-Appellant, CONWED CORPORATION, Defendant, WD7274 (Consolidated with WD72619)

Opinion filed: June 19, 2012, Missouri Court of Appeals, Western District, APPEAL FROM THE CIRCUIT COURT OF CLAY COUNTY, MISSOURI The Honorable Kathryn E. Davis, Judge Before Division Four: Lisa White Hardwick, Chief Judge, Presiding, Joseph M. Ellis, Judge and Victor C. Howard, Judge.
Excerpts:

Bondex International, Inc. and Simpson Timber Company appeal from a judgment of the Circuit Court of Clay County entered in favor of Lois, Robin, and Wende Wagner, the wrongful death beneficiaries of Robert Wagner, in the amount $4.5 million.

Lois, Robin, and Wende Wagner cross-appeal that same judgment being reduced by 2 $900,000.00 pursuant to § 537.060.1 For the following reasons, the judgment is affirmed in part and reversed and remanded in part.

In 2006, Robert Wagner was diagnosed with mesothelioma, a cancer that affects the pleural lining of the lungs. During the 1960s and 1970s, Wagner worked as a carpenter installing ceiling tile at project sites in the Kansas City area. Wagner worked primarily for two companies during that time period, Kansas City Natural Slate and United Acoustics.

In 2007, Wagner died from mesothelioma, and his wife and children ("Plaintiffs") brought this wrongful death action. Plaintiffs claimed that Wagner's mesothelioma resulted from exposure to the asbestos-containing products manufactured by Bondex and Simpson Timber ("Defendants").

Bondex manufactured a joint compound that was commonly used on construction sites during the installation of drywall. From 1961 to 1977, Bondex joint compound contained asbestos.

Simpson Timber manufactured ceiling tiles. During the 1960s, Simpson Timber manufactured both asbestos-containing ceiling tile and non-asbestos-containing ceiling tile. Simpson Timber also purchased and resold ceiling tile from Conwed that contained asbestos.
Wilson, Rich, Kathleen Snodgrass, "EARLY 20TH-CENTURY BUILDING MATERIALS: FIBERBOARD AND PLYWOOD", [PDF] U.S. Forest Service, Technology & Development Program, March 2007, retrieved 2015/12/04, original source: http://www.fs.fed.us/t-d/pubs/htmlpubs/htm07732308/
Wood Conversion Company, "NU-WOOD INTERIORS FOR EVERY WALL AND CEILING", [PDF] Wood Conversion Company, St. Paul Minnesota, (1936), retrieved 2015/12/04, original source: https://archive.org/stream/ Nu-woodInteriorsForEveryWallAndCeiling/ Nu-woodInteriorsForEveryWallAndCeiling_djvu.txt, This companyu was a producer of Balsam Wool & Nu-Wood, Nu-Wood Tile, Plank and Wainscot and similar products.
Coarse Random-Oriented Wood Strand Fiberboard
Question: are these asbestos-based panels?
I'm hoping you can tell me what these panels are and whether they have asbestos in them.

I just purchased them as a cheap way to put up a partition wall at the family cottage and the next day it hit me like a bolt that they might have asbestos!

The panels are 4' x 8' and heavy as all get out! The seller was an older gentleman who said his uncle gave them to him & that he's had them in his garage for over 40 years.
I've attached pictures. #143018 is a side view. #143034 is a corner that is damaged and gives a better view of the materials (shredded). They were originally white but someone painted them grey.

Thanks so much for your help! - Anonymous by private email 2018/02/15
Reply: not likely
Without a lab analysis I cannot say absolutely that an unknown product is asbestos-free, but your photos look to me like a relatively modern wood product, a coarse, random-orientd wood- strand fiberboard product.
If these panels are truly 40 years old that would have them produced in 1978 when asbestos was still used in some building products. But with a few exceptions, principally from cross-contamination, 100% cellulose, non-cementious, wood-based fiberboard products do not contain asbestos.
Watch out: if the binding material in your panels is cementious I think these are a cement fiberboard product such as the strand-reinforced cement board produced by Architonic and shown just below. Such cement products might indeed contain asbestos, depending on when and where they were produced.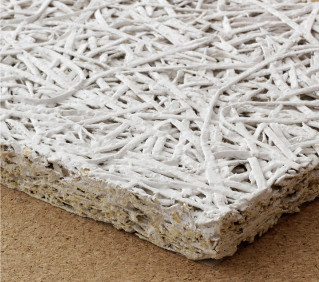 Above: wood fibre-reinforced cement board panels describe by the Architonic, a UK source of buidling products who insists on keeping the actual product manufacturer and identity a secret, Architonic ID: 1184351, prompting us to decline to cite the Archi tonic website directly.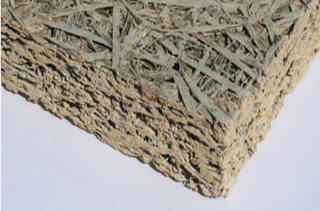 Other readers: see this similar-looking but light-weight panel product [shown above] found by our correspondent above: Savolit Wood Wool Building Panel | SKANDA Acoustics Ltd, https://www.savolit.co.uk/products/savolit Savolit, a lightweight wood wool building panel for external cladding, internal lining, base board for plastering, carrier board for render and internal partition walls.
These panels are listed by SKANDA Acoustics Ltd 67 Clywedog Road North, Wrexham Industrial Estate, Wrexham, LL13 9XN U.K., Tel: 01978 664255
You can see a catalog of these products by type and properties at DEFINITIONS, ENGINEERED WOOD HDF LDF LVL MDF MDO OSB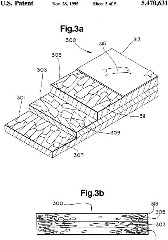 More-modern coarse wood-strand or wood-fibre fiberboard products (popularly "OSB" or oriented strand board) use larger chips of wood either in a random pattern or oriented specifically for strength, and are seen in more-recent patents like
Lindquist, Craig R., John T. Clarke, Peter PS Chin, Michael J. MacDonald, and J. Peter Walsh. "Flat oriented strand board-fiberboard composite structure and method of making the same." U.S. Patent 5,470,631, issued November 28, 1995.
Abstract

An oriented strand board (OSB)-fiberboard composite structure is comprised of a baseboard having three wood strand layers, the wood strands being oriented in space with respect to a board forming machine such that a core layer is comprised of wood strands oriented generally in a random or cross-machine direction and each adjacent layer is comprised of coarse and fine wood strands oriented generally in the machine direction

. In a preferred embodiment, the wood strands comprising each adjacent OSB layer are formed with the coarsest strands located nearest the core layer and the finest strands are located nearest the outer surfaces of each outer board layer.

The OSB-fiberboard composite product is clad with a wood fiber overlay on one major surface of the baseboard. The composite board is manufactured without warping, by providing particular OSB layer thicknesses, such that the lower OSB layer is about 25% to about 35% thicker than the OSB layer bonded to the fiberboard.
Wood-based or cellulose-based fiberboard products are not asbestos-containing products (normally) and have been in use in the U.S. since the early 20th century, as you will see in
Wilson, Richa & Kathleen Snodgrass, EARLY 20TH-CENTURY BUILDING MATERIALS: FIBERBOARD AND PLYWOOD, [PDF] U.S. Forest Service, USDA Forest Service, Missoula Technology and Development Center 5785 Hwy. 10 West Missoula, MT 59808–9361 Phone: 406–329–3978 Fax: 406–329–3719 E-mail: wo_mtdc_pubs@fs.fed.us, retrieved 2018/02/15
DAIKEN MDF PRODUCT DESCRIPTION [PDF] Daiken New Zealand, 166 Upper Sefton Road, Ashley RD7, Rangiora 7477, New Zealand
References on Possible Asbestos Contaminants in Fiberboard Insulation Products
Some interesting citations pertinent to the question include both articles and patents that I include below
Altree-Williams, S., and J. S. Preston. "Asbestos and other fibre levels in buildings." Annals of Occupational Hygiene 29, no. 3 (1985): 357-363.
Cadotte, John E. "Manufacture of mineral fiberboard." U.S. Patent 3,297,517, issued January 10, 1967.
Coliection, Wood. "Wastes into Wood: Composites Are Promising New Resource. [PDF] http://europepmc.org/articles/PMC1567208?pdf=render [copy on file]
Coutts, Robert SP. "A review of Australian research into natural fibre cement composites." Cement and Concrete Composites 27, no. 5 (2005): 518-526.
[Possibly a significant citation & source of confustion about the asbestos content of wood-product fiberobard sheets because this text uses the term "asbestos fiberboard" as do some others - Ed.]
English, Brent. "Wastes into wood: composites are a promising new resource." Environmental Health Perspectives 102, no. 2 (1994): 168.
Falk, Bob. "Wood-Framed Building Deconstruction." Forest Products Journal 52, no. 3 (2002): 9.
Jamison, Danny G. "Method for using scrap rubber; scrap synthetic and textile material to create particle board products with desirable thermal and acoustical insulation values." U.S. Patent 5,439,735, issued August 8, 1995.
Ince, Peter J., and David B. McKeever. Recovery of paper and wood for recycling: actual and potential. Vol. 88. US Department of Agriculture, Forest Service, Forest Products Laboratory, 1995.
Ince, Peter J., and David B. McKeever. "Estimates of paper and wood recovery for recycling and potential for additional recovery in the United States." WOODFIBER plastic composites: virgin and recycled wood fiber and polymers for composites. Madison: Forest Products Society (1995): 144-154.
Kollmann, Franz FP, Edward W. Kuenzi, and Alfred J. Stamm. "Fiberboard." In Principles of Wood Science and Technology, pp. 551-672. Springer Berlin Heidelberg, 1975. [Significantly this article refers to the occasional blending of asbestos with wood fiber products.] Lundgren, S. Ake. "Hardboard as construction material—a viscoelastic substance." Holz als Roh-und Werkstoff 15, no. 1 (1957): 19-23.
Sebastien, P. M. A. G. A. G. J., M. A. Billon, G. Dufour, A. Gaudichet, G. Bonnaud, and J. Bignon. "Levels of asbestos air pollution in some environmental situations." Annals of the New York Academy of Sciences 330, no. 1 (1979): 401-415.
Selikoff, Irving John, and Douglas HK Lee. Asbestos and disease. Academic Press, 1978.
Stratton, J. C., and I. S. Walker. "Health and Safety Guide for Home Performance Contractors." (2012).
Wise, Steve H. "Production of fiberboard containing mineral fiber." U.S. Patent 3,093,533, issued June 11, 1963.
Asbestos Content in Gypsum-core Homasote exterior sheathing (gypsum board) product from 1940s.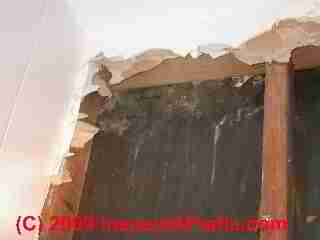 Was there a Homasote product used in the early 1940s on the exterior of houses that looks like sheet rock? How long does this last for?
If it is still on the house, could it contain asbestos and/or contain mold due to lack of sunlight?
Was there "code" at some point that would have forced individuals who were to replace vinyl siding on the house over these boards to replace with proper products after a certain date? Thank you, K.B.C.
Reply: Properties of Homasote® type fiberboard compared with gypsum-based exterior wall & roof sheathing boards
A competent onsite inspection by an expert usually finds additional clues that help accurately diagnose a problem with sheathing, leaks, and mold or asbestos sources in buildings - the concerns you expressed. That said, here are some things to consider:
Homasote® fiberboard sheathing is a wood fiber product, not a gypsum or plasterboard product. However there were indeed gypsum-based sheathing board products used on buildings both as wall sheathing (under siding and over studs) as well as roof sheathing.
Please see HOMASOTE HISTORY & PRODUCTS to read the ingredients of Homasote® panels: principally recycled newspaper.
Some Gypsum board and plaster board products indeed contain asbestos as does some joint compound
Watch out: Indeed some gypsum--based drywall products did contain asbestos into the 1980's. I have not, however, tested nor seen test results specifically for exterior wall sheathing using that material. I suggest sending a small sample, a square inch would be plenty, to a certified asbestos testing lab - the cost should be $10 - $50. U.S. Do let me know what you find as the results will be helpful to other readers.
Even when gypsum board or plaster board did not itself contain asbestos, some joint compounds did contain that material right up into the 1980's. But used as an exterior sheathing, at the buildings I've seen, there was no top coating of joint compound and tape on this type of sheathing board (as there would be on drywall used for interior wall coverings).
Asbestos in FlintKote Insulating Sheathing Board?
Reader Question: does FlintKote Stalward Sheathing contain asbestos?
2018/03/15 jessi said:
Does stalwart sheathing contain asbestos
Illustration: FlintKote building products, Life Magazine, 25 April, 1960. [Click to enlarge any image]
Reply: Stalwart Sheathing, by FlintKote was principally a cellulose product but its coatings might contain asbestos
Jessi
FlinkKote's Stalwart Sheating was a cellulose-based insulating sheathing board widely used in the 1960's in North America.
From what I've been able to find the fiberboard was impregnated with asphalt and perhaps other water-resistant materials such as waxes, and often surfaced with asphalt-impregnated paper or "felt".
Some asphalt-impregnated felts contained asbestos. Generally cellulose board products did not except where cross-contaminated by having been manufactured at a facility that also handled asbestos.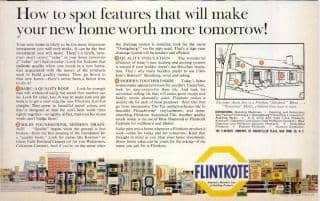 An exception MIGHT be found in some FlintKote products including insulating sheathing that were coated with a bituminous layer that included vermiculite, as you'll read in the patent disclosures below. The potential for asbestos in these products is that some vermiculite contains asbestos.
The history and ingredients in FlintKote insulating sheathing can be found, at least partially, in patent disclosures assigned to FlintKote
Levin, Harold L. "Fibrous covering and method of making same." U.S. Patent 1,774,204, issued August 26, 1930.
(Roofing material)

Wegenroth, Jr Edgar R. "Process of manufacturing insulation siding." U.S. Patent 3,104,184, issued September 17, 196

3.
This much-later patent citation
Winters, Donald C., and Ivan D. Klein. "Inorganic fiber mat using mineral wool and related process and apparatus." U.S. Patent 4,532,006, issued July 30, 1985.
describes "An improved inorganic fiber mat containing mineral wool, preferably a composite mat of mineral wool and fiberglass"
And contains no mention of asbestos.
Asbestos was used in other FlintKote products including the company's ThermalKote a water resistant siding, and in fire-resistant products:
Manderbach, James R., and Pestel Paul. "Fire-resistant wall construction." U.S. Patent 3,418,776, issued December 31, 1968.
Excerpt:
One object of the invention is to provide a Wall construction of the indicated type having a high degree of resistance to re. In wall constructions in general use today the `joints between the wallboard panels are sealed with tapes of paper, cloth, asbestos and appropriate cementation compounds or they are covered with moulding or reinforced on the back of the wallboard with strips of gypsum laminated in a position to bridge the joint.
and
Morris, Klimboff. "Bituminous roofing and siding material coated with exfoliated vermiculite." U.S. Patent 3,207,619, issued September 21, 1965.
Excerpt:
For many years vast quantities of roofing have been sold generally composed of a foundation layer or base which is usually a felted fibrous layer made up of paper and/or rag and/or asbestos fiber.

The felt is usually saturated with a water-proofing substance such as bituminous composition, for instance, a low melting point bitumen. The felt is usually coated on one or both of its faces with a higher melting point bitumen.

While the bitumen is still in a plastic state granules are ordinarily pressed therein on the weather exposed face to protect the bitumen from the ultra violet rays or actinic of the sun as well as to form a decorative coating. The bitumen coating would otherwise deteriorate producing cracking or crazing, thus permitting leaking on the roof in due time.
...
I have discovered, quite by accident, that a roof covering or shingle having advantages over those presently used can be made by employing granules whose properties are in most respects the opposite of those which have been usually considered desirable in the past.

Rather than being rock like, it is soft enough so that it can be compressed to a noticeable degree by the fingers. Rather 3,207,619 Patented Sept. 21, 1965 than having a low water absorption, it will absorb water in large amounts, and it is unnecessary to treat the material specially in order to reduce water absorption. It is also flaky and friable material.

Apparently, because of these properties, it has never been suggested for use as a roofing granule even though it is a material which is in wide use in the building material industry. Nevertheless, I have now established that a roof covering comprising my new granules will have the following advantages over those now being marketed in large quantities:
Note that some Vermiculite contains asbestos.
The company prodcued roofing products containing asbestos and also asbestos-cement shingle siding.
These patents assigned to FlintKote give more details of the history and constituents of FlintKote insulating sheathing
Levin, Harold L. "Waterproof board and method of preparing same." U.S. Patent 1,793,810, issued February 24, 1931.
This invention relates to improvements in plaster board commonly comprising an inner cementitious core of stucco, plaster, or the like, having outer surface coverings of absorbent paper.
[No mention of asbestos nor vermiculite in this patent]
Yamamoto, Kaname. "Thermal insulating and bituminous waterproofing board and application process thereof." U.S. Patent 4,357,377, issued November 2, 1982.
Cites use of vermiculite (that may contain asbestos)
Excerpt:
The thermal insulating layer 14 is laminated on one surface of the bituminous waterproofing board. The thermal insulating layer 14 can be composed of any conventional thermal insulating materials.

Examples of such thermal insulating materials are inorganic thermal insulating boards made of, for example, rock wools, slag wools, asbestos, glass fibers, calcium silicate, perlite, vermiculite, gypsum, foamed glasses and the like; foamed synthetic resins made of, for example, polystyrene, polyethylene, acrylic resin, phenol resin, urea resin, epoxy resin, diallylphthalate resin, urethane resin and the like; foamed rubbers, wood chip boards, wood wool boards and the like.

The thickness of the thermal insulating material layer 14 may be varied over a wide range and is appropriately determined depending on the required heat transmission resistance.
Yamamoto, Kaname. "Process for making a built-up thermal insulating and bituminous waterproofing assembly." U.S. Patent 4,374,687, issued February 22, 1983.
Overbury, Frederick C. "Process of making roofing felt or like material." U.S. Patent 1,558,495, issued October 27, 1925.
Excerpts demonstrating the presence of asbestos in asphalt-saturated felt:

According to my invention and to meet the object thus specified, I provide a multiply sheet formed of layers of paper felt and asbestos, the fibers of the several layers being intermingled and adherent, so 25 that the sheet is an integral structure.

In the manufacture of this sheet, the paper felt la er a is formed of cotton and wool or other suitable fiber in the usual manner, into a wet pulpy web,,upon which is deposited a wet pulpy web of asbestos fiber b.

These may be then subjected to a felting action in a machine or apparatus of the ordinary construction, or be dried in the usual drying machine, thus producing a sheet, one ace of which is paper felt (so-called) and the other face of which is asbestos, the two layers being interlocked I together by the intermingling of their fibers without the use of any foreign binder or cement.

It is quite apparent that the sheet may consist of more than two layers of the asbestos and of the Wool fiber, as for instance the layer of asbestos can be laid between the layers of Wool felt, or vice versa.
Also
Heppes, Otto A., and Walter H. Cady. "Waterproof covering." U.S. Patent 1,574,886, issued March 2, 1926.
...
Continue reading at SHEATHING FIBERBOARD CONSTRUCTION or select a topic from closely-related articles below, or see our complete INDEX to RELATED ARTICLES below.
Or see SHEATHING, FIBERBOARD ASBESTOS CONTENT FAQs - questions and answers posted originally on this page
Or see ASBESTOS IDENTIFICATION IN BUILDINGS - home
Or see ASBESTOS TESTING LAB LIST and
also ASBESTOS TESTING SAMPLE COLLECTION
Or see this
Article Series Contents
Suggested citation for this web page
SHEATHING, FIBERBOARD ASBESTOS CONTENT at InspectApedia.com - online encyclopedia of building & environmental inspection, testing, diagnosis, repair, & problem prevention advice.
Or use the SEARCH BOX found below to Ask a Question or Search InspectApedia
...
Ask a Question or Search InspectApedia
Try the search box just below, or if you prefer, post a question or comment in the Comments box below and we will respond promptly.
Search the InspectApedia website
Technical Reviewers & References
Click to Show or Hide Citations & References
[1] Homasote® Company, 932 Lower Ferry Road, West Trenton, NJ 08628-0240 Tel: 800-257-9491 Ext 1332, or from outside the U.S. call 609-883-3300. Website: http://www.homasote.com/ , Email: Sales@homasote.com.
Thanks to Homasote CEO Warren Flicker for technical review and comment on this article.
Mark Cramer Inspection Services Mark Cramer, Tampa Florida, Mr. Cramer is a past president of ASHI, the American Society of Home Inspectors and is a Florida home inspector and home inspection educator. Mr. Cramer serves on the ASHI Home Inspection Standards. Contact Mark Cramer at: 727-595-4211 mark@BestTampaInspector.com
John Cranor is an ASHI member and a home inspector (The House Whisperer) is located in Glen Allen, VA 23060. He is also a contributor to InspectApedia.com in several technical areas such as plumbing and appliances (dryer vents). Contact Mr. Cranor at 804-747-7747 or by Email: johncranor@verizon.net
[2] Celotex Corporation, PO Box 31602, Tampa FL 33631, with offices in Atlanta, Chicago, Cincinnati, Dallas, Oakland and Philadelphia, and plants in six U.S. States is headquartered in Tampa, FL. Celotex is a national manufacturer of residential and commercial building materials. Website: www.celotex.com Tel: 800-CELOTEX
"Insulation Selector Guide", Celotex Corporation, web search 6/29/12, original source: http://www.silvercote.com/PDF/ThermaxInsulSelectorGuide.pdf, [copy on file as CelotexThermaxInsulSelectorGuide.pdf ]
"Celotex Blue Ridge Fiberboard", SturdyBrace®, produced by Blue Ridge Fiberboard Inc., 250 Celotex Dr., Danville VA 24541, product literature, web search 6/29/2012, original source: blueridgefiberboard.com/pages/sturdybrace.php, [Copy on file as Celotex_BlueRidge_SturdyBrace.pdf].
MSDS: original source: blueridgefiberboard.com/pages/sturdybrace/pdfs/SturdyBrace-msds-br.pdf
"Guide Specifications: SturdyBrace® Structural Fiberboard Wall Sheathing", 6/29/12, original source: blueridgefiberboard.com/pages/sturdybrace.php [Copy on file as SturdyBrace-guidespecs.pdf]
[3] Douglas Leen, Petersburg AK 99833, contributed the photograph of insulating board scraps from roof insulation removed from a building. Dr. Leen provides such a wide range of services, collectables, and historical information about the Northwest that a succinct description is difficult: flying dentist goes anywhere, antique forestry posters, historic campers, the tugboat Katahdin, in Alaska, Washington, and Wyoming. Mr. Leen can be contacted at mail@dougleen.com or at 907-518-0335
[4] Georgia Pacific: information about DensGlas gypsum board building sheathing can be found at the company's website at gp.com/build/product.aspx?pid=4674
[5] "Roof Shingle Tear-Off Procedure for Homasote Products", PDF document, Homasote Co., 932 Lower Ferry Road, West Trenton, New Jersey 08628-024, U.S.A. 800-257-9491 website: at www.homasote.com
[6] Thermafiber, Inc., 3711 Mill Street, Wabash, IN 46992, 260-563-2111 www.thermafiber.com
[7] Weaver: Beaver Board and Upson Board: Beaver Board and Upson Board: History and Conservation of Early Wallboard, Shelby Weaver, APT Bulletin, Vol. 28, No. 2/3 (1997), pp. 71-78, Association for Preservation Technology International (APT), available online at JSTOR.
[8] Pittsburgh Press, "Yesterday - in costly homes alone, Today even the simplest home can have this hidden comfort", The Pittsburgh Press, 19 April 1925, classified ads section. Web search 6/22/12, [Copy on file as Celotex_Ad_023_PP.jpg and more]
[9] pending research
[10] Patents pertaining to building insulation & insulating board, Celotex & Insulating Board type products

"Sound absorbing board for walls and ceilings", Patent No. 1,554,180, issued to W.S. Trader, September 15,1925, first disclosed a wallboard constructed from "Celotex", a felted mass of strong bagasse fibers, so compacted as to be capable of use as an artificial lumber in that it can be sawed and nailed, and has sufficient strength in many cases to be substituted for lumber. That same patent mentions "Insulite", a building board made from wood pulp tailings and which likewise has a porous fibrous body portion and which is possessed of considerable strength so that the same can be nailed, etc. Celotex was preferred as an insulating material because its internal cells produce a sound-deadening insulating effect.
"Method and apparatus for drying moving material", Treadway B. Munroe et als, assigned to Dahlberg & Co., U.S. Patent No. 1,598,980, 7 September 1926, described a method and apparatus for drying sheets of artificial heat insulating lumber, known on the market as Celotex, improving the original process.
"Reenforced composition board", Treadway B. Munroe et als, U.S. Patent No. 1,578,344, 30 March 1926
"Insulating Structural Board", U.S. Patent 2,159,300, Armen H. Tashjian et als, assigned to William B. Miller, Lakewood OH, 23 May 1939, describes insulating structural boards of laminated construction for use as roof or floor slabs, and refers to "Standard insulating fiber boards, such as "Celotex", "Masonite", "Insulite", etc. that had excellent insulating properties but have relatively slight structural strength in flexure or bending under load, hence are not and cannot be used as structural slabs for load sustaining purposes, as roof or floor slabs, for example. [Adding structural strength ran into the problem of reducing the insulating value of the product.]
"Sound-absorbing chamber", Treadway B. Munroe et als, U.S. Patent No. 1,705,778, 19 March 1929 (using Celotex to construct a sound deadening chamber.
"Method of and apparatus for drying moving material", U.S. Patent 2,376,612, Carl G. Muench, New Orleans, assigned to Celotex Corporation, described a method and apparatus for drying sheets of artificial heat insulating lumber, preferably formed by the felting of bagasse fiber along with other materials necessary to make a satisfactory structural fiber board. 22 May 1945
"Sound-absorbing board for walls and ceilings," U.S. Patent 1,554,180, Sept. 15, 1925, Wilber S. Trader, assignor to Dahlberg & Company, Chicago IL. described an interior-use sound insulating product.

[11] "Insulite Co. v. Reserve Supply Co.," 60F.2d 433 (1932), Circuit Court of Appeals, Eighth Circuit, July 26, 1932. Web Search t/23/12. Quoting:
Rabbeted joints in material to which plaster or other material is applied are found in the Jones patent, No. 886,813. In this patent the composition is made up of plaster of paris, cement, or other like substance, combined with hair, wood fiber, sawdust, wool, wood shavings, excelsior, straw, or similar substances. The length of the lath covers three joists instead of four. The boards are arranged in staggered relation to each other and the joints are shiplapped. The specification states that after the boards or blocks are placed in position they may be covered with wallpaper or other similar material, which, of course, would include plaster.

"Machine for perforating Insulite Boards", U.S. Patent No. 1,306,283, Patented 10 June 1919, John K. Shaw, inventor from Minneapolis MN, describes improvements for machines for perforating Insulite Boards.
"Before you Build write for this mailing piece and a sample of Insulite", [advertisement], The Literary Digest, 13 September 1940.

[12] Museum of Fine Arts, Boston, web search 6/22/12, original source: http://cameo.mfa.org/browse/record.asp?subkey=3644 [Copy on file as MFAB_Fiberboard.pdf]
[13] "Separating the Fiber of Wood", A.S. Lyman, U.S. Patent No. 21,077, 3 August 1858
[14] Standards pertaining to fiberboard insulating sheathing:

ASTM C 208-95 (2001) – Standard Specification for Cellulosic Fiber Insulating Board. Type IV Grade 2 (Structural Wall Sheathing).
ASTM C 846-94 (2003) – Application of Cellulosic Fiber Insulating Board for Wall Sheathing.
ASTM D 1554 - Definitions of terms Relating to Wood Based Fiber and Particle Panel Materials.
ASTM E-72 (1997)- Standard Method for Conducting Strength Tests of Panels for Building Construction.
ANSI /AHA - A194.1, Cellulosic Fiberboard.
U.S. Department of Commerce: PS57-73, Cellulosic Fiber Insulating Board
A.F.A. (2003): Fiberboard Sheathing test results

[15] "Properties of insulating fiberboard sheathing", Forest Products Laboratory (U.S.) Luxford, R. F. (Ronald Floyd), 1889 (1960), original report 1955, citation:hdl.handle.net/1957/2489, web search 6/29/12, original source: http://ir.library.oregonstate.edu/xmlui/handle/1957/2489
Basement Moisture Control, U.S. Department of Energy
Building Failures, Diagnosis & Avoidance, 2d Ed., W.H. Ransom, E.& F. Spon, New York, 1987 ISBN 0-419-14270-3
Building Pathology, Deterioration, Diagnostics, and Intervention, Samuel Y. Harris, P.E., AIA, Esq., ISBN 0-471-33172-4, John Wiley & Sons, 2001 [General building science-DF] ISBN-10: 0471331724 ISBN-13: 978-0471331728
Building Pathology: Principles and Practice, David Watt, Wiley-Blackwell; 2 edition (March 7, 2008) ISBN-10: 1405161035 ISBN-13: 978-1405161039
Design of Wood Structures - ASD, Donald E. Breyer, Kenneth Fridley, Kelly Cobeen, David Pollock, McGraw Hill, 2003, ISBN-10: 0071379320, ISBN-13: 978-0071379328
This book is an update of a long-established text dating from at least 1988 (DJF); Quoting:
This book is gives a good grasp of seismic design for wood structures. Many of the examples especially near the end are good practice for the California PE Special Seismic Exam design questions. It gives a good grasp of how seismic forces move through a building and how to calculate those forces at various locations. THE CLASSIC TEXT ON WOOD DESIGN UPDATED TO INCLUDE THE LATEST CODES AND DATA. Reflects the most recent provisions of the 2003 International Building Code and 2001 National Design Specification for Wood Construction. Continuing the sterling standard set by earlier editions, this indispensable reference clearly explains the best wood design techniques for the safe handling of gravity and lateral loads. Carefully revised and updated to include the new 2003 International Building Code, ASCE 7-02 Minimum Design Loads for Buildings and Other Structures, the 2001 National Design Specification for Wood Construction, and the most recent Allowable Stress Design.
Diagnosing & Repairing House Structure Problems, Edgar O. Seaquist, McGraw Hill, 1980 ISBN 0-07-056013-7 (obsolete, incomplete, missing most diagnosis steps, but very good reading; out of print but used copies are available at Amazon.com, and reprints are available from some inspection tool suppliers). Ed Seaquist was among the first speakers invited to a series of educational conferences organized by D Friedman for ASHI, the American Society of Home Inspectors, where the topic of inspecting the in-service condition of building structures was first addressed.
Domestic Building Surveys, Andrew R. Williams, Kindle book, Amazon.com
Defects and Deterioration in Buildings: A Practical Guide to the Science and Technology of Material Failure, Barry Richardson, Spon Press; 2d Ed (2001), ISBN-10: 041925210X, ISBN-13: 978-0419252108. Quoting:
A professional reference designed to assist surveyors, engineers, architects and contractors in diagnosing existing problems and avoiding them in new buildings. Fully revised and updated, this edition, in new clearer format, covers developments in building defects, and problems such as sick building syndrome. Well liked for its mixture of theory and practice the new edition will complement Hinks and Cook's student textbook on defects at the practitioner level.
Historic Preservation Technology: A Primer, Robert A. Young, Wiley (March 21, 2008) ISBN-10: 0471788368 ISBN-13: 978-0471788362
R-Value of Wood, U.S. Department of Energy
"Vapor Barriers or Vapor Diffusion Retarders", U.S. DOE: how vapor barriers work, types of vapor diffusion barriers, installing vapor barrier
Books & Articles on Building & Environmental Inspection, Testing, Diagnosis, & Repair
Our recommended books about building & mechanical systems design, inspection, problem diagnosis, and repair, and about indoor environment and IAQ testing, diagnosis, and cleanup are at the InspectAPedia Bookstore. Also see our Book Reviews - InspectAPedia.
...
Publisher InspectApedia.com - Daniel Friedman