InspectAPedia tolerates no conflicts of interest. We have no relationship with advertisers, products, or services discussed at this website.
This document summarizes the issue of structural damage to roof sheathing where fire retardant plywood roof sheathing, or FRT plywood was used on buildings. The material can degrade seriously due simply to high attic temperatures. Special inspection and testing methods are available.
Also see WOOD ROOF COATINGS & FIRE RATINGS and for other roofing topics see ROOFING INSPECTION & REPAIR.
Green links show where you are. © Copyright 2014 InspectApedia.com, All Rights Reserved.
Requirements & Specifications for Fire Retardant Plywood Treatment for Roof Sheathing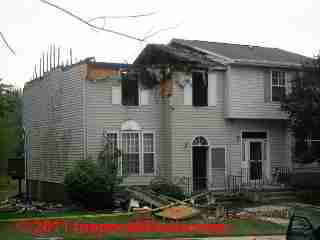 FRT or flame resistant plywood is required by building codes for certain structures such as on either side of the fire wall between building units in multiple-living unit structures (apartments, condos, townhouses). Alternative products have included masonry walls that penetrate the roof and fire-resistant drywall laminated on the under-side of the roof sheathing on either side of the wall.
Our photo (left) shows the success of FRT plywood in preventing fire spread from one portion of a flaming building to the next. [Click any image to see an enlarged, detailed version]
As a substitute for through-roof firewalls on multiple-dwelling buildings, the advent of FRT-plywood permitted omission of the more costly fire-wall extending through roof design and simplified building construction. Typically FRT plywood roof decking was used for four feet on either side of the firewall between building sections, and the firewall terminated just below the roof decking.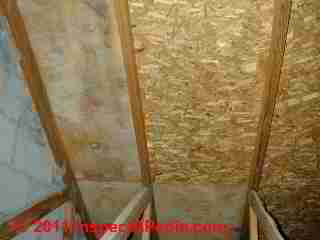 But on older buildings where FRT plywood was used, attic heat and age was found to lead to deteriorated roof decks even where no actual fire had ever occurred.
Apparently the fire resistive treatment, intended to lead to a "surface charring" of the plywood to slow flame spread, also led to surface oxidation and deterioration. Often structural repairs will be required.
While FRT plywood seemed as if it was going to be a terrific product, it appears that high attic temperatures in some buildings caused early deterioration of the material.
In some cases the plywood became so soft that someone walking on the roof could simply step right through it. The material, as it was formulated in its problematic form, is no longer used in new construction but may still be found on some buildings.
Premature Degradation of Fire-Retardant-Treated (FRT) Plywood Used in Roof Decks
Original Fire-Retardant-Treated (FRT) Plywood article in Professional Roofing was by Tom Bollnow, Professional Roofing, May 1999 p.62.
Q: Have there been any significant efforts made to eliminate premature degradation of fire-retardant-treated (FRT) plywood used as roof decks?
A. During the late 1980s, there was an outbreak of structural roof deck failures directly related to degradation of FRT plywood used as roof sheathing. Because the potential for FRT ply- wood degradation still exists, roofing professionals should be knowledgeable about FRT plywood properties so the likelihood of degradation occurring can be reduced.
FRT plywood is produced by pressure treating plywood with fire retardant chemicals. During the mid 1980s, the search for lower hygroscopic (i.e., less moisture-absorbing) chemical compounds to treat plywood resulted in a change from ammonium sulfates that cause fastener corrosion to ammonium phosphate salts. Ammonium phosphate salts with additional treatments using buffers, such as Borax, and organic and less acidic chemicals were developed to decrease fastener corrosion and raise the threshold temperatures of fire-retardant materials.
FRT plywood's structural strength changes from 10 percent to 20 percent after an initial pressure treatment procedure. The drying process follows the pressure treatment procedure and is critical to achieving maximum product performance. Problems result if the kiln drying process is accelerated. Air drying causes fewer problems, but it is more time-consuming. Products should be marked "KDAT" if kiln dried after treatment or "ADAT" if air dried after treatment.
FRT plywood treatments are divided into three categories: exterior, interior Type A and interior Type B. A roof deck typically will be interior Type A because it is not exposed directly to outside elements. Type B treatments can cause excessive moisture to accumulate in wood, allowing chemicals to react with steel fasteners and connectors.
Building code authorities, such as the Building Officials and Code Administrators (BOCA) International Inc., have specific requirements for treatment processes and labeling. For example, plywood must be manufactured according to American Wood Preservers Association (AWPA) standards, and the treatment process must be evaluated by BOCA Evaluation Services, National Evaluation Services or an AWPA-approved, independent agency.
In addition, each plywood piece must be labeled properly with its performance rating and design-strength adjustment values. FRT plywood must be used according to manufacturers' recommendations. It must be kept dry and used strictly within the parameters of design-load values.
Open flames' elevated temperatures activate fire-retardant chemicals that produce. low-level acids (i.e., acid hydrolysis) in FRT plywood. The acids lower the temperature at which thermal degradation occurs, increase the amount of surface char and reduce the production of flammable volatiles (i.e., by-product gases that contribute to flame spread). The results are a reduction of the flame spread across a surface and capacity to support combustion. When a flame is removed from FRT plywood's surface, the plywood will char but not burst into flames.
Chemicals that produce low-level acids causing fire-retardant effects also cause premature FRT plywood degradation at lower temperatures. Untreated plywood experiences no major problems at temperatures up to 200 F (93 Q. Roofing professionals should note that achieving fire retardancy at the expense of structural integrity is not desirable.
Acid hydrolysis and degradation can occur at lower elevated temperatures of about 130 F (54 C to 180 F (82 Q. Temperatures at the interface surface between a roof covering and deck can reach 200 F (93 X with 150 F (66 C commonly found. As a result, degradation can occur at temperatures that are below open flame temperatures.
Roofing professionals should note that there are construction alternatives available that can eliminate the use of FRT plywood. But local codes (e.g., fire, building) first must be referenced to be sure the alternative construction is in compliance. These options include fully sprinkled interior systems; noncombustible decks; %-inch- (16-mm-) thick water- and fire-resistant gypsum board beneath untreated plywood; and fire walls that extend through a roof system on a multi tenant building (e.g., an apartment complex).
If FRT plywood is installed new or encountered during a recover situation, the use of light-colored shingles, a radiant-reflecting roof covering (e.g., white single-ply) or improved ventilation may diminish potential degradation. These materials may lower temperatures at a roof deck's surface. Roofing professionals should use caution and precise documentation when confronted with FRT plywood roof decks to avoid repercussions if failures occur.
-- Original Source: Page 62 Professional Roofing May 1999. Photograph, edits and additions by D. Friedman.
Current (2009) Uses of Fire-Retardant-Treated (FRT) Plywood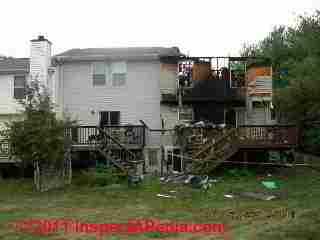 Fire retardant treated FRT plywood, while it is still a combustible material, has been chemically treated to provide a lower flame-spread rate than un-treated plywood used in building construction.
Our second photo of a contained spread of fire (left) illustrates the object of using this fire resistant roof sheathing.
The plywood industry states that the flame-spread rate of FRT plywood is at least as low as gypsum wallboard (although without specifying which fire-rated wallboard was used for comparison).
Current Definition of FRT Plywood
In the Uniform Building Code, Fire-Retardant-Treated Wood is defined as
any wood product impregnated with chemicals by a pressure process or other means during manufacture, and which, when tested in accordance with UBC Standard 8-1 for a period of 30 minutes, shall have a flame spread of not over 25 and show no evidence of progressive combustion
Identification of and Current Applications of Modern FRT Plywood
In a "how to" article on equipment room fire safety design discussing FRT plywood backer boards for electrical panels, thanks to engineer Ronald Belleza de los Santos, datacom provides this FRT identification detail:
A Fire-Retardant-Treated backboard will be designated with a fire-rated stamp "branded" or "stamped" along the edge or center of the plywood—"UL FR-S Plywood 1780 R-7003." Marine-grade plywood does NOT qualify even though it is saline "treated"—as it will have a different UL number.
Fire resistant or fireproof buildings and FRT wood use
According to the APA, and in accordance with the International Building Code (IBC), noncombustible buildings Types I and II (usually built of steel and concrete), allow fire-retardant-treated plywood and heavy timber construction in limited uses.
In buildings type IIIA and IV (less fire resistant than Types I and II), interior walls, floors, and roofs may be built of conventional, untreated wood. Non-combustible exterior walls (required for building types IIIA and IV) are required however. The IBC permits FRT wood for these exterior walls as a design option.
Conventional Wood Frame Buildings and FRT wood use
IBC building type V (conventional wood frame buildings) have the lowest fire resistance and are the least costly to construct. Type V buildings may be constructed using conventional un-treated wood throughout the structure. However the sue of fire sprinkler systems, fire spacings (set-backs), and fire-resistant-rated walls, floors, and roofs, are required to obtain larger interior spaces.
American Plywood Association Information about Fire Retardant Treated FRT Plywood
For a detailed, industry-provided and current description of Fire Retardant Treated FRT Plywood, see Fire-Retardant-Treated (FRT) Plywood, American Plywood Association (APA), representing the engineered wood industry, publication NO. K320, January 2009.
This document includes the types of construction where FRT plywood is used, specifies the proper type of fasteners used for FRT plywood, describes the burn-through resistance and design capacities of FRT wood, provides the FRT plywood treating process and test standards, outlines code-approved applications for FRT Plywood, and explains how to identify fire-retardant treated plywood. -- thanks to Arlene Puentes for assistance with this material. Also see WOOD ROOF COATINGS & FIRE RATINGS and for other roofing topics see ROOFING INSPECTION & REPAIR.
More Reading
Green link shows where you are in this article series.
...
Frequently Asked Questions (FAQs) about fire retardant treated plywood FRT plywood used for roof decking
...
Ask a Question or Search InspectApedia
Questions & answers or comments about fire retardant plywood - FRT plywood used on building roofs as roof sheathing .
Try the search box just below or if you prefer, post a question or a comment in the Comments box below and we will respond promptly.
Search the InspectApedia website
Technical Reviewers & References
Related Topics, found near the top of this page suggest articles closely related to this one.
Click to Show or Hide Citations & References
Arlene Puentes is a licensed home inspector, past chapter president of the Hudson Valley chapter of the American Society of Home Inspectors, an educator, and building failures researcher in Kingston, NY. Contact Arlene Puentes at: ap@octoberhome.htm or at 845-339-7984.
Fire-Retardant-Treated (FRT) Plywood, American Plywood Association (APA), representing the engineered wood industry, publication NO. K320, January 2009, thanks to Arlene Puentes.
About Backboards for Datacom Rooms, datacom "how to" article, Vol. 4, No. 3, pp. 72 - 74, courteously provided by Ronald Belleza de los Santos, a Lima Peru engineer. This article answers the question "What codes and standards specify the backboard requirements in the Equipment Room (ER) and/or the Telecommunications Rooms (TR)?
Books & Articles on Building & Environmental Inspection, Testing, Diagnosis, & Repair
The Home Reference Book - the Encyclopedia of Homes, Carson Dunlop & Associates, Toronto, Ontario, 25th Ed., 2012, is a bound volume of more than 450 illustrated pages that assist home inspectors and home owners in the inspection and detection of problems on buildings. The text is intended as a reference guide to help building owners operate and maintain their home effectively. Field inspection worksheets are included at the back of the volume. Special Offer: For a 10% discount on any number of copies of the Home Reference Book purchased as a single order. Enter INSPECTAHRB in the order payment page "Promo/Redemption" space. InspectAPedia.com editor Daniel Friedman is a contributing author.

Or choose the The Home Reference eBook for PCs, Macs, Kindle, iPad, iPhone, or Android Smart Phones. Special Offer: For a 5% discount on any number of copies of the Home Reference eBook purchased as a single order. Enter INSPECTAEHRB in the order payment page "Promo/Redemption" space.
Building Failures, Diagnosis & Avoidance, 2d Ed., W.H. Ransom, E.& F. Spon, New York, 1987 ISBN 0-419-14270-3
Building Pathology, Deterioration, Diagnostics, and Intervention, Samuel Y. Harris, P.E., AIA, Esq., ISBN 0-471-33172-4, John Wiley & Sons, 2001 [General building science-DF] ISBN-10: 0471331724 ISBN-13: 978-0471331728
Building Pathology: Principles and Practice, David Watt, Wiley-Blackwell; 2 edition (March 7, 2008) ISBN-10: 1405161035 ISBN-13: 978-1405161039
Design of Wood Structures - ASD, Donald E. Breyer, Kenneth Fridley, Kelly Cobeen, David Pollock, McGraw Hill, 2003, ISBN-10: 0071379320, ISBN-13: 978-0071379328
This book is an update of a long-established text dating from at least 1988 (DJF); Quoting:
This book is gives a good grasp of seismic design for wood structures. Many of the examples especially near the end are good practice for the California PE Special Seismic Exam design questions. It gives a good grasp of how seismic forces move through a building and how to calculate those forces at various locations. THE CLASSIC TEXT ON WOOD DESIGN UPDATED TO INCLUDE THE LATEST CODES AND DATA. Reflects the most recent provisions of the 2003 International Building Code and 2001 National Design Specification for Wood Construction. Continuing the sterling standard set by earlier editions, this indispensable reference clearly explains the best wood design techniques for the safe handling of gravity and lateral loads. Carefully revised and updated to include the new 2003 International Building Code, ASCE 7-02 Minimum Design Loads for Buildings and Other Structures, the 2001 National Design Specification for Wood Construction, and the most recent Allowable Stress Design.
Diagnosing & Repairing House Structure Problems, Edgar O. Seaquist, McGraw Hill, 1980 ISBN 0-07-056013-7 (obsolete, incomplete, missing most diagnosis steps, but very good reading; out of print but used copies are available at Amazon.com, and reprints are available from some inspection tool suppliers). Ed Seaquist was among the first speakers invited to a series of educational conferences organized by D Friedman for ASHI, the American Society of Home Inspectors, where the topic of inspecting the in-service condition of building structures was first addressed.
Domestic Building Surveys, Andrew R. Williams, Kindle book, Amazon.com
Defects and Deterioration in Buildings: A Practical Guide to the Science and Technology of Material Failure, Barry Richardson, Spon Press; 2d Ed (2001), ISBN-10: 041925210X, ISBN-13: 978-0419252108. Quoting:
A professional reference designed to assist surveyors, engineers, architects and contractors in diagnosing existing problems and avoiding them in new buildings. Fully revised and updated, this edition, in new clearer format, covers developments in building defects, and problems such as sick building syndrome. Well liked for its mixture of theory and practice the new edition will complement Hinks and Cook's student textbook on defects at the practitioner level.
Guide to Domestic Building Surveys, Jack Bower, Butterworth Architecture, London, 1988, ISBN 0-408-50000 X
"Avoiding Foundation Failures," Robert Marshall, Journal of Light Construction, July, 1996 (Highly recommend this article-DF)
...