Wood Product Definitions & Photos
InspectAPedia tolerates no conflicts of interest. We have no relationship with advertisers, products, or services discussed at this website.
Definitions of engineered and other wood products:
This article series defines and illustrates basic types of building sheathing, LDF, fiberboard, engineered beams & posts & various engineered lumber and wood products such as plywood and OSB sheathing, Laminated Veneer Lumber LVL used for beams and headers, High Density Overlay HDO and Medium Density Overlay MDO plywood, and Parallel Strand or PSL lumber.
We also define and illustrate wood I-Joists used in floor and roof construction. This article series describes wood products used in construction including engineered lumber, OSB, and Plywood products.
Our page top photo shows single and built-up LVL beams along with a conventional 2x4 and a built-up 2x6 beam (at left in the photo) at a wood frame construction project in New York.
We also provide a MASTER INDEX to this topic, or you can try the page top or bottom SEARCH BOX as a quick way to find information you need.
Definitions of HDO Plywood, MDO Plywood, Glulam, LVL, Microlam, PSL, and OSB Trim and Lumber: Structural Composite Lumber
Article Contents
Definition of HDF High Density Fiberboard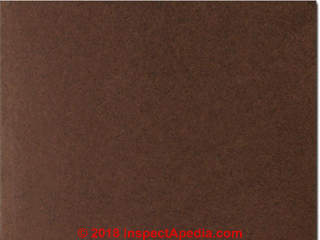 HDF or High Density Fiberboard is a wood fiber product constructed using heat (often steam) and high pressure and adhesive using wood fibers to produce a hard-surfaced rigid material.
The original process for producing HDF was patented by William H. Mason in the U.S. in a series of patents between 1926 and 1938.
A well-known hardboard brand, Masonite™ is sometimes used as a generic name. Hardboard panels, often referred to as hardboard tempered panels, are sold in several thicknesses and dimensions, typically 3/16" thick x 4' x 8'.
Synonyms or equal product names besides Masonite™ include Hernit, Karlit, Quartrboard, TreeTex, Torex, and "pressboard".
As of July 2018 tempered hardboard panels sold by Home Depot stores in the U.S. described their product as follows:
This is a premium hardboard with high internal bond, exceptional stability and smoothness ideal for paneling, furniture, fixtures, toys, general manufacturing and applications where painting or die cutting is required.
We create our Eucaboard from harvesting Eucalyptus from well managed forests. Our product is FSC (Forest Stewardship Council) and ISO 14001 certified, so when you buy our Eucaboard you are helping us to preserve our most valuable asset- your environment.
On 6 March 2001, Masonite announced that the company was phasing out all of its hardboard siding products including Colorlok®, Woodsman® Lap & Panel, SuperSide®, and HiddenRidge® siding, and Modulux® industrial board.
See MASONITE ANNOUNCES INTENTION to PHASE OUT HARDBOARD SIDING [PDF] press release.
See HARDBOARD SIDING for examples of uses of this product as an exterior siding, some of which did not fare well when exposed to the weather.
See FIBERBOARD ROOFING & FIBER-WOOD ROOFING for examples of uses of this product as an roof shingles, some of which also did not fare well when exposed to the weather.
Masonite™ constituents
HARDBOARD Masonite™-like INGREDIENTS [web article] explains why there would not be asbestos in these products and gives patent details including the normal ingredients of Masonite™.
Mason, William H. HARD GRAINLESS FIBER PRODUCTS and PROCESS of MAKING SAME [PDF] U.S. Patent 1,663,505,issued March 20, 1928.
Mason, William H. "PROCESS for the MANUFACTURE of VEGETABLE FIBER PRODUCTS [PDF] U.S. Patent 1,844,861, issued February 9, 1932. Original Assignee, Masonite Corporation.
Definition & Characteristics of LDF Low Density Fiberboard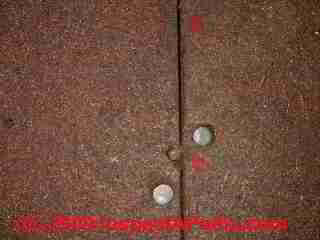 Low-density fiberboard (LDF) insulating sheathing is a wood-fiber product used on both the exterior and interiors of buildings as both an exterior wall or roof sheathing and as a finished-surface exterior wall and ceiling covering. Beaverboard®, black board, buffaloboard, grayboard, caneboard, Celotex®, Homsote®, Insulite®, Nu-Wood® are some well known fiberboard sheathing products.
Fiberboard was and continues to be made of plant cellulose such as wood fibers, combined with a binder, a water-resistive coating or component (such as paraffin and/or asphalt), and other treatments that we detail
At SHEATHING, FIBERBOARD - home page for that material, we explain that fiberboard insulating sheathing board is typically 15/32-inches thick and has an R-value of about 1.5. In that article series we include the history of the development of fiberboard sheathing used both on exteriors and in the interiors of buildings and we review the brands and product names.
Separately at FIBERBOARD SHEATHING IDENTIFICATION key we provide a guide to identifying the different types and brands of LDF fiberboard products.
An extensive description of the composition of fiberboard products is found at FIBERBOARD SHEATHING INGREDIENTS.
Our photo shows bits of damaged fiberboard interior wall sheathing removed by the author [DF] during inspection and repair of a water-damaged area.
Shown at the start of this article is brown fiberboard sheathing used to enclose a soffit overhang. Fiberboard products have been widely used on building exteriors as a non-structural wall sheathing, even on some roofs as roof sheathing, and on building interiors as a ceiling or wall covering.
Definition & Characteristics of LVL - Laminated Veneer Lumber, Beams, Headers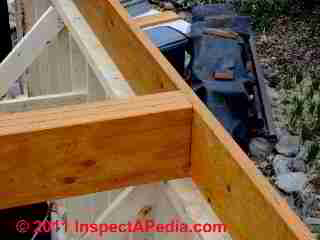 Our separate article LVL LAMINATED VENEER LUMBER & BEAMS gives details about this product. Excerpts are below.
Laminated veneer lumber is an "engineered wood product", developed in the 1960's, is produced by gluing together layers of wood veneers with the wood grains in parallel. Illustrated in our photographs of LVL beams in use at a Poughkeepsie NY Project, our example LVL beams are made of fifteen laminated wood plies.
Multiple laminated veneer lumber beams can be assembled to provide greater strength to carry greater loads. In our LVL beam photo (below left) you will see that a higher-capacity LVL beam may be constructed as a built-up beam using multiple individual members nailed or nailed and glued together.
Our LVL composition closeup photos show how the ends of individual plies within a single LVL beam may overlap within the product.
[Click any image to see an enlarged, detailed view].
Because individual wood ingredient defects in a laminated wood product will not extend beyond a single layer or "veneer" of wood, the overall laminated product is stronger than a piece of lumber of the same dimensions sawn from an individual tree. This approach also permits construction of large structural beams from smaller-diameter and lower-lumber-grades of trees.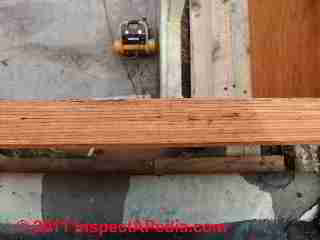 As we illustrate in our LVL beam photographs (above) and as we also discuss at TRIM, EXTERIOR CHOICES, INSTALLATION: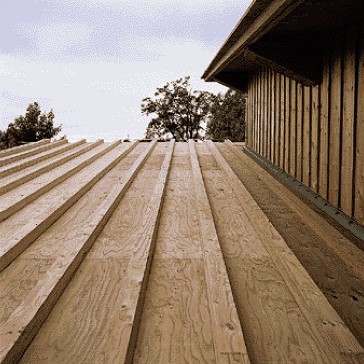 widely used in beams and headers, LVL has also been put to good use as a trim material (photo at left) with some minor modifications such as water-resistant edge sealing and adding a couple of cross-laminated layers to minimize cupping.
Like LVL beams, LVL trim is dimensionally stable and is easy to cut, nail, and install, similar to a piece of plywood. Its weight falls in between solid wood and hardboard. It can be used for fascia, casings, corner boards, and most other exterior trim, and is available in lengths from 8 to 24 feet.
According to Laminated Veneer Lumber, Overview [PDF - Quoting:]
Being a homogenous and dimensionally stable building material, LVL can be used in both bearing and non-bearing walls, as planks, as beams, as headers, in door and window frames, sliding door rails, steps, as well as in the roof trusses of single-family houses and engineered building constructions such as swimming halls, sport halls, etc.
The example photograph of LVL boards used to form board-and-batten trim on a building exterior is from the above document.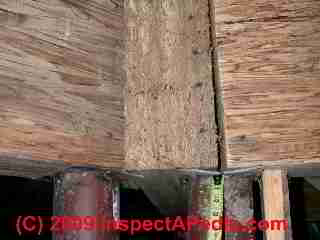 Typically an individual LVL ply or layer of veneer is 45mm to 65mm in thickness, and may be up to 1.2 meters wide and as much as 25 meters in length, depending on the size of the original tree.
LVL lumber, including trim and structural beams (see our photo at left) is provided by several wood products companies including Georgia Pacific (GP-LAM).
LVL beams are typically used where long spans or extra strength are desired of beams, such as over garage doors, ridge and hip beams for suspended roof designs (cathedral ceilings below), and for window and door headers.
Laminated beams such as GluLam™ (photo at above left) or microlam structural wood beams (see LVL or laminated veneer lumber earlier in this article and illustrated further below). Layers of wood are glued (laminated) together with heat, resin binder, and pressure to form a very strong structural member that can be produced in regular sizes and lengths.
Unlike plywood or OSB, LVL lumber uses wood fragments that are all oriented in the same direction to produce very stiff beams that generally have greater span capacity than sawn lumber. GluLam produces laminated wood beams, timbers, I-joists, and other engineered wood products.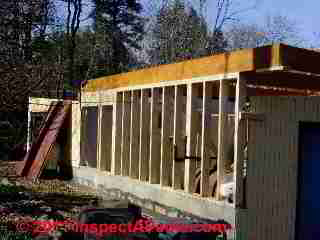 LVL structural wood products are produced in thicknesses from 3 1/2" to 24", and up to 60 feet in length.
Our LVL beam photo at left illustrates that LVL beams are produced in lumber dimensions that allow them to mix naturally with wood framed structures using conventional 2x4 and 2x6 framing.
LVL wood products, depending on their manufacturer and trade names and some product details, may be referred to as Microllam Laminated Veneer Lumber, Parallam Lumber, and also Glulam lumber.
See LVL LAMINATED VENEER LUMBER & BEAMS for details about LVL lumber & beams used in construction.
See TRIM, EXTERIOR CHOICES, INSTALLATION for a discussion of use of LVL for exterior trim.
See Laminated Veneer Lumber, Overview of the Product [PDF] for a nice collection of examples of use of LVL products and a brief history of this material.
Definition & Characteristics of Plywood
Details about plywood products used in building construction for roof or wall decking or sheathing and for subfloors are at PLYWOOD Roof, Wall, Floor Decks & Sheathing. Excerpts are below.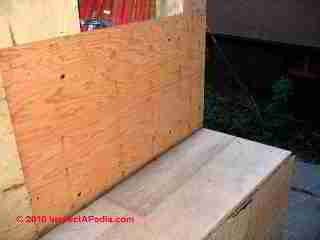 "Plywood" or traditional plywood sheets, typically 4' x 8' in dimension and of varying thicknesses, typically from 3/16" up to 3/4" or more, is constructed of veneers of wood glued together, but each layer of wood is placed at right-angles to those on either side.
Our photo (left) shows 1/2-inch CDX plywood installed as exterior wall sheathing on a home being constructed in Minneapolis, Minnesota.
Plywood sheets are named according to the sheet thickness, the quality of its exterior or exposed veneers (A = clear, no knots, C/D - construction grade, etc), and its thickness.
Plywood products are also selected for interior or exterior use based on the weather resistance of the glues used to glue the veneers together (exterior plywood uses exterior glues), and finally on the condition of interior veneers or plies of wood.
Plywood used for floor sheathing or underlayment beneath carpeting, for example, is selected without interior voids so that someone's shoe-heel won't puncture through a clear top veneer of wood into a hidden void below.
As we discuss also at FRAMING MATERIALS, AGE, TYPES and at SHEATHING, PLYWOOD:
PLYWOOD Roof, Wall, Floor Decks & Sheathing (1905 - present as a construction material in North America) is sheet material made of thin veneers of wood that are laid with wood grains in alternating direction, glued, heated, and pressed together. Interior plywood is generally glued with urea formaldehyde based glues; exterior plywood and marine plywood use phenolic formaldehyde glues and are water resistant.
Our photo (left) shows both fire-retardant plywood roof sheathing (left half of the photo and center top and bottom) and OSB roof sheathing (center of photo and right edges of photo).
While modern plywood products use a variety of glues, heat, and pressure to produce the product, plywood has been around at least since 3500 BC when a glued-veneer version was produced in Egypt.
The furniture industry has had a long history of gluing thin fine-wood veneers to a cheaper wooden base - a process similar to the production of plywood itself.
The invention of the rotary lathe (ca 1850) by Immanuel Nobel (1801 - 1872) is what made modern plywood possible by permitting manufacturers to cut large thin (but thicker than wood veneers) sheets of wood from logs. The wood sheets are placed at right angles to one another and glued together.
The cross-grain construction combined with glue produces a strong, uniform material that is used for both enclosure and for structural stiffness in frame construction of building walls and roofs. The properties of plywood, including its tolerance to weather exposure (marine plywood) depend on the glues and finishes used.
Both softwood and hardwoods are used in plywoods, and fine wood veneer finishes are also available (for furniture use).
The first plywood made in the Western U.S. was produced by the Portland Manufacturing Company in Oregon in 1905, a company founded four years earlier by Gustav A. Carlson, F.S. Doernbecher, and M.L. Holbrook. Peter Autzen bought out Doernbecher and Holbrook. It was Autzen's son, Thomas, who made key progress solving problems with bonding the veneers together.
Originally the Portland Manufacturing company had produced fruit baskets, crates, and drums, experience which we pose gave the owners familiarity with cutting thin strips of wood (baskets) that remained flexible for use in a manufacturing process. Their plywood was exhibited at the 1905 Worlds' Fair in Portland, Oregon. Interestingly, the first exhibition of plywood as a building product in the Northwest was in a log structure, the Forestry Building in Portland, OR where it was displayed until that building burned in 1964.
In 1924 plywood sales were still primarily to door producers, but by 1928 the company had increased production and plywood was being used in automobile bodies. In that year the Pacific Coast Plywood Manufacturers, Inc.
(PCPM)was formed jointly with Elliot Bay Mill Co. (Seattle), Walton Veneer Co. (Everett WA), and Washington Veneer Co. (Olympia WA). But PCPM was dissolved after the 1929 Stock Market crash.
The appeal and success of plywood as a building material are based on quite a few factors including increased construction speed (consider nailing up 4x8 sheets of plywood versus individual tongue and groove exterior building sheathing or roofing), product uniformity and strength, and the reduction of waste compared with cutting sheathing boards out of logs.
Also see FIRE RETARDANT PLYWOOD.
Definition & Characteristics of PSL Lumber
"PSL" or Parallel Strand Lumber is similar to LVL and is used in the same applications as LVL lumber and trim, but PSL lumber permits more defects in its veneers, creating a more random wood pattern on its visible surfaces.
Definition & Characteristics of MDF Medium-Density Fiberboard
"MDF" wood products (Medium Density Fiberboard or in the U.K. medium density fibreboard) are a composite wood product widely used in and on buildings in forms applied as trim, window parts, door parts, cabinets, some furnishings, shelving, and other applications.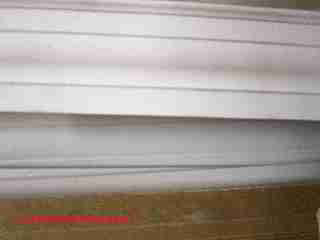 MDF (Medium Density Fiberboard) products combine a mixture of wood fibers, a bonding resin, and usually waxes that are combined under high temperature and pressure to produce a medium-density fiberboard product very widely used in the production of trim, cabinets, shelving, and other products, including some products wrapped with an exterior skin of vinyl or plastic to permit outdoor exposure or other uses.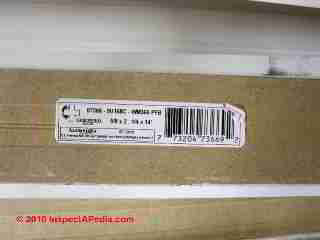 Composite wood panels (MDF and particleboard) are ecologically responsible building products made from recycled or recovered wood fiber and adhesives. They are used in a large variety of applications such as furniture, cabinetry, wall panels, shelving, doors, floor underlayment and many others.
Typically they are laminated or veneered before use in a finished product, but sometimes they are simply painted or clear-coated for a raw or natural look. - Sierrapine.com retrieved 5/10/2014, original souirce: http://www.sierrapine.com/about/manufacturing-process/
MDF produced in Australia & New Zealand uses plantation-grown radiata pine, but as various sources point out, MDF is also produced from wood byproducts (sawdust, wood fragments, scraps, wood chips) left by other wood product manufacturing processes.
Wikipedia's entry (May 2014) describes MDF as follows:
Medium-density fibreboard (MDF) is an engineered wood product made by breaking down hardwood or softwood residuals into wood fibres, often in a defibrator, combining it with wax and a resin binder, and forming panels by applying high temperature and pressure. MDF is generally denser than plywood.
It is made up of separated fibres, but can be used as a building material similar in application to plywood. It is stronger and much more dense than particle board.
The name derives from the distinction in densities of fibreboard. Large-scale production of MDF began in the 1980s, in both North America and Europe. - retrived 5/10/2014, original source: Wikipedia http://en.wikipedia.org/wiki/Medium-density_fibreboard
If you are familiar with the use of the term "chipboard" or "particle board", some of the products you may call by that name are more dense stronger, and should be called MDF products.

Watch out: working with MDF can cause dust hazards and possibly chemical hazards. And I'm not in full agreement with the Wiki definition that equates use of MDF with plywood in construction.
For example, some manufacturd wood products, both hardboard and medium density fiberboard have not appeared (in my opinion) to hold up well when exposed to weather, and may swell or even disintegrate when wet. The use of waxes and coatings to retard this process help but in field experience I don't see that these products are as tolerant of weather exposure, moisture, and water as plywood, especially exterior rated plywood.
MDF Color codes
Possibly marked on product edges or by a stamp look for:
Red or blue - fire retardant treated MDF
Green - moisture-resistant MDF
Other MDF products include melamine-faced medium-density fiberboard MDF, chipboard, hardboard & similar wood products.Examples of application of MDF in buildings where we discuss the use of MDF products include:
Also see SIDING HARDBOARD
As we note at INTERIOR FINISHES: BEST PRACTICES,
A number of manufacturers now offer 12x36-inch floating T&G planks with an MDF core sandwiched between a cork underlayment and aggregate cork wear layer. Manufacturers include Korq, Inc., American Cork Products Company, and Nova Distinctive Floors, which offers a unique no-glue option.
Note that low density fiberboard products such as SHEATHING, FIBERBOARD are a quite different product with a different history and applicatio that you can read at that article.
MDF Resources & Citations
Alpine MDF Industries Pty Ltd ABN 37 064 766 301 Lot 1 Crosher Lane Wangaratta, Victoria 3677 PO Box 804 Wangaratta, Victoria 3676 Australia, Alpine MDF, Tel: +61 (0) 3 5723 0430, Email: sales@alpinemdf.com.au, produces MDF at a plant North East of Victoria in Wangaratta. Website: http://www.alpinemdf.com.au/
Burton Mouldings www.burton-mouldings.com MDF(medium-density fiberboard), polymer, flex, and wood
Classen Vetriebs GmbH, MDF production in Germany
Daiken Corp., New Zealand, Website: www.daiken-nz.com
Georg Gunreben GmbH & Co. KG, MDF production in Germany
HOBATEX GmbH Industrial Partners , MDF production in Germany
Kronoflooring GmbH, MDF production in Germany
Nelson Pine Industries Limited, Auckland 43 Stonedon Drive East Tamaki, Manukau PO Box 258 035, Botany Manukau 2163 Phone 09-271-3526 Fax 09-271-3527 Email sales@primepanels.co.nz, Tel: 0800 477 463, produces PrimePanelsNZ, GoldenEdge MDF, exported worldwide, Website: www.nelsonpine.co/nz & http://www.primepanels.co.nz
Norbord Inc. 1 Toronto Street, Suite 600 Toronto, Ontario M5C 2W4 Canada Telephone: (416) 365-0705 Fax: (416) 777-4419 General Inquiries: info@norbord.com Product Information: sales@norbord.com, Website: http://www.norbord.com/,

Norbord produces "Norbord", produces roof sheathing, wall sheathing, and sub flooring used in North America, and a variety of OSB type products for structural use, flooring, subflooring, and chipboard flooring board products used in europe.

The company's products include a hybrid product comprised of a soft plywood core with a laminate of MDF on both sides, and designed to comply with ANSI/HPVA HP-1-2004 Section 3.12 Formaldehyde Emission Requirements for industrial panels.


Sierra Pine Composite Solutions, produces a variety of particleboard and MDF products. Manufacturing locations are in the U.S. in Georgia and Oegon. Website: http://www.sierrapine.com/. Don't bother trying to find the company's contact information at their website, though the company does list distributors.
MDF Outgassing Hazard Research & Citations
Here are some helpful citations that describe the ingredients, manufacturing process, and research of several types fiberboard products. You will find citations of outgassing of some MDF fiberboard products used in various applications.
Baer, Norbert S., and Paul N. Banks. "Conservation notes: Microenvironments." (1987): 301-305.
Corneau, Diane. "Effectiveness of barriers to minimize VOC emissions including formaldehyde." Forest products journal 56, no. 9 (2006).
Craddock, Ann Brooke. "Construction materials for museum storage." (1988).
Cane, Simon. "Museum density fibre board." Conservation news (United Kingdom Institute for Conservation of Historic and Artistic Works) 41 (1990): 13.
DeStefano, Jim, P. E., and David S. Gromala. "By Dirk M. Kestner, PE; Jennifer Goupil, PE; and Emily Lorenz, PE."
Gilbert, Nicolas L., Mireille Guay, Denis Gauvin, Russell N. Dietz, Cecilia C. Chan, and Benoît Lévesque. "Air change rate and concentration of formaldehyde in residential indoor air." Atmospheric Environment 42, no. 10 (2008): 2424-2428.
Gilbert, Nicolas L., Denis Gauvin, Mireille Guay, Marie-Ève Héroux, Geneviève Dupuis, Michel Legris, Cecilia C. Chan, Russell N. Dietz, and Benoît Lévesque. "Housing characteristics and indoor concentrations of nitrogen dioxide and formaldehyde in Quebec City, Canada." Environmental Research 102, no. 1 (2006): 1-8.
Love, Thomas. "Pressed ceramic fiber board and method of manufacture." (patent) US20020098336 A1 (2002)
Zhang, Luoping, Craig Steinmaus, David A. Eastmond, Xianjun K. Xin, and Martyn T. Smith. "Formaldehyde exposure and leukemia: a new meta-analysis and potential mechanisms." Mutation Research/Reviews in Mutation Research 681, no. 2 (2009): 150-16
Definition & Characteristics of MDO Plywood
"MDO" plywood (Medium Density Overlay) is constructed of a core of overlapping veneers of wood, but with a surface layer of medium density fiber. The resulting product has a smooth surface. MDO plywood can be used once as a concrete form material, but should not be re-used for that purpose.
See TRIM, EXTERIOR CHOICES, INSTALLATION for a discussion of use of MDO plywood for use on building soffits.
Definition & Characteristics of HDO Plywood
"HDO" (High Density Overlay) plywood is similar to MDO Plywood described just above. HDO plywood also is constructed wit a core of overlapping wood veneers, but instead of using a medium density fiber for its external surfaces, HDO plywood uses a high-density fiber exterior. HDO plywood products, having a harder exterior surface, can be re-used several time for concrete forms.
APA (The Engineered Wood Association) provides an HDO/MDO Plywood Product Guide [PDF] that offers details about these products.
Definition & Characteristics of OSB - Oriented Strand Board
Details about OSB sheathing panels are at SHEATHING, OSB where we provide more details and photo examples of OSB Oriented Strand Board sheathing use. Excerpts are below.
"OSB" or Oriented Strand Board wood products is similar to LVL and PSL, but OSB is produced in sheets (typically 4' x 8' in size) and is constructed of shorter strands of wood or even (in the case of 4' x 8' sheets) wood chips that may be roughly rectangular in shape.
Developed in the 1980's, oriented strand board is an engineered wood product in which strands and flakes of wood are cut from straight, low-knot small-diameter logs, usually aspen or white birch.
The wood strands and flakes of OSB are glued (or "bonded") together with a phenol-formaldehyde resin binder (forming a waterproof glue), heated (to at least 120 degF), and are compressed and flattened using pressure. Other chemical binders may be used in OSB products, and the OSB sheathing surface may have a wax coating to improve water resistance of the product.
Our photographs of OSB "plywood" below illustrate that the wood fragments glued together under heat and pressure are deliberately oriented randomly to produce greater strength than would be achieved if these small individual fragments were all oriented in the same direction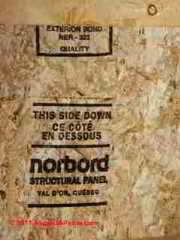 Our second OSB sheathing photo (below) shows fire retardant treated plywood roof sheathing (photo-left) and OSB roof decking (photo-right) sheathing the roof of a multi-unit condominium building.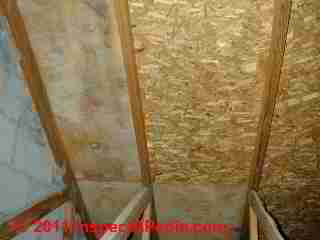 Properties of OSB Panels
In an OSB panel the two exterior surface layers of wood strands are oriented parallel to the long axis of the panel. In the interior OSB panel layer or "core layer" strands are oriented either randomly or across the short axis of the OSB panel. In overall thickness the ratio of face panels to core panel ranges from 40:60 to 60:40.
According to the Universite Laval and also Timberco, the dimensions of wood strands used in OSB are specified in industry standards; most producers of OSB use a combination of strands that are up to 6" long and 1" wide or from another source, 19-40 mm in width and 90 to 100mm in length.
OSB is a modern wood product that developed from earlier 1970's "waferboard" product. In 1990 the Structural Board Association was formed. By 1996 there were 38 OSB producers in North America.
But unlike waferboard whose composite wood chips were place randomly, an oriented strand board product is made from wood chips that are deliberately oriented with respect to one another to provide greater strength.
As a result, modern OSB products are rated at the same strength as plywood products. OSB roofing panels are available with a perforated (breathable) foil radiant barrier affixed to the pane's interior surface.
See SHEATHING, OSB for more details and photo examples of OSB Oriented Strand Board sheathing use.
Wood I-Joists Used in Floor & Roof Construction
Our photo (below left) illustrates wood I-joists used in construction of building floors and roofs. You will observe that the center web of the I-joist is constructed of OSB sheathing material that we illustrated just above.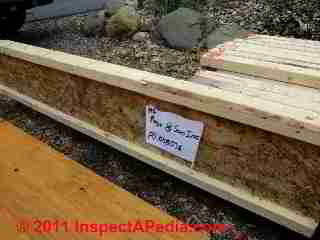 Engineered wood floor trusses (photos above and below) such as I-Joists originally were constructed using a plywood web beginning in 1977, and modified by by Trus-Joist in 1969 to use laminated veneer lumber (LVL) and OSB-like laminated wood fiber web (shown in photos above left and below in combination with a steel beam).
Our second photo (below ) shows common lumber markings found on the solid wood top and bottom chords of wood I-joists.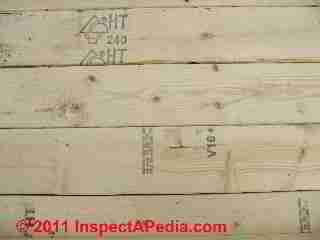 ...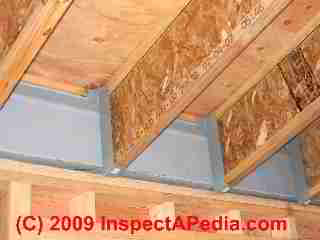 Watch out: common construction defects involving wood I-Joists include improper size or placement of holes cut in the I-joist web to permit installation of wiring, plumbing, or ductwork.
Improper location or size of holes, notches, or even removal of the center web can cause substantial weakening of the structure and are violations of both the manufacturer's instructions and building codes.
See STRUCTURE, ROOF DEFECTS LIST for details.
Wood and steel roof and floor trusses are discussed separately at TRUSSES, FLOOR & ROOF
and at at TRUSS UPLIFT, ROOF.
Listing submissions are welcome from websites whose content, services, or products are appropriate for our readers.
To provide your link exchange information and our link exchange policy see InspectAPedia.com - Directory Listing & Link Exchange Instructions There are no listing fees & no conflicts of interest. We reserve the right to list or not list individuals or companies and to provide notice of consumer compliments or complaints.
The design and content found at InspectAPedia.com® are © Copyright protected, All Rights Reserved. Contents of this website may not be copied in any form. Our main website topics listed at page top or at the MORE READING links at the bottom of this article provide in-depth, un-biased, expert information on building defect inspection, diagnosis, & repair.
...
Continue reading at FIRE RETARDANT PLYWOOD or select a topic from closely-related articles below, or see our complete INDEX to RELATED ARTICLES below.
Or see FRAMING MATERIALS, AGE, TYPES
Or see these
Structural Wood Product Articles
Suggested citation for this web page
DEFINITIONS, ENGINEERED WOOD HDF LDF LVL MDF MDO OSBat InspectApedia.com - online encyclopedia of building & environmental inspection, testing, diagnosis, repair, & problem prevention advice.
Or use the SEARCH BOX found below to Ask a Question or Search InspectApedia
...
Ask a Question or Search InspectApedia
Questions & answers or comments about the meaning & definition of various wood products such as OSB, LVL, MDO, HDO, PSL.
Try the search box just below, or if you prefer, post a question or comment in the Comments box below and we will respond promptly.
Search the InspectApedia website
Technical Reviewers & References
Click to Show or Hide Citations & References
Steve Bliss's Building Advisor at buildingadvisor.com helps homeowners & contractors plan & complete successful building & remodeling projects: buying land, site work, building design, cost estimating, materials & components, & project management through complete construction. Email: info@buildingadvisor.com
Steven Bliss served as editorial director and co-publisher of The Journal of Light Construction for 16 years and previously as building technology editor for Progressive Builder and Solar Age magazines. He worked in the building trades as a carpenter and design/build contractor for more than ten years and holds a masters degree from the Harvard Graduate School of Education. Excerpts from his recent book, Best Practices Guide to Residential Construction, Wiley (November 18, 2005) ISBN-10: 0471648361, ISBN-13: 978-0471648369, appear throughout this website, with permission and courtesy of Wiley & Sons. Best Practices Guide is available from the publisher, J. Wiley & Sons, and also at Amazon.com
Best Practices Guide to Residential Construction, by Steven Bliss. John Wiley & Sons, 2006. ISBN-10: 0471648361, ISBN-13: 978-0471648369, Hardcover: 320 pages, available from Amazon.com and also Wiley.com. See our book review of this publication.
APA - The Engineered Wood Association, 7011 So. 19th St., PO Box 11700, Tacoma WA 98411-0700, Tel: 253-565-7265. APA provides an HDO/MDO Plywood Product Guide that offers details about these products., provides an HDO/MDO Plywood Product Guide that offers details about these products. Product support help desk: 253-620-7400. Email the APA at help@apawood.org. Web search 09/13/2010, original source: http://www.pacificwoodlaminates.com/img/PDFs/PlywoodGuide.pdf
Paul Galow - technical consultant on networking, LAN design, applications support. Galow Consulting Services, 914-204-1749, email: paulgalow@galowconsulting.com
John Rudy, Advantage Home Inspections, Flemington N.J. 08822 home inspector, 908-806- 6364, Home, Radon & Termite Inspections, Central & Parts of North New Jersey, email: jonadvantage1@yahoo.com
Laminated Veneer Lumber, Overview of the Product, Manufacturing, Market, Department of Forest Products Marketing, wood-Based Panels Technology, Finland [PDF] web search 09/14/2010, original source: http://www.hochstrate.de/micha/finnland/reports/replvl.html
Malco® Products siding tools are available from that company, including the SideSwiper II SRT2 discussed at Malco's website. Websearch 09/07/2010 http://malcoproducts.com/product/roofing-siding-gutter/siding-vinyl/siding-tools-vinyl/sideswiper-ii. Malco also produces other vinyl siding repair tools such as aprons, awls, hole punches, saw blades, and tools for for fiber cement products including power-assisted cutters
Parmetol, a wood preservative recommended by the manufacturer was used as a fungicidal additive to paint on the Blue Poplar wood sculpture in Amsterdam, by artist Mari Shields [ - art conservation consult DJF-artist MS 2010]
"Weather-Resistive Barriers [copy on file as /interiors/Weather_Resistant_Barriers_DOE.pdf ] - ", how to select and install housewrap and other types of weather resistive barriers, U.S. DOE
"Flashing: the plain solution to leaky walls", Thomas E. Remmele, Manager, Technical Services, Sto Corporation, Building Standards, November/December 1999 p. 21-25.
Books & Articles on Building & Environmental Inspection, Testing, Diagnosis, & Repair
Our recommended books about building & mechanical systems design, inspection, problem diagnosis, and repair, and about indoor environment and IAQ testing, diagnosis, and cleanup are at the InspectAPedia Bookstore. Also see our Book Reviews - InspectAPedia.
Best Practices Guide to Residential Construction, by Steven Bliss. John Wiley & Sons, 2006. ISBN-10: 0471648361, ISBN-13: 978-0471648369, Hardcover: 320 pages, available from Amazon.com and also Wiley.com. See our book review of this publication.
Decks and Porches, the JLC Guide to, Best Practices for Outdoor Spaces, Steve Bliss (Editor), The Journal of Light Construction, Williston VT, 2010 ISBN 10: 1-928580-42-4, ISBN 13: 978-1-928580-42-3, available from Amazon.com
The Journal of Light Construction has generously given reprint permission to InspectAPedia.com for this article. All rights and contents are ©Journal of Light Construction and may not be reproduced in any form.
Building Failures, Diagnosis & Avoidance, 2d Ed., W.H. Ransom, E.& F. Spon, New York, 1987 ISBN 0-419-14270-3
Building Pathology, Deterioration, Diagnostics, and Intervention, Samuel Y. Harris, P.E., AIA, Esq., ISBN 0-471-33172-4, John Wiley & Sons, 2001 [General building science-DF] ISBN-10: 0471331724 ISBN-13: 978-0471331728
Building Pathology: Principles and Practice, David Watt, Wiley-Blackwell; 2 edition (March 7, 2008) ISBN-10: 1405161035 ISBN-13: 978-1405161039
Design of Wood Structures - ASD, Donald E. Breyer, Kenneth Fridley, Kelly Cobeen, David Pollock, McGraw Hill, 2003, ISBN-10: 0071379320, ISBN-13: 978-0071379328
This book is an update of a long-established text dating from at least 1988 (DJF); Quoting:
This book is gives a good grasp of seismic design for wood structures. Many of the examples especially near the end are good practice for the California PE Special Seismic Exam design questions. It gives a good grasp of how seismic forces move through a building and how to calculate those forces at various locations. THE CLASSIC TEXT ON WOOD DESIGN UPDATED TO INCLUDE THE LATEST CODES AND DATA. Reflects the most recent provisions of the 2003 International Building Code and 2001 National Design Specification for Wood Construction. Continuing the sterling standard set by earlier editions, this indispensable reference clearly explains the best wood design techniques for the safe handling of gravity and lateral loads. Carefully revised and updated to include the new 2003 International Building Code, ASCE 7-02 Minimum Design Loads for Buildings and Other Structures, the 2001 National Design Specification for Wood Construction, and the most recent Allowable Stress Design.
Diagnosing & Repairing House Structure Problems, Edgar O. Seaquist, McGraw Hill, 1980 ISBN 0-07-056013-7 (obsolete, incomplete, missing most diagnosis steps, but very good reading; out of print but used copies are available at Amazon.com, and reprints are available from some inspection tool suppliers). Ed Seaquist was among the first speakers invited to a series of educational conferences organized by D Friedman for ASHI, the American Society of Home Inspectors, where the topic of inspecting the in-service condition of building structures was first addressed.
Domestic Building Surveys, Andrew R. Williams, Kindle book, Amazon.com
Defects and Deterioration in Buildings: A Practical Guide to the Science and Technology of Material Failure, Barry Richardson, Spon Press; 2d Ed (2001), ISBN-10: 041925210X, ISBN-13: 978-0419252108. Quoting:
A professional reference designed to assist surveyors, engineers, architects and contractors in diagnosing existing problems and avoiding them in new buildings. Fully revised and updated, this edition, in new clearer format, covers developments in building defects, and problems such as sick building syndrome. Well liked for its mixture of theory and practice the new edition will complement Hinks and Cook's student textbook on defects at the practitioner level.
Guide to Domestic Building Surveys, Jack Bower, Butterworth Architecture, London, 1988, ISBN 0-408-50000 X
"Avoiding Foundation Failures," Robert Marshall, Journal of Light Construction, July, 1996 (Highly recommend this article-DF)
"A Foundation for Unstable Soils," Harris Hyman, P.E., Journal of Light Construction, May 1995
Log Homes: Minimizing Air Leakage in Log Homes, U.S. Department of Energy
Manual for the Inspection of Residential Wood Decks and Balconies, by Cheryl Anderson, Frank Woeste (Forest Products Society), & Joseph Loferski, October 2003, ISBN-13: 978-1892529343, $39.00 at Amazon.com or at the InspectAPediaBookstore
R-Value of Wood, U.S. Department of Energy
...
Publisher InspectApedia.com - Daniel Friedman