How to Dry Out the Crawl Space in 3 Steps
Methods to rapidly & thoroughly dry out a wet crawl area after water entry or flooding
InspectAPedia tolerates no conflicts of interest. We have no relationship with advertisers, products, or services discussed at this website.
How to fix up a wet crawl space:
Three key steps to get water and moisture out of a building crawl area following water entry, storm flooding, or a sewer backup. Here we summarize a safe and effective approach to removing water from a wet or flooded crawl space.
Companion articles add details about debris removal, cleaning, and sanitizing a crawl area followed by advice on how to keep the crawl space dry.
We also provide a MASTER INDEX to this topic, or you can try the page top or bottom SEARCH BOX as a quick way to find information you need.
How to Dry Out a Crawl Space Quickly in Three Steps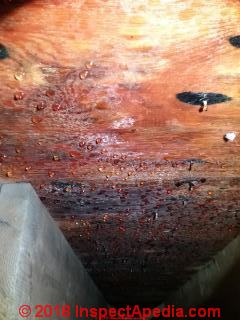 Here is a Step by Step Guide to Drying out the Crawl Area and Keeping it Dry.
Photo: droplets of water soaking the under-side of plywood subfloor over a wet crawl area, contributed by an anonymous reader, 2018/03/04
[Click to enlarge any image]
Step 1: Remove crawl space debris and wet materials - without this step the dry-out will be more difficult, take more time, and be more dangerous.
Do not try to "dry out" wet or damp or suspect fiberglass crawl space insulation. Just remove and discard it. But don't insulate the crawl space yet. There is more cleaning, drying, and sealing work needed first.
We describe first the importance of cleaning out the crawl area (see CRAWL SPACE DEBRIS for details) - that means get rid of insulation, junk, debris,
Then we describe CRAWL SPACE CLEAN UP - that means dealing with mold or other surface contaminants.
Later, when the crawl space has been dried we might also consider CRAWL SPACE SEAL & SANITIZE. But not now.
Step 2: Remove standing water in the crawl space. This process can go on more or less simultaneously with debris removal.
At HOW to USE SUMP PUMPS in CRAWL SPACES we describe that procedure. But depending on the shape of the crawl space floor surface you may need to use one or more portable sump pumps of the type that pick up water from a wet "floor" surface.
If the crawl space floor were flat and drained to one single low point, just one sump pump would usually be enough. But if there are significant puddles or multiple low areas, use one or more portable sump pumps to remove that standing water. Later you'll want to level the crawl space surface so that should water enter it will drain to a single pump location.
Step 3: Remove moisture from the crawl space materials and surfaces. This means dry out wood framing, subfloor overhead, and the crawl space floor surface.
At CRAWL SPACE DEHUMIDIFICATION - How to Use Heat and/or Dehumidifiers in Crawl Spaces to Keep Moisture Levels Down - we describe using a dehumidifier to remove crawl space moisture.
The rate at which a dehumidifier removes water from the air depends on the size of the unit (how many quarts of water it can remove from air per hour) which in turn depends on the cooling capacity of the dehumidifier, ambient temperatures, the moisture in ambient air, and, very important: the rate at which moist air moves from the dehumidified area (crawl space in this case) to and through the unit.
By placing multiple fans around the crawl area you can increase airflow across wet surfaces (crawl space floor, walls, ceiling).
Connect the dehumidifier output directly to a floor drain or direct the output outside of the building to a location at least 10 feet away and where water will continue to drain away from the building. Obviously in freezing weather you'll need to direct dehumidifier output to an indoor drain. Use a condensate pump and plastic tubing if your dehumidifier does not itself include a lift pump drainage system.
Watch out: if you start running air moving equipment in a contaminated crawl space (mold, asbestos etc) before those contaminants have been removed, the air in that space is likely to be unsafe.
Do we need to blow crawl space air to outdoors during the rapid dryout phase?
If the crawl space air temperatures are lower than those in the occupied space above, the thermal updraft that might move moisture (and possibly contaminants) into the occupied space may not be significant.
But if temperatures in the building above and the crawl space are within 10 degF. of one another, or if the crawl space is visibly moldy or suspected of containing other contaminants (rodent debris, asbestos), then you want the crawl space air pressure to be negative with respect to the building above - so we don't push contaminated air upstairs.
That means using exhaust fans or if appropriate, professional negative air equipment.
Technical details are at DEW POINT TABLE - CONDENSATION POINT GUIDE.
Do we also need to add heat to help dry out the crawl area quickly?
It depends. Warm air carries more moisture than cool air and thus will deliver moisture to the dehumidifier more rapidly. The answer is ... it depends on the relative humidity in the area and ambient temperatures.
If the relative humidity (RH) is high, say over 60%, and temperatures are over 60 degF. (this is speculative opinion) you probably won't gain much by adding heat to the crawl space during dryout.
We don't want the crawl area so warm that we start sending moist, possibly moldy crawlspace air riding thermal currents into the occupied space of the building. But if crawl space temperatures are low, say below 50F, you will probably speed up drying by adding some warmth, beyond that already provided by the exhaust side of your dehumidifier fan motor.
This article series describes the steps needed to get into, inspect, clean, and then dry out a building crawl space. We give a step by step crawl space entry, inspection, cleanout, dryout and keep dry guide explains how to get into or inspect a crawl space even if there is no ready access, how to assess crawl space conditions, how to stop water that is entering the crawl area, how to dry out the space, how to clean up and if necessary disinfect or sanitize the crawl space, and how to keep out crawl space water and moisture in the future.
...
Continue reading at CRAWL SPACE MOISTURE BARRIERS or select a topic from closely-related articles below, or see our complete INDEX to RELATED ARTICLES below.
Or see CRAWL SPACE DRYOUT - home
Or see CRAWL SPACE VENTILATION CODES
Or see these
Crawl Space Cleanup Articles
Suggested citation for this web page
CRAWL SPACE DRY-OUT PROCEDURE at InspectApedia.com - online encyclopedia of building & environmental inspection, testing, diagnosis, repair, & problem prevention advice.
Or use the SEARCH BOX found below to Ask a Question or Search InspectApedia
...
Frequently Asked Questions (FAQs)
Try the search box below or CONTACT US by email if you cannot find the answer you need at InspectApedia.
Question: How do I dry out a crawl space quickly?
While this article did address the dehumidifier to a large extent, it really did not give instruction on how to rapidly dry out the crawl space after the water issues had been resolved so that the other remediation steps could be taken. More instruction on that would be extremely useful. - C. Brown
Reply: Rapid Crawl Space Dryout Procedure
Thanks for the comment C. Brown. In response to your well-put query, I have added material at CRAWL SPACE DRY-OUT PROCEDURE, from which I excerpt below:

To dry out a crawl space rapidly after standing water has been removed, and thus to try to reduce further moisture and water damage to the rest of the building (of course effects may already have taken a toll so a corollary rule will be how to inspect the building for hidden moisture related trouble that originated in the crawlspace) we take the following steps:

By this interpretation we use multiple fans to increase air circulation in the crawl area, thus picking up moisture rapidly, combined with one or more fans exhausting - blowing the moist air outdoors.

Beware that in hot humid weather, bringing outdoor humid air into a crawl area can make for new condensation issues. Some have experimented with a humidistat that changed direction of airflow depending on which air (inside or outside) was the less humid.

If we cannot exhaust our stirred-up air outside, that may be ok - if we run one or multiple dehumidifiers whose condensate is collected and taken by gravity or pump to a drain. I've seen very good dryout success using the combination of extra circulating fans and a constant-running dehumidifier. The additional fans significantly increase the efficacy of the dehumidifier, increasing the rate at which it removes water from crawl space air.

Following an initial dryout, if it was not already addressed by implication in your question, we must make darn sure we've stopped water from entering the crawl area. This means making sure that roof drainage is away from the building, that there are no other leaks into the crawl area (such as from plumbing, or even a nearby spring), and that we have adequate moisture barrier (6 mil poly) on the crawl space (dirt?) floor. Articles above include addressing the crawl space ground cover.
Question: how to dry out a crawl space after a toilet flood of more than 100,000 gallons into the crawl space
Our home flooded due to toilet break. 3 weeks water ran totaling 130,500 gallons of water. A company mediated our home, neglecting the crawl. I went under and dug down 6" the dirt was damp. How do we dry this out? - Ronald 7/22/12
Reply:
Ronald I'd suggest starting crawl space dryout with a review of the suggestions in the article above - that's my best shot. When you've got the in crawl surfaces dry you'll want to take a look at the additional topics (see crawl space links near the top left of this page) such as how to put down a plastic moisture barrier to stop soil pumping moisture into the building.
Question: how much will it cost me to dry out my crawl space?
hey first off great site, very informative.
I have a 450 sq.ft. crawl space accessed directly from a living space basement. It is clean and dry with gravel and stuff all over the place. I just bought the place and I was thinking maybe I should just have someone put french drain system around the perimeter there and put a 20 mill poly, a sump pump and just pour concrete all over (saw that online and thought is a good idea)and last spray foam the walls and joists. My question is how much roughly would all that cost me and do you think it is a great idea to do so.
thank you so much for your advise. - Walden 11/1/2012
Reply:
Walden,

The cost to install an interior perimeter drain in your crawl space depends mostly on

- the area covered
- the ease of access - entry and headroom
- the condition of the surface - e.g. if it is not level or doesn't slope to a drain location
- ease of disposition - to where water has to be pumped
- extent of wiring done
- need for backup power

Figure anywhere from $500 to $5000 for an area I know nothing about

I think I would first look for the history of water entry, signs of moisture trouble, ease of fixing outside sources of water entry, and other crawl space moisture sources and weigh those against the cost for this insurance..
Question: what about drying out a crawl space over a radiant heat floor?
Thanks for all the info, very helpful.
Question. What about a crawl space with in floor radiant heat? Built in the 1940s in Flagstaff, AZ. So very cold winters and mild summers. The crawl space is damp and I have found rotting wood at the foundation. I can do the above repairs as noted, but does the in-floor radiant heat change any suggestions with regards to venting or vapor barrier. Also, I have read elsewhere that just a vapor barrier on the ground, not necessarily up the foundation walls, will stop 80% of the moisture. Is this adequate? Thanks for your help.
- Robert 11/4/2012
Reply:
Robert, it's an interesting question that I'll think about further, but my initial thought is that presuming you're talking about tubular radiant heat - tubes stapled up under the subfloor over a crawl area, I don't think that material's presence changes our normal recommendations for drying out a crawl space

- remove the sources of water entry
- put down poly
- inspect and clean if moldy
- convert to a heated, conditioned space

You are right that in your climate, most of the benefit of poly will be from what you place on the ground, though in winter there might be condensation on the interior surface of the block foundation around the crawl space - moisture you can keep out of the crawl area by running poly up the walls.
Question: Hurricane Sandy flooded our Ocean City NY House - what do I do in the crawl space?
Hurricane Sandy hit my old Sears House (1930's)in Ocean City, NJ so the water was 1 foot deep on the first floor (the floor being 3 feet off the ground!) Sometime within the last 25 years the water was deep enough to get the insulation wet and it was removed at that time and not replaced (The house is not heated in the winter).
What should I do in the crawl space area? If I would encapsulate the crawl space, it would be like a swimming pool next time it floods. Ideas on a good solution? Is a spray insulating foam worthwhile for protecting flooring from underneath? Thanks!
Rick - 11/12/2012
I have also a home in Ocean City, NJ that got hit with Sandy. I have just pulled out the mostly wet insulation. I got water damaged in my first floor from the water seeping up from the craw space. Electric wires are down now and I am worried about structural damage.
Can anyone recommend someone in South Jersey who could do work of reinforcing existing floor supports?
These past week I am worried that those who are hired to do work are being extremely careless and doing other damage. THanks - Roberta 11/13/2012
Reply: tips for improving the resistance of crawl spaces to flood damage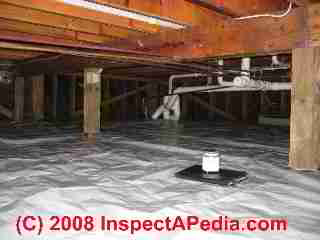 Rick,
Closed-cell foam products are somewhat resistant to wetting from flooding or other water intrusion in a building crawl space or anywhere else, but if a building area is actually inundated with floodwaters again after such an installation, I'd be concerned about the difficulty and cost of disinfecting or addressing the risks of sewage-contaminated floodwaters.
For this reason, just taking up some closed cell foam board can be problematic - how will you clean the space that was soaked with sewage waters between the foam boards and framing or subfloor above?
Talk with spray foam insulation contractors in your area about the water resistance of sprayed-in-place closed cell foam insulation. That product actually adheres to wood surfaces, a step that may resist sewage-contaminated water from entering the space between the insulation itself and wood surfaces that otherwise would need cleaning.
See
In addition, sealing the exposed wood and interior foundation surfaces with a sanitizing or fungicidal sealant (after they are thoroughly dry) will also reduce the moisture uptake (and sewage-contaminated water uptake) of those surfaces in future flooding, making surface cleaning and area dryout a bit faster after the next flood.
See MOLD SPRAYS, SEALANTS, PAINTS for details. Our photo above shows a crawl space after an extensive cleanup; the remediator installed 6 mil or heavier plastic on the crawl space floor, and all surfaces were coated with a sealant.
Also take a look at FLOOD VENTS & FLOOD PORTS - a product installed to deliberately allow floodwaters into a basement or crawl space to reduce the risk of foundation collapse due to outside floodwater pressures.
Frankly, if the home is likely to be flooded to a depth that submerges the first floor or higher, no crawl space encapsulation is going to completely protect the building; if you cannot afford to raise the building on a taller, flood-damage-resistant foundation or pier system, I'd be troubled about the prospect of recurrent, perhaps even increasingly frequent significant cleaning and repair costs from future area flooding.
Question: are my crawl space "dryout" fans blowing moldy wet dust and debris and maybe chemicals from a wet crawl space into the living area?
I recently moved to an 800 square foot single story historic house in Pacific Grove. The home has a very shallow crawl space (as little as 6" near the perimeter- the foundation is only 12" deep) and the crawl space was covered with a moisture barrier when I bought the home. It has a solid concrete wall bisecting the underneath of the house (the long way).
I had termites and was advised by the inspector that the house is very damp underneath. They recommended removal of the moisture barrier and installation of fans to dry out the space. I have been having symptoms like I get when I am exposed to dust (dry, red nose) and feel very uncomfortable ever since the fans went in. This is driving me absolutely nuts.
The crawl space is wetter now than before (it has rained). I can't put in a french drain because there is only about 6" clearance between my house's crawl boxes and the fence, also it is on top of the sewer lateral.
I live on a hill in an area known to have underground springs but nobody knows exactly where they run.
I think they should remove the fans and put the moisture barrier back.
Do you agree? Is there anything else I can do? Perimeter moisture barrier?
Thank you. There is lots of mold down here and I am concerned that just putting the moisture barrier back will cause mold or rot. - S.A. 2/7/2013
Reply: how not to "dry out" a wet moldy crawl space
Sounds as if you got some advice that was good in intent but not competent.
I do on occasion recommend adding a fan to increase air movement in a crawl area or basement where a dehumidifier is at work, as that will increase the rate at which the dehumidifier can dry out the area. But just blowing air around in a wet moldy crawl space seems like a bad idea.
Removing the moisture barrier from the crawl floor and blowing fans turns the crawl space into a moisture pump, moving moisture from soil into the crawl space air. Perhaps if the fans blew OUT of the crawl space that might have been better, but the proper approach is to find and fix sources of water entry, seal (poly is ok) the floor, and dehumidify the area.
Watch out: there is an added risk of blowing pesticide contaminated dust and debris into the home if the applicator used a surface spray - something that's not usually done for termites. Usually for termites the pest control officer places a termiticide in the soil around the home; but in a home with a dirt crawl space they may be unable to take that approach because of the risk of chemicals surfacing in the crawl area and entering the living area - making occupants sick. So I'm not sure what has been done about your termite issue but that too needs expert review.
I suspect that dust, possibly allergens (insect fragments, mold, even soil particles, potentially other particles) have been stirred up; and if the fans were not blowing out of the crawl area, it may have been pressurized by the air movement; if that's the case, the arrangement may have increased the movement of particles up into the living area from the crawl space.
More likely you need to stop the fans, find and fix outdoor water sources like roof or surface runoff spilling by the foundation, put the poly back down to stop pumping water into the crawl area, and after the mold problem has been evaluated and most likely removed (cleaning the wood surfaces, tossing out insulation), then you might get a fan and dehumidifier back at work to keep the area dry.
...
Ask a Question or Search InspectApedia
Try the search box just below, or if you prefer, post a question or comment in the Comments box below and we will respond promptly.
Search the InspectApedia website
Technical Reviewers & References
Click to Show or Hide Citations & References
[1] Harriet Burge, Harvard School of Public Health, and EM Laboratory, a private mold and environmental testing lab - email to D.F. August, 2004. Dr. Burge is an educator, writer, and consultant in the field of indoor air quality and mold contamination.
[2] Product literature and MSDS sheets for the biocides and fungicidal sealants listed in this article.
[3] US Centers for Disease Control, CDC: www.cdc.gov/ncidod/diseases/hanta/hps/ describes the risks associated with hantavirus.
[4] International Residential Code, IRC Section R408, Under Floor Space, http://publicecodes.cyberregs.com/icod/irc/2012/icod_irc_2012_4_sec008.htm, retrieved 3/2/2013
See IRC Section M1305.1.4 [PDF] Section M1305.1.4 for access requirements where mechanical equipment is located under floors.
[5] International Residential Code, IRC Section R406, Foundation Waterproofing and Dampproofing, http://publicecodes.cyberregs.com/icod/irc/2012/icod_irc_2012_4_sec006.htm, retrieved 3/2/2013
Thanks to reader C. Brown for suggesting the need for detail about rapid dryout procedures for a wet crawl space
Fiberglass: Indoor Air Quality Investigations: Health Concerns About Airborne Fiberglass: Fiberglass in Indoor Air from HVAC ducts, and Building Insulation
Humidity: What indoor humidity should we maintain in order to avoid a mold problem?
How to Clean Moldy Wood Framing & Sheathing How to clean/seal mold from/on exposed lumber or plywood subfloor or roof sheathing indoors - some suggestions based on our field and laboratory research
How to Find and Test For Mold in buildings A "how to" photo and text primer on finding and choosing the right spots to test for mold in buildings
Stuff that is not mold but is often mistaken for it - things you may not want to test. Also, not all "black mold" is toxic - here are examples of harmless black mold.
Mold-Resistant Building Practices, advice from an expert on how to prevent mold after a building flood and how to prevent mold growth in buildings by selection of building materials and by anti-mold construction details.
"Weather-Resistive Barriers [copy on file as /interiors/Weather_Resistant_Barriers_DOE.pdf ] - ", how to select and install housewrap and other types of weather resistive barriers, U.S. DOE
Books & Articles on Building & Environmental Inspection, Testing, Diagnosis, & Repair
Our recommended books about building & mechanical systems design, inspection, problem diagnosis, and repair, and about indoor environment and IAQ testing, diagnosis, and cleanup are at the InspectAPedia Bookstore. Also see our Book Reviews - InspectAPedia.
Asbestos: How to find and recognize asbestos in buildings - visual inspection methods, list of common asbestos-containing materials
Asbestos products and their history and use in various building materials such as asphalt and vinyl flooring includes discussion which draws on ASBESTOS, ITS INDUSTRIAL APPLICATIONS, ROSATO 1959, D.V. Rosato, engineering consultant, Newton, MA, Reinhold Publishing, 1959 Library of Congress Catalog Card No.: 59-12535 (out of print).
Asbestos Identification and Testing References

Asbestos Identification, Walter C.McCrone, McCrone Research Institute, Chicago, IL.1987 ISBN 0-904962-11-3. Dr. McCrone literally "wrote the book" on asbestos identification procedures which formed the basis for current work by asbestos identification laboratories.
Stanton, .F., et al., National Bureau of Standards Special Publication 506: 143-151
Pott, F., Staub-Reinhalf Luft 38, 486-490 (1978) cited by McCrone

...
Publisher InspectApedia.com - Daniel Friedman