How to Evaluate Cracks in Poured Concrete Slabs & Floors

CONCRETE SLAB CRACK EVALUATION - home CONTENTS: Types of cracks that occur in concrete slabs, shrinkage cracks, settlement cracks, frost heaves. Causes and problems of floor slab cracking; How to repair cracked concrete floors. Slab on grade construction or "patio home" construction cracks; Diagnosing cracks in ceramic tile over concrete slab floors
POST a QUESTION or READ FAQs about cracked concrete slabs and floors
InspectAPedia tolerates no conflicts of interest. We have no relationship with advertisers, products, or services discussed at this website.
Floor slab & tile crack diagnosis & repair: this article describes the types of cracks that occur in poured concrete slabs or floors and explains the risks associated with each, thus assisting in deciding what types of repair may be needed. Cracks in concrete floors or slabs occur in poured concrete slabs may be found both in basement and in slab on grade or "patio home" construction and have a variety of causes and cures that we discuss here.
This article series describes how to recognize and diagnose various types of foundation failure or damage, such as foundation cracks, masonry foundation crack patterns, and moving, leaning, bulging, or bowing building foundation walls.
Green links show where you are. © Copyright 2014 InspectApedia.com, All Rights Reserved.
Three Types of Cracks in Concrete Slabs & Floors
Types of foundation cracks, crack patterns, differences in the meaning of cracks in different foundation materials, site conditions, building history, and other evidence of building movement and damage are described to assist in recognizing foundation defects and to help the inspector separate cosmetic or low-risk conditions from those likely to be important and potentially costly to repair.
Shrinkage cracks in a slab are unlikely to be of any structural concern but can be a source of water entry or radon entry in buildings and may form a tripping hazard.


Settlement cracks in a slab indicate inadequate site preparation, such as failure to compact fill on which a slab was poured.


Frost heaves or expansive soil damage can cause substantial damage to basement, crawl space, or garage floor slabs in some conditions.
Each type of basement slab, floor slab, or slab on grade crack is discussed and described with photographs below.
Cracks come to the job along with the concrete, riding in the same truck! At a Journal of Light Construction conference (Boston 1985) a lecturer informed us that "Every concrete truck that comes to your job to pour a slab has at least four cracks in it. It's up to you to either provide control joints, or not. If you leave out control joints the cracks will occur in a messier pattern at natural stress points in the slab."
Three Types of Poured Concrete Slab Floors - Different Implications of Cracks & Movement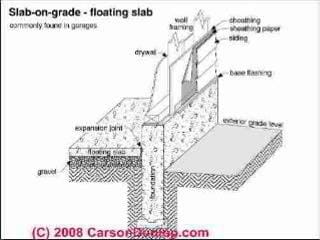 Before we describe crack, movement, and damage patterns and diagnosis in concrete slabs, we need to introduce three different types of poured concrete floor slabs.
We use the three Carson Dunlop Sketches shown here to comment on the occurrence, causes, and significance of cracks and movement in poured concrete slab construction.
We define types of foundations and their common vulnerabilities also
at FOUNDATION CONSTRUCTION TYPES.
[Click to enlarge any image]
Floating concrete slab characteristics:
In the sketch at above left, the floor slab (left side of the foundation wall) is simply "floating" sitting atop gravel and soil inside the foundation wall.
This is an idealized sketch.
The author's first construction job (construction at the Fleet antiaircraft missile training center, Dam Neck, VA) consisted of raking roughly level loose-fill dirt inside of building foundations.
Over several summers of this labor we never once saw anyone using a soil compactor and rarely did we see gravel poured inside of the foundation walls before the slab was poured.
The bad news about typical floating slab construction (where the soil is not compacted) is that anything that causes the soil to settle risks slab cracking and settlement. Flooding, leaks, or simply poor handling of roof and surface runoff can send water under a building where it causes loose soil to settle.
The good news about cracks in floating slab construction is that the damage is to the floor, not to the structure that is supporting the building. Only if you see a floor slab crack that continues up in the foundation wall where the crack meets the wall would the structure be obviously involved.
More good news: if there is significant soil settlement under a floating slab, the slab is likely to break and follow the settling soil downwards; a sudden precipitous collapse of a floating slab is less likely than the next case we describe.
Supported poured concrete floor slab characteristics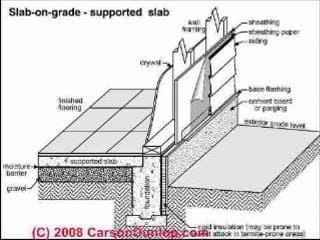 As you can see from the sketch at left, the supported slab is a lot like the floating slab - it claims to have gravel and claims to have compacted soil below the slab.
But the edges of the floor slab rest on a lip built into the poured concrete footing which also supports the building walls.
The good news about a slab with this design is that a little soil settlement below the slab will not cause the floor to tip nor crack provided it has been adequately reinforced.
The bad news about a supported slab design is that if there were significant soil settlement below the slab and if it lacked proper reinforcement at the time of construction, it might collapse.
Where may this occur: if you inspect a garage built on what was originally a sloping hill, you can expect that the interior of the garage foundation was filled with lots of backfill soil. If your builder was the same fellow who hired the author (as we described above), all of this fill was left un-compacted. At the low end of the garage where the most fill was added, significant soil settlement can occur. If the slab was also not reinforced and if a lot of soil settlement occurs under this floor, it could collapse suddenly, say when your car is parked there.
Slab on Grade - Monolithic Concrete Slab Construction Characteristics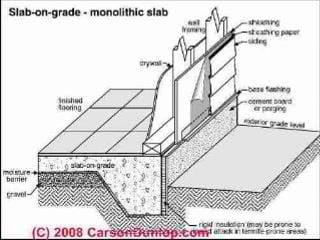 As you see in the sketch at left, a monolithic slab is poured at the same time as the building footing that is going to support the building's walls.
If structural cracks appear in a monolithic slab they might trace to footing settlement which might be a structural concern, depending on the amount of settlement, its origin, and type of building construction.
Notice that the sketch shows insulation on the exterior of the slab - unless special methods are used, it can be difficult otherwise to insulate this floor from the surrounding soils, an important factor in cold climates and where heating costs are increasing rapidly.
Where exterior foundation insulation is carried up above grade and right under the building exterior siding, there may be a risk of wood destroying insect attack on the wood-framed wall.
The articles listed below explain how we recognize and diagnose signs of cracking, damage, movement in these different concrete slab construction methods.
See SINKING BUILDINGS where we include case histories of both building settlement and slab cracking, heaving, settling: diagnosis and repair.
See FOUNDATION CRACK DICTIONARY since that article series also assists in distinguishing among types of cracking in concrete foundations (vertical supporting walls and footings).
How to Diagnose & Repair Concrete Floor Slab Cracking
Reader Question: How do I diagnose and repair cracks in ceramic tile covered slab in a nearly-new home
We bought a house two years ago, after it sat empty as a model home for a few years, so now it's about five years old. I believe it is a slab on grade foundation type--common in this area.
We live in Austin, Texas and the drought has been really bad here, and recently we have discovered a few hairline cracks in a few different tiles. These tiles are on the first story and so are on top of the concrete. One crack is about 4 feet long and runs straight through about 4 different tiles, not following the grout lines. (Theses cracks are hairline, and are barely noticeable.)
There is a lot of limestone and rock in the area, and so we never thought we'd ever have a problem here, unlike Houston, where foundation problems are everywhere. I kinda freaked out and started putting a level to everything in the house, and all the door frames are perfectly level and the countertops are very, very close to being perfectly level.
There a few small hairline cracks throughout the house in the sheetrock, but these were there when we moved in and haven't gotten worse, and seemed pretty normal to me. There is even a third story, which I know you'd see the most movement, (if there was sinking involved) but everything looks good up there(maybe a very slight slope to one side, like a ¼ inch over 10 feet)
Well, mentioning the drought, a few neighbors have said they have a few cracks too, and they had a foundation company come out, and the company told them it was because of the drought, and told them to soak the foundation.
I went out and bought soak hoses and are going to set that up, and I also bought a nice laser level and checked the slope of the foundation. The foundation slopes about 1 inch over about 20 feet towards the left side of the house, which happens to be the downhill side. But with almost everything else level in the house, I'm starting to think it was already like that, and I just never noticed it before.
So this leads to my main question—how much slope in a foundation is generally acceptable to build on? Because I know brand new foundations won't be perfectly level, but about how much can a new foundation be off-1 inch, 2 inches, 6 inches?
Thanks, C.M.
Reply: diagnose the crack type, impact on foundation, probable cause, and choose extent of repairs
Thanks for the interesting tile and slab crack question. A competent onsite inspection by an expert usually finds additional clues that help accurately diagnose a foundation, slab, or floor cracking problem because someone with experience might see clues that escape even a smart, careful, thorough homeowner performing a DIY investigation. That said, here are some things to consider:
Decide if the floor and concrete cracks are structural or not
I agree that the cracks you describe are more likely due to slab settlement or movement and that considering Austin has been in a drought, soil settlement (rather than rising due to suddenly newly-wet expansive clay soils) is probably at work.
I also agree that other crack sources such as concrete slab shrinkage are probably not at fault. I think that slab shrinkage cracks appear early in building life, are not structural, and are less likely to suddenly telegraph through a ceramic tile floor. (To be accurate, severe shrinkage cracks in a slab could show up in a tiled floor if the floor were not properly installed to prevent those cracks from telegraphing through the tile, but that just doesn't sound like your case.)
It's useful to distinguish between a crack that only affects the floor slab (usually not structural, the building is not threatened) and a crack that includes the foundations and footings (structural, the building might be threatened depending on extent of movement).
Evaluate the extent of actual foundation movement vs. slab cracking
While building codes expect footings to be poured level, I'm not surprised to read that a foundation and footing slope one inch over 20 feet in new construction. A key diagnostic step will be to convince yourself that this out of slope condition is as-built or that it is the result of settlement.
Examine the sloping foundation walls wherever masonry foundation materials and surfaces are visible. A one-inch change in slope, if it happened after construction, would often be expected to produce vertical or stair-stepped cracks in the foundation wall. (While it's theoretically possible for an entire foundation or even building to settle or tip without cracking (I've found a few), you should not find upstairs floors, windows, doors, all dead level if the building had shifted one inch.)
Also take a look at the location and pattern of floor cracks, If a crack line is more or less straight, and if it runs towards the foundation walls or more or less at right angle to the foundation wall, then if the foundation wall and footing had settled you'd expect to see wall cracks in the same area.
Evaluate the extent of floor slab settlement cracks
If those clues of actual footing settlement and foundation movement are absent, you are more likely seeing settlement in the concrete slab itself. Often floor slabs are not poured on compacted fill (they should be). The result can be future slab settlement and cracking, exacerbated by changes in site conditions (more water, less water, freezing, drying) that may affect the soil below the slab.
If the floor slab is poured with its perimeter sitting atop foundation footings (and presuming the footings are intact) the slab "hangs" on the footings, and perhaps also is "supported" by piers that may have been poured under the floor slab to support Lally columns that march down the center of a basement to support a main girder.
In that construction settlement of the slab may produce cracks as the floor bends and dirt below it settles. Cracks tend to be away from and sometimes roughly parallel to the foundation walls, or to appear as islands around the Lally columns.
If the floor slab was poured atop of dirt that covered the footings, or inside of the footings, the entire slab may settle or tip even at its perimeters.
In any case, the combination of pouring a slab on soft fill and changes in soil moisture invite soil settlement and slab cracking.
In fact my first job in construction was raking a huge dirt pile out to "level" inside of an already poured and built footing and masonry block foundation wall. Once the dirt was roughly "level" via my hand rake, the builder went ahead and poured his floor slab. "Compacted fill" was not in our vocabulary.
See SETTLEMENT CRACKS in SLABS for details about cracking floor slabs due to settlement.
See SETTLEMENT IN FOUNDATIONS for a more broad explanation of foundation settlement diagnosis, evaluation, and repair.
Repairing Slab Cracks and Cracked Floor Tiles
We discuss several slab crack repair alternatives at CONCRETE SLAB CRACK REPAIR. Unfortunately there is no magic band-aid that will make the cracks disappear, especially where ceramic floor tiles are installed. If radon and water entry are not an issue in your area you might live with the cosmetic defect for a while.
Repair of the cracked floor will require removal of the cracked ceramic floor tiles, including enough mastic and crud removal that you can bed replacement tiles smoothly in place. Before replacing the tiles that were removed you might want to also install mesh tape over the floor slab cracks to reduce the chances that those cracks telegraph again through the new tiles.
Also see INSTALLING TILE OVER CONCRETE SLAB FLOORS
Watch out: do not lay ceramic tiles across control joints as movement there is likely to cause cracking in the filed finish-floor .
Continue reading at CONTROL JOINT CRACKS in CONCRETE or select a topic from the More Reading links shown below.
or see CONCRETE SLAB CRACK REPAIR
More Reading
Green link shows where you are in this article series.
...
Frequently Asked Questions (FAQs)
Reader question:
(June 20, 2011) Jack Emery said:
In Australia it is mandatory to reinforce concrete floor slabs with galvanised steel mesh which is laid 1 in. from the top of the slab. This eliminates shrinkage cracking.
Reply:
[pending]
Reader question:
(Aug 25, 2011) Anonymous said:
please let me know about kind of cracks in concrete slab
Reply:
Anon, take a look at SLAB CRACK EVALUATION (article link at page left highlighted in green) - below it you'll see a list of individual articles describing various types of concrete slab cracks by cause, location, and appearance.
Reader question: how do I send you slab crack photos for comment?
(Aug 29, 2011) worried one said:
Hi, can I upload or email pictures for you to evaluate to condition of the crack(s)?
Reply:
Worried
Sure just use the CONTACT link found at top, left side and bottom of our pages to send me photos. We'll be glad t take a look.
Reader question: upper cement floor has cracks that trace the pattern of beams below
(Nov 4, 2011) mary myers said:
I work on the 3rd floor of a building that was constructed within the past few years so it's fairly new. We use the unfinished 2nd floor for storage. Today a co-worker and I noticed that the unfinished 2nd floor (cement) has cracks in it all of which (mostly) follow the pattern of the beams. They aren't extremely wide but I'm worried that they might be dangerous. We did have an earthquake recently and I'm concerned that's when the damage occurred. The fact that they trace the path of the beams is worrisome. Is this normal? Or does this mean there is actual structural damage?
Reply:
Mary, it doesn't surprise one that there might be shrinkage cracks in a large concrete slab nor that the cracks might follow the location of structural beams buried in the concrete. No one can assess with certainty the significance of the slab cracking you describe just by a few written notes, but it's possible that what you describe is not a structural concern.
The answer to that question will need to be decided by an onsite expert. But in general, if the floor itself is not structural, that is if it is not supporting the structure, then the risk of a structural collapse is reduced. If the floor actually "bends" over the cracks, that is if it has not remained dead flat as poured, or if the cracks are changing in width or length or if one side of the crack is higher than the other, those sorts of clues indicate ongoing movement and a more urgent need for evaluation by an expert.
Reader follow-up
marym said:
Thanks so much for your quick response. We can definitely tell that one side of the crack is higher than others in quite a few places. Other than that, I don't think we know have enough experience to properly evaluate the situation. We did alert the building owner so we are hoping he'll get someone in to look at it. Thanks again, I've learned a lot.
Reader question:
Nov 17, 2011) Amber said:
We had a pipe burst and flood our house, and our basement had ankle deep water which then all soaked into the concrete foundation. it took Servepro a long time to mitigate the damage and dry the house, but even after they finished, the concrete read high on the moisture meters. We went back recently (we are temporarily relocated) and we noticed a crack in the concrete that we are sure was not there before. could this be caused by the moisture and removal?
(Jan 23, 2012) Barbara said:
We have a slab foundation. the home is about 12 years old. It has been through droughts and raining season. We do have some clay soil under our house. I don't see any large cracks. I do some hairling tiny cracks. I do see where the side of one area of the foundation is not a straight vertical line. It gets slightly larger at the bottom (where it meets the ground) It is in one area bout 2 feet. Is this a concern? I don't know how long it has been like that. we have had hte house less than 3 years.
(Feb 5, 2012) Anonymous said:
The house I want to buy is in Key West and is built on concrete. It flooded in Hurricane Gloria. I noticed on the side of the foundation a soft powdery section of the foundation. If the rebar in the concrete has corroded since 2005 would that cause it? Could the problem get worse? Is it a minor repair...less than $10K or something more serious. Should I just walk away?
Reply:
Anon, I can't tell from just your note, but you may be describing mineral salts left on the concerete surface due to wet conditions - search InspectApedia for "Effloresence" to see photos of this condition as well as its cause, diagnosis, and cure.
Reader question:
(May 23, 2012) Anonymous said:
in the garage of our row house, Windemere, there is a concrete sill (pony wall?) on top of the slab the seam was not sealed and water pours in and freezes in the winter to make a skating rink on our garage floor. we are seniors and this fall potential needs to be fixed. ROHIT refuses so we must do it our self... HOW CAN WE FIX THIS?
Reply:
Anon I'm sorry but I don't have a clear picture of what's going on so can't give an intelligent "how to fix" answer. Generally we want to keep water away from the building - that's the first choice and approach, rather than relying on a seal at the last possible point of water entry (that's a second band-aid approach). I suggest asking a local mason or building contractor or home inspector for a diagnostic inspection to make the cause of the water clear - that should then lead to a sensible fix.
Reader question: web of cracks in basement slab in every room
(June 14, 2012) Carey said:
I am under contract to purchase a newly constructed townhouse in a pod of four. Today I noticed an extensive web of cracks in the basement slab - long, fairly straight cracks in every room! The house is 30-40 feet from an irrigation canal. My realtor has scheduled a meeting with the contractor to look at the cracks, but I would like a second opinion. How many cracks are too many??
Reply:
Carey, if the cracks are very straight they may be showing up expansion joints - tough to say without seeing some photos and knowing the construction. Or you may be seeing very fine shrinkage cracks. You're welcome to send some sharp photos using the CONTACT US link found at page top/bottom. And let us know what the contractor advises.
Reader question: big crack in the floor has caused movement
(June 14, 2012) Anonymous said:
I am looking at purchasing a house that has a fairly sizable crack in the floor. It appears that the concrete has seperated. The two sides of the crack are even with little to no heaving. The house does have a problem with little to no roof truss system bracing. This has caused movement, and cracks in the drywall. Wandering if this movement in the truss system could have transfered through the walls to the slab to cause a crack up to 1/4" wide in places. It is a floating slab, and there are no visible cracks in the stem wall. Or any other ideas why this may have happened?
(June 19, 2012) Bill Mendenhall said:
Have a house that is 36' wide with crack all the way across. At footing there is a crack, but closed. From inside edge of footing on both walls the crack in the slab is about 1". No wall cracks at slab crack location, but there is sheetrock crack in other locations in the house. Any thoughts? Did the slab shrink? Witnesses to pour said that the temperature was over 100 and the contractor had no water on site.
Reply:
(June 20, 2012) DanJoeFriedman (mod) said:
Anon: if roof loading on walls caused wall cracks, I'm not sure how wall cracks cause random or cross-floor cracks. Imagine a wall, even securely bonded to a floor slab, leaning outwards. It would require a remarkably strong connection and tremendous force and a bit of a lean before that pressure might affect a concrete floor slab - and if it occurred, the cracking would be most likely close to and parallel to the wall.
I think more likely you are describing a building where the same contractor made multiple mistakes or shortcuts.
Bill,
at the joint of foundation wall to footing there may appear a joint or seam that looks like a closed, straight "crack" where two different concrete pours (footing and wall bottom) meet.
If there is a regular gap between the floor slab and foundation wall all along the floor / wall length, it may be slab shrinkage, though 1" is 4 x bigger than I ususally see. Slab shrinkage amount is a function of the concrete mix, site prep, and pour conditions.
If there are no water (nor radon) leaks through this gap it might be OK or you may find later that it is a water entry point; the best fix in that case is to get water away6 from the building and maintain the gutters and leaders.
Reader question: 2005 home sat empty, stucco falling off, foundation & steps separating
(July 8, 2012) Shelly said:
Trying to find out what is going on with my home. It was completed in 2005, sat empty until we bought it in Dec of 2007. The stucco is falling off the outside, the right side of my garage door seems to be buckling, the foundation in the garage has spider webbed with small cracks and has one large crack running from the entry door all the way across the garage and outside.
There is a step on top of the concrete foundation, leading to the entry door that seems to be separating from the wall and the foundation, our upstairs A/C (leading to the office above the garage) has stopped being able to cool. We replaced with a new unit and still so signs of it being able to keep up (almost like I've lost insulation or something?), the laundry room vinyl (just the other side of the garage) is bubbling and pulling away from the wall. This is a pretty new house and I am frustrated. This shouldn't be happening! Suggestions? Thoughts? Insights? Please!
Reply:
Shelly, your stucco job soundsnlike a problem. But your question is in an article on cconcrete floor crack diagosis. You will find better information reviewing our stucco articles found under "exteriors" (links across page top) or just search InspectAPedia for Stucco Damage to see a list of diagnostic articles.
It sounds to me if there are multiple problems including backfill settlement.
Most likely you or an expert will want to make a few test cuts to see just what is going on.
Reader question: numerous cracks appear in one day old slab
(July 27, 2012) Garry Everett said:
We have just had a 20 x 15 foundation installed (1 days old) for a patio room and is has numerous cracks already is this normal for a foundation that does not have any stress relief?
Reply:
Garry, cracks that appear rapidly and early during curing of a foundation or slab may indicate difficult pour conditions such as very hot weather, or a problem with the mix, or even settlement if the site was not properly prepared. You should ask your contractor to take a look at the situation. Keep us posted.
Reader question: garage slab dropped 1/2 to 1"
(Aug 13, 2012) Steve Snoreck said:
Looking at purchasing an 35+plus old home. Slab in garage has a crack and has dropped about a(1/2 to 1")on one side all the way across this 2 car garage. Also, where slab crack meets poured foundation walls, there are cracks in the foundation wall and step cracks in brick veneer. Is this a major fix and deal breaker??? Thanks for your help
Reply:
Steve if the whole slab has settled without cracking and you see a prior concrete line on the garage foundation wall that marks the slab's original height, the explanation may be poor compacting of fill before the slab was poured
Reader Question:
(Aug 28, 2012) DMN said:
We recently ( 2wks ago ) had a new concrete patio put in. A sizable crack has now formed. is there any recourse for this? The contractor basically says this happens and we are out of luck. Is he responsible?

(Sept 9, 2012) Mark M said:
We just finished a new house build and have noticed spider cracks in the garage floor running from an interior wall to a centre floor drain. The floor was poured in winter conditions and and 6 months later these cracks are showing up. Is this a building error or part of normal settling? How can this be repaired?
(Sept 20, 2012) Cracked slab causing discolorati said:
Our kitchen floor (either vinyl or linoleum) has started staining over the past six years. The stains look like water stains. We have a concrete slab underneath and have had some cracking in the garage. But I am wondering whether the kitchen staining could be from a crack underneath the floor. Could water stain the floor without causing any flooding or noticeable issues other than the dark color? The flooring is original, about 20 years old and the discoloring is no where else. Thanks for any response!
Kristin
Reply:
Kristin,
It sounds as if you are talking about sheet vinyl flooring. It may stain from a spill from above if the surface has been damaged,or there may be moisture comingnup through the slab.
Reader Question: cracks in home under construction
(Oct 1, 2012) Carol L said:
My home is currently being built. Upon inspecting of the 'slab' there are large cracks that mimic the 2007 Daniel Friedman picture below. My builder tells me he is going to 'fix' it. How certain can I be that 1. no water will seep through the cracks and 2. that the concrete footers will remain firm and the walls won't have settling issues.
Reader Question: cracks in slab on expansive soils and clay
(Oct 1, 2012) Carol L said:
My home is currently being built. Upon inspecting of the 'slab' there are large cracks that mimic the 2007 Daniel Friedman picture below. My builder tells me he is going to 'fix' it. How certain can I be that 1. no water will seep through the cracks and 2. that the concrete footers will remain firm and the walls won't have settling issues.
Reply:
Nancy, in the article links at the start of this article you will want to read
FROST HEAVE / EXPANSIVE SOIL CRACKS in SLABS - separate article
If your problem is a home built over expansive clay soil there are systems to address the cyclic movement that would damage a slab; without fixing the cause, just fixing the cracks would be futile.
Also you'll want to have an expert examine the building to be sure you're making the right diagnosis and that there is no related foundation damage.
Reader Question: how to know if a slab crack is caused by settlement vs stress
5/4/2014 Mark said:
Is there a way to know if a crack was caused by settlement vs. stress caused by concrete slab that broke vaper barrier for purposes of brining drainage to basement bar.?
What kind of professional is able to evaluate changes caused by this change in slab integrity and give us proper solution in that rain water penetrated this hairline crack recently?
thanks
Mark
Reply:
Mark I don't completely understand your description, but in general an experienced foundation contractor, a building inspector with experience in foundation inspections, or if necessary a structural or civil engineer IF that person has expertise and focus on foundations, could all address your question.
Typically we look at the size, pattern, location, history, and context of a crack and usually those data point to a probable cause. If you want to use our CONTACT link to send along some sharp photos of the crack and others from a more distant perspective of the wall or slab and the building and site then I might be able to comment further.
Settlement under a floor slab that causes cracking will usually also show up as out-of-level floors, a difference in floor height on either side of the crack, and possibly we will find correlations with poor site prep (inadequate soil compaction) or mis-handling of roof or surface runoff.
Watch out: check that the cracks don't extend into and continue in the foundation wallls - a potentially more serious problem.
Question:
(July 29, 2014) M fetter said:
I had a contractor pour a driveway pad 25' by 32'- 5 in. thick nov. 19 2013. contractor did'nt cover with a blanket temp was aprox 30 deg. outside and didn't cut till four day's later. slab is cracking all over the place. may I have yer input in this matter please ? thnx
Reply:
MF
I'm doubtful that anyone can diagnose concrete cracking from just your brief e-note; you're welcome to use our CONTACT link (page top or bottom to find email) to send us some photos of the cracking you observe. Cracks might be related to the curing process, shrinkage, settlement, bad mix, etc.
From your note we still don't understand your "cutting" question. But you might want to review the control joints article at CONTROL JOINT CRACKS in CONCRETE where we describe the timing, depth and location of these construction details.
Question: sewage flooding caued floor heaving
Aug 2, 2014) austin said:
Hello
we just experienced a major sewer flood in our basement 2ft that sat for almost 3 days when we were gone. we have a sub floor in the basement and we do know we always had a crack in the basement floor but it now looks like that crack heaved a lot under the sub floor they are removing the sub floor right away but insurance is kinda saying that its impossible for a basemnt floor to heave from a flood is this true?
Reply:
Austin,
No, the insurance company is mistaken. It's not impossible for a basement floor slab to heave in response to flooding. For example, expansive clay below a slab could when soaked, expand and push the slab upwards. Or alternatiely, soaked sewage waters may have caused settlement of poorly-compacted fill below a slab, contributing to uneven settlement of the floor on either side of an existing crack.
Often a careful examination of a crack can find evidence of its age and can identify recent movement by noticing raw or fresh surfaces on either side of a crack in the slab, wall or other masonry material. That detail can help with insurance analysis too.
Question: how to build a smaller structure atop a larger slab area
(Aug 11, 2014) Adam said:
Hi,
I have an opportunity to buy a property in Northwestern Wa that has a 36x60 slab already installed. I believe it was intended for a modular home that never quite happened. I would like to be able to build a smaller structure on part of the slab, say 24 x 36. Is there a legitimate way to do this?
Reply:
Probably yes, Adam but you need to do some exploring. Typically the slab would have been poured with a perimeter foundation intended to support the weight of the building on its perimeter or edges. There may have been other points of support inside the slab as well. Without knowing the slab design and ingredients I'd be careful about placing loads just anywhere.
And careful attention to sealing details will be needed at the smaller building's perimeter to prevent water from entering the structure. You might, for example, need to build a smaller building permiter footing of solid concrete blocks set atop the existing slab. Check with your engineer about the slab thickness, hardness, reinforcement, versus the loads that will be imposed by the new structure. Most likley you'll be fine.
(Aug 11, 2014) Adam said:
Thanks for the response. As a followup question, how would drainage be handled? If the building ends on top of a slab (i.e. a 24x36 structure on a 60x36 slab), how do you stop rainwater from migrating under the smaller-than-the-slab building?
Reply:
Solid question:
If you are not going to cover the protruding slab with exterior roofs, say as in a porch roof, the use of a sealant at the sills is about all you've got. If I were doing such a job I'd build a new masonry sill at least 1 solid concrete block high and set my wood framed wall sills atop that to permit a water tight seal at the slab and to avoid putting wood onto a sometimes wet surface.
Reader comment:
10/10/2014 Eng.Hasan Al-Bahkali said:
very important subject
Eng.Hasan Al-Bahkali
...
Ask a Question or Search InspectApedia
Use the "Click to Show or Hide FAQs" link just above to see recently-posted questions, comments, replies, try the search box just below, or if you prefer, post a question or comment in the Comments box below and we will respond promptly.
Search the InspectApedia website
Technical Reviewers & References
Publisher's Google+ Page by Daniel Friedman
Click to Show or Hide Citations & References
Branz Corporation, "Concrete Slabs and Conrol Joints", Build, Aug/Sept 2005, Branz, Moonshine Road, Judgeford, Porirua City 5381, New Zealand Post: Private Bag 50 908, Porirua 5240, New Zealand Phone: +64 4 237 1170 Fax: +64 4 237 1171 Email: branz@branz.co.nz Publication sales: publicationsales@branz.co.nz , Tel: Professionals helpline - 0800 80 80 85 - is available free to those who work within the New Zealand building and construction industry. Tel: consumer helpline is 0900 5 90 90. Calls cost $1.99 per minute, plus GST. Quoting: BRANZ is an independent and impartial research, testing, consulting and information company providing resources for the building industry.
Books & Articles on Building & Environmental Inspection, Testing, Diagnosis, & Repair
Mark Cramer Inspection Services Mark Cramer, Tampa Florida, Mr. Cramer is a past president of ASHI, the American Society of Home Inspectors and is a Florida home inspector and home inspection educator. Mr. Cramer serves on the ASHI Home Inspection Standards. Contact Mark Cramer at: 727-595-4211 mark@BestTampaInspector.com
John Cranor is an ASHI member and a home inspector (The House Whisperer) is located in Glen Allen, VA 23060. He is also a contributor to InspectApedia.com in several technical areas such as plumbing and appliances (dryer vents). Contact Mr. Cranor at 804-747-7747 or by Email: johncranor@verizon.net
Carson, Dunlop & Associates Ltd., 120 Carlton Street Suite 407, Toronto ON M5A 4K2. (416) 964-9415 1-800-268-7070 info@carsondunlop.com. The firm provides professional home inspection services & home inspection education & publications. Alan Carson is a past president of ASHI, the American Society of Home Inspectors. Thanks to Alan Carson and Bob Dunlop, for permission for InspectAPedia to use text excerpts from The Home Reference Book & illustrations from The Illustrated Home. Carson Dunlop Associates' provides:

Commercial Building Inspection Courses - protocol ASTM Standard E 2018-08 for Property Condition Assessments
Home Inspection Education Courses including home study & live classes at eleven colleges & universities.
Home Inspection Education Home Study Courses - ASHI@Home Training 10-course program.
Special Offer: Carson Dunlop Associates offers InspectAPedia readers in the U.S.A. a 5% discount on these courses: Enter INSPECTAHITP in the order payment page "Promo/Redemption" space. InspectAPedia.com editor Daniel Friedman is a contributing author.
The Home Reference Book, a reference & inspection report product for building owners & inspectors.
Special Offer: For a 10% discount on any number of copies of the Home Reference Book purchased as a single order. Enter INSPECTAHRB in the order payment page "Promo/Redemption" space. InspectAPedia.com editor Daniel Friedman is a contributing author.
The Home Reference eBook, an electronic version for PCs, the iPad, iPhone, & Android smart phones.
Special Offer: For a 5% discount on any number of copies of the Home Reference eBook purchased as a single order. Enter inspectaehrb in the order payment page "Promo/Redemption" space.
The Illustrated Home illustrates construction details and building components, a reference for owners & inspectors.
Special Offer: For a 5% discount on any number of copies of the Illustrated Home purchased as a single order Enter INSPECTAILL in the order payment page "Promo/Redemption" space.
The Horizon Software System manages business operations,scheduling, & inspection report writing using Carson Dunlop's knowledge base & color images. The Horizon system runs on always-available cloud-based software for office computers, laptops, tablets, iPad, Android, & other smartphones.

Quality Standards for the Professional Remodeling Industry, National Association of Home Builders Remodelers Council, NAHB Research Foundation, 1987.
Quality Standards for the Professional Remodeler, N.U. Ahmed, # Home Builder Pr (February 1991), ISBN-10: 0867183594, ISBN-13: 978-0867183597
"Concrete Slab Finishes and the Use of the F-number System", Matthew Stuart, P.E., S.E., F.ASCE, online course at www.pdhonline.org/courses/s130/s130.htm
Sal Alfano - Editor, Journal of Light Construction*
Thanks to Alan Carson, Carson Dunlop, Associates, Toronto, for technical critique and some of the foundation inspection photographs cited in these articles
Thanks to reader Michael Witten for technical editing, October 2010
Terry Carson - ASHI
Mark Cramer - ASHI
JD Grewell, ASHI
Duncan Hannay - ASHI, P.E. *
Bob Klewitz, M.S.C.E., P.E. - ASHI
Ken Kruger, P.E., AIA - ASHI
Aaron Kuertz aaronk@appliedtechnologies.com, with Applied Technologies regarding polyurethane foam sealant as other foundation crack repair product - 05/30/2007
Bob Peterson, Magnum Piering - 800-771-7437 - FL*
Arlene Puentes, ASHI, October Home Inspections - (845) 216-7833 - Kingston NY
Greg Robi, Magnum Piering - 800-822-7437 - National*
Dave Rathbun, P.E. - Geotech Engineering - 904-622-2424 FL*
Ed Seaquist, P.E., SIE Assoc. - 301-269-1450 - National
Dave Wickersheimer, P.E. R.A. - IL, professor, school of structures division, UIUC - University of Illinois at Urbana-Champaign School of Architecture. Professor Wickersheimer specializes in structural failure investigation and repair for wood and masonry construction. * Mr. Wickersheimer's engineering consulting service can be contacted at HDC Wickersheimer Engineering Services. (3/2010)
*These reviewers have not returned comment 6/95
How to Identify & Evaluate Shrinkage Cracks in Poured Concrete Slabs
Please see the main text version of this article at Shrinkage Cracks in Slabs
We discuss the recognition and significance of concrete shrinkage cracks in detail at Shrinkage Cracks in Slabs. Just below you can read a summary of this topic.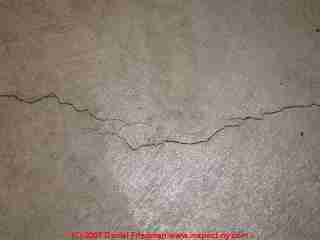 Shrinkage cracks in poured concrete are easily recognizable and can be distinguished from other types of cracks that occur later in the life of a foundation wall or floor slab.
The photograph of cracks above were taken of shrinkage cracks in a concrete slab floor in a home built in 2006. The cracks in this case ranged in width (measured across the crack) from "hairline" (less than 1/16") to about 3/32" in the basement floor slab of this particular home. They may appear larger.
What is unique about shrinkage cracks in concrete is that they usually appear to be discontinuous, as shown in this photo. The crack will meander along in the concrete, taper to a stop, and then continue beginning in a parallel line to the first crack, meandering again through the concrete. This is characteristic of concrete (or mud) shrinking while giving up its moisture.
You can see the shrinkage of even a perfect concrete floor slab with no visible cracks in the field of its surface if the floor was poured inside of an existing foundation. Look for the gap between the edges of the slab and the foundation wall? Look also for the stains or concrete debris on the wall at the slab level? These confirm that at the time the slab was poured it was touching the wall.
Shrinkage Cracks in a Basement or other Slab May Be Severe and May Combine with Settlement
Depending on the mix and pour conditions as well as the site work preparation significant concrete shrinkage cracks can appear in a basement slab. On occasion we may also see vertical dislocation in a floor slab crack, that is, one side has settled or tipped away from the other side of the cracked concrete.
Our photographs above show shrinkage cracking and ensuing minor settlement cracks occurring in the same poured concrete basement floor. We suspected that site drainage defects or possibly nearby site blasting for additional construction contributed to the 1/16" to 1/8" vertical dislocation across some of the cracks in this floor where the cracks were about 3/16" wide.
Slab Cracks may Permit Basement Water Entry or Radon Gas Entry
Happily the building owner at the site where we made the photos above did not report water entry through these openings, though it certainly might be expected as the home ages and its footing drains stop working, particularly if surface runoff and roof runoff are not kept away from the building.
Photos of Concrete Floor Slab Shrinkage Points of Origin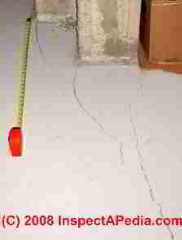 The photo at left shows some concrete shrinkage cracks that are larger than usual. Note that these cracks begin at building foundation wall inside projection corners - a condition that probably creates stress points as the slab cures.
If you click on and enlarge the photo you can see clear evidence that the cracks are discontinuous, multiple, and very roughly parallel in this area - good evidence that they were caused during the concrete curing process and not by a later event which "broke" the slab.
When we see combined slab shrinkage and slab settlement condition we suspect that the concrete pour not only allowed for excessive shrinkage, or perhaps shrinkage without control joints, but also the pour was made on top of poorly prepared soils. For example if a slab is poured on poorly-compacted soil, after shrinkage cracking occurs, we may see uneven settlement among sections of the cracked slab.
Settlement cracking following shrinkage cracking may also occur. In both of these cases we anticipate that significant horizontal dislocation in a poured concrete slab should be small unless steel reinforcement was omitted or was improperly installed. Since some contractors use a fiber-reinforced cement and may omit steel reinforcement in floor slabs, this condition may occur.
How to Inspect & Evaluate Cracks at Control Joints in Concrete
We discuss the recognition and significance of control joints in poured concrete slabs in detail at Cracks at Control Joints in Concrete. Just below you can read a summary of this topic.
The first photograph shows an expansion joint in a basement floor slab. Notice that we do not see other cracks in this slab. Shrinkage cracks that occur at control joints such as shown in the second, close up photo here, are occurring where they are supposed-to, although the width of this particular crack was surprisingly large. These cracks are not normally a defect in the slab but may be a source of water or radon entry into the building and may need to be sealed. Use a flexible sealant.
Settlement Cracks in poured Concrete Slabs
We discuss the recognition and significance of settlement cracks in poured concrete slabs in detail at Settlement Cracks in Slabs. Just below you can read a summary of this topic.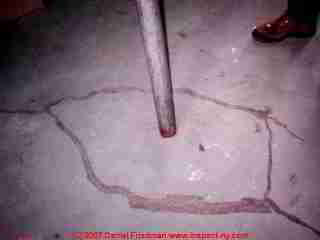 Settlement cracks in a conventional concrete floor slab which has been poured inside a separate foundation wall (and often resting at its edges on the building's foundation wall footings) are usually not connected to the foundation wall and are not supporting any structure [except possibly Lally columns, discussed next].
These cracks may not be a structural concern, but there are cases where a serious hazard can be present, such as garage floor cracking when the floor was poured over soft, loose, inadequately-compacted fill and where the floor slab was not pinned to the garage foundation walls. Soil settlement under a garage floor, perhaps aggravated by groundwater which can increase soil settlement, can lead to first hollowing-out of space below the floor and second, sudden collapse of the floor structure.
We have used a heavy chain, dragging it across the garage floor and listening to changes in the sound it produces, to find areas of significant soil voids below the floor. The pitch of the chain noise drops significantly when passing over a void below the concrete.]
Settlement cracks in a concrete floor around a supporting Lally column might be indicative of a serious problem such as building settlement if the columns are settling. Independent footings may have been provided supporting Lally columns in the building interior and those may be settling independently of the floor slab which may have been poured around and even over them (See photo above). But beware, where slab thickness and local building codes allow, supporting columns may bear directly on a poured floor slab without their own (deeper) pier or footing. In that case floor slab cracking and settling can cause column movement and may be a structural concern.
Settlement cracks in a monolithic slab or floating slab floor may be more serious, depending on their extent since in this case the edges and other portions of the slab are, unlike the cases above) expected to support the upper portions of the building structure.
A monolithic concrete slab is one which includes the building footing as part of the slab, created in a single continuous pour of concrete.
A floating concrete slab is one which is poured at a (generally) uniform thickness on the ground without a separate footing. [Beware, in areas of wet soils, expansive clays, freezing climates, or unstable soils, floating slabs may be exposed to extra stresses and may tip or crack. Proper site work and drainage are important as is proper engineering design of such structures.
Frost Heaves or Expansive Soil Cracks in Poured Concrete Slabs
We discuss the recognition and significance of frost heaving damage and cracks in poured concrete slabs in detail at Frost Heave/Expansive Soil Cracks in Slabs. Just below you can read a summary of this topic.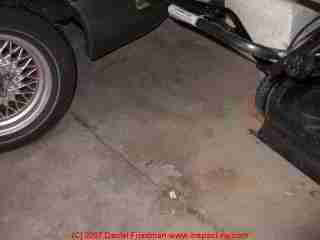 Frost heaves or expansive soils damage to building floor slabs can range from minor to extensive in buildings depending on soil and weather conditions, site preparation, and slab construction details, as we elaborate here.
The photograph above shows a rather straight crack across a garage slab near the garage entry door. What is happening here and why is this particular crack straight if it's a frost or soil heave crack?
In freezing climates building foundations include a footing which extends below the frost line. This is true for both the occupied space as well as garages. When a concrete slab is poured either abutting the top of such a foundation, or poured extending over the edges of such a foundation, there is risk of cracking across the concrete at the interior edge of the buried footing.
The combination of water under a garage floor (watch out for driveways and sites that slope towards the garage or home) and freezing can cause the portion of the slab which rests directly on the soil to move up and down during freeze/thaw cycles. Since a garage is often colder near the garage entry door than in other areas, there is extra risk of these cracks occurring there, but they can occur anywhere. When there is freezing and heaving of a slab, particularly one which omitted reinforcing steel, or did not extend the steel over the footing, these garage floor slab cracks may appear during freeze/thaw cycles.
Similar floor slab damage might occur in areas of expansive clay soils if the proper moisture level is not maintained.
Basement floor heave patterns - frozen floor drains: Basement floors can be frost heaved in other patterns in buildings which are unheated or which lose heat. We have found basement floor slabs broken and heaved above buried drain lines which ran below the basement floor of a home which remained unheated during freezing weather.
A clogged drain sitting full of liquid combined with prolonged freezing weather was the culprit in most of these cases. The heaved concrete was raised following exactly the path of the frozen (and burst) buried, clogged drain line. This problem can be epidemic in older homes which were constructed using a downspout drain line extending below the basement slab.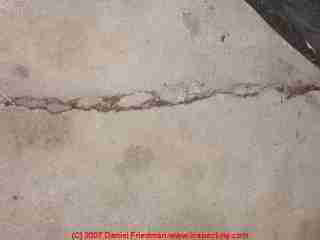 Basement and garage floor random heave and crack patterns:
Cracked and heaved concrete or settled concrete can occur in more random patterns in any concrete floor where there has been frost heaving, soil contraction/expansion, or simple soil settlement, as shown in this photograph.
Garage or basement floor sloped or semi-uniform settlement may also produce a tipped floor even if the concrete is not cracked, or the floor may settle uniformly. This condition occurs if the concrete was reinforced by steel or fiber cement, but was poured inside of a separate concrete or masonry block foundation. We see this condition more often in garages in which the slab was reinforced but poured on poorly-compacted soil. The problem may be worst if in addition to poor compaction, water runs under the slab, causing additional or more rapid soil settlement.
My first construction job (for pay) was to rake level the backfill soil that the contractor had dumped inside of the newly-completed garage foundation in a series of homes. No compaction of any kind was performed. When a lot of fill, several feet or more in depth, was required to bring the slab to the desired height, there was a good chance that the slab would settle or tip in the future.
Garage slabs which were poured inside of the foundation walls but which were pinned to the foundation sides (typically using re-bar set into holes punched into the masonry block foundation), the slab was resistant to settlement or movement even if there was modest soil settlement below.
In a garage where the slab has settled you can often spot the original level of the slab and thus can measure the amount of settlement. Look for a concrete line above the level of the top of the slab and found along the masonry block or poured concrete foundation wall. we have seen this line ranging from a fraction of an inch to six to eight inches above the current level of the slab!
Readers should also see CONCRETE SLAB CRACK REPAIR and may also want to see SINKING BUILDINGS where we include case histories of both building settlement and slab cracking, heaving, settling: diagnosis and repair. Also see How to Diagnose & Evaluate Foundation Cracks since those pages also assist in distinguishing among types of cracking in concrete foundations (vertical supporting walls and footings).

Books & Articles on Building & Environmental Inspection, Testing, Diagnosis, & Repair
The Home Reference Book - the Encyclopedia of Homes, Carson Dunlop & Associates, Toronto, Ontario, 25th Ed., 2012, is a bound volume of more than 450 illustrated pages that assist home inspectors and home owners in the inspection and detection of problems on buildings. The text is intended as a reference guide to help building owners operate and maintain their home effectively. Field inspection worksheets are included at the back of the volume. Special Offer: For a 10% discount on any number of copies of the Home Reference Book purchased as a single order. Enter INSPECTAHRB in the order payment page "Promo/Redemption" space. InspectAPedia.com editor Daniel Friedman is a contributing author.

Or choose the The Home Reference eBook for PCs, Macs, Kindle, iPad, iPhone, or Android Smart Phones. Special Offer: For a 5% discount on any number of copies of the Home Reference eBook purchased as a single order. Enter INSPECTAEHRB in the order payment page "Promo/Redemption" space.
Best Practices Guide to Residential Construction, by Steven Bliss. John Wiley & Sons, 2006. ISBN-10: 0471648361, ISBN-13: 978-0471648369, Hardcover: 320 pages, available from Amazon.com and also Wiley.com. See our book review of this publication.
Decks and Porches, the JLC Guide to, Best Practices for Outdoor Spaces, Steve Bliss (Editor), The Journal of Light Construction, Williston VT, 2010 ISBN 10: 1-928580-42-4, ISBN 13: 978-1-928580-42-3, available from Amazon.com
Avongard foundation crack progress chart for structural crack monitoring
Building Pathology, Deterioration, Diagnostics, and Intervention, Samuel Y. Harris, P.E., AIA, Esq., ISBN 0-471-33172-4, John Wiley & Sons, 2001 [General building science-DF] ISBN-10: 0471331724 ISBN-13: 978-0471331728
Building Pathology: Principles and Practice, David Watt, Wiley-Blackwell; 2 edition (March 7, 2008) ISBN-10: 1405161035 ISBN-13: 978-1405161039
Construction Drawings and Details, Rosemary Kilmer
Crawl Space Moisture Control, U.S. Department of Energy
Diagnosing & Repairing House Structure Problems, Edgar O. Seaquist, McGraw Hill, 1980 ISBN 0-07-056013-7 (obsolete, incomplete, missing most diagnosis steps, but very good reading; out of print but used copies are available at Amazon.com, and reprints are available from some inspection tool suppliers). Ed Seaquist was among the first speakers invited to a series of educational conferences organized by D Friedman for ASHI, the American Society of Home Inspectors, where the topic of inspecting the in-service condition of building structures was first addressed.
Design of Wood Structures - ASD, Donald E. Breyer, Kenneth Fridley, Kelly Cobeen, David Pollock, McGraw Hill, 2003, ISBN-10: 0071379320, ISBN-13: 978-0071379328
This book is an update of a long-established text dating from at least 1988 (DJF); Quoting:
This book is gives a good grasp of seismic design for wood structures. Many of the examples especially near the end are good practice for the California PE Special Seismic Exam design questions. It gives a good grasp of how seismic forces move through a building and how to calculate those forces at various locations. THE CLASSIC TEXT ON WOOD DESIGN UPDATED TO INCLUDE THE LATEST CODES AND DATA. Reflects the most recent provisions of the 2003 International Building Code and 2001 National Design Specification for Wood Construction. Continuing the sterling standard set by earlier editions, this indispensable reference clearly explains the best wood design techniques for the safe handling of gravity and lateral loads. Carefully revised and updated to include the new 2003 International Building Code, ASCE 7-02 Minimum Design Loads for Buildings and Other Structures, the 2001 National Design Specification for Wood Construction, and the most recent Allowable Stress Design.
Building Failures, Diagnosis & Avoidance, 2d Ed., W.H. Ransom, E.& F. Spon, New York, 1987 ISBN 0-419-14270-3
Domestic Building Surveys, Andrew R. Williams, Kindle book, Amazon.com
Defects and Deterioration in Buildings: A Practical Guide to the Science and Technology of Material Failure, Barry Richardson, Spon Press; 2d Ed (2001), ISBN-10: 041925210X, ISBN-13: 978-0419252108. Quoting:
A professional reference designed to assist surveyors, engineers, architects and contractors in diagnosing existing problems and avoiding them in new buildings. Fully revised and updated, this edition, in new clearer format, covers developments in building defects, and problems such as sick building syndrome. Well liked for its mixture of theory and practice the new edition will complement Hinks and Cook's student textbook on defects at the practitioner level.
Guide to Domestic Building Surveys, Jack Bower, Butterworth Architecture, London, 1988, ISBN 0-408-50000 X
"Avoiding Foundation Failures," Robert Marshall, Journal of Light Construction, July, 1996 (Highly recommend this article-DF)
"A Foundation for Unstable Soils," Harris Hyman, P.E., Journal of Light Construction, May 1995
"Backfilling Basics," Buck Bartley, Journal of Light Construction, October 1994
"Inspecting Block Foundations," Donald V. Cohen, P.E., ASHI Reporter, December 1998. This article in turn cites the Fine Homebuilding article noted below.
Quality Standards for the Professional Remodeling Industry, National Association of Home Builders Remodelers Council, NAHB Research Foundation, 1987.
Quality Standards for the Professional Remodeler, N.U. Ahmed, # Home Builder Pr (February 1991), ISBN-10: 0867183594, ISBN-13: 978-0867183597
...