Brick Brick Wall Leak Diagnosis & Repair

Brick wall crack detection, evaluation, repair
POST a QUESTION or READ FAQs about structural brick foundations & brick walls: crack, leak, or movement diagnosis, defects, & repairs, risks of collapse
InspectAPedia tolerates no conflicts of interest. We have no relationship with advertisers, products, or services discussed at this website.
Brick wall leaks:
This article describes the diagnosis & repair of leaks in structural or solid brick building walls.
While extensive reconstruction, even outer brick veneer replacement may be required on some leaky brick buildings, options including tuckpointing, use of sealants, and correcting flashing defects may suffice in many leaky brick wall cases.
We include warnings about hidden damage from leaks in brick structures and risks of falling bricks, structural collapse, or water damage.
This article series explains how to recognize, diagnose, & repair brick foundation & brick wall defects & failures such as cracks, spalling, movement, bulging, leaks, damage due to impact, settlement, frost or water damage, and other problems.
We also provide a MASTER INDEX to this topic, or you can try the page top or bottom SEARCH BOX as a quick way to find information you need.
Structural Brick Wall Leaks, Damage & Repair Options
Reader Question: Solid Brick Wall Leaks, Troubleshooting, Repair Options for Sealing a Curved or Round Top Window in a Brick Veneer Wall, Stucco Surface, or Structural Brick Wall
I had a question I hoped you could help me answer.
We have a leak in an interior wall. We have torn out part of the inside of the wall and have discovered that the leak is coming through the brick mortar above the window.
[Click to enlarge any image]
If we completely seal and waterproof the brick wall, and install synthetic rock over the brick, could this cause any type of mold or mildew problem behind wall or the sheetrock wall on the inside of the house?
I have been told by some brick people a potential interior mold problem could be caused if we used a non breathable sealer on the brick wall. We just need to stop the leak and we never want it to come back again.
We have been working on this for several months and would greatly appreciate your help.
We feel you may have the expertise to help us correctly know what to do to correctly fix our leak and not cause any mold problem down the road.
We would greatly appreciate your help, - Anon.
[Our photo of a curved-top window in a stuccoed wall (above left) is from a different structure than the one described by the reader, though the sealing problems remain the same - Ed. ]
Reply: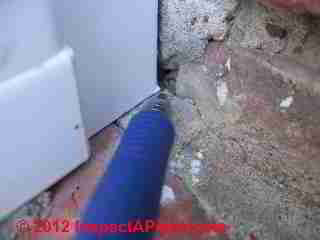 In general it is a better and more reliable strategy to fix building leaks from outside the structure rather than relying on layers of interior waterproofing. I presume you're talking about installing drywall over the brick interior surface of the wall - or perhaps you meant something like Permastone? I'm unclear on that step.
But I'd want to know that the wall is not leaking before laminating more stuff on its inside surfaces.
Even a small opening (photo at left) at a window set in a brick wall can result in a lot of water leakage into the building wall or interior, especially when the exterior wall sees a combination of wind-blown rain and heavy rainfall - a lot of water running down the vertical face of the brick wall finds and enters any opening that it can.
A window or door set into masonry and designed not to leak, uses a combination of careful attention to flashings, especially head flashings over windows and doors, sealants at vertical sides of windows and doors, and properly sloped as well as sealed window sills and thresholds.
Reader Follow-up: - Do we Need Weep Holes in a Solid Brick Structural Wall?
I had another couple of questions.
1. The brick around our house is solid and does not have any weep holes.
I know now they also did not flash around any of the windows or bottom of walls. We have a raked finish. Our home is 9 years old. As I mentioned we have a leak through the mortar above one of our windows. Although we have no flashing, do we need to have weep holes put in the brick?
Should they be located above the interior floor level or as low as possible above ground level?
2. We have foundation vents, but we keep them closed because we have used a cleanspace encapsulation system in the crawlspace (we also have a dehumidfier).
3. Could the foundation vents be opened and turned into correct weep areas?
I appreciate your help. Thank you, - Anon.
Reply:
1. Not if it's a solid masonry wall, but you may need to review mortar joints and tuckpoint any in bad shape, loose, fallen out; do not caulk or seal steel lintels over windows or doors against the brick; If the wall were a brick veneer wall or a brick wall that included a hollow rain space between wythes of brick then weep holes may be in order.

See BRICK VENEER WALL CONSTRUCTION
Details about weep holes in brick walls are

Also see BRICK WALL DRAINAGE, Flashing & Ventilation Products.
2. I agree, better current wisdom is convert the crawl to conditioned space;
3. I must not understand your question as foundation vents don't weep nor drain a brick wall. Besides, solid brick? No.
Reader Follow-up:
Thank you very much for your reply. We also have a leak in a window we have not been able to stop. I have sent you a picture (at left) to help you see it. We have had the inside of the wall cut out to the brick. We have water that is coming in (possibly through mortar or brick or both).
When we put a hose to it, it is like a small waterfall on the inside of the house, behind the brick wall, above the window (where the ladder is). We have a raked joint finish in the brick.
I have put an acrylic caulk (lexor) with my fingernail into the very small cracks in the head joints of the brick. I had thought about using a breathable brick water repellant called siloxane (prosco is the company). I am hesitant because I do not think this will permanently stop the leak.
My wife and I want to permanently stop the leak before we install a new window and fix the inside of our home.
My questions are:
1. If we completely waterproofed the brick wall and used synthetic (faux) stone over the wall, is there any way this method could cause a mold problem on the inside of the wall where the sheetrock is located?
2. We have several weak mortar areas around the home. If we have a mason dig them out and repoint them, could this cause any type of worse water damage? I would like to use brick mortar if it is possible to permanently fix the problem. One of our contractors stated digging out the mortar would cause void, and since we have a raked finish, it probably would not work.
What is the best way to fix the bad mortar areas with a raked finish?
3. If we did use siloxane based sealer and we tested it and it worked, do you think it would be work to stop the leak if we just reapply it every couple of years?
We have had several different contractors and window persons in our area try to help us, but we continue to get many different answers. I have also sought help from many others, but we can not decide how to correctly fix the problem.
We have been dealing with this problem for several months. After reading several articles on your site yesterday, I felt that you would have the expertise to help us decide the correct way to fix our water leak. My wife and I would very much appreciate your help with our frustrating problem. Thank you for your help, - Anonymous by request
Reply: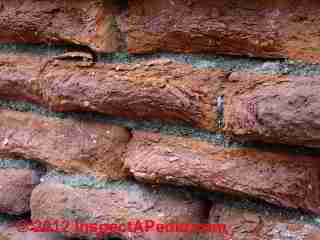 Your photo reminded me of a prof I had who wrote on the board in 1/8" high letters - when we asked him to write bigger he wrote in 3/16" high letters. But I did see an archtop window in brick - difficult to seal or flash; When you install a new window look into a custom curved flashing with a counterflashing that is cut into the brick and that cut sealed;
Spray silicone ased waterproofing masonry sealant coatings (including Sure Klean® Weather Seal Siloxane PD) improve the water resistance of solid masonry surfaces like brick but they don't seal openings, gaps, leaks, and have about a one-year life in my experience.
If your brick wall exterior looked like the example we show at left, unfortunately the proper repair is removal and replacement of those adly worn, crumbling bricks, using a matched mortar in the replacement.
If the bricks in your wall are basically intact and retain their original hard fired surface, tuckpointing open mortar joints and flashing at windows and doors should be in your repair and maintenance plans.
A silicone or other brick sealant spray or paint-on coating won't help the waterfall-at-the-window leak you described. You can make a temporary seal from outside using geocel or a similar high grade sealant/caulk, pending window replacement.
At left we show a bad brick wall repair, using a too-hard (too high in portland cement) brick mortar joint repair that also is not matched in the slightest to the original wall's mortar joint color, texture, nor tooling.
This building, on the Vassar College Campus in Poughkeepsie, New York, had enough deterioration that ultimately the college maintenance department rebuilt this collapsing wall section and fixed the roof spillage problem that was causing the damage.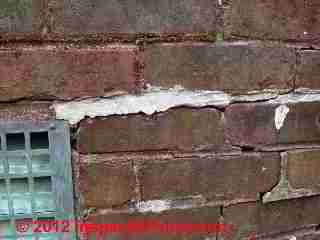 The right repair for deteriorated mortar is to excavate the loose stuff to sufficient depth that new mortar can be tucked into the joints; be SURE to use mortar that is
color and texture matched to the old mortar - or your house will look horrible
as soft as the original mortar or in a freezing climate you risk future brick spalling damage
For repair of deteriorated brick wall mortar joints

see TUCKPOINTING BRICK & RE-POINTING
Steve Bliss comments on brick wall leak and window head flashing concerns
Steven Bliss gave us a few helpful remarks and recommended the JLC articles I list below: Steve writes: "I am no expert on brick veneer or Drivit (aka, EIFS), but know that EIFS have generated numerous lawsuits for leaks, especially around windows. JLC has published several articles over the years on leaky synthetic stucco systems (ones marked FREE you can view at the JLC website without a password).
From my cursory reading of the above case, I can't quite tell where to stucco ends and the brick begins.
Flashing of flange-type windows is another big problem in any type of wall. I've looked into this over the years and written about it in my book Best Practices Guide to Residential Construction, Wiley (November 18, 2005).
However, there's still a lot of controversy about what is the best approach for integrating the flange, membrane, housewrap, flashing, and siding. Regarding the watertightness of brick veneer, it's my understanding that it is never really watertight and depends on proper detailing of the weather barrier beneath and weep holes to protect the structure from water damage.
Reader Follow-up:
I have found a person to make a custom curved flashing (finding someone who has ever installed one will take a miracle).
I guess the frustrating thing for us is we had poor work done, I have spent several months researching to find the best and correct way to do the project. I understand what is correct, but the people in our area have either not heard of it, never done it, or have always done it a certain way.
A couple of examples:
Most in our area only use flashing tape to seal top of curved windows.
The others I have found who flash windows, use black rubber because it is flexible and easy to work with - they say they have never had a call back for a leak.
I called the largest brick distributor in the state (Birmingham) and asked about the weep hole products they had. The brick company said the correct protocol was to use weep rope and run it to the weep holes. I talked with a dryvit contractor who just finished a large commercial job (church) in Huntsville. He said they used rope for weep holes.
I called tamyra (not sure on spelling) to buy weep hole inserts that was pictured in the weep hole article - their machine is broken, can not make the product, and do not know when they will start again.
These are just a couple of examples of what we go through. I greatly appreciate all of your help that you have provided.
Could you please tell me what the counter flashing is. Could you please provide a picture or tell me how to locate one.
Reply: - Counter Flashing & Metal Drip Caps for Windows & Doors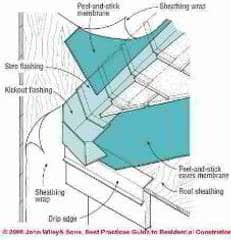 Most flashing designs for roofs (though not for many windows) are made of two pieces. An underpiece intercepts water at the vertical to horizontal (or sloping)( surface and directs it back onto the roof or other draining surface so that it can drain away from or off of the structure rather than into it.
The second or upper piece of flashing, counter-flashing, is designed to intercept water that might run behind the vertical surface of the first flashing.
Counter flashing, then, is a second course of flashing that overlaps the upper end of the vertical portion of roof or other flashings to prevent water that runs down a vertical surface (building wall, chimney side) from passing behind the under flashing.
The upper edge of the counter-flashing is either installed beneath building siding, or is bent over at a 90 degree angle and sealed into a groove cut into the building wall.
Or some installers use a peel-and-stick membrane beneath the siding and sheathing wrap and over the top of the step flashing, as shown in the illustration at left, courtesy of Steve Bliss & Best Practices Guide to Residential Construction
Watch out: Some inexperienced installers omit counterflashing and instead rely on simply caulking that vertical upper edge - an unreliable solution.
Metal drip cap over window & doors: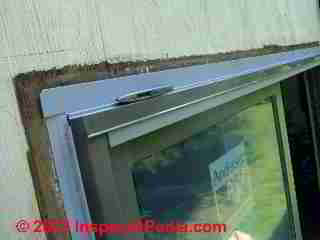 Over windows and doors manufacturers such as Anderson often  provide a single piece of flashing designed to do the whole job of keeping water from entering the structure at the top of a window or door.
In a retrofit window or door installation, such as the Anderson sliding glass door shown at left, the factory head flashing or drip cap is installed over the new door frame and inclorporates a vertical flange that will be sealed against the building wall using first flashing tape, and second a horzontal trim board whose top edge is caulked to keep water from running behind the trim.
For details on how to install window & skylight flashing & sealants take a look

at WINDOW FLASHING & SEALING GUIDE
Details about flashing and counterflashing are at are

at FLASHING ROOF WALL DETAILS
and

at FLASHING MEMBRANES PEEL & STICK.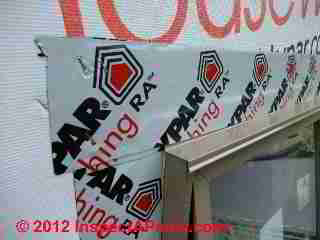 In new window or door construction (our photo at left), the uppermost edge of the window or door drip cap or head flashing is installed underneath the finish siding, and the lowermost edge of that head flashing extends out past the horizontal edge of the window or door top trim and is usually bent to include a lip or drip edge to direct water droplets off of the surface so that water doesn't simply run down it or weep back under the flashing by capillary action.
Obviously, you wouldn't try installing flashing tape against a brick wall or brick veneer wall surface.
On a brick wall or brick veneer the head flashing (or counter flashing if it's used) over a window or door are either installed to extend their vertical flange up the wall sheathing beneath the housewrap and beneath the brick veneer (new construction) or the head flashing is bent to a 90 degree and let into a groove cut into the brick wall and then that groove is sealed using a high grade sealant such as Geocel (retrofit or repair construction).
...
Continue reading at BRICK WALL DRAINAGE WEEP HOLES or select a topic from closely-related articles below, or see our complete INDEX to RELATED ARTICLES below.
Or see BRICK WALL REPAIR METHODS
Or see this
Article Series Contents
Suggested citation for this web page
BRICK WALL LEAK REPAIRS at InspectApedia.com - online encyclopedia of building & environmental inspection, testing, diagnosis, repair, & problem prevention advice.
Or use the SEARCH BOX found below to Ask a Question or Search InspectApedia
...
Ask a Question or Search InspectApedia
Try the search box just below, or if you prefer, post a question or comment in the Comments box below and we will respond promptly.
Search the InspectApedia website
Technical Reviewers & References
Click to Show or Hide Citations & References
Steven Bliss served as editorial director and co-publisher of The Journal of Light Construction for 16 years and previously as building technology editor for Progressive Builder and Solar Age magazines. He worked in the building trades as a carpenter and design/build contractor for more than ten years and holds a masters degree from the Harvard Graduate School of Education. Excerpts from his recent book, Best Practices Guide to Residential Construction, Wiley (November 18, 2005) ISBN-10: 0471648361, ISBN-13: 978-0471648369, appear throughout this website, with permission and courtesy of Wiley & Sons. Best Practices Guide is available from the publisher, J. Wiley & Sons, and also at Amazon.com.
Suprenant, Bruce A. "Evaluating Cracks" Masonry Construction: N.p., 1990. Web. 05 Mar 2015.
Taylor, Peter J. The Expansion of Clay Brickwork Taylor Lauder Bersten Pty Ltd. March, 2009.
Mark Cramer Inspection Services Mark Cramer, Tampa Florida, Mr. Cramer is a past president of ASHI, the American Society of Home Inspectors and is a Florida home inspector and home inspection educator. Mr. Cramer serves on the ASHI Home Inspection Standards. Contact Mark Cramer at: 727-595-4211 mark@BestTampaInspector.com
John Cranor is an ASHI member and a home inspector (The House Whisperer) is located in Glen Allen, VA 23060. He is also a contributor to InspectApedia.com in several technical areas such as plumbing and appliances (dryer vents). Contact Mr. Cranor at 804-747-7747 or by Email: johncranor@verizon.net
Thanks to Alan Carson, Carson Dunlop, Associates, Toronto, for technical critique and some of the foundation inspection photographs cited in these articles
Brick Development Association, The Building Centre, 26 Store Street, London, WC1E 7BT, England, U.K., Tel: 020 7323 7030, Email: brick@brick.org.uk
Brick Industry Association, 1850 Centennial Park Drive, Suite 301, Reston, VA 20191 Phone: 703.620.0010 Fax: 703.620.3928.
Canada Masonry Centre, 360 Superior Blvd., Mississauga ON Canada L5T 2N7. Tel: (905) 564-6622. Offers the CMCA Textbook of Canadian Masonry.
"Concrete Slab Finishes and the Use of the F-number System", Matthew Stuart, P.E., S.E., F.ASCE, online course at www.pdhonline.org/courses/s130/s130.htm
Mark Cramer Inspection Services Mark Cramer, Tampa Florida, Mr. Cramer is a past president of ASHI, the American Society of Home Inspectors and is a Florida home inspector and home inspection educator. Mr. Cramer serves on the ASHI Home Inspection Standards. Contact Mark Cramer at: 727-595-4211 mark@BestTampaInspector.com
John Cranor is an ASHI member and a home inspector (The House Whisperer) is located in Glen Allen, VA 23060. He is also a contributor to InspectApedia.com in several technical areas such as plumbing and appliances (dryer vents). Contact Mr. Cranor at 804-747-7747 or by Email: johncranor@verizon.net
"Concrete Slab Finishes and the Use of the F-number System", Matthew Stuart, P.E., S.E., F.ASCE, online course at www.pdhonline.org/courses/s130/s130.htm
Sal Alfano - Editor, Journal of Light Construction*
Thanks to Alan Carson, Carson Dunlop, Associates, Toronto, for technical critique and some of the foundation inspection photographs cited in these articles
Terry Carson - ASHI
Mark Cramer - ASHI
JD Grewell, ASHI
Duncan Hannay - ASHI, P.E. *
Bob Klewitz, M.S.C.E., P.E. - ASHI
Ken Kruger, P.E., AIA - ASHI
Aaron Kuertz aaronk@appliedtechnologies.com, with Applied Technologies regarding polyurethane foam sealant as other foundation crack repair product - 05/30/2007
Bob Peterson, Magnum Piering - 800-771-7437 - FL*
Arlene Puentes, ASHI, October Home Inspections - (845) 216-7833 - Kingston NY
Greg Robi, Magnum Piering - 800-822-7437 - National*
Dave Rathbun, P.E. - Geotech Engineering - 904-622-2424 FL*
Ed Seaquist, P.E., SIE Assoc. - 301-269-1450 - National
Dave Wickersheimer, P.E. R.A. - IL, professor, school of structures division, UIUC - University of Illinois at Urbana-Champaign School of Architecture. Professor Wickersheimer specializes in structural failure investigation and repair for wood and masonry construction. * Mr. Wickersheimer's engineering consulting service can be contacted at HDC Wickersheimer Engineering Services. (3/2010)
*These reviewers have not returned comment 6/95
Almherigh, Mohamed Abdalla. (2014). Common Causes of Cracking in Masonry Walls Diagnosis and Remedy. International Journal of Sciences: Basic and Applied Research. (Volume 14), pp. 25-33.
Books & Articles on Building & Environmental Inspection, Testing, Diagnosis, & Repair
Our recommended books about building & mechanical systems design, inspection, problem diagnosis, and repair, and about indoor environment and IAQ testing, diagnosis, and cleanup are at the InspectAPedia Bookstore. Also see our Book Reviews - InspectAPedia.
Avongard foundation crack progress chart for structural crack monitoring
"Technical Notes on Brick Construction 18A: Accommodating Expansion of Brickwork." The Brick Industry Association Home. The Brick Industry Association, Nov. 2006.
"Technical Notes on Brick Construction 18: Volume Changes – Analysis and Effects of Movement." The Brick Industry Association Home. The Brick Industry Association, Oct. 2006.
Diagnosing & Repairing House Structure Problems, Edgar O. Seaquist, McGraw Hill, 1980 ISBN 0-07-056013-7 (obsolete, incomplete, missing most diagnosis steps, but very good reading; out of print but used copies are available at Amazon.com, and reprints are available from some inspection tool suppliers). Ed Seaquist was among the first speakers invited to a series of educational conferences organized by D Friedman for ASHI, the American Society of Home Inspectors, where the topic of inspecting the in-service condition of building structures was first addressed.
Domestic Building Surveys, Andrew R. Williams, Kindle book, Amazon.com
Defects and Deterioration in Buildings: A Practical Guide to the Science and Technology of Material Failure, Barry Richardson, Spon Press; 2d Ed (2001), ISBN-10: 041925210X, ISBN-13: 978-0419252108. Quoting:

A professional reference designed to assist surveyors, engineers, architects and contractors in diagnosing existing problems and avoiding them in new buildings. Fully revised and updated, this edition, in new clearer format, covers developments in building defects, and problems such as sick building syndrome. Well liked for its mixture of theory and practice the new edition will complement Hinks and Cook's student textbook on defects at the practitioner level.
Guide to Domestic Building Surveys, Jack Bower, Butterworth Architecture, London, 1988, ISBN 0-408-50000 X
"Avoiding Foundation Failures," Robert Marshall, Journal of Light Construction, July, 1996 (Highly recommend this article-DF)
"A Foundation for Unstable Soils," Harris Hyman, P.E., Journal of Light Construction, May 1995
"Backfilling Basics," Buck Bartley, Journal of Light Construction, October 1994
"Inspecting Block Foundations," Donald V. Cohen, P.E., ASHI Reporter, December 1998. This article in turn cites the Fine Homebuilding article noted below.
"When Block Foundations go Bad," Fine Homebuilding, June/July 1998
Historic Preservation Technology: A Primer, Robert A. Young, Wiley (March 21, 2008) ISBN-10: 0471788368 ISBN-13: 978-0471788362
Masonry structures: The Masonry House, Home Inspection of a Masonry Building & Systems, Stephen Showalter (director, actor), DVD, Quoting:
Movie Guide Experienced home inspectors and new home inspectors alike are sure to learn invaluable tips in this release designed to take viewers step-by-step through the home inspection process. In addition to being the former president of the National Association of Home Inspectors (NAHI), a longstanding member of the NAHI, the American Society of Home Inspectors (ASHI), and the Environmental Standard Organization (IESO), host Stephen Showalter has performed over 8000 building inspections - including environmental assessments. Now, the founder of a national home inspection school and inspection training curriculum shares his extensive experience in the inspection industry with everyday viewers looking to learn more about the process of evaluating homes. Topics covered in this release include: evaluation of masonry walls; detection of spalling from rebar failure; inspection of air conditioning systems; grounds and landscaping; electric systems and panel; plumbing supply and distribution; plumbing fixtures; electric furnaces; appliances; evaluation of electric water heaters; and safety techniques. Jason Buchanan --Jason Buchanan, All Movie Review
Masonry Design for Engineers and Architects, M. Hatzinikolas, Y. Korany, Canadian Masonry (2005), ISBN-10: 0978006100, ISBN-13: 978-0978006105
Masonry Structures: Behavior and Design, Robert G. Drysdale, Ahmid A. Hamid, Lawrie R. Baker, The Masonry Society; 2nd edition (1999), ISBN-10: 1929081014, ISBN-13: 978-1929081011
Masonry, Engineered: Using the Canadian Code, J. I. Gainville, Cantext publications (1983), ASIN: B0007C37PG
Masonry, Non-reinforced masonry design tables, Hans J. Schultz, National Concrete Producers Association and the Canadian Masonry Contractors Association (1976), ASIN: B0007C2LQM
Moisture Control in Buildings, U.S. Department of Energy
Moisture Control in Walls, U.S. Department of Energy
"Vapor Barriers or Vapor Diffusion Retarders", U.S. DOE: how vapor barriers work, types of vapor diffusion barriers, installing vapor barrier
Ventilation for energy efficient buildings, Purpose, Strategies, etc.,
...
Publisher InspectApedia.com - Daniel Friedman