Building Framing Methods - A Guide to Estimating Building Age

FRAMING METHODS, Age, Types - CONTENTS: How to determine the age of a building from the construction or framing methods used - Building framing eras: log homes, balloon framing, platform framing, arkansas framing, modular construction, panelized construction, straw bale - construction, welded wire construction, roof & floor trusses, engineered lumber construction - Leavittown and development of mass-produced pre-cut platform framed homes - Building component age: construction materials, methods, including hardware, saw cuts, and other details can help determine when a building was constructed or when it was modified.
FRAMING MATERIALS, Age, Types - separate article
POST a QUESTION or READ FAQs about how to determine or identify the age of building framing materials & framing methods, connectors, fasteners
InspectAPedia tolerates no conflicts of interest. We have no relationship with advertisers, products, or services discussed at this website.
This article describes and illustrates common building framing materials used in different epochs of residential construction. Knowing when certain materials were first or last in common use can help determine the age of a building. The age of a building can be determined quite accurately by documentation, but when documents are not readily available, visual clues such as those available during a professional home inspection can still determine when a house was built.
Page top sketch courtesy of Carson Dunlop Associates.
Green links show where you are. © Copyright 2015 InspectApedia.com, All Rights Reserved.
Building Framing Methods as Indicators of Building Age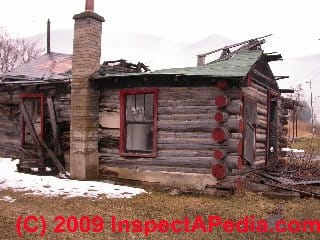 Building methods and building materials should be considered together as the materials available for construction largely defined the building methods used.
In very general terms, in North American building construction, later than in Asia and Europe, evolved through log construction, rough cut hand hewn beams and plank construction, sawn lumber, machine sawn lumber, dimensional lumber, factory-produced lumber and sheathing, and engineered wood products such as laminated beams and factory-built trusses.
Article Contents
Logs, various sizes, chopped, dried, assembled at the building site: Log framing and both modern and antique log construction are discussed at Log Home Guide. Also see Antique & Old Log Cabins and Vertical Log Walls on Cabins & Homes.
Hand hewn beams, chopped and then sized with an adze and axe. Adze cuts and axe cuts are normally visible in the rough surface of hand hewn wood structural beams. - see Post & Beam Construction
Hand split or rough hewn planks used for building structures - see PLANK HOUSES
Full-sized 2"x4" (or larger 2 x n") wood framing materials - see Balloon Framing and see Platform Framing
Modern wood framing wall studs 2x4's (3.5" x 1/5") and larger members (x" deep by 1.5" thick) - see Arkansas framing (just below), Balloon Framing and see Platform Framing
Tongue and groove wood subflooring, wall sheathing, roof sheathing
Plywood subfloors, wall sheathing, roof sheathing - see PLYWOOD Roof, Wall, Floor Decks & Sheathing and see FIRE RETARDANT PLYWOOD
Oriented-strand board subflooring, wall sheathing, roof sheathing - see OSB
Engineered lumber such as Glulam™ beams; large timbers are built-up of laminated wood strips - see Glulam Beams
Arkansas framing system: 2x6 wall studs are spaced 24' on center, a spacing that permitted installation of more wall insulation volume than provide by conventional 2x4 wall studs.
The Arkansas building framing method became popular in North America following the 1970's arab oil embargo and addressed concern for high energy costs. You might read about Arkansas framing or OVE - optimum value engineering, just about the same design idea that was promoted by the Small Homes Council, SHC, now renamed the Building Research Council.
Modern wood framing uses sill plates, rim joists, floor and ceiling joists, wall studs, and rafters made from dimensional lumber, nominally 2x4's (3.5" x 1/5") and larger members (x" deep by 1.5" thick), spaced 16" on center or in some cases using 2x6 wall studs, 24" o.c. See Balloon Framing and see Platform Framing
Balloon Framing Building Construction Method History & Dates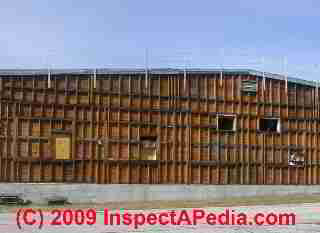 Balloon Frame construction (1833 - est) tall wall studs run from the sill plate atop the foundation wall to the top plate below the building rafters.
Wall studs and first floor joists rest on the building sill plates (flat wood members set atop the building foundation). The wall studs extend from the first floor sill to a height sufficient to frame both the first and second floor walls.

First floor joists and second floor joists in a building constructed using the balloon framing method are framed by nailing to these tall wall studs at the appropriate heights.
Our photo (above left) of a (mostly) balloon-framed multi-floor building (at an airport in Newburgh, NY), shows that the first two floors were balloon-framed and then the building was extended upwards with additional platform construction.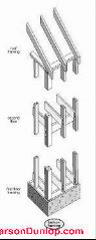 Rafters in balloon framed buildings attach to the top plate of the building walls. Ceiling joists for the top floor are nailed to the sides of the balloon-framed wall studs just as the floor joists were nailed below.

Perhaps the earliest known balloon-framed building was St. Mary's Roman Catholic Church constructed in Chicago by the fall of 1833. (Walker Field, Chicago Historical Society). Sketch at left, courtesy Carson Dunlop Associates.
According to some histories, balloon framing got its name from people who feared that the dimension-lumber built structure was so flimsy that it was as weak as a hot air balloon, held together by ropes and cloth - a structure that would blow down at the first wind.
That event did not happen, however.
Fred T. Hodgson's 1883 Practical Carpentry contains one of the earliest (and minimal) references to balloon framing. Hodgson later promoted the balloon framing method for the Sears Roebuck Company. See our references at America's Favorite Homes.

By 1869 balloon framing was in extensive use in North America; in that year G.E. Woodward, in his Woodward's Country Homes described balloon framing as a method for constructing a building at 40% less cost than by using the post and beam (mortise and tenon) method.
Engineereed Wood Framing Methods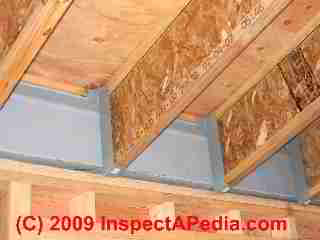 I'm reluctant to define "engineered wood construction" narrowly, as experts have by one means or another constructed trusses and other wood structural members using analysis and calculations for centuries. But to distinguish between older and modern or more contemporary engineered-wood construction products we list examples below. And certainly there are some engineered wood products that, compared with an antique king-truss, are relatively new. 5
For example, as we discuss at I-JOISTS, engineered wood floor trusses (photos above and below) such as I-Joists originally were constructed using a plywood web beginning in 1977, and modified by by Trus-Joist in 1969 to use laminated veneer lumber (LVL) and OSB-like laminated wood fiber web (shown in photos above left and below in combination with a steel beam).
See these examples of contemporary engineered-wood construction materials:
Log Home Building Construction Methods, History, & Dates
Log homes (1640 - est U.S.): solid logs usually felled and prepared at or close to the building site, set on ground level, on flat stones on ground, or on a stone foundation, corners joined using various notch and overlap methods.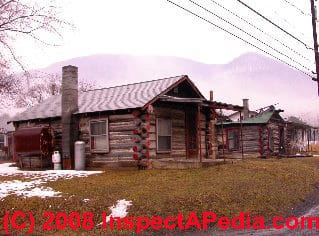 See Log Home Guide.

Log homes were first constructed in North America by Swedes who had immigrated to Pennsylvania in the 1640's. After 1970 most log homes constructed in the U.S. used factory-cut and milled logs and log kit homes.
Kit home logs, unlike their more rough ancestors, are milled to consistent diameters and use various spline and gasket methods to seal joints between horizontal and vertical members. See Antique & Old Log Cabins.

Pre-manufactured log homes and log home kits are provided by a variety of manufacturers in the U.S. and Canada. Slab-sided log look-alike homes combine the appearance of a log home with conventional wood framed structures. See Slab Log Cabin Siding for details of this construction method.
Modular Construction Methods Defined & Described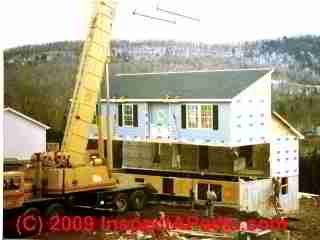 Modular construction (1910 - present) was first provided on a large scale with Sears Kit homes that were distributed from about 1910 to 1940 - see SEARS KIT HOME IDENTIFICATION.
Some modern modular homes built in the U.S. during the 1950's post war building boom originally enjoyed a less than stellar reputation several decades ago, having the reputation of flimsy construction.
That is no longer the case. Since at least the 1980's a modular home is constructed in a factory of one or more sections which are carried to the building site on a trailer (photo above left) and lifted by a crane to be set upon a foundation which has been prepared ahead of time.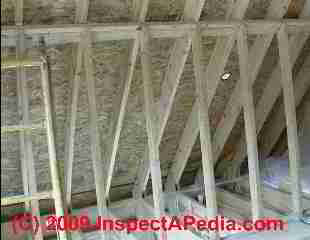 Our photo (left) shows an easily-recognized hinged roof truss design used in modular construction. On many modular homes the roof is folded down onto the top of the upper floor building sections during transport. During the modular building section set procedure the roof section is elevated and support, typically by a knee wall, is placed into position. In our photo you can see the plywood gusseted hinges at the lower end of each rafter.
Modular homes can be quite large, involving four or quite a few more individual sections which are lifted and "set" into place at the site (photo at left)
Some manufacturers provide custom architectural services and can deliver unique, but factory-built homes in sections. Contemporary modular construction of homes have these attributes:
For full details about modular home construction and inspection, including how to recognize details that indicate that modular construction methods were used to make a factory-built home, see our full text article at "A Photo Guide to Modular Home Construction, Identification, & Inspection".
Panelized Building Construction Defined & Illustrated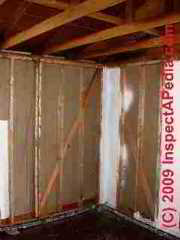 Panelized construction: floor and wall panels constructed in a factory are delivered to and assembled at the building site. Panels may be conventionally-framed stud walls in modular sections or structural panels may be constructed of a sandwich of OSB (oriented strand board), plywood, or wafer board on either side of solid foam board insulation.
Panelized construction makes use of wall, floor, ceiling or roof "panels" which have been framed off-site and brought to the site by truck.
Panels are lifted into place by crane and fastened together on a foundation, and possibly a framed-in floor which have been prepared before the panels arrive.
Small panels for some kit homes (left) were light enough to be lifted into place by two workers.
Some framing panels make use of special materials, such as plywood and foam roof panels for insulated cathedral ceilings.
Please see Panelized Construction for our full article on panelized home construction history, identification, construction methods, and other photographic details.
Plank Houses or Box House Construction Method Defined & Described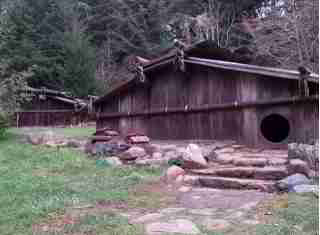 Details about plank house construction & box house construction are at PLANK HOUSES. Excerpts are below.
Among the Yurok Tribe living in the Pacific Northwest we estimate that hand-split redwood plank house construction dates from before 1500. The thick planks form both the building walls and its supporting structure.
Generally in the U.S., plank house was more widely used between 1880 - 1920, with some plank house construction continuing up to possibly 1950. Plank houses are also referred to as "box houses" in some areasand used more common woods such as oak and pine. [16][17][18][19]
In their most widespread use by Europeans in North America, plank houses were constructed entirely of sawn planks and without the use of larger dimensioned 2x lumber. The photo (above left) shows a plank house constructed by Charlie Frye for the Margaret Keting School in Klamath, CA, a Yurok Tribe facility. The Yurok Tribe is currently [2014] the largest Tribe in California.
Plank house construction methods have not been entirely abandoned, and occasionally continue to be built, as the New York Times pointed out in March 2012. The Times article describes a plank house contructed in Klamath, California by Willard Carlson, Jr. Carlson's plank house, built for ceremonial uses and named Ah Pah "the beginnning of the stairway", follows traditional Yurok Indian design and uses large hand-split solid old-growth redwood planks for the building's walls and roof.
Support the Yurok Ah Pah Project
More information about the Blue Creek Ah Pah traditional Yurok Village can be found at Ah Pah Traditional Yurok Village project - http://www.bluecreekahpah.org/
Platform Framing Building Construction Method History & Dates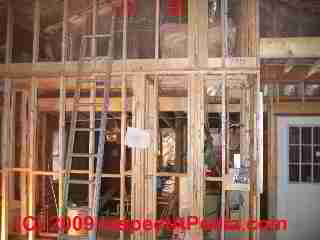 Platform Frame construction (sketch above, courtesy Carson Dunlop): also called western construction: the most-common residential wood structure framing method in North America. Our photo (above right) shows typical platform framing from indoors, including an interior wall partition.
A floor is constructed atop of the building foundation, forming the first "platform". Walls are framed either stud-by-stud vertically as each stud is nailed to a sole plate which in turn was nailed to the floor platform, or wall sections for the first floor are framed flat on the floor (the platform) and tilted up into place.
The next floor (platform) is constructed atop these walls and subsequent walls for the floor above are framed on that second floor platform. Typically each section of framed wall is 8 feet high.
In North America, up to about 1930 it was common for dimensional lumber to be full-sized - a 2x4 was really 2" x 4" in cross section. Modern wood framing wall studs 2x4's (a modern dimensional lumber "two by four" is actually 1.5" thick by 3.5" wide) and larger members (x" deep by 1.5" thick). See Dimensional Lumber for details.
Also see Pre-Cut Frame Construction
Post and Beam Construction Method Defined & Described - Timber Framing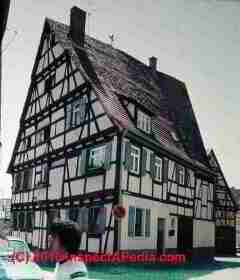 Timber framing (German: Fachwerk), or half-timbering, is the method of creating framed structures of heavy timber jointed together with pegged mortise and tenon joints. -- Wikipedia.
Fachwerk (German) or half timbering (Britain) is a newer term describing post and beam timber framing from the 1700's, but timber framed structures and timber framing with stone or stucco infill older than that.
The age of "modern" half-timbering fachwerk dates from about the 1100's, as scribed timbers were used in Europe in the 11th century or earlier. Wikipedia reports this sort of timbered construction dating to neolithic times, probably with a stone infill rather than plastering over lath.
In Europe, similar framing connections using logs rather than hewn beams are still older - see Antique & Old Log Cabins for examples from both Europe and the U.S.
Our photo (above, left) of a fachwerk home near Frankfurt Germany was taken by the author in the 1960's.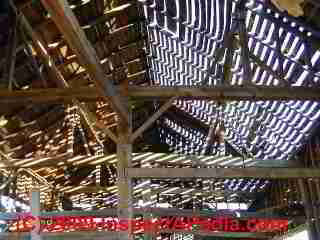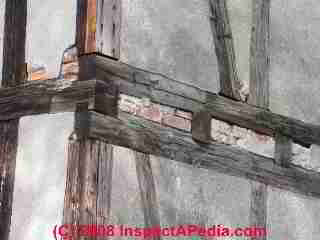 Adze cuts and axe cuts are normally visible in the rough surface of early hand hewn wood structural beams. Our photos show a barn in upstate New York (above left) and an 18th century Norwegian timber frame building using brick infill and stucco to complete the wall enclosure (above right). See this post and barn post and beam photo for more details. See Hewn beams & planks for details about this framing method.
Post and beam construction (1700 - est. in North America): (timber framing) uses horizontal and vertical timbers that are connected (joined) using mortise and tenon joints pinned with wood pegs (treenails). Timber frame construction initially used hand hewn beams, later manually or mechanically sawn beams cut by a pit saw.; Later timber frame beams were sawn in mills using circular saws.

Timber framing using post and beam construction with mortise and tenon joint connections was used in Europe for at least 500 years before it was first employed in North America.

By 1650 a typical timber frame building used multiple bents and girt beams, may have been more than one story tall, and included an exterior made of horsehair-reinforced cement stuccoed over hand-split lath. Our photo (above) shows an 18th century Norwegian timber frame building using brick infill and stucco to complete the wall enclosure.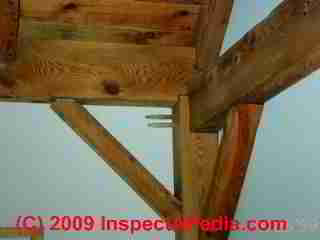 Beams for a post and beam barn or home were typically cut to 4", 6", 8", or 12" square, sometimes larger, and not always square in cross section. Early hand hewn beams used a tree in rough form, hewing flat only the upper surface of the beam to which flooring was to be nailed.
Modern post and beam framing uses the original techniques but beams are milled and are uniform in dimension (photo at left). (Some modern post and beam buildings also encompass engineered steel and bolt braces and more complex structural designs.)

A sill was laid out on the ground or on flat stones at grade level, later atop stone foundations. Bents consisting of two vertical and one horizontal beam were raised and secured in place on the sills using block and tackle. Bearing beams connected the bents. Wall studs were set inside the bents to support siding (boards up to 2" thick), or walls were filled-in using stone or other masonry.

See SAW CUTS, TOOL MARKS, AGE to learn how to distinguish hand sawn, pit-sawn (which could be by hand or mechanically-driven), and circular-blade sawn framing lumber. See our photo (below) for an example of treenail pegged mortise and tenon post and beam construction connections.

Timber framing or post and beam frame construction was first employed in North American in the early 1700's and by the 1800's, when mechanically-driven sawmills were common in New England, timber framing using sawn beams this construction method was common for barns and for many homes as well.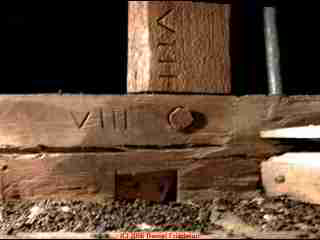 Here is a photograph of post and beam framing with joint number markings.
The observation of framing materials, framing markings, and framing styles provides considerable information about the probable age of a house.
We discuss framing materials and styles here as an aid to house age determination.
Also see our article on " Saw Cuts and Tool Marks" (links at the "More Reading" links at the bottom of this article ).
Antique and modern trusses are distinguished and modern laminated beams and I-truss beams and wood joists are discussed.

Keep in mind that even when we can identify specific types of building materials and building methods, precise dating of the time of construction of a building remains difficult: old building materials were often re-used, so beams, siding, and other components may appear in a building built later than when the materials were first made.
Also, in the U.S. various states had machines for making cut nails, screws, and sawmills at different times. For example, New York State was industrialized earlier than some western or southern states, so machine-made nails appear earlier in New York than elsewhere.
Also see NAILS & HARDWARE, AGE and SAW CUTS, TOOL MARKS, AGE for additional building age clues likely to be available when examining building framing materials.
Pre-Cut Homes & Home Kit Construction - Early Mass Produced Housing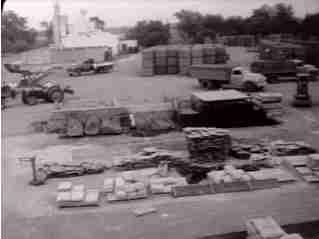 Pre-cut framing describes the use of dimensioned lumber that was pre-cut to standard lengths at the lumber yard where it was produced, then shipped to a building supplier or directly to a building site in order to speed, simplify, and reduce the cost of construction of homes.
Details about the history of use of pre-cut lumber are at Pre-Cut Lumber Construction. Excerpts are below.
Leavittown New York Pre-Cut Lumber Constructed Homes
According to the Leavittown Historical Society, the default of the Strathmore development project by a Rockville Centre Long Island developer in the 1930's Great Depression forced lawyer and real estate investor Abraham Levitt to take over and complete development of the project even though he and his sons were not trained in construction. That experience led to Levitt & Sons successful bid on a Navy contract to building homes for shipyard workers in Norfolk, VA where they perfected the techiniques used for high-speed, low-cost, mass production of homes built in what became Leavittown at the end of World War II.
On Long Island, in Island Trees, a golden nematode infestation that wiped out much of the area's potato crop led to farmers' selling off land in order to survive.
The combination of a surge in demand for housing for returning GI's from WWII, low-cost land on Long Island, and Leavitt & Son's expertise in mass-produced housing formed a perfect marriage when William Leavitt proposed to his father taht the Island Trees land be divided into small lots on which could be built modest, inexpensive homes. In May 1947 the Leavitts announced the plan to mass-produce 2000 rental homes. In two days, 1000 of the proposed homes had already been rented.
In 1949 the Leavitts changed from constructing rental homes to building slightly larger 800 sq.ft. ranch houses that were sold for $7,990. These homes also were constructed on concrete slabs, but incorporated radiant slab heating. (See RADIANT HEAT). The last of the 17,447 Leavittown homes was built in 1951. For a description of the role that this mass-produced housing project played in the American civil rights movement, also see Levittown: Two Families, One Tycoon... by Kushner.
Also see Log Home Construction (modern log home kits), and see Sears Kit Houses for a great example of pre-cut constructed homes.
Straw Bale Constructed Homes
Welded Wire Sandwich Framing Panelized Construction
Welded-wire sandwich framing panels: polystyrene or polyurethane foam core insulation is surrounded by a welded-wire space frame.
For full details see our full text article at Framing Methods and Welded Wire Sandwich Framing
Continue reading at NAILS & HARDWARE, Age, Types or select a topic from the More Reading links shown below.
More Reading
Green link shows where you are in this article series.
...
Frequently Asked Questions (FAQs) about how to determine the age of a building by examining the framing method used
...
Ask a Question or Search InspectApedia
Questions & answers or comments about how to determine or identify the age of building framing materials & framing methods, connectors, fasteners.
Use the "Click to Show or Hide FAQs" link just above to see recently-posted questions, comments, replies, try the search box just below, or if you prefer, post a question or comment in the Comments box below and we will respond promptly.
Search the InspectApedia website
Technical Reviewers & References
Publisher's Google+ Page by Daniel Friedman
Click to Show or Hide Citations & References
Norimitsu Onishi, "In California, Saving a Language That Predates Spanish and English, Yurok Tribe Is a Leader In Efforts to Relaim Indigenous Tongues", The New York Times, 13 April 2014, p. 13, 15
Carson, Dunlop & Associates Ltd., 120 Carlton Street Suite 407, Toronto ON M5A 4K2. (416) 964-9415 1-800-268-7070 info@carsondunlop.com. The firm provides professional home inspection services & home inspection education & publications. Alan Carson is a past president of ASHI, the American Society of Home Inspectors. Thanks to Alan Carson and Bob Dunlop, for permission for InspectAPedia to use text excerpts from The Home Reference Book & illustrations from The Illustrated Home. Carson Dunlop Associates' provides:

Commercial Building Inspection Courses - protocol ASTM Standard E 2018-08 for Property Condition Assessments
Home Inspection Education Courses including home study & live classes at eleven colleges & universities.
Home Inspection Education Home Study Courses - ASHI@Home Training 10-course program.
Special Offer: Carson Dunlop Associates offers InspectAPedia readers in the U.S.A. a 5% discount on these courses: Enter INSPECTAHITP in the order payment page "Promo/Redemption" space. InspectAPedia.com editor Daniel Friedman is a contributing author.
The Home Reference Book, a reference & inspection report product for building owners & inspectors.
Special Offer: For a 10% discount on any number of copies of the Home Reference Book purchased as a single order. Enter INSPECTAHRB in the order payment page "Promo/Redemption" space. InspectAPedia.com editor Daniel Friedman is a contributing author.
The Home Reference eBook, an electronic version for PCs, the iPad, iPhone, & Android smart phones.
Special Offer: For a 5% discount on any number of copies of the Home Reference eBook purchased as a single order. Enter inspectaehrb in the order payment page "Promo/Redemption" space.
The Illustrated Home illustrates construction details and building components, a reference for owners & inspectors.
Special Offer: For a 5% discount on any number of copies of the Illustrated Home purchased as a single order Enter INSPECTAILL in the order payment page "Promo/Redemption" space.
The Horizon Software System manages business operations,scheduling, & inspection report writing using Carson Dunlop's knowledge base & color images. The Horizon system runs on always-available cloud-based software for office computers, laptops, tablets, iPad, Android, & other smartphones.

Thanks to Eben Oldmixon for discussing half timbered framing and German fachwerk and suggesting additional website content - January 2010.
[2] Carson Dunlop, Associates, Toronto, have provided us with (and we recommend) Carson Dunlop Weldon & Associates' Technical Reference Guide to manufacturer's model and serial number information for heating and cooling equipment ($69.00 U.S.). Technical Reference Guide, Carson Dunlop Weldon & Associates, Ltd., 120 Carlton St. Suite 407, Toronto, Ontario, M5A 4K2 Canada, ISBN 1-895585-90-2 165pp.
America's Favorite Homes, mail-order catalogues as a guide to popular early 20th-century houses, Robert Schweitzer, Michael W.R. Davis, 1990, Wayne State University Press ISBN 0814320066 (may be available from Wayne State University Press)
American Plywood Association, APA, "Portland Manufacturing Company, No. 1, a series of monographs on the history of plywood manufacturing",Plywood Pioneers Association, 31 March, 1967, www.apawood.org
Asbestos products and their history and use in various building materials such as asphalt and vinyl flooring includes discussion which draws on Asbestos, Its Industrial Applications, D.V. Rosato, engineering consultant, Newton, MA, Reinhold Publishing, 1959 Library of Congress Catalog Card No.: 59-12535 (out of print).
[4] Building Research Council, BRC, nee Small Homes Council, SHC, School of Architecture, University of Illinois at Urbana-Champaign, brc.arch.uiuc.edu. "The Small Homes Council (our original name) was organized in 1944 during the war at the request of the President of the University of Illinois to consider the role of the university in meeting the demand for housing in the United States. Soldiers would be coming home after the war and would be needing good low-cost housing. ...  In 1993, the Council became part of the School of Architecture, and since then has been known as the School of Architecture-Building Research Council. ... The Council's researchers answered many critical questions that would affect the quality of the nation's housing stock.

How could homes be designed and built more efficiently?
What kinds of construction and production techniques worked well and which did not?
How did people use different kinds of spaces in their homes?
What roles did community planning, zoning, and interior design play in how neighborhoods worked?

[6] "Hurricane Damage to Residential Structures: Risk and Mitigation", Jon K. Ayscue, The Johns Hopkins University, Baltimore, Maryland, published by the Natural Hazards Research and Applications Information Center, Institute of Behavioral Science, University of Colorado, November 1996. Abstract:
"Property damage and loss from hurricanes have increased with population growth in coastal areas, and climatic factors point to more frequent and intense hurricanes in the future. This paper describes potential hurricane hazards from wind and water. Damage to residential structures from three recent intense hurricanes - Hugo, Andrew, and Iniki - shows that wind is responsible for greater property loss than water. The current state-of-the-art building technology is sufficient to reduce damage from hurricanes when properly applied, and this paper discusses those building techniques that can mitigate hurricane damage and recommends measures for mitigating future hurricane damage to homes." - online at www.colorado.edu/hazards/publications/wp/wp94/wp94.html
[7] "Evaluating OSB for Coastal Roofs," Paul Fisette, Coastal Contractor, Winter 2005, online at coastalcontractor.net/pdf/2005/0501/0501eval.pdf . Fisette cites: "Jose Mitrani, a civil engineer and professor at Florida. International University in Miami, was ... Florida's official damage assessment team. ... After Hurricane Andrew, Florida code advisers ruled OSB sheathing inferior to plywood
[8 Gail Collins, When Everything Changed: The Amazing Journey of American Women from 1960 to the Present, Little, Brown, 2010, and Book review: "Growing Up Female", Cathleen Schine, The New York Review of Books, 17 December 2009, p. 8.
[9] Isham: "An Example of Colonial Paneling", Norman Morrison Isham, The Metropolitan Museum of Art Bulletin, Vol. 6, No. 5 (May, 1911), pp. 112-116, available by JSTOR.
[10] LeavittownHistorical Society, PO Box 57, Leavittown, LI, NY 11756 Tel: 516-735-9060, web search 07/22/2010. Original source:
http://www.levittownhistoricalsociety.org/history.htm
[11] Levittown: Two Families, One Tycoon, and the Fight for Civil Rights in America's Legendary Suburb, David Kushner, Walker & Company, ISBN-10: 0802716199, ISBN-13: 978-0802716194
Quoting from part of an Amazon.com review
As shocking as the story of Levittown is, I couldn't help but ponder a message that defines the generations and races of even today: (nearly) everyone has a dream they hope to attain. Bill Levitt, in the eyes of the (white) nation and Levittown residents was living the American dream: huge house, gorgeous wives, big boat and he was (viewed as) generous. Bill Myers and his family sought the American dream as they saw it: to own property and live freely. Levitt reflected the times of that period in America. Yet, consider how individual groups think of their American dream today - think of it in terms of black and white - it almost makes you wonder how far we have not come. That's the one thing I really loved about this book: it made me think.
[12] The History of Leavittown, NY, Lynne Matarrese & the Leavittown Historical Society, available from the Leavittown Historical Society website at: http://www.levittownhistoricalsociety.org/museum_shop.htm
Quoting:
The official Levittown story, as presented by Lynne Matarrese and the Levittown Historical Society on the occasion of Levittown's 50th Anniversary.  This comprehensive, illustrated volume provides general readers and serious researchers alike with a fascinating overview of Levittown's birth and development, from the earliest days of the Hempstead Plains to its modern day status as a suburban icon.  

[13] OSB: "Evaluating OSB for Coastal Roofs," Paul Fisette, Coastal Contractor, Winter 2005, online at coastalcontractor.net/pdf/2005/0501/0501eval.pdf . Fisette cites: "Jose Mitrani, a civil engineer and professor at Florida. International University in Miami, was ... Florida's official damage assessment team. ... After Hurricane Andrew, Florida code advisers ruled OSB sheathing inferior to plywood."
[14] Manufactured & Modular Homes: Modular Building Systems Association, MBSA, modularhousing.com, is a trade association promoting and providing links to contact modular builders in North America. Also see the Manufactured Home Owners Association, MHOAA, at www.mhoaa.us. The Manufactured Home Owners Association of America is a National Organization dedicated to the protection of the rights of all people living in Manufactured Housing in the United States.
[15] Pergo AB, division of Perstorp AB, is a Swedish manufacturer or modern laminate flooring products. Information about the U.S. company can be found at http://www.pergo.com where we obtained historical data used in our discussion of the age of flooring materials in buildings.
[16] Plank House Construction: Yuroak Plankhouse - plank houses were built by native Americans, see
Large 1:6 Scale Plank House Construction / P8094228, Photographer: Mike Meuser , 06/12/2007 documented at yurokplankhouse.com where scale model Museum quality Yurok Plank Houses are being sold to raise money for the Blue Creek - Ah Pah Traditional Yurok Village project: bluecreekahpah.org


The earth and its peoples are facing multiple threats. Indigenous people always suffer the worst during these times. The Yurok people are threatened from without by the effects of climate change, diversions of their waters, collapse of the Salmon population, unaffordable energy, land takings and misuse. They are threatened from within by drugs, alcohol, cultural disintegration.

The Yurok people once lived within a network of sustainable self-sufficient villages. Our village will find solutions to today's problems and their effects and serve as an example for others to follow through becoming self-sufficient and sustainable, cultural preservation and renewal, community building, ecological stewardship and individual renewal and healing.

[17] "A Vision of Reviving Tribal Ways in a Remote Corner of California", Patricia Leigh Brown, The New York Times, 19 March 2012, p. A8.
[18] 'Radiographic Inspection of Plank-House Construction, Mary Joan Kevlin, Bulletin of the Association for Preservation Technology, Vol. 18, No. 3 (1986), pp. 40-47
[19] Indian houses of Puget Sound, Waterman, T. T. (Thomas Talbot) and Greiner, Ruth, Museum of the American Indian, Heye Foundation, 1921
[20] Yurok Plank House Scale Models, website: yurokplankhouse.com/large-scale-plank-house.htm Email: mike@yurokplankhouse.com Purchase of these scale models supports the Blue Creek Ah-Pah Traditional Yuroak Village project, op.cit. [16] above.
[21] Scott C. LeMarr has provided his file of keys to decode Furnace and Water Heater Age from the data provided on the manufacturer's equipment labels. Mr. LeMarr is a professional home inspector, Certified Professional Inspector/President, MASTER Indoor Environmental Specialist (MIES). Vice President of Wisconsin NACHI. He and his company, Honest Home Inspections, LLC. can be reached at 262-424-5587 or by email to scott@honesthomeinspections.com
[22] Weaver: Beaver Board and Upson Board: Beaver Board and Upson Board: History and Conservation of Early Wallboard, Shelby Weaver, APT Bulletin, Vol. 28, No. 2/3 (1997), pp. 71-78, Association for Preservation Technology International (APT), available online at JSTOR.
Books & Articles on Building & Environmental Inspection, Testing, Diagnosis, & Repair
The Home Reference Book - the Encyclopedia of Homes, Carson Dunlop & Associates, Toronto, Ontario, 25th Ed., 2012, is a bound volume of more than 450 illustrated pages that assist home inspectors and home owners in the inspection and detection of problems on buildings. The text is intended as a reference guide to help building owners operate and maintain their home effectively. Field inspection worksheets are included at the back of the volume. Special Offer: For a 10% discount on any number of copies of the Home Reference Book purchased as a single order. Enter INSPECTAHRB in the order payment page "Promo/Redemption" space. InspectAPedia.com editor Daniel Friedman is a contributing author.

Or choose the The Home Reference eBook for PCs, Macs, Kindle, iPad, iPhone, or Android Smart Phones. Special Offer: For a 5% discount on any number of copies of the Home Reference eBook purchased as a single order. Enter INSPECTAEHRB in the order payment page "Promo/Redemption" space.
Best Practices Guide to Residential Construction, by Steven Bliss. John Wiley & Sons, 2006. ISBN-10: 0471648361, ISBN-13: 978-0471648369, Hardcover: 320 pages, available from Amazon.com and also Wiley.com. See our book review of this publication.
Decks and Porches, the JLC Guide to, Best Practices for Outdoor Spaces, Steve Bliss (Editor), The Journal of Light Construction, Williston VT, 2010 ISBN 10: 1-928580-42-4, ISBN 13: 978-1-928580-42-3, available from Amazon.com
The Journal of Light Construction has generously given reprint permission to InspectAPedia.com for certain articles found at this website. All rights and contents to those materials are ©Journal of Light Construction and may not be reproduced in any form.
Appliances and Home Electronics, - energy savings, U.S. Department of Energy
Avongard foundation crack progress chart for structural crack monitoring
Basement Moisture Control, U.S. Department of Energy
Building Failures, Diagnosis & Avoidance, 2d Ed., W.H. Ransom, E.& F. Spon, New York, 1987 ISBN 0-419-14270-3
Building Pathology, Deterioration, Diagnostics, and Intervention, Samuel Y. Harris, P.E., AIA, Esq., ISBN 0-471-33172-4, John Wiley & Sons, 2001 [General building science-DF] ISBN-10: 0471331724 ISBN-13: 978-0471331728
Building Pathology: Principles and Practice, David Watt, Wiley-Blackwell; 2 edition (March 7, 2008) ISBN-10: 1405161035 ISBN-13: 978-1405161039
The Circular Staircase, Mary Roberts Rinehart
Construction Drawings and Details, Rosemary Kilmer
Crawl Space Moisture Control, U.S. Department of Energy
Design of Wood Structures - ASD, Donald E. Breyer, Kenneth Fridley, Kelly Cobeen, David Pollock, McGraw Hill, 2003, ISBN-10: 0071379320, ISBN-13: 978-0071379328
This book is an update of a long-established text dating from at least 1988 (DJF); Quoting:
This book is gives a good grasp of seismic design for wood structures. Many of the examples especially near the end are good practice for the California PE Special Seismic Exam design questions. It gives a good grasp of how seismic forces move through a building and how to calculate those forces at various locations. THE CLASSIC TEXT ON WOOD DESIGN UPDATED TO INCLUDE THE LATEST CODES AND DATA. Reflects the most recent provisions of the 2003 International Building Code and 2001 National Design Specification for Wood Construction. Continuing the sterling standard set by earlier editions, this indispensable reference clearly explains the best wood design techniques for the safe handling of gravity and lateral loads. Carefully revised and updated to include the new 2003 International Building Code, ASCE 7-02 Minimum Design Loads for Buildings and Other Structures, the 2001 National Design Specification for Wood Construction, and the most recent Allowable Stress Design.
Diagnosing & Repairing House Structure Problems, Edgar O. Seaquist, McGraw Hill, 1980 ISBN 0-07-056013-7 (obsolete, incomplete, missing most diagnosis steps, but very good reading; out of print but used copies are available at Amazon.com, and reprints are available from some inspection tool suppliers). Ed Seaquist was among the first speakers invited to a series of educational conferences organized by D Friedman for ASHI, the American Society of Home Inspectors, where the topic of inspecting the in-service condition of building structures was first addressed.
Domestic Building Surveys, Andrew R. Williams, Kindle book, Amazon.com
Defects and Deterioration in Buildings: A Practical Guide to the Science and Technology of Material Failure, Barry Richardson, Spon Press; 2d Ed (2001), ISBN-10: 041925210X, ISBN-13: 978-0419252108. Quoting:
A professional reference designed to assist surveyors, engineers, architects and contractors in diagnosing existing problems and avoiding them in new buildings. Fully revised and updated, this edition, in new clearer format, covers developments in building defects, and problems such as sick building syndrome. Well liked for its mixture of theory and practice the new edition will complement Hinks and Cook's student textbook on defects at the practitioner level.
Guide to Domestic Building Surveys, Jack Bower, Butterworth Architecture, London, 1988, ISBN 0-408-50000 X
"Avoiding Foundation Failures," Robert Marshall, Journal of Light Construction, July, 1996 (Highly recommend this article-DF)
"A Foundation for Unstable Soils," Harris Hyman, P.E., Journal of Light Construction, May 1995
"Backfilling Basics," Buck Bartley, Journal of Light Construction, October 1994
"Inspecting Block Foundations," Donald V. Cohen, P.E., ASHI Reporter, December 1998. This article in turn cites the Fine Homebuilding article noted below.
"When Block Foundations go Bad," Fine Homebuilding, June/July 1998
Historic Preservation Technology: A Primer, Robert A. Young, Wiley (March 21, 2008) ISBN-10: 0471788368 ISBN-13: 978-0471788362
Log Homes: Minimizing Air Leakage in Log Homes, U.S. Department of Energy
Manual for the Inspection of Residential Wood Decks and Balconies, by Cheryl Anderson, Frank Woeste (Forest Products Society), & Joseph Loferski, October 2003, ISBN-13: 978-1892529343, $39.00 at Amazon.com or at the InspectAPediaBookstore
Masonry structures: The Masonry House, Home Inspection of a Masonry Building & Systems, Stephen Showalter (director, actor), DVD, Quoting:
Movie Guide Experienced home inspectors and new home inspectors alike are sure to learn invaluable tips in this release designed to take viewers step-by-step through the home inspection process. In addition to being the former president of the National Association of Home Inspectors (NAHI), a longstanding member of the NAHI, the American Society of Home Inspectors (ASHI), and the Environmental Standard Organization (IESO), host Stephen Showalter has performed over 8000 building inspections - including environmental assessments. Now, the founder of a national home inspection school and inspection training curriculum shares his extensive experience in the inspection industry with everyday viewers looking to learn more about the process of evaluating homes. Topics covered in this release include: evaluation of masonry walls; detection of spalling from rebar failure; inspection of air conditioning systems; grounds and landscaping; electric systems and panel; plumbing supply and distribution; plumbing fixtures; electric furnaces; appliances; evaluation of electric water heaters; and safety techniques. Jason Buchanan --Jason Buchanan, All Movie Review
Masonry Design for Engineers and Architects, M. Hatzinikolas, Y. Korany, Canadian Masonry (2005), ISBN-10: 0978006100, ISBN-13: 978-0978006105
Masonry Structures: Behavior and Design, Robert G. Drysdale, Ahmid A. Hamid, Lawrie R. Baker, The Masonry Society; 2nd edition (1999), ISBN-10: 1929081014, ISBN-13: 978-1929081011
Masonry, Non-reinforced masonry design tables, Hans J. Schultz, National Concrete Producers Association and the Canadian Masonry Contractors Association (1976), ASIN: B0007C2LQM
R-Value of Wood, U.S. Department of Energy
Straw Bale Home Design, U.S. Department of Energy provides information on strawbale home construction - original source at http://www.energysavers.gov/your_home/designing_remodeling/index.cfm/mytopic=10350
More Straw Bale Building: A Complete Guide to Designing and Building with Straw (Mother Earth News Wiser Living Series), Chris Magwood, Peter Mack, New Society Publishers (February 1, 2005), ISBN-10: 0865715181 ISBN-13: 978-0865715189 - Quoting:
Straw bale houses are easy to build, affordable, super energy efficient, environmentally friendly, attractive, and can be designed to match the builder's personal space needs, esthetics and budget. Despite mushrooming interest in the technique, however, most straw bale books focus on "selling" the dream of straw bale building, but don't adequately address the most critical issues faced by bale house builders. Moreover, since many developments in this field are recent, few books are completely up to date with the latest techniques.
More Straw Bale Building is designed to fill this gap. A completely rewritten edition of the 20,000-copy best--selling original, it leads the potential builder through the entire process of building a bale structure, tackling all the practical issues: finding and choosing bales; developing sound building plans; roofing; electrical, plumbing, and heating systems; building code compliance; and special concerns for builders in northern climates.
...