Crawlspace Mold: How to Find, Test, & Prevent Mold in Crawl Spaces

InspectAPedia tolerates no conflicts of interest. We have no relationship with advertisers, products, or services discussed at this website.
This article explains how to find and deal with mold in building crawl spaces. We explain how to spot crawl space mold contamination, when mold testing is appropriate, the risk of mold-contaminated crawl space insulation, the causes of crawl space mold, and how to clean or remove crawl space mold as well as how to prevent moldy crawl spaces in the first place.
Green links show where you are. © Copyright 2013 InspectAPedia.com, All Rights Reserved. Author Daniel Friedman.
CRAWLSPACE MOLD: finding the problem mold, allergens, or other particles in crawl spaces
This crawl space inspection procedure for mold helps identify the presence of or locate the probable sources of mold reservoirs in buildings, and helps decide which of these need more invasive, exhaustive inspection and testing. If your crawl area or basement has a dirt surface, see MOLD ON DIRT FLOORS. Readers should also see ATTIC MOLD, see BASEMENT MOLD, and BASEMENT MOLD WATER IMPACT.
The photograph at page top shows extensive fungal growth on the underside of subflooring and on wood framing supporting a wood floor over a very damp crawl space. Depending on the mold genera/species, if an airborne fungus is present at high levels in a crawl space, spores of that mold may move easily to upper levels in the building.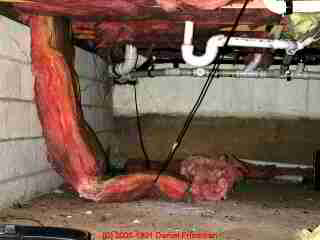 We very often find that insulation in crawl spaces has become a problem mold reservoir. Some of these molds move easily from the crawl area up into the living space.

For example, Penicillium sp. or Aspergillus sp. spores, which can be as small as about one micron in diameter, are so tiny and light that they can move much like a gas in a building.
These tiny spores rise in upwards-moving air currents as warm air, rising to upper building levels, creates a slightly lower air pressure in lower building areas such as basements and crawl spaces.
Depending on the tightness of construction, and the presence or absence of hot air or central air conditioning systems which themselves may increase indoor air particle movement, the rate of movement of particles from a moldy crawl space can vary widely.
In some instances we have found rather high levels of airborne mold spores and mold spores in settled dust that tracked directly to the moldy crawl space.
In other instances we found that there was not much air and particle movement upwards from a crawl space or basement, until specific triggering conditions occurred.
These included opening of a basement door, or in the case of crawl spaces, opening upper floor windows or turning on a whole house exhaust fan. These conditions led to a significant increase in movement of crawl space (or basement) mold from lower building areas into the living space.
First aid for moldy crawl spaces - what to do about mold in a crawl space
Do not enter or work in a moldy area without wearing proper respiratory and other personal protection. See CRAWL SPACE SAFETY ADVICE
Evaluate the history of water entry, dampness, ventilation, listing the factors conducive to fungal growth such as:

Present or past wet conditions, whether "once", episodic, or recurrent water entry
Marginal or no ventilation. Actually I prefer to stop trying to vent crawl spaces since when we want venting it's usually inadequate, and depending on weather conditions venting a crawl space can actually increase its moisture level and make matters worse. A preferred approach is to dry out, enclose, and seal a crawl space under a building, making it into conditioned space.
Exposed dirt. If the crawl space has a dirt floor, put down 6-mil plastic over the dirt to reduce moisture movement from the soil into the crawl space. Also see MOLD ON DIRT FLOORS
Presence of fiberglass or other fibrous insulation
Fix outside conditions that are causing wet crawl space conditions such as roof gutter or downspout spillage by the building foundation.
Fix inside conditions that wet crawl spaces, such as plumbing leaks or improper ventilation.

Look for visible mold:

Inspect the exposed sides of all framing, joists, girders, posts
Inspect the exposed under-side of subflooring of the floor overhead. See our warning about mold growth on pine boards discussed at Attic inspections above.
Special screening tests may assist in evaluating the condition in inaccessible crawl spaces.

Prevent mold movement into the living area: As with a moldy basement, keep openings between the crawl space and living space closed as much as possible.
Remove wet or mold-suspect insulation.
Test representative samples of mold before going to a major expense to be sure you're not just looking at cosmetic mold on framing lumber, or at something else that is not even mold.

If a large area of visibly moldy material is present (more than 30 sq .ft.) professional cleaning and remediation are probably in order. In that case, a building inspection and preparation of a mold remediation plan is a good idea - that work should be performed by someone who has no conflicts of interest - in other words, not by the mold cleanup company or their agent.

Follow any costly mold remediation job with a clearance inspection and test before you make final payment.
Review MOLD PREVENTION GUIDE Correct the Causes of Mold and Prevent Indoor Mold or other indoor environment problems
Risks of Mold Contamination in fiberglass insulation in a crawl space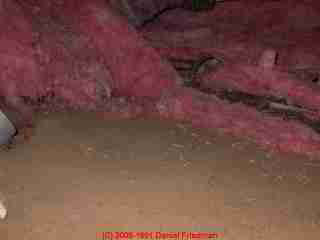 These photos show crawl space fiberglass which had fallen onto the dirt crawl space floor.
We can pretty much count on this material to be mold contaminated unless the building was in an arid climate.
You can expect to find rodent contamination as well in insulation in this condition.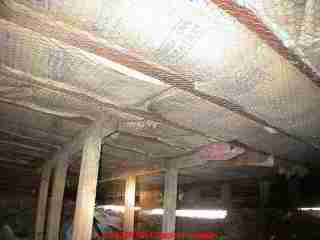 This photo shows crawl space fiberglass which the installer supported by chicken wire. The crawl space was pretty drafty which we might hope would keep it dry and less moldy.
However we might expect to find a nice mouse colony here, and depending on weather variations and crawl space flooding, this insulation too is at risk of becoming a mold reservoir.
We'd have preferred to use a solid foam insulation in conditions like this.
Key building water entry diagnosis and cure articles:
This article is part of our series: FIND MOLD in buildings, HOW TO which describes how to find mold and test for mold in buildings, including how and where to collect mold samples using adhesive tape - an easy, inexpensive, low-tech but very effective mold testing method. (See TEST KITS for DUST, MOLD, PARTICLE TESTS for details).
Readers dealing with a moldy crawl space should be sure to read CRAWL SPACE DRYOUT PROCEDURES.
Frequently Asked Questions (FAQs) about moldy crawl spaces
...
Ask a Question or Search InspectApedia
Questions & answers or comments about the cause, health hazards, clean-up, and prevention of mold in building crawl spaces
Ask a Question or Enter Search Terms in the InspectApedia search box just below.
Share / Recommend this Article
...
Technical Reviewers & References
Related Topics, found near the top of this page suggest articles closely related to this one.
Recognizing Mold: What mold looks like mold identification photos to help identify mold - choosing what to sample in buildings
Recognizing Allergens: What various indoor allergens look like - identification photos to help identify pollen, dust mites, animal dander, toxic or allergenic mold - Common Mold and other Allergens, Irritants, Remedies & Advice
Stuff that is not mold but is often mistaken for it - things you may not want to test. Also, not all "black mold" is toxic - here are examples of harmless black mold.
Mold Action Guide: an easy step by step outline of what to do about mold
How to find mold without hiring anyone, for do-it-yourself'ers
Associations: Sick House, Sick Building, SBS - Air Quality, Government, Private Associations and Information Resources
Mold Test Kits - How to Collect and Send Your Own Mold Sample to our mold testing lab
How to find a mold inspector or test consultant: Directory of IAQ,Sick Building, Mold Allergen Testing, Building Investigation Service Providers
Meruliporia: the house eating fungus or "poria"
Mold Investigation Tips for Home Inspectors how to find mold, where to look, what is likely to be important. Advice to building inspectors intending to inspect or test for toxic or problematic mold indoors, mold inspection methods, and mold test methods which are valid or invalid
Mold Risk Levels in buildings Based on Visual Inspection - simple visual clues help decide on action
Mold in Fiberglass Insulation© 2005 comments about a field study in process, & more about health hazards from fiberglass insulation - DJF
MOLD FAQ's -- check this FAQ list & IAQ Site Map to see if you can find a quick answer to your mold concern
When to hire a professional to inspect for toxic mold or other allergens
...
Books & Articles on Building & Environmental Inspection, Testing, Diagnosis, & Repair
The Home Reference Book - the Encyclopedia of Homes, Carson Dunlop & Associates, Toronto, Ontario, 25th Ed., 2012, is a bound volume of more than 450 illustrated pages that assist home inspectors and home owners in the inspection and detection of problems on buildings. The text is intended as a reference guide to help building owners operate and maintain their home effectively. Field inspection worksheets are included at the back of the volume. Special Offer: For a 10% discount on any number of copies of the Home Reference Book purchased as a single order. Enter INSPECTAHRB in the order payment page "Promo/Redemption" space. InspectAPedia.com editor Daniel Friedman is a contributing author.

Or choose the The Home Reference eBook for PCs, Macs, Kindle, iPad, iPhone, or Android Smart Phones. Special Offer: For a 5% discount on any number of copies of the Home Reference eBook purchased as a single order. Enter INSPECTAEHRB in the order payment page "Promo/Redemption" space.
Environmental Health & Investigation Bibliography - our technical library on indoor air quality inspection, testing, laboratory procedures, forensic microscopy, etc.
Adkins and Adkins Dictionary of Roman Religion discusses Robigus, the Roman god of crop protection and the legendary progenitor of wheat rust fungus.
Kansas State University, department of plant pathology, extension plant pathology web page on wheat rust fungus: see http://www.oznet.ksu.edu/path-ext/factSheets/Wheat/Wheat%20Leaf%20Rust.asp
"A Brief Guide to Mold, Moisture, and Your Home", U.S. Environmental Protection Agency US EPA - includes basic advice for building owners, occupants, and mold cleanup operations. See http://www.epa.gov/mold/moldguide.htm
US EPA - Mold Remediation in Schools and Commercial Building [Copy on file at /sickhouse/EPA_Mold_Remediation_in_Schools.pdf ] - US EPA
US EPA - Una Breva Guia a Moho - Hongo [Copy on file as /sickhouse/EPA_Moho_Guia_sp.pdf - en Espanol