White Mold spores in the Home - a Photo ID Library for detection and identification of mold allergens

Photos of white, gray, & light-colored mold in buildings - how to find & recognize mold on building surfaces
Photographs of light colored mold & other molds of various colors and textures in buildings
Special methods needed to spot white & light colored mold growth indoors
Questions & Answers about white or light colored mold growth in buildings
InspectAPedia tolerates no conflicts of interest. We have no relationship with advertisers, products, or services discussed at this website.
White building mold identification photographs: what does white mold look like on building surfaces and how hard is this mold to see?
Green links show where you are. © Copyright 2013 InspectAPedia.com, All Rights Reserved. Author Daniel Friedman.
Photographs to Help Identify Mold in Buildings -
What white or light colored mold looks like in a home or other buildings
These mold samples and mold spores and their photographs and examples of materials sometimes mistaken for mold have been collected in the U.S., Spain, Mexico, France, as well as in other countries where I've studied bioaerosols.
These photos of mold on indoor building surfaces may help you recognize mold in buildings, recognize probably-cosmetic mold, and recognize stuff that is not mold and does not need to be tested. For photos and an explanation of white fluffy stuff or white crystalline material often found on building walls, especially on masonry surfaces, but that is not mold, see Efflorescence & white stuff. Also see the white or light colored mold discussed at MILDEW in BUILDINGS ?.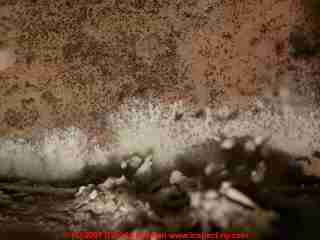 A great many white and light-colored grayish molds can be easily seen on building surfaces, especially on the exposed or inner wall-cavity side of drywall in buildings that have been exposed to wet or flooding.
Some of these white or very light gray molds include members of the Aspergillus or Penicillium genera as well as some basidiomycetes.
Our white building mold photo at left illustrates that other white molds in found in buildings may be the mycelia (think "root hairs") of many different genera/species of fungi that at their fruiting bodies will be seen in other colors and textures.
But most white building molds cannot be reliably identified to genera/species without analysis by a qualified aerobiologist/microscopist in a test lab.
See Mold Atlas & Particles List for an atlas of building molds and for more microphotographs of building mold samples observed in our laboratory. See our Atlas of Mold Related Illness Symptoms & Complaints for details about specific mold genera/species and their health effects. Also see Mold spores in the Home - a Photo ID Library for detection and identification of mold allergens on indoor building surfaces.
Identification Photographs of White & Light-Colored Mold Growth in Buildings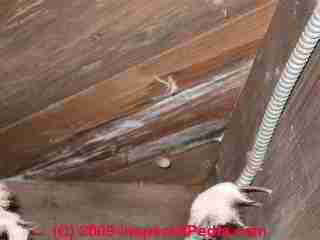 Here are photographs of often hard-to see white or light gray mold growth on building surfaces. At left we show white mold growth on tongue and groove subflooring in an older home in the northeastern U.S.
Light colored molds, depending on the genera species, may be more of a health risk than the infamous "toxic black mold" that people look for in buildings.
Fungal groups such as Penicillium sp. and Aspergillus sp. produce species in a wide range of colors, some of which can be quite light in color and difficult to spot on building surfaces, but these molds may produce small, easily-airborne toxic or pathogenic mold spores that present a health risk to building occupants.
White stuff that is not mold: Beware: many people mistake mineral salts or efflorescence for white mold. Efflorescence is a white crystalline salt left on masonry surfaces where water or moisture have been evaporating. See STUFF THAT IS NOT MOLD for photos of white fluffy material or white crystalline material that is often mistaken for mold.
Below we show additional photos of white and light colored molds found in buildings.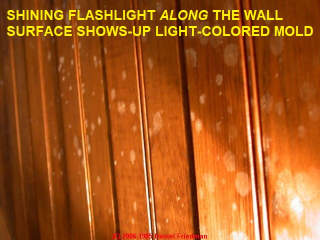 The white mold growing on this basement stairwell paneling was impossible to see until we directed our flashlight across the surface.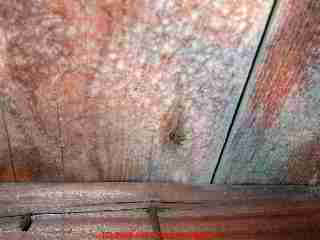 Here is a photograph of white mold that was very easy to see (and possibly some light-green mold) on yellow pine tongue and groove roof sheathing visible in the attic of an older home in the Northeastern United States.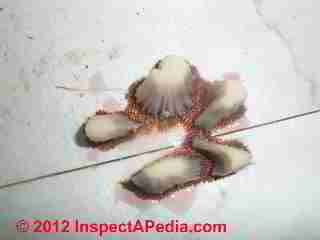 White mold that turns brown: Stemonitis sp.
Here is a photograph of a white fungus found growing on resilient flooring in an Australian bathroom. This fungus was very easy to see but was for a time a bit curious.
Covered and kept moist for just a brief interval, this Stemonitis sp. matured into an easily recognizable form of brown slime mold that we illustrate and discuss at Rental Apartment Mold Safety Advice and also in more detail at BROWN HAIRY BATHROOM MOLD

...
Frequently Asked Questions (FAQs)
...
Ask a Question or Search InspectApedia
Use the search box below to ask a question or to search the InspectApedia.com website.
Ask a Question or Enter Search Terms in the InspectApedia search box just below.
Technical Reviewers & References
Critique, contributions wanted: Contact Us to suggest text changes and additions and, if you wish, to receive online listing and credit for that contribution.
Use links just below or at the left of each page to navigate this document or to view other topics at this website. Green links show where you are in our document or website
MOLD APPEARANCE - WHAT MOLD LOOKS LIKE
Black Mold
Brown Mold
Green Mold
Red Mold
Yellow Mold
White Mold
Invisible Mold
Meruliporia Mold Photographs
Mildew Photographs
Recognize Cosmetic Mold
Recognize Harmless Black Mold
MOLD GROWTH ON SURFACES, PHOTOS

Books & Articles on Building & Environmental Inspection, Testing, Diagnosis, & Repair
The Home Reference Book - the Encyclopedia of Homes, Carson Dunlop & Associates, Toronto, Ontario, 25th Ed., 2012, is a bound volume of more than 450 illustrated pages that assist home inspectors and home owners in the inspection and detection of problems on buildings. The text is intended as a reference guide to help building owners operate and maintain their home effectively. Field inspection worksheets are included at the back of the volume. Special Offer: For a 10% discount on any number of copies of the Home Reference Book purchased as a single order. Enter INSPECTAHRB in the order payment page "Promo/Redemption" space. InspectAPedia.com editor Daniel Friedman is a contributing author.

Or choose the The Home Reference eBook for PCs, Macs, Kindle, iPad, iPhone, or Android Smart Phones. Special Offer: For a 5% discount on any number of copies of the Home Reference eBook purchased as a single order. Enter INSPECTAEHRB in the order payment page "Promo/Redemption" space.
Carson Dunlop, Associates, Toronto, have provided us with (and we recommend) Carson Dunlop Weldon & Associates' Technical Reference Guide to manufacturer's model and serial number information for heating and cooling equipment
Special Offer: Carson Dunlop Associates offers InspectAPedia readers in the U.S.A. a 5% discount on any number of copies of the Technical Reference Guide purchased as a single order. Just enter INSPECTATRG in the order payment page "Promo/Redemption" space.

Environmental Health & Investigation Bibliography - our technical library on indoor air quality inspection, testing, laboratory procedures, forensic microscopy, etc.
Adkins and Adkins Dictionary of Roman Religion discusses Robigus, the Roman god of crop protection and the legendary progenitor of wheat rust fungus.
Kansas State University, department of plant pathology, extension plant pathology web page on wheat rust fungus: see http://www.oznet.ksu.edu/path-ext/factSheets/Wheat/Wheat%20Leaf%20Rust.asp
"A Brief Guide to Mold, Moisture, and Your Home", U.S. Environmental Protection Agency US EPA - includes basic advice for building owners, occupants, and mold cleanup operations. See http://www.epa.gov/mold/moldguide.htm
US EPA - Mold Remediation in Schools and Commercial Building [Copy on file at /sickhouse/EPA_Mold_Remediation_in_Schools.pdf ] - US EPA
US EPA - Una Breva Guia a Moho - Hongo [Copy on file as /sickhouse/EPA_Moho_Guia_sp.pdf - en Espanol
Allergies, Allergens, Allergy Testing in Buildings - References & Products
Air Conditioning System Blower Fans & Filters Cascading for Optimum Indoor Air Quality
Allergen Tests in Buildings advice about how to test, what to look for, in evaluating the level of dog, cat, or other animal allergens in a building
"IgG Food Allergy Testing by ELISA/EIA, What do they really tell us?" Sheryl B. Miller, MT (ASCP), PhD, Clinical Laboratory Director, Bastyr University Natural Health Clinic - ELISA testing accuracy: Here is an example of Miller's critique of ELISA http://www.betterhealthusa.com/public/282.cfm - Townsend Letter for Doctors and Patients
The critique included in that article raises compelling questions about IgG testing assays, which prompts our interest in actually screening for the presence of high levels of particles that could carry allergens - dog dander or cat dander in the case at hand.
http://www.tldp.com/issue/174/IgG%20Food%20Allergy.html contains similar criticism in another venue but interestingly by the same author, Sheryl Miller. Sheryl Miller, MT (ASCP), PhD, is an Immunologist and Associate Professor of Basic and Medical Sciences at Bastyr University in Bothell, Washington. She is also the Laboratory Director of the Bastyr Natural Health Clinic Laboratory.
Allergens: Testing for the level of exposure to animal allergens is discussed at http://www.animalhealthchannel.com/animalallergy/diagnosis.shtml (lab animal exposure study is interesting because it involves a higher exposure level in some cases
Allergens: WebMD discusses allergy tests for humans at webmd.com/allergies/allergy-tests
Animal Allergens: Dog, Cat, and Other Animal Dander - Cleanup & Prevention Information for Asthmatics and regarding Indoor Air Quality.
Atlas of Mold Related Illness Symptoms & Complaints - long list of both documented, studied mold related illness, and complaints ascribed to mold contamination or allergens in buildings
Cat Dander: how to inspect and test a building for past or current presence of cats, cat hair, cat dander, and cat allergens
Clinical Atlas of Mold Toxicity - An Online Description of Toxic, Pathogenic, Allergenic Fungi, Fungal Diseases
Fiberglass Insulation Contains Mold© 2005 comments about a field study in process, & more about health hazards from fiberglass insulation
Humidity: What indoor humidity should we maintain in order to avoid a mold problem?
Mold Action Guide detailed guide on finding, removing, and preventing indoor mold contamination
Odors, Odor Detection, Smells, & Gases how to find and identify sources of noxious or toxic odors and gases
Other environmental risks, Our much longer list: Asbestos, carbon monoxide, electromagnetic fields, etc.
Ozone: The Use of Ozone Indoors for Control of Odors and Mold Removal in Buildings: A Summary of Hazards and False Claims.
Pollen Allergens: identification, plant pollen and indoor air quality
Products to Reduce Mold & Allergy Problems to reduce indoor mold or allergen levels: air cleaners, air purifiers, dust mite covers, vacuum cleaners, crawl space vents
Recognizing Allergens: What various indoor allergens look like - identification photos to help identify pollen, dust mites, animal dander, toxic or allergenic mold - Common Mold and other Allergens, Irritants, Remedies & Advice
Rodent control issues, including dander, fecal, and urine contamination of Buildings and Building insulation are discussed at our
Sewage and Septic backup contamination in Buildings: inspection, testing, remediation, & references to expert sources
Action Guide: What to do about mold, mildew, and other indoor allergens
...
Mold Contamination Testing, Cleanup, Prevention: references & products
The Mold Information Center: What to Do About Mold in Buildings, When and How to Inspect for Mold, Clean Up Mold, or Avoid Mold Problems
Aerobiology, Building Science, Microscopy, & Laboratory References, an extensive technical bibliography
Allergens: what they look like in buildings
Associations: Sick House, Sick Building, SBS - Air Quality, Government, Private Associations and Information Resources
Atlas of Clinical Fungi, 2nd Ed., GS deHoog, J Guarro, J Gene, & MJ Figueras, Centraalbureau voor Schimmelcultures, Universitat Rovira I Virgili, 2000, ISBN 90-70351-43-9 (you can buy this book at Amazon) - The Atlas of Clinical Fungi is also available on CD ROM
Atlas of Mold Related Illness: Index of Symptoms and health, physical, neurological, psychological, and other complaint which people suspect may be mold or building-related.
Atlas of Indoor Mold, Online Clinical Mold Atlas, Toxins, Pathogens, Allergens and Other Indoor Particles - Medical Health Effects of Mold (separate online document)
Black Mold that is Harmless Photos of recognizable, usually harmless black mold on wood, bluestain, ceratocystis, ophistoma
Building Floods: quick steps after a building flood or plumbing leak can prevent costly mold contamination
Classes of Mold: what types of cosmetic, allergenic, or toxic mold are a problem? Can mold be cleaned-up successfully?
Clinical Mold References - Detailed bibliography of mold reference texts
"A Brief Guide to Mold, Moisture, and Your Home", U.S. Environmental Protection Agency US EPA - includes basic advice for building owners, occupants, and mold cleanup operations. See http://www.epa.gov/mold/moldguide.htm
"Disease Prevention Program for Certain Vegetable Crops," David B. Langston, Jr., Extension Plant Pathologist - Vegetables, University of Georgia (PDF document) original source: www.reeis.usda.gov/web/crisprojectpages/209797.html
"Disease Prevention in Home Vegetable Gardens," Patricia Donald, Department of Plant Microbiology and Pathology, Lewis Jett
Department of Horticulture, University of Missouri Extension - extension.missouri.edu/publications/DisplayPub.aspx?P=G6202
"Management of Powdery Mildew, Leveillula taurica, in Greenhouse Peppers," Ministry of Agriculture and Lands, British Columbia - Original source: www.agf.gov.bc.ca/cropprot/peppermildew.htm
Environmental Health & Investigation Bibliography - our own technical library on indoor air quality inspection, testing, laboratory procedures, forensic microscopy, etc.
Fiberglass: Mold in Fiberglass Insulation© 2005 comments about a field study in process, & more about health hazards from fiberglass insulation - DJF
Fifth Kingdom, Bryce Kendrick, ISBN13: 9781585100224, is available from the InspectAPedia online bookstore - we recommend the CD-ROM version of this book. This 3rd/edition is a compact but comprehensive encyclopedia of all things mycological. Every aspect of the fungi, from aflatoxin to zppspores, with an accessible blend of verve and wit. The 24 chapters are filled with up-to-date information of classification, yeast, lichens, spore dispersal, allergies, ecology, genetics, plant pathology, predatory fungi, biological control, mutualistic symbioses with animals and plants, fungi as food, food spoilage and mycotoxins.
Fungi, Identifying Filamentous, A Clinical Laboratory Handbook, Guy St-Germain, Richard Summerbell, Star Publishing, 1996, ISBN 0-89863-177-7 (English) (buy at Amazon)
Looking for Mold Procedure: what mold is often found where in buildings - simple technical presentation
Meruliporia: the house eating fungus or "poria"
Mold Action Guide: Step-by-Step Instructions, What to do about mold, mildew, and other indoor allergens
MOLD APPEARANCE - WHAT MOLD LOOKS LIKE Photos of what mold looks like in buildings
MOLD APPEARANCE - STUFF THAT IS NOT MOLD Photos of NOT-mold material that is sometimes mistaken for mold
MOLD ATLAS & PARTICLES INDEX, Pathogens, Allergens and Other Indoor Particles - Medical Health Effects of Mold (separate online document)
MOLD BY MICROSCOPE Mold under the microscope - photo identification of the most common indoor molds found in buildings
Mold FAQs Answers to Most Questions about Indoor Mold, Mold Related Illness, Mold Cleanup, Mold Prevention
US EPA: Mold Remediation in Schools and Commercial Building [Copy on file at /sickhouse/EPA_Mold_Remediation_in_Schools.pdf ] - US EPA
Mold spores in the Home - a Photo ID Library for detection and identification of mold allergens
Mold Test Kits - How to Collect and Send Your Own Mold Sample to our mold testing lab or to any mold lab you wish
Most Common Indoor Molds Found in Buildings, A Table of
Mycology, Fundamentals of Diagnostic, Fran Fisher, Norma B. Cook, W.B. Saunders Co. 1998, ISBN 0-7216-5006-6 (buy this book at Amazon)
Ozone Warnings - Use of Ozone as a "mold" remedy is ineffective and may be dangerous.
Rot concerns in buildings-some building mold such as Meruliporia incrassata "Poria" risks serious rot and hidden structural damage
US EPA: Una Breva Guia a Moho - Hongo [Copy on file as /sickhouse/EPA_Moho_Guia_sp.pdf - en Espanol