How to Find the Source of Pet & Other Animal or Human Odors, & Smells in Buildings

InspectAPedia tolerates no conflicts of interest. We have no relationship with advertisers, products, or services discussed at this website.
How to find & cure the source of animal odors: Pet / animal urine or other odor diagnosis & removal in buildings starts with finding all of the smell sources & causes. This article series provides suggestions for finding and removing animal or human odor removal from building interiors, building exterior surfaces, from soils around buildings or from urine-odor smelly clothing, bedding, and other soft goods. We discuss how to find where animals are getting into your building and how to keep them out, including bats, birds, rats, mice, and squirrels and even raccoons. We explain the use of a black light or UV light to find the location of human, pet, or other animal urine and we describe the use of UV lights in forensic investigations. And we list products & formulas for odor cleaning or smell removing chemicals, washes, products. This article series focuses on removing pet or other animal odors from buildings due to pet urine, pet feces, wild animal urine, or even human urine on and around buildings or on clothing and other soft materials.
Green links show where you are. © Copyright 2013 InspectAPedia.com, All Rights Reserved. Author Daniel Friedman.
Pet Odor Guide: How to Find, Test, & Remove Pet Odors, Pet Odor Detection, Cat, Urine, Dog Urine, Bat, Bird, or other Animal or Human Smells in Buildings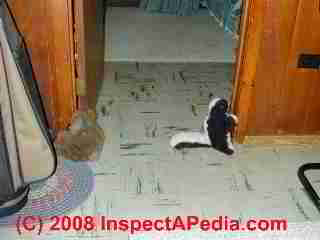 Starting here at ANIMAL ODORS IN BUILDINGS with help on finding the source of urine or animal smells at or in buildings, we give advice concerning the detection and removal of animal smells & odors from dogs, cats, or other pets. At Removing Odors at Building Exteriors we discuss the problem of odors outdoors on and around buildings. At Cleaning Suggestions for Odors / Urine we describe how to remove smells & odors.
Cat allergen and odor source identification, testing, removal, are also discussed beginning at Cat Dander: how to inspect and test a building for past or current presence of cats, cat hair, cat dander, and cat allergens". Or see Pet Allergens.
Animal smells in or around buildings, both indoors and outside, may be due to current or prior pets in a building, pet urine or fecal waste, cat boxes, animal hair, dog dander, cat dander (are allergens and are indicators of the level of prior pet activity), dust tracked in by dogs.
The little stuffed animals in this photo include a skunk - both were innocent of any pet-crimes, but they had been placed at either side of a basement door jamb to cover stains from basement water entry. Prior flooding in buildings or prior sewer backups can lead to hidden bacterial or mold reservoirs that are both an odor source and a potential health hazard.
A complete guide to tracking down and curing odors in buildings is at ODORS & SMELLS DIAGNOSIS & CURE or see our ODOR DIAGNOSIS CHECKLIST, PROCEDURE for a quick check that can help identify the source of smells in buildings. See SMELL PATCH TEST to Track Down Odors. See Black stains from animals for a description of the cause and cure of various types of stains caused by pets or other animals in buildings. Also see CAT DANDER in BUILDINGS for a discussion of animal allergens indoors and how they are detected and removed. Also see Car Odors - Animals. Also see UV LIGHT BLACK LIGHT USES for finding urine or other body fluids and STAINS on & in BUILDINGS, CAUSES & CURES.
This website provides articles on to diagnose, test, identify, and cure or remove a wide range of obnoxious or even toxic odors in buildings and in building water supply. We discuss odors from a variety of sources including animals including pets, dogs, cats, or unwanted animals or dead animals, formaldehyde odors in buildings from building products or furnishings, plumbing drains, plastic or vinyl odors from building products, flue gases, oil tanks or oil spills, pesticides, septic odors, sewer gases, and even abandoned chemicals at properties. Thanks to reader Cathy Bunthoff and other readers and experts for odor tracking suggestions.
Suggestions for Finding the Source of & Removing Animal Odors Indoors
Start with advice on how to find the source of pet or other animal odors, including urine odors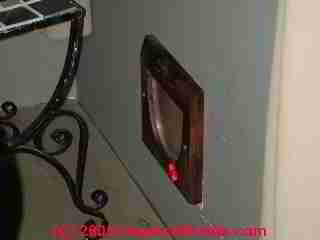 Determine that animals have previously been in the building even if there are none there at present. Look for scratches, stains, and odors as we describe below.

Pet doors and fences also tell the history of the type and size of pets that have been in a building. Also see Black stains from animals for a description of the cause and cure of various types of stains caused by pets or other animals in buildings
Follow your nose - often pets were confined to particular rooms or areas of a home
Allergic reactions - of people to entering or spending time in a building may be due to the presence of animal hair or more likely animal dander from dogs, cats, or other pets. A carefully selected dust sample from a building is an easy screen for the presence of animal dander including dog dander, cat dander, evidence of rodents, dust mites, insects and other allergens. Where appropriate, other chemical assays for allergens are also present, but we advise against ordering costly tests that may risk inaccuracy if the sample itself is not selected by an expert.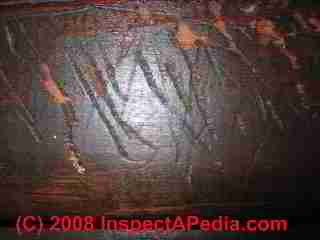 Use your eyes - you may see pet scratches on one side of a door (photo at left), telling you where the pet was sequestered. Also look for teeth or claw marks on window sills, door trim, stair parts, flooring baseboard trim, or any other component that an animal may be able to bite or gnaw.

Pets shut into a room may urinate in that space, particularly near a door leading to outside or around a large piece of furniture, or if territory marking, often against a wall.
Look outside too for Bats, Birds, Rodent Entry Points - if your building has been invaded by bats, rats, mice, squirrels, or other wild animals, you should inspect both indoors and outside for openings or stains and marks that indicate points of entry and exit for those creatures. Details about this topic are found at ANIMAL ENTRY POINTS in BUILDINGS.

Watch out: before sealing up a hole in a soffit or wall where squirrels or bats are entering your building, make sure the animals are not going to be trapped inside where they will be mad, frightened, hostile, even dangerous (like a rabid raccoon), or ultimately dead and another source of stink.

Consult with a pest control professional who may have a practiced eye at spotting where animals are getting into your attic, roof, walls, basement, and who may be able to provide a repellant that will at least temporarily drive them out - alive. While there are no bat control poisons currently approved in the U.S., we have found that moth balls (naphtha) are an effective repellent for bats and squirrels, though naphtha odors are also repellent to some humans.

Watch out: also for wild animal bites, bacterial and viral hazards when entering confined spaces where invaders are or have been present. The author (DF) became temporarily ill after (foolishly) working in a "clean looking" crawl space that later we realized had a heavy contamination of fecal and urine contaminated mouse dust. Bat and rodent droppings as well as bird droppings can be a source of a pathogen potentially dangerous to humans, the fungus Histoplasma capsulatum.

Birds in the Roof Structure or attic may be entering through a hole they managed to peck in a roof overhang or soffit such as shown in our photo at below-left. Birds in the Attic at infestation levels may be obvious if you spot bird dropping stains such as those shown on our photo (below-right) Details about this topic are found at ANIMAL ENTRY POINTS in BUILDINGS.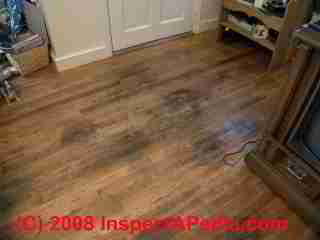 Look for stains - on floors or walls, where pets urinated or marked spaces;

These dog urine stains went un-noticed until the property owner removed smelly carpeting and carpet padding. These stains cannot be removed by light sanding - flooring replacement would be necessary as the stains were deep into the wood.

The owner elected to re-seal the floor against odors.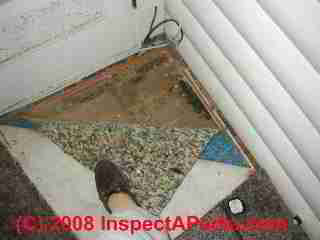 Look below smelly carpets as often urine has soaked through carpets, carpet padding, and has entered the subflooring or finish flooring wood materials.

In this urine-stained corner we found that the pet urine had penetrated carpet padding as well.
Look below vinyl sheet flooring and vinyl floor tiles in an area where pets may have urinated. Readers have reported finding pet urine that had soaked into backer material or even cardboard or paper underlayment that had been placed underneath vinyl floor tiles. A reader reported that on pulling up the laminate portion of flooring they found pet urine-soaked paper backing material that had remained glued to the subfloor. The urine pattern was found around the perimeter of where a bed had been placed - the pet had urinated repeatedly on flooring around, but not under, the bed.
Use a "black light" or UV-light to look for pet urine even where no stains are visible. Small black lights are available from pet supply stores, art supply stores, and forensic and police equipment suppliers and are generally inexpensive.

Both plug-in and more convenient battery-operated black-lights are available. Use the black light in dark or near dark conditions for the best view. Urine will shine a bright yellow color in this lighting. Details are at UV LIGHT BLACK LIGHT USES.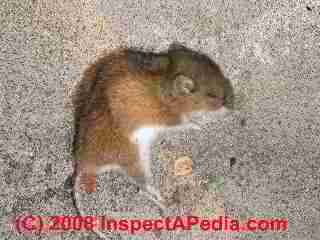 Also check for dead animals in building attics, crawl spaces, wall or ceiling cavities and in duct work or air handlers or chimneys.

Animal odors in buildings can occur when an animal such as a mouse or rat has died in a building cavity. A dead animal smell has been described by our clients with a wide variety of terms ranging from a vague noxious stink that seemed to vary with humidity to a sweet sickly smell.

Dead animals or even insect nests in building plumbing, especially building vents, can also produce unexpected sewer odors - see Septic and Sewer gas odor links discussed below.

Rodents, especially in the HVAC system such as air ducts, may also be a bacterial or Hanta virus hazard.
Advice for Keeping Mice and Rats and Squirrels out of Your Home
Pest control experts recommend several simple steps that will discourage mice and squirrels from moving into your building as they are inclined to do particularly at the beginning of cold weather:
Housekeeping: clean up spilled food, seal food in rodent-proof containers
Pet food: we found that storing open bags of cat or dog food invited mice into the same area, a problem solved by keeping those large pet food bats in a small metal covered garbage can. We also stopped leaving pet food in bowls overnight.
Garbage: garbage and trash cans should be made of metal and kept closed; clean up any spilled garbage around your trash cans both indoors and outside.
Seal Building openings: as we discussed above about bats, look outside for openings into the building such as at soffits or roof eaves, especially near overhanging or close tree branches (squirrel highways), and close to the ground look for openings into the basement at vents, windows, or building sill plates and siding bottom edges. Seal these when you won't be trapping animals inside. We have read that mice can enter a building through openings as small as 3/8"!.
Trim shrubs at least a foot away from the building walls; we prefer 18". This also reduces the attractiveness of the building to insect pests such as termites and carpenter ants. If your home is in an area where Norway rats are a problem, keep low growing shrubs away from your building walls entirely as those rats burrow under them, especially Junipers and Taxus.
This article series continues at Cleaning Suggestions for Odors / Urine.
If your building odor complaint source is found to be outdoors, see Removing Odors at Building Exteriors.
Also see Removing Urine Odors from Clothing This article describes bacterial/enzyme based cleaners that may be extra effective in removing human or animal urine odors from clothing, diapers, bedding, towels, etc.
Frequently Asked Questions (FAQs) About Finding the Source of Animal Smells in Buildings
Question: how to stop coyotes or dogs from urinating on a building
Have coyotes and dogs urinating on cedar wall near front door entrance. Have tried everything such as sprays, bleach, soap and water, obstacles, etc... nothing works. - C. Jones 10/10/11
Reply:
C Jones:

I've found that both bleach and mothballs discourage animals marking building walls with urine. But it is certainly true that once a dog or coyote has peed on a house wall, because the urine soaks into the wood, that smell is then easily noted by other dogs or coyotes who are compelled to leave their mark as well.

In that case you may have success by power washing to get the wall as clean as you can, then sealing the surface with a clear sealant, followed by use of animal repellant sprays or even a pile of mothballs.
Question: Tenants with many animals, hedgehog, crocodile, ferret, left terrible building odors
Having had tenants in a room for 10 months with snakes,rats,a hedge hog,crocodile, monitor lizard, and a ferret. The smell left behind is grim. We have had the carpet professionally cleaned but it is still not good. We could buy one but having spent money on cleaning which hasn't worked we obviously don't want to spend money on something that is then not going to be the answer. any advice? - Kyla 11/18/11
Reply:
Kyla in my experience strong animal odors in carpets are very difficult to remove, in part because odors and urine or other materials penetrate both carpet and padding; most carpet cleaning, even steam cleaning, is just too superficial to be effective for deep odor contamination. I'd remove the carpeting, clean the floors, walls, ceilings, and then see how things smell. If odors persist you may need to

- remove any drywall that was urinated on, clean the wall cavity, install new drywall
- clean any HVAC ductwork and air handlers in the building
- for a building that had many pet occupants, especially dogs, over many years, ultra fine dust can penetrate attics and insulation - if that's your case the attic should be inspected to decide if cleaning is needed there too
- use a sealant paint as a primer before re-coating, just as the building restoration companies do after a fire to control fire and smoke odors; a lacquer primer sealer can work.
- Re-paint
Question: problem with raccoons in the attic
We have NO ODOR. However there have been raccoons in the attic & I want to get someone to test the air quality for allergens related to the raccoons having lived in the house/attic. My father has a lung disorder & because there are NO ODORS I am wanting to dispel the notion that his lung problems are related to this. I am DEFINitely also in the process of having the raccoon problem alleviated. THANks - Donna 7/12/12
Reply:
Donna I am skeptical that "air testing" or "air quality testing" is going to provide any definitive data on the presence or absence of an air quality issue due to raccoons whatsoever, nor am I confident that allergens you'd find would be related to raccoons in the attic. You might test the occupied space, including settled dust, for high levels of insect or animal allergens, including dust mites, animal dander, insect fragments. "Air tests" alone can give results that are "wrong" by several orders of magnitude when looking for particles.
When raccoons invaded our house through an open soffit we found them returning night after night to open a box of shiny Christmas ornaments that they considered great fun to bat around the attic floor. The remedy involved these steps:
Wait until the raccoons have left for the day - don't confront a raccoon cornered in your building or you're asking for a fight and maybe a bite
Close off their entry opening

Clean up the mess and if necessary use a sanitizer.
If you're not up to these steps call a local pest control or animal control professional.
Ask a Question or Search InspectApedia
Questions & answers or comments about how to find the source of human, pet, or other animal smells in buildings.
Ask a Question or Enter Search Terms in the InspectApedia search box just below.
Technical Reviewers & References
Related Topics, found near the top of this page suggest articles closely related to this one.
Thanks to reader Cathy Bunthoff for suggestions regarding tracking pet urine odors to the backing of vinyl flooring and around furniture 04/6/2009.
[1] About.com - Chemistry http://chemistry.about.com/cs/howthingswork/f/blblacklight.htm
[2] Several light & forensic suppliers, e.g. Doje's (see our article on checking for blood in art work by Frida Kahlo at BLOOD in ART WORKS, TESTING FOR)

Judy and Don Doje, Doje's Forensic Supplies, P.O. Box 500, Ocoee, FL 34761

[2a] Ulrik Runeberg, Conservador, Museo de Arte Contemporaneo de Puerto Rico, San Juan, Puerto Rico
[3] U. Illinois Dept of Physics, http://van.physics.illinois.edu/qa/listing.php?id=1913
[4] Glow Paint Industries, an Australian company ( 07-5483-9181) http://www.glowinthedark.net.au/ claims to provide the world's longest list of products that glow in the dark, listing toys, party supplies, home improvement products, recreation & sport products, paints, and more.
[5] FEIT ELECTRIC COMPANY, INC. 4901 Gregg Road Pico Rivera, CA 90660-2108, Tel: (800) 543-FEIT (3348), website: http://www.feit.com/ web search 5/14/2012
[6] "What You Need to Know about UL 1598, 3rd Edition", Intertek, Tel: 800-967-5352, USA, offices in the Americas, Germany, Sweden, Asia Pacific, Italy, UK. Website: www.intertek.com/lighting, web search 5/14/12 [Copy on file as UL-1598-White-Paper.pdf]
[7] "ANSI Coded Light Bulbs", Bulbstock.com, web search 5/14/12, original source: http://www.bulbstock.com/AnsiCodedLightBulbs.html
[8] ANSI American National Standards Institute, website: www.ansi.org [Don't expect to easily find anything you need to know at the ANSI website - Ed.] Example: [http://www.ansi.org/news_publications/news_story.aspx?menuid=7&articleid=2628]
The National Electrical Manufacturers Association (NEMA), on behalf of the American National Standard Lighting Group (ANSLG), has published ANSI/ANSLG C78.81-2010, Electric Lamps - Double-Capped Fluorescent Lamps - Dimensional and Electrical Characteristics. The recently published standard sets forth the physical and electrical characteristics of the principal types of fluorescent lamps intended for application on conventional line frequency circuits and electronic high-frequency circuits.
ANSI/ANSLG C78.81-2010 revises a 2005 edition and provides specifications for the lamp itself, the interactive features of the lamp, and the lamp ballast, including conventional systems relying on auxiliary support from external ballasts. In addition, three new fluorescent lamp data sheets are included: 25-Watt, 48-Inch T8, High-Frequency Fluorescent Lamp; 28-Watt, 48-Inch T8, High-Frequency Fluorescent Lamp; and 30-Watt, 48-Inch T8, High-Frequency Fluorescent Lamp. Only double-based lamps of the regular linear shape are included in the standard; single-based compact, circular, square, and U-shaped lamps are found in NEMA/ANSI C78.901:2005, For electric lamps single base fluorescent lamps - dimensional and electrical characteristics.
NEMA, an ANSI organizational member and accredited standards developer, is a membership organization of manufacturers of products used in the generation, transmission, distribution, control, and end-use of electricity used in utility, medical imaging, industrial, commercial, institutional and residential applications.
[9] Wikipedia provided background information about some topics discussed at this website provided this citation is also found in the same article along with a " retrieved on" date. NOTE: because Wikipedia entries are fluid and can be amended in real time, we cite the retrieval date of Wikipedia citations and we do not assert that the information found there is necessarily authoritative.
Entry on color temperature, 5/14/2012, original source: http://en.wikipedia.org/wiki/Color_temperature
Entry on lumen, 5/14/12, original source: http://en.wikipedia.org/wiki/Lumen_(unit)
Entry on Wien's displacement law, 5/14/12, original source http://en.wikipedia.org/wiki/Wien's_displacement_law
[10] "Notes on LEDs & Kelvin Color Scale", Autolumination, website: autolumination.com, web search 5/14/12, original source: http://autolumination.com/colors.htm [copy on file as LED_Notes_AutoIll.pdf]
[11] Light Booth, Type LBM-B", Mathis. Mathis is headquartered in Brasil (Website: http://www.mathis.com.br/, Email: mathis@mathis.com.br) with offices in Switzerland & the USA and other countries. Werner Mathis AG Rütisbergstrasse 3 CH-8156 Oberhasli/Zürich, Switzerland Telefon 41(0)44-852 5050 Telefax 41(0)44-850 6707 E-Mail info@mathisag.com Homepage www.mathisag.com, other worldwide locations: Werner Mathis U.S.A. Inc. 2260 HWY 49 N.E./P.O. Box 1626 Concord N.C. 28026, U.S.A. Phone: 1-704-786-6157 Fax: 1-704-786-6159 E-mail: usa@mathisag.com, Mathis (India) PVT. LTD. 203, Swastic plaza Pokhran Road No. 2, Thane 400 601, India Phone: +91 22 2585 4304 E-mail: india@mathisag.com, and Mathis (India) PVT. LTD. 203, Swastic plaza Pokhran Road No. 2, Thane 400 601, India Phone: +91 22 2585 4304 E-mail: india@mathisag.com.
Mathis provides a lighting boot for visual assessment and comparison of colors, use to compare color variations and metamerism on samples. The light booth provides four or five standardized light sources (daylight -D65, fluorescent -TL84, incandescent - A home light color temp. of 2,856, ultraviolet - UV to evaluate optical brightener or fluorescent dyes, and a 5th optional lamp providing D50-artificial daylight 5,000K, D75-artificial daylight 7,500K, H-horizon light 2,300K, CWF- store light, cool fluorescent 4,150K.) Web search 5/14/12, original source: http://www.mathis.com.br/arquivos/PDF/ing/LBM-ing.pdf, [copy on file as Mathis_Light_Booth_LBM-ing.pdf]
Books & Articles on Building & Environmental Inspection, Testing, Diagnosis, & Repair
The Home Reference Book - the Encyclopedia of Homes, Carson Dunlop & Associates, Toronto, Ontario, 25th Ed., 2012, is a bound volume of more than 450 illustrated pages that assist home inspectors and home owners in the inspection and detection of problems on buildings. The text is intended as a reference guide to help building owners operate and maintain their home effectively. Field inspection worksheets are included at the back of the volume. Special Offer: For a 10% discount on any number of copies of the Home Reference Book purchased as a single order. Enter INSPECTAHRB in the order payment page "Promo/Redemption" space. InspectAPedia.com editor Daniel Friedman is a contributing author.

Or choose the The Home Reference eBook for PCs, Macs, Kindle, iPad, iPhone, or Android Smart Phones. Special Offer: For a 5% discount on any number of copies of the Home Reference eBook purchased as a single order. Enter INSPECTAEHRB in the order payment page "Promo/Redemption" space.
Environmental Health & Investigation Bibliography - our technical library on indoor air quality inspection, testing, laboratory procedures, forensic microscopy, etc.
Adkins and Adkins Dictionary of Roman Religion discusses Robigus, the Roman god of crop protection and the legendary progenitor of wheat rust fungus.
Kansas State University, department of plant pathology, extension plant pathology web page on wheat rust fungus: see http://www.oznet.ksu.edu/path-ext/factSheets/Wheat/Wheat%20Leaf%20Rust.asp
"A Brief Guide to Mold, Moisture, and Your Home", U.S. Environmental Protection Agency US EPA - includes basic advice for building owners, occupants, and mold cleanup operations. See http://www.epa.gov/mold/moldguide.htm
US EPA - Mold Remediation in Schools and Commercial Building [Copy on file at /sickhouse/EPA_Mold_Remediation_in_Schools.pdf ] - US EPA
US EPA - Una Breva Guia a Moho - Hongo [Copy on file as /sickhouse/EPA_Moho_Guia_sp.pdf - en Espanol
Allergies, Allergens, Allergy Testing in Buildings - References & Products
Air Conditioning System Blower Fans & Filters Cascading for Optimum Indoor Air Quality
Allergen Tests in Buildings advice about how to test, what to look for, in evaluating the level of dog, cat, or other animal allergens in a building
"IgG Food Allergy Testing by ELISA/EIA, What do they really tell us?" Sheryl B. Miller, MT (ASCP), PhD, Clinical Laboratory Director, Bastyr University Natural Health Clinic - ELISA testing accuracy: Here is an example of Miller's critique of ELISA http://www.betterhealthusa.com/public/282.cfm - Townsend Letter for Doctors and Patients
The critique included in that article raises compelling questions about IgG testing assays, which prompts our interest in actually screening for the presence of high levels of particles that could carry allergens - dog dander or cat dander in the case at hand.
http://www.tldp.com/issue/174/IgG%20Food%20Allergy.html contains similar criticism in another venue but interestingly by the same author, Sheryl Miller. Sheryl Miller, MT (ASCP), PhD, is an Immunologist and Associate Professor of Basic and Medical Sciences at Bastyr University in Bothell, Washington. She is also the Laboratory Director of the Bastyr Natural Health Clinic Laboratory.
Allergens: Testing for the level of exposure to animal allergens is discussed at http://www.animalhealthchannel.com/animalallergy/diagnosis.shtml (lab animal exposure study is interesting because it involves a higher exposure level in some cases
Allergens: WebMD discusses allergy tests for humans at webmd.com/allergies/allergy-tests
Animal Allergens: Dog, Cat, and Other Animal Dander - Cleanup & Prevention Information for Asthmatics and regarding Indoor Air Quality.
Atlas of Mold Related Illness Symptoms & Complaints - long list of both documented, studied mold related illness, and complaints ascribed to mold contamination or allergens in buildings
Cat Dander: how to inspect and test a building for past or current presence of cats, cat hair, cat dander, and cat allergens
Clinical Atlas of Mold Toxicity - An Online Description of Toxic, Pathogenic, Allergenic Fungi, Fungal Diseases
Fiberglass Insulation Contains Mold© 2005 comments about a field study in process, & more about health hazards from fiberglass insulation
Humidity: What indoor humidity should we maintain in order to avoid a mold problem?
Mold Action Guide detailed guide on finding, removing, and preventing indoor mold contamination
Odors, Odor Detection, Smells, & Gases how to find and identify sources of noxious or toxic odors and gases
Other environmental risks, Our much longer list: Asbestos, carbon monoxide, electromagnetic fields, etc.
Ozone: The Use of Ozone Indoors for Control of Odors and Mold Removal in Buildings: A Summary of Hazards and False Claims.
Pollen Allergens: identification, plant pollen and indoor air quality
Products to Reduce Mold & Allergy Problems to reduce indoor mold or allergen levels: air cleaners, air purifiers, dust mite covers, vacuum cleaners, crawl space vents
Recognizing Allergens: What various indoor allergens look like - identification photos to help identify pollen, dust mites, animal dander, toxic or allergenic mold - Common Mold and other Allergens, Irritants, Remedies & Advice
Rodent control issues, including dander, fecal, and urine contamination of Buildings and Building insulation are discussed at our
Sewage and Septic backup contamination in Buildings: inspection, testing, remediation, & references to expert sources
Action Guide: What to do about mold, mildew, and other indoor allergens
...