Use of Ozone Generators Indoors for Control of Odors & Mold Removal in Buildings: Hazards, False Claims, Overdosing & Oxidation

InspectAPedia tolerates no conflicts of interest. We have no relationship with advertisers, products, or services discussed at this website.
Ozone air treatment warnings: this article provides government and other authoritative warnings about using ozone generators and ozone air purifiers in buildings to "purify" indoor air or to "kill mold" in buildings. We give a definition of ozone or O3, we explain what problems can arise when using ozone generators to try to get rid of odors indoors or to try to kill mold. We explain the problem of oxidation of building materials from excessive ozone exposure and the horrible chemical smells that may follow such mistakes. We describe how to track down which building materials were over-dosed with ozone and are now giving off a new stink, and we explain how to cure that problem.
Green links show where you are. © Copyright 2014 InspectApedia.com, All Rights Reserved.
Warnings About Using Ozone for Treatment of Indoor Air: Respiratory System
What is Ozone - O3
While there are many sound and important uses of ozone (such as for medical disinfection under controlled conditions), in general this is an idea which ranges from bad to dangerous in the home. Ozone is widely promoted by ozone generating equipment companies and cleaning services for use in indoor building environments to deodorize, disinfect, "kill" mold, and for "general health". Ozone generators are also promoted for use to reduce the level of airborne particles, pollen, animal dander, and allergens, ostensibly to improve indoor air quality for asthmatics and people with allergies.
Ozone or O3, or "trioxygen" is a molecule made of three oxygen atoms. In this form, and referred to as an "allotrope" of oxygen, ozone is an unstable gas - that means it breaks down into oxygen molecules.

While ozone is helpful in the upper atmosphere (filtering out UV light rays), in lower atmosphere, or in buildings, it is an air pollutant that is harmful to humans and other animals, and a gas that can oxidize or "burn" plants or various materials found indoors.

Ozone is widely used in industry in a variety of applications and can be of significant benefit and use when applied
A separate question remains, in some cases, of whether or not building occupants have been exposed or are being exposed to harmful ozone levels. See OZONE AIR PURIFIER WARNINGS and see OZONE MSDS and OZONE TOXICITY.
Problems Encountered Using Ozone to Get Rid of Skunk, Indoor Odors, or Mold Smells?
But nevertheless, ozone is a highly toxic gas. Now even highly toxic substances can be encountered safely. The main concern with ozone exposure is that the ozone concentrations to which people are exposed
should not average more than 0.1 ppm over an 8-hr day, and
Ozone Hazards & Ozone Toxicity Levels
Exposure to a level you can smell or exposure to ozone over long periods at levels greater than 0.05 ppm for 24 hours at a time is likely to be dangerous: [2], [3] Health hazards to humans and animals occur and can be severe at ozone levels used for indoor cleaning purposes. At least some people can smell levels of ozone down to 0.05 ppm. This odor-detection level is already half-way to the recommended limit. If you are generating ozone indoors, even at "low" levels a problem may be present. People become desensitized to odors in a short time, perhaps 20 minutes. So if you do not smell it, the ozone level could still be hazardous. Problems include:[4]
Lung irritation and infection. Breathing pain, coughing, wheezing, difficulty when exercising.
Permanent lung damage.
Aggravation of pre-existing asthma
Increased risk of lung illnesses such as bronchitis and pneumonia
Reduced breathing capacity
Use of ozone to "remove" or "kill" mold is ineffective, not recommended, and may be dangerous. Even if ozone were applied at a concentration and for a duration sufficient to "kill" every mold spore in a building (which is a very dubious claim), depending on the mold genera/species present there is a good chance that the process leaves toxic and allergenic particles in the building.
Ozone Toxicity: How toxic is ozone, general background, levels of ozone gas toxicity, ozone gas applications
The following information about Ozone is quoted from "Health Hazards of Some Gases" [8]
"Ozone is a kind (called an "allotrope") of oxygen . It is formed in the ionosphere by the action of ultraviolet radiation from sunlight on oxygen. Lightning strokes are another natural source of ozone and the characteristic odor of that material can often be noted during and after a thunderstorm. When pollutants are emitted into the air either by man or nature, almost all are eventually removed by one or more of several processes including reaction under the influence of ultraviolet radiation. One series of such reactions results in the formation of ozone as a "secondary" (formed by reaction in the air) air pollutant, often in rather high concentrations (several tenths of a part per million).
"As ozone can be formed by nature's sparks (lightning), it can also be formed by man's. Whenever an electrical spark or corona occurs in air, some ozone is formed. This accounts for the characteristic odor noted near an operating electric motor such as an electric shaver.
"Because ozone is found in so many places, its toxicity (ability to injure a living organism by other than mechanical means) has been investigated extensively since the early 1900s. Experimentation has shown that the odor of ozone can be detected and identified by most people at a concentration of from 0.02 to 0.05 ppm (parts ozone per million parts air + ozone). As the concentration increases to a few tenths of a part per million, the first effect noted is likely to be a feeling of dryness in the back of the throat. If a concentration on the order of 0.2 or 0.3 ppm is inhaled more or less continuously for several hours to a few days some lung irritation may result.
"Higher concentrations can produce several kinds of toxic effects if exposures are sufficiently prolonged. Eye irritation (despite newspaper and TV accounts seemingly indicating otherwise) occurs only at concentrations high enough to result in other, more severe, toxic effects.
"Ozone is a very reactive substance. It will readily react with just about any material capable of being oxidized, and with many that are not. The material with which it reacts may be a gas or vapor, a particle floating in the air (a mold spore, for example), or a solid (or liquid) surface. For this reason, when ozone is present in most enclosed spaces its concentration declines quite rapidly with time. Of course, if ozone is being generated more rapidly than it is destroyed by reaction, its concentration can build up. This is the main reason why devices that produce relatively large amounts of ozone are safe only in relatively large enclosures and why the ozone generation rate should be reduced in small enclosures.
"Ozone is well known for its ability to eliminate certain odors. How this is accomplished is controversial. At concentrations just above the odor threshold, some odors do seem to vanish. The main reason for this may be ozone's ability to desensitize the olfactory apparatus so that the odors can no longer be perceived. Some evidence indicates that this may be the case at least occasionally. Other evidence indicates that ozone may react with the odor-causing substances, eliminating them from the air (this is probably the only mechanism that operates when concentrations are below the odor threshold).
"Finally, some people have insisted that even if ozone does not paralyze the olfactory sense, its odor is such that it "masks" other odors. Perhaps all three mechanisms operate, each in its own area of effectiveness.
"As with all other materials, ozone has a dose-effect relationship with a threshold. That is, once the threshold dose has been exceeded, toxic effects are proportional to dose. For inhaled gases, dose is proportional to both time and concentration. If the duration of exposures cannot be controlled (as is usually the case), then the concentration must be kept low enough so that no injury will occur even from prolonged and repeated exposures. For ozone, that "threshold" concentration is 0.1 ppm.
So long as concentrations are kept at or below that level, injury is not expected even in the most sensitive workers so long as their exposure durations coincide reasonably well with or are less than the 8 hr/day, 40 hr/wk regimen. This "threshold" level is accepted by the American Conference of Governmental Industrial Hygienists (and is called the Threshold Limit Value by that organization) and by the Occupational Safety and Health Administration, OSHA.
The TLV or OSHA's Permissible Exposure Level (PEL) is not a fine line between safe and non-safe. Instead, it represents the best judgment of a group of experts of the highest concentration that can be inhaled repeatedly by a population of workers with no resulting injury. Higher concentrations may or may not have any particular effect on a specific individual.
"Ozone is a highly toxic gas but even highly toxic substances can be encountered safely. The main concern with this material is that concentrations to which people are exposed do not average more than 0.1 ppm over an 8-hr day, and do not exceed that value by more than a factor of 2 or 3 during the exposure."
Odors from Ozone-Oxidation of Building Carpets, Contents, Coatings from Misuse of Ozone Generators
A second class of problems when ozone is misapplied indoors is the creation of lingering odors due to the oxidation effects of the highly reactive ozone gas while it was present.
In our OPINION, following ozone use as a "deodorant" if there is no lingering odor from oxidized materials in the enclosed space (a building, car, boat, RV, etc), and considering that ozone itself is so volatile that it does not hang around in the building, then its application probably did not create a problem for the building.
Ozone is never recommended as a "mold killer" since that strategy is fundamentally flawed in the first place. Details are at MOLD KILLING GUIDE.
Ozone Oxidation Problems: Second-Cause Odors in Buildings Following use of an Ozone generator
At OZONE AIR PURIFIER WARNINGS we include an example report of horrible building odors that were caused by attempts to get rid of an indoor odor using an ozone generator. when high levels of ozone have been produced in an enclosed space, we find that other materials in the space become partly oxidized, subsequently giving off horrible, often chemical-like odors. We have traced odors to painted surfaces, furniture, upholstery, curtains, carpeting, carpet padding, and other materials.
Common Materials that May be Oxidized & Become Odor Sources from Excess Ozone Treatment
Here are some examples of material we've found giving off horrible smells after misuse of an ozone generator. (Misuse means using the ozone generator to try to kill mold, or running an ozone generator too long at too high a setting in too small a space - overdoing it).
Carpets, especially synthetic carpets
Carpet padding
Fabrics, particularly some synthetic fabrics
Foam cushions or cushion fillings
Other plastic furnishings or furniture covers
Rubber pads, padding
Paints & coatings: we have received reports of ozone oxidation complaints in which occupants suspected that paints or coatings had been affected by excessive ozone treatment and levels; field work to confirm this source has not been confirmed.
Also see PLASTIC ODORS-SCREENS, SIDING for an example of plastic type odors in buildings that may be traced to heat exposure of certain plastics (not ozone)
Using Ozone Left a Smell in our Home - How do I Get Rid of It? - Using Ozone Indoors to Cure Skunk Smells, Mold Odors, and other Stinks
This quote from a reader's email pretty well sums up what happens if you overdo it when using an ozone generator indoors to try to "kill off" odors:
It's a long story, but I used a high powered ozone generator in our house, to get rid of skunk smell. Now I can't get rid of the left over nitric oxide, or whatever odor or gases, that linger in our house. I have been leaving the windows open every day, with running the heat on high (85 degrees) at night, to try to force off-gas the odors/gases.
We have investigated a number of cases of misapplication of ozone generating machines both to "kill mold" (no good, you're leaving toxic or allergenic particles, and you haven't corrected the reason for mold growth in the first place). We have also investigated several cases of excessive ozone-use to try to remove odors from buildings, including fire or fireplace smells, mold smells, pet or animal smells, skunk odors, smoking odors, etc.
Here is another similar case:
Dan, Our dog was sprayed by a skunk and then ran through our house. The skunk smell was terrible. We hired servpro to get rid of the odor. They used the ozone machine and although is helped to get rid of the skunk smell, we now have a lingering chemical smell.

We have had our walls, ceiling, furniture, rugs, clothes, bedding all professionally washed but the smell still remains. What do you recommend? BTW, we live in eastern massachusetts. Thanks for your time and for this service you provide. - S.M.
Find & Eliminate Odor Sources Using This Simple Smell Test Procedure
To track down the source of post-ozone-treatment smells, try making a smell-patch test to determine just which building component has been oxidized. Following this procedure we can often narrow down the source of post-ozone-treatment smells to a single material that can then be removed or remedied, such as carpet padding or a specific piece of furniture. A complete guide to tracking down odors in buildings is at ODORS, Smells, Gases in Buildings-Diagnosis & Cure.The smell patch test procedure and its use to track down building odors caused by over-dosing with ozone is described here.
Before Using Ozone or Gutting a Building to Get Rid of Odors, Try the Smell Capture Patch Test to Pin Down a Specific Indoor Odor Source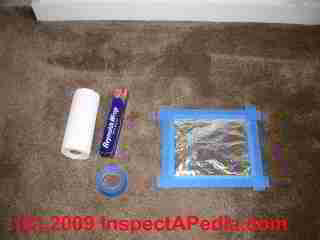 Our friend and fellow forensic investigator Jeffrey May suggested a smell or odor source track-down procedure for pinning down a specific odor test in buildings - it has worked remarkably well for us where ozone had caused an indoor smell that could not be tracked down as well as for general odor emitting source identification.
The odor source pinpointing procedure uses simple materials readily available: paper towels, masking tape, aluminum foil, and a person with a good sense of smell.
However, essential for success are the steps and their sequence, and the choice of who is going to do the sniffing, as we describe in detail in our adaptation and illustrations of Jeff's idea, now found at SMELL PATCH TEST to Track Down Odors.
We have had very good results with this procedure when used to narrow down odor sources in an ozone-treated building, and in a field study we obtained roughly 95% odor source identification reliability when we used additional smell test patches.
How to Use the Smell Patch Test to Track Down Ozone-Oxidation Problems
Look First at These Prime Suspects for Ozone Oxidation
If you have aired out the building and days or more have passed and you still smell a "new" chemical or plastic or other odor that was not there before you tried using your ozone generator, you'll need to determine just what materials were oxidized by the high levels of ozone in the building.
It's been our experience that once you identify and dispose of the new-smelly material you'll probably be fine.
However, by nose alone, it is very difficult to track down a specific indoor material to the odor source in this case. Jeff May suggested[1b], and I've more extensively explained and documented an inexpensive means to track down odor sources to indoor materials or furnishings: see SMELL PATCH TEST to Track Down Odors for details.
The procedure works best if you have as the "smeller" a person with a good sensitive ability to discriminate among odors. The smeller can briefly go indoors to become familiar with the odor whose source you are seeking. But they then have to stay outdoors breathing clear air long enough to regain their original smell sensitivity. (When we are exposed to an odor for some time, our brain starts to tune it out.)
So typically you bring in the smeller, let her sniff and agree that she will recall the objectionable odor, then give her a few days off while you prepare the test we describe above. You use the foil, tape, and paper towel procedure I describe at the link above.
Watch out: People become desensitized to odors in a short time, perhaps 20 minutes. So if you do not smell it, the ozone level could still be hazardous.
General Use of Ozone Generators nor Ozone Shock Treatments as a "Cure" for Building Mold or Odors is Not Recommended
Watch out: Ozone is a highly toxic, oxidizing gas. It can be absorbed into the body via inhalation, skin or the eyes. It can also oxidize building materials. See the Ozone hazard and use warning articles listed at the end of this article.
Watch out: In-Home or "portable" ozone generators and industrial or "shock treatment" ozone generators not only fail to find and remove the source of mold or building odors, in addition ozone concentrations generated by ionic air purifiers can exceed (industrial) levels permitted by U.S. Environmental Protection Agency. This problem is more severe when
an ozone generator is used in a small, enclosed space such as an individual room or in an automobile. See Ozone to Get Rid of Odors in a Car
an ozone generator is used in a poorly ventilated building
an ozone generator is used in an enclosed space for too long a time or at too high a concentration
ozone "shock treatments" recommended by some cleaning companies can generate nearly 1000 times the level of indoor ozone inside a building, leading to severe health hazards if anyone is in the structure and leading to oxidation of building materials that in turn produce worse odors than before, ultimately leading to a need for further demolition and removal of oxidized materials
In addition, a ban of in-home ozone producing air purifiers was announced by the California Air Resources Board in September 2007. This law requires testing and certification of all types of air purifiers to verify that they do not generate excessive ozone. See "Health Hazards of Ozone-generating Air Cleaning Devices", State of California-Health and Welfare Agency, Department of Health Services, Indoor Air Quality Section
More Reading
Green link shows where you are in this article series.
...
Frequently Asked Questions (FAQs) about Ozone Use Indoors as an Odor Killer or Mold Killer
Question: how do I get rid of high ozone concentrations produced by a spark generator
How do you rid a room of highly concentrated ozone produced by a spark generator?? 400sq ft, various items of wood furniture, paneling, bed with foam mattress, etc?? - Charles 12/2/11
Reply: if you smell ozone it's probably unsafe; if you smell something else later it may be due to an ozone treatment "overdose"
Charles, in the article above we make suggestions for getting rid of ozone smells indoors. If you are inside of an enclosed space while ozone is being generated at levels that you can smell, it is unsafe.
And ozone is ozone. It doesn't matter how it's produced: by spark generator or any other means, the molecules are the same. What does vary among ozone treatments and the people who use them, are
the level of ozone gas reached in an enclosed space and
the duration of the ozone exposure in that space
Actually unless you are smelling ozine while you are in an enclosed space while ozone is being generated (something that is most likely unsafe), you are not smelling ozone - it's very volatile and doesn't hang around. So the ozone itself, and its characteristic odor, will dissipate rapidly, minutes to hours, of fresh air ventilating of the space where ozone was produced.
Most complaints we receive are from lingering odors after an ozone overdose of an indoor area in an attempt to remove smells.
An "ozone treatment overdose" is my general term for applying ozone at levels or at a duration long enough to cause chemical changes, probably oxidation, of other indoor materials (carpets, curtains, foam cushions, plastics) that in turn leaves a lingering, obnoxious odor that just doesn't go away satisfactorily. Please review the article above and you'll see an outline of how we suggest you proceed.
Question: I have asthma and was exposed to ozone in an enclosed space for a few minutes.Will that cause health problems?
I have asthma and was in a closed room with the ozone machine working for a few minutes, would that cause me health problems in the future? - Sandy 10/26/11
Reply: a brief exposure to low levels of ozone should not cause lasting health problems for most people, but some are at extra risk
Sandy,
No one give a "for sure answer" to your question about ozone exposure based on a text note; your doctor would have to do that based on an examination.
At 3 Steps to Assessing Possible Harm from Exposure to Ozone Gas O3 we summarize a reasonable approach to assessing possible complaints ascribed to ozone exposure, starting with a consult with your doctor and we describe the TLV point for ozone below which no expert expects there to be an injury or ozone-related complaint (given certain exposure duration assumptions).
At OZONE TOXICITY we report that
Exposure to a level you can smell or exposure to ozone over long periods at levels greater than 0.05 ppm for 24 hours at a time is likely to be dangerous: [3] Health hazards to humans and animals occur and can be severe at ozone levels used for indoor cleaning purposes.

At least some people can smell levels of ozone down to 0.05 ppm. This odor-detection level is already half-way to the recommended limit. If you are generating ozone indoors, even at "low" levels a problem may be present.

People become desensitized to odors in a short time, perhaps 20 minutes. So if you do not smell it, the ozone level could still be hazardous.
As with any potentially harmful or irritating substance exposure, the risk is a function of several variables including
The health, genetics, medical history etc of the individual
The level of exposure and duration of the exposure
See Ozone Gas Exposure Hazards for quantitative levels and permissible exposure limits (PELS) for ozone.
This means that even a brief exposure to very high levels of ozone could injure someone. Of course now, after the fact, you will most likely have no idea of what the actual level of your ozone exposure was.
But in general, a brief exposure to a closed room "for a few minutes" is very very unlikely to produce a measurable future health problem provided
Ultimately this is a question you need to discuss with your doctor or with a pulmonologist who knows your medical history.

Thanks for the question. Keep us posted on what your doctor says - that will surely assist other readers. .
Question: Spark generated ozone is not the same as UV generated ozone and my ozone is safe
This article represents spark generated Ozone. Long doses of this method can be detrimental with nitros oxide. UV generated ozone in high levels "DOES NOT" cause collateral damage and it would have to be left at super high levels for a over a week to have an affect on carpet or building materials. In ranges near 150PPM it is 100% effective on killing mold with exposure times over 6 hours and 99.996% of all bacteria. When the treatment is over the ozone converts back to oxygen 'O2' and the clean smell is gone within 2 days. I have independent test results to prove it and detailed personal and business experience using it. Most articles I have read have been by mold remediation contractors that would take a major blow to their profits because they would not be able to rent their equipment to insurance companies. If a building is wet of course it needs to be dried and sheetrock removed. There is no need however to tear a house apart because there is mold present on dry sheetrock. I challenge anyone to a significant 'bet' that can prove otherwise. Brent - 9/29/11
Ditto- DCW.
Reply:
Thanks for your comment, Brent. We note that you appear to disagree with the U.S. EPA and other authoritative sources cited above and below as well as with our own extensive field experience with severe odors and damaged building materials following over-use of ozone as a cure all for building smells or mold.
Brent, forgive me, but there is almost nothing correct in what you say in claiming that how ozone is generated affects the potential toxicity or volatility of the ozone molecules. Ozone is O3 , a molecule that is identical regardless of how it was generated. At this point with so many years of expert research on this topic, there isn't much room for arm-waving challenges, bets, and assertions.
We agree that ozone is highly volatile and does not stay around in buildings. We also agree that ozone, precisely because of that extra oxygen molecule, is highly volatile and can oxidize other molecules. It is precisely that volatility that can result in overdosing a building or car or other enclosed space and its contents, apparently oxidizing materials and causing related problems.
And please compare your 150PPM concentration of ozone with the recommended industry standards, limits, exposure limits, etc. See OZONE EXPOSURE STANDARDS where you will see that your recommended dosage levels are enormously higher than any recommended human exposure.
DCW: in the most elementary chemistry class one learns that an ozone molecule is identical regardless of how it is generated. What may vary is the ozone level reached in an enclosed space, and the duration of exposure of the space to that gas.

Ozone or O3, or "trioxygen" is a molecule made of three oxygen atoms. In this form, and referred to as an "allotrope" of oxygen, ozone is an unstable gas - that means it breaks down into oxygen molecules.

While ozone is helpful in the upper atmosphere (filtering out UV light rays), in lower atmosphere, or in buildings, it is an air pollutant that is harmful to humans and other animals, and a gas that can oxidize or "burn" plants or various materials found indoors.

Ozone is widely used in industry in a variety of applications and can be of significant benefit and use when applied properly. Improper use of ozone is a topic of discussion in this and related articles for which we provide citations.
Question: who says Ozone can be dangerous?
I think these claims about the hazards of ozone are made-up. Tim / 2011
Reply:
Tim: please read again with more care, including the US EPA and other citations at the end of this and each Ozone-related article at this website.
This article includes fourteen citations regarding ozone hazards. And above in the FAQs we refer readers to OSHA and other sources who set standards for allowable ozone exposure. Those articles contain hundreds of additional source citations.

And like the US EPA, InspectAPedia is an independent publisher of building, environmental, and forensic inspection, diagnosis, and repair information provided free to the public - we have no business nor financial connection with any manufacturer or service provider discussed at our website.

Ask a Question or Search InspectApedia
Questions & answers or comments about government & other expert warnings concerning the use of ozone generators indoors as air purifiers or for mold remediation.
Try the search box just below or if you prefer, post a question or a comment in the Comments box below and we will respond promptly.
Search the InspectApedia website
Technical Reviewers & References
Related Topics, found near the top of this page suggest articles closely related to this one.
Click to Show or Hide Citations & References
[1b] Jeff May - Jeffrey C May - May Indoor Air Investigations - Jeff is located in Tyngsborough, MA 01879 - Phone • 978.649.1055 • 800.686.1055
[2b] "Health Hazards of Ozone-generating Air Cleaning Devices", State of California-Health and Welfare Agency, Department of Health Services, Indoor Air Quality Section § Jed Waldman, Ph.D., Chief, Environmental Health Laboratory Branch, 850 Marina Bay Parkway, Richmond, CA 94804, 510-620-2874 § FAX: 916-440-4440
Web Search 07/29/2010 original source: http://www.cal-iaq.org/o3_fact.htm
[3b] Ozone MSDS, provided by OREC™ Ozone Research Equipment Company, a subsidiary of CCSi, Inc., 221 Beaver Street, Akron, Ohio 44304 Telephone: 800.742.8535 / 330.376.3600
[2] Ozone and other contaminants discussed, New York State Department of Environmental Conservation,
[3] Indoor air, http://www.health.state.ny.us/nysdoh/indoor/indoor.htm New York State Department of Health
[4] Environmental Toxins, Yale New Haven Health, http://yalenewhavenhealth.org/library/healthguide/en-us/illnessconditions/topic.asp?hwid=support/zp3217
[5] Development of a Method for Measuring Single-Pass Bioaerosol Removal Efficiencies of a Room Air Cleaner, page 223 Karin K. Foarde, James T. Hanley, David S. Ensor, and Peter Roessler http://www.aaar.org/ast_abst/v30n0212.htm
Methodology to Perform Clean Air Delivery Rate Type Determinations with Microbiological Aerosols, page 235 Karin K. Foarde, Eric A. Myers, James T. Hanley, David S. Ensor, and Peter F. Roessler
[6]Ozone is not a substitute for mold removal and its reaction with building materials, but applied by an expert may help deodorize, a cleaning article by Jim Holland - http://www.icsmag.com/CDA/ArticleInformation/features/BNP__Features__Item/0,3035,118663,00.html
[7] Ozone as an oxidant, a few references from the Canadian Government

http://www.hc-sc.gc.ca/hecs-sesc/air_quality/publications/ground_level_ozone/part3/ch7_references.htm
Bogaty, H., Campbell K. S., and Appel, W. D. (1952). The oxidation of cellulose by ozone in small concentrations. Text. Res. J. 22: 81-83.
Bradley, C. E., and Haagen-Smit, A. J. (1951). The application of rubber in the quantitative determination of ozone. Rubber Chem. Technol. 24: 750-755.
Cass, G. R., Nazaroff, W. W., Tiller, C., and Whitmore, P. M. (1991). Protection of works of art from damage due to atmospheric ozone. Atmospheric Environment, 25A( 2): 441-451.
Druzik, J. R. (1985). Ozone: The Intractable Problem. We stern Association for Art Conservation newsletter. Http://sul-server-2.stanford.edu/waac/wn/wn07/wn07-3/wn07-302.html (vol.7, no. 3)

[9] Ozone Gas Hazards Description in our article "Effects of Toxic Gas Exposure to Ammonia, Arsine Arsenic Bromine Carbon Dioxide Carbon Monoxide Hydride Ozone & others"
[10] "Laundry Ozone FAQ", Water Energy Laundry Consulting, 9741 Tappenbeck, Suite 1000, Houston, TX 77055 Tel: (713) 464-2580; web search 12/17/11, original source laundryconsulting.com/solution/
benefits-of-ozone-laundry/ozone-laundry-faq/
[11] "Ozone acting on human blood yields a hormetic dose-response relationship", Velio A Bocci, Iacopo Zanardi,& Valter Travagli, J Transl Med. 2011; 9: 66. Published online 2011 May 17. doi: 10.1186/1479-5876-9-66 - Quoting the article abstract:
The aim of this paper is to analyze why ozone can be medically useful when it dissolves in blood or in other biological fluids. In reviewing a number of clinical studies performed in Peripheral Arterial Diseases (PAD) during the last decades, it has been possible to confirm the long-held view that the inverted U-shaped curve, typical of the hormesis concept, is suitable to represent the therapeutic activity exerted by the so-called ozonated autohemotherapy. The quantitative and qualitative aspects of human blood ozonation have been also critically reviewed in regard to the biological, therapeutic and safety of ozone. It is hoped that this gas, although toxic for the pulmonary system during prolonged inhalation, will be soon recognized as a useful agent in oxidative-stress related diseases, joining other medical gases recently thought to be of therapeutic importance. Finally, the elucidation of the mechanisms of action of ozone as well as the obtained results in PAD may encourage clinical scientists to evaluate ozone therapy in vascular diseases in comparison to the current therapies.
[12] Petras T, Siems W, Grune T. 4-Hydroxynonenal is degraded to mercapturic acid conjugate in rat kidney. Free Radic Biol Med. 1995;19(5):685–688. doi: 10.1016/0891-5849(95)00060-B


Sampling for gases in air such as VOC's, MVOC's, toxic chemicals, and combustion products.
Unfortunately no single test or tool can detect all possible building contaminants. We use methods and equipment which can test for common contaminants. If the identity of a specific contaminant is known in advance we can also test for a very large number of specific contaminant gases in buildings.
We use gas sampling equipment provided by the two most reliable companies in the world, Draeger-Safety's detector-tubes and Drager accuro bellows pump, the Gastec cylinder pump and detector-tube system produced by Gastec or Sensidyne, and we also use Sensidyne's Gilian air pump. For broad screening for combustibles and a number of other toxic gases and for leak tracing we also use Amprobe's Tif8850. All of these instruments, their applications, and sensitivities (minimum detectable limits) for specific gases are described in our Gas Sampling Plan online document.
[16] U.S. Army Field Manual FM-8-285-Noxious_Chemicals discusses Ammonia, Carbon Monoxide, Hydrogen Sulfide, Oxides of Nitrogen, Hazards caused by fire
Kansas State University, department of plant pathology, extension plant pathology web page on wheat rust fungus: see http://www.oznet.ksu.edu/path-ext/factSheets/Wheat/Wheat%20Leaf%20Rust.asp
"A Brief Guide to Mold, Moisture, and Your Home", U.S. Environmental Protection Agency US EPA - includes basic advice for building owners, occupants, and mold cleanup operations. See http://www.epa.gov/mold/moldguide.htm
US EPA - Mold Remediation in Schools and Commercial Building [Copy on file at /sickhouse/EPA_Mold_Remediation_in_Schools.pdf ] - US EPA
US EPA - Una Breva Guia a Moho - Hongo [Copy on file as /sickhouse/EPA_Moho_Guia_sp.pdf - en Espanol
"IgG Food Allergy Testing by ELISA/EIA, What do they really tell us?" Sheryl B. Miller, MT (ASCP), PhD, Clinical Laboratory Director, Bastyr University Natural Health Clinic - ELISA testing accuracy: Here is an example of Miller's critique of ELISA http://www.betterhealthusa.com/public/282.cfm - Townsend Letter for Doctors and Patients
The critique included in that article raises compelling questions about IgG testing assays, which prompts our interest in actually screening for the presence of high levels of particles that could carry allergens - dog dander or cat dander in the case at hand.
http://www.tldp.com/issue/174/IgG%20Food%20Allergy.html contains similar criticism in another venue but interestingly by the same author, Sheryl Miller. Sheryl Miller, MT (ASCP), PhD, is an Immunologist and Associate Professor of Basic and Medical Sciences at Bastyr University in Bothell, Washington. She is also the Laboratory Director of the Bastyr Natural Health Clinic Laboratory.
Allergens: Testing for the level of exposure to animal allergens is discussed at http://www.animalhealthchannel.com/animalallergy/diagnosis.shtml (lab animal exposure study is interesting because it involves a higher exposure level in some cases
Allergens: WebMD discusses allergy tests for humans at webmd.com/allergies/allergy-tests
Atlas of Clinical Fungi, 2nd Ed., GS deHoog, J Guarro, J Gene, & MJ Figueras, Centraalbureau voor Schimmelcultures, Universitat Rovira I Virgili, 2000, ISBN 90-70351-43-9 (you can buy this book at Amazon) - The Atlas of Clinical Fungi is also available on CD ROM
Atlas of Mold Related Illness: Index of Symptoms and health, physical, neurological, psychological, and other complaint which people suspect may be mold or building-related.
Atlas of Indoor Mold, Online Clinical Mold Atlas, Toxins, Pathogens, Allergens and Other Indoor Particles - Medical Health Effects of Mold (separate online document)
"A Brief Guide to Mold, Moisture, and Your Home", U.S. Environmental Protection Agency US EPA - includes basic advice for building owners, occupants, and mold cleanup operations. See http://www.epa.gov/mold/moldguide.htm
"Disease Prevention Program for Certain Vegetable Crops," David B. Langston, Jr., Extension Plant Pathologist - Vegetables, University of Georgia (PDF document) original source: www.reeis.usda.gov/web/crisprojectpages/209797.html
"Disease Prevention in Home Vegetable Gardens," Patricia Donald, Department of Plant Microbiology and Pathology, Lewis Jett
Department of Horticulture, University of Missouri Extension - extension.missouri.edu/publications/DisplayPub.aspx?P=G6202
"Management of Powdery Mildew, Leveillula taurica, in Greenhouse Peppers," Ministry of Agriculture and Lands, British Columbia - Original source: www.agf.gov.bc.ca/cropprot/peppermildew.htm
Fifth Kingdom, Bryce Kendrick, ISBN13: 9781585100224, is available from the InspectAPedia online bookstore - we recommend the CD-ROM version of this book. This 3rd/edition is a compact but comprehensive encyclopedia of all things mycological. Every aspect of the fungi, from aflatoxin to zppspores, with an accessible blend of verve and wit. The 24 chapters are filled with up-to-date information of classification, yeast, lichens, spore dispersal, allergies, ecology, genetics, plant pathology, predatory fungi, biological control, mutualistic symbioses with animals and plants, fungi as food, food spoilage and mycotoxins.
Fungi, Identifying Filamentous, A Clinical Laboratory Handbook, Guy St-Germain, Richard Summerbell, Star Publishing, 1996, ISBN 0-89863-177-7 (English) (buy at Amazon)
Mycology, Fundamentals of Diagnostic, Fran Fisher, Norma B. Cook, W.B. Saunders Co. 1998, ISBN 0-7216-5006-6 (buy this book at Amazon)
...
Books & Articles on Building & Environmental Inspection, Testing, Diagnosis, & Repair
The Home Reference Book - the Encyclopedia of Homes, Carson Dunlop & Associates, Toronto, Ontario, 25th Ed., 2012, is a bound volume of more than 450 illustrated pages that assist home inspectors and home owners in the inspection and detection of problems on buildings. The text is intended as a reference guide to help building owners operate and maintain their home effectively. Field inspection worksheets are included at the back of the volume. Special Offer: For a 10% discount on any number of copies of the Home Reference Book purchased as a single order. Enter INSPECTAHRB in the order payment page "Promo/Redemption" space. InspectAPedia.com editor Daniel Friedman is a contributing author.

Or choose the The Home Reference eBook for PCs, Macs, Kindle, iPad, iPhone, or Android Smart Phones. Special Offer: For a 5% discount on any number of copies of the Home Reference eBook purchased as a single order. Enter INSPECTAEHRB in the order payment page "Promo/Redemption" space.
Carson Dunlop, Associates, Toronto, have provided us with (and we recommend) Carson Dunlop Weldon & Associates' Technical Reference Guide to manufacturer's model and serial number information for heating and cooling equipment
Special Offer: Carson Dunlop Associates offers InspectAPedia readers in the U.S.A. a 5% discount on any number of copies of the Technical Reference Guide purchased as a single order. Just enter INSPECTATRG in the order payment page "Promo/Redemption" space.

...