Mold on Fiberboard Insulating Board Sheathing

Strategies for repair of flood damaged fiberboard & brick veneer walls
MOLD on FIBERBOARD INSULATING SHEATHING - CONTENTS: Mold contaminated fiberboard sheathing: how much insulating board should be removed from a home after flooding? Does insulating board or fiberboard support mold growth? How to recognize Celotex®, Homasote®, Masonite® and other insulating board building sheathing products. Repairing or replacing "blackboard" fiber insulating board on homes
POST a QUESTION or READ FAQs about mold on fiberboard building products
InspectAPedia tolerates no conflicts of interest. We have no relationship with advertisers, products, or services discussed at this website.
Fiberboard mold: occurrence & detection of mold contamination on fiberboard & wood-fiber-based insulating board sheathing.
This article discusses flood damage and mold damage on fiberboard insulating products and building sheathing products such as Homasote, Celotex, and Masonite insulating board sheathing.
Green links show where you are. © Copyright 2017 InspectApedia.com, All Rights Reserved.
Mold Growth & Wood Boring Insect Susceptibility of Fiberboard Building Insulating Sheathing Products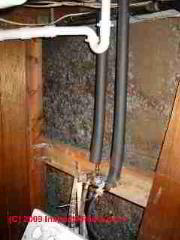 We do not usually find mold growth on fiberboard building insulating sheathing nor insect damage to this material.
Possibly the resin binder and coating is unattractive to insects and the moisture resistance of some coatings also reduce the ease of mold growth on this material.
However in sufficiently challenging conditions such as very wet conditions or prolonged exposure to water and moisture or insects, we have found both extensive mold growth on Homasote type insulating board (photo, left, in a wet basement against a masonry wall) and evidence of insect damage to an interior wall fiberboard sheathing product, probably Beaver board or Upson board (in the attic of a leaky building, below right).
At DRYWALL, PLASTER, BEAVERBOARD we provide the history of Beaver board and Upson board, and we discuss other non-structural interior sheathing boards that were used on building interior walls and ceilings.
Reader Question: Question about Homasote product from 1940s & Mold problems
Was there a Homasote product used in the early 1940s on the exterior of houses that looks like sheet rock? How long does this last for?
If it is still on the house, could it contain asbestos and/or contain mold due to lack of sunlight?
Was there "code" at some point that would have forced individuals who were to replace vinyl siding on the house over these boards to replace with proper products after a certain date? Thank you, K.B.C.
Reply: Properties of Homasote® type fiberboard compared with gypsum-based exterior wall & roof sheathing boards
A competent onsite inspection by an expert usually finds additional clues that help accurately diagnose a problem with sheathing, leaks, and mold or asbestos sources in buildings - the concerns you expressed. That said, here are some things to consider: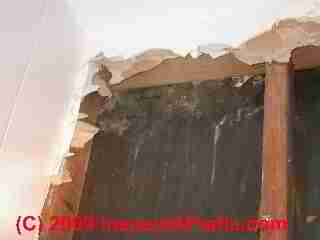 Homasote® fiberboard sheathing is a wood fiber product, not a gypsum or plaster-board product. However there were indeed gypsum-based sheathing board products used on buildings both as wall sheathing (under siding and over studs) as well as roof sheathing. Having inspected quite a few buildings that used this material, my OPINION is that it has proven surprisingly durable and resistant to mold and rot so long as it was kept dry.
Wet the material can become soft, and also one might find mold growth on the paper backing of the gypsum board.
We describe these two different product types
at SHEATHING, GYPSUM BOARD and

at FIBERBOARD SHEATHING - Sheathing Celotex Homasote & Other (this article)
Mold growth on gypsum board building sheathing?
About mold growth: the simple absence of light is not sufficient to cause problematic mold growth in building cavities. Water or high moisture would be a requirement for nearly all indoor mold contamination. And indeed I have found mold growth on paper backer on plaster-board exterior wall sheathing, in the wall cavity in buildings where there had been leaks into those spaces.
So if your home's walls were leaky (from ice dam leaks at the eaves, from leaks around windows or doors, from wind-blown rain penetrating damaged siding, etc) then there might be problematic mold growth on those surfaces - in the previously or currently wet areas. Whether or not this problem deserves investigation and remediation is not something one can decide without more detailed information.
See MOLD EXPERT, WHEN TO HIRE for help in deciding if in your particular case hiring a competent professional to inspect and test the building is justified.
Question About Mold on Celotex Building Insulating Board Following Hurricane-Caused Flooding
Question:
We are survivors (not victims) of the Tennessee flood that came on May 1st 2010. Water was in our home for 34 hours including the 1st level (basement) and 3 feet on the main level.
We have taken everything out of the building, removing interior materials down to the studs (walls) and joists (ceilings and floors). Our Insurance is ready to make their first offer.
They asked about the sheathing saying if it was chip board it would need to be removed. Or plywood should be OK if ventilated correctly. Well, it's nether, occurring to your website it's Celotex™, the back is smooth while the inside is fibrous. I cut a chunk out and it's wet. Should that come out? I say yes. The home was built. 1970s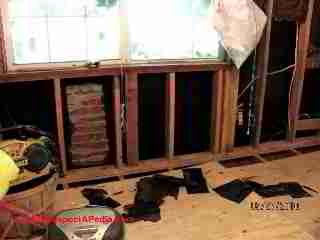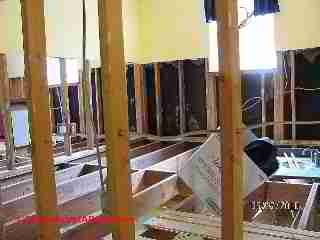 How do you replace wet fiberboard insulation? Remove outside brick? Remove the stud walls. Surely not!
Also FEMA says the basement is the 1st level of the home, because it has a door to enter & exit to the outside. Insurance saying it's a basement. (which covers nothing). If you are unable to do this Pro-Bono, we understand, and we thank you for your web site. - T.
Answer:

OPINION: Since we have certainly seen that Celotex and other fiberboard insulation products can sometimes support mold growth, the wet insulating board should be removed. A photograph of moldy insulating board in a flooded home is shown in our photo at left and as discussed also
at MOLD GROWTH & WOOD BORING INSECT Susceptibility of Fiberboard Building Insulating Sheathing.
Also see INSULATION MOLD CONTAMINATION TEST where we describe non-visible but significant mold contamination found in fiberglass insulation that has been wet or exposed to high moisture or high mold levels.)
Watch Out: In this case someone recognizing the great cost of redoing the brick veneer may want to try installing a very very secure barrier between the celotex and building interior - it might work but this questionable approach risks leaving a mold problem in place - something that could later be a problem for building occupants, especially people at extra risk such as asthmatics, elderly, infants, immune people.
Watch Out: Leaving wet insulating board in place and then re-building over it creates a very high risk of later hidden mold in building walls and ceilings. It is tricky to decide that the insulating board is really dry throughout as its dryout can take weeks, even months where the insulation is covered by a brick exterior wall, by contacting wood framing, or by other materials.
Watch Out: The right hand photo shown above tells us that interior drywall or plaster were removed only for the first four feet of the flooded wall.
This is about 12" above the high water level in the building. There is a good chance that water wicked higher into building materials including the drywall, insulation, and fiberboard insulation in these walls. Leaving wet, possibly moldy insulation in place also leaves a future property resale difficulty as the home may be "stigmatized" as not having been thoroughly cleaned and repaired following a major flood.
How is Wet Insulating Board Removed Where a Masonry Veneer is Installed Outside?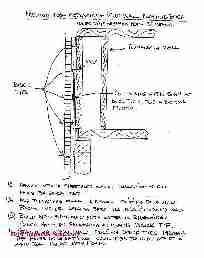 Unfortunately to completely remove the wet insulating board from this building will be a costly and destructive task. You probably don't have the option of "removing the studs from inside" since the brick veneer is typically tied to and thus supported by the wood framing.
Saving a Brick Veneer Wall: One Method
The illustration at left, contributed by a reader's contractor or insurance provider, illustrates the placement of a temporary support wall to allow repairs to the building's exterior wall.
[Click to enlarge any image]
It is important that the brick ties are re-connected securely to the new or replacement framing.
If necessary, retrofit veneer wall ties can also be installed from outside of a building by drilling and inserting patented anchors through the veneer wall and into the supporting structure behind it.
The contractor and other parties involved as well as local building officials need to agree on a safe procedure for the particular structure involved. But here are some general comments about how insulating board is removed from a building where an exterior veneer of brick or stone are installed.
A temporary support wall is constructed inside the building parallel to the wall where the insulating board must be removed. The support wall involves a top header, support posts, and often a sill plate that distributes its load safely across the floor below or down to a basement slab or footings.
We have repaired a brick veneer building from the inside (for example in a non-flood case of extreme termite damage) by working carefully on the interior side of the veneer wall, in small sections so that there was not a risk of wall collapse.
We removed and replaced damaged wallboard, insulation, and studs. New studs and sill and top plates were installed and metal ties were reconnected to the studs to continue to secure the brick veneer wall. It was technically not difficult, but it was a labor intensive procedure.
The temporary support wall allows the contractor to remove sections of exterior wall studs (and the insulating board between the wall studs and the exterior masonry veneer) without risking the ceiling above collapsing. The support wall is spaced far enough in from the original exterior wall to give access to the original studs and wall, but close enough to the outside wall to safely support the floor above - often just a couple of feet.
The support wall is usually constructed using a heavy beam or header rather than a simple flat 2x4 top plate. The beam allows the temporary wall's supporting posts to be placed 4 feet or more apart, giving plenty of working space.
How Much Insulating Board to Remove?
You might know better just how much of the insulating board needed to be replaced above whatever has been soaked if you have a very thorough inspection and testing for mold, including test cuts to check the hidden side of the insulating board (such as Celotex™ material) in the most-suspect locations where moisture may have been present.
Where Does Mold Occur on Insulating Board?
Where we have found insulating board products such as Homasote or Celotex to be moldy, it has been in areas of flooding that wet the board.
If none of the dry, un-damaged insulating board is found to be moldy, where it is left in place, the seal up approach or use of a fungicidal sealant on dry surfaces might be fine. If you can you send us photos of the home inside and out we may be able to comment further on where to look for hidden problems.
But the best approach is to bring in an experienced inspector who knows where to look and how to test building materials for wetness, dampness, or mold.
What Are the Structural Differences Between Chipboard, OSB, and Insulating Board?
You won't find "chipboard" used as building sheathing. "Chipboard" is compressed sawdust-like material, often used for shelving. But you might find oriented strand-board or OSB sheathing in place, depending on when your home was built.
That is probably what your insurance company meant by "chipboard" sheathing. Ask your Insurance company if their issue with OSB sheathing that has been soaked is a structural concern or a mold concern.
Insulating board products such as Celotex™ or Homasote™ are not structural. Where those products were used as wall sheathing you'll typically find either diagonal wood or metal bracing at the building corners, or structural plywood used in those locations. We illustrate diagonal bracing in a photograph later in this article.
Bottom Line: Don't Leave Wet or Moldy Materials In Place After Building Flooding
Watch out: in any case don't leave a mold reservoir in place in a building following flooding. Doing so simply risks having to do the whole job over again later.
Bottom line, we expect that in your case, since you described soaking wet insulating board materials, the Celotex™ needs to come out because of the mold concern. Any attempt to reconstruct the building while leaving soaking wet material in place will very likely produce a new wall or ceiling cavity mold problem and the whole job would end up needing to be done again.
Finally, your insurance company may define the lowest floor of your home as "basement" in order to reduce their loss coverage expense. But if the lowest floor opens to grade on at least one side, and was finished as living space, especially supported by FEMA's own description, you may be able to satisfy your insurance company that this was code-approved living space not "basement" (a non-living space area).
There are no fees to consult with us regarding natural disasters such as area flooding.
Question: Removing vs saving fiberboard exterior wall sheathing & the Louisana Flooding in 2016
(Sept 4, 2016) Anonymous said:
I live in Denham Springs, LA and we just experienced a major flood a couple weeks ago. Our home has been gutted and treated for mold but I'm worried about this blackboard (possibly Celotex?) not being dry enough. After mentioning it to friends that also flooded they shared info they were told by their insurance (we don't have flood ins). We had between 10-12 inches of water in our house, will this material dry out?
Taking out the brick to replace it sounds crazy expensive but we don't want to enclose it and possibly cause mold growth. Help please! I should mention that it's only in a few areas of our home-along a section of the wall of our kitchen and along a section of the bathroom and into the master bedroom. Basically it's on the "sides" of our home not the front or back walls, those have plywood.
2016/09/22 Anonymous said:
My parents have a similar experience in Baton Rouge, LA. They had 20 inches of water and the house has brick veneer all the way around. The flood insurance company is saying that they'll pay for the replacement of the outside sheathing, but it must be done from the inside (sounds crazy). They're saying there's a method "They will remove it between studs and replace it the same way using cross bracing to support it in place. " I can't seems to find anyone that's ever heard of this method.
2016/09/26 CRS said:
I am a contractor that has been working on this flood since we could get out. I am currently working on several homes in the Baton Rouge and Denham Springs area. The majority of the homes that have a brick veneer on the exterior will see the mineral fiberboard (black press board Georgia Pacific or similar to Celotex) excluding the corners of the house. This has to be a structurally rated plywood to meet the wind load. I have been in this business for 30 years.
I have never removed exterior sheeting from the inside. The only way you can do this and still meet the manufactures specifications is to install it per the specification which ultimately means from the exterior. The insurance companies are feeding these flood victims a line of garbage.
Your claim will include the replacement cost of the materials but not the exterior brick removal and repair as this will in most cased exceed the limits of the policy.
There is a product on the market that can be applied to properly clean these surfaces. Most of these products are wood fiber infused with an asphalt treatment. There should not be a problem down the road with product failure since they are rated for exterior use.
They were designed to get wet.

Reply: alternatives to removing fiberboard wall sheathing beneath a brick veneer wall that was flooded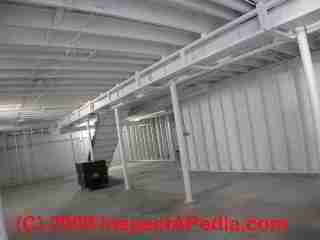 CRS and other readers:
OPINION: I completely agree with you that this is a serious problem, and one we've discussed with other LA flood victims trying to do building restoration. Removing the brick veneer is indeed ruinously expensive and worse, won't prevent future damage at the next flood.
Many fiberboard products will be swollen and damaged by water but may not remain as mold reservoirs. If that's the case the material could stay in place, thus avoiding having to remove the brick veneer.
I'd consider using a fungicidal sealant to reduce future moisture uptake and thus improve the mold resistance of materials left in place.
See FUNGICIDAL SPRAY & SEALANT USE GUIDE and also see DISINFECTANTS & SANITIZERS, SOURCES to use these coatings.
See MOLD SPRAYS, SEALANTS, PAINTS for a "how-to" discussion of pros and cons of doing so.
Watch out: using a spray sanitizer or sealant or fungicidal paint is not a substitute for removing moldy drywall, wet insulation, nor does it subsitute for cleaning remaining moldy surfaces such as framing or wall sheathing.
Keeping Fiberboard Wall Sheathing In Place & Adding Structural Support Against Racking or Wind Damage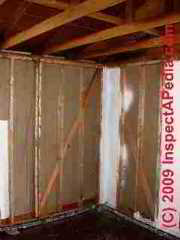 Updating the structure to modern strength and wind resistance by bracing might be accomplished by any of the following means. Diagonal bracing as we describe below is installed to prevent racking of frame-built structures that are sheathed with non-structural materials such as fiberboard, insulating board, or foam board.
Use of wood or metal diagonal bracing at corners or other walls: traditional wood let-in braced framing technique notches the wall studs to permit nailing in place of diagnonal braces at the building wall corners.

Braces typically are installed from the top plate to the sill plate on a diagonal, and are nailed to the plates and to the studs they intersect.

The diagonal let-in bracing shown in my photo was installed on the outside of the building stud wall at the time of original construction. This example shows a home that was sheathed using gypsum board on the home's exterior.

But this same techinque can work with let-in bracing as a retrofit installation on the wall interior. Wood diagonal bracing was traditionally installed using a 2x4 along the diagonal but a 1x4 may also be permitted, thus reducing the necessary depth of the cutout notch.

Metal diagonal bracing is still easier to install. There are several types of metal strapping used for diagonal bracing, of which the traditional T-shape was most familiar to older carpenters.

Two other profiles, flat-strapping and L-shaped strapping are also used for diagonal bracing at wall corners. Flat strapping such as Simpson Strong-Tie's WB product is installed without any requirement for saw cuts or notching, but because it works only in tension, not in compression, it is installed in pairs.

The T-shaped metal strapping is nailed to the top and bottom wall plates and to studs in between along its diagonal, similarly to the wood bracing shown in our photograph.

But instead of having to cut and chisel out a deep and wide notch for the 1x4 or more traditionally 2x4 diagonal brace, the installer simply runs her circular saw along a chalk line snapped along the desired diagonal, making a single cut. The base of the Tee slips into the saw cut.

[Click to enlarge any image]
Use of plywood or OSB sheathing inside at wall corners. With this approach there will remain a decision about furring out other studs or double-layering drywall or as I prefer, coating the plywood with a joint compound veneer before painting, then of course taping all joints to produce a smooth interior wall.

OSB sheathing is commonly-used at the corners and at other strategic locations of the wall exterior in new construction.

If you decide to use structural sheathing on the building interior walls during a flood-damage repair job, plywood, particularly AC plywood with the "A" or smooth side facing the room interior will make subsequent wall finishing and painting easier.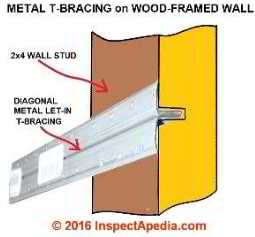 Watch out: Before choosing a metal strapping product for wall bracing check its specifications against what is required by local building codes where you live. Holladay, in an excellent Fine Homebuilding article on shear bracing points out that these products vary in strength, purpose, and acceptability.
You'll want to confirm design alternatives and your choice of wall bracing methods with a structural engineer to obtain a sign-off, but there are alternatives once you've removed moldy drywall, cleaned the wall cavities and sanitized them.
Other suggstions for flood restoration including at brick veneer walls over fiberboard sheathing
Insulation retrofits: Some of our readers have re-insulated wall cavities using a combination of styrofoam cut to fit, foam insulation, and fiberglass.
We presently are working on adding photographs and discussion of that work here in this article. I think sticking fiberglass or any other water-vulnerable insulation back into a wall cavity that is likely to be exposed to future flooding is a bad idea.
Future flood resistance: I'm really glad to see you discussing water-resistant restoration material choices. I am concerned about some Louisiana flood restoration work being done that will be damaged again by the next flood and would prefer that owners, contractors, and insurance companies discuss use of materials and methods that may reduce the cost of damage from the next inundation.
Watch out for hidden mold and moisture damage in walls or ceilings above the actual flood high-water line. Homes that sat for more than 24-48 hours in wet and high humidity are at high risk of hidden mold damage in upper walls and ceiling cavities.
Simply running a dehumidifier or two along with fans will not "extract" water from the cavities of a flooded building and if not started soon enough it may not have prevented extensive but hidden mold contamination higher in the building.

A few strategic test cuts into those areas are worthwhile. Inspect the cavity side of drywall for visible mold. It's much less costly to do this repair now than to have to return to a "restored" flood-damaged home next year to rip out all of that new work to remove a just-discovered harmful mold reservoir in the building.
See HIDDEN MOLD in CEILINGS / WALLS for some examples of strategic test cuts into buildings.

Other hidden mold advice is at HIDDEN MOLD, HOW TO FIND
Watch out for leaving unsafe electrical devices in a flooded building: Be sure that you insist on review and qualification or probably replacement of electrical devices that were flooded in these walls, such as receptacles and splices.
Brick vents: Also be sure to check for flood-clogged weep openings in brick veneer walls: those may need to be cleaned or opened as part of the restoration work lest wind-driven rain or other water later become trapped in the veneer wall cavity. See BRICK WALL DRAINAGE WEEP HOLES
You're welcome to send us photos or other material for comment by email as well, using the page top or bottom CONTACT link and I'll be glad to research further.
Erickson, E.C.O., Eng., "Rigidity and Strength of Wall Frames Braced with Metal Strapping", [PDF] US Forest Products Service, USDA, Agriculture-Madison, 1960, Report No. R1603,
Holladay, Martin, "4 Options for Shear Bracing Foam-Sheathed Walls", Fine Homebuilding, The Taunton Press, Inc. 63 South Main St., PO Box 5506 Newtown, CT 06470-5506 USA Phone: 203-426-8171 , No. 220, retrieved 2016/09/28, original source: http://www.finehomebuilding.com/2011/05/19/4-options-for-shear-bracing-foam-sheathed-walls
Simpson Strong Tie, 20-Gauge 14 Ft. 2 In. Wall Bracing, Model RCWB14, Simpson Strong-Tie Company Inc., Tel: (800) 999-5099, Website: https://www2.strongtie.com
...
Continue reading at MOLD / ENVIRONMENTAL EXPERT, HIRE ? for more about these questions and their answers.
Suggested citation for this web page
MOLD on FIBERBOARD INSULATING SHEATHING at InspectApedia.com - online encyclopedia of building & environmental inspection, testing, diagnosis, repair, & problem prevention advice.
Or use the SEARCH BOX found below to Ask a Question or Search InspectApedia
Or see
Or use the SEARCH BOX found below to Ask a Question or Search InspectApedia
...
Frequently Asked Questions (FAQs)
Try the search box below or CONTACT US by email if you cannot find the answer you need at InspectApedia.
Recent questions & answers about mold growth on fiberboard sheathing
Flood survivor:
There are sanitizers and spray cleaners that can reduce mold growth or mold viability on surfaces but that still risk leaving harmful, toxic, pathogenic or allergenic particles in the building. Leaving a large reservoir of such contaminants risks serious health hazards for future building occupants.
It's easy to clean mold from exposed hard surfaces and almost impossible to reliably remove it from soft goods such as drywall. It *might* be possible to remove it from a waxed, treated, sealed surface of fiberboard sheathing if you could expose that material for cleaning.
OPINION: Short of demolition and removal of mold-contaminated soft goods, about the best you could do - and in my opinion this is rather dangerous - would be to disinfect as best you can, dry the area, and seal it thoroughly to preclude movement of harmful particles or gases into the occupied space.
Beware of very-appealing shortcuts and magic bullets. When we face a very costly cure for a problem, the temptation to try something else is nearly overwhelming. That's quite reasonable if there are not high-cost, high-risk downsides that exist at high probability.
Question: house was flooded; we left it to dry.
(May 7, 2012) Anonymous said:
Our home was built in the mid 60s with beaverboard insulation. We have sided over the original wood siding using redwood.
In 2011, the semi basement house was flooded, with about 8 feet of water on the main floor. There was water in the house for over a month. It was gutted, power washed, sprayed professionally with a moldicide and allowed to dry for the winter.
We have left the exterior because it is almost impossible to find redwood. It has been tested for mold by a professional, and except in one place, the mold level is "acceptable".
We are receiving conflicting advice, one expert tells us that we should paint the fiberboard with a microbial such as Fosters, the other says to leave it alone; painting it will seal any moisture in and create a breeding ground for any existing mold. What is your opinion?
Reply:
I don't know what "acceptable" means without objective data, site observations and something more than an unaccountable position from someone with whom you may have no recourse.
I'm also unclear about who saw what where.
But in my OPINION, given the cost and trouble of a gut renovation, I'd be inclined to use a fungicidal sealant on the interior of the wall cavities that have been cleaned and dried.
I suspect your'e also worrying about mold trapped between the exterior siding's interior surface and the outer surface of the wall sheathing.
If that's the case I'd make a few test explorations in the most-suspect areas and I'd study the wall construction; in a more thorough study I might use some vacuum testing to see if it is possible to pull mold from the exterior wall sheathing surface or siding backside into the wall cavity - simulating changing building wall cavity pressures.
Chances are you won't be able to pull much through the wall even at butt joints of the sheathing (those should be over studs anyway).
Mold on a building exterior should be cleaned and the mold-producing conditions corrected but it's not normally a hazard to building occupants unless you put your fingers in harmful mold and then into your eye.
...
Ask a Question or Search InspectApedia
Questions & answers or comments about mold on fiberboard building products.
Use the "Click to Show or Hide FAQs" link just above to see recently-posted questions, comments, replies, try the search box just below, or if you prefer, post a question or comment in the Comments box below and we will respond promptly.
Search the InspectApedia website
Technical Reviewers & References
Click to Show or Hide Citations & References
Books & Articles on Building & Environmental Inspection, Testing, Diagnosis, & Repair
Mold Contamination Testing, Cleanup, Prevention: references & products
OTHER IAQ ISSUES: How To Find and Address Other Indoor Air or Indoor Environment Contaminants Besides Mold
Mold or allergens may not be the only or even the main indoor environmental contaminant. Don't let media attention to mold cause so much enviro-scare fear that other, possibly more urgent hazards go un-addressed.