InspectAPedia tolerates no conflicts of interest. We have no relationship with advertisers, products, or services discussed at this website.
This article explains how to deal with and test for sewage backup contamination, sewage contamination testing, inspection, and cleanup- remediation in residential and commercial buildings. If you have had sewage back up and spill out of toilets into the building, cleanup is needed and you may face bacterial hazards. If you have had a sewage backup or burst house drain pipe in your building this document offers some advice on how to test for sewage contamination, bacterial and viral hazards, and links to sewage spill cleanup and bacterial hazard information regarding sewage and septic spill contamination. We explain why and how testing for sewage contamination is performed and we discuss the urgency of proper cleanup following a sewage backup or spill in a building.
The photo above shows what dirt and sewage sludge may look like in a basement after a sewer line backup. See BLOCKED DRAIN REPAIR METHODS to try clearing your blocked drain before going to more drastic measures.
Green links show where you are. © Copyright 2013 InspectAPedia.com, All Rights Reserved.
Testing For Bacterial Contamination and Cleaning Up Sewage Backups in Buildings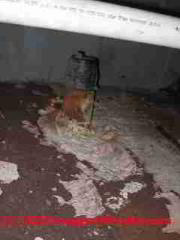 If your building has had a septic or sewage system backup into the structure see SEWAGE BACKUP, WHAT TO DO and also see SEWAGE BACKUP PREVENTION. At SEWAGE BACKUP TEST & CLEANUP we discuss how to test for bacterial or other pathogens in a building - tests that may be useful after a sewage spill cleanup in order to assure that the building is acceptably clean.
At SEWAGE & SEPTIC CONTAMINANTS we list the pathogens and contaminants commonly found in sewage and in sewage backup waters. In this article series we explain the causes of sewer or septic backups into buildings, the health hazards, testing, and cleanup of sewage backups, and the cure or prevention of future sewage or septic backup problems.
Checking buildings for indoor air quality or other contaminants which may affect occupant health should not omit inspecting and taking site history for evidence of sewage or septic system backups into the structure or basement or crawl space areas below the structure. Gray water and black water (sewage) can cause a wide range of fungal, bacteriological, viral, and parasitic hazards in buildings.
The photo at left shows evidence of raw sewage overflow in the crawl space under a home. Although a new waste line was installed (the white pipe at the top of the photograph) no cleanup has been performed.
Both a one-time event and recurrent sewage leaks into a building would be a concern, particularly if prompt and competent cleaning were not performed. If recurrent sewage contamination has occurred more extensive building cleaning and treatment are likely to be required.
One reason that experts recommend very prompt treatment following a sewage backup in a building is the wish to avoid transmission of bacterial contamination to other building areas.
Examples of sewage bacteria and virus transmission might be by movement of people from contaminated areas to other building areas (tracking contaminated soil), and air movement of aerosolized particles or contaminated dust through the building by natural convection, heating and air conditioning equipment, or other sources of air and dust movement.
Testing for Sewage or Septic Contamination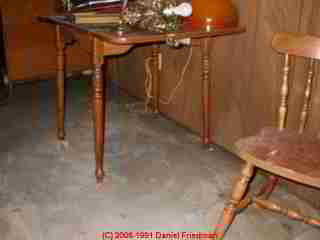 The photograph shows a rather innocent-looking wet concrete basement floor following a sewer line backup into this building. In fact a very high level of pathogens was present on the concrete, on the lower portions of furnishings, and on and inside the paneled wall cavity.
Demolition, cleaning, and disinfection were needed. These surfaces were then re-tested after cleaning and disinfection were complete.
Additional testing was conducted to confirm that the workers did not contaminate other building areas during this cleanup.
While sewage may contain many pathogens harmful to building occupants, testing for this problem usually focuses on indicator organisms including total coliform, fecal coliform, Escherichia coli (E. coli), and Enterococcus as these species are expected in human sewage waste. They are potentially harmful themselves as well as serving as an indicator of sewage contamination.
Typical sampling methods to test for sewage contamination in buildings include use of sterile swabs on sample surfaces both in the suspected area and as a control in other building areas where low or no contamination is expected.
Bulk samples of debris or building materials may also be collected, such as drywall suspected of having been wet with a sewage backup. Samples are sent to a qualified laboratory for culture and examination for these bacteria.
Since there are a variety of tests for bacteria and for possible sewage contamination, specification of the definitive lab test for sewage contamination is important where health concerns are at stake. Be sure to review the test choices with your laboratory before ordering a specific test as test accuracy and cost vary widely.
Frequently Asked Questions (FAQs) About Sewage Spills in Buildings
Question: Hazards of & Best Response to a Sewage Spill in a Crawl Space
I am writing in the hope of getting some information on a sewage spill that happened at the place we are renting. We are in a studio unit that is below the original plumbing of the main building. There is a pump-up system to get rid of the sewage. It overflowed a couple of weeks ago because somebody previous to us had flushed tampons down the system and they had jammed the pump.
The effluent overflowed out of the top of the containment barrel and ran about 15'down the slope in the crawl space. At that time the landlord removed a good bit of the contaminated soil and then put kitty litter over it to absorb the moisture. Yesterday the tank overflowed again. This time, the plumber found a towel that had been flushed down the toilet, also by previous tenants. Our landlords had said they noticed the towel missing in mid August. It is now mid Nov. The plumber thought that it had just been floating in the collection barrel and was only a matter of time before it got sucked up by the pump.
This all happened in the crawl space below the unit we are renting. We are in Whistler BC and the house is built on the side of the mountain, so the crawl space is not the traditional type one visualizes when we think of a crawl space. Where the collection barrel is located, the space is just deep enough for the height of the barrel. By the entrance door of the crawl space, the ceiling to floor is well over 12'. Most of the are is mountain bedrock which is very jagged and sloping. As such, it is quite difficult to clean the area. This last spill has re-soaked the kitty litter from the previous spill.
My question to you is, are there health hazards due to the spill. My wife and I have somewhat compromised immune systems, so we have concerns about the consequences. The landlord had also stated that there was a continual problem with wet, damp soil in the crawl space. Would this lead to a mold problem. What would you suggest to clean up the spill, if anything. Would putting kitty litter or some other absorbing material be a good enough solution? Are there other steps that one could take to rectify the problem? Can the bacteria be transferred by walking in the affected area and then tracked into our living space? Or is it of no concern? I thank you for your time and I look forward to your response in the near future.- R.P. 10/14/2012
Reply: Advice for Disinfecting & Drying Out a Sewage Contaminated Crawl Space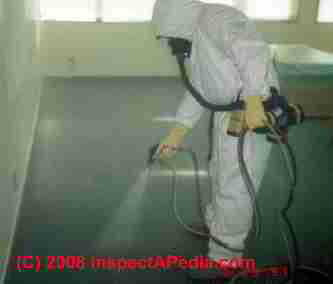 We can't reliably assess the extent of health hazards in your home due to a crawl space sewage backup from just your note, as there are other very important considerations that an onsite expert would consider, such as the ease with which air or dust can move from a contaminated crawl area into the occupied building space. But here are some thoughts that may help:
An appropriate response to sewage spills in a crawl space goes beyond dumping some kitty litter on the ground. Missing from your description of how the sewage spill was handled in the crawl space you describe are these additional steps or considerations:
An inspection for mold or other contaminants in the same area, and further cleaning of surfaces as needed - see CRAWLSPACE MOLD ADVICE
Inspector for and removal/replacement (after surface cleaning) of any suspect or contaminated insulation or similar materials in the crawl area
Disinfection of the contaminated area. Professional cleaning companies use a variety of sanitizers and disinfectants beyond simple diluted bleach. The choice depends in part on just what surfaces and materials need treatment. Sanitizing a crawl space is described at CRAWL SPACE DRYOUT PROCEDURES
Measures to assure that sewage contaminated soil was not tracked into the living area, or appropriate cleaning there if needed. This may mean a few surface tests for sewage contaminants in the living area, starting with the most-suspect areas of floors.
Any possible effect on the building HVAC systems - for example a warm air heat or air conditioning duct system exposed to contamination.
Examination of the sewage ejector pump to remove any other pending blockages and to assure that the proper type of sewage grinder pump, check valves, piping, etc. are installed. See SEWAGE GRINDER PUMPS.
Installation of a warning system that indicates if the sewage pump is not working, so that residents can stop using toilets and fixtures long enough to fix the problem and avoid future sewage spills in the structure. Also see SEWAGE BACKUP PREVENTION and see Septic Pump Alarm Systems
In addition to removing contaminated soil (ok), typically we'd install a heavy plastic barrier to prevent soil moisture from continuing to enter the crawl area where it invites mold contamination. See CRAWL SPACE GROUND COVERS and CRAWL SPACE VAPOR BARRIER - also see CRAWL SPACE DRYOUT PROCEDURES to be sure there are not other sources of water entry into the crawl area.
...
Ask a Question or Search InspectApedia
Questions & answers or comments about testing for sewage contamination in buildings
Ask a Question or Enter Search Terms in the InspectApedia search box just below.
Technical Reviewers & References
Related Topics, found near the top of this page suggest articles closely related to this one.
Click to Show or Hide Citations & References
Books & Articles on Building & Environmental Inspection, Testing, Diagnosis, & Repair
The Home Reference Book - the Encyclopedia of Homes, Carson Dunlop & Associates, Toronto, Ontario, 25th Ed., 2012, is a bound volume of more than 450 illustrated pages that assist home inspectors and home owners in the inspection and detection of problems on buildings. The text is intended as a reference guide to help building owners operate and maintain their home effectively. Field inspection worksheets are included at the back of the volume. Special Offer: For a 10% discount on any number of copies of the Home Reference Book purchased as a single order. Enter INSPECTAHRB in the order payment page "Promo/Redemption" space. InspectAPedia.com editor Daniel Friedman is a contributing author.

Or choose the The Home Reference eBook for PCs, Macs, Kindle, iPad, iPhone, or Android Smart Phones. Special Offer: For a 5% discount on any number of copies of the Home Reference eBook purchased as a single order. Enter INSPECTAEHRB in the order payment page "Promo/Redemption" space.