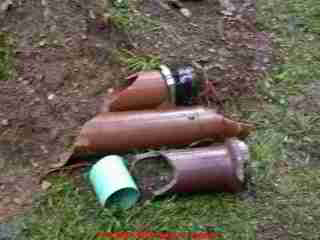 Home seller or home buyer guide to septic tank piping clogs, slow drains, or blockage

InspectAPedia tolerates no conflicts of interest. We have no relationship with advertisers, products, or services discussed at this website.
Discovering clogged septic system piping during the process of buying a home: this article discusses how to diagnose and repair clogged septic systems or piping. Septic backups, failures, breakouts, odors: This document provides advice for home buyers who are buying a home with a private septic system: homes using a septic tank and drainfield or similar soil absorption system.
This article series outlines what goes wrong with septic systems and their various components and describes septic inspection and test methods in detail, explains how to be sure your septic inspection and septic test are conducted properly, tells you where to get more septic system information about a given property, and warns of unsanitary or dangerous site conditions.
Green links show where you are. © Copyright 2013 InspectAPedia.com, All Rights Reserved.
4-2 PIPING FAILURES - Septic Piping Failures
Septic Main Drain or Municipal Sewer Piping Failures - Distribution Piping
Distribution piping connects the house drain to the septic tank, running between the building and the tank inlet. More distribution piping connects the septic tank outlet to the distribution box and from there to the leach field. Distribution pipes can settle (especially in new construction), break, become blocked or clogged, or become invaded and blocked by tree roots or soils as shown in the first photo above. Clay pipes also break and have a tendency to become blocked by tree roots at their joints as happened here.
Older "orangeburg" pipes which look like black asphalt-soaked cardboard (they are) crush and deteriorate with age. You won't know what kind of piping is installed until it is excavated, but the age of the property may be a clue.

Homes built from the 1970's on, certainly from the 1980's on, use cast iron or more often plastic ABS or PVC piping for these connections, as shown in the second photo above where we were replacing a root and mud-clogged clay sewer line with a new plastic line.

See "Drain Line Replacement diagnosing a clogged drain leads to drain line replacement" for a step by step photo-illustrated guide to diagnosing failed septic piping (or sewer line) and the subsequent drain replacement procedure.
Septic Distribution Boxes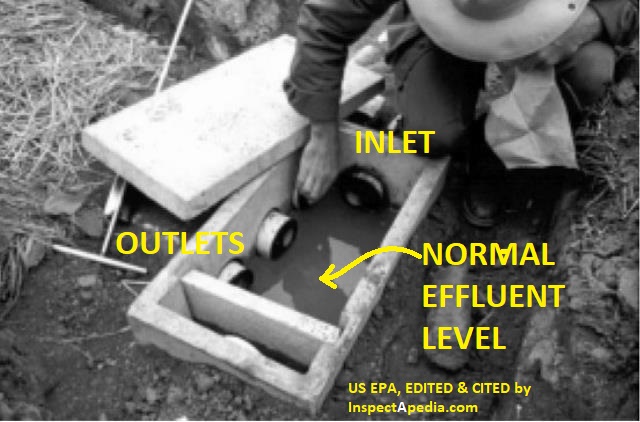 Distribution boxes serve as a connection point to distribute effluent which arrives from the septic tank outlet and is to be sent into two or more individual leach field lines. Distribution boxes ("D-Boxes") can settle or tip.

A damaged or tipped D-box will fail to divert effluent uniformly among the effluent receiving drainfield lines, causing flooding of one leach line. If you see depressions suggesting that there are four leach lines at the property and the end of just one of them is producing wet soil or surface-breakout of effluent, we'd suspect a tipped D-box. (Photo courtesy U.S. EPA)

Details are at D BOX TROUBLESHOOTING.
Septic Drainfield Piping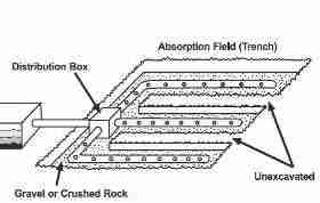 Drainfield piping is usually constructed of perforated pipe buried in gravel-filled trenches. It receives effluent from the D-box and allows it to percolate or

seep into the soil around the trench where added filtering and bacterial treatment occur. Like the distribution piping discussed above, individual drainfield pipes can become crushed, shifted, or clogged by tree roots or other debris.

More general clogging and failure of the leach field is discussed below. A broken or clogged pipe, once it has been located, may be

much less costly to repair than a complete leach field replacement, so this possibility needs to be considered during diagnosis of a "failed" septic system.

We have more to say about septic distribution piping failures in the next section 4-3 where we discuss Leach Field Failures.
More Reading
Green link shows where you are in this article series.
...
Frequently Asked Questions (FAQs)
No FAQs have been posted for this page. Try the search box below or CONTACT US by email if you cannot find the answer you need at InspectApedia.
Ask a Question or Search InspectApedia
Questions & answers or comments about discovering clogged septic or sewer piping during the purchase of a home.
Ask a Question or Enter Search Terms in the InspectApedia search box just below.
Technical Reviewers & References
Related Topics, found near the top of this page suggest articles closely related to this one.
Click to Show or Hide Citations & References
Sketches of the Septic System Components Private Sewage Disposal Systems - Septic Drawing Library
Septic Systems - an Engineer's View
Septic System, Septic Tank, & Cesspool Safety Warnings for Septic Inspectors, Septic Pumpers, and Homeowners.
CESSPOOLS if you don't know what they are.
Don't Flush these things into a septic system
DRYWELL DESIGN & USES if you don't know what they are.
SEPTIC SYSTEMS ONLINE BOOK Online Book, Inspection, Test, Diagnosis, Repair, & Maintenance: Our Online Septic Book: Septic Testing, Loading & Dye Tests, Septic Tank Pumping, Clearances, details of onsite waste disposal system inspection, testing, repair procedures.
Books & Articles on Building & Environmental Inspection, Testing, Diagnosis, & Repair
The Home Reference Book - the Encyclopedia of Homes, Carson Dunlop & Associates, Toronto, Ontario, 25th Ed., 2012, is a bound volume of more than 450 illustrated pages that assist home inspectors and home owners in the inspection and detection of problems on buildings. The text is intended as a reference guide to help building owners operate and maintain their home effectively. Field inspection worksheets are included at the back of the volume. Special Offer: For a 10% discount on any number of copies of the Home Reference Book purchased as a single order. Enter INSPECTAHRB in the order payment page "Promo/Redemption" space. InspectAPedia.com editor Daniel Friedman is a contributing author.

Or choose the The Home Reference eBook for PCs, Macs, Kindle, iPad, iPhone, or Android Smart Phones. Special Offer: For a 5% discount on any number of copies of the Home Reference eBook purchased as a single order. Enter INSPECTAEHRB in the order payment page "Promo/Redemption" space.
Inspecting Septic Systems: Online Book, Inspection, Test, Diagnosis, Repair, & Maintenance: our Online Septic Book: Septic Testing, Loading & Dye Tests, Septic Tank Pumping, Clearances, details of onsite waste disposal system inspection, testing, repair procedures.


Builder's Guide to Wells and Septic Systems, Woodson, R. Dodge: $ 24.95; MCGRAW HILL B; TP; Quoting from Amazon's description: For the homebuilder, one mistake in estimating or installing wells and septic systems can cost thousands of dollars. This comprehensive guide filled with case studies can prevent that. Master plumber R. Dodge Woodson packs this reader-friendly guide with guidance and information, including details on new techniques and materials that can economize and expedite jobs and advice on how to avoid mistakes in both estimating and construction. Chapters cover virtually every aspect of wells and septic systems, including on-site evaluations; site limitations; bidding; soil studies, septic designs, and code-related issues; drilled and dug wells, gravel and pipe, chamber-type, and gravity septic systems; pump stations; common problems with well installation; and remedies for poor septic situations. Woodson also discusses ways to increase profits by avoiding cost overruns.
Country Plumbing: Living with a Septic System, Hartigan, Gerry: $ 9.95; ALAN C HOOD & TP; Quoting an Amazon reviewer's comment, with which we agree--DF:This book is informative as far as it goes and might be most useful for someone with an older system. But it was written in the early 1980s. A lot has changed since then. In particular, the book doesn't cover any of the newer systems that are used more and more nowadays in some parts of the country -- sand mounds, aeration systems, lagoons, etc.
"International Private Sewage Disposal Code," 1995, BOCA-708-799-2300, ICBO-310-699-0541, SBCCI 205-591-1853, available from those code associations.
"Manual of Policy, Procedures, and Guidelines for Onsite Sewage Systems," Ontario Reg. 374/81, Part VII of the Environmental Protection Act (Canada), ISBN 0-7743-7303-2, Ministry of the Environment,135 St. Clair Ave. West, Toronto Ontario M4V 1P5 Canada $24. CDN.
Manual of Septic Tank Practice, US Public Health Service's 1959.

Water Wells and Septic Systems Handbook, R. Dodge Woodson. This book is in the upper price range, but is worth the cost for serious septic installers and designers. Quoting Amazon: Each year, thousands upon thousands of Americans install water wells and septic systems on their properties. But with a maze of codes governing their use along with a host of design requirements that ensure their functionality where can someone turn for comprehensive, one-stop guidance? Enter the Water Wells and Septic Systems Handbook from McGraw-Hill.
Written in language any property owner can understand yet detailed enough for professionals and technical students this easy-to-use volume delivers the latest techniques and code requirements for designing, building, rehabilitating, and maintaining private water wells and septic systems. Bolstered by a wealth of informative charts, tables, and illustrations, this book delivers:
* Current construction, maintenance, and repair methods
* New International Private Sewage Disposal Code
* Up-to-date standards from the American Water Works Association

Wells and Septic Systems, Alth, Max and Charlet, Rev. by S. Blackwell Duncan, $ 18.95; Tab Books 1992. We have found this text very useful for conventional well and septic systems design and maintenance --DF. Quoting an Amazon description:Here's all the information you need to build a well or septic system yourself - and save a lot of time, money, and frustration. S. Blackwell Duncan has thoroughly revised and updated this second edition of Wells and Septic Systems to conform to current codes and requirements. He also has expanded this national bestseller to include new material on well and septic installation, water storage and distribution, water treatment, ecological considerations, and septic systems for problem building sites.

...