Home Water Quantity Requirements
InspectAPedia tolerates no conflicts of interest. We have no relationship with advertisers, products, or services discussed at this website.
How to estimate daily water quantity usage & wastewater quantity:
This article outlines typical daily residential water usage in gallons for people, appliances, and activities. s.
We also provide a MASTER INDEX to this topic, or you can try the page top or bottom SEARCH BOX as a quick way to find information you need.
Home and Outdoor Living Water Requirements, Plumbing Fixture and Appliance Water Flow Rates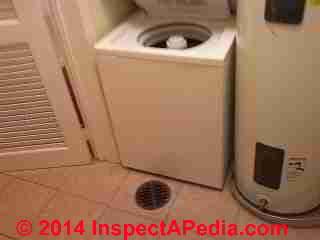 Knowing the average and peak water usage rates for people, fixtures, or buildings permits estimation of wastewater volume (for septic tank size determination) as well as water and well flow requirements and assists in water pump capacity or sizing specifications.
Flow rates for common household plumbing fixtures and appliances is given as well as estimates of peak demand water usage rates for residential buildings.
This data is also useful when evaluating adequacy of private well and water supply quantity, well flow rate, and wastewater loads on onsite residential septic systems.
Daily wastewater volume to be treated and disposed-of at a site determines the design parameters for onsite wastewater treatment or septic systems as well as suggesting choices among alternative septic designs and septic product
How much water does a family use each day? What is the water flow rate for common household fixtures and appliances? How is this data used? Here we will review the following
How to estimate water quantity usage in order to estimate water supply needs & water pump capacity needed
How to estimate septic tank size and system capacity needs based on daily wastewater flow
List of articles giving options for increasing the quantity of water available at a site:
Well water problems: running out of water, options list
The following table lists water usage requirements and typical fixture flow rates or device flow rates for home and outdoor living in the U.S.
Table 1. Home and Outdoor Living Water Requirements
Typical Plumbing Fixture Water Usage & Flow Rates

Use
Flow Rate
US Gallons
GPM
Flow Rate
Liters
LPM
Total Use
U.S. Gals.
Total Use
Liters
Adult or child total water use
-
-
60 - 70 / day1
50 - 100 / day2
227 - 2651
189 - 3792
Baby care
-
-
100 / day
379
Bathroom % of Residential Water Use
50 - 75%1
Bathroom lavatory sink
2
7.6
1 - 2 / use
3.8 - 7.6
Backwash filters
10
37.9
100-200 / backwash cycle
379 - 757
Dishwasher
2
7.6
5 - 5 / load
19 - 57 / load
Garbage Disposer
3
11.3
4 - 6 / day
15 - 23 / day
Kitchen sink (a)
3
11.3
2 - 4 / use
7.6 - 15 / use
REVERSE OSMOSIS
water treatment
*
3 - 10 wastewater / gal.
of treated water produced
11.3 - 37.8 / gal
Shower or tub
5
19
25 - 60 / use
95 - 227 / use
Shower head, standard
4 - 7
15 - 26.5
Shower head, low-flow
2 or less
Toilet flush - standard pre 1980 toilets
3
11.3
4 - 7 / use
15 - 26.5 / use
Toilet flush - vintage 1980-1992
3.5 / use
13 / use
Toilet flush - low-water-consumption
1.6 / use or less
5.7 / use
Toilet flush - high-efficiency HET
1.28 / use
4.84 / use
Outside hose faucet
5
19
depends on run time
Water softener regeneration
5
19
50 / 100/cycle
189 / 379
Washing machine, clothes,
standard domestic
5
19

29-55 / load2, 3
13+ / cu.ft. capacity

109 - 208 / load


Washing machine, clothes,
water-efficient
15-30 / load2, 3
9.5 / cu. ft. capacity
57 - 114 / load
Washing machine, clothes,
high efficiency

5 / cu.ft. capacity

19 / cu.ft. capacity
19 / 0.28 m3

Notes to Table:

(a) water flow restricting valves and shower heads can reduce flow and water use by up to 50%.

Sources:

RESIDENTIAL WATER USE TABLE [PDF], New York City Department of Environmental Protection, retrieved 2017/09/15, original source: http://www.nyc.gov/html/dep/html/residents/wateruse.shtml
USDA "Water Systems Handbook." (Thanks to Keith Oberg, Professional Home Inspection Service, Binghamton, NY, for providing this information.)
Clothes Washer Water Use, Home Water Works, Alliance for Water Efficiency, ret. 2017/09/16, original source http://www.home-water-works.org/indoor-use/clothes-washer

This data is used to estimate daily wastewater use in order to apply the septic tank sizing table located at SEPTIC TANK SIZE


*Reverse Osmosis Systems - impact on septic systems and water use

What about water volume from reverse osmosis water treatment systems? These can vary by manufacturer with a range of 3:1 to 10:1 of waste to product efficiency. "Typically" for every gallon produced with a topo of the line system, 3 to 5 gallons goes into the septic tank. Less efficient systems (regardless of shutoffs) can dump up to 10 gallons to waste for every gallon that goes into the storage tank.

See REVERSE OSMOSIS CONCENTRATE WASTE DISPOSAL for further details. -- Larry Newcomb Encinitas Learning Center. We also discuss the effects of increased water usage when buildings use reverse osmosis (RO) for water purification.

Also see HOT WATER QUANTITY DAILY USE - daily hot water usage rates & tables
Table of Peak Water Demand Usage Rates Translates into GPM Requirements for Water Pumps
Typical Residential Building Water Usage Rates: Flow Rates & Plumbing Fixtures
Water Usage Point
Water Flow
GPM1
Peak
Demand2
Water Volume
Gals
Total Water Flow Rate GPM for Number of Bathrooms in Use at Once3
1
1 1/2
2 - 2 1/2
3 - 4
Comments

Bath Sink Lav

4

2

2

4

6

8

Dishwasher

2

14

3

3

Kitchen Sink

5

3

3

3

3

3

Shower

5

35

35

35

53

70

Toilet

4

5

5

10

15

20

Tub

5

35

35

35

53

70

Washing Machine
(Clothes)

5

35

18

18

18

WASHING MACHINES & SEPTIC SYSTEMS

Peak Demand
Total Gallons2

45

70

98

122

SEPTIC TANK SIZE

Minimum Water Pump
GPM Capacity Needed

7

10

14

17

WATER PUMP CAPACITIES TYPES RATES GPM

Gallons Per Hour Flow Rate

420

600

840

1020

Notes:

1. These are WSC's average fixture flow rates for common household plumbing fixtures. In some cases new fixtures are provided with low-flow-rate orifices or heads that can substantially reduce these flows. For example shower heads may restrict flow to about 2 gpm as may lavatory faucets.

2. Average household total gallons of water used during a theoretical peak demand period of seven minutes. I.e. all fixtures are in use overlapping in time for this interval. This is the peak demand water volume used just during that interval. In my OPINION these numbers may not represent typical household usage.

For example someone washing dishes by hand at a kitchen sink usually runs water for longer than 3/5 of a minute (3 gallons taken at a 5 GPM rate means that the kitchen faucet was open for just about 36 seconds or that water was run more slowly so as to consume 3 gallons over a 7 minute interval).

3. Notice that there is a presumed reduction in flow rate when multiple bathrooms are in use simultaneously. For this reason the individual or single fixture flow rates are not simply added together. The table also assumes that either a shower or tub is in use in a given bathroom but not two such fixtures in the same bath for the same interval.

Adapted from: Water Systems Council (2003)

Also see HOT WATER PEAK DEMAND USE
...
Continue reading at SEPTIC SYSTEM DESIGN: INTRO or select a topic from closely-related articles below, or see our complete INDEX to RELATED ARTICLES below.
Or see WATER HEATER SIZE SPECIFICATION - daily hot water usage rates & tables
Or see PLUMBING DRAIN FIXTURE UNITS DFUs - measure of the wastewater volume or loading of a drain waste or vent system
Or see SEPTIC SYSTEM DESIGN ALTERNATIVES - home
Or see SEPTIC SYSTEM DESIGN BASICS - home
Or see SEPTIC SYSTEM DESIGN REGULATIONS
Or see SEWAGE FLOW & DESIGN FLOW ESTIMATES - plumbing fixture flow rates
Or see WATER CONSERVATION MEASURES
Or see these
Water & Wastewater Quantity Articles
Septic System Design Codes & Regulations Articles
Suggested citation for this web page
WATER QUANTITY USAGE TABLES at InspectApedia.com - online encyclopedia of building & environmental inspection, testing, diagnosis, repair, & problem prevention advice.
Or use the SEARCH BOX found below to Ask a Question or Search InspectApedia
...
Ask a Question or Search InspectApedia
Try the search box just below, or if you prefer, post a question or comment in the Comments box below and we will respond promptly.
Search the InspectApedia website
Technical Reviewers & References
Click to Show or Hide Citations & References
New York State Department of Health, "Appendix 75-A Wastewater Treatment Standards - Individual Household Systems", [PDF] New York State Department of Health, 3 February 2010, retrieved 3/1/2010, original source: https://www.health.ny.gov/regulations/nycrr/title_10/part_75/appendix_75-a.htm
Thanks to Larry Newcomb Encinitas Learning Center, jayhawk@cts.com, for the above opinion concerning reverse osmosis treatment system water consumption rate
"Sizing a Well Pump", Water Systems Council, (2003), Water Systems Council (WSC). WSC is a national nonprofit organization dedicated to promote the wider use of wells as modern and affordable safe drinking water systems and to protect ground water resources nationwide. Tel: 888-395-1033, Website: www.watersystemscouncil.org. Retrieved 1/20/2014, original source http://www.watersystemscouncil.org/VAiWebDocs /WSCDocs/2567958WSC_INST_20.pdf, Quoting: This publication was developed in part under Assistance Agreement No. X-82849101-1 awarded by the U.S. Environmental Protection Agency. It has not been formally reviewed by EPA. The views expressed in this document are solely those of WSC. EPA does not endorse any products or commercial services mentioned in this publication.
Books & Articles on Building & Environmental Inspection, Testing, Diagnosis, & Repair
Composting Toilets - Books & References
Composting Toilet System Book: A Practical Guide to Choosing, Planning and Maintaining Composting Toilet Systems, David Del Porto, Carol Steinfeld. Quoting an Amazon review: Del Porto's book is the definitive composting toilet book at this time. There is nothing even close. His book covers all aspects of composting toilet systems and touches on graywater issues as well. He treats the composting toilet as part of the home system. If a person is seriously interested in installing/having a composting toilet, this book can save him/her all of the mistakes people usually make. He even (carefully) explodes some of the advertising myths that the purveyors of composting toilets would have us believe. The book covers ready-made systems as well as home built systems. As trite as this sounds, the book truly is a must for someone considering installing composting toilet.
The Humanure Handbook: A Guide to Composting Human Manure, 3rd Ed., Joseph C. Jenkins. Quoting part of an Amazon review: The Humanure Handbook provides a wealth of thoroughly researched, hands-on experience and scientific data that demonstrates that after a natural process called "thermophilic" bacterial digestion, which occurs in a compost bin and where all pathogens are killed, excreta is then converted to a valuable nutrient for agriculture and thereby completing a full-circle life cycle. Most importantly, effluent can then be kept out of our drinking water and not treated or referred to as an undesirable "waste product".
The information is conveyed in a humorous, folksy, down-to-earth easy to understand style along with drawings, charts, tables, photos and a wealth of resource info for further research. Jenkins' website has a forum for sharing more info, experiences and to answer any and all questions in the process of humanuring and constructed wetland gray water treatment.
Thermal composting of fecal matter as treatment and possible disinfection method--laboratory-scale and pilot-scale studies, B. Vinneras, A. Bjorklund, H. Jonsson. Quoting Amazon review: When using toilets where the urine and faeces are collected separately for reuse as nutrients in agriculture, the collected matter should be disinfected. One way to do this is by thermal composting. Composting of different material mixes was investigated in a laboratory-scale experiment. This showed that the best mixture for dry thermal composting was a mix of faeces, food waste and amendment. The urine was collected separately by use of urine-diverting toilets. A new method was developed to mathematically evaluate and estimate the safety margins of pathogen inactivation during thermal composting. The method is based upon a mathematical calculation of the number of times total inactivation (at least 12log"1"0 reduction) of the organisms is achieved. In a pilot-scale experiment, the disinfection of a faeces/food waste mix was performed with a calculated safety margin of more than 37 times the total die-off of Enteroviruses and some 550 times that of Ascaris. Thus, well functioning composting seems to be effective for disinfection of faecal matter. To get a high temperature in all of the material, the reactor has to have sufficient insulation. A major disadvantage is the initial need for handling the raw un-disinfected material. The degradation of the organic matter in the compost was almost 75%, resulting in a small final volume that could safely be recycled.
Experiences with a composting toilet article from: Countryside & Small Stock Journal, available as HTML download. Quoting Amazon review: This digital document is an article from Countryside &amp Small Stock Journal, published by Countryside Publications Ltd. on May 1, 1994. The length of the article is 1516 words. The page length shown above is based on a typical 300-word page. The article is delivered in HTML format and is available in your Amazon.com Digital Locker immediately after purchase. You can view it with any web browser.
From the supplier: A composting toilet is a good alternative to propane burning toilets, but it also has many problems. The worst part is emptying the waste and compost every 4-6 weeks. Other problems are the fan that must be kept running constantly and bug infestation.
Decentralized Systems Technology Fact Sheet: Septic Tank - Soil Absorption Systems, U.S. EPA, PDF Document provides basic information about septic tanks and drainfields.
Design Manuals for Septic Systems
US EPA Onsite Wastewater Treatment Systems Manual [online copy, free] Top Reference: US EPA's Design Manual for Onsite Wastewater Treatment and Disposal, 1980, available from the US EPA, the US GPO Superintendent of Documents (Pueblo CO), and from the National Small Flows Clearinghouse. Original source http://www.epa.gov/ORD/NRMRL/Pubs/625R00008/625R00008.htm Onsite wastewater treatment and disposal systems, Richard J Otis, published by the US EPA. Although it's more than 20 years old, this book remains a useful reference for septic system designers. U.S. Environmental Protection Agency, Office of Water Program Operations; Office of Research and Development, Municipal Environmental Research Laboratory; (1980)
Eco John® Innovative Toilet Solutions, Global Inventive Industries, Fountain Valley CA, PDF, product brochure
"International Private Sewage Disposal Code," 1995, BOCA-708-799-2300, ICBO-310-699-0541, SBCCI 205-591-1853, available from those code associations.
"Manual of Policy, Procedures, and Guidelines for Onsite Sewage Systems," Ontario Reg. 374/81, Part VII of the Environmental Protection Act (Canada), ISBN 0-7743-7303-2, Ministry of the Environment,135 St. Clair Ave. West, Toronto Ontario M4V 1P5 Canada $24. CDN.
Manual of Septic Tank Practice, US Public Health Service's 1959.
Greywater System Books
The New Create an Oasis With Greywater, Art Ludwig; Buy New: $14.25. Ludwig is one of the most thoughtful, prolific, and sometimes controversial writers on gray water systems and alternative designs. We recommend his book as clear, easy-to-understand writing aimed at property owners who want or need to consider a graywater installation to conserve water, recycle water, reduce water use, or to reduce the load on their septic system. This is the latest edition of this Art Ludwig's greywater design book classic.
Builder's Greywater Guide, Art Ludwig; Buy New: $10.17. Installation of Greywater Systems in New Construction & Remodeling; A Supplement to the Book "Create an Oasis With Greywater" (Paperback). Quoting a review from Amazon: I recommend that you get the 3 companion books on greywater treatment "Create an Oasis", "Branched Drain Greywater Systems" and "Builder's Greywater Guide". The information in these volumes will keep most of us far more informed than most of the regulators, the system builders, and the experts-in-theory. These volumes are real-world gems.
Art Ludwig has cut to the core of wastewater issues. He's obviously done all of his homework, mulled-over the variables, and come up with a common sense, economically reasonable, environmentally responsible approach to wastewater. I expect to save money that I would have spent on a post-septic tank, aerobic unit that would seemingly have been ecologically responsible; but because of the technological overkill, ultimately that system would have defeated my altruistic environmental concerns.
... These books talk the talk and walk the walk better than anything else that I've seen. Buy a set for yourself, a set for your neighbors, and a set for the regulators.
Branched Drain Greywater Systems [superseded by "The New Create an Oasis with Greywater"], Art Ludwig. If you already have this book but are in the process of installing new gray water systems you should take a look at the newer edition listed first above in this section of our Greywater book recommendations. You may prefer the newest edition, but there is great information in this older version, perhaps all you need, and these copies are sold at very low prices - an aid to people of limited means.
Create an Oasis With Greywater: Your Complete Guide to Choosing, Building and Using Greywater Systems, Art Ludwig, [superseded by new edition] (Paperback) You may prefer the newest edition, but as I said above, there is great information in this older version, perhaps all you need, and these copies are sold at very low prices - an aid to people of limited means.
Rainwater Catchment Systems for Domestic Supply: Design, Construction and Implementation, Erik Nissen-Petersen, John Gould. (Mr. Ludwig, while much appreciated, is not the only author providing really useful design guides for graywater systems--DF) Quoting from an Amazon review: This book reviews the art of roof and ground catchment systems for rainwater. The water collected can be used for household or other purposes. The designs are aimed for individuals with limited access to electricity and/or civic water utilities. The text includes drawings, photographs and step-by-step instructions.
One might say the book is really written for the 'aid worker' since it also considers ethnic and gender issues that would be 'obvious' to the future owners of the the systems.
Guidelines on rainwater catchment systems for Hawaii, (CTAHR resource management publication) Patricia S. H Macomber. This more technical document may be especially helpful for rainwater collection and recycling systems for climates where there is heavy rainfall such as demonstrated for Hawaii.
Design for Water: Rainwater Harvesting, Stormwater Catchment, and Alternate Water Reuse, Heather Kinkade-Levario. Quoting from Amazon's review: Design for Water is an accessible and clearly written guide to alternate water collection, with a focus on rainwater harvesting in the urban environment. The book:
Outlines the process of water collection from multiple sources-landscape, residential, commercial, industrial, school, park, and municipal systems Provides numerous case studies, Details the assembly and actual application of equipment, Includes specific details, schematics, and references.
All aspects of rainwater harvesting are outlined, including passive and active system setup, storage, storm water reuse, distribution, purification, analysis, and filtration. There is even a section on rainwater harvesting for wildlife.
In addition to rainwater, there are several affordable and accessible alternate sources, including cooling tower bleed-off water, air conditioning condensate, gray water, and fog collection. Design for Water is geared to providing those making development decisions and guidelines with the information they need to set up passive harvesting techniques. The book will especially appeal to engineers, landscape architects, municipal decision-makers, developers, and landowners.
Heather Kinkade-Levario is a land-use planner in Arizona and the author of the award-winning Forgotten Rain. She is president of Forgotten Rain L.L.C., a rainwater harvesting and stormwater reuse company.
The Toilet Papers: Designs to Recycle Human Waste and Water : Dry Toilets, Greywater Systems and Urban Sewage (Paperback) Sim Van Der Ryn, Wendell Berry; Quoting from an Amazon review: With a title like "Toilet Papers" and from a distinguished eco-architect like Sim Van der Ryn, I needed no intro or review to buy a copy of this little, but well researched historical over-view of effluent mitigation and current eco-friendly toilet design.
This book is filled with good line drawings and photographs to depict everything from the historical perspective to the current dry toilets and their construction..
Rainwater Reservoirs Above Ground Structures for Roof Catchment: Most Common Rainwater Tanks in Comparison and Construction Manual, (Paperback) Rolf Hasse. [I have not reviewed this book --DF, but it may be helpful to people constructing rainwater collection and reservoir systems for use in arid climates such as Mexico and the U.S. Southwest.
Quality issues in harvested rainwater in arid and semi-arid Loess Plateau of northern China, K. Zhu, L. Zhang, W. Hart, M. Liu, H. Chen (out of print, find by search and deferred order). Amazon's description may be helpful: Loess soils cover vast areas in the arid and semi-arid regions of northern China. Due to the lack of reliable surface water and ground-water, rainwater harvesting has played a prominent role in farmers' domestic usage and agricultural irrigation. An economical and valid type of water storage cistern with optimum design of components has been introduced to rural areas in the Loess Plateau. Different collection alternatives showed apparent variations in rainwater quality. By using different catchments, such as mortar roofs and cement-paved courtyards, compacted land or road surfaces, rainwater can be effectively collected for storage in cisterns. This study focused mainly on the quality of rainwater harvested from the different catchment systems and stored for different periods of time. By analysis of the water samples stored in these cisterns, it was evident that rainwater quality could be improved significantly by self-purification during the storage. With emphasis on rainwater quality affected by the different catchment systems, it was found that the measured inorganic compounds in the rainwater harvested from roof-yard catchment systems generally matched the WHO standards for drinking water, while the concentrations of some inorganic compounds in the rainwater collected from land and road surfaces appeared to be higher than the guideline values for drinking water, but generally not beyond the maximum permissible concentrations. However, Fecal Coliform, which is an important bacteriological parameter for the three catchment systems, exceeded the limits of drinking water to a greater extend. Trace amounts of 55 organic pollutants were identified, including aliphatic hydrocarbons, aromatic compounds and phthalate esters, etc. The analytical results indicated that roof-yard catchments that included the ''first flush'' usually provided safe drinking water with low organic contents, even for rainwater collected immediately after rainfall. In contrast, rainwater harvested from road surfaces had poor quality with respect to the organic constituents, regardless of stored time.
City eying home water-recycling technology; uses bath and washer water for irrigation., (ReWater Systems' equipment for greywater irrigation): This is an article from: San Diego Business Journal [HTML] (Digital) available online in digital format. I have not (yet) reviewed it -- DF>
...
Publisher InspectApedia.com - Daniel Friedman