Diagnoseand Cure Sewer Gas Smells and Septic Tank Odors
InspectAPedia tolerates no conflicts of interest. We have no relationship with advertisers, products, or services discussed at this website.
Sewer or septic gas odor diagnosis & cure:
This septic or sewer gas odor cure article series, beginning here, describes how to diagnose, find, and cure odors in buildings including septic or sewage or sewer gas smells or "gas odors" in buildings with a focus on homes with a private onsite septic tank but including tips for owners whose home is connected to a sewer system as well.
What makes the smell in sewer gas?
Sewer gases are more than an obnoxious odor. They can be dangerous.
We also provide a MASTER INDEX to this topic, or you can try the page top or bottom SEARCH BOX as a quick way to find information you need.
How to Track Down & Cure Hard-to-Find Sewer Gas Odors in buildings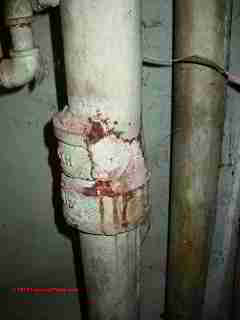 Watch out: we warn in all sewer or septic gas odor articles that because sewer gas contains methane gas (CH4) there is a risk of an explosion hazard or even fatal asphyxiation.
Article Series Contents
Sewer gases also probably contain hydrogen sulfide gas (H2S). In addition some writers opine that there are possible health hazards from sewer gas exposure, such as a bacterial infection of the sinuses (which can occur due to any sinus irritation).

Depending on the sewer gas source and other factors such as humidity and building and weather conditions, mold spores may also be present in sewer gases

Question: How do You Check & Track Down Sewer Gas Smells?
How do you measure or check sewer gases to see if the smell we have coming out of our bathroom is a gas or just a smell? and does it measure the smell/gas to see if its at a dangerous level? - K.E.
Hello, I read the article on sewer odors, it was very helpful, I would just like to know what service I should contact to diagnose the exact problem? Do I call a plumbing service, or a duct work service? I am in the dark as to who can actually, accurately, diagnose. - Anonymous by private email 2016/09/19
Reply: Start Tracking Down Sewer Gas or Septic Gas Indoor Odors Right Here: whom to call, what to do.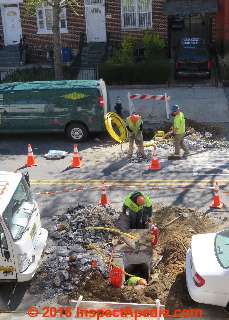 Good questions, thanks for asking. Whom you need to call about a sewer odor problem depends on the situation.
Watch out:

If sewer gas odors or other gas odors are judged as strong in a building connected to municipal sewer and/or if municipal sewer or gas lines are present in the neighborhood, you need to consider both possible health hazards and the risk of a methane gas or natural or propane gas explosion.

For strong and especially sudden sewer gas odors and certainly for propane or natural gas odors I'd leave the building (along with all occupants) and call for help from emergency services.

This advice is a bit extreme, but I'm considering the problem of offering advice to a stranger in an unknown situation in a context where on occasion such catastrophes occur.

For example, as early as January 4, 1895 a sewer gas explosion occurred in the basement of Edward Keeley's Saloon in Chicago. (Eight men were injured.) On 29 May 1937 a sewer gas explosion sent a manhole cover airborne, killing a Chicago man.



Watch out

: In addition, because some building occupants may mistake a gas leak for sewer gas, even more severe explosion hazards can be present. It would be smarter and safer to get out of such a building and call for help.

In June 2015 the National Transportation Board concluded that in 2014 a large explosion in East Harlem in Brooklyn NY that destroyed two five-story buildings and killed eight people was probably caused by a poorly welded joint in a Con Edison gas line and a break in an old city sewer line. The NTSB had previously found a leak in a cast iron gas main that had been installed in 1887.

Our photo shows Con Edison workers performing gas line replacement & repair work on Washington Avenue in Brooklyn, NY in April 2015.

In considering our warning above, it's worth noting that the NTSB panel also found that an emergency services dispatcher had failed to make a follow-up call to the New York Fire department, possibly preventing a partial evacuation of the destroyed buildings.

Con Edison, New York City's gas utility, in turn blamed the blast on negligent street maintenance. - Sources: Cavlieri, Victoria, "Crews Focus on Gas Line in NY Explosion", Duluth News Tribune, 17 March 2014; CBS New York, retrieved 2016/09/19, original source: http://newyork.cbslocal.com/2015/06/09/east-harlem-explosion-ntsb-report/

See also METHANE GAS HAZARDS
If you smell sewer odors in a building but cannot find the source, a building inspector, home inspector, hygienist, or plumber might be able to help track down the origin of the smell, but it is economical and sensible to try to do some basic problem solving yourself first by noting where odors are strongest and checking for obvious snafus like a loose toilet, gurgling drains, or odors at a specific drain that my have a dry trap.

Many such inspectors supplement their visual inspection with gas detection instruments discussed below in this same article.
IF the sewer gas odor is traced to the plumbing drain/waste/vent system then you need the help of a licensed plumber to correct the problem. In addition to effecting necessary repairs, more sophisticated plumbers may perform a smoke or pressure test of the drain venting system and may also send a remote camera through the drain system to diagnose its condition.
IF the sewer gas odor is due to a failing or blocked septic system (private onsite waste disposal system) you need a septic pumping company and then a septic repair contractor to diagnose and correct the system.
A competent onsite inspection by an expert usually finds additional clues that help accurately diagnose a problem. That said, here are some things to consider:
About a specific bathroom where odors occur, that has already narrowed down the problem to a single room, in your case.

A visual inspection or further plumbing investigation might discover various causes of odor - there shouldn't be any other than of course normal bathroom odors occurring during use. Improper venting of plumbing drains, vent or sewer piping leaks, even a loose toilet can be a cause of the problem.
Narrow down the odor source: It may help to narrow down the problem to a specific fixture by testing with an instrument or your nose or by running fresh water into traps or by using a sensitive gas detection instrument such as the TIF8800

TIF 8800 GAS DETECTOR.

If odors are traced to gas piping the gas supply should be shut off immediately and depending on the level of gas odor the building evacuated.

See GAS LEAK DETECTION, LP / NG
About the hazard level of the sewer gas you smell: a measure of sewer gas or methane level might in some circumstances indicate an unsafe level (from an explosion risk perspective) but we wouldn't' rely on that approach since changing building conditions can cause big changes in the level of gas output.

The first potential hazard is an explosion; there may also be a bacterial or pathogenic hazard in the building, depending on just where the leak is and what is its cause - for example a leaky toilet seal may be leaking sewage into the ceiling below or onto a bathroom floor. More details are

at DANGEROUS SEWER GAS CONDITIONS

Also see TESTS for SEWER GAS INDOORS

and DRAIN PIPING & SEWER ODORS
At First Steps to Check for the Source and Cure of Sewer Gas Odors, [just below] we discuss diagnosing and fixing sewer gas odors. Please take a look at that text and don't hesitate to ask if that info is incomplete or unclear. Be sure to also see the list of sewer gas diagnosis and repair articles at the end of this article.
Or see this separate SEPTIC / SEWER ODOR SOURCE TABLE
Also see ODORS GASES SMELLS, DIAGNOSIS & CURE - home, where we offer a complete guide to tracking down the sources of smells & odors.
Also see PLUMBING SYSTEM ODORS - home for guidance in tracking down plumbing smells
First Steps in Septic or Sewer Smell Diagnosis: Check for the Source and Cure of Sewer Gas Odors
What steps are useful to avoid smelling (or blowing up from) the gases that form and naturally want to escape from residential septic systems? How can we diagnose sewer odors at a building site to determine if it's a venting problem, a failure of the septic system, or the failure of a neighbor's septic system, or perhaps even a leak from a fuel gas line or appliance?
First Check for Very Dangerous Conditions: fuel gas leaks, sewer gas leaks, gas accumulation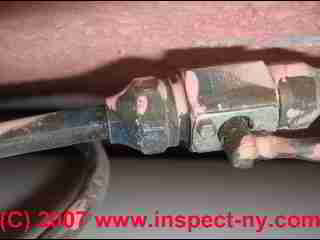 Watch out: both hydrogen sulfide gas and methane gas are potentially explosive

Check for leaks in fuel gas lines and appliances: the mercaptan put into LP gas and natural gas is inserted there by the gas company as a safety feature so that people may notice that they have a dangerous (explosive) gas leak in their home. Some people may confuse this odor with a septic tank gas odor.
The photo shows black stains on copper tubing at the flare fitting connecting an LP gas line to a shutoff valve. Some service technicians point to stains on piping as an evidence of a possible chronic leak in the gas line at this point.

If you suspect that there is a fuel gas leak in a home, or even if there is a gas odor from any source, leave the building and call your fire department for assistance.
Even so simple a task as dialing a telephone could provide a dangerous spark and cause an explosion. In New York City there seems to be about one terrible gas explosion a year that is blamed on either a fuel gas leak or a sewer gas leak which accumulated explosive gas in a building.

Also see GAS PIPING & TANK DEFECTS.
Observe septic system safety procedures When opening a septic tank for service or repair, observe the safety precautions I describe earlier on this web page.
We have had reports of a septic pumper having his face burned by exploding methane when he lit a cigarette during pumping, a homeowner who generated an explosion of the septic tank that rocked the entire neighborhood when he built a brush fire atop the septic tank.
We have also read of deaths occurring when untrained service people entered a pumped-out septic tank to inspect it.
Also Check for the presence of Chinese drywall: because it is easy to mistake other sulphur odors for sewer gas, if your building was built or remodeled between 2001 and 2007, especially in 2006 or 2007, see

CHINESE DRYWALL HAZARDS - the corrosive outgassing of Chinese drywall can make smoke detectors and carbon monoxide detectors unsafe and it may also be an indoor air quality concern in some buildings.

At SEPTIC & CESSPOOL SAFETY we explain that gases produced in a septic tank are dangerous, as a potential source of explosion and as a cause of death by asphyxiation if someone falls into or deliberately enters a septic tank.
Hydrogen Sulfide Gas H2S Properties, Exposure Pathology, Symptoms, Treatment, Prognosis
In low concentrations (less than 0.15 mg per liter), hydrogen sulfide may produce inflammation of the eyes, nose, and throat if breathed for periods of 1/2 to 1 hour.
Higher concentrations (0.75 mg per liter or greater) are rapidly fatal, presumably by combination of the hydrogen sulfide with the respiratory tissue pigments and the subsequent paralysis of the respiratory center.
The symptoms depend upon the concentration of the gas. At the lowest concentrations, the effects are chiefly on the eyes; that is, conjunctivitis, swollen eyelids, itchiness, smarting, pain, photophobia, and blurring of vision. At higher concentrations, respiratory tract symptoms are more pronounced.
Rhinitis, pharyngitis, laryngitis, and bronchitis may occur. Pulmonary edema may result. At very high concentrations, unconsciousness, convulsions, and cessation of respiration rapidly develop.
Watch out: higher concentrations of hydrogen sulfide (H2S) gas (0.75 mg per liter or greater) are rapidly fatal, presumably by combination of the hydrogen sulfide with the respiratory tissue pigments and the subsequent paralysis of the respiratory center.
Details about hydrogen sulfide gas are
at HYDROGEN SULFIDE GAS where we discuss the effects of exposure to H2S and H2S exposure limits.
Question: How do I Seal a Septic Gas Leak Entering the House Through Electrical Conduit?
The original discussion at this location has been moved to a separate article

at SEWER SEPTIC GAS CONDUIT LEAKS Through Electrical Conduit? - Separate article
Question: There is a Septic Tank Odor Coming from a Vent Under My Air Conditioner: Who do I Call?
The original discussion at this location has also been moved to a separate article now

at - SEWER SEPTIC ODORS in HVAC DUCTS
Biogas Plants: Using Septic Gas or Sewer Gas for Fuel
Please

see BIO-FUEL PRODUCTION & USE for our full article on this topic.
A few readers have asked if they could just capture methane gas from their septic tank to use as a household fuel for heating, cooking, or gas lighting. And there are septic-tank-like systems designed for that purpose, but as we warn below, don't just try hooking up your septic tank to a gas burner.
Indeed biogas can be produced, captured, compressed (like natural gas) and used as a fuel, including powering vehicles.
See BIODIESEL HEATING FUELS for information about using biodiesel in oil burners designed for heating appliances: boilers, furnaces, water heaters
...
Continue reading at SEWER GAS ODORS in COLD / WET WEATHER or select a topic from closely-related articles below, or see our complete INDEX to RELATED ARTICLES below.
Or see SEWER GAS SMELL FAQs - questions and answers about how to find the source of and fix septic, sewer, or similar odors in or around buildings, posted originally at this article
Or see ODORS GASES SMELLS, DIAGNOSIS & CURE - home
Or see ODORS, PLUMBING SYSTEM - home
Or see these
Sewer & Septic Gas Odors Articles
Suggested citation for this web page
SEWER GAS ODORS at InspectApedia.com - online encyclopedia of building & environmental inspection, testing, diagnosis, repair, & problem prevention advice.
Or use the SEARCH BOX found below to Ask a Question or Search InspectApedia
...
Ask a Question or Search InspectApedia
Try the search box just below, or if you prefer, post a question or comment in the Comments box below and we will respond promptly.
Search the InspectApedia website
Technical Reviewers & References
Click to Show or Hide Citations & References
"HydrogenSulfide", United States Department of Labor, OSHA, reference, retrieved 2/2/2014, original source https://www.osha.gov/dts/chemicalsampling/data/CH_246800.html
[1] Thanks to Slade Franklinfor the reminder that a leaky wax ring at a toilet can lead to septic odors in bathrooms. 11/2007
[2] Thanks to J.V. (privacy protected) for the reminder to make a detailed inspection of the plumbing vent system when sewer gas odors are present. 07/2008
[3] American Industrial Hygiene Association, 1962. Hydrogen Sulfide. Hygienic Guide Series. Detroit, Michigan.
[4] Amoore, J.E. and Hautala, E., 1983. Odor as an aid to chemical safety: odor thresholds compared with threshold limit values and volatilities for 214 industrial chemicals in air and water dilution. Journal of Applied Toxicology 3, 272-290.
[5] Bates, M.N., Garrett, N. and Shoemack, P., 2002. Investigation of health effects of hydrogen sulfide from a geothermal source. Archives of Environmental Health, 57(5): 405-411.
[6] Gangolli, S. (Ed.), 1999. The Dictionary of Substances and their Effects, 2nd edn. The Royal Society of Chemistry. Cambridge.
[7] Sax, N.I. and Lewis, R.J., Sr., 1989. Dangerous Properties of Industrial Materials, 7th edn. Van Nostrand Reinhold. New York.
[8] Snyder, J.W., Safir, E.F., Summerville, G.P. and Middleberg, R.A., 1995. Occupational fatality and persistent neurological sequelae after mass exposure to hydrogen sulfide. American Journal of Emergency Medicine, 13(2): 199-203.
[9] Thanks to Roger Hankey & Cheryll Brown, www.hankeyandbrown.com, ASHI home inspectors in Minnesota, for the deteriorated transite pipe gas flue vent photograph and comments. Mr. Hankey is a past chairman of the ASHI Technical Committee, serves as co-chairman of ASHI legislative committee, and has served in other ASHI professional and leadership roles. 7/2007.
Thanks to astute reader Conrad for discussion of the procedure for diagnosing and curing the cause of sewer gas odors in ductwork, 01/31/2010. Additional measures useful in tracking down the source of odors coming from duct work can be found at DUCT & AIR HANDLER ODORS.
"Q+A on Not Wasting Waste: "I've heard that cow manure, but not human waste, can be used for energy production. Is it possible?", The New York Times, 11 May 2010, p. D2.
Kigali Institute for Science and Technology, Kigali, Rwanda, www.kist.ac.rw/ see biogas plants.
"Biomethane fuelled vehicles – the carbon neutral option", (bio-methane or bio methane), John Baldwin, CNG Services LTD., Claverton Energy Conference, Bath UK, 24 November 2008
U.S. Army Field Manual FM-8-285-Noxious_Chemicals discusses Ammonia, Carbon Monoxide, Hydrogen Sulfide, Oxides of Nitrogen, Hazards caused by fire,
"7 Killed by Blast in Mexico Resort", The New York Times, 15 November 2010, p. A9, reported (via AP) that in Playa del Carmen, Mexico, seven people were killed on 11/14/2010 when an explosion occurred in a large resort hotel in Mexico south of Cancun. Twelve others were injured. Authorities believed that swamp gas may have accumulated under the hotel that was constructed on a concrete slab over a swampy area near the beach.
...
Books & Articles on Building & Environmental Inspection, Testing, Diagnosis, & Repair
Our recommended books about building & mechanical systems design, inspection, problem diagnosis, and repair, and about indoor environment and IAQ testing, diagnosis, and cleanup are at the InspectAPedia Bookstore. Also see our Book Reviews - InspectAPedia.
Inspecting Septic Systems: Online Book, Inspection, Test, Diagnosis, Repair, & Maintenance: our Online Septic Book: Septic Testing, Loading & Dye Tests, Septic Tank Pumping, Clearances, details of onsite waste disposal system inspection, testing, repair procedures.


Advanced Onsite Wastewater Systems Technologies, Anish R. Jantrania, Mark A. Gross. Anish Jantrania, Ph.D., P.E., M.B.A., is a Consulting Engineer, in Mechanicsville VA, 804-550-0389 (2006). Outstanding technical reference especially on alternative septic system design alternatives. Written for designers and engineers, this book is not at all easy going for homeowners but is a text I recommend for professionals--DF.
Builder's Guide to Wells and Septic Systems, Woodson, R. Dodge: $ 24.95; MCGRAW HILL B; TP; Quoting from Amazon's description: For the homebuilder, one mistake in estimating or installing wells and septic systems can cost thousands of dollars. This comprehensive guide filled with case studies can prevent that. Master plumber R. Dodge Woodson packs this reader-friendly guide with guidance and information, including details on new techniques and materials that can economize and expedite jobs and advice on how to avoid mistakes in both estimating and construction. Chapters cover virtually every aspect of wells and septic systems, including on-site evaluations; site limitations; bidding; soil studies, septic designs, and code-related issues; drilled and dug wells, gravel and pipe, chamber-type, and gravity septic systems; pump stations; common problems with well installation; and remedies for poor septic situations. Woodson also discusses ways to increase profits by avoiding cost overruns.
Country Plumbing: Living with a Septic System, Hartigan, Gerry: $ 9.95; ALAN C HOOD & TP; Quoting an Amazon reviewer's comment, with which we agree--DF:This book is informative as far as it goes and might be most useful for someone with an older system. But it was written in the early 1980s. A lot has changed since then. In particular, the book doesn't cover any of the newer systems that are used more and more nowadays in some parts of the country -- sand mounds, aeration systems, lagoons, etc.
...
Publisher InspectApedia.com - Daniel Friedman