Sewage or Septic Contamination in Buildings
Investigate, Test & Clean-Up Sewage Contamination
InspectAPedia tolerates no conflicts of interest. We have no relationship with advertisers, products, or services discussed at this website.
Sewage backup cause, prevention, & response:
This article series explains how to deal with and test for sewage backup contamination, sewage contamination testing, inspection, and cleanup- remediation in residential and commercial buildings. If you have had sewage back up and spill out of toilets into the building, cleanup is needed and you may face bacterial hazards.
If you have had a sewage backup or burst house drain pipe in your building this document offers some advice on how to test for sewage contamination, bacterial and viral hazards, and links to sewage spill cleanup and bacterial hazard information regarding sewage and septic spill contamination.
We explain why and how testing for sewage contamination is performed and we discuss the urgency of proper cleanup following a sewage backup or spill in a building. The photo above shows what dirt and sewage sludge may look like in a basement after a sewer line backup.
We also provide a MASTER INDEX to this topic, or you can try the page top or bottom SEARCH BOX as a quick way to find information you need.
Testing For Bacterial Contamination and Cleaning Up Sewage Backups in Buildings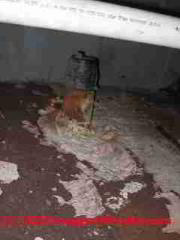 If your building has had a septic or sewage system backup into the structure
see SEWAGE BACKUP, WHAT TO DO
In this article we discuss how to test for bacterial or other pathogens in a building - tests that may be useful after a sewage spill cleanup in order to assure that the building is acceptably clean.
[Click to enlarge any image]
Checking buildings for indoor air quality or other contaminants which may affect occupant health should not omit inspecting and taking site history for evidence of sewage or septic system backups into the structure or basement or crawl space areas below the structure.
Gray water and black water (sewage) can cause a wide range of fungal, bacteriological, viral, and parasitic hazards in buildings.
The photo at left shows evidence of raw sewage overflow in the crawl space under a home. Although a new waste line was installed (the white pipe at the top of the photograph) no cleanup has been performed.
Both a one-time event and recurrent sewage leaks into a building would be aconcern, particularly if prompt and competent cleaning were not performed.
If recurrent sewage contamination has occurred more extensive building cleaning and treatment are likely to be required.
One reason that experts recommend very prompt treatment following a sewage backup in a building is the wish to avoid transmission of bacterial contamination to other building areas.
Examples of sewage bacteria and virus transmission might be by movement of people from contaminated areas to other building areas (tracking contaminated soil), and air movement of aerosolized particles or contaminated dust through the building by natural convection, heating and air conditioning equipment, or other sources of air and dust movement.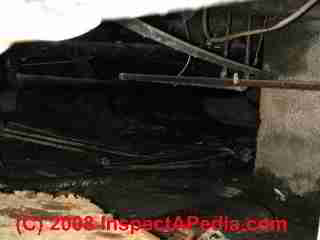 Testing for Sewage or Septic Contamination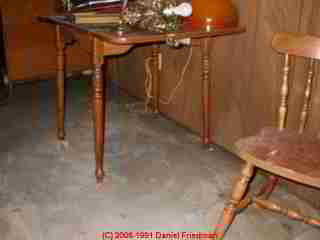 Watch out: sewage spills contain contaminants that can cause serious illness or disease. The photograph above shows a rather innocent-looking wet concrete basement floor following a sewer line backup into this building. In fact a very high level of pathogens was present on the concrete, on the lower portions of furnishings, and on and inside the paneled wall cavity.
Demolition, cleaning, and disinfection were needed. These surfaces were then re-tested after cleaning and disinfection were complete.
Additional testing was conducted to confirm that the workers did not contaminate other building areas during this cleanup.
Disease causing agents in raw sewage include bacteria, fungi, parasites, and viruses and can cause serious illnesses including bacterial infections, Tetanus, Hepatitis A, Leptospirosis, infections by Cryptosporidium & Giardia and gastrointestinal diseases.
For a detailed list of the pathogens found in common household wastewater such as a septic tank and drainfield, see also our discussion of pathogens in sewage
see what makes up the contents of residential sewage explained at SEWAGE PATHOGENS in SEPTIC SLUDGE.
Also see SEWAGE & SEPTIC CONTAMINANTS
While sewage may contain many pathogens harmful to building occupants, testing for this problem usually focuses on indicator organisms including total coliform, fecal coliform, Escherichia coli (E. coli), and Enterococcus as these species are expected in human sewage waste. They are potentially harmful themselves as well as serving as an indicator of sewage contamination.
How are Sewage Contamination Tests Conducted?

Sterile Swab Tests for Sewage Contamination
Typical sampling methods to test for sewage contamination in buildings include use of sterile swabs on sample surfaces both in the suspected area and as a control in other building areas where low or no contamination is expected.
Step by step details of how sterile swabs are used to collect environmental samples of suspected mold, sewage, pesticide residue, or other substances are found at SWAB TEST KIT PROCEDURE
Swab tests for environmental sampling are also discussed at
Bulk Sample Tests for Sewage Contamination
Bulk samples of debris or building materials may also be collected, such as drywall suspected of having been wet with a sewage backup. Samples are sent to a qualified laboratory for culture and examination for these bacteria.
Since there are a variety of tests for bacteria and for possible sewage contamination, specification of the definitive lab test for sewage contamination is important where health concerns are at stake. Be sure to review the test choices with your laboratory before ordering a specific test as test accuracy and cost vary widely.
UV Light for Spotting Sewage Contamination& Urine
We also use UV light to screen buildings for sewage contaminants, urine, or other body fluids, including blood. See
Sewage Backup & Contamination Cleaning Guidelines & Standards
This section has moved to SEWAGE CLEANUP PROCEDURES & STANDARDS
At SEWAGE & SEPTIC CONTAMINANTS we list the pathogens and contaminants commonly found in sewage and in sewage backup waters. In this article series we explain the causes of sewer or septic backups into buildings, the health hazards, testing, and cleanup of sewage backups, and the cure or prevention of future sewage or septic backup problems.
...
Continue reading at SALVAGE BUILDING CONTENTS if you need to remove and clean or salvage building contents such as clothing & furniture,or select a topic from closely-related articles below, or see our complete INDEX to RELATED ARTICLES below.
Or see SEWAGE CONTAMINATION FAQs - questions and answers about sewage contamination in or around buildings.
Or see HEALTH DEPARTMENT HELP for RENTERS if your rental home has unsanitary or unsafe conditions that are not being addressed properly
Or see these
Sewage Contamination Articles
Suggested citation for this web page
SEWAGE CONTAMINATION in BUILDINGS at InspectApedia.com - online encyclopedia of building & environmental inspection, testing, diagnosis, repair, & problem prevention advice.
Or use the SEARCH BOX found below to Ask a Question or Search InspectApedia
...
Ask a Question or Search InspectApedia
Try the search box just below, or if you prefer, post a question or comment in the Comments box below and we will respond promptly.
Search the InspectApedia website
Technical Reviewers & References
Click to Show or Hide Citations & References
[1] "Remediation of Sewage Contaminated Crawlspaces", Byjim Holland, CR, "Cleaning and Restoration," July 1999, pp 22-24, original source: restcon.com/links/articles/Remediating%20Contaminated%20Crawlspaces.pdf
Benson, A., ed. (1990) Control of Communicable Diseases in Humans, American Public Health Association, Washington, DC.
Berry, M.A. (1993) Protecting the Built Environment: Cleaning for Health, Tricomm 21st press, Chapel Hill, NC, p. 185.
Block, S.S. (1991) Disinfection, Sterilization, and Preservation, Lea & Febiger, Philadelphia, PA.
Rogers, S.A. (1991) Indoor fungi as part of the cause of recalcitrant symptoms of the tight building syndrome. Env. International. 17:271-275.
Clark, C.S. (1987) Potential and actual biological related health risks of waste water industry employment. J. Water Pollution Control. Fed. 59:12999-1008.
Cole, E.C. (1989) Remedial measures for biological pollutants in the home. Workshop on Biological Pollutants in the Home. U.S. Consumer Product Safety Commission, American Lung Association.
Cole, E.C. (1987) The application of disinfection and sterilization to infectious waste management. In: Tulis, J.J. and W. R. Thomann (eds.), Proceedings of strategies for improved chemical and biological waste management for hospitals and clinical laboratories. Duke University, University of North Carolina, North Carolina Pollution Pays Program.
Cutter Information Corp. (1991) Indoor Air Quality Update, Arlington, VA.
Foarde, K.K.; D. Bush; J. Chang; E.C. Cole; D. Franke; and D. Van Osdell. (1992) Characterization of environmental chambers for evaluating microbial growth on building materials. IAQ 92, ASHRAE, San Francisco.
International Institute of Carpet and Upholstery Certification. (1991) Carpet Cleaning Standard. S001-1991, International Institute of Carpet and Upholstery Certification, Vancouver, WA, 1991.
Patterson, R.; J.N. Fink; W.B. Miles. (1981) Hypersensitivity lung disease presumptively due to cephalosporium in homes contaminated by sewage flooding or humidifier water. J. Allergy Clin. Immunol. 68(2):128-132.
Robertson, K.A.; T.K. Ghosh; A.L. Hines; S.K. Loyalka; D. Novosel; R.C. Warder, Jr. (1990) Airborne microorganisms: their occurrence and removal. Indoor Air '90, Toronto.
Rogers, S.A. (1991) Indoor fungi as part of the cause of recalcitrant symptoms of the tight building syndrome. Env. International. 17:271-275.
Rutala, W.A.; E.C. Cole; and N.S. Wannamaker. (1991) Inactivation of Mycobacterium tuberculosis and Mycobacterium bovis by 14 Hospital Disinfectants. Amer J. Med. 91:2675-2715.
Rutala, W.A. (1987) Disinfection, sterilization and waste disposal. In: Wenzel, R.P., Prevention and control of nosocomial infections. Williams and Wilkins, Baltimore.
Escherichia coliO157:H7- US CDC
Demistifying Ecoli - Federation of Ontario Cottagers
Microbiology home page - US EPA
Sewage and Septic Contamination in Residential Buildings - consumer information and expert resources (this web page)
Sewage Pathogens in Septic Tank Sludge and Floating Scum: what makes up the contents of residential sewage
[9] Amahmid, O., Asmama, S., & Bouhoum, K. (1999). The effect of waste water reuse in irrigation on the contamination level of food crops by Giardia cysts and Ascaris eggs. International Journal of Food Microbiology, 49(1-2), 19-26.
[10] Barak, J.D., Whitehand, L.C., & Charkowski, A.O. (2002). Differences in attachment of Salmonella enterica serovars and Escherichia coli O157:H7 to alfalfa sprouts. Applied and Environmental Microbiology, 68(10), 4758-4763.
[11] Beuchat, L.R. (1996). Pathogenic microorganisms associated with fresh produce. Journal of Food Protection, 59(2), 204-216.
[12] Breuer, T., Benkel, D.H., Shapiro, R.L., Hall, W.N., Winnett, M.M., Linn, M.J., Timothy, J.N., Barrett, J., Dietrich, S., Downes, F.P., Toney, D.M., Pearson, J.L., Rolka, H., Slutsker. L., & Griffin, P.M. (2001). A multi-state outbreak of Escherichia coli O157:H7 infections linked to alfalfa sprouts grown from contaminated seeds. Emerging Infectious Diseases, 7(6), 977-982.
[13] Castro-Rosas, J., & Escartin, E.F. (2000). Survival and growth of Vibrio cholerae O1, Salmonella typhi, and Escherichia coli O157:H7 in alfalfa sprouts. Journal of Food Science, 65(1), 162-165.
[14] Charkowski, A.O., Barak, J.D., Sarreal, C.Z., & Mandrell, R.E. (2002). Growth and colonization patterns of Salmonella enterica and Escherichia coli O157:H7 on alfalfa sprouts and the effects of sprouting temperature, iinoculum/in·oc·u·lum/ (-ok´u-lum) pl. inoc´ula   material used in inoculation.
[15] Evans, M.R., Ribeiro, C.D., & Salmon, R.L. (2003). Hazards of healthy living: Bottled water and salad vegetables as risk factors for Campylobacter infection. Emerging Infectious Disease, 9(10), 1219-1225.
[16] Frost, J.A., McEvoy, M.B., Bentley, C.A., Andersson, Y., & Rowe, B. (1995). An outbreak of Shigella sonnei infection associated with consumption of iceberg. Emerging Infectious Disease, 1(1), 26-28.
[17] Guo, X., Chen, J., Brackett, R.E., & Beuchat, L.R. (2001). Survival of Salmonellae on and in tomato plants from the time of inoculation at flowering and early stages of fruit development through fruit ripening, said of meat. See curing. Applied and Environmental Microbiology, 67(10), 4760-4764.
[18] Guo, X., Chen, J., Brackett, R.E., & Beuchat, L.R. (2002). Survival of Salmonellae on tomatoes stored at high relative humidity, in soil, and on tomatoes in contact with soil. Journal of Food Protection, 65(2), 274-279.
[19] Guo, X., Iersel, M.W.V., Chen, J., Brackett, R.E., & Beuchat, L.R. (2002). Evidence of association of salmonellae with tomato plants grown hydroponically in inoculated nutrient solution. Applied and Environmental Microbiology, 68(7), 3639-3643.
[20] Itoh, Y., Sugita-Konishi, Y., Kasuga, E, Iwaki, M., Hara-Kudo, Y., Saito, N., Noguchi, Y, Konuma, H., & Kumagai, S. (1998) Enterohemorrhagic Escherichia coli enterohemorrhagic Escherichia EHEC Any of the E coli serotypes–eg O29, O39, O145 that produces shiga-like toxins, causing bloody inflammatory diarrhea, evoking a HUS. See Escherichia coli O157:H7, Hemolytic uremic syndrome.  O157:H7 present in radish sprouts. Applied and Environmental Microbiology, 64(4), 1532-1535.
[21] Madden, J.M. (1992). Microbial pathogens in fresh produce--The regulatory perspective. Journal of Food Protection, 55, 821-823.
McMahon, M.A.S., & Wilson, I.G. (2001). The occurrence of enteric pathogens and Aeromonas species in organic vegetables. International Journal of Food Microbiology, 70(1-2),155-162.
[22] Puohiniemi, R., Heiskanen, T., & Siitonen, A. (1997). Molecular epidemiology of two international sprout-borne Salmonella outbreaks. Journal of Clinical Microbiology . 35(10), 2487-2491.
[23] Shearer, A.E., Strapp, C.M., & Joerger, R.D. (2001). Evaluation of polymerase chain reaction-based system for detection of Salmonella enteritidis, Escherichia coli O157:H7, Listeria spp., and Listeria monocytogenes on fresh fruit and vegetables. Journal of Food Protection, 64(6), 788-795.
[24] Takeuchi, K., Hassan, A.N., & Frank, J.F. (2001). Penetration of Escherichia coli O157:H7 into lettuce as influenced by modified atmosphere and temperature. Journal of Food Protection, 64(11), 1820-1823.
[25] Wright, C., Kominos, S.D., & Yee, R.B. (1976). Enterobacteriaceae and Pseudomonas aeruginosa recovered from vegetable salads. Applied and Environmental Microbiology, 31(3), 453-454.
[26] Thanks to reader Charles Labs at 247inktoner.com Tel: 800-866-8022 (a provider of ink toner, ink cartridges and related supplies) for updating our CDC link on e-Coli 4/19/2013.
...
Books & Articles on Building & Environmental Inspection, Testing, Diagnosis, & Repair
Our recommended books about building & mechanical systems design, inspection, problem diagnosis, and repair, and about indoor environment and IAQ testing, diagnosis, and cleanup are at the InspectAPedia Bookstore. Also see our Book Reviews - InspectAPedia.
...