Guide to Buying a Building Connected to a Private Septic Tank

What do I do if I discover that the home I'm buying has a septic tank?
What to do if you are buying a home and don't know if it is connected to a septic tank or a sewer line
Safety and maintenance advice on locating old or abandoned septic systems
SEPTIC VIDEOS show how to walk the site for possible septic tank & drainfield locations
POST a QUESTION or READ FAQs about how to figure out if a home is connected to public sewer or private septic
This article introduces a property buyer to homes using a private onsite septic system and provides key articles on how to inspect and test septic systems when buying a property. Earlier sections of this article discussed how to determine if a building is connected to a septic tank or to a public sewer main. But sometimes in older communities, especially if the age of a building is greater than the age of the community sewer system, even if a sewer is installed right in the street in front of a building, that building may never have been connected to the sewer line.
If you discover that your building is not connected to the sewer, or that no sewer line is even available, here we provide links to our key articles on what you should do when buying a home with a septic tank and leach field or any similar private onsite waste disposal system. Don't worry, millions of property owners get by just fine with these systems, but some steps are needed to avoid costly or dangerous surprises when buying a property with a septic tank.
Green links show where you are. © Copyright 2015 InspectApedia.com, All Rights Reserved.
What Do I Do if the House I'm Buying has a Septic Tank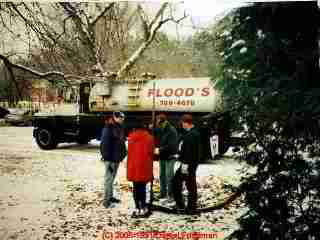 If there is no sewer system present the home cannot be attached to one and a local septic system is or should be present.

But don't bet on knowing the location and condition of such a system – some additional legwork is needed as important life-safety, functional, and expense concerns could be present.
See our very thorough guide for buyers of homes with septic systems: SEPTIC SYSTEM, HOME BUYERS GUIDE which discusses the inspections and tests that should be performed, introduces the need for septic system maintenance, and describes how to find septic tanks, distribution boxes, and drainfields.
Our photo shows a private septic tank being pumped - one of the last steps that may be appropriate when someone is buying a property served by a private septic tank and drainfield or by similar private onsite waste disposal systems like aerobic septic tanks, mound systems, sand bed systems, etc. All of these use the local site to treat and dispose of septic effluent, and all deserve inspection, possibly testing, and certainly maintenance.
Don't just let the seller pump the septic tank before your other building and septic system inspections and tests have been performed if you are buying a property with a septic tank.
If you own or are buying a home with a septic system, look through the list of articles below.
If you are in a rush read A Home Buyer's Guide to Septic Systems inspection & testing - what to do, step by step to inspect and test a septic system when buying a home and then What is a Septic System? An Engineer's View & Septic System FAQ's.
If you don't know if the building is connected to a septic tank system or to a public sewer, see SEPTIC or SEWER CONNECTION?
If you cannot find the septic tank, see these very detailed "how to" articles, photo guides, and videos that aid in finding the septic tank, distribution box, drainfield, etc.:
Septic Tank Location - Detailed Step by Step Procedure Explaining Exactly How to Find the Septic Tank, how deep will the cover be, how to document its location. The steps in this article include
FAQs below discusses field reports of problems & solutions for this topic
...
Frequently Asked Questions (FAQs)
No FAQs have been posted for this page. Try the search box below or CONTACT US by email if you cannot find the answer you need at InspectApedia.
Ask a Question or Search InspectApedia
Use the "Click to Show or Hide FAQs" link just above to see recently-posted questions, comments, replies, try the search box just below, or if you prefer, post a question or comment in the Comments box below and we will respond promptly.
Technical Reviewers & References
Publisher's Google+ Page by Daniel Friedman
Click to Show or Hide Citations & References
New York State Department of Health, "Appendix 75-A Wastewater Treatment Standards - Individual Household Systems", [PDF] New York State Department of Health, 3 February 2010, retrieved 3/1/2010, original source: https://www.health.ny.gov/regulations/nycrr/title_10/part_75/appendix_75-a.htm
Septic Tank/Soil-Absorption Systems: How to Operate & Maintain [ copy on file as /septic/Septic_Operation_USDA.pdf ] - , Equipment Tips, U.S. Department of Agriculture, 8271 1302, 7100 Engineering, 2300 Recreation, September 1982, web search 08/28/2010, original source: http://www.fs.fed.us/t-d/pubs/pdfimage/82711302.pdf.
Pennsylvania State Fact Sheets relating to domestic wastewater treatment systems include

Pennsylvania State Wastewater Treatment Fact Sheet SW-161, Septic System Failure: Diagnosis and Treatment
Pennsylvania State Wastewater Treatment Fact Sheet SW-162, The Soil Media and the Percolation Test
Pennsylvania State Wastewater Treatment Fact Sheet SW-l64, Mound Systems for Wastewater Treatment
Pennsylvania State Wastewater Treatment Fact Sheet SW-165, Septic Tank-Soil Absorption Systems
Document Sources used for this web page include but are not limited to: Agricultural Fact Sheet #SW-161 "Septic Tank Pumping," by Paul D. Robillard and Kelli S. Martin. Penn State College of Agriculture - Cooperative Extension, edited and annotated by Dan Friedman (Thanks: to Bob Mackey for proofreading the original source material.)

...
Books & Articles on Building & Environmental Inspection, Testing, Diagnosis, & Repair
Inspecting Septic Systems: Online Book, Inspection, Test, Diagnosis, Repair, & Maintenance: our Online Septic Book: Septic Testing, Loading & Dye Tests, Septic Tank Pumping, Clearances, details of onsite waste disposal system inspection, testing, repair procedures.


Advanced Onsite Wastewater Systems Technologies, Anish R. Jantrania, Mark A. Gross. Anish Jantrania, Ph.D., P.E., M.B.A., is a Consulting Engineer, in Mechanicsville VA, 804-550-0389 (2006). Outstanding technical reference especially on alternative septic system design alternatives. Written for designers and engineers, this book is not at all easy going for homeowners but is a text I recommend for professionals--DF.
Builder's Guide to Wells and Septic Systems, Woodson, R. Dodge: $ 24.95; MCGRAW HILL B; TP; Quoting from Amazon's description: For the homebuilder, one mistake in estimating or installing wells and septic systems can cost thousands of dollars. This comprehensive guide filled with case studies can prevent that. Master plumber R. Dodge Woodson packs this reader-friendly guide with guidance and information, including details on new techniques and materials that can economize and expedite jobs and advice on how to avoid mistakes in both estimating and construction. Chapters cover virtually every aspect of wells and septic systems, including on-site evaluations; site limitations; bidding; soil studies, septic designs, and code-related issues; drilled and dug wells, gravel and pipe, chamber-type, and gravity septic systems; pump stations; common problems with well installation; and remedies for poor septic situations. Woodson also discusses ways to increase profits by avoiding cost overruns.
Country Plumbing: Living with a Septic System, Hartigan, Gerry: $ 9.95; ALAN C HOOD & TP; Quoting an Amazon reviewer's comment, with which we agree--DF:This book is informative as far as it goes and might be most useful for someone with an older system. But it was written in the early 1980s. A lot has changed since then. In particular, the book doesn't cover any of the newer systems that are used more and more nowadays in some parts of the country -- sand mounds, aeration systems, lagoons, etc.
...