Green Grass, Brown Grass, Melting Snow Over the Septic Tank or Drainfield
InspectAPedia tolerates no conflicts of interest. We have no relationship with advertisers, products, or services discussed at this website.
Septic tank and drainfield condition & location indicators by grass colour or snow melt:
Greener grass, browner grass, melting snow are clues to the condition of the septic system, septic tank, piping, and drainfield.
This article explains what these mean, and provides suggestions and procedures for further investigation to diagnose these conditions. These clues also help locate the septic tank.
We also provide a MASTER INDEX to this topic, or you can try the page top or bottom SEARCH BOX as a quick way to find information you need.
Snowmelt over the Septic Tank or Drainfield - what do they mean?
Question: what is the meaning of greener grass over our septic tank? Why are we now seeing melted snow in the same area of the septic tank? Is this a problem?
We just moved into a house first time with septic. We had the septic tank inspected and drained. [Unless it has already been done, when buying a home that's new to you, it's a good idea to have the septic tank pumped and cleaned out and inspected. - Ed.].
We noticed that directly above the septic tank there is bright green grass - different in color from any other in the yard. Now after the snow has fallen it has melted away over the same septic tank spot. It looks as if the ground under the tank is hot and it is defrosting the ground. It does not appear to be mushy and there is no odor. Is this normal? - Rookie with the septic system. - Thanks for your help. (Anon).
Reply: your septic system clues sound normal but here is how we can check for developing septic system trouble:
Meaning of Melted Snow Over a Septic Tank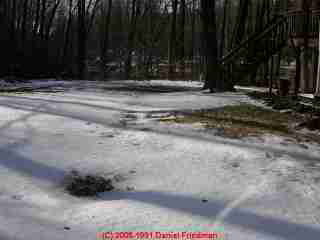 Snow melt and even greener grass over the septic tank might be normal, or it could mean trouble. The absence of odors (SEPTIC SYSTEM ODORS)
or wet or soggy areas (SEPTIC DRAINFIELD FAILURE DIAGNOSIS) is good news, as would be the
absence of any sewage backup into the home (SEWER BACKUP PREVENTION).
Similarly, snow melt over the drainfield trenches (our page top photo) is not necessarily an indication of a failing system.
If in addition, your septic pumper didn't see any signs of trouble when the septic tank was pumped, then the "normal" conditions we describe below for septic tanks may be just what you are seeing.
It would be helpful to see some photos of the area over the tank with snow melt (and later with greener grass), and while you're at it, take some photos of where you think the drainfield is located so that together we can see if there are depressions, snowmelt, soggy areas, etc.
Snowmelt over the septic tank may be normal: often the bacterial action in the tank is enough to generate some heat, as is the incoming warm water from the house, so if the top of tank is not far below ground surface, snow may melt there first, especially if the snowfall thickness is not great. This is common and not a problem. More photos of snow melt over the septic tank are
at VISUAL CLUES LOCATE the SEPTIC TANK

Guide to Diagnosing Snowmelt or Green Grass Over the Septic Tank
You can easily diagnose this condition by opening the inspection cover over the septic tank outlet end. If the sewage level is just up to the bottom of the tank outlet pipe where it passes through the tank wall, that's normal. If sewage is above the bottom edge of the horizontal portion of the outlet pipe then the outlet pipe or drainfield are backing up. Details about this procedure including photos are found
at SEPTIC TANK BAFFLES.
Explanation of Greener Grass over the Septic Tank
Greener grass over the septic tank may be the result of someone seeding that area if the tank cover was excavated for service. But greener grass over the septic tank may also be a sign that the tank is leaking around its cover - which would be an abnormal condition and a sign of trouble.
A backing up pipe to leachfield (or worse, a failing leachfield) could cause effluent to drain too slowly out of the septic tank or back up even into the building.
Explanation of Brown Dead Grass over the Septic Tank
Browner grass may also be present over a septic tank if the tank top is not very deep below ground. A shallow septic tank top means that there will be less soil thickness, leading to soil dryout during dry weather, leading to dead grass in that area.
See SEPTIC TANK DEPTH for a discussion of how deep the septic tank might be.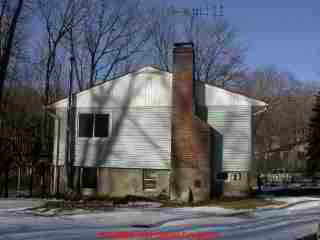 Visual clues often help find the location of a septic tank, starting outside the area where the main waste line leaves the house. In this winter example, the depression near the house marks the septic tank cleanout which in this case was close to the surface.
As we discuss in more detail
at VISUAL CLUES LOCATE the SEPTIC TANK, summarized below are some clues that help locate the septic system.
Stones, slates, stakes, or other markers may have been left by a previous building owner to show the location of a septic tank pumpout access cover.
Pipes sticking up out of the ground, perhaps between 10' and 20' from the home, especially if they are 4" to 6" diameter cast iron or white or black plastic, may mark vents or cleanouts on the waste line between the building and the septic tank, or they may mark the location of the tank itself. Some septic pumping companies install a 6" top 8" "riser" pipe with a cap close to ground level (maybe painted green by the homeowner) which they use as a quick access port to pump the septic tank.

It's easy to see if one of these ports is right over the tank, if one removes the pipe cap and peers inside, perhaps with a flashlight. (SAFETY WARNING: do not walk over or near septic tanks where there are signs of impending collapse, such as soil subsidence).
Electrical boxes sticking up out of the ground might mark the location of electrical connections feeding electrical components used in some septic systems. Examples include septic tanks using effluent pumps to move effluent to an uphill location, pumping chambers using sewage grinder pumps to force sewage to an uphill septic tank and drainfield. A video showing a septic tank with a pumping station and its electrical connections is
at Septic 101 part 1: Video on How to find the septic system
Rectangular depressions of perhaps 4 ft. x 8 ft. On the other hand, on rare occasions there may be a raised rectangular area if soils settled away from the septic tank. This happened at one of our properties because the bottom of the septic tank was sitting on bedrock and after backfill some soils around the tank settled and compacted but the tank didn't move a bit.
Rectangular areas of less grass growth - if the tank is not buried very deep there is less soil over it
Areas of more lush grass growth - if the tank is leaking or backing up and spilling effluent around itself, the grass will be greener around the septic tank.
Depressions in the soil of perhaps 2 sq.ft. that may mark a previous excavation for tank pumping
Snow melt: in climates where snow falls, areas of melted snow may mark the top of the septic tank (or areas of a failing leach field). A photo of this clue showing drainfield trenches as depressions in the snow can be seen
at VisualClues to Location
Drawings or sketches of septic tank location are sometimes found in a building's basement or crawl space, sketched on a surface near the point where the main waste pipe exits the building. And of course a thoughtful owner may have left a drawing on paper somewhere for the new owners. An example of a sketch locating septic system components is
at RECORDS to LOCATE the DRAINFIELD.
Wet areas which may indicate a failing drainfield. Also septic odors.
Pipes ending in streams, lakes, or swamps, or at the edge of a property sometimes mark an overflow drain that was added to cope with a failing septic system. A photo of one of these is
at UNLIKELY DRAINFIELD LOCATIONS
Thanks to reader (anonymous) for discussing the meaning of snowmelt or greener grass over the septic tank (12/2010);
Thanks to Donica Ben who points out the danger of digging into buried electrical wires (11/11/07) as we discuss further
at Septic & Cesspool Safety Procedures
Clogged Drain Diagnosis - is the problem the septic system or the Building drain system?

Septic Tank Safety: Septic System, Septic Tank, & Cesspool Safety Warnings for Septic Inspectors, Septic Pumpers, and Homeowners
Septic Tank Condition - How to Inspect Septic Tanks and evaluate the septic tank condition, baffles, sludge levels, damage, evidence of septic failure
SEPTIC DRAINFIELD SHAPE: septic drainfield or leaching bed shape and placement considerations
SEPTIC DRAINFIELD LOCATION: how to find the septic drain field or leaching bed
Drainfield Inspection Procedure Septic Leach Fields - how to inspect and diagnose septic drainfield failures
...
Continue reading at VISUAL CLUES LOCATE the SEPTIC TANK or select a topic from closely-related articles below, or see our complete INDEX to RELATED ARTICLES below.
Or see PLANTS & TREES OVER SEPTIC SYSTEMS
Suggested citation for this web page
SEPTIC TANK GRASS or SNOWMELT at InspectApedia.com - online encyclopedia of building & environmental inspection, testing, diagnosis, repair, & problem prevention advice.
Or use the SEARCH BOX found below to Ask a Question or Search InspectApedia
...
Ask a Question or Search InspectApedia
Try the search box just below, or if you prefer, post a question or comment in the Comments box below and we will respond promptly.
Search the InspectApedia website
Technical Reviewers & References
Click to Show or Hide Citations & References
Books & Articles on Building & Environmental Inspection, Testing, Diagnosis, & Repair
Design Manuals for Septic Systems
US EPA Onsite Wastewater Treatment Systems Manual [online copy, free] Top Reference: US EPA's Design Manual for Onsite Wastewater Treatment and Disposal, 1980, available from the US EPA, the US GPO Superintendent of Documents (Pueblo CO), and from the National Small Flows Clearinghouse. Original source http://www.epa.gov/ORD/NRMRL/Pubs/625R00008/625R00008.htm Onsite wastewater treatment and disposal systems, Richard J Otis, published by the US EPA. Although it's more than 20 years old, this book remains a useful reference for septic system designers. U.S. Environmental Protection Agency, Office of Water Program Operations; Office of Research and Development, Municipal Environmental Research Laboratory; (1980)
Eco John® Innovative Toilet Solutions, Global Inventive Industries, Fountain Valley CA, PDF, product brochure
"International Private Sewage Disposal Code," 1995, BOCA-708-799-2300, ICBO-310-699-0541, SBCCI 205-591-1853, available from those code associations.
"Manual of Policy, Procedures, and Guidelines for Onsite Sewage Systems," Ontario Reg. 374/81, Part VII of the Environmental Protection Act (Canada), ISBN 0-7743-7303-2, Ministry of the Environment,135 St. Clair Ave. West, Toronto Ontario M4V 1P5 Canada $24. CDN.
Manual of Septic Tank Practice, US Public Health Service's 1959.
Onsite Wastewater Disposal Books
Onsite Wastewater Disposal, R. J. Perkins; Quoting from Amazon: This practical book, co-published with the National Environmental Health Association, describes the step-by-step procedures needed to avoid common pitfalls in septic system technology. Valuable in matching the septic system to the site-specific conditions, this useful book will help you install a reliable system in both suitable and difficult environments. Septic tank installers, planners, state and local regulators, civil and sanitary engineers, consulting engineers, architects, homeowners, academics, and land developers will find this publication valuable.
Onsite Wastewater Treatment Systems, Bennette D. Burks, Mary Margaret Minnis, Hogarth House 1994 - one of the best septic system books around, suffering a bit from small fonts and a weak index. (DF volunteers to serve as indexer if Burks/Minnis re-publish this very useful volume.)While it contains some material more technical than needed by homeowners, Burks/Minnis book on onsite wastewater treatment systems a very useful reference for both property owners and septic system designers. We refer to it often. While Minnis says the best place to buy this book is at Amazon (our link at left), you can also see this book at Minnis' website at http://web page .pace.edu/MMinnisbook
Septic Tank/Soil-Absorption Systems: How to Operate & Maintain [ copy on file as /septic/Septic_Operation_USDA.pdf ] - , Equipment Tips, U.S. Department of Agriculture, 8271 1302, 7100 Engineering, 2300 Recreation, September 1982, web search 08/28/2010, original source: http://www.fs.fed.us/t-d/pubs/pdfimage/82711302.pdf
SEPTIC SOIL & PERC TESTS soil perc testing guide and instructions
Percolation Testing Manual, CNMI Division of Environmental Quality, PO Box 501304, Saipan, MP 96950
Planting Over Septic System Component", Daniel Friedman (author/editor, InspectAPedia.com), The Innovator, Winter/Spring 2008, BCOSSA, British Columbia OnSite Sewage Association, 201-3542 Blansard St., Victoria BC V8X 1W3 Canada
Save the Septic System - Do Not Flush These Items Down the Toilet, Daniel Friedman, InspectAPedia.com - PDF document, printable
Septic System Owner's Manual, Lloyd Kahn, Blair Allen, Julie Jones, Shelter Publications, 2000 $14.95 U.S. - easy to understand, well illustrated, one of the best practical references around on septic design basics including some advanced systems; a little short on safety and maintenance. Both new and used (low priced copies are available, and we think the authors are working on an updated edition--DF. Quoting from one of several Amazon reviews: The basics of septic systems, from underground systems and failures to what the owner can do to promote and maintain a healthy system, is revealed in an excellent guide essential for any who reside on a septic system. Rural residents receive a primer on not only the basics; but how to conduct period inspections and what to do when things go wrong. History also figures into the fine coverage.
Test Pit Preparation for Onsite Sewage Evaluations, State of Oregon Department of Environmental Quality, Portland OR, 800 452-4011. PDF document. We recommend this excellent document that offers detail about soil perc tests, deep hole tests, safety, and septic design. Readers should also see SEPTIC SOIL & PERC TESTS and for testing an existing septic system, also see Dye Tests
Grass is Always Greener Over the Septic Tank, Bombeck, Erma: $ 5.99; FAWCETT; MM; This septic system classic whose title helps avoid intimidating readers new to septic systems, is available new or used at very low prices. It's more entertainment than a serious "how to" book on septic systems design, maintenance, or repair. Not recommended -- DF.
US EPA Onsite Wastewater Treatment Systems Manual Top Reference: US EPA's Design Manual for Onsite Wastewater Treatment and Disposal, 1980, available from the US EPA, the US GPO Superintendent of Documents (Pueblo CO), and from the National Small Flows Clearinghouse. Original source http://www.epa.gov/ORD/NRMRL/Pubs/625R00008/625R00008.htm
Water Wells and Septic Systems Handbook, R. Dodge Woodson. This book is in the upper price range, but is worth the cost for serious septic installers and designers. Quoting Amazon: Each year, thousands upon thousands of Americans install water wells and septic systems on their properties. But with a maze of codes governing their use along with a host of design requirements that ensure their functionality where can someone turn for comprehensive, one-stop guidance? Enter the Water Wells and Septic Systems Handbook from McGraw-Hill.
Written in language any property owner can understand yet detailed enough for professionals and technical students this easy-to-use volume delivers the latest techniques and code requirements for designing, building, rehabilitating, and maintaining private water wells and septic systems. Bolstered by a wealth of informative charts, tables, and illustrations, this book delivers:
* Current construction, maintenance, and repair methods
* New International Private Sewage Disposal Code
* Up-to-date standards from the American Water Works Association

Wells and Septic Systems, Alth, Max and Charlet, Rev. by S. Blackwell Duncan, $ 18.95; Tab Books 1992. We have found this text very useful for conventional well and septic systems design and maintenance --DF. Quoting an Amazon description:Here's all the information you need to build a well or septic system yourself - and save a lot of time, money, and frustration. S. Blackwell Duncan has thoroughly revised and updated this second edition of Wells and Septic Systems to conform to current codes and requirements. He also has expanded this national bestseller to include new material on well and septic installation, water storage and distribution, water treatment, ecological considerations, and septic systems for problem building sites.
The NSFC Products List has an excellent list of design manuals/modules available from their website or by telephone 800-624-8301
Submissions welcome. send us a suggested document link or request an exchange of website links
...