Septic Tank Leaks
How & Why Septic Tank Leaks Cause Septic System Failures
InspectAPedia tolerates no conflicts of interest. We have no relationship with advertisers, products, or services discussed at this website.
Septic tank tank leaks are one of the things to check for during a septic tank inspection.
Here we explain where and why septic tanks might leak, why surface water or runoff leaking into a septic tank is bad, and why septic effluent leaking out of a septic tank can also be a problem.
We explain why pumping a flooded septic tank does not usually fix anything. Leaks in either direction, into the septic tank or out of the septic tank can be a problem.
We also provide a MASTER INDEX to this topic, or you can try the page top or bottom SEARCH BOX as a quick way to find information you need.
Causes, Effects, & Repair of Leaks Out of or Into the Septic Tank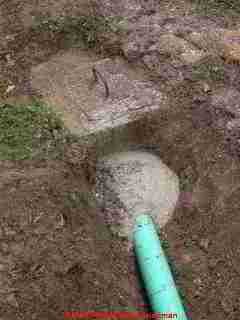 Leaks at septic tanks - leaks into and leaks out of the septic tank are problems. Problems of Leaks Out of the Septic Tank & Leaks Into the Septic Tank. Leaks out of the septic tank prevent testing the septic drainfield. Leaks into a septic tank can flood the tank and drainfield. Pumping a Flooded Septic Tank - Does that Fix Anything? Description of test standards for septic tank water tightness.
Our page top photo shows water ponding at the connection of a sewer line to a septic tank.
Because this sewer line runs downhill from the house to the septic tank it was particularly good at collecting surface water and aiming it all at the septic tank entry port. Because the sewer line was not sealed at the tank, water entered and flooded the septic tank and drainfield.
See SEPTIC TANK LEVELS of SEWAGE for details on normal and abnormal levels and what they mean.
Where do Septic Tank Leaks Occur
A septic tank can develop a leak at just about any location but here are some common ones.
Our photo shows concrete poured around a waste line entering the septic tank. You can see that just as the concrete pooled in this location, the trench dug for the sewer line would, in wet weather, collect and aim a large volume of water into the septic tank.
At the sewer line entering the septic tank, or the effluent line leaving the septic tank may leak: if the pipe is not sealed in that location; many older septic tanks provided no sealant unless some home-made system was used. Some installers pour concrete around the waste pipe entering the tank - which can work but it makes future repairs more troublesome.

Modern septic tanks may include a rubber gasket to help seal at the tank entry and exit openings. But if the waste lines entering or the effluent lines leaving the septic tank are at a sharp angle with respect to the tank, the gasket may not seal properly.
Any damaged sewer piping and even effluent piping might permit ground water or surface runoff to flow into the septic tank or into the drainfield.
A septic tank cover or cleanout port, especially one that is below ground may permit surface water to enter the septic tank. (Make sure septic tank covers are sound - falling into a septic tank is likely to be fatal).
Rust damage to a steel septic tank can let effluent out of the tank and water leak in depending on weather conditions.
Cracks in a concrete septic tank also can let effluent leak out or water leak in - though we have not found these occurring as often as rusted out steel septics
Damaged fiberglass or plastic septic tanks can also leak at a seam or point of damage - though we heard few reports of this problem.
You can reduce the chances of water leaking into a septic tank by making sure that roof runoff and surface drainage are directed away from the septic tank as well as the drainfield.
Leaks out of the septic tank prevent testing the septic drainfield
Leaks out of the septic tank can occur if the tank has a hole (for example a rusted-out metal septic tank) or if a concrete, fiberglass, or plastic tank is cracked or damaged. A leaky septic tank means that effluent may not be properly treated since it is not reaching the drainfield.
A leaky septic tank also means that a septic loading and dye test to attempt to check on the condition of the drainfield may fail to work. Particularly if the septic system has been unused for some time, and if the leak is near the bottom of the septic tank, the liquid level in the tank will drop very low. The result is that a normal septic dye test volume will simply be filling up the septic tank rather than pushing water out into the drainfield.
In turn this condition means that the septic test could not test the function of the drainfield. The risk is that new owners moving into the property will very quickly discover the bad news that not only has the septic tank got a leak but the drainfield may not really be functional.
A septic tank that is not in use and leaks out may also produce solidified scum and sludge that collect low in the septic tank or on its bottom - making septic tank cleaning extra difficult.
If there is a port to permit safely looking into the septic tank before an inspection or test, be sure to check the sewage level in the tank.
Leaks into a septic tank can flood the tank and drainfield
Leaks into the septic tank can occur if ground water or surface runoff are directed towards the septic tank or pipes that carry sewage into the tank (or effluent out of the tank). Any opening that permits surface runoff to enter the septic tank risks flooding the tank. In rainy weather the result can be a water overload in the septic tank, reducing the level of treatment in the septic tank.
Perhaps more of a problem, the same water running into the tank may also push its way into the drainfield, flooding the septic drainfield. If extra volume of the water entering the septic tank also prevents adequate settling time for sewage entering the tank then an excessive level of suspended solid waste may be forced of the septic tank and into the drainfield, further reducing the life of that component.
Leaks into a septic tank can also occur if the drainfield is so flooded that water is flowing backwards through the drainfield piping and back into the septic tank through its outlet.
Pumping a Flooded Septic Tank - Does that Fix Anything?
Pumping the septic tank won't fix any of these flooded septic tank conditions. A septic tank is normally always "full" to just below the septic tank outlet opening.
But pumping a flooded septic tank might be performed for the following reasons:
Flooded septic tank needs cleaning: If the septic tank was exposed to area flooding it may have become loaded up with mud and silt and needs to be cleaned in order to work at all. In this case, the septic drainfield piping, distribution boxes, and similar components need to be excavated sufficient to permit their inspection as well.
Diagnose a flooded septic tank: If the septic tank appears to be filling from surface runoff or ground water leaking into the tank, pumping the tank permits the owner or septic service company to look for these problems by observing the empty tank for signs of effluent or ground water back-flowing into the tank.

See SEPTIC TANK BACK FLOODING for details.
Permit temporary use of a flooded septic tank: if the tank is emptied, and if the building occupants make a maximum effort to minimize unnecessary water usage (showers, laundry, bathing), then the occupants may be able to use the septic system and thus the building and site in a sanitary way, without further contaminating the neighborhood, for a few days to a week, depending on the tank size, number of building occupants, frequency of toilet flushes, etc.
In our OPINION, if the septic tank floods once in 20 years, under exceptional conditions, no design changes or repairs may be needed other than cleaning the septic tank when floodwaters subside.
But if this condition happens frequently, the septic system is unsanitary and may be a health risk to the building occupants or its neighbors.
Septic Tank Leak Test - Water-tightness Test Standards
The following describe septic tank water-tightness test standards & procedures. While these septic tank leak test procedures focus on the tank's abiltiy to prevent sewage or wastewater leaks out of a septic tank, indirectly they also address in part the risk of groundwater or surface runoff leaking into a septic tank. Keep in mind that these tests do not address:
Water leaking into a septic tank at poorly-sealed inlet our outlet piping connections
Water leaking into a septic tank at covers, access covers
Drain-back: wastewater flowing backwards into the septic tank from a failed drainfield
Other sources of leakage into septic tanks discussed in the article above
Septic Tank Water Tightness Testing Procedure & Critera For Pre-cast Concrete Septic Tanks

Hydrostatic Septic Tank Test
Septic Tank Vacuum Test
Septic tank test standard
Septic Tank Test Preparation
Septic Tank Pass/Fail Criterion
Septic Tank Test Preparation
Septic Tank Pass/Fail Criterion
Comments
C 1227
ASTM (1993)
Seal tank, fill with water, and let stand for 24 hours. Refill tank.
Approved if water level is held for 1 hour
Seal tank and apply a vacuum of 2 in. Hg.
Approved if 90% of vacuum is held for 2 minutes
NPCA (1998)
Seal tank, fill with water, and let stand for 8 to 10 hours. Refill tank and let stand for another 8 to 10 hours.
Approved ifno further measurable water level drop occurs
Seal tank and apply a vacuumof 4 in. Hg. Hold vacuum for 5 minutes. Bring vaccum back to 4 in. Hg.
Approved if vacuum can be held for 5 minutes without a loss of vacuum.

Notes:

Note that these tests do not require absolute water tightness or air tightness.

Adapted from US EPA Septic Design Manual Table 4-14 Watertightness testing procedure/criteria for precast concrete septic tanks

Also see SEPTIC TANK DESIGN SPECIFICATIONS
Citation of this article by reference to this website and brief quotation for the sole purpose of review are permitted. Use of this information at other websites, in books or pamphlets for sale is reserved to the author. Technical reviewers are welcome and are listed at "References."
This is a chapter of SEPTIC SYSTEM INSPECTION & MAINTENANCE COURSE an online book on septic systems.
...
Continue reading at SEPTIC TANK INSPECTION PROCEDURE or select a topic from closely-related articles below, or see our complete INDEX to RELATED ARTICLES below.
Or see CAULK & SEALANT CHOICES, products list for possible septic tank lid or pipe connection sealants to keep water out of the tank
Or see MEASURE SCUM & SLUDGE how we measure the thickness of septic tank floating scum and bottom sludge levels.
Or see SEPTIC TANK BACK FLOODING - a common source of flooded septic tanks: failed drainfield / soak bed
Or see SEPTIC TANK LEVELS of SEWAGE for a discussion of the normal levels of sewage found in a septic tank.
Or see
Suggested citation for this web page
SEPTIC TANK LEAKS at InspectApedia.com - online encyclopedia of building & environmental inspection, testing, diagnosis, repair, & problem prevention advice.
Or use the SEARCH BOX found below to Ask a Question or Search InspectApedia
...
Frequently Asked Questions (FAQs)
Try the search box below or CONTACT US by email if you cannot find the answer you need at InspectApedia.
Question: where to report septic backups and leaks from neighbours
(Apr 24, 2011) me said:
who do I report neighbors septic backing up all over there yard and nothing being done about it
Reply: local health department
To Whom Do I Report a Neighbor's Backing-up Septic if They Won't Fix It?
If your neighbor's septic system is sending septic effluent (sewage water) to the ground surface, to a nearby stream or lake, or onto your own property, it is a health concern for everyone nearby. It is of course best to bring your worries directly to the property owners where the failure is occurring.
When the owners of a property with a failing septic system are unwilling or unable to address the problem, you may have to ask for help from your local department of health. In most communities the health department of board of health is the agency that regulates onsite waste disposal systems.
Finally, if there is uncertainty about just where the sewage effluent is originating, often a dye test (seeSEPTIC LOADING & DYE TEST PROCEDURE - home) can help sort out that confusion.
Question: water leaking out of septic tank lid
(Nov 19, 2011) David said:
I just purchased a home in a rural setting. I currently have water seeping out the top of the tank from the lid of the tank. What would cause this and how would I go about fixing the problem
Reply: uh oh!
David:
Ah geez, the Greeks killed messengers who brought bad news (so I have to add that I'm writing from an undisclosed location out of the U.S.)
But it sure sounds as if your septic system is in trouble. Most likely the outlet from the septic tank is blocked. If you're lucky it's a damaged pipe or outlet baffle or tee. But equally often this problem shows up when the septic drainfield is saturated - and needs replacement - and is expensive.
Another common cause is a drainfield flooded by surface runoff or other water leaking into the drainfield or septic tank itself, such as from roof drainage or area flooding.
Some digging and looking can help diagnose the problem. Find the Distribution box ( On this page at Continue reading we provide an INDEX to RELATED ARTICLES that includes a live link to articles on finding buried septic system components, or search or "how to find the D-box") and open it up to see if effluent is backing up there too. If not the blockage is between the tank and the D-box (good news).

Question: septic inspector said the septic tank is leaking
(July 11, 2012) Eli said:
I am trying to buy a house with a septic tank. When they did the septic inspection they said that the septic tank was leaking. Well first they said they had to fill it with water to check if it had any leaks because there wasn't enough in it to check it. So once they did this then they came back the next day to see if the level of water had gone down they said that it went down 3" which is not good...What is your take on it?
additional information...the company that is selling the house is willing to see two estimates for the septic repairs. Do you know what ballpark figure I'm looking at?
Reply:
Eli, if the tank was filled to just the level of the bottom of the outlet pipe and there was no use overnight and if when inspected the next day the level was below that point there is a leak.
Question: septic tank leaks near a lake
(Aug 25, 2014) Anonymous said:
I live near a lake ,if the septic tank leaks will it make it's way into the lake
Reply:
Anon:
Perhaps that's why current plumbing codes require a clearance distance between septic tank and lake.
You might want to have the tank opened, pumped, cleaned, and inspected to determine its condition.
See SEPTIC CLEARANCE DISTANCES
...
Ask a Question or Search InspectApedia
Use the "Click to Show or Hide FAQs" link just above to see recently-posted questions, comments, replies, try the search box just below, or if you prefer, post a question or comment in the Comments box below and we will respond promptly.
Search the InspectApedia website
Technical Reviewers & References
Click to Show or Hide Citations & References
New York State Department of Health, "Appendix 75-A Wastewater Treatment Standards - Individual Household Systems", [PDF] New York State Department of Health, 3 February 2010, retrieved 3/1/2010, original source: https://www.health.ny.gov/regulations/nycrr/title_10/part_75/appendix_75-a.htm
Special thanks to M & O Sanitation, Dutchess County NY (845) 471-0308 for permitting us to photograph steps during septic system service at our demonstration property.
Septic System Maintenance Fact Sheet, AEX-740-1, Karen Mancl, Food, Agricultural, and Biological Engineering, Ohio State University Extension, Columbus OH - September 2008
Septic Tank/Soil-Absorption Systems: How to Operate & Maintain [ copy on file as /septic/Septic_Operation_USDA.pdf ] - , Equipment Tips, U.S. Department of Agriculture, 8271 1302, 7100 Engineering, 2300 Recreation, September 1982, web search 08/28/2010, original source: http://www.fs.fed.us/t-d/pubs/pdfimage/82711302.pdf.
Pennsylvania State Fact Sheets relating to domestic wastewater treatment systems include

Pennsylvania State Wastewater Treatment Fact Sheet SW-161, Septic System Failure: Diagnosis and Treatment
Pennsylvania State Wastewater Treatment Fact Sheet SW-162, The Soil Media and the Percolation Test
Pennsylvania State Wastewater Treatment Fact Sheet SW-l64, Mound Systems for Wastewater Treatment
Pennsylvania State Wastewater Treatment Fact Sheet SW-165, Septic Tank-Soil Absorption Systems
Document Sources used for this web page include but are not limited to: Agricultural Fact Sheet #SW-161 "Septic Tank Pumping," by Paul D. Robillard and Kelli S. Martin. Penn State College of Agriculture - Cooperative Extension, edited and annotated by Dan Friedman (Thanks: to Bob Mackey for proofreading the original source material.)

Advanced Onsite Wastewater Systems Technologies, Anish R. Jantrania, Mark A. Gross. Anish Jantrania, Ph.D., P.E., M.B.A., is a Consulting Engineer, in Mechanicsville VA, 804-550-0389 (2006). Outstanding technical reference especially on alternative septic system design alternatives. Written for designers and engineers, this book is not at all easy going for homeowners but is a text I recommend for professionals--DF.
Builder's Guide to Wells and Septic Systems, Woodson, R. Dodge: $ 24.95; MCGRAW HILL B; TP; Quoting from Amazon's description: For the homebuilder, one mistake in estimating or installing wells and septic systems can cost thousands of dollars. This comprehensive guide filled with case studies can prevent that. Master plumber R. Dodge Woodson packs this reader-friendly guide with guidance and information, including details on new techniques and materials that can economize and expedite jobs and advice on how to avoid mistakes in both estimating and construction. Chapters cover virtually every aspect of wells and septic systems, including on-site evaluations; site limitations; bidding; soil studies, septic designs, and code-related issues; drilled and dug wells, gravel and pipe, chamber-type, and gravity septic systems; pump stations; common problems with well installation; and remedies for poor septic situations. Woodson also discusses ways to increase profits by avoiding cost overruns.
Country Plumbing: Living with a Septic System, Hartigan, Gerry: $ 9.95; ALAN C HOOD & TP; Quoting an Amazon reviewer's comment, with which we agree--DF:This book is informative as far as it goes and might be most useful for someone with an older system. But it was written in the early 1980s. A lot has changed since then. In particular, the book doesn't cover any of the newer systems that are used more and more nowadays in some parts of the country -- sand mounds, aeration systems, lagoons, etc.

Septic System Owner's Manual, Lloyd Kahn, Blair Allen, Julie Jones, Shelter Publications, 2000 $14.95 U.S. - easy to understand, well illustrated, one of the best practical references around on septic design basics including some advanced systems; a little short on safety and maintenance. Both new and used (low priced copies are available, and we think the authors are working on an updated edition--DF. Quoting from one of several Amazon reviews: The basics of septic systems, from underground systems and failures to what the owner can do to promote and maintain a healthy system, is revealed in an excellent guide essential for any who reside on a septic system. Rural residents receive a primer on not only the basics; but how to conduct period inspections and what to do when things go wrong. History also figures into the fine coverage.
Test Pit Preparation for Onsite Sewage Evaluations, State of Oregon Department of Environmental Quality, Portland OR, 800 452-4011. PDF document. We recommend this excellent document that offers detail about soil perc tests, deep hole tests, safety, and septic design. Readers should also see SEPTIC SOIL & PERC TESTS and for testing an existing septic system, also see Dye Tests
Grass is Always Greener Over the Septic Tank, Bombeck, Erma: $ 5.99; FAWCETT; MM; This septic system classic whose title helps avoid intimidating readers new to septic systems, is available new or used at very low prices. It's more entertainment than a serious "how to" book on septic systems design, maintenance, or repair. Not recommended -- DF.

US EPA Onsite Wastewater Treatment Systems Manual Top Reference: US EPA's Design Manual for Onsite Wastewater Treatment and Disposal, 1980, available from the US EPA, the US GPO Superintendent of Documents (Pueblo CO), and from the National Small Flows Clearinghouse. Original source http://www.epa.gov/ORD/NRMRL/Pubs/625R00008/625R00008.htm
Water Wells and Septic Systems Handbook, R. Dodge Woodson. This book is in the upper price range, but is worth the cost for serious septic installers and designers. Quoting Amazon: Each year, thousands upon thousands of Americans install water wells and septic systems on their properties. But with a maze of codes governing their use along with a host of design requirements that ensure their functionality where can someone turn for comprehensive, one-stop guidance? Enter the Water Wells and Septic Systems Handbook from McGraw-Hill.
Written in language any property owner can understand yet detailed enough for professionals and technical students this easy-to-use volume delivers the latest techniques and code requirements for designing, building, rehabilitating, and maintaining private water wells and septic systems. Bolstered by a wealth of informative charts, tables, and illustrations, this book delivers:
* Current construction, maintenance, and repair methods
* New International Private Sewage Disposal Code
* Up-to-date standards from the American Water Works Association

Wells and Septic Systems, Alth, Max and Charlet, Rev. by S. Blackwell Duncan, $ 18.95; Tab Books 1992. We have found this text very useful for conventional well and septic systems design and maintenance --DF. Quoting an Amazon description:Here's all the information you need to build a well or septic system yourself - and save a lot of time, money, and frustration. S. Blackwell Duncan has thoroughly revised and updated this second edition of Wells and Septic Systems to conform to current codes and requirements. He also has expanded this national bestseller to include new material on well and septic installation, water storage and distribution, water treatment, ecological considerations, and septic systems for problem building sites.

The NSFC Products List has an excellent list of design manuals/modules available from their website or by telephone 800-624-8301
...
Books & Articles on Building & Environmental Inspection, Testing, Diagnosis, & Repair
Our recommended books about building & mechanical systems design, inspection, problem diagnosis, and repair, and about indoor environment and IAQ testing, diagnosis, and cleanup are at the InspectAPedia Bookstore. Also see our Book Reviews - InspectAPedia.
...