Actual Septic Tank Depth
How to estimate & then measure the actual depth of a septic tank below ground surface
POST a QUESTION or READ FAQs about how deep the septic tank should be placed and how deep in the ground it may be found at various building sites
InspectAPedia tolerates no conflicts of interest. We have no relationship with advertisers, products, or services discussed at this website.
Septic Tank Depth:
This article describes how to find the depth of a buried septic tank. Sometimes we can get the septic tank depth immediately by simple visual observation. But if the septic tank lid or top cover has been buried and we've not dug it up recently it may take some measurements and estimating to have a good idea just how deep the septic tank top is below ground.
A companion article linked at the end of this one gives a separate description of the design depth for septic tanks - how deep should a septic tank be?
Our page top photo shows us measuring the distance from house to septic tank nearest-corner (blue arrow) and also a septic tank cleanout-riser (red arrow). Looking through the septic tank riser top told us that we'd not have to remove much soil to expose the top of this septic tank.
We also provide a MASTER INDEX to this topic, or you can try the page top or bottom SEARCH BOX as a quick way to find information you need.
How To Find the Actual Depth of a Septic Tank Below the Ground Surface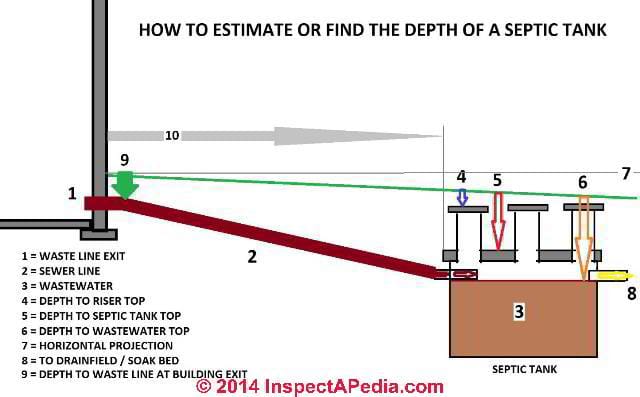 [Click to enlarge any image]
Article Series Contents
Reader Question: septic tank depth must permit adequate drain line slope
(Feb 12, 2014) Anonymous said: ©
If my sewer discharge pipe is 6 ft+ below the ground surface does the septic tank inlet not have to be slightly lower in order for the waste to flow into the tank. Can a person use an effluent pump to discharge the waste to the field or do you use the effluent pump before the septic tank.
Reply:
A waste line drains by gravity and slopes between 1/8" and 1/4" per linear foot. If your drain line had to run 20 feet from house outlet to tank inlet, the tank inlet has to be at least (20 x .125) " lower than the elevation of the waste line where it exits the building (unless your septic system is using a sewage pump or ejector pump).
At 1/8" per foot minimum slope that's (20 ft x 0.125 " per foot = just 2.5 inches below the house main waste line depth - the fat green arrow #9 in our sketch above. At 1/4" per foot that would place your septic tank inlet depth at 5 inches lower than the green arrow #9.
Our schematic above shows the measurements involved in finding the depth of a septic tank and should assist in understanding and picturing the septic tank depth location steps that we give just below.
How to Estimate, then Find the Actual Depth to the Septic Tank Lid in 10 Steps or Less
Find the septic tank: First, if we don't know where the septic tank is buried, we have to find the septic tank location. If there are septic tank risers, or clean-out ports poking up above ground then we know the tank location and we can go on to subsequent steps in this list.

But if there are no visual clues (pipes above ground) then we can still make some intelligent guesses at where the tank is by inspecting the building piping and the site conditions to see where a septic tank could reasonably be expected to have been buried.

Details of these procedures are
at SEPTIC TANK, HOW TO FIND where you'll see several approaches.
Inspect Septic Tank Cleanouts or Risers: if there are one or more septic tank cleanout ports or risers or access ports (arrow #4 in our septic tank depth sketch above) that are above ground or close to ground level and perhaps marked by a stone, it's pretty easy: open the access port top or cover and measure with a tape the distance down to the top of the sewage effluent. See the orange arrow #6 in our septic tank depth sketch above.

If the septic tank is in use and is full to its normal level, the top of waste in the tank will be a few inches under the under-side of the septic tank lid. If the tank is steel, plastic or fiberglass, then that's about the depth to the surface of the septic tank lid, with some variation if the upper surface of the septic tank is round rather than flat. If the septic tank is made of concrete then the dept from ground top to septic tank top is about 4-12" less than the depth of the septic sewage level from ground top.
Also see SEPTIC TANK RISERS
Use the building main drain exit point + distance x sewer line slope: If there are no septic tank risers or access ports that we can find, there are still some clues about possible septic tank depth, provided that the system works by gravity. A typical septic system into which sewage or wastewater flows by gravity must be lower than building's main drain exit point, and sewer piping between the building main drain and the entry port of the septic tank must slope between 1/8" and 1/4" (or more) per foot for wastewater to flow into the septic tank.

Our septic tank depth sketch above shows all of the measurements and measurement points that might be involved in finding the septic tank depth using this approach.

More about typical sewer line drain piping depths is
at DRAIN FREEZE PROTECTION

With these concepts if we know the distance of the septic tank from the building we can calculate the approximate septic tank minimum depth below ground. We'll need to take into consideration the terrain shape. When ground slopes away from the building foundation wall (which we hope it does) then the septic tank depth will of course reflect that slope as well (as we show in our sketch).
Main drain exit point: Find the point at which the building main drain exits the foundation wall - Green Arrow #9 in our sketch.
Distance to septic tank: Measure the distance to the septic tank's nearest corner - Gray Arrow #10 in the septic tank sketch
Main drain exit depth: Measure or estimate the depth below ground at which the building main drain exits the structure. This is the outdoor sewer line starting depth - Green Arrow #9 in our sketch.
Compute minimum depth of the septic tank wastewater entry: Multiply the exit point to septic tank distance by 1/8" per foot to get the minimum depth of the septic tank entry piping connection. This will be the depth of the bottom of the septic tank wastewater entry pipe. This depth will be the same as the top of the septic tank wastewater level - Orange Arrow #6 in our sketch above
Measurements give the minimum or the actual depth to the top of the septic tank - Red Arrow #5 in our sketch - will be about a 12" to 24" above this entry point in step 4, allowing for the additional thickness or dimension of:
the diameter of the entering septic or sewage wastewater pipe, typically 4" to 6" for residential properties
or
the air space between the top of the wastewater in the septic tank and the under-side of the septic tank lid, typically this distance is 6-8" in a septic tank.
Watch out: if the sewage or septic wastewater is right up to the under-side of the septic tank then something is seriously wrong. See SEPTIC TANK LEVELS of SEWAGE

and (plus)
the thickness of the septic tank lid itself, ranging from about 1/8" to about 4" depending on septic tank material and tank lid structural requirements discussed
at SEPTIC TANK DESIGN STRENGTH SPECS
and (plus)
the height of any septic tank cleanout or access risers and their lids - Blue Arrow #4 in our septic tank depth sketch above
See SEPTIC TANK RISERS -
and (plus)
the depth of soil backfill over the septic tank lid or septic tank riser lid, ranging from 0" (which means you should see it) to just a few inches (which means grass may be dead in this area) to 6-12" or even more.
Consider (add or subtract) the effects of ground slope - Gray Horizontal line #7 in our sketch above - on possible septic tank depth below a horizontal line projected from the house sewer line exit point to the septic tank.

If the terrain slopes away from the building by more than 1/8" to 1/4" per foot, then the septic tank will of course be further below a horizontal line projected from the building and it may be closer to the ground surface since the sewer line in this case will already be sloping more than the standard slope range of 1/8-1/4" per foot.
Dig: ultimately the precise depth to the septic tank top from the ground surface - Red Arrow #5 in our septic tank sketch - will be confirmed by excavating down to the top.

Naturally site conditions and installer discoveries during original septic tank installation can cause considerable variation in septic tank depth, from septic tanks that are actually above ground to those that are deeper than the minimum depth for proper sewer line slope.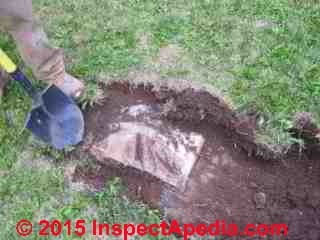 But it's reasonable to consider that an excavator who is digging the hole to install a septic tank would have little reason to dig deeper than necessary to bury the tank deeper than the depths we described
at SEPTIC TANK INSTALLATION DEPTH discussed earlier.
Our photo (left) is a close-up of the excavation to expose a septic tank cover as shown at the top of this page. This septic tank is located in Northern Minnesota. The page top photo includes a red arrow pointing to a permanently-installed (though a bit small) septic tank riser used for periodic septic tank pumping.
Also see DRAIN FREEZE PROTECTION where we describe the depth of sewer and septic system piping.
This chapter also explains how to calculate septic tank volume based on septic tank inside dimensions measured in feet, and we discuss the sizing, installation, and functions of septic tank tees to prevent septic system clogging. Links to related septic system testing and design information are given at More Reading just below.
...
Continue reading at SEPTIC TANK DESIGN DEPTH to read about the recommended depths for septic tanks, or select a topic from closely-related articles below, or see our complete INDEX to RELATED ARTICLES below.
Or see SEPTIC DRAINFIELD SIZE for specifications for disposal field trenches, layout, size, setbacks, trench depth, etc.
Or see SEPTIC TANK, HOW TO FIND

Or see PUMPER TRUCK VACUUM PUMPS for a discussion of the ability to pump out septic tanks at depth or distance from the pumper truck
Or see U.S. SEPTIC AUTHORITIES & DESIGN SPECIFICATIONS - sources of septic system design, installation, inspection, testing, codes & regulations
Suggested citation for this web page
SEPTIC TANK DEPTH at InspectApedia.com - online encyclopedia of building & environmental inspection, testing, diagnosis, repair, & problem prevention advice.
Or use the SEARCH BOX found below to Ask a Question or Search InspectApedia
...
Frequently Asked Questions (FAQs)
Try the search box below or CONTACT US by email if you cannot find the answer you need at InspectApedia.
Question: fill over septic tank on a hill
(May 16, 2014) Anonymous said: We have a septic tank which is on a sloped hill, and are wondering how much fill we need to put between it and a retaining wall to keep it from freezing in the winter. One side will be completely buried. Thanks for any advice!
Reply:
Anon, in some locations even an above ground septic tank survives moderate freezing locations without insulation, as being in-use it's warmed by inflowing wastewater. But a tank that's not in use or is in very cold areas indeed may need protection.The quantity of insulation needed to avoid freezing depends on how cold is the exposure - something you don't state. Take a look at the insulating values of earth found atSOIL R-VALUES - for help in deciding how much fill you need.
A very general comment is to take a look at the frost line depth for your area.
Watch out: even very large amounts of insulation won't prevent freezing of an inactive plumbing system or component in very cold areas. Rather the insulation slows the time to freeze but it can also slow solar or geothermal gain that counteracts freezing.
Also see this discussion about whether or not to turn off water in a winterized building: WATER TURN OFF?
Reader comment: we still want to insulate our septic tank
Grace said: Thanks for your response to my question yesterday!
We're in North Idaho, and are planning to build a retaining wall on the downhill side of the tank. Would you recommend insulating that side of the tank (which will then have fill (up to 1-3ft) with rigid foam? I've also understood that the moisture content of the soil greatly influences the insulative value and am planning to put tarp near the surface of the soil to drain surface water away from the tank.
Thanks for any other advice!
Reply:
Use a solid closed cell foam insulating board that does not absorb water. 4-6" of solid closed cell insulating board might help.
Question: septic tank lid collapsed under soil weight
(Nov 28, 2014) Scott C. said:
I have a septic system with a power assisted pump tank. The lid collapsed under the weight of the soil it was buried under. There was about 3'2" of clay type soil that the installer covered it with. The lid thickness is 4". Is that up to standard for that much soil?
Reply:
Scott, If you want to investigate the adequacy of the lid over a septic tank you need a bit of data. Septic tanks are indeed rated for different weights and loads. The thickness of the septic tank lid alone is not enough to know whether or not it was adequate - as we don't know if it contained steel reinforcement or if it did, on what spacing and using what material, nor do we know the quality of the concrete, nor its history (e.g. prior vehicle traffic over the tank) nor do we know the septic tank and size. See SEPTIC TANK DESIGN STRENGTH SPECS
...
Ask a Question or Search InspectApedia
Try the search box just below, or if you prefer, post a question or comment in the Comments box below and we will respond promptly.
Search the InspectApedia website
Technical Reviewers & References
Click to Show or Hide Citations & References
New York State Department of Health, "Appendix 75-A Wastewater Treatment Standards - Individual Household Systems", [PDF] New York State Department of Health, 3 February 2010, retrieved 3/1/2010, original source: https://www.health.ny.gov/regulations/nycrr/title_10/part_75/appendix_75-a.htm
Septic Tank Capacity vs Usage in Daily Gallons of Wastewater Flow, calculating required septic tank size, calculating septic tank volume from size measurements
Septic Tank/Soil-Absorption Systems: How to Operate & Maintain [ copy on file as /septic/Septic_Operation_USDA.pdf ] - , Equipment Tips, U.S. Department of Agriculture, 8271 1302, 7100 Engineering, 2300 Recreation, September 1982, web search 08/28/2010, original source: http://www.fs.fed.us/t-d/pubs/pdfimage/82711302.pdf.JF
Pennsylvania State Fact Sheets relating to domestic wastewater treatment systems include

Pennsylvania State Wastewater Treatment Fact Sheet SW-161, Septic System Failure: Diagnosis and Treatment
Pennsylvania State Wastewater Treatment Fact Sheet SW-162, The Soil Media and the Percolation Test
Pennsylvania State Wastewater Treatment Fact Sheet SW-l64, Mound Systems for Wastewater Treatment
Pennsylvania State Wastewater Treatment Fact Sheet SW-165, Septic Tank-Soil Absorption Systems
Document Sources used for this web page include but are not limited to: Agricultural Fact Sheet #SW-161 "Septic Tank Pumping," by Paul D. Robillard and Kelli S. Martin. Penn State College of Agriculture - Cooperative Extension, edited and annotated by Dan Friedman (Thanks: to Bob Mackey for proofreading the original source material.)
Advanced Onsite Wastewater Systems Technologies, Anish R. Jantrania, Mark A. Gross. Anish Jantrania, Ph.D., P.E., M.B.A., is a Consulting Engineer, in Mechanicsville VA, 804-550-0389 (2006). Outstanding technical reference especially on alternative septic system design alternatives. Written for designers and engineers, this book is not at all easy going for homeowners but is a text I recommend for professionals--DF.
Builder's Guide to Wells and Septic Systems, Woodson, R. Dodge: $ 24.95; MCGRAW HILL B; TP; Quoting from Amazon's description: For the homebuilder, one mistake in estimating or installing wells and septic systems can cost thousands of dollars. This comprehensive guide filled with case studies can prevent that. Master plumber R. Dodge Woodson packs this reader-friendly guide with guidance and information, including details on new techniques and materials that can economize and expedite jobs and advice on how to avoid mistakes in both estimating and construction. Chapters cover virtually every aspect of wells and septic systems, including on-site evaluations; site limitations; bidding; soil studies, septic designs, and code-related issues; drilled and dug wells, gravel and pipe, chamber-type, and gravity septic systems; pump stations; common problems with well installation; and remedies for poor septic situations. Woodson also discusses ways to increase profits by avoiding cost overruns.
Country Plumbing: Living with a Septic System, Hartigan, Gerry: $ 9.95; ALAN C HOOD & TP; Quoting an Amazon reviewer's comment, with which we agree--DF:This book is informative as far as it goes and might be most useful for someone with an older system. But it was written in the early 1980s. A lot has changed since then. In particular, the book doesn't cover any of the newer systems that are used more and more nowadays in some parts of the country -- sand mounds, aeration systems, lagoons, etc.

US EPA Onsite Wastewater Treatment Systems Manual [online copy, free] Top Reference: US EPA's Design Manual for Onsite Wastewater Treatment and Disposal, 1980, available from the US EPA, the US GPO Superintendent of Documents (Pueblo CO), and from the National Small Flows Clearinghouse. Original source http://www.epa.gov/ORD/NRMRL/Pubs/625R00008/625R00008.htm Onsite wastewater treatment and disposal systems, Richard J Otis, published by the US EPA. Although it's more than 20 years old, this book remains a useful reference for septic system designers. U.S. Environmental Protection Agency, Office of Water Program Operations; Office of Research and Development, Municipal Environmental Research Laboratory; (1980)
Eco John® Innovative Toilet Solutions, Global Inventive Industries, Fountain Valley CA, PDF, product brochure
"International Private Sewage Disposal Code," 1995, BOCA-708-799-2300, ICBO-310-699-0541, SBCCI 205-591-1853, available from those code associations.
"Manual of Policy, Procedures, and Guidelines for Onsite Sewage Systems," Ontario Reg. 374/81, Part VII of the Environmental Protection Act (Canada), ISBN 0-7743-7303-2, Ministry of the Environment,135 St. Clair Ave. West, Toronto Ontario M4V 1P5 Canada $24. CDN.
Manual of Septic Tank Practice, US Public Health Service's 1959.
Books & Articles on Building & Environmental Inspection, Testing, Diagnosis, & Repair
Our recommended books about building & mechanical systems design, inspection, problem diagnosis, and repair, and about indoor environment and IAQ testing, diagnosis, and cleanup are at the InspectAPedia Bookstore. Also see our Book Reviews - InspectAPedia.
...