Septic Tank Condition - How to Inspect Septic Tank Baffles
SEPTIC TANK BAFFLES - CONTENTS: Inspection & Repair Guide to lost, rusted, or damaged septic tank baffles. Causes of septic tank baffle damage. Effects of septic tank baffle damage on the septic drainfield life. Flooded septic tanks - how to detect leaks into the septic tank by examining the septic tank baffles.
POST a QUESTION or READ FAQs about how to find, inspect, and troubleshoot the septic tank baffles or tees
InspectAPedia tolerates no conflicts of interest. We have no relationship with advertisers, products, or services discussed at this website.
Guide to septic tank baffles & tees:
This document describes how to inspect the condition of septic tank baffles at the septic tank inlet baffle and septic tank outlet baffle ports.
Septic tank baffles are a key component of septic tanks which prevent damage to the drainfield by reducing effluent agitation as sewage enters the septic tank, and by preventing solids from flowing out of the tank to the drainfield.
If the septic tank baffles are damaged, missing, or were never provided in the first place, the life of the drain field or leach field will be seriously shortened. Inspecting concrete septic tanks is a key component in onsite wastewater disposal systems.
We also provide a MASTER INDEX to this topic, or you can try the page top or bottom SEARCH BOX as a quick way to find information you need.
Green links show where you are. © Copyright 2017 InspectApedia.com, All Rights Reserved.
SEPTIC TANK BAFFLES - Inspect the Condition of Septic Tank Baffles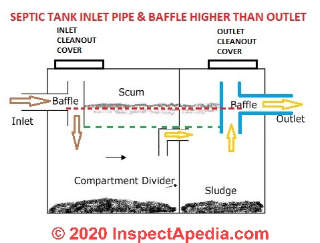 [Click to enlarge any image]
In the sketch at left the inlet and outlet septic tank baffles or "tees" are shown in brown and light blue respectively. You can see that the inlet tank baffle or tee will direct incoming wastewater down into the tank (not zooming across a tank to rush to the outlet opening).
Article Contents:
Forcing the incoming sewage to make a right turn (down) also slows its impetus. This turn and downwards direction are even more critical in a one-compartment septic tank.
Image adapted from Alaska DEC [3] The dashed lines illustrate the liquid level (red) and the difference in elevation (green) between the inlet and outlet septic tank pipe connections.
You can see that both of these septic tank baffles or tank tees keep the floating scum and grease from blocking the septic tank inlet (at left) and importantly, the tee or baffle keeps the floating scum and grease from exiting the septic tank outlet (where it would clog the drainfield). If these components have been lost or damaged in your septic tank they need to be replaced or repaired, as we explain here.
If at the septic tank outlet the baffles are damaged or missing, or if no replacement "tee" has been installed, you can be sure that sewage has been pushed into the drainfield or absorption system, reducing its future life by speeding soil clogging there.
How to Find & Repair Lost or Rusted Septic Tank Baffles
If septic tank baffles are lost or damaged (rusted off on a steel tank or broken off on a concrete tank), they can be repaired or replaced. For example at a steel tank the contractor may simply insert a plastic piping "Tee" into the tank inlet or outlet to create a new baffle system.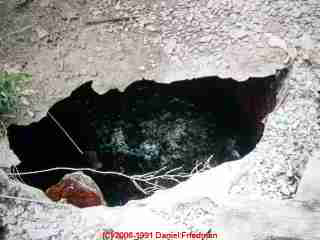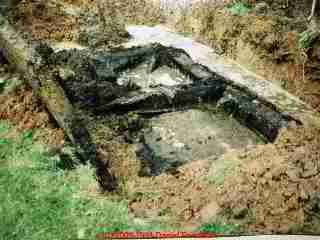 Baffles in a septic tank are provided to keep solids and floating scum and grease inside the tank. Baffles are provided at both the inlet to the tank (from the building) and the outlet from the tank (to the absorption system). The steel septic tank shown above at left has a baffle that is rusted away at its top.
On pumping this old steel septic tank one expects to see the baffle bottom has rusted off too. The home made septic tank shown above at right had no inlet baffle and a broken outlet baffle, factors in the rapid destruction of the leach field for this septic system.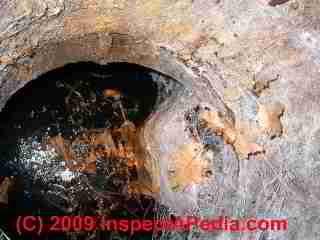 Broken septic tank baffles or high sludge levels can cause solids to flow out of the tank and into the absorption system. The result is reduced absorption into surrounding soil and eventual failure of the system. Floating scum thickness and settled solids thickness can be measured through access ports into the tank or cesspool.
Our photo (left) shows an old steel septic tank with the baffle at the right side of the photo. Just touching the baffle with a tool showed us that it was rusted and collapsing.
This septic tank was pumped out, filled-in, and abandoned. But had the owners intended to use it they'd have needed to excavate the tank to install a baffle. That procedure is described in detail at SEPTIC TANK TEES.
Finding solids at or covering the outlets or damaged baffles should result in report of a very questionable adsorption system and possible major repair cost.
Depending on how long the tank was used without good baffles, the volume of solids and grease that moved from the tank to the absorption system will have begun clogging soils there and will have reduced the future life expectancy of the absorption system.
Baffle damage and repair, or even a complete tank replacement when the absorption system has been left alone always lead the author to warn the building owner that the future life of the absorption system may be in doubt and that additional expense will be involved.
As we mentioned above, see SEPTIC TANK TEES for instructions on how to install septic tank tees when septic tank baffles are damaged or missing.
Concrete Septic Tank Baffle Inspection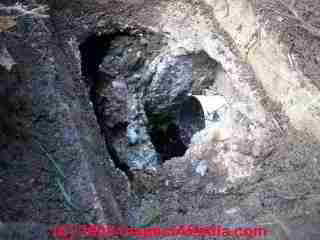 Inspect for Damaged Septic Tank Baffles at Inlet & Outlet:
The condition of the septic tank baffles tells you what has been happening in the septic system.
Our photo at left, compliments of architect Jerry Waters, shows a badly deteriorated concrete septic tank baffle. Details of the septic tank baffle repair, involving installing a PVC tee in this septic tank, are shown at SEPTIC TANK TEES.
Concrete septic tank baffles may erode from chemicals, detergents, poor concrete mix, water flowing over top of baffles, or may be broken by improper pumping procedures.
Look for evidence that the floating scum layer is over or has ever been over the tank baffles - an indication of system failure that needs further investigation.
Inspecting for Septic Tank Baffle Overflow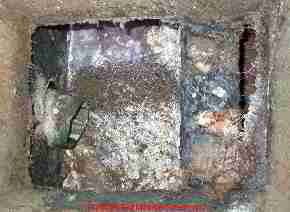 When a septic tank is opened for tank pumping at a center cleanout port the baffles are not easily visible except indirectly by mirror or camera held inside the tank. However for this case we opened and inspected the septic tank inlet baffles.
This photo shows inlet sewer line (green pipe at left) and concrete baffle (at right) at the inlet end of a 1000 gallon concrete septic tank which is in use.
While the sewage level looks normal in the tank at the time of this photo, the sewage atop the concrete tank baffle suggested that the septic tank had been flooded in the past. We were concerned by the evidence that sewage had been flowing over the top of the baffle - an abnormal condition that could suggest a prior blockage either at the tank inlet baffle or at the tank outlet.
We decided to pump the tank, clean it, and inspect it further. The step by step septic tank opening, pumping, and inspection procedure are documented at SEPTIC TANK PUMPING PROCEDURE.
Flooded Septic Tanks due to Leaks Into the Septic Tank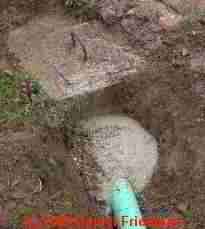 Ground water or surface runoff leaking into a septic tank will flood the tank and add to saturation of and early failure of the septic system leach field or drainfield. At the septic tank shown in these photographs, water was leaking into the septic tank around the tank inlet sewer pipe.
We located and corrected the probable source of water leaking into the tank. In this case the leak was at the inlet pipe to the septic tank where water was collecting by running down the hill into the sewer line trench.
The combination of a downhill trench headed towards the septic tank (the trench collects and aims surface and subsurface runoff water towards the septic tank), and a leak at the entry of the sewer pipe into the septic tank was causing the tank to flood.
We sealed the entry to the septic tank with concrete as shown in this photo of a concrete seal which we installed at the sewer line entry to the septic tank.
See SEPTIC TANK LEAKS - for an explanation of how and why septic tank leaks cause septic system failures.
At SEPTIC TANK BACK FLOODING we explain the causes of abnormally high sewage levels in septic tanks.
You cannot see the entire condition of the septic tank baffle before the tank is pumped, but inspect the baffle tops for evidence of corrosion, damage, total absence, or of sewage flowing over the baffle top (an indication of excessive in-tank sewage levels). Photos of the septic tank baffles in a concrete tank, as seen from inside the septic tank are provided at "Septic Tank Pumping Procedure" for which we provide a link at "More Reading" below.
The sewage level inside a septic tank should always be several inches below the baffle top but within a right at at or just below the bottom of the tank inlet pipe. If sewage level is low inside a septic tank which is in use, it is almost certain that the tank has been damaged and is leaking into surrounding soil.
Septic tank maximum scum and sludge buildup prior to pump out, and instructions for measuring the floating scum layer thickness and settled sludge layer thickness in a septic tank are available at SEPTIC TANK PUMPING SCHEDULE.
Also see MEASURE SCUM & SLUDGE for details of how we make these measurements.
See SEPTIC TANK LEVELS of SEWAGE for details on normal and abnormal levels and what they mean. Our page top photo shows a typical concrete septic tank baffle at the inlet pipe. Steel septic tanks have a similar barrier installed.
If your septic tank baffles are damaged and need repair or replacement, see SEPTIC TANK TEES [live link given just below] for help on how to install septic tank tees when tank baffles are damaged or missing. It's an easy repair.
We also recommend septic tank outlet filters installed at the tank outlet tee to extend the drainfield life. [Live link given just below].
Septic Tank Care Articles
...
Continue reading at SEPTIC TANK TEES how to detect a lost or damaged septic tank baffle or a damaged tank tee; when & how to add a septic tank tee or select a topic from closely-related articles below, or see our complete INDEX to RELATED ARTICLES below.
Or see SEPTIC TANK BAFFLE FAQs
Or see FILTERS SEPTIC & GREYWATER to add a septic filter or graywater filter to extend the life of septic tank, soakpit, soakaway bed, drainfield, leachfield, or drywell or cesspool.
Or see SEPTIC FAILURE CAUSES
Or see SEPTIC TANK LEVELS of SEWAGE for details on normal and abnormal levels and what they mean.
Suggested citation for this web page
SEPTIC TANK BAFFLES at InspectApedia.com - online encyclopedia of building & environmental inspection, testing, diagnosis, repair, & problem prevention advice.
Or use the SEARCH BOX found below to Ask a Question or Search InspectApedia
...
Frequently Asked Questions (FAQs)
Ask a Question or Search InspectApedia
Use the "Click to Show or Hide FAQs" link just above to see recently-posted questions, comments, replies, try the search box just below, or if you prefer, post a question or comment in the Comments box below and we will respond promptly.
Search the InspectApedia website
Technical Reviewers & References
Click to Show or Hide Citations & References
New York State Department of Health, "Appendix 75-A Wastewater Treatment Standards - Individual Household Systems", [PDF] New York State Department of Health, 3 February 2010, retrieved 3/1/2010, original source: https://www.health.ny.gov/regulations/nycrr/title_10/part_75/appendix_75-a.htm
[1] Pennsylvania State Fact Sheets relating to domestic wastewater treatment systems include

Pennsylvania State Wastewater Treatment Fact Sheet SW-161, Septic System Failure: Diagnosis and Treatment
Pennsylvania State Wastewater Treatment Fact Sheet SW-162, The Soil Media and the Percolation Test
Pennsylvania State Wastewater Treatment Fact Sheet SW-l64, Mound Systems for Wastewater Treatment
Pennsylvania State Wastewater Treatment Fact Sheet SW-165, Septic Tank-Soil Absorption Systems
Document Sources used for this web page include but are not limited to: Agricultural Fact Sheet #SW-161 "Septic Tank Pumping," by Paul D. Robillard and Kelli S. Martin. Penn State College of Agriculture - Cooperative Extension, edited and annotated by Dan Friedman (Thanks: to Bob Mackey for proofreading the original source material.)

[2] Septic Tank/Soil-Absorption Systems: How to Operate & Maintain [ copy on file as /septic/Septic_Operation_USDA.pdf ] - , Equipment Tips, U.S. Department of Agriculture, 8271 1302, 7100 Engineering, 2300 Recreation, September 1982, web search 08/28/2010, original source: http://www.fs.fed.us/t-d/pubs/pdfimage/82711302.pdf.
[3] "How to Maintain Your Septic System", Alaska Department of Environmental Conservation, Division of Water, retrieved 8/8/12, original source: http://dec.alaska.gov/water/wwdp/onsite/maintain_septic.htm [copy on file as Alaska_Septic_Care.pdf]
[4] Installers Manual for Conventional Onsite Domestic Wastewater Treatment and Disposal Systems", Alaska Department of Environmental Conservation, Division of Water, retrieved 1/15/2001, original source: [copy on file as Alaska_Certified_Installer's_Manual.pdf]
Septic Systems Inspection, Testing, & Maintenance - online textbook. Detailed how to inspect, maintain, repair information
Septic Tank Pumping Guide: When, Why, How to pump the septic tank
Septic Tank Capacity vs Usage in Daily Gallons of Wastewater Flow, calculating required septic tank size, calculating septic tank volume from size measurements
How Big Should the Leach Field Be? - table of soil percolation rate vs. field size
Septic System Drainfield Absorption System Biomat Formation - what leads to drain field clogging and expensive drainfield repairs
Table of Required Septic & Well Clearances: Distances Between Septic System & Wells, Streams, Trees, etc.
Ten Steps to Keeping a Septic System Working, suggestions from the U.S. EPA, edits and additions by DJF
...
Books & Articles on Building & Environmental Inspection, Testing, Diagnosis, & Repair
Our recommended books about building & mechanical systems design, inspection, problem diagnosis, and repair, and about indoor environment and IAQ testing, diagnosis, and cleanup are at the InspectAPedia Bookstore. Also see our Book Reviews - InspectAPedia.
Inspecting Septic Systems: Online Book, Inspection, Test, Diagnosis, Repair, & Maintenance: our Online Septic Book: Septic Testing, Loading & Dye Tests, Septic Tank Pumping, Clearances, details of onsite waste disposal system inspection, testing, repair procedures.


Advanced Onsite Wastewater Systems Technologies, Anish R. Jantrania, Mark A. Gross. Anish Jantrania, Ph.D., P.E., M.B.A., is a Consulting Engineer, in Mechanicsville VA, 804-550-0389 (2006). Outstanding technical reference especially on alternative septic system design alternatives. Written for designers and engineers, this book is not at all easy going for homeowners but is a text I recommend for professionals--DF.
Builder's Guide to Wells and Septic Systems, Woodson, R. Dodge: $ 24.95; MCGRAW HILL B; TP; Quoting from Amazon's description: For the homebuilder, one mistake in estimating or installing wells and septic systems can cost thousands of dollars. This comprehensive guide filled with case studies can prevent that. Master plumber R. Dodge Woodson packs this reader-friendly guide with guidance and information, including details on new techniques and materials that can economize and expedite jobs and advice on how to avoid mistakes in both estimating and construction. Chapters cover virtually every aspect of wells and septic systems, including on-site evaluations; site limitations; bidding; soil studies, septic designs, and code-related issues; drilled and dug wells, gravel and pipe, chamber-type, and gravity septic systems; pump stations; common problems with well installation; and remedies for poor septic situations. Woodson also discusses ways to increase profits by avoiding cost overruns.
Country Plumbing: Living with a Septic System, Hartigan, Gerry: $ 9.95; ALAN C HOOD & TP; Quoting an Amazon reviewer's comment, with which we agree--DF:This book is informative as far as it goes and might be most useful for someone with an older system. But it was written in the early 1980s. A lot has changed since then. In particular, the book doesn't cover any of the newer systems that are used more and more nowadays in some parts of the country -- sand mounds, aeration systems, lagoons, etc.
...