How to Address Problems with a Neighbor's Septic System

NEIGHBORING SEPTIC SYSTEM PROBLEMS - CONTENTS: How to investigate and resolve septic odors from neighboring properties. How to investigate and resolve septic effluent seepage from or septic failures on neighboring land. Setbacks and clearances for septic systems Septic distances to other site features
POST a QUESTION or READ FAQs about responding to septic system smells, odors, or failures on neighboring properties
Trouble from neighbor's septic system:
This article offers advice for investigating, diagnosing, and resolving odor, seepage, or well contamination problems that appear to originate on a neighbor's property.
Green links show where you are. © Copyright 2015 InspectApedia.com, All Rights Reserved.
Advice for Investigating Septic Odors, Seepage, Failures, on Neighboring Lands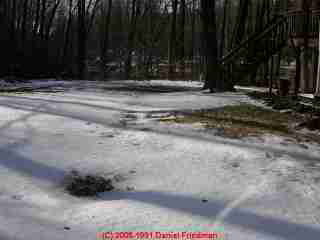 Hi, My neighbor has a septic tank in the front of their house, the house is about 30 years old. I can smell her septic on certain days but my concern is that it is very close to the property line and their property is about 8 feet higher in elevation and I think the waste is leaching into our yard.

Originally the yards were pretty level, but we cut away the banking to make a driveway. How can I tell if that waste is in the soil around our driveway. Oh yeah, the banking doesn't freeze there in the winter.  Thanks, C
Check with your Neighbors
In general, septic effluent must be disposed of on the property from which it originates.
It's always best to ask a neighbor to consider and address a problem before calling the authorities, but if a neighbor is unwilling or perhaps unable to act, the second step of involving the health department may be necessary. In my experience, when an owner's property was sending raw septic effluent onto a neighbor's property and the offender refused to address the matter, the health department would get involved and require action.
Whenever there seems to be a problem that begins with a neighbor's property, we advise a prompt, courteous inquiry with the neighbor involved. Explain your concerns, invite their assistance, give the neighbor an opportunity to respond. Usually that approach will lead to satisfaction for everyone. If you have the bad luck to encounter a neighbor who is unable or unwilling to assure that their septic system is not contaminating a neighbor, other steps may be necessary.
Check the distances between the neighboring septic system and property boundaries, wells, etc
Perhaps start your research by looking at http://InspectAPedia.com/septic/Septic_Clearance_Distances.php  and then review the distances between the neighboring septic system and your property lines and anyone's well with your local health department. Clearance distances from wells, property lines, streams, etc. must all be respected.
Investigate the source of septic odors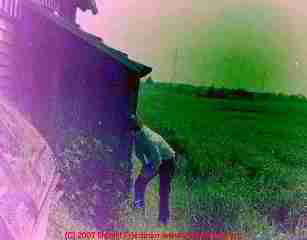 Sniffing out odors on your own property can be a challenge, and you should stay off of a neighbor's land unless you're invited there.
Odors may mean the neighbor's system is in failure, or that their plumbing and venting are improperly installed, or (less likely) there could be another odor source. In my experience, most health departments will require action of septic effluent is actually entering a neighbor's property, but won't require action on odors.
So if your neighbor's system is producing wet spots or wet areas on your land, they will most likely be required to fix that. Here is our article on diagnosing septic odors:
Investigate the source of wet areas that might or might not be due to someone's septic system failure
If there are wet areas that may be due to a septic problem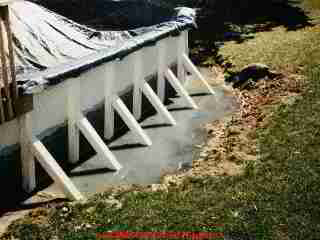 In this photo, excavation for an above ground pool disclosed sewage effluent flowing to the surface at an adjoining property.
If there are wet areas produced on your land, or for that matter, on the neighbor's nearby land, their septic system may be in failure and needs repair for health reasons as well as functional reasons.
Here is a list of septic system failure criteria:
When effluent appears, the health department may use a septic dye to attempt to assure that the effluent is from a septic system and not another groundwater source. I find that septic dye usually but not always appears in less than a day in the wet areas when the septic has failed.
At times the septic is in failure but the dye doesn't show up – because of dilution by other groundwater or use of bleach by an owner. An explanation of how septic dye may not appear even though a septic has failed is at
If there are no wet areas but you still suspect a septic problem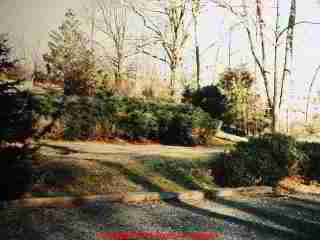 This photo shows an uphill neighboring septic field whose effluent flowed below ground into the drive drainage system of the property in the foreground of the picture. This photo shows septic dye appearing in the area drain basin in the driveway.
If there are no wet areas developing but the ground shows evidence of nearby effluent passage such as odors or warmth in winter, it may be expected that soon enough effluent will be appearing and the issue will become unambiguous – repair will be required. Pay special attention to suspect areas during wet weather.
If there are no wet areas being produced on your land then effluent is not appearing at the ground surface, that is, if there is no visual evidence of septic failure, and absent a clearance distance issue which I introduced above,I'm not sure your health department would consider the neighbor to be in violation of health codes.
Soil testing for evidence of septic failure
Testing a soil for coliform bacteria or e coli bacteria to indicate that it's contaminated with sewage effluent can be performed by a local water testing lab. I'd call the lab to ask them the procedure they want you to use to test a soil sample rather than a water or groundwater sample, and I'd ask what standards of comparison are used. (And I ask that you share that information with me.)
Continue reading at CLEARANCE DISTANCES, SEPTIC SYSTEM or select a topic from the More Reading links or topic ARTICLE INDEX shown below.
Also see WELL CLEARANCE DISTANCES for required distances between wells and septic systems and other site features.
Suggested citation for this web page
NEIGHBORING SEPTIC SYSTEM PROBLEMS at InspectApedia.com - online encyclopedia of building & environmental inspection, testing, diagnosis, repair, & problem prevention advice.
More Reading
Green link shows where you are in this article series.
...
Frequently Asked Questions (FAQs)
Question: My neighbor says my leach field is on his property. How can I tell where in is?
7/18/2914 Susan said:
My neighbor says my leach field is on his property. How can I tell where in is?
This question was originally posted at SEPTIC DRAINFIELD SIZE
Reply:
Susan you will want to
Check to see if a septic plan was filed with your local building department but realize that the "as built" actual layout may not be identical to the submitted plan
Find the septic system drainfield distribution box and individual drainfield lines and trace them to their ends by any of several pipe locating methods your local plumber can provide
The septic system component location videos found at SEPTIC DRAINFIELD LOCATION - describes finding the possible drainfield location at an unknown-location property
DRAINFIELD PIPE LOCATION, PRECISE describes precise location of a drainfield or soakaway field
SEPTIC DRAINFIELD LOCATION is the home page for our complete article series about how to find the septic drainfield
Compare the drainfield line ends with the locally required septic drainfield setback distances from your property line
Check for evidence of drainfield failures such as leakage or odors that might have prompted your neighbor's complaint.
Ask a Question or Search InspectApedia
Use the "Click to Show or Hide FAQs" link just above to see recently-posted questions, comments, replies, try the search box just below, or if you prefer, post a question or comment in the Comments box below and we will respond promptly.
Technical Reviewers & References
Publisher's Google+ Page by Daniel Friedman
Click to Show or Hide Citations & References
New York State Department of Health, "Appendix 75-A Wastewater Treatment Standards - Individual Household Systems", [PDF] New York State Department of Health, 3 February 2010, retrieved 3/1/2010, original source: https://www.health.ny.gov/regulations/nycrr/title_10/part_75/appendix_75-a.htm
The Septic System Information Website home page for this topic
Septic Systems Inspection, Testing, & Maintenance - online textbook. Detailed how to inspect, maintain, repair information
Septic Tank Pumping Guide: When, Why, How to pump the septic tank
Septic Tank Capacity vs Usage in Daily Gallons of Wastewater Flow, calculating required septic tank size, calculating septic tank volume from size measurements
Septic Tank/Soil-Absorption Systems: How to Operate & Maintain [ copy on file as /septic/Septic_Operation_USDA.pdf ] - , Equipment Tips, U.S. Department of Agriculture, 8271 1302, 7100 Engineering, 2300 Recreation, September 1982, web search 08/28/2010, original source: http://www.fs.fed.us/t-d/pubs/pdfimage/82711302.pdf.
How Big Should the Leach Field Be? - table of soil percolation rate vs. field size
Septic System Drainfield Absorption System Biomat Formation - what leads to drain field clogging and expensive drainfield repairs
Table of Required Septic & Well Clearances: Distances Between Septic System & Wells, Streams, Trees, etc.
Ten Steps to Keeping a Septic System Working, suggestions from the U.S. EPA, edits and additions by DJF
Pennsylvania State Fact Sheets relating to domestic wastewater treatment systems include

Pennsylvania State Wastewater Treatment Fact Sheet SW-161, Septic System Failure: Diagnosis and Treatment
Pennsylvania State Wastewater Treatment Fact Sheet SW-162, The Soil Media and the Percolation Test
Pennsylvania State Wastewater Treatment Fact Sheet SW-l64, Mound Systems for Wastewater Treatment
Pennsylvania State Wastewater Treatment Fact Sheet SW-165, Septic Tank-Soil Absorption Systems
Document Sources used for this web page include but are not limited to: Agricultural Fact Sheet #SW-161 "Septic Tank Pumping," by Paul D. Robillard and Kelli S. Martin. Penn State College of Agriculture - Cooperative Extension, edited and annotated by Dan Friedman (Thanks: to Bob Mackey for proofreading the original source material.)

...
Books & Articles on Building & Environmental Inspection, Testing, Diagnosis, & Repair
Inspecting Septic Systems: Online Book, Inspection, Test, Diagnosis, Repair, & Maintenance: our Online Septic Book: Septic Testing, Loading & Dye Tests, Septic Tank Pumping, Clearances, details of onsite waste disposal system inspection, testing, repair procedures.


Advanced Onsite Wastewater Systems Technologies, Anish R. Jantrania, Mark A. Gross. Anish Jantrania, Ph.D., P.E., M.B.A., is a Consulting Engineer, in Mechanicsville VA, 804-550-0389 (2006). Outstanding technical reference especially on alternative septic system design alternatives. Written for designers and engineers, this book is not at all easy going for homeowners but is a text I recommend for professionals--DF.
Builder's Guide to Wells and Septic Systems, Woodson, R. Dodge: $ 24.95; MCGRAW HILL B; TP; Quoting from Amazon's description: For the homebuilder, one mistake in estimating or installing wells and septic systems can cost thousands of dollars. This comprehensive guide filled with case studies can prevent that. Master plumber R. Dodge Woodson packs this reader-friendly guide with guidance and information, including details on new techniques and materials that can economize and expedite jobs and advice on how to avoid mistakes in both estimating and construction. Chapters cover virtually every aspect of wells and septic systems, including on-site evaluations; site limitations; bidding; soil studies, septic designs, and code-related issues; drilled and dug wells, gravel and pipe, chamber-type, and gravity septic systems; pump stations; common problems with well installation; and remedies for poor septic situations. Woodson also discusses ways to increase profits by avoiding cost overruns.
Country Plumbing: Living with a Septic System, Hartigan, Gerry: $ 9.95; ALAN C HOOD & TP; Quoting an Amazon reviewer's comment, with which we agree--DF:This book is informative as far as it goes and might be most useful for someone with an older system. But it was written in the early 1980s. A lot has changed since then. In particular, the book doesn't cover any of the newer systems that are used more and more nowadays in some parts of the country -- sand mounds, aeration systems, lagoons, etc.
...