First Priority Actions for a Sewage Backup
4 Key Steps to Septic Backup or Sewer Backup Cleanup & Repair
POST a QUESTION or READ FAQs about how to stop an overflowing toilet, how to clean up a septic or sewage backup, how to fix backing up sewers and septic lines
InspectAPedia tolerates no conflicts of interest. We have no relationship with advertisers, products, or services discussed at this website.
Sewage backup response:
What to do in response to a septic or sewer backup into or even outside and around a building or in response to building flooding: this article explains how to respond to septic system or sewer backups in a building.
Yes a toilet backing up is disgusting. It's also unsanitary and can be a serious health hazard in a building.
Here we explain the inspection, cleanup and other steps necessary to sanitize a building that has suffered flooding or sewage-contaminated backups as well as steps to return the building drain, waste, vent system to operation.
This article also explains how to stop a toilet from overflowing and it offers some first aid for toilet backups and other plumbing drain or sewer piping backup conditions.
We also provide a MASTER INDEX to this topic, or you can try the page top or bottom SEARCH BOX as a quick way to find information you need.
What to do When the Septic or Sewer System Backs Up At or In a Building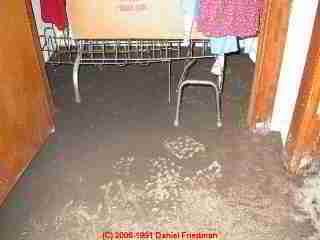 In this article series we explain the causes of & response to sewer or septic backups into buildings, the health hazards, testing, and cleanup of sewage backups, and the cure or prevention of future sewage or septic backup problems.
[Click any image for an enlarged, detailed version]
Just below in this article we give the first-response priorities & steps in a sewage spill or leak response.
Watch out: sewage spills contain contaminants that can cause serious illness or disease. Disease causing agents in raw sewage include bacteria, fungi, parasites, and viruses and can cause serious illnesses including Hepatitis A.
Step 1: Is the sewage-spill contaminated building safe to enter?
If a building has been flooded by sewage or wastewater there may be unsafe electrical wiring, bacterial and pathogen hazards, mold hazards, even unsafe mechanical systems.
Turn off electrical power in the area that has been flooded if there is any chance of electrical wires, extension cords, or electrical appliances or fixtures coming in contact with standing water or wet materials
Vacate sewage-contaminated areas right away. Areas of sewage spill should not be occupied by people who are not wearing appropriate protective equipment as they are dangerous:
Watch out: sewage spills contain contaminants that can cause serious illness or disease. Disease causing agents in raw sewage include bacteria, fungi, parasites, and viruses and can cause serious illnesses including bacterial infections, Tetanus, Hepatitis A, Leptospirosis, infections by Cryptosporidium & Giardia and gastrointestinal diseases.

See SEWAGE & SEPTIC CONTAMINANTS
You should assume that any surface or material touched by sewage is contaminated.

Watch out: Unless you are wearing appropriate safety gear, do not enter confined spaces that have been contaminated with sewage, as toxic, flammable or asphyxiating or even explosive gases including methane and hydrogen sulfide as well as airborne pathogens may be present.
Keep children & pets out of the sewage-spill area

At BUILDING ENTRY for DAMAGE ASSESSMENT we discuss safety procedures for people considering entering a building following a disaster including flooding or possibly sewage backups.

For sewage backups in tight spaces such as crawl areas, see CRAWL SPACE SAFETY ADVICE. Presuming that the building is safe to enter, go to step 2.
Step 2: damage control for sewage backups & spills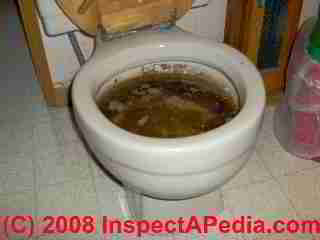 If there are measures that can be taken to stop continued sewage entry or water spread through the building, such as stopping a TOILET OVERFLOW or even opening a door or window for fresh air or to reduce wastewater spread, do that.
Stop flushing toilets
Turn off running water that is sending water into the drain system (clothes washer, sinks etc)
If the sewage or wastewater are being spread by water from a burst plumbing supply or hot water heating pipe, turn off the water to the building and if needed for safety or to stop further you may also need to turn off the (hot water or steam) heating system.
Items that have been soaked and are not salvageable may best be placed outdoors. By removing wet and contaminated materials from the building it may be easier to inspect, repair leaks, and clean the building itself.
Watch out: do not handle sewage-contaminated materials without proper personal safety protection: there are bacterial, pathogenic, respiratory and infection hazards.

Remove sewage-contaminated contents: carpeting, upholstered furniture, curtains, wet books and similar items should be discarded.

It may be possible to salvage valuable area carpets by professional cleaning and disinfection. Be sure to inform the carpet cleaning service that the area carpet was sewage-flooded. But wall to wall carpets and carpet padding that have been contaminated with sewage should be discarded.


Protect nearby dry, un-contaminated building contents from sewage contamination by moving them to clean dry areas outside the threat-area.
Watch out: generally we do not move already-contaminated building contents into a clean building area - doing so will simply expand the necessary scope and cost of building cleaning and disinfection. But where temporarily moving items outdoors is not practical, it may make sense to move wet or contaminated items that are to be salvaged into a concrete or tiled floor garage or similar area.

Items there can be later removed for cleaning and the clean-up of a hard-surfaced floor will be less troublesome than other surfaces.

If necessary get help from your local emergency authorities such as fire department and health department both for emergency response (such as pumping a flooded basement) or further building safety assessment.
See FLOOD DAMAGE REPAIR PRIORITIES. If the building water supply is by private well that was covered by floodwaters,

also see WELL CHLORINATION & SHOCKING.
Open windows or doors, open curtains, lift blinds; if weather permits, opening windows and screened doors can help reduce indoor humidity. And sunlight as well as speeding the dry-out of materials can slow bacterial growth and mold formation.

Watch out: do not run central air conditioning or warm air heating systems in flooded areas if mold is visible or suspected or if sewage-contaminated dust and water droplets can enter the system. Doing so will contaminate the HVAC system and thus increase the cost to clean and disinfect the building. Seal off supply and return air registers in the affected area (masking tape and plastic are fine) to prevent contaminants from entering the duct system.

If you run portable air conditioners or window units those devices may also become contaminated and may need to be replaced.
Call a septic tank service company if your septic system appears to have backed up into the building.

Watch out: while pumping a septic tank can give temporary emergency relief and permit use of toilets if the sewage backup was caused by a septic tank or drainfield failure, this step is not a long-term repair. More accurate diagnosis of the cause of septic tank or drainfield failure and thus a plan for proper repairs is necessary.
Step 3: sewage backup or spill cleanup
Act promptly.

Watch out: The longer that sewage waters remain in a building or on its contents the greater the chance of spreading illness or disease and the greater the chance of causing a costly mold contamination problem in addition to the sewage problem.

High indoor moisture caused by standing water can cause mold contamination to form on other building surfaces even if they were not directly wet by the sewage spill.

Don't panic: while prompt action is needed as we just explained, don't be in such a rush that you do something dangerous.

Also, if you sound terrified when calling a contractor for assistance the result may be the imposition of inappropriate or costly steps.
Call a professional water damage restoration authority -

For other than a trivial spill on a tiled bathroom floor you may need help from a professional water damage or restoration company. At the sewage cleanup procedural details article cited just below we give further help in deciding if you need to call a professional.
Notify your insurance company that there has been a sewage spill in the building
Notify your municipal authority or sewer department if your home is connected to a public sewer
Contact your local health department for advice if your home is connected to a private septic system
Sewage cleanup procedure details: including do-it-yourself advice are

at SEWAGE CLEANUP STANDARDS we describe in more detail the steps in removing sewage & disinfecting & cleaning a building interior after a sewage backup or spill, and for a better understanding of what a competent professional will do to clean up sewage spill contamination in a building we list articles [PDF format] that give detailed standards and procedures for sewage cleanup in or even outside of buildings.
Crawlspaces & basements:

at CRAWL SPACE SEWAGE CLEANUP we describe procedures for cleaning up a sewage spill inside or around buildings (not just for crawl spaces).
Flooded buildings: for extensive building flooding,

at FLOOD DAMAGE CLEANUP & REPAIR GUIDE we list the steps needed for repairing a flooded home.
Sewage contamination testing:

at SEWAGE BACKUP TEST & CLEANUP we discuss how to test for bacterial or other pathogens in a building - tests that may be useful after a sewage spill cleanup in order to assure that the building is acceptably clean.

Also see SEWAGE & SEPTIC CONTAMINANTS
Step 4: prevent a sewage backup recurrence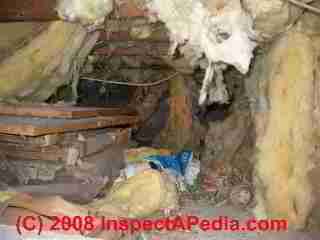 Disturbing as it may sound, we find that some buildings suffer chronic flooding, leaks, sewage backups and spills. It makes sense to do more than just clean-up a sewage spill: one needs to identify and repair the underlying problem that caused the sewage overflow, spill or backup.
Call a professional / licensed plumber if you need help with drain de-clogging or broken drain repair

Watch out: for homes using older ABS plastic drain piping, as we discuss

at ABS PLASTIC PIPE, field investigations of leak stains (as in our photo) as well as investigations of sewer gas

odors (SEWER GAS ODORS) have traced these problems to failure to properly clean, prime, and glue the pipe joints during construction.


Maintain the septic system: Watch out: for homes connected to a private septic system, proper septic tank maintenance, particularly pumping the septic tank on schedule is a key step in preventing septic system failure & backups.
Diagnose the cause of the sewage backup
The root cause of a sewage backup may be a simple single-event toilet overflow, a chronic drain clog
CLOGGED DRAIN DIAGNOSIS & REPAIR
or private septic system failure problem
SEPTIC DRAINFIELD FAILURE DIAGNOSIS
or even a natural disaster or area flooding.
If your building has had a septic or sewage system backup into the structure you will want to review this article

and DRAIN & SEWER PIPING - where we discuss sewer line leaks.
Separately, at SEWAGE BACKUP TEST & CLEANUP we discuss how to test for bacterial or other pathogens in a building - tests that may be useful after a sewage spill cleanup in order to assure that the building is acceptably clean.
If the event that caused the sewage or septic backup into the building has also left the building drain system clogged (likely if the entire system was flooded),

see BLOCKED DRAIN REPAIR METHODS to try clearing your blocked drain before going to more drastic measures. If you have had sewage back up and spill out of toilets into the building, cleanup is needed and you may face bacterial hazards.
The inspection for an underlying cause of chronic drain backups, toilet overflows, and sewage spills may need to include these less-direct causes:
Emergency Toilet Overflow Rescue Procedure - how to stop a toilet from overflowing
This topic has been moved to a separate article: please see TOILET OVERFLOW EMERGENCY
Question: what do we do about sewage found in our yard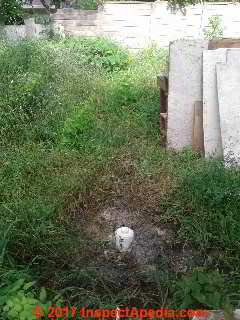 We did not know that the sewage was backing up out of pipe into the yard. (Pictures at bottom).
When we found out we used rubber gloves and heavy duty trash bags to pick up used toilet paper and waste as much as we could. We cannot afford to have a plumber or someone come out to cleanup.
How can we cleanup? What can we use or buy to cleanup? Where can we buy products? Just wondering, what could be the problem causing this backup?
Please advise as soon as possible both my husband and I are unemployed and do odd jobs when available. - Anonymous by private email 2017/04/19
Reply:
Once you've cleaned up obvious sewage, paper, waste, there's not more that's likely to be appropriate nor needed outdoors; rain and time and soil bacteria should be sufficient PROVIDED that the source of the backup is repaired.
From your photo I see what looks like sewage backed up out of a white PVC drain line cleanout, but I'm not sure - it could also be an access to a septic tank or even a point in a septic drainfield.
If the pipe is connected to a public sewer than the drain line past that point has clogged and needs to be cleared - by hiring a plumber with a power auger or renting a drain cleaning tool. Keep in mind that if the clog is because the sewer pipe is broken then unclogging it won't suffice: the damaged section of piping will need to be dug up and repaired.
If the pipe is connected to a septic tank then the tank or drainfield is backing up or has failed.
If the septic system has failed or a sewer pipe is broken or clogged, the problem needs to be found and fixed. Otherwise the backup will continue and worse, it may back up into your home causing more costly and risky damage.
Start at CLOGGED DRAIN DIAGNOSIS & REPAIR if drains in the building are slow or backing up
If you think your house drains are not blocked,

see CLOGGED DRAIN vs SEPTIC PROBLEM
And then be sure to

read SEPTIC FAILURE CRITERIA for help in determining if in fact the septic system has failed
Question: what to do about sewage flooded heating equipment or other mechanicals
2018/09/02 Richard Forget said:
Interesting document. I did not see any verbiage so my question is what protocols should be used for cleaning a furnace that was exposed to raw sewage?
When is a furnace beyond cleaning and would need to be replaced?
Your documentation also mentioned concerns about mould from prolonged exposure to raw sewage.
If the front of the drywall is not visibly showing mould contamination would it also be expected that the back side of the drywall to be the same?
Reply: suggestions for sewage backups affecting furnace heating equipment
First let's be sure we're on the same topic, as people don't use these words identically.
"Furnace" - means a forced air heating system.
"Boiler" - means forced hot water heat.
The distinction is important as you'll read below where we discuss moving contaminated air into other building areas.
Protocol for Cleaning a Heating Furnace Exposed to Sewage Flooding
In sum the same protocols will apply to a furnace exposed to a sewage backup as to one exposed to area flooding.
That is because the standard assumption is that floodwaters are unsanitary, and because any electrical or many other mechanical components actually inundated need to be replaced.
Even if the equipment runs after having been dried one cannot assume it is safe to operate, nor can one assume that it will not fail later because of ensuing corrosion.
See HEATING EQUIPMENT, FLOOD DAMAGE REPAIR found at https://inspectapedia.com/heat/Flood_Damaged_Heater_Repair.php
And at the end of that article

see FLOOD DAMAGE RESTORATION RESEARCH & STANDARDS

on restoring flood damaged buildings for more broad advice as well as our comments on heating system restoration guidance from FEMA and HUD - both of whom give incomplete and in my opinion somewhat risky guidance.
Additional warnings about health risks associated with sewage are in the REFERENCES section of this page.
Additional suggestions for sewage backups affecting furnace heating equipment
Distinguish among these exposures to sewage and sewage pathogens in the heating system and equipment:
Inundated or wet furnace or other equipment
1. Any mechanicals that were wet, such as an oil burner motor or electrical controls or a blower fan motor should be replaced
2. Refractory-fabric type combustion chamber liner that was wet should be replaced; refractory-brick liners may be salvageable.
3. The heating equipment, motors, controls, that were not inundated should be inspected for safe operating condition as they could still have been wet by splash-up
Furnace parts not inundated
4. Droplet aerosols & contaminated dust:

Because sewage cleanup by just about any means risks formation of aerosols or tiny droplets of sewage waters and also risks the movement of sewage-contaminated dust into area air even when the area has been dried, additional cleaning, disinfection and sanitizing are likely to be required for
Air handling components, compartments, ducting in the sewage-exposed area, such as the blower compartment, return air inlet to the air handler, ductwork, blower fan assembly.
It may be more economical to replace these parts than to disassemble, clean, and re-assemble them.
Ductwork: ducts in the flooded area need to be inspected, cleaned, sanitized.
Watch out: if anyone ran the blower fan at all, even briefly, following flooding or a sewage backup, contaminated or pathogen-laden dust may have been blown through other areas of the HVAC duct system. In that case it's likely that the remaining ductwork needs to be cleaned and sanitized.
Flexduct that was wet is not salvageable. Flexduct that was not wet but has been contaminated by airborne dust or droplets is not likely to be salvageable as it is not reliably cleaned and is likely to be further damaged by any mechanical cleaning effort.
Solid metal ductwork can usually be cleaned and sanitized if that work is performed thoroughly.
More details are at  FLOOD DAMAGE in DUCT WORK - flooded ducts need to be cleaned and sanitized and air filters replaced - found at https://inspectapedia.com/aircond/Ductwork_Ice.php
Watch out: following HVAC duct and air handler cleaning and disinfection or sanitizing, an expert should collect intelligently-chosen representative sampling locations to collect surface samples (usually sterile swabs) to be processed by a qualified laboratory to confirm that the surfaces are not still contaminated by sewage bacteria.
Watch out: the fact that you ask about cleaning for a specific appliance in an areas exposed to sewage backup suggests that incomplete or amateur sewage backup cleaning has been done at the site where the sewage backup occurred. Therefore one should not assume that health and sanitation of the heating system are the only topic that needs careful review.
...
Continue reading at SEWAGE CLEANUP STANDARDS - where we describe in more detail the steps in removing sewage & disinfecting & cleaning a building interior after a sewage backup or spill and where we provide documents with still more detail from experts on sewage spill remediation, or select a topic from closely-related articles below, or see our complete INDEX to RELATED ARTICLES below.
Or see SEWAGE BACKUP RESPONSE FAQs - questions & answers posted originally at this article
Or see BUILDING DAMAGE ASSESSMENT & REPAIR - home
Or see ELECTRICAL SAFETY for FLOOD INSPECTORS
Or see FLOOD DAMAGE REPAIR PRIORITIES
Or see FLOOD DAMAGE CLEANUP & REPAIR GUIDE - home
Or see WATER & ICE IN DUCT WORK
Or see these
Septic or Sewer Backup Articles
Suggested citation for this web page
SEWAGE BACKUP, WHAT TO DO at InspectApedia.com - online encyclopedia of building & environmental inspection, testing, diagnosis, repair, & problem prevention advice.
Or use the SEARCH BOX found below to Ask a Question or Search InspectApedia
...
Ask a Question or Search InspectApedia
Try the search box just below, or if you prefer, post a question or comment in the Comments box below and we will respond promptly.
Search the InspectApedia website
Technical Reviewers & References
Click to Show or Hide Citations & References
New York State Department of Health, "Appendix 75-A Wastewater Treatment Standards - Individual Household Systems", [PDF] New York State Department of Health, 3 February 2010, retrieved 3/1/2010, original source: https://www.health.ny.gov/regulations/nycrr/title_10/part_75/appendix_75-a.htm
[1] "Remediation of Sewage Contaminated Crawlspaces", Byjim Holland, CR, "Cleaning and Restoration," July 1999, pp 22-24, original source: restcon.com/links/articles/Remediating%20Contaminated%20Crawlspaces.pdf
Benson, A., ed. (1990) Control of Communicable Diseases in Humans, American Public Health Association, Washington, DC.
Berry, M.A. (1993) Protecting the Built Environment: Cleaning for Health, Tricomm 21st press, Chapel Hill, NC, p. 185.
Block, S.S. (1991) Disinfection, Sterilization, and Preservation, Lea & Febiger, Philadelphia, PA.
Rogers, S.A. (1991) Indoor fungi as part of the cause of recalcitrant symptoms of the tight building syndrome. Env. International. 17:271-275.
Clark, C.S. (1987) Potential and actual biological related health risks of waste water industry employment. J. Water Pollution Control. Fed. 59:12999-1008.
Cole, E.C. (1989) Remedial measures for biological pollutants in the home. Workshop on Biological Pollutants in the Home. U.S. Consumer Product Safety Commission, American Lung Association.
Cole, E.C. (1987) The application of disinfection and sterilization to infectious waste management. In: Tulis, J.J. and W. R. Thomann (eds.), Proceedings of strategies for improved chemical and biological waste management for hospitals and clinical laboratories. Duke University, University of North Carolina, North Carolina Pollution Pays Program.
Cutter Information Corp. (1991) Indoor Air Quality Update, Arlington, VA.
Foarde, K.K.; D. Bush; J. Chang; E.C. Cole; D. Franke; and D. Van Osdell. (1992) Characterization of environmental chambers for evaluating microbial growth on building materials. IAQ 92, ASHRAE, San Francisco.
International Institute of Carpet and Upholstery Certification. (1991) Carpet Cleaning Standard. S001-1991, International Institute of Carpet and Upholstery Certification, Vancouver, WA, 1991.
Patterson, R.; J.N. Fink; W.B. Miles. (1981) Hypersensitivity lung disease presumptively due to cephalosporium in homes contaminated by sewage flooding or humidifier water. J. Allergy Clin. Immunol. 68(2):128-132.
Robertson, K.A.; T.K. Ghosh; A.L. Hines; S.K. Loyalka; D. Novosel; R.C. Warder, Jr. (1990) Airborne microorganisms: their occurrence and removal. Indoor Air '90, Toronto.
Rogers, S.A. (1991) Indoor fungi as part of the cause of recalcitrant symptoms of the tight building syndrome. Env. International. 17:271-275.
Rutala, W.A.; E.C. Cole; and N.S. Wannamaker. (1991) Inactivation of Mycobacterium tuberculosis and Mycobacterium bovis by 14 Hospital Disinfectants. Amer J. Med. 91:2675-2715.
Rutala, W.A. (1987) Disinfection, sterilization and waste disposal. In: Wenzel, R.P., Prevention and control of nosocomial infections. Williams and Wilkins, Baltimore.
Escherichia coliO157:H7- US CDC
Demistifying Ecoli - Federation of Ontario Cottagers
Microbiology home page - US EPA
[9] Amahmid, O., Asmama, S., & Bouhoum, K. (1999). The effect of waste water reuse in irrigation on the contamination level of food crops by Giardia cysts and Ascaris eggs. International Journal of Food Microbiology, 49(1-2), 19-26.
[10] Barak, J.D., Whitehand, L.C., & Charkowski, A.O. (2002). Differences in attachment of Salmonella enterica serovars and Escherichia coli O157:H7 to alfalfa sprouts. Applied and Environmental Microbiology, 68(10), 4758-4763.
[11] Beuchat, L.R. (1996). Pathogenic microorganisms associated with fresh produce. Journal of Food Protection, 59(2), 204-216.
[12] Breuer, T., Benkel, D.H., Shapiro, R.L., Hall, W.N., Winnett, M.M., Linn, M.J., Timothy, J.N., Barrett, J., Dietrich, S., Downes, F.P., Toney, D.M., Pearson, J.L., Rolka, H., Slutsker. L., & Griffin, P.M. (2001). A multi-state outbreak of Escherichia coli O157:H7 infections linked to alfalfa sprouts grown from contaminated seeds. Emerging Infectious Diseases, 7(6), 977-982.
[13] Castro-Rosas, J., & Escartin, E.F. (2000). Survival and growth of Vibrio cholerae O1, Salmonella typhi, and Escherichia coli O157:H7 in alfalfa sprouts. Journal of Food Science, 65(1), 162-165.
[14] Charkowski, A.O., Barak, J.D., Sarreal, C.Z., & Mandrell, R.E. (2002). Growth and colonization patterns of Salmonella enterica and Escherichia coli O157:H7 on alfalfa sprouts and the effects of sprouting temperature, i inoculum /in·oc·u·lum/ (-ok´u-lum) pl. inoc´ula   material used in inoculation.
[15] Evans, M.R., Ribeiro, C.D., & Salmon, R.L. (2003). Hazards of healthy living: Bottled water and salad vegetables as risk factors for Campylobacter infection. Emerging Infectious Disease, 9(10), 1219-1225.
[16] Frost, J.A., McEvoy, M.B., Bentley, C.A., Andersson, Y., & Rowe, B. (1995). An outbreak of Shigella sonnei infection associated with consumption of iceberg. Emerging Infectious Disease, 1(1), 26-28.
[17] Guo, X., Chen, J., Brackett, R.E., & Beuchat, L.R. (2001). Survival of Salmonellae on and in tomato plants from the time of inoculation at flowering and early stages of fruit development through fruit ripening, said of meat. See curing. . Applied and Environmental Microbiology, 67(10), 4760-4764.
[18] Guo, X., Chen, J., Brackett, R.E., & Beuchat, L.R. (2002). Survival of Salmonellae on tomatoes stored at high relative humidity, in soil, and on tomatoes in contact with soil. Journal of Food Protection, 65(2), 274-279.
[19] Guo, X., Iersel, M.W.V., Chen, J., Brackett, R.E., & Beuchat, L.R. (2002). Evidence of association of salmonellae with tomato plants grown hydroponically in inoculated nutrient solution. Applied and Environmental Microbiology, 68(7), 3639-3643.
[20] Itoh, Y., Sugita-Konishi, Y., Kasuga, E, Iwaki, M., Hara-Kudo, Y., Saito, N., Noguchi, Y, Konuma, H., & Kumagai, S. (1998) Enterohemorrhagic Escherichia coli enterohemorrhagic Escherichia EHEC Any of the E coli serotypes–eg O29, O39, O145 that produces shiga-like toxins, causing bloody inflammatory diarrhea, evoking a HUS. See Escherichia coli O157:H7, Hemolytic uremic syndrome.  O157:H7 present in radish sprouts. Applied and Environmental Microbiology, 64(4), 1532-1535.
[21] Madden, J.M. (1992). Microbial pathogens in fresh produce--The regulatory perspective. Journal of Food Protection, 55, 821-823.
McMahon, M.A.S., & Wilson, I.G. (2001). The occurrence of enteric pathogens and Aeromonas species in organic vegetables. International Journal of Food Microbiology, 70(1-2),155-162.
[22] Puohiniemi, R., Heiskanen, T., & Siitonen, A. (1997). Molecular epidemiology of two international sprout-borne Salmonella outbreaks. Journal of Clinical Microbiology . 35(10), 2487-2491.
[23] Shearer, A.E., Strapp, C.M., & Joerger, R.D. (2001). Evaluation of polymerase chain reaction-based system for detection of Salmonella enteritidis, Escherichia coli O157:H7, Listeria spp., and Listeria monocytogenes on fresh fruit and vegetables. Journal of Food Protection, 64(6), 788-795.
[24] Takeuchi, K., Hassan, A.N., & Frank, J.F. (2001). Penetration of Escherichia coli O157:H7 into lettuce as influenced by modified atmosphere and temperature. Journal of Food Protection, 64(11), 1820-1823.
[25] Wright, C., Kominos, S.D., & Yee, R.B. (1976). Enterobacteriaceae and Pseudomonas aeruginosa recovered from vegetable salads. Applied and Environmental Microbiology, 31(3), 453-454.
[26] Thanks to reader Charles Labs at 247inktoner.com Tel: 800-866-8022 (a provider of ink toner, ink cartridges and related supplies) for updating our CDC link on e-Coli 4/19/2013.
Onsite Wastewater Treatment Systems, Bennette D. Burks, Mary Margaret Minnis, Hogarth House 1994 - one of the best septic system books around, suffering a bit from small fonts and a weak index. While it contains some material more technical than needed by homeowners, Burks/Minnis book on onsite wastewater treatment systems a very useful reference for both property owners and septic system designers.
Septic Tank/Soil-Absorption Systems: How to Operate & Maintain [ copy on file as /septic/Septic_Operation_USDA.pdf ] - , Equipment Tips, U.S. Department of Agriculture, 8271 1302, 7100 Engineering, 2300 Recreation, September 1982, web search 08/28/2010, original source: http://www.fs.fed.us/t-d/pubs/pdfimage/82711302.pdf
Percolation Testing Manual, CNMI Division of Environmental Quality, PO Box 501304, Saipan, MP 96950
Planting Over Septic System Component", Daniel Friedman (author/editor, InspectAPedia.com), The Innovator, Winter/Spring 2008, BCOSSA, British Columbia OnSite Sewage Association, 201-3542 Blansard St., Victoria BC V8X 1W3 Canada
Save the Septic System - Do Not Flush These Items Down the Toilet, Daniel Friedman, InspectAPedia.com - PDF document, printable
Septic System Owner's Manual, Lloyd Kahn, Blair Allen, Julie Jones, Shelter Publications, 2000 $14.95 U.S. - easy to understand, well illustrated, one of the best practical references around on septic design basics including some advanced systems; a little short on safety and maintenance. Both new and used (low priced copies are available, and we think the authors are working on an updated edition--DF. Quoting from one of several Amazon reviews: The basics of septic systems, from underground systems and failures to what the owner can do to promote and maintain a healthy system, is revealed in an excellent guide essential for any who reside on a septic system. Rural residents receive a primer on not only the basics; but how to conduct period inspections and what to do when things go wrong. History also figures into the fine coverage.
US EPA Onsite Wastewater Treatment Systems Manual Top Reference: US EPA's Design Manual for Onsite Wastewater Treatment and Disposal, 1980, available from the US EPA, the US GPO Superintendent of Documents (Pueblo CO), and from the National Small Flows Clearinghouse. Original source http://www.epa.gov/ORD/NRMRL/Pubs/625R00008/625R00008.htm
Water Wells and Septic Systems Handbook, R. Dodge Woodson. This book is in the upper price range, but is worth the cost for serious septic installers and designers. Quoting Amazon: Each year, thousands upon thousands of Americans install water wells and septic systems on their properties. But with a maze of codes governing their use along with a host of design requirements that ensure their functionality where can someone turn for comprehensive, one-stop guidance? Enter the Water Wells and Septic Systems Handbook from McGraw-Hill.
Written in language any property owner can understand yet detailed enough for professionals and technical students this easy-to-use volume delivers the latest techniques and code requirements for designing, building, rehabilitating, and maintaining private water wells and septic systems. Bolstered by a wealth of informative charts, tables, and illustrations, this book delivers:
* Current construction, maintenance, and repair methods
* New International Private Sewage Disposal Code
* Up-to-date standards from the American Water Works Association

Wells and Septic Systems, Alth, Max and Charlet, Rev. by S. Blackwell Duncan, $ 18.95; Tab Books 1992. We have found this text very useful for conventional well and septic systems design and maintenance --DF. Quoting an Amazon description:Here's all the information you need to build a well or septic system yourself - and save a lot of time, money, and frustration. S. Blackwell Duncan has thoroughly revised and updated this second edition of Wells and Septic Systems to conform to current codes and requirements. He also has expanded this national bestseller to include new material on well and septic installation, water storage and distribution, water treatment, ecological considerations, and septic systems for problem building sites.
The NSFC Products List has an excellent list of design manuals/modules available from their website or by telephone 800-624-8301
...
Books & Articles on Building & Environmental Inspection, Testing, Diagnosis, & Repair
Our recommended books about building & mechanical systems design, inspection, problem diagnosis, and repair, and about indoor environment and IAQ testing, diagnosis, and cleanup are at the InspectAPedia Bookstore. Also see our Book Reviews - InspectAPedia.
...