Septic Tank Back-Flooding FAQs
Q&A on how to diagnose & repair septic tanks with abnornal sewage levels
InspectAPedia tolerates no conflicts of interest. We have no relationship with advertisers, products, or services discussed at this website.
Septic tank flooding or back flooding questions & answers:
Questions & answers on the causes and cures for flooded or back-flooded septic tanks.
Backflooding means that water or wastewater is flowing backwards into the septic tank from a soakbed or drainfield or from surface runoff.
We also provide a MASTER INDEX to this topic, or you can try the page top or bottom SEARCH BOX as a quick way to find information you need.
Septic Tank Flooding & Back-Flooding: Why it is important to diagnose & fix water leaking into the septic tank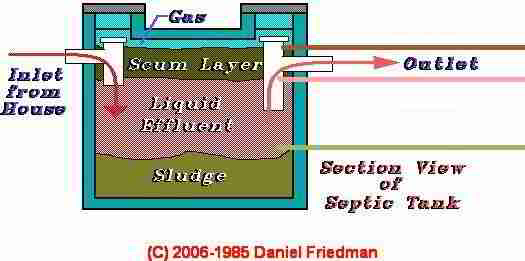 [Click to enlarge any image]
These questions & answers about flooded or back-flooded septic tanks were posted originally at SEPTIC TANK BACK FLOODING - be sure to see that article.
Yes, Scott, a blocked or broken line, or a backup leaking at an inspection port, or (worst news) a clogged, failed drainfield.

I would dig at the wet spot, with care, to find the conditions there in the actual drain field piping - that'll be diagnostic.

Use the "Add Image" button next to the Comment button to attach photos of what you find and we can comment further.

What would cause my drain field to leak into my yard the leak is located about 20 ft from tank, I was thinking a broken line

Buddy

I am genuinely sorry to be the bearer of bad and expensive news, but a septic drainfield that floods from ground-water in a level area is probably improperly designed and needs significant revision.
The bottom of the drainfield trenches needs to be at least 24 inches above the seasonal high water table - that can mean a raised bed septic or mound septic design (search InspectApedia.com for those phrases to read details).

Sometimes an intercept drain around the fields can carry off ground-water and leave fields working but that works best where there is some slope and some hope.
I'm doubtful that it'd work in an entirely level area as water may just come up under the intercept drain and into the septic area.

I have flat ground. When it rains for days the ground get socked and the water from the lines runs back into the tank. Is there anything that can be done?
Bud4auburn@yahoo.com

No, Terry septic tanks don't use a backflow valve.

You need some on-site help to see if the fields are saturated or blocked - start by checking in the D-box.

Also look for surface or ground water leaking into the septic tank

Does the tank have s back flow valve?



High waters recently septic tank keeps filling with water?
TBV

Back-flowing into the septic tank, if it stops quickly - minutes or less - could be a simple blocked line.

But if it continues longer the fields are most-likely saturated - which your description suggests is the case.

Given that the curtain drain hasn't fixed the trouble I suspect

1. the curtain drain doesn't go deep enough or lacks capacity to keep extraneous groundwater out of the septic fields
or
2. the fields are basically in failure regardless (or both)

You may need to go to a raised bed or mound septic. That does not mean just adding soil over the existing fields. That won't work and will block oxygen. Instead it'd be a new elevated pipe network in a mound.

we have a two concrete box septic system for a very large house. last spring and recently our drain field (back yard) has been back flowing into the tank which holds the gray water. This tank subsequently backs into the primary tank causing it to become full.
During pumping of these tanks we can witness water flowing back into the outlet hole. Our backyard during heavy rains in the spring becomes wet and soggy. To remediate the problem we put in a curtain drain last spring. It helps and we can see water flowing out of curtain drain but hasn't solved the problem.
What to do next? Any suggestions would be appreciated.
Back yard is flat and I'm told adding soil to it puts your leach field lower than ideal and makes it harder to incorporate evaporation, wind sun to dry leach field.

My septic tank is not completely in the ground. Should it be

Nancy:

1. Give a call to your septic pumping company to have the tank pumped: that will stop the immediate risk of a costly sewage backup into your home3 and will give you 1-3 days to find out what is the real problem. (After that the tank will be full again).

During pumping there is more information to be learned - the condition of the tank, tank baffles (bad baffles = clogged incoming lines or clogged drainfield), backflow into the tank from its outlet means the soakaway bed is flooded, failed.

Read with care the article above on this page about septic tank flooding: causes, implications.

2. Diagnose the cause of backup in the septic tank; a broken or clogged pipe can be repaired.
Flooded or failed septic drain field will require replacement, or at the least, direction of surface runoff or groundwater away from the fields.

What do I do when the water starts running out of the top of my septic tank? septic tank

Sharon

With the
Watch out: warning that leaning over an open septic tank inspection cover can expose the observer to methane gas, fainting, falling into the septic tank, or other hazards

with that arm-waving stuff out of the way:

Find the septic tank

Open the inspection cover over the tank outlet

Look at the level of sewage in the tank:

- if waste is at the top of or flowing over the top of the outlet baffle or tee then yes, waste is not leaving the tank

That can be traced to a blocked waste line out of the tank, a flooded D-box, or a flooded or failed drainfield

We just had our tank cleaned out in Jan. and our septic tank has started backing up again, it is a 1k gal. tank with a curtain drain. Hubby seems to think the water isn't going out of the tank. Any suggestions?

Darn.

Some excavating is needed to explore the problem.

First you want to find the septic tank cleanout lid and have your septic company open the tank to inspect the sewage level in the tank. If the tank is back-flooding then I suspect a blockage or failure at the tank outlet or drainfield.

The tech will perhaps next have you run water or flush toilets to see how waste flows into the septic tank and to inspect for leakage around the tank inlet.
We don't want sewage leaking OUT of the septic tank and we do not want ground water leaking INTO the septic tank either as that'll flood the system and drainfield and means septic system failure too.

If the problem is simply ground water around the tank and if the septic system is working, you can defer the cost of connecting to sewer by directing groundwater away from the tank and sealing the tank inlet and outlet piping at the tank wall if they are leaky.

We are having water pooling around the pipe entering the tank starting at three feet from the house.
The pipe takes a sharp turn downwards to about three feet than veers to the left than into the tank. Since some of this pipe has been covered by a concrete patio (done before we bought the house) we haven't exposed the whole pipe.
We've gotten all kinds of possibilities including the tank needs pumping, the pipe is broken going to the tank, to the lid could be crushed.
There is not wetness in our drain field or anywhere else except around the pipe. Can this be fixed if it is the pipe? Of course the township wants us to hook up to the city sewer but that would cost was thousands. What do u suggest

Anon, the next point to check is the distribution box. Look for flooding there. Look at the flow of effluent into all the drainfield lines. Indeed the field may be shot but lets make sure.

Question:
(July 7, 2014) Anonymous said:

Water lvl in septic tank below effluent. Water did not drain back when pumping. inspector said he saw water in 5 foot length of pipe via video. Pipe goes into elbow then turns down into septic trench. He said we have a Malfunction and will have to replace entire absorbtion field to a tune of 30,000.
Reply:
Anon, the next point to check is the distribution box. Look for flooding there. Look at the flow of effluent into all the drainfield lines. Indeed the field may be shot but lets make sure.
Watch out: at FLOODED SEPTIC SYSTEMS, REPAIR we explain how to fix a problem with septic tank or soakbed or drainfield flooding.
But be warned, that while in an emergency we might pump the septic tank, simply pumping the septic tank won't fix this problem and worse, if the back-flow rate into the septic tank is rapid (as it often is) you are simply wasting your money as back-flooding from a drainfield or surface runoff will quickly fill the septic tank again in hours to days.
...
Continue reading at SEPTIC TANK BACK FLOODING or select a topic from closely-related articles below, or see our complete INDEX to RELATED ARTICLES below.
Or see FLOODED SEPTIC SYSTEMS, REPAIR to read suggestions for repairing a flooding septic tank or soakbed system
Or see PUMPING the SEPTIC TANK to continue with the septic tank cleaning & inspection procedure
Or see PUMPER TRUCK OPERATION PROCEDURE where we explain how to spot backflooding during septic tank pumping
Or see SEPTIC DRAINFIELD FAILURE DIAGNOSIS
See SEPTIC BACKUP PREVENTION for tips to avoid a septic problem during times of anticipated heavy septic system usage.
Also see SEPTIC TANK PUMPING MISTAKES
Suggested citation for this web page
SEPTIC TANK BACK FLOODING FAQs at InspectApedia.com - online encyclopedia of building & environmental inspection, testing, diagnosis, repair, & problem prevention advice.
Or use the SEARCH BOX found below to Ask a Question or Search InspectApedia
...
Ask a Question or Search InspectApedia
Try the search box just below, or if you prefer, post a question or comment in the Comments box below and we will respond promptly.
Search the InspectApedia website
Technical Reviewers & References
Click to Show or Hide Citations & References
Design Manuals for Septic Systems
US EPA Onsite Wastewater Treatment Systems Manual [online copy, free] Top Reference: US EPA's Design Manual for Onsite Wastewater Treatment and Disposal, 1980, available from the US EPA, the US GPO Superintendent of Documents (Pueblo CO), and from the National Small Flows Clearinghouse. Original source http://www.epa.gov/ORD/NRMRL/Pubs/625R00008/625R00008.htm Onsite wastewater treatment and disposal systems, Richard J Otis, published by the US EPA. Although it's more than 20 years old, this book remains a useful reference for septic system designers. U.S. Environmental Protection Agency, Office of Water Program Operations; Office of Research and Development, Municipal Environmental Research Laboratory; (1980)
"International Private Sewage Disposal Code," 1995, BOCA-708-799-2300, ICBO-310-699-0541, SBCCI 205-591-1853, available from those code associations.
"Manual of Policy, Procedures, and Guidelines for Onsite Sewage Systems," Ontario Reg. 374/81, Part VII of the Environmental Protection Act (Canada), ISBN 0-7743-7303-2, Ministry of the Environment,135 St. Clair Ave. West, Toronto Ontario M4V 1P5 Canada $24. CDN.
Manual of Septic Tank Practice, US Public Health Service's 1959.
Onsite Wastewater Disposal Books
Onsite Wastewater Disposal, R. J. Perkins; Quoting from Amazon: This practical book, co-published with the National Environmental Health Association, describes the step-by-step procedures needed to avoid common pitfalls in septic system technology. Valuable in matching the septic system to the site-specific conditions, this useful book will help you install a reliable system in both suitable and difficult environments. Septic tank installers, planners, state and local regulators, civil and sanitary engineers, consulting engineers, architects, homeowners, academics, and land developers will find this publication valuable.
Onsite Wastewater Treatment Systems, Bennette D. Burks, Mary Margaret Minnis, Hogarth House 1994 - one of the best septic system books around, suffering a bit from small fonts and a weak index. While it contains some material more technical than needed by homeowners, Burks/Minnis book on onsite wastewater treatment systems a very useful reference for both property owners and septic system designers.
Septic Tank/Soil-Absorption Systems: How to Operate & Maintain [ copy on file as /septic/Septic_Operation_USDA.pdf ] - , Equipment Tips, U.S. Department of Agriculture, 8271 1302, 7100 Engineering, 2300 Recreation, September 1982, web search 08/28/2010, original source: http://www.fs.fed.us/t-d/pubs/pdfimage/82711302.pdf
Septic System Owner's Manual, Lloyd Kahn, Blair Allen, Julie Jones, Shelter Publications, 2000 $14.95 U.S. - easy to understand, well illustrated, one of the best practical references around on septic design basics including some advanced systems; a little short on safety and maintenance. Both new and used (low priced copies are available, and we think the authors are working on an updated edition--DF. Quoting from one of several Amazon reviews: The basics of septic systems, from underground systems and failures to what the owner can do to promote and maintain a healthy system, is revealed in an excellent guide essential for any who reside on a septic system. Rural residents receive a primer on not only the basics; but how to conduct period inspections and what to do when things go wrong. History also figures into the fine coverage.
Test Pit Preparation for Onsite Sewage Evaluations, State of Oregon Department of Environmental Quality, Portland OR, 800 452-4011. PDF document. We recommend this excellent document that offers detail about soil perc tests, deep hole tests, safety, and septic design. Readers should also see SEPTIC SOIL & PERC TESTS and for testing an existing septic system, also see Dye Tests
Grass is Always Greener Over the Septic Tank, Bombeck, Erma: $ 5.99; FAWCETT; MM; This septic system classic whose title helps avoid intimidating readers new to septic systems, is available new or used at very low prices. It's more entertainment than a serious "how to" book on septic systems design, maintenance, or repair. Not recommended -- DF.
US EPA Onsite Wastewater Treatment Systems Manual Top Reference: US EPA's Design Manual for Onsite Wastewater Treatment and Disposal, 1980, available from the US EPA, the US GPO Superintendent of Documents (Pueblo CO), and from the National Small Flows Clearinghouse. Original source http://www.epa.gov/ORD/NRMRL/Pubs/625R00008/625R00008.htm
Water Wells and Septic Systems Handbook, R. Dodge Woodson. This book is in the upper price range, but is worth the cost for serious septic installers and designers. Quoting Amazon: Each year, thousands upon thousands of Americans install water wells and septic systems on their properties. But with a maze of codes governing their use along with a host of design requirements that ensure their functionality where can someone turn for comprehensive, one-stop guidance? Enter the Water Wells and Septic Systems Handbook from McGraw-Hill.
Written in language any property owner can understand yet detailed enough for professionals and technical students this easy-to-use volume delivers the latest techniques and code requirements for designing, building, rehabilitating, and maintaining private water wells and septic systems. Bolstered by a wealth of informative charts, tables, and illustrations, this book delivers:
* Current construction, maintenance, and repair methods
* New International Private Sewage Disposal Code
* Up-to-date standards from the American Water Works Association

Wells and Septic Systems, Alth, Max and Charlet, Rev. by S. Blackwell Duncan, $ 18.95; Tab Books 1992. We have found this text very useful for conventional well and septic systems design and maintenance --DF. Quoting an Amazon description:Here's all the information you need to build a well or septic system yourself - and save a lot of time, money, and frustration. S. Blackwell Duncan has thoroughly revised and updated this second edition of Wells and Septic Systems to conform to current codes and requirements. He also has expanded this national bestseller to include new material on well and septic installation, water storage and distribution, water treatment, ecological considerations, and septic systems for problem building sites.
The NSFC Products List has an excellent list of design manuals/modules available from their website or by telephone 800-624-8301
Submissions welcome. send us a suggested document link or request an exchange of website links
Books & Articles on Building & Environmental Inspection, Testing, Diagnosis, & Repair
Our recommended books about building & mechanical systems design, inspection, problem diagnosis, and repair, and about indoor environment and IAQ testing, diagnosis, and cleanup are at the InspectAPedia Bookstore. Also see our Book Reviews - InspectAPedia.
...
Publisher InspectApedia.com - Daniel Friedman