Chemical Toilets - when can we empty a chemical toilet or RV holding tank into a Septic Tank?
InspectAPedia tolerates no conflicts of interest. We have no relationship with advertisers, products, or services discussed at this website.
Chemical & RV Toilet or Holding Tank Dumping Locations:
This RV and chemical toilet article describes acceptable ways to empty a chemical toilet, porta-potty, or RV waste holding tank, and answers the question of when these can be emptied into a residential septic tank. Chemical toilets with larger waste reservoirs are used in RV's and campers as well as for full-sized portable toilets or Porta-Johns used at construction sites and at outdoor festivals.
Other common portable toilets include models from Sears, the Coleman, and Reliance toilets who provide a hassock model portable chemical toilet. Our page top photo shows a chemical toilet set atop a septic tank service riser. The chemical toilet's holding tank has been removed so that the toilet empties directly into the septic tank - a perfectly functional emergency toilet setup, but unstable and of course lacking in privacy.
We also provide a MASTER INDEX to this topic, or you can try the page top or bottom SEARCH BOX as a quick way to find information you need.
Is it Acceptable to Ever Dump an RV Holding Tank or Toilet into a Home Septic System Tank?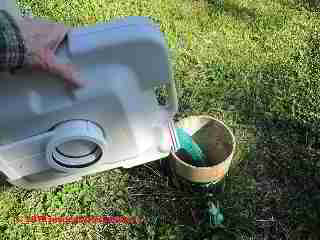 We would not hesitate to occasionally dump a portajohn or small, portable, chemical toilet into a home septic tank - the volumes are so low, typically two gallons or so total, that the deodorants or disinfectants in that small container would be so dilute as not to harm the tank bacteria.
[Click to enlarge any image]
But not only in view of the typical state standard on dumping chemical toilets into the environment, but further and more serious, an RV is a different matter as the holding tank is much bigger. It depends on what chemicals you're using in your RV holding tank.
I'd contact the manufacturer and ask for their literature on this point - if you get something from the manufacturer of your product, pass it on to me.
Here's one example of one manufacturer's comment about dumping RV chemicals into a septic:: "Yes [you can empty your RV holding tank into your septic system], as long as your septic system is fully functioning, adequately sized and properly maintained. If you do, it's important to use only the recommended amount of deodorant in your holding tank and only empty when the tank is full.
Also, because holding tank waste is very concentrated and breakdown takes longer, we recommend you dump only one RV holding tank in a home septic system per week." --Copyright © 2010 Thetford Corporation.
How Much Holding Tank Deodorant Chemical to Use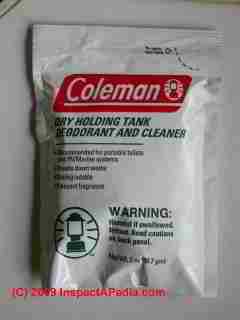 Watch out: don't overdose a small portapotty or chemical toilet with too much RV toilet or RV holding tank deodorant or disinfectant. A typical Coleman™ chemical toilet packet contains enough dry powder to treat a 40-gallon chemical toilet holding tank, such as that found on an RV.
Coleman's portable toilet instruction manual includes advice on using a holding tank deodorant. The toilet instruction manual suggests adding one 2-oz dry powder packet with one pint of water. But that's to treat 40 gallons of waste. If your portapotty only holds a few gallons, perhaps 4 gallons, you can use much less.
A Thetford Aqua Kem™ liquid bottle also contains treatment sufficient for an RV tank. But the little chemical toilet holding tank we show above holds just about two to three gallons of waste. You would want to use about one tenth of the package or container of holding tank deodorant in a little tank like this one.
If you use too much disinfectant it won't damage the toilet, but if you intend to empty your little toilet into a residential septic tank, you don't want to insert more disinfectant or deodorant into the septic tank than is necessary.
These products and their package sizes are intended for RV or marine (boat) septic holding tank use.
Watch out: dumping a chemical toilet or RV waste holding tank into a septic tank might create a problem if users of the chemical or RV toilet are taking antibiotics or other bacteria-killing medicines. See DISABLED or ELDERLY-USE TOILETS for details.
Biodegradable RV Toilet & Holding Tank Fluids?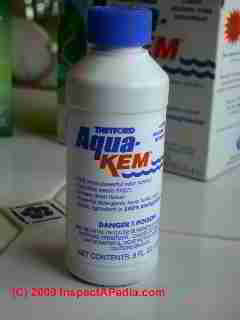 The product literature for some septic holding tank additive and toilet cleaner manufacturers such as Elsan's Organic Toilet Fluid - UK informs us that their products are harmless, biodegradable, and acceptable to empty into septic tanks, drainfields, reed beds, etc. We are researching the topic and will report here.
Thetford Corporation's product literature informs us that their Aqua-Kem products are "100% biodegradable liquid and environmentally safe when disposed of properly." We are researching the topic and will report here.
Note that Thetford also informs us that
WARNING: This product contains a chemical known to the State of California to cause cancer.
Marykate Heads Up MKT-4532 is another RV holding tank deodorant with a detergent base and intended for use in marine or RV holding tanks, recirculating and portable toilets. The company specifes that the pproduct has a
"Non-toxic and non-formaldehyde formulation"
Note that the Marykate Heads Up RV & Marine holding tank deodorant label includes some safety warnings that we could not quite read
"Caution: may be harmful if swallowed, may cause eye irritation"
and other text that we could not read - readers who have one of these bottles and can send us the text are welcome to CONTACT us with that information. Marykate products appear to be produced by CRC Industries, Inc.
Also see Septic & Holding/RV Tank/Toilet Chemicals MSDS
Calculations and Data to Evaluate the Effect of Dumping RV Holding Tanks Into a Septic Tank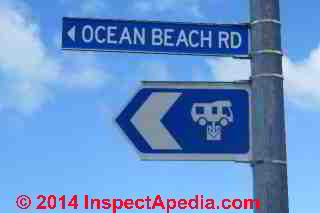 Comment-DF: What's missing from this is a more scholarly explanation that includes real data such as:
the size of the RV tank in gallons
the concentration of and chemistry of the disinfectant/deodorant agent used in the RV tank
the size of the septic tank in gallons
the daily wastewater flow other than from the RV dumping that will be available to dilute the RV chemicals
the concentration of the RV disinfectant chemicals in the septic tank
the type of septic system - some systems, mound, recirculating sand bed, aerobic, or onsite wastewater treatment mini plants, may have widely varying vulnerabilities to extra chemicals and disinfectants
Photo above: RV dumping station sign near Whangamata, New Zealand.
What are the problems if we empty an RV or other waste holding tank into the septic system?
The concern with dumping RV disinfectants or any chemical into a septic system is that high concentrations of a disinfectant may not only harm the natural bacterial and other actions that occur in the septic tank, worse, it could harm the biomat which forms under and is essential for proper functioning of the drainfield. With some chemicals there is also the risk that the chemical itself is an environmental contaminant. You can understand why New York State and perhaps other states have taken the position quoted just above.
Considering that the chemical manufacturer says they are confident that their chemical won't harm the system if we follow their instructions, then if you want to develop some real test data, after checking with your local health department to discuss doing a mini-study of this kind:
Go ahead and empty your RV tank into the septic system, Once only, making a note of the volume dumped and the other information listed above. If you don't already have one, install a riser port at the septic tank pumping opening so that you can use the same riser port as a dumping station. You'll just pull the cap off of the riser pipe and connect your RV dumping hose to it.
What else should we do to avoid Damaging the Septic System with our RV?
NOW: since you're putting sewage along with deodorant (which probably retards sewage breakdown) into the septic tank, and since we don't have any quantitative data from the manufacturer about how many RV gallons can go how often into a septic tank of any given size (I doubt they know), I would respond by moving up my septic tank pumping schedule to an earlier date.
A Proposed Septic Tank Pumping Schedules if We Empty an Recreational Vehicle Holding Tank into the Septic Tank
The below is ARBITRARY to use as a starting point -

RV gallons put into   Next septic tank Move your tank
tank in one year   pumpout was due  up sooner by

250 gals  1 year  2 months
500 gals  1 year  4 months

250 gals  2 years 0 months
500 gals  2 years 2 months

250 gals  3 years 0 months
500 gals  3 years 0 months
1000 gals 3 years 4 months

FOLLOWUP: IF, when you pump the septic tank+RV-waste and your pumper says that there was no unusually thick floating scum or settled sludge or suspended solid waste, you can begin to push the septic tank pumping schedule back out to the frequency given in my table.
If I can get some more accurate data I will amend this current table (which is completely made-up and speculative) and post it online.
Products - for Alternative Septic System Designs aerobic system pumps, media filters, gravelless systems, other advanced wastewater treatment products including waterless, low water, chemical, and incinerating toilets.
...
Continue reading at CHEMICAL TOILETS or select a topic from closely-related articles below, or see our complete INDEX to RELATED ARTICLES below.
Or see CAMPING & EMERGENCY USE TOILETS
Or see MARINE TOILETS
Suggested citation for this web page
RV HOLDING TANK DUMP INTO SEPTIC TANK? at InspectApedia.com - online encyclopedia of building & environmental inspection, testing, diagnosis, repair, & problem prevention advice.
Or use the SEARCH BOX found below to Ask a Question or Search InspectApedia
...
Ask a Question or Search InspectApedia
Questions & answers or comments about problems with the operation of aerobic septic systems
Try the search box just below, or if you prefer, post a question or comment in the Comments box below and we will respond promptly.
Search the InspectApedia website
Technical Reviewers & References
Click to Show or Hide Citations & References
Pennsylvania State Fact Sheets relating to domestic wastewater treatment systems include

Pennsylvania State Wastewater Treatment Fact Sheet SW-161, Septic System Failure: Diagnosis and Treatment
Pennsylvania State Wastewater Treatment Fact Sheet SW-162, The Soil Media and the Percolation Test
Pennsylvania State Wastewater Treatment Fact Sheet SW-l64, Mound Systems for Wastewater Treatment
Pennsylvania State Wastewater Treatment Fact Sheet SW-165, Septic Tank-Soil Absorption Systems
Document Sources used for this web page include but are not limited to: Agricultural Fact Sheet #SW-161 "Septic Tank Pumping," by Paul D. Robillard and Kelli S. Martin. Penn State College of Agriculture - Cooperative Extension, edited and annotated by Dan Friedman (Thanks: to Bob Mackey for proofreading the original source material.)

...
Books & Articles on Building & Environmental Inspection, Testing, Diagnosis, & Repair
Design Manuals for Septic Systems
US EPA Onsite Wastewater Treatment Systems Manual [online copy, free] Top Reference: US EPA's Design Manual for Onsite Wastewater Treatment and Disposal, 1980, available from the US EPA, the US GPO Superintendent of Documents (Pueblo CO), and from the National Small Flows Clearinghouse. Original source http://www.epa.gov/ORD/NRMRL/Pubs/625R00008/625R00008.htm Onsite wastewater treatment and disposal systems, Richard J Otis, published by the US EPA. Although it's more than 20 years old, this book remains a useful reference for septic system designers. U.S. Environmental Protection Agency, Office of Water Program Operations; Office of Research and Development, Municipal Environmental Research Laboratory; (1980)
Eco John® Innovative Toilet Solutions, Global Inventive Industries, Fountain Valley CA, PDF, product brochure
"International Private Sewage Disposal Code," 1995, BOCA-708-799-2300, ICBO-310-699-0541, SBCCI 205-591-1853, available from those code associations.
"Manual of Policy, Procedures, and Guidelines for Onsite Sewage Systems," Ontario Reg. 374/81, Part VII of the Environmental Protection Act (Canada), ISBN 0-7743-7303-2, Ministry of the Environment,135 St. Clair Ave. West, Toronto Ontario M4V 1P5 Canada $24. CDN.
Manual of Septic Tank Practice, US Public Health Service's 1959.
Onsite Wastewater Disposal Books
Onsite Wastewater Disposal, R. J. Perkins; Quoting from Amazon: This practical book, co-published with the National Environmental Health Association, describes the step-by-step procedures needed to avoid common pitfalls in septic system technology. Valuable in matching the septic system to the site-specific conditions, this useful book will help you install a reliable system in both suitable and difficult environments. Septic tank installers, planners, state and local regulators, civil and sanitary engineers, consulting engineers, architects, homeowners, academics, and land developers will find this publication valuable.
Onsite Wastewater Treatment Systems, Bennette D. Burks, Mary Margaret Minnis, Hogarth House 1994 - one of the best septic system books around, suffering a bit from small fonts and a weak index. While it contains some material more technical than needed by homeowners, Burks/Minnis book on onsite wastewater treatment systems a very useful reference for both property owners and septic system designers.
Septic Tank/Soil-Absorption Systems: How to Operate & Maintain [ copy on file as /septic/Septic_Operation_USDA.pdf ] - , Equipment Tips, U.S. Department of Agriculture, 8271 1302, 7100 Engineering, 2300 Recreation, September 1982, web search 08/28/2010, original source: http://www.fs.fed.us/t-d/pubs/pdfimage/82711302.pdf
SEPTIC SOIL & PERC TESTS soil perc testing guide and instructions
Percolation Testing Manual, CNMI Division of Environmental Quality, PO Box 501304, Saipan, MP 96950
Planting Over Septic System Component", Daniel Friedman (author/editor, InspectAPedia.com), The Innovator, Winter/Spring 2008, BCOSSA, British Columbia OnSite Sewage Association, 201-3542 Blansard St., Victoria BC V8X 1W3 Canada
Save the Septic System - Do Not Flush These Items Down the Toilet, Daniel Friedman, InspectAPedia.com - PDF document, printable
Septic System Owner's Manual, Lloyd Kahn, Blair Allen, Julie Jones, Shelter Publications, 2000 $14.95 U.S. - easy to understand, well illustrated, one of the best practical references around on septic design basics including some advanced systems; a little short on safety and maintenance. Both new and used (low priced copies are available, and we think the authors are working on an updated edition--DF. Quoting from one of several Amazon reviews: The basics of septic systems, from underground systems and failures to what the owner can do to promote and maintain a healthy system, is revealed in an excellent guide essential for any who reside on a septic system. Rural residents receive a primer on not only the basics; but how to conduct period inspections and what to do when things go wrong. History also figures into the fine coverage.
Test Pit Preparation for Onsite Sewage Evaluations, State of Oregon Department of Environmental Quality, Portland OR, 800 452-4011. PDF document. We recommend this excellent document that offers detail about soil perc tests, deep hole tests, safety, and septic design. Readers should also see SEPTIC SOIL & PERC TESTS and for testing an existing septic system, also see Dye Tests
Grass is Always Greener Over the Septic Tank, Bombeck, Erma: $ 5.99; FAWCETT; MM; This septic system classic whose title helps avoid intimidating readers new to septic systems, is available new or used at very low prices. It's more entertainment than a serious "how to" book on septic systems design, maintenance, or repair. Not recommended -- DF.
US EPA Onsite Wastewater Treatment Systems Manual Top Reference: US EPA's Design Manual for Onsite Wastewater Treatment and Disposal, 1980, available from the US EPA, the US GPO Superintendent of Documents (Pueblo CO), and from the National Small Flows Clearinghouse. Original source http://www.epa.gov/ORD/NRMRL/Pubs/625R00008/625R00008.htm
Water Wells and Septic Systems Handbook, R. Dodge Woodson. This book is in the upper price range, but is worth the cost for serious septic installers and designers. Quoting Amazon: Each year, thousands upon thousands of Americans install water wells and septic systems on their properties. But with a maze of codes governing their use along with a host of design requirements that ensure their functionality where can someone turn for comprehensive, one-stop guidance? Enter the Water Wells and Septic Systems Handbook from McGraw-Hill.
Written in language any property owner can understand yet detailed enough for professionals and technical students this easy-to-use volume delivers the latest techniques and code requirements for designing, building, rehabilitating, and maintaining private water wells and septic systems. Bolstered by a wealth of informative charts, tables, and illustrations, this book delivers:
* Current construction, maintenance, and repair methods
* New International Private Sewage Disposal Code
* Up-to-date standards from the American Water Works Association

Wells and Septic Systems, Alth, Max and Charlet, Rev. by S. Blackwell Duncan, $ 18.95; Tab Books 1992. We have found this text very useful for conventional well and septic systems design and maintenance --DF. Quoting an Amazon description:Here's all the information you need to build a well or septic system yourself - and save a lot of time, money, and frustration. S. Blackwell Duncan has thoroughly revised and updated this second edition of Wells and Septic Systems to conform to current codes and requirements. He also has expanded this national bestseller to include new material on well and septic installation, water storage and distribution, water treatment, ecological considerations, and septic systems for problem building sites.
The NSFC Products List has an excellent list of design manuals/modules available from their website or by telephone 800-624-8301
...
Publisher InspectApedia.com - Daniel Friedman