Guide to Planting Over Septic System Components
Root depths of trees, shrubs, grasses & their impact on septic wastewater disposal fields
InspectAPedia tolerates no conflicts of interest. We have no relationship with advertisers, products, or services discussed at this website.
Guidelines for Planting Over Septic Systems and Septic Fields:
Guide to Planting of Trees, Shrubs, Gardens, Grasses, Ground covers over the Septic Tank, Drainfield or Leachfield.
This article explains the types of plants that should or should not be planted over or near septic fields or other septic system components.
We also provide a MASTER INDEX to this topic, or you can try the page top or bottom SEARCH BOX as a quick way to find information you need.
Planting Guidelines for Septic Drainfields, Mounds, Raised Beds, Septic Tanks and other Septic Components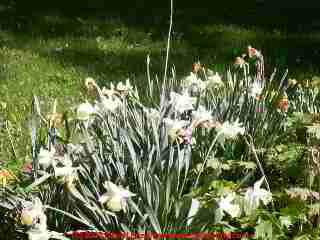 This is a guide for homeowners who are planting trees, shrubs, gardens, ground cover, or other plants near a septic system and who need to know that can be planted near or over septic system components like the septic tank, distribution box, and drain field or soil absorption system.
Discussed here: Advice for planting trees, grasses, shrubs, gardens over or near septic systems. Which trees, shrubs or grasses are ok to plant on or near septic tanks or soakbeds / leachfields and which are going to cause trouble.
We provide tables of acceptable plants and grasses around septic systems.
Planting the wrong things or in the wrong places can lead to the need for expensive septic system repairs.
Planting trees, shrubs, and even some ground covers over septic system components are causes of septic system failure in the drain field, leach field, seepage bed, or similar components.
Planting fruit trees, or vegetables (or anything else edible) over the septic drainfield might produce food that is unsafe to eat:
See SEWAGE CONTAMINANTS in FRUIT / VEGETABLES for details.
An explanation of greener or more brown grass over a septic tank or drainfield is
at SEPTIC TANK GRASS or SNOWMELT.
Guide to planting grasses, groundcovers, or flowers over septic drain fields or leaching beds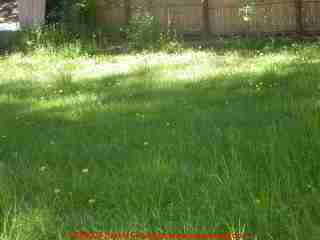 Many people have written to ask what can be planted over a septic field. Grasses, weeds, flower are OK: The best answer is grass or native grasses and weeds.
Flowers are ok so long as they are not varieties which send down deep roots. In the photograph above these relatively shallow-rooted flowers were set around a septic tank cleanout cover.
They won't cause any damage to the system. But when planning your planting arrangement for flowers over a septic tank, remember that if you plant valuable flowers too close to the access cover to a septic tank or distribution box, those plants may be damaged or destroyed when you have to excavate to open the tank or D-box cover.
Basically, any shallow-rooting planting will be fine to plant over the surface of or near septic tanks, distribution boxes, or septic drainfields.
The photograph abve shows typical grass and a few native wildflowers and dandelions growing in a lawn over a septic system drainfield at a Poughkeepsie New York home.
These plants are not likely to be harmful to the system, they stabilize the soils in the area, and they do not interfere with soil transpiration or evaporation.
Their roots are relatively shallow so these plants are not likely to invade the septic drainfield piping. Grass and native wildflowers are fine over the septic tank or drainfield, and also they are fine over septic mound systems.
Grasses or Flowers or Groundcovers Recommended as Suitable for Planting Over / Near Evaporation-Transpiration Septic Systems
The following table of native (to New Zealand) or introduced species of grasses lists species that are considered suitable for planting over an evapo-transpiration system and should be acceptable over a mound system or conventional drainfield as well. Note that other native species local to your area might also be suitable. [3] We have added Bermuda Grass and Kentucky Bluegrass widely used in the U.S. and some other countries.
Table of Grasses Suitable for Planting Over / Near Evaporation-Transpiration Septic Systems [3]

Common Name
Botanical Name
Comments

Common North American Short-Root Grasses

Bermuda grass
Typical root depth: 4-6 inches
Kentucky Bluegrass species
Typical root depth 6-8"
Red fescue
[2] 27.9 cm / 10.9 in root depth

Common New Zealand Grasses

Hooksedge
Uncinia Unciniata
Jointed twig sedge
Baumea Articulata
Carex Comans
Longwood tussock
Carex Comans
Oioi
Leptocarpus Similis
Pukio
Carex Secta
Toetoe
Cortaderia Fulvida
use native species to your area, not invasive pampas grass or other invasive species

Other Plantings that are Acceptable for Planting Over or Near a Septic Tank or Drainfield / Soakbed

Flowers, decorative
Shallow-rooted, [3]
Ivy
Shallow-rooted, [3]
Myrtle
[3]
Pachysandra
[3]
Notes to the table above
Sources
"Looking after your household sewerage system," New Plymouth District Council, Taranaki NZ, [3]
Brown, Rebecca Nelson, Cynthia Percivalle, Sophia Narkiewicz, and Samantha DeCuollo. "Relative rooting depths of native grasses and amenity grasses with potential for use on roadsides in New England." HortScience 45, no. 3 (2010): 393-400.
"J 1500 Series BAT® Media Plants with Model 952 UV Owners Manual", Jet Inc., 750 Alpha Dr., Cleveland OH 44143 USA, Tel: 440-461-2000, email: email@jetincorp.com Website: jetincorp.com retrieved 2016/05/15, original source, Ohio health department, U.S.A., http://www.odh.ohio.gov/~/media/ODH/ASSETS/files/eh/sts/P-Jet-1500%20Series%20BAT%20Media%20Plants-Ownman-952%20UV

See BAT MEDIA SEPTIC PLANTS for details.
The company warns that because this type of septic treatment system requires regular inspections & service,

Do not position anything permanently over below-grade access covers. ... It is very important that the finished grade slope away from the plant. Also, grade must be at least below the bottom of the access covers. - Jet, Inc., Op. Cit.
Chase, Scott, SPOTLIGHT ON… PLANTING OVER DRAINFIELDS - Landscaping Septic System Drainfields and Mounds [PDF], Washington State University Extension, Website: https://extension.wsu.edu/ (2014) retrieved 2018/07/02, original source: https://s3.wp.wsu.edu/uploads/sites/2144/2015/03/Spotlight-on-Planting-over-Septic-Drainfields.pdf
Glendon BioFilter Landscaping and Plantings, [PDF] WSU Kitsap County Extension, Linger, F. & Tillery, P., 2011 http://www.glendon.com/docs/Landscape/GBT%20%20Landscape%20-%20WSU%20Compendium.pdf
Separately
at TREES OR SHRUBS NEAR SEPTIC SYSTEMS we provide a similar table of suitable trees or shrubs that can be planted near or in some cases on soakaway beds, drainfields, evapo-transpiration systems.
Table of Grasses Not Recommended over Septic Fields
Table of Deep Root Grasses Not Recommended Over or Near Septic Fields or Soakbeds

Native & Ornamental Grasses
Typical Root Depth
Comments
Alkali grass
33.0 cm / 13 in
[2]
Big Bluestem
96" to nine feet [1]
Avoid over or near septic system fields & soakbeds or soakpits
Eastern bottlebrush
40.5 cm / 15 in.
[2] May be OK over deep septic fields
Indiangrass
73.7 cm / 29.0 in
[2] Avoid over or near septic system fields & soakbeds or soakpits
Little bluestem
64.6 cm / 25.4 in
[2] Avoid over or near septic system fields & soakbeds or soakpits
Switchgrass
70.9 cm / 20.9 in
[2] Avoid over or near septic system fields & soakbeds or soakpits
Smooth Brome

10-15" [1]

62.5 cm [2]

[1] May be OK over deep septic fields

Sideoats Grama
48" [1]

Avoid over or near septic system fields & soakbeds or soakpits
Notes & sources for the table above
Sources:
U.S. MN DNR, "Native Grasses - Soil Stabilization", Minnesota Department of Natural Resources, ret. 20 Sep 2015, original source: www.dnr.state.mn.us/roadsidesforwildlife/nativegrasses.html
Brown, Rebecca Nelson, Cynthia Percivalle, Sophia Narkiewicz, and Samantha DeCuollo. "Relative rooting depths of native grasses and amenity grasses with potential for use on roadsides in New England." HortScience 45, no. 3 (2010): 393-400.
Canadell, J., R. B. Jackson, J. B. Ehleringer, H. A. Mooney, O. E. Sala, and E-D. Schulze. "Maximum rooting depth of vegetation types at the global scale." Oecologia 108, no. 4 (1996): 583-595.
Abstract:
The depth at which plants are able to grow roots has important implications for the whole ecosystem hydrological balance, as well as for carbon and nutrient cycling. Here we summarize what we know about the maximum rooting depth of species belonging to the major terrestrial biomes. We found 290 observations of maximum rooting depth in the literature which covered 253 woody and herbaceous species.

Maximum rooting depth ranged from 0.3 m for some tundra species to 68 m for Boscia albitrunca in the central Kalahari; 194 species had roots at least 2 m deep, 50 species had roots at a depth of 5 m or more, and 22 species had roots as deep as 10 m or more.

The average for the globe was 4.6_+0.5 m. Maximum rooting depth by biome was 2.0+0.3 m for boreal forest, 2.1_+0.2 m for cropland, 9.5-+2.4 m for desert, 5.2-+0.8 m for sclerophyllous shrubland and forest, 3.9+0.4 m for temperate coniferous forest, 2.9_+0.2 m for temperate deciduous forest, 2.6_+0.2 m for temperate grassland, 3.7_+0.5 m for tropical deciduous forest, 7.3+2.8 m for tropical evergreen forest, 15.0_+5.4 m for tropical grassland/savanna, and 0.5_+0.1 m for tundra.

Grouping all the species across biomes (except croplands) by three basic functional groups: trees, shrubs, and herbaceous plants, the maximum rooting depth was 7.0_+1.2 m for trees, 5.1-+0.8 m for shrubs, and 2.6-+0.1 m for herbaceous plants.

These data show that deep root habits are quite common in woody and herbaceous species across most of the terrestrial biomes, far deeper than the traditional view has held up to now. This finding has important implications for a better understanding of ecosystem function and its application in developing ecosystem models.
Reader Question: what type of grasses are OK to plant over the septic fields in Northeast Florida?
Anonymous said:
Live in north east florida. What type of grass can I have planted over septic tank drain field?
Reply: List of deep vs shallow root grasses
Anon:
Grasses are generally OK as long as you're not planting something that sends down deep roots. See the table earlier on this page where we list a variety of grasses whose root systems are generally not very deep. Bermuda grass roots go down 4-6 inches with some variation according to the type of soil.
Stay away from these.
Watch out: whatever you are planting on or near a septic system, keep heavy equipment away from the septic tank and soakaway bed or leacfield.

See DRIVING OVER SEPTIC SYSTEMS for details.
Using a Roto Rooter to Remove Roots from Sewer Lines and Septic Systems
Power augers or Roto Rooters™ for plumbing drains can be an effective way to remove a blockage or clog in a drain line.
But if your plumber shows you a tangle of roots when s/he pulls the augur back up the drain line, you should expect that additional repairs will be needed soon.
Even if you pull roots out of the blocked pipe section, the fact that they were in there means a tree, shrub, or other plant has invaded the area and its roots remain outside the just-un-clogged pipe. You can count on the roots re-invading the pipe (and getting at those nutrients) soon. So de-rooting a clogged drain line is a temporary fix.
...
Continue reading at GARDENS NEAR SEPTICS or select a topic from closely-related articles below, or see our complete INDEX to RELATED ARTICLES below.
Or see PLANTS & TREES NEAR SEPTIC SYSTEM FAQs - questions & answers posted originally at this page
Or see SEPTIC DRAINFIELD FAILURE CAUSES
Or see these
Articles on Plants & Grasses On or Near Septic Systems
Suggested citation for this web page
PLANTS & TREES OVER SEPTIC SYSTEMS at InspectApedia.com - online encyclopedia of building & environmental inspection, testing, diagnosis, repair, & problem prevention advice.
Or use the SEARCH BOX found below to Ask a Question or Search InspectApedia
...
Frequently Asked Questions (FAQs)
Try the search box below or CONTACT US by email if you cannot find the answer you need at InspectApedia.
Questions and answers about planting near septic systems posted originally on this page are now found at PLANTS & TREES NEAR SEPTIC SYSTEM FAQs
...
Ask a Question or Search InspectApedia
Try the search box just below, or if you prefer, post a question or comment in the Comments box below and we will respond promptly.
Search the InspectApedia website
Technical Reviewers & References
Click to Show or Hide Citations & References
Books & Articles on Building & Environmental Inspection, Testing, Diagnosis, & Repair
Our recommended books about building & mechanical systems design, inspection, problem diagnosis, and repair, and about indoor environment and IAQ testing, diagnosis, and cleanup are at the InspectAPedia Bookstore. Also see our Book Reviews - InspectAPedia.
...
Publisher InspectApedia.com - Daniel Friedman