Buyer's Guide for Septic Grinder Pumps

InspectAPedia tolerates no conflicts of interest. We have no relationship with advertisers, products, or services discussed at this website.
This article offers buying advice for Septic Grinder Pumps, Sewage Pumping Stations, & Septic Pump Alarms. We discuss the types of sewage and sewage grinder pumps available and we provide where-to-buy information for sewage grinder pumps: contact information for sewage pump brands, models, manufacturers, and suppliers.
Green links show where you are. © Copyright 2013 InspectAPedia.com, All Rights Reserved. Author Daniel Friedman.
What Brand of Sewage Ejector Pump Should I Buy? - Sewage Pump Selection Guide
The general name for these pumps is sewage grinder pumps if they are intended to grind and move black water or sewage, or sewage effluent pumps if the pump is intended only to move clarified effluent, say from a septic tank to a drain field. Some well-established and widely-used septic pump brands include:
Sketches are from the Environment One Low Pressure Sewer Systems Grinder Pump catalog.
ABS pumps
Crane (centrifugal grinders) pumps
Environment One or E/One sewage pumps
Goulds pumps
Hydromatic pumps
Liberty sewage pumps
Little Giant pumps
Myers pumps
Tsurumi pumps
Webtrol sewage pumps
Zoeller sewage grinder pumps
Directory of Producers of Septic Pumps, Sewage Pumps, Grinder Pumps, Effluent Pumps: Contact Information
Several sewage pump manufacturers produce a separate line of commercial or municipal sewage grinder pumps from those used in residential application.
Crane Pumps and Systems, 420 Third Street, Piqua, Ohio 45356 Phone: (937) 778-8947 and Crane Pumps and Systems, 83 West Drive, Bramton, Ontario, Canada L6T 2J6, Phone: (905) 457-6223 Fax: (937) 773-7157 Fax: (905) 457-2650 www.cranepumps.com. See Weinman submersible sewage ejector pump installation and service manual for an example instructions for the Weinman Series WE and 3WE sewage ejector pumps ranging from .5 to 1 hp.
Drain & Sewage Ejector Packages, plumbingsupply.com, Tel: 530-891-6428, 24 hour message phone: 530-891-1556, Email: sales2011@plumbingsupply.com Sewage Ejector pump types, models, float control switches using Little Giant and Zoeller sewage pumps as examples, web search 08/15/11, original source http://www.plumbingsupply.com/


Float Switches for Pumps, plumbingsupply.com, Sewage Ejector pump types, models, float control switches using Little Giant and Zoeller sewage pumps as examples, web search 08/15/11, original source http://www.plumbingsupply.com/
Flotec 800-365-6832, Flotec produces a wide range of effluent pumps, grinder pumps, sewage pumps, sump pumps
Gorman-Rupp, P.O. Box 1217, Mansfield, Ohio 44901-1217, Tel: (419) 755-1011 Fax (419) 755-1263. Gorman produces a very wide range of pumps including septic pumps, sewage pumps, effluent pumps, grinder pumps, submersible shredder pumps, IPT
Grundfos Pumps Corporation, 2555 Clovis Ave., Clovis CA 93612, Tel: 800-333-1366, web search 8/9/11, original source
http://www.us.grundfos.com/web/download.nsf/Pages/
7C03990D6E09EC6C882565220069C131/$File/Seeje-io.pdf
Hydromatic Pentair Water, 740 East 9th Street, Ashland, OH 44805, Phone: 1-888-957-8677, Web Site: http://www.hydromatic.com
Little Giant, Tel: 877-869-0200, Email: sales@little-giantpump.com, Little Giant produces a wide range of pumping equipment including sewage and wastewater pumps
Liberty Pumps, Liberty Pumps, 7000 Apple Tree Avenue, Bergen, NY 14416, Tel: 1-800-543-2550 Fax: 1-585-494-1839, Email: liberty@libertypumps.com. Submersible pumps, sewage pumps, effluent pumps, grinder pumps. Submersible sewage pumps include the LE series line ranging from 4/10 hp up to 2 hp. LIberty also provides simplex and duplex pump systems and engineered septic and sewage pump systems.
Myers, Myers Applied Wastewater Systems - 1101 Myers Parkway Ashland, OH 44805, Phone: 419-289-1144, Fax: 419-289-6658, or in Canada: Myers, 269 Trillium Drive, Kitchener, Ontario, Canada N2G 4W5 Tel: 519-748-5470 Fax 519-748-2553Myers produces a wide range of pumps including sump pumps, sewage pumps, effluent pumps
Pit-Viper Add-A-JOhn low-profile sewage systems (integrated plastic tank, pump, toilet mounting base)
Superior 2805 Fairview Ave. N Roseville, MN 55113, Tel: 800-495-9278Tel: 651-487-0378. Superior produces sewage pumps (float operated submersibles)
Tsurumi Pumps, Tsurumi (America), Inc. 1625 Fullerton Court, Glendale Heights, IL 60139, tel: 630-793-0127, fax: 630-793-0146, toll free: 888-TSURUMI (878-7864), info@tsurumiamerica.comTsurumi Pump produces sewer pumps and submersible pumps, categorized as wastewater pumps, sewage pumps, and centrifugal pumps including portable equipment.
Wayne , Wayne Pumps, 101 Production Drive, Harrison OH 45030, Tel: 800-237-0987. Wayne produces a range of sewage pumps and water pumps including cast iron submersible pumps
Weinman sewer pumps - see Crane above.
Zoeller Pump Company, 3649 Cane Run Rd., Louisville, KY 40211, Phone: 1-800-928-7867, 502-778-2731 Fax: 502-774-3624. Technical support and/or quote related emails: zcotechnical@zoeller.com. Zoeller produces just about every kind of septic, sewage, effluent, grinder, and sump pump. Homeowners who need a sewage pump are asked to contact their local representative or retail sales outlet. Zoeller classes their pumps into these categories:

Grinder pumps, such as Zoeller's 810/815 Turnkey Grinder Systems, 800-series Grinder Pumps, Cold-Climate grinder pumps, Simplex prepackaged grinder pump systems, and Simplex and Duplex (two pumps) grinder systems including four outdoor use.
Utility, pedestal, & gas engine pumps. These are portable gas-engine powered pumps used typically in construction, service, or emergencies
Sewage & Dewatering pumps, such as certain Aqua-Mate Models and Waste-Mate models, and Sewage-Waste 600-series pumps
Sump, Effluent, Dewatering pumps, such as Water Ridd'r , Mighty-Mate, Aqua-Mate, Flow-Mate, and High Head Flow-Mate pumps - of certain models - be sure to read the manufacturer's intended use for a pump model before purchasing it
What Type of Septic Pump Should I Buy?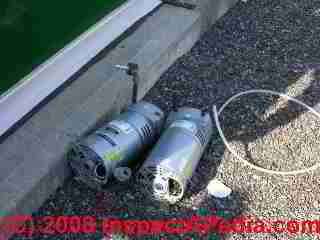 The type of sewage pump you need depends on how it will be used. The pumps at left may have been a misapplication for this municipal lift station ,which may explain why we found these discarded units on the site. Septic pump systems vary by these parameters:
Grinder vs. ejector pump: in how they treat the waste
Lift capacity or "head": by how many feet of elevation does the waste need to be raised to reach the build. "Head" is the term used to describe the height in feet that a column of wastewater needs to be raised, and is expressed in feet of lift. A "ten foot head" means that the pump has to be powerful enough to lift the column of waste water ten feet vertical distance.
Total wastewater system capacity: how many toilets and other fixtures is the pump serving. A basement bath including a shower, sink, and toilet, uses a small pre-packaged low-capacity septic grinder pump that may be just 1/3 hp. while in a home where all of the wastewater needs to be moved from a common pumping point to a higher-elevation sewer line, an higher capacity multi-horsepower pump needs to be used (and probably should be installed duplexed with a pair of pumps.)


Size of solids that need to be removed: larger solids are handled by larger grinder pumps. A pump with a four-inch impeller housing and impeller will typically be able to handle solids up to 3" in diameter without clogging.


Water temperature: most sewage pumps are designed to operate at a maximum temperature of 180 deg F. So if a restaurant were installing a pumping station that had to handle near-boiling water, say from a commercial dishwasher or an asian fast-food cooking line, special equipment may be needed.


Duty cycle: a community pumping station or a sewage pumping system serving a multi-family home needs to be able to run more frequently to handle the much higher wastewater load than that from a single family home.





Reliability requirements: while single-pump systems are often installed to support an extra basement bathroom, where a sewage pump is handling an entire home or larger facility, duplex septic pumping systems (shown in the photo at left) are preferable for their greater reliability.

Remember that in a power outage your pump system will not work unless you've provided backup power.



Vertically-suspended sewage grinder pumps and closely-coupled submersible sewage grinder pumps are further distinguished and described in more detail at Septic Pumping Stations.
Septic pump manufacturers provide a pump selection and sizing table that is used to guide the installer in selecting the proper pump. We've seen sewage handling systems where the wrong type or wrong capacity of pump was installed, sometimes as an attempt to "save money."
Two types of sewage pumps are used in residential applications, sewage grinder pumps or sewage ejectors pumps, and non-clogging sewage ejector pumps. We describe these next at Septic Pump Duplex System Designs
Frequently Asked Questions (FAQs)
...
Ask a Question or Search InspectApedia
Questions & answers or comments about buying sewage pumps and grinder pumps: brands, models, pump supply sources, pump parts suppliers
Ask a Question or Enter Search Terms in the InspectApedia search box just below.
Technical Reviewers & References
Related Topics, found near the top of this page suggest articles closely related to this one.
Septic Tank/Soil-Absorption Systems: How to Operate & Maintain [ copy on file as /septic/Septic_Operation_USDA.pdf ] - , Equipment Tips, U.S. Department of Agriculture, 8271 1302, 7100 Engineering, 2300 Recreation, September 1982, web search 08/28/2010, original source: http://www.fs.fed.us/t-d/pubs/pdfimage/82711302.pdf.
Pennsylvania State Fact Sheets relating to domestic wastewater treatment systems include

Pennsylvania State Wastewater Treatment Fact Sheet SW-161, Septic System Failure: Diagnosis and Treatment
Pennsylvania State Wastewater Treatment Fact Sheet SW-162, The Soil Media and the Percolation Test
Pennsylvania State Wastewater Treatment Fact Sheet SW-l64, Mound Systems for Wastewater Treatment
Pennsylvania State Wastewater Treatment Fact Sheet SW-165, Septic Tank-Soil Absorption Systems
Document Sources used for this web page include but are not limited to: Agricultural Fact Sheet #SW-161 "Septic Tank Pumping," by Paul D. Robillard and Kelli S. Martin. Penn State College of Agriculture - Cooperative Extension, edited and annotated by Dan Friedman (Thanks: to Bob Mackey for proofreading the original source material.)

US EPA Onsite Wastewater Treatment Systems Manual [online copy, free] Top Reference: US EPA's Design Manual for Onsite Wastewater Treatment and Disposal, 1980, available from the US EPA, the US GPO Superintendent of Documents (Pueblo CO), and from the National Small Flows Clearinghouse. Original source http://www.epa.gov/ORD/NRMRL/Pubs/625R00008/625R00008.htm Onsite wastewater treatment and disposal systems, Richard J Otis, published by the US EPA. Although it's more than 20 years old, this book remains a useful reference for septic system designers. U.S. Environmental Protection Agency, Office of Water Program Operations; Office of Research and Development, Municipal Environmental Research Laboratory; (1980)
Eco John® Innovative Toilet Solutions, Global Inventive Industries, Fountain Valley CA, PDF, product brochure
"International Private Sewage Disposal Code," 1995, BOCA-708-799-2300, ICBO-310-699-0541, SBCCI 205-591-1853, available from those code associations.
"Manual of Policy, Procedures, and Guidelines for Onsite Sewage Systems," Ontario Reg. 374/81, Part VII of the Environmental Protection Act (Canada), ISBN 0-7743-7303-2, Ministry of the Environment,135 St. Clair Ave. West, Toronto Ontario M4V 1P5 Canada $24. CDN.
Manual of Septic Tank Practice, US Public Health Service's 1959.

Septic System Owner's Manual, Lloyd Kahn, Blair Allen, Julie Jones, Shelter Publications, 2000 $14.95 U.S. - easy to understand, well illustrated, one of the best practical references around on septic design basics including some advanced systems; a little short on safety and maintenance. Both new and used (low priced copies are available, and we think the authors are working on an updated edition--DF. Quoting from one of several Amazon reviews: The basics of septic systems, from underground systems and failures to what the owner can do to promote and maintain a healthy system, is revealed in an excellent guide essential for any who reside on a septic system. Rural residents receive a primer on not only the basics; but how to conduct period inspections and what to do when things go wrong. History also figures into the fine coverage.
Books & Articles on Building & Environmental Inspection, Testing, Diagnosis, & Repair
The Home Reference Book - the Encyclopedia of Homes, Carson Dunlop & Associates, Toronto, Ontario, 25th Ed., 2012, is a bound volume of more than 450 illustrated pages that assist home inspectors and home owners in the inspection and detection of problems on buildings. The text is intended as a reference guide to help building owners operate and maintain their home effectively. Field inspection worksheets are included at the back of the volume. Special Offer: For a 10% discount on any number of copies of the Home Reference Book purchased as a single order. Enter INSPECTAHRB in the order payment page "Promo/Redemption" space. InspectAPedia.com editor Daniel Friedman is a contributing author.

Or choose the The Home Reference eBook for PCs, Macs, Kindle, iPad, iPhone, or Android Smart Phones. Special Offer: For a 5% discount on any number of copies of the Home Reference eBook purchased as a single order. Enter INSPECTAEHRB in the order payment page "Promo/Redemption" space.
Inspecting Septic Systems: Online Book, Inspection, Test, Diagnosis, Repair, & Maintenance: our Online Septic Book: Septic Testing, Loading & Dye Tests, Septic Tank Pumping, Clearances, details of onsite waste disposal system inspection, testing, repair procedures.


Advanced Onsite Wastewater Systems Technologies, Anish R. Jantrania, Mark A. Gross. Anish Jantrania, Ph.D., P.E., M.B.A., is a Consulting Engineer, in Mechanicsville VA, 804-550-0389 (2006). Outstanding technical reference especially on alternative septic system design alternatives. Written for designers and engineers, this book is not at all easy going for homeowners but is a text I recommend for professionals--DF.