Will the Dishwasher Harm the Septic System? - Septic Tank Maintenance and Cleaning Advice
InspectAPedia tolerates no conflicts of interest. We have no relationship with advertisers, products, or services discussed at this website.
Residential dishwashing machines and their possible effects on septic systems are explained in this article.
Will the discharge from a home dishwashing machine into a private septic system harm the septic tank or drainfields? What detergents are best to use in a home dishwasher to minimize impact on the septic system and the environment. How can we reduce the impact of a dishwasher on a septic system - should we install a separate drywell? This document explains how to extend the life of the septic system by being careful about what goes into it.
We also provide a MASTER INDEX to this topic, or you can try the page top or bottom SEARCH BOX as a quick way to find information you need.
A Guide to Home DISHWASHER Machines - and Septic Systems
Does a dishwasher water volume overload and harm the septic system?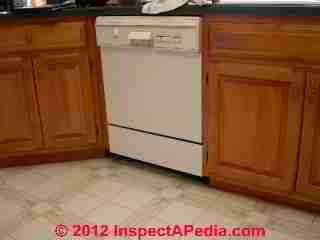 [Click to enlarge any image]
The volume of water from home dishwashing machine use should not be a problem with a normal septic system in good working order.
However as we discussed at "Washing Machines", in some conditions you should avoid emptying dishwasher discharge into the septic system:
Drainfield capacity may limit dishwasher use: if the absorption system (leach field, drainfield) has limited capacity to absorb effluent
A failing drainfield and use of dishwashers: if the absorption system is showing evidence of failure, such as effluent coming to the surface of the property or backing up into the building (nonetheless you need septic field investigation and repair)
Dishwasher & Laundry Detergents Containing Phosphates & Surfactants May Contaminate the Environment
Does dishwasher detergent or dish soap harm the septic tank or septic system drainfield?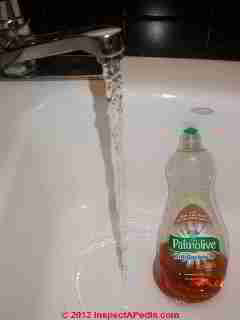 The volume of dishwasher detergent or dish soap used in sinks entering the septic system is so low as to be very dilute when it enters the septic tank, dilute enough that it is not going to harm the septic tank bacteria at normal levels of residential dishwasher use.
However many if not most dishwasher detergents contain phosphates or nonylphenol ethoxylate surfactants. Surfactants are what make detergents effective in lifting soil particles off of a surface (a dish in the dishwasher or a shirt in the washing machine).
Dishwasher detergents do not make a high level of suds inside the dishwashing machine. If you've ever made the mistake of putting normal dish soap into a dishwasher (as did this author) you know what a disaster will ensue - with sudsy soap overflowing out of the dishwasher and across the floor. Dishwashers rely on surfactants, high water temperature, and time spent spraying across the dishwasher contents to clean them.
Even if they don't kill off your septic tank or drainfield bacteria, surfactants and phosphates that run through a dishwasher ultimately enter ground water and surface water may also become contaminated.
Surfactants in dishwasher detergents (and from any source) are toxic to fish, basically suffocating them by interfering with the ability of the fish's gills to absorb oxygen from water.
Phosphates in dishwasher detergents pass through the septic system (or municipal wastewater treatment system) and enter surface water causing very high growth rates of algae. The algae growth, in turn, suffocates fish and other life in rivers, streams, lakes, and ponds. The rapidly growing "dead zones" at the edges of major water bodies around coastal areas of the U.S. and other countries are blamed on surface runoff that contains phosphates, (probably largely from agricultural use).
According to Cliff Davies, a U.S. EPA engineer reported in the New York Times The level of phosphates in dishwasher detergent has been significantly reduced since the 1970's.
But Mr. Davies was unable to identify specific dishwasher detergent products or brands that were high in surfactants or phosphates, and the Times article reported that the U.S. EPA "Design for the Environment Program" which he administers does not track products that are problematic.
The EPA does, however, list dishwasher detergent products whose manufacturers report to the EPA that they use the safest chemicals. The EPA does not perform tests to confirm the accuracy of product claims.
In sum, consumers who want to minimize their contribution to environmental pollutants by their choice of dishwasher or washing machine cleaning products may want to purchase products listed by the EPA's "Design for the Environment Program" but the listing designation does not appear to be supported by independent testing nor publicly available data. As of June 2013 it's the best we'd got.
Update: 2016/05/15,
Recommendations for Green Non-Toxic Dishwasher Detergents when Collecting Graywater or Connecting to a Septic System
Reader Question: what dishwasher detergent should I use if I'm collecting graywater to irrigate plants or a garden? How do I match "unwanted chemicals" to detergent products' list of ingredients?
I have been thinking a lot about the grey water plans we have going. Our method will be very simple: all the wash water will go to a drum that is fitted with a hose. We plan to move to the hose to tree basins as needed. The attached is a reference I came across. It really doesn't help me very much in a specific way. For example... how do the ingredients in Dawn dish washing soap match up to the chemicals on the chart? Or, how do I select the least offensive laundry soap?
Reply:
We discuss dishwasher detergents in detail in this article, beginning at DISHWASHERS vs SEPTICS
The citations sections of this and other articles we cite here list some excellent references on graywater including some building codes that can be taken as a design minimum if you want the water discharged from the system to be long term usable on plants or a garden.
Bottom Line on Dishwasher Detergents, Phosphates, Surfactants
At least in the U.S. where in 2010 seventeen states adopted laws that required a big reduction in the level of phosphates in detergents, most laundry and dish detergents you may buy at even standard outlets are likely to be low in phosphorous. Also using liquid detergents and soaps in the sink, laundry, dishwasher, or soap packets or tablets in the dishwasher may avoid additional plumbing system clogging (and soil clogging where connected to a private septic like yours) that occurs from excessive use of powdered products.
DETAILS: For people who like to research specific products online or to buy online, Amazon lists quite a few "green" dish detergents, laundry detergents, and dishwasher detergents. Here are a few:
Alphabetical List of "Green" Dishwasher Detergents & Laundry Detergents
Cascade "Cascade Complete All-in-1 ActionPacs" Packs (recommended, highly rated competitor for Finish Quantum per some sour4ces, more research needed but most likely Cascade complies with state low phosphate regs)
EcoTablets (plant based, no phosphates, expensive)
Electrasol "Finish" tablets (likely to be found in many supermarkets, no phosphate, no bleach, contains perfumes, dyes that may not harm septic system nor plants but may bother some sensitive users)
Finish Quantum (recommended, highly rated on effectiveness & low cost per most sources, more research needed, may not perform well in hard water)
Method Smarty Dish (dry powder in tablets / packets)
OxyDish (concentrate, recommended)
Sun and Earth (biodegradable, expensive)
Seventh Generation Free& Clear, Method 3x Concentrate, Arm & Hammer, Era, Oxydol laundry detergents. - are recommended by Jet Inc., owners manual for BAT MEDIA SEPTIC PLANTS; also see Alhajjar 1989 at REFERENCES.
If we look for "green" laundry detergents, dish soaps, and dishwasher soaps, unfortunately that does not mean you'll find these products at your local bodega.
There is a secondary concern that some "green" detergents may not do as good a cleaning job on dishes or clothes
Home Made Dishwasher Detergent Recipes
Some (not peer reviewed) authors may give a recipe for home made dishwasher detergent
Standard recipe for dishwasher soap or detergent might be
2 cups of washing soda + 1 cup of borax,
or alternatively (not yet researched, may not be authoritative):
1 cup each of Borax and Washing soda + ½ cup salt (this sounds a bit heavy to me) + ½ cup citric acid (try lemon juice though it's less concentrated)
Watch out: you probably already know this, but don't use a sudsing detergent like dish soap in a dishwasher nor washing machine - you'll have a suds disaster.
Translating Dishwasher or Laundry Detergent Ingredient Lists
Look for information on the ingredient label that discusses the level of phosphorous, phosphates, and surfactants. Some readers who wish to avoid perfumes and dyes (generally not harmful to the septic tank or drainfield) may find those chemicals hard to recognize except by the smell test.
[more notes are in process on this, contributions welcomed]
More Reading on Dishwasher & Laundry Soap Recommendations for Graywater & Septic Systems
Install a Drywell to Handle Dishwasher Drainage to Protect the Drainfields from Overload
One option is to install a separate graywater system (greywater) or drywell to receive water from the dishwasher. If you are considering this step, consider connecting both dishwasher and clothes washer to a common drywell.
At some properties with very limited septic capacity, a large drywell may be installed to handle additional gray water from other building fixtures such as sinks and showers.
See DRYWELL DESIGN & USES for additional information.
Citation of this article by reference to this website and brief quotation for the sole purpose of review are permitted. Use of this information at other websites, in books or pamphlets for sale is reserved to the author. Technical review by industry experts has been performed and comments from readers are welcomed. Contributors are listed at the end of each article.
This article is a section of our online book SEPTIC INSPECTION & TEST GUIDE whose chapters are shown at the end of this article. Citation of this article by reference to this website and brief quotation for the sole purpose of review are permitted. Use of this information at other websites, in books or pamphlets for sale is reserved to the author. Technical review by industry experts has been performed and comments from readers are welcomed. Contributors are listed at the end of each article.
...
Continue reading at DRUGS INTO the SEPTIC TANK? or select a topic from closely-related articles below, or see our complete INDEX to RELATED ARTICLES below.
Or see DISHWASHER SNAFUS
Or see TOILETS, DON'T FLUSH LIST
Or see these
Don't Flush Articles for Sewage Grinder Pumps, Toilets, Septic Systems, Drains
Suggested citation for this web page
DISHWASHERS vs SEPTICS at InspectApedia.com - online encyclopedia of building & environmental inspection, testing, diagnosis, repair, & problem prevention advice.
Or use the SEARCH BOX found below to Ask a Question or Search InspectApedia
...
Frequently Asked Questions (FAQs)
Try the search box below or CONTACT US by email if you cannot find the answer you need at InspectApedia.
Question: any dishwashing detergent that keeps the septic un-plugged?
(Apr 24, 2011) traci said:
is there any certain liquid detergent for washing machines to keep your septic unplugged
Reply:
Liquid detergents and septic systems:
We do not recommend specific detergent brands, but if you are using a liquid detergent that is already a step towards avoiding a clog in piping that sometimes occurs when powdered detergents are used in dishwashers or washing machines. And please take a look at our discussion above about surfactants and phosphates in the dishwasher detergent discussion in the article above.
Question: ok to dispose of pet turtle tank water into the septic tank?
(Aug 7, 2014) Gaga said:
I have turtles, is it ok to pour their tank water into a toilet that has a septic tank?
Reply: Yes mostly ok but ...
Yes Gaga,
But watch out that the turtles don't get poured down the toilet at the same time. They'd not enjoy that trip.
There are diseases that occur "at the interface of human, domestic animal,and wildlife interactions" (Wildlife Epidemiology Lab 2015) and experts such as the folks I just cited note Salmonella, a pathogen associated with pet (and perhaps wild) turtles can be serious, though most Salmonella poisoning comes from ingesting contaminated food not petting turtles.
It is estimated that 1.4 million people are infected with non-typhoidal Salmonella in the United Stateseach year, resulting in approximately 400 deaths per year. Of 153 human deaths associated with foodborne pathogens studied from 1996-1999, 38% had Salmonella as the etiologic agent (Kennedy et. al., 2004). A study of 9,905 patients reporting infection with Salmonella found 22% required hospitalization with a median length of 3 days, and reported outcomes in 9,026 patients showed a fatality rate of 0.6%. - Wildlife Epidemiology Lab 2015, retrieved 2015/11/06, original source: http://vetmed.illinois.edu/wel/projectHealthPathBoxTurtle.html
However the same actions that occur on other pathogens in the septic tank and in drainfield soils should be effective in handling Salmonella that may be in your turtle wastewater unless you live by the ocean or a lake (Paul et als. 1995).
Paul, John H., Joan B. Rose, Jordan Brown, Eugene A. Shinn, Steven Miller, and Samuel R. Farrah. "Viral tracer studies indicate contamination of marine waters by sewage disposal practices in key largo, Florida." Applied and Environmental Microbiology 61, no. 6 (1995): 2230-2234.
Abstract:
Domestic wastewater disposal practices in the Florida Keys are primarily limited to on-site disposal systems such as septic tanks, injection wells, and illegal cesspits. Poorly treated sewage is thus released into the highly porous subsurface Key Largo limestone matrix. To investigate the fate and transport of sewage in the subsurface environment and the potential for contamination of marine surface waters, we employed bacteriophages as tracers in a domestic septic system and a simulated injection well in Key Largo, Florida. Transport of bacteriophage (Phi)HSIC-1 from the septic tank to adjacent surface canal waters and outstanding marine waters occurred in as little as 11 and 23 h, respectively. Transport of the Salmonella phage PRD1 from the simulated injection well to a canal adjacent to the injection site occurred in 11.2 h. Estimated rates of migration of viral tracers ranged from 0.57 to 24.2 m/h, over 500-fold greater than flow rates measured previously by subsurface flow meters in similar environments. These results suggest that current on-site disposal practices can lead to contamination of the subsurface and surface marine waters in the Keys.
Yates, Marylynn V. "Septic Tank Density and Ground‐Water Contamination." Groundwater 23, no. 5 (1985): 586-591.
More reading on Salmonella pathogens, human disease and turtles:
CHIODINI, RODRICK J., and JOHN P. SUNDBERG. "Salmonellosis in reptiles: a review." American Journal of Epidemiology 113, no. 5 (1981): 494-499.
Manire, Charles A., Howard L. Rhinehart, Deanna A. Sutton, Elizabeth H. Thompson, Michael G. Rinaldi, John D. Buck, and Elliott Jacobson. "Disseminated mycotic infection caused by Colletotrichum acutatum in a Kemp's ridley sea turtle (Lepidochelys kempi)." Journal of clinical microbiology 40, no. 11 (2002): 4273-4280.
Mermin, Jonathan, Lori Hutwagner, Duc Vugia, Sue Shallow, Pamela Daily, Jeffrey Bender, Jane Koehler, Ruthanne Marcus, and Frederick J. Angulo. "Reptiles, amphibians, and human Salmonella infection: a population-based, case-control study." Clinical Infectious Diseases 38, no. Supplement 3 (2004): S253-S261.
Woodward, David L., Rasik Khakhria, and Wendy M. Johnson. "Human salmonellosis associated with exotic pets." Journal of Clinical Microbiology 35, no. 11 (1997): 2786-2790.
Question: using rinse aid liquid in septic systems
(Mar 15, 2015) SarahW said:
Can you use Rinse Aid liquid with a sewage treatment plant?

Reply:
Sarah
As long as you are using this or any house hold washing material such as laundry soap or dishwasher detergent or a dishwasher spot preventer at the manufacturer's recommended levels the concentration of those substances in the septic tank should be so low as to be harmless.
Question: dishwasher recommendations for private septic systems
(Mar 30, 2015) Sandra V. said:
Is there a particular brand of dishwasher appliance that works best in a home on a septic tank system and handle a 5 person household?

Reply:
No and sort-of, Sandra.
In general, dishwashers clean dishes with less water that will be used by people who wash dishes in the sink while leaving the water running. So as a water-saving appliance a dishwasher also reduces the water load on the septic drainfield.
The dishwasher is not affecting the septic tank itself as long as you are using normal quantities of dishwasher detergent.
IF choosing between two otherwise equal dishwashers, if you choose one that uses less water that further helps your drainfield.
The same point applies to choosing a clothes washing machine.
...
Ask a Question or Search InspectApedia
Questions & answers or comments about the effects of a dishwasher on private septic systems
Try the search box just below, or if you prefer, post a question or comment in the Comments box below and we will respond promptly.
Search the InspectApedia website
Technical Reviewers & References
Click to Show or Hide Citations & References
Alhajjar, Bashar J., John M. Harkin, and Gordon Chesters. "Detergent formula effect on transport of nutrients to ground water from septic systems." Ground water 27, no. 2 (1989): 209-219.
Alhajjar, Bashar J., C. Linn Gould, Gordon Chesters, and John M. Harkin. "Influence of detergent formulation on nutrient movement through sand columns simulating mound and conventional septic system drainfields." Journal of contaminant hydrology 6, no. 4 (1990): 337-356.
Braida, Washington, Say Kee Ong, William L. Smith, and James W. McCabe. "Fate of adsorbable organic halides from bleached laundering in septic tank systems." Environmental toxicology and chemistry 17, no. 3 (1998): 398-403.
Brandes, Marek. "Characteristics of effluents from gray and black water septic tanks." Journal (Water Pollution Control Federation) (1978): 2547-2559.
Coughlin, F. J. "Detergents and water pollution abatement." American Journal of Public Health and the Nations Health 55, no. 5 (1965): 760-771.
Close, Murray E., Lynley R. Hodgson, and Greg Tod. "Field evaluation of fluorescent whitening agents and sodium tripolyphosphate as indicators of septic tank contamination in domestic wells." New Zealand journal of marine and freshwater research 23, no. 4 (1989): 563-568.
Patterson, Robert A. "A resident's role in minimising nitrogen, phosphorus and salt in domestic wastewater." In On-Site Wastewater Treatment X, 21-24 March 2004, p. 1. American Society of Agricultural and Biological Engineers, 2004.
Patterson, Robert Alfred. "On-site treatment and disposal of septic tank effluent." PhD diss., University of New England. Armidale, 1994.
Whelan, B. R., and Z. V. Titamnis. "Daily chemical variability of domestic septic tank effluent." Water, Air, and Soil Pollution 17, no. 2 (1982): 131-139.
New York State Department of Health, "Appendix 75-A Wastewater Treatment Standards - Individual Household Systems", [PDF] New York State Department of Health, 3 February 2010, retrieved 3/1/2010, original source: https://www.health.ny.gov/regulations/nycrr/title_10/part_75/appendix_75-a.htm
New York Times: "When it Comes to Detergents, What's the Least Irresponsible Choice?", Julie Scelfo, New York Times, /26/2009 p. D7
Subcommittee, Orsanco Detergent. "Components of household synthetic detergents in water and sewage." J. Amer. Water Works Assoc 5 (1963): 369-371.
Septic Tank/Soil-Absorption Systems: How to Operate & Maintain [ copy on file as /septic/Septic_Operation_USDA.pdf ] - , Equipment Tips, U.S. Department of Agriculture, 8271 1302, 7100 Engineering, 2300 Recreation, September 1982, web search 08/28/2010, original source: http://www.fs.fed.us/t-d/pubs/pdfimage/82711302.pdf.
Pennsylvania State Fact Sheets relating to domestic wastewater treatment systems include

Pennsylvania State Wastewater Treatment Fact Sheet SW-161, Septic System Failure: Diagnosis and Treatment
Pennsylvania State Wastewater Treatment Fact Sheet SW-162, The Soil Media and the Percolation Test
Pennsylvania State Wastewater Treatment Fact Sheet SW-l64, Mound Systems for Wastewater Treatment
Pennsylvania State Wastewater Treatment Fact Sheet SW-165, Septic Tank-Soil Absorption Systems
Document Sources used for this web page include but are not limited to: Agricultural Fact Sheet #SW-161 "Septic Tank Pumping," by Paul D. Robillard and Kelli S. Martin. Penn State College of Agriculture - Cooperative Extension, edited and annotated by Dan Friedman (Thanks: to Bob Mackey for proofreading the original source material.)

Szymanski, Nathan, and Robert A. Patterson. "Effective microorganisms (EM) and wastewater systems." Future Directions For On-Site Systems: Best Management Practice Proceedings of On-Site 3 (2003): 347-354.
Zoller, Uri. "Groundwater Contamination by Detergents and Polycyclic Aromatic Hydrocarbons–A Global Problem of Organic Contaminants: Is the Solution Locally Specific?." Water science and technology 27, no. 7-8 (1993): 187-194.
Advanced Onsite Wastewater Systems Technologies, Anish R. Jantrania, Mark A. Gross. Anish Jantrania, Ph.D., P.E., M.B.A., is a Consulting Engineer, in Mechanicsville VA, 804-550-0389 (2006). Outstanding technical reference especially on alternative septic system design alternatives. Written for designers and engineers, this book is not at all easy going for homeowners but is a text I recommend for professionals--DF.
Builder's Guide to Wells and Septic Systems, Woodson, R. Dodge: $ 24.95; MCGRAW HILL B; TP; Quoting from Amazon's description: For the homebuilder, one mistake in estimating or installing wells and septic systems can cost thousands of dollars. This comprehensive guide filled with case studies can prevent that. Master plumber R. Dodge Woodson packs this reader-friendly guide with guidance and information, including details on new techniques and materials that can economize and expedite jobs and advice on how to avoid mistakes in both estimating and construction. Chapters cover virtually every aspect of wells and septic systems, including on-site evaluations; site limitations; bidding; soil studies, septic designs, and code-related issues; drilled and dug wells, gravel and pipe, chamber-type, and gravity septic systems; pump stations; common problems with well installation; and remedies for poor septic situations. Woodson also discusses ways to increase profits by avoiding cost overruns.
Country Plumbing: Living with a Septic System, Hartigan, Gerry: $ 9.95; ALAN C HOOD & TP; Quoting an Amazon reviewer's comment, with which we agree--DF:This book is informative as far as it goes and might be most useful for someone with an older system. But it was written in the early 1980s. A lot has changed since then. In particular, the book doesn't cover any of the newer systems that are used more and more nowadays in some parts of the country -- sand mounds, aeration systems, lagoons, etc.
...
Books & Articles on Building & Environmental Inspection, Testing, Diagnosis, & Repair
...
Publisher InspectApedia.com - Daniel Friedman