Roof-Wall Flashing SNAFUs to Avoid
InspectAPedia tolerates no conflicts of interest. We have no relationship with advertisers, products, or services discussed at this website.
Roof-wall flashing detail specifications & SNAFUs:
This article illustrates and discusses alternate or rather goofy attempts at roof-wall intersection flashing to prevent leaks & water damage and points out where leak risks may remain.
In our page top photo my grandson, Tanner Gilligan points out the white caulk that was installed as a stopgap measure where the builder has installed a bay window into a stuccoed wall without proper roof-wall flashing (red arrow).
Tanner would have also pointed out the horizontal flashing (orange arrow) had he not needed his other arm to hold on to the building.
We also provide a MASTER INDEX to this topic, or you can try the page top or bottom SEARCH BOX as a quick way to find information you need.
Wall Flashing & Step Flashing Snarl-Ups to Avoid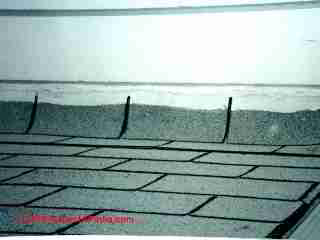 This article series discusses best practices construction details for building exteriors, including water and air barriers, building flashing products & installation, wood siding material choices & installation, vinyl siding, stucco exteriors, building trim, exterior caulks and sealants, exterior building adhesives, and choices and application of exterior finishes on buildings: paints, stains.
Above we show a feeble attempt at flashing and counter flashing at the roof-wall intersection of a low slope roof. The installer tacked a row of asphalt shingles to the wall, caulked their top edge, and hoped for the best.
Proper Roof-Wall Flashing Example
To install the roof-wall flashing above the builder bent the top edge of the flashing into a 90-degree lip about 2 cm in width. That lip is then set into a reglet or groove, in this case cut into the mortar joint of the brick wall above. Above the flashing lip the groove is sealed with mortar or with a sealant to prevent water from running behind the flashing and to hold it in place.
Just below we illustrate a proper installation of flashing, in this case lead, installed at the abutment of a lower roof to a masonry wall on a building near Goodrich Castle in Ross on Wye in Herefordshire in the U.K.
Also see CAULKS & SEALANTS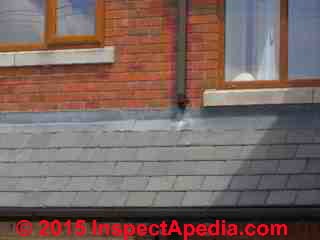 More Questonable or Ugly Roof-Wall Flashing Examples
Below we illustrate that using a single piece of metal flashing where the uppermost edge of a shed-roof abuts a vertical building sidewall works fine, though the use of exposed nails (see our photo below) may form leak or wear points in the roof.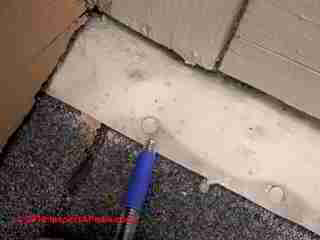 Below we discuss the very different case of the use of single-piece versus step flashing at the abutment of the side of a sloping roof to a building sidewall.
Re-Using Step Flashing When Re-Roofing?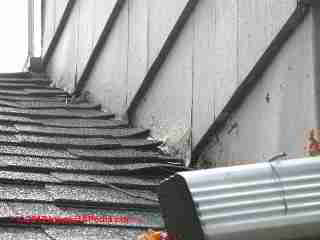 At re-roofing time, when the old shingles are to be torn off, it's not always so easy to re-use the original step flashing that extends up under the building siding.
The new shingle courses have to line up exactly with the original shingle course/step flashing placement, the old step flashing is often bent-up during old shingle removal, making it hard to get the new shingles to lay flat.
As we see in our step flashing re-use at re-roofing time photo (left) the installer cut the new shingles too long so they have two reasons to be buckled, lifted, and vulnerable to wind-blown rain leaks at this building wall.
More Step Flashing Snarl ups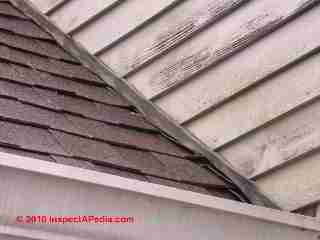 It's easy to get confused when installing step flashing, leading to lots of building leaks. Our step flashing snafu photos below demonstrate a few typical step flashing snarl ups.
At left our photo shows some interesting work. It looks as if someone re-sided the building and installed new counter flashing over a wood strip along the roof-wall intersection.
At least we hope the brown bent-over flashing also extends up under those clapboards.
But take a closer look (click to enlarge) and you'll see that the new roof shingles are out of step with the original step flashing, so that the flashing extends less than an inch on top of each shingle course, and the head of the flashing in some locations appears not very far at all under the shingle course above.
This installation looks questionable. Check inside for leaks.
Flashing against irregular sidewalls such as this up-state New York cabin (above left) can require some thought.
We'd need to use custom-formed lead counterflashing as is done on tile roofs, or cut a reglet into the wall deep enough to bend the counterflashing and hook it into the wall to keep wind-blown rain and wall run-down rain from moving behind this step flashing. Our second photo (above right) shows leak stains on the interior of the building wall where this detail was used.
Proper Roof-Wall Abutment Flashing Examples
Below are two photographs of roof-wall step flashing, completed and effective of a slate roof against a brick wall (below left), and in-process, with step flashing against a dormer sidewall before the dormer siding has been put in place (below right).
Also see FLASHING ROOF WALL DETAILS for more details about proper exterior wall flashing specifications.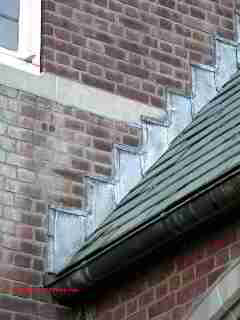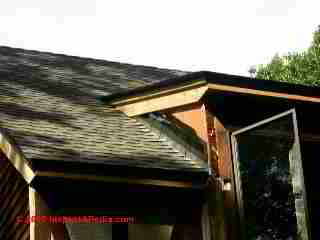 Use of Continuous Single-piece Solid Metal Flashing vs. Step Flashing at Roof-Wall Abutments - Steep Slope Roofs?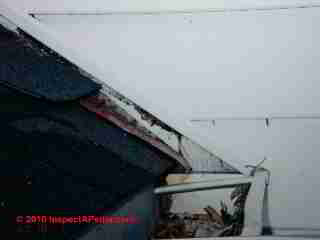 Our photo shows the bottom end of a single-piece of (damaged) sloped-roof-wall flashing. In our OPINION it's not likely that this flashing installation will long resist any significant quantity of water at the lower roof edge, and both blowing wind and any backup due to gutters, ice, or snow will exacerbate the leak risk.
NRCA (Berg) points out that while continuous metal flashing is used at wall junctures in certain steep-slope roof installations, special flashing installation details are required that are different from a step-flashing sealed roof, and even when installed according to specifications, this approach can leave the roof vulnerable to leaks or moisture damage from wind-driven rain.
If single piece flashing is to be used, according to Mr. Berg, [paraphrasing]
The flashing needs to be installed before installing the roof shingles
The metal flashing is formed with a hook edge and cleated on 12" centers
The flashing extends up the wall at least 4"
The flashing extends onto the roof a minimum of 2 inches - 4 inches is preferable in more severe climate areas.
Flashing joints are lapped 6" in the direction of water flow
Building siding material and roofing felt on the building vertical wall may serve as counterflashing [this is true also with the step flashing method if installed at original construction]
The shingles are sealed to the metal flashing with plastic cement to attempt to reduce wind-driven rain penetration, however as this sealing may separate from the material the single-piece flashing approach again becomes vulnerable to leakage
Berg continues that "Because the hook edge and cleats tend to raise the shingles above the flashing, the detail is somewhat vulnerable to wind-driven rain and from moisture trapped in debris that may accumulate in lower areas of the flashing".
OPINION: DF: inspecting thousands of residential properties we have encountered quite a few attempts to use a single piece of metal flashing instead of step flashing at roof-wall abutments, virtually never installed according even to the not-entirely-reliable NRCA recommendations above.
And in our experience, when a single piece of flashing extends only a few inches under the shingles, especially on a long roof slope, and worse on a roof that happens to slope slightly towards rather than away from the abutting vertical building wall, the accumulated roof drainage water near the bottom end of the roof-wall intersection will overwhelm the width of the flashing and, because it is not directed back out on top of successive shingle courses, it leaks into the building or building wall.
In sum, single piece roof-wall flashing is a bad idea in the hands of typical residential roofers and re-roofers, and this approach has been found by home inspectors to be unreliable in practice.
This article is an addendum to FLASHING ROOF WALL DETAILS [live link just below] adapted from BEST ROOFING PRACTICES.
...
Continue reading at FLASHING ROOF WALL DETAILS or select a topic from closely-related articles below, or see our complete INDEX to RELATED ARTICLES below.
Or see FLASHING on BUILDINGS - home
Or see FLASHING WALL DETAILS for building walls
Or see WALL / WINDOW LEAK DIAGNOSIS
Suggested citation for this web page
FLASHING ROOF-WALL SNAFU at InspectApedia.com - online encyclopedia of building & environmental inspection, testing, diagnosis, repair, & problem prevention advice.
Or use the SEARCH BOX found below to Ask a Question or Search InspectApedia
...
Ask a Question or Search InspectApedia
Questions & answers or comments about problems and leaks at roof-wall joint flashing locations.
Try the search box just below, or if you prefer, post a question or comment in the Comments box below and we will respond promptly.
Search the InspectApedia website
Technical Reviewers & References
Click to Show or Hide Citations & References
InspectAPedia.com® - Daniel Friedman - Publisher & Editor.
Steve Bliss's Building Advisor at buildingadvisor.com helps homeowners & contractors plan & complete successful building & remodeling projects: buying land, site work, building design, cost estimating, materials & components, & project management through complete construction. Email: info@buildingadvisor.com
Steven Bliss served as editorial director and co-publisher of The Journal of Light Construction for 16 years and previously as building technology editor for Progressive Builder and Solar Age magazines. He worked in the building trades as a carpenter and design/build contractor for more than ten years and holds a masters degree from the Harvard Graduate School of Education. Excerpts from his recent book, Best Practices Guide to Residential Construction, Wiley (November 18, 2005) ISBN-10: 0471648361, ISBN-13: 978-0471648369, appear throughout this website, with permission and courtesy of Wiley & Sons. Best Practices Guide is available from the publisher, J. Wiley & Sons, and also at Amazon.com
InspectAPedia Bookstore lists recommended books, organized by topic & available for purchase. Most of our articles also include a list of recommended books for the specific article topic as well as other references, and information sources.
Critique, contributions wanted: Contact Us to suggest corrections or additions to articles at this website, and if you wish, to receive online listing and credit as a contributor. Particular thanks are due to the many experts and also consumers who read and critique technical articles at InspectAPedia.com.
Additional technical contributors & reference sources for this article are listed below.
Best Practices Guide to Residential Construction, by Steven Bliss. John Wiley & Sons, 2006. ISBN-10: 0471648361, ISBN-13: 978-0471648369, Hardcover: 320 pages, available from Amazon.com and also Wiley.com. See our book review of this publication.
Paul Galow - technical consultant on networking, LAN design, applications support. Galow Consulting Services, 914-204-1749, email: paulgalow@galowconsulting.com
John Rudy, Advantage Home Inspections, Flemington N.J. 08822 home inspector, 908-806- 6364, Home, Radon & Termite Inspections, Central & Parts of North New Jersey, email: jonadvantage1@yahoo.com
"Flashing: the plain solution to leaky walls", Thomas E. Remmele, Manager, Technical Services, Sto Corporation, Building Standards, November/December 1999 p. 21-25.
NRCA - National Roofing Contractors Association - http://www.nrca.net/, 10255 W. Higgins Road, Suite 600, Rosemont, IL 60018-5607, Tel: (847) 299-9070 Fax: (847) 299-1183
"Continuous metal vs. step flashing in steep-slope roofing", Donald Berg, P.E., Professional Roofing (NRCA), June 1993, p. 57.
Books & Articles on Building & Environmental Inspection, Testing, Diagnosis, & Repair
Our recommended books about building & mechanical systems design, inspection, problem diagnosis, and repair, and about indoor environment and IAQ testing, diagnosis, and cleanup are at the InspectAPedia Bookstore. Also see our Book Reviews - InspectAPedia.
Decks and Porches, the JLC Guide to, Best Practices for Outdoor Spaces, Steve Bliss (Editor), The Journal of Light Construction, Williston VT, 2010 ISBN 10: 1-928580-42-4, ISBN 13: 978-1-928580-42-3, available from Amazon.com
The Journal of Light Construction has generously given reprint permission to InspectAPedia.com for this article. All rights and contents are ©Journal of Light Construction and may not be reproduced in any form.
...