Snow Retention Systems: Snow Guards for Metal, Slate & Tile Roofs
SNOW GUARDS & SNOW BRAKES - CONTENTS: Specifications, uses & photographs of snow guards on roofs, procedures for installation of snow guards on slate roofs, on metal roofs, on rubber roofs. Guide to all types of snow retention systems: snow guards, snow guard shoes, snow loops, snow brakes, snow rails, snow fences used on various roofs & roof slopes. Installation specifications for snow brakes & snow guards on roofs. How to attach snow retention systems, snow guards, bars, brakes, to the roof mechanically or using adhesive-sealants for glue-on plastic snow-gaurds and brakes. Sources to buy snow guards, snow brakes, snow guard clamps, adhesives, mounts
POST a QUESTION or READ FAQs about the need for snow guards & snow brakes on roofs, how snow guards are installed, & snow guard spacing intervals on roofs
InspectAPedia tolerates no conflicts of interest. We have no relationship with advertisers, products, or services discussed at this website.
Snow retention systems guide to roof snow guards & snow fences & their installation methods.
This article series illustrates types of snow guards or snow brakes or other snow retention devices used on metal, rubber, asphalt, and slate roofs and we explain and illustrate in photographs just how and where these devices are attached to building roofs. We give the reasons for snow & ice retainer use and their history.
We also describe the hazards and damage risks to roofs, gutters, and items on the ground (shrubs, people, vehicles) below roof eaves in snow country where snow guards are omitted. We list product sources: where to buy snow guards and snow & ice retention systems & components.
Green links show where you are. © Copyright 2017 InspectApedia.com, All Rights Reserved.
A Guide to Snow Retention Systems: Snow Brakes and Snow & Ice Guards on Roofs - selection, mounting, maintenance, product sources
What is a snow retention device? What are "Snow Guards" - do they also hold ice?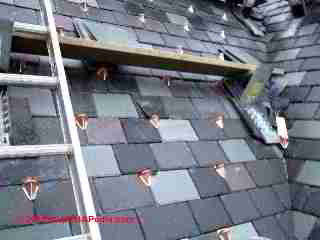 Snow retention systems is a generic term used for a wide range of devices placed on roofs to prevent snow and ice from sliding down and falling off the roof - an event that is dangerous to people below and that can damage buildings and building components.
[Click to enlarge any image]
The types of snow retention systems can be described by the snow retainer physical shape or design (one manufacturer provides an abrasive roof coating), but keep in mind that there is also a variety of methods of attaching the snow retainer device itself to the roof surface.
In this article we describe all of the different types of snow retention devices, their attachment methods, and their advantages and risks.
Article Series Contents
Why are Snow Brakes or Snow Guards Needed on Building Roofs?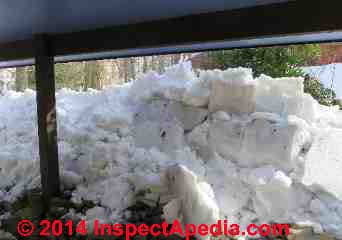 Snow brakes, or snow guards are used on metal roofs covering buildings in snow-prone areas. Our photo (left) shows snow piled nearly from ground to rooftop following a snow and ice slide that fell off of two heights of metal roofs shown at the top of this page.
Imagine the damage that could be caused by such a weight of snow and ice falling from a rooftop.
Snow guards are installed as a safety measure to avoid clobbering someone entering or exiting the building at a bad moment.

At a New York property we watched as a huge curl of snow and ice fell off of a metal roof onto a vehicle parked close to the building, smashing the car's hood.
Snow guards are installed to avoid knocking gutters off of the structure.

Properly placing gutters so that the outermost gutter edge is at or below the extended roof slope plane can help prevent ice or snow from knocking gutters off, though in heavy snow areas we often see that homeowners have given up on the idea of keeping gutters on a metal-roofed home, using other means to direct roof runoff away from the building.

Watch out: in addition to gutter damage from sliding snow and ice, we've seen sliding snow and ice damage plumbing vents - a failure that risks leaks into the roof system and into the building.
Snow guards are installed to avoid piles of snow on entrance steps and platforms
Snow guards are installed to avoid damage to lower roofs. For example, heavy loads of snow and ice suddenly falling from an upper roof slope on to a lower standing seam metal roof may bend or damage the standing seams, and snow or ice falling from an upper to a lower slate or tile roof could break slates or tiles on the lower surface.
Snow guards are also installed to avoid damage to shrubs or other landscaping or to protect mechanical systems such as air conditioning compressor/condenser equipment located beneath the building eaves.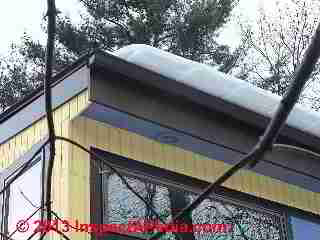 Our photo illustrates how snow creeps outwards from the roof edge in a shelf formation when no snow retention system is installed on a building.

Eventually the snow extending out from this roof falls onto a lower roof at this building (see photo at page top), with a resounding whoomph that shakes the walls. Snow guards are needed here.
Snow guards and a bit of their history are discussed in NPS "From Asbestos to Zinc" from which we quote:
Snow guards or snow brakes, as they are sometimes called, began appearing on slate and metal roofs of New England in the late 1800s.
The tremendous quantities of snow and ice that accumulated on these roofs made the wood or metal diverter, typically attached above the front entry, an ineffective tool in preventing the snow from sliding down the roof.
With snow guards in place, the snow would eventually blow away or remain until it melted. Not only was the risk of damage to objects and persons below avoided, but the banking of snow and ice at the eaves was prevented, thus eliminating the chances of backwater and consequent leaks, as well as a straining of the gutter structure.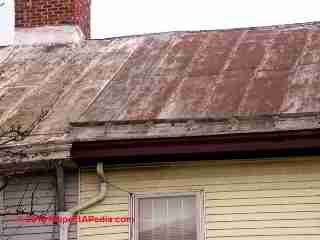 This photo of snow brakes on rusty a standing seam metal roof demonstrates that snow guards or snow hooks were widely used on metal roofs for more than 100 years.
At SLATE ROOF HARDWARE we show more snow brakes and guards used on slate roofs.
Also see SLATE ROOF INSPECTION & REPAIR and see our metal roofing home page, METAL ROOFING.
Snow Guard Hardware
Photographs of Slate Roof Snow Guards & Snow Brakes or Snow Hooks
Below we include our own catalog of photographs of snow brakes, snow guards, snow hooks, and other on-roof devices to control against snow damage and hazards, including snow guard examples and similar roof snow brakes & materials from the 1800's up to 2012.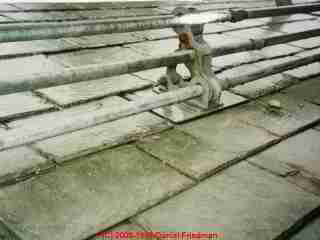 While in general snow retention systems use the terms "snow guard" and "snow brake" or even "snow bracket" and "snow hook" interchangeably, for clarity we call the long horizontal device shown on a slate roof at left a "snow brake" or "snow fence" or "snow bar" while we refer to individual, non-linear devices attached to the roof surface as snow guards.
Above at left we show a close view of a snow Brake or "Snow Bar" shown above installed on a slate roof in New York's Hudson Valley and at above right a ground-level view that explains why we need to get up on a ladder to ee what's going on on a roof.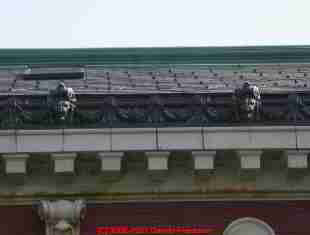 Snow Guard Hooks, when we see them installed along with heat tapes may lead a roof inspector suspect that the building has suffered ice dam leaks or ice falling at building entry or both.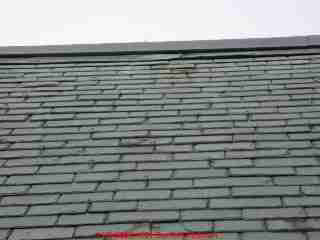 Wire Loop snow "hooks" are snow retainers that are made using a heavy gauge wire instead of flat metal or plastic protrusions show in other photos in this article.
Snow Hooks, the wire loops shown in our photo at left were installed during the slate roof installation by nailing the wire loop's supporting base to the roof deck between the side butt joints of slates.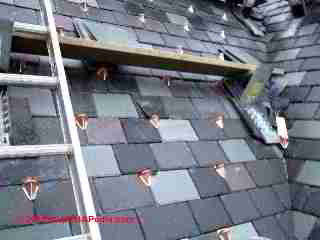 Shown above are new copper snow guards being installed on a slate roof that was also being replaced/repaired on the Wimpfheimer Nursery building on the Vassar College Campus, Poughkeepsie, NY - March 2010.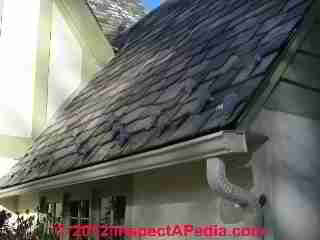 Our photograph above shows traditional structurally-secured slate roof snow guards include a nailed bracket that is covered by upper or succeeding courses of slates (photo at left), and are installed during roof installation.

To retrofit snow guards to a slate roof it may be necessary to remove and reinstall some slates to avoid drilling through slates or trying to glue a snow guard to an older, weathered surface.
Metal Roof Snow Retention Systems: Clamp-On & Glue-On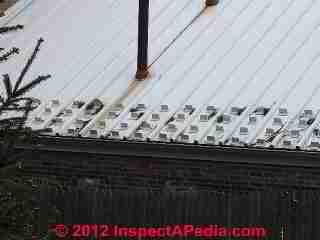 Metal roof snow guards are often installed by gluing the snow guard to the metal roof surface in the center of pans between the standing seams. Berger and also SureBond both note that there it may be possible to install successful adhesive applications on other roof surfaces as well. [2]

Our photo (left) illustrates a plethora of snow guards fastened to a metal roof on the Vassar College Campus.
It appears that the maintenance department has tried a variety of products on this roof, with mixed success.
We have moved the details about metal roof snow retention system to these three sections:
Snow Retention Device Installation Specifications for Location & Spacing
Experts point out that for the placement of individual snow guards (as opposed to long horizontal snow fences or snow brakes) depends on the pitch of the roof. The spacing of clamp on or glue on snow guards side to side from one another and their location up-roof from the roof edge are now discussed in detail at
5 Snow Retention System or Snow Guard Installation Mounting Methods
Individual snow guard mounting methods vary depending on the roof covering material. All snow retention systems use one of these methods to provide snow and ice retention for building roofs.
In short the methods are:
Structurally-connected snow retainer mounts
Clamp-on snow retainer mounts


Adhesive-bonded snow retainer mounts

Clip-on snow retainers
Snow-retention coating
Details about the five methods for mounting or attaching snow retention systems or snow guard to roofs are now found at SNOW GUARD MOUNTING METHODS
Is there a Snow Retention System Building Code?
Short answer: no.
Details including citations of standards, industry literature & scholarly studies regarding the use of snow guards, snow retention systems, and roof snow loading are found at SNOW GUARD BUILDING CODES?
Snow Guard Installation Practices
Reader Comment: Canadian installers disagree on utility of snow guards
2 April 2014 Anonymous wrote:
I live in Canada (Quebec), my house was built in 1956, has low-slope roofing and I had my roof redone with a TPO membrane just before the winter.
Throughout the winter the snow constantly glided (in an avalanche-style sometimes rattling the whole house) forming a massive snow bank (6 feet) at both sides of my house. Being the only house with TPO in the neighbourhood I find that I have still lots of snow to be melt whereas the other neighbours have almost none.
I asked the experts about this, if this was bad or not and I have two contradictory opinions:
1) Use a snow retention system, this will ease the amount of snow that falls to the floor, at the same time improving safety, you don't want snow at the side of your house because you don't know the state of the French drain system (this last one is a fact) and the snow is too close to the wall, even covering the wall as much as 2 feet.
2) It's useless to use a snow retention system, it'll be blown away by the speed of the snow (it's a fairly big roof) and anyway, you don't want snow on your roof. The snow at the side of your house is the same as having a big storm, if your drain can cope with a storm, it can cope with the snow.
Here are [omitted] some pictures of a similar house with the same roof pitch and style:
Reply:
Perhaps you can send us a photo of your home and I can comment further. Use the CONTACT US link to do so.
Meanwhile I'll add that
Option 1) makes sense to avoid snow falling off of the roof and smashing shrubs or forming a snow bank along the building wall. Depending on the extent of eaves overhang, piling snow near a building exterior wall can later trap either rainfall or melting snow against the structure, contributing to basement or crawl space water entry.
Option 2) makes no sense to me. Snow is not blown away by the wind in any uniform nor reliable way. Sometimes in fact wind can build a still deeper snow bank on semi-sheltered areas of a roof slope - depending on wind direction, roof shape & similar factors.
If by your wording you meant that the snow-retention system itself would be "blown away" by the speed of the snow, one can only respond Really?
If you meant to say that the speed of snow sliding down the roof would knock off the snow guard, let's clarify that the snow guard's role is to hold snow on the roof, preventing it from sliding down and thus causing damage. Properly sized, spaced, and secured, the snow guard system results in a sliding-down-roof speed of accumulated snow of zero.
In Quebec and really anywhere that snowfall is a factor in building design, one would expect a roof to be framed to withstand the deepest expected snow cover even if that snow becomes wet later on by rainfall.
If the roof is under-framed, then you would indeed want to get the snow off of the roof - or beef up framing. One would imagine that since your home has been there for about 50 years, unless the framing has been damaged by rot, insects, or modification, it's probably framed correctly for the snow loads.
Reader Question: proper distance up roof to place first snow guard or rail
On a 8:12 slope slate roof, how far up the slope from the eave / gutter line should the first row of a 2 bar snow rail system be placed?
Thanks,
Bill Bowers
wbowers@cvmengineers.com
Reply:
William
Most installers and the instructions I've reviewed from the manufacturers place the first row of a snow rail on the lower roof eave at a roof location that places it essentially above the wall of the building below. That's a better guide than just specifying an up-roof distance measured from the eaves-edge up the roof, because roof overhang extension dimensions vary, while what we want is to place that first load point over the structural wall.
William please take a look at SNOW GUARD SPACING & PATTERN for detals of proper snow guard or fence placement and measurements
Where to Buy Snow & Ice Retention Systems: Snow Brakes, Snow Guards, Snow Hooks, Snow & Ice Fences
Alpine SnowGuards, 289 Harrel St, Morrisville VT 05661, Tel: 888-766-4273, Website: www.alpinesnowguards.com, Email: info@alpinesnowguards.com
[1] Berger Snow Retention Systems, Berger Building Products, 805 Pennsylvania Blvd. Feasterville, PA 19053 Toll-free: 800-523-8852, Email: info@bergerbp.com, Website: http://bergerbp.com
See: http://bergerbp.com/products_snow_snow.php
Berger provides snow rail systems for slate and tile roofs in a variety of configurations as well as glue-on plastic snow guards.
"Berger Snow Guard Guidelines", op.cit. retrieed 5/2/2014, original source: http://www.bergerbp.com/pdf/SnowGuardGuidelines.pdf
GeoTech Products, GT-100 Copper Snow Guards used for asphalt shingled & slate roofs. Available in copper, galvanized steel, stainless steel. Geo-Tech Products, Inc., 47 Alln Blvd., Farmington NY 11735, Tel: 1-516-625-1870, Website: http://www.gtsnowguards.com, Email: GTProduct@aol.com
[2] Precision Snow-Guards, AceClamp®, Standing Seam Metal Roof Supplies, Precision Snow-guards™ - c/o PMC Industries, Inc. 87 Spring Lane, Plainville, CT 06062 Tel: (860) 229-SNOW (7669) provides clear or colored plastic snow guards for metal and rubber roofs, available in "King" and "Queen" sizes. Tel: (860) 229-SNOW (7669). Website: http://www.snow-guards.com/snowguards.php
Rocky Mountain Snow Guards, Inc., 2055 S Raritan Street, Unit B Denver, Co 80223 Office: 720.379.7756 Fax: 720.387.8361 Toll Free: 855-240-3195 Website: http://rockymountainsnowguards.com
[3] S-5!® Snow Retention Systems, S-5! Attachment Solutions, Metal Roof Innovations, LTD. 8655 Table Butte Road Colorado Springs, CO 80908 (888) 825-3432, Email: info@s-5.com, Website: http://www.s-5.com/snow/

The company's products include milled solid block aluminum snow rail mounting clamps of varying shapes & designs. We are evaluating the S-5! clamps provided by this company. These clamps attach to the standing seams on a metal roof and in turn are used to attach a snow rail or snow fence. The company also provides solar panel hold-downs for metal roofs.- Ed.
[4] SnoBar™, Tel: 800-711-9724, Website: http://www.snobar.com/index.html The company's products include a patented one-piece roof clamp bracket & other brackets for attaching bars used as snow rails or snow fences. No street address was provided.
[5] Alpine SnowGuards® 289 Harrel Street Morrisville, VT 05661 Tel: 888-766-9994, Email: info@alpinesnowguards.com Website: http://www.alpinesnowguards.com/ [No direct retail sales]
[6] ATAS Snow Retention Products, ATAS Headquarters Allentown, Pennsylvania 18106 Phone: 800-468-1441 FAX: 610-395-9342 Email: info@atas.com, Website: http://www.atas.com/Company/Contact.aspx
[7] Pacific Sheet Metal, Aspen Office & Shop, 401 Aspen Airport Business Center Aspen, Colorado 81611, Email: sales@pacificsheetmetal.net, Tel: 970.925.2454. The company provides a line of very sturdy snow rails or fences that mount to the seams of a metal roof.
[8] Gough Snow Guards, Brookfield IL, Tel: 708-485-6272, Website: http://www.snoguard.com/ The company's products include copper snow guards installed on slate roofs and tile roofs, as well as standing seam metal roof snow retention systems.
[9] AMSI Supply 4333 Lynwood Ct, Douglasville, GA 30134, metal roofing components, Tel: 800-943-9771
[10] SnowGrip, 126 Woodward Ave., Iron Mountain, MI  49801, Tel: 06-396-7000, Email: mark@snowgripit.com Website: http://www.snowgripit.com/
[11] BRB Metal Roofing & Manufacturing, 1726 North Green Ave., Suite 900 Purcell, OK 73080 P.O. Box 506 Purcell, OK 73080, Tel: 877-272-7663, distributes the SnowBoss™ mechanically attached snow retention system for metal roofs
Surebond, St. Charles IL, Tel: 1-877-843-1818, website: www.surebond.com, producer of Surebond Sb-190 clear adhesive sealant as well as a range of other sealant and adhesive products.
Metal Roofing Sources & Products
Classic Products www.classicroof.com Modular metal shingle panels and standing seam panels
Decra Roofing Systems www.decra.com Modular metal shingle, tile, and shake panels
Dura-Lok Roofing Systems www.duraloc.com Modular metal roofing shingles with granular coating
Fabral www.fabral.com Exposed fastener and concealed clip metal roofing panels
Gerard Roofing Technologies www.gerardusa.com Modular metal shake and tile panels with granular coating
Met-Tile www.met-tile.com Modular metal roof-tile panels
Atas International www.atas.com Modular metal shingle, tile, and standing-seam panels
Custom-Bilt Metals www.custombiltmetals.com Modular metal shakes and standing seam panels
Zappone Manufacturing, website www.zappone.com/
Zappone Manufacturing, 2928 North Pittsburg St. Spokane, WA 99207 1-800-285-2677, Washington State Copper Roofing Supplier of Copper scallop shingles, copper shingles, copper bay windows, vertical walls, aluminum roof shingles
Roof Venting Underlayments
Benjamin Obdyke www.benjaminobdyke.com Cedar Breather, a 3/8 -in.-thick matrix-type underlayment designed to provide ventilation and drainage space under wood roofing
More Information about Roofing Materials, Methods, Standards
Asphalt Roofing Manufacturers Association (ARMA) www.asphaltroofing.org
Cedar Shake and Shingle Bureau www.cedarbureau.org
Metal Roofing Alliance www.metalroofing.com
Tile Roofing Institute www.tileroofing.org
Snow Guard & Snow Brake Articles
...
Continue reading at SNOW RETENTION SYSTEM HARDWARE or select a topic from closely-related articles below, or see our complete INDEX to RELATED ARTICLES below.
Or see ROOFING INSPECTION & REPAIR - home
Suggested citation for this web page
SNOW GUARDS & SNOW BRAKES at InspectApedia.com - online encyclopedia of building & environmental inspection, testing, diagnosis, repair, & problem prevention advice.
Or use the SEARCH BOX found below to Ask a Question or Search InspectApedia
...
Frequently Asked Questions (FAQs)
Try the search box below or CONTACT US by email if you cannot find the answer you need at InspectApedia.
...
Ask a Question or Search InspectApedia
Use the "Click to Show or Hide FAQs" link just above to see recently-posted questions, comments, replies, try the search box just below, or if you prefer, post a question or comment in the Comments box below and we will respond promptly.
Search the InspectApedia website
Technical Reviewers & References
Click to Show or Hide Citations & References
[1] Berger Snow Retention Systems, Berger Building Products, 805 Pennsylvania Blvd. Feasterville, PA 19053 Toll-free: 800-523-8852805, Email: info@bergerbuildingproducts.com, Website: BergerBuildingProducts.com
See: http://www.bergerbuildingproducts.com/pdfs/catalog_snowguards.pdf
[2] Precision Snow-Guards, AceClamp®, Standing Seam Metal Roof Supplies, Precision Snow-guards™ - c/o PMC Industries, Inc. 87 Spring Lane, Plainville, CT 06062 Tel: (860) 229-SNOW (7669) provides clear or colored plastic snow guards for metal and rubber roofs, available in "King" and "Queen" sizes. Tel: (860) 229-SNOW (7669). Website: http://www.snow-guards.com/snowguards.php
[3] S-5!® Snow Retention Systems, S-5! Attachment Solutions, Metal Roof Innovations, LTD. 8655 Table Butte Road Colorado Springs, CO 80908 (888) 825-3432, Email: info@s-5.com, Website: http://www.s-5.com/snow/

The company's products include milled solid block aluminum snow rail mounting clamps of varying shapes & designs. We are evaluating the S-5! clamps provided by this company. These clamps attach to the standing seams on a metal roof and in turn are used to attach a snow rail or snow fence. The company also provides solar panel hold-downs for metal roofs.- Ed.
[4] SnoBar™, Tel: 800-711-9724, Website: http://www.snobar.com/index.html The company's products include a patented one-piece roof clamp bracket & other brackets for attaching bars used as snow rails or snow fences. No street address was provided.
[5] Alpine SnowGuards® 289 Harrel Street Morrisville, VT 05661 Tel: 888-766-9994, Email: info@alpinesnowguards.com Website: http://www.alpinesnowguards.com/ [No direct retail sales]
[6] ATAS Snow Retention Products, ATAS Headquarters Allentown, Pennsylvania 18106 Phone: 800-468-1441 FAX: 610-395-9342 Email: info@atas.com, Website: http://www.atas.com/Company/Contact.aspx
[7] Pacific Sheet Metal, Aspen Office & Shop, 401 Aspen Airport Business Center Aspen, Colorado 81611, Email: sales@pacificsheetmetal.net, Tel: 970.925.2454. The company provides a line of very sturdy snow rails or fences that mount to the seams of a metal roof.
[8] Gough Snow Guards, Brookfield IL, Tel: 708-485-6272, Website: http://www.snoguard.com/ The company's products include copper snow guards installed on slate roofs and tile roofs, as well as standing seam metal roof snow retention systems.
[9] AMSI Supply 4333 Lynwood Ct, Douglasville, GA 30134, metal roofing components, Tel: 800-943-9771
[10] SnowGrip, 126 Woodward Ave., Iron Mountain, MI  49801, Tel: 06-396-7000, Email: mark@snowgripit.com Website: http://www.snowgripit.com/
[11] ARMA - Asphalt Roofing Manufacturer's Association - http://www.asphaltroofing.org/
750 National Press Building, 529 14th Street, NW, Washington, DC 20045, Tel: 202 / 207-0917
ASTM - ASTM International, 100 Barr Harbor Drive, PO Box C700, West Conshohocken, PA, 19428-2959 USA The ASTM standards listed below can be purchased in fulltext directly from http://www.astm.org/
[12] Cedar Shake & Shingle Bureau, CSSB, U.S.: Sumas, WA 98295-1178, Tel: 604-820-7700, In Canada: Cedar Shake and Shingle Bureau #2 - 7101 Horne Street, Mission, BC V2V 7A2 Tel: (604) 820-7700, E-mail: info@cedarbureau.com , website: http://www.cedarbureau.org/
[13] Forest Products Laboratory, US FPL, One Gifford Pinchot Drive, Madison, WI 53726, Tel: (608) 231-9200, Email: mailroom_forest_products_laboratory@fs.fed.us608-231-9200, website: http://www.fpl.fs.fed.us/
[14] NRCA - National Roofing Contractors Association - http://www.nrca.net/, 10255 W. Higgins Road, Suite 600, Rosemont, IL 60018-5607, Tel: (847) 299-9070
[15] Eric Galow, Galow Homes, Lagrangeville, NY. Mr. Galow can be reached by email: ericgalow@gmail.com or by telephone: 914-474-6613. Mr. Galow specializes in residential construction including both new homes and repairs, renovations, and additions.
[16] UL - Underwriters Laboratories - http://www.ul.com/
2600 N.W. Lake Rd.
Camas, WA 98607-8542
Tel: 1.877.854.3577 / Fax: 1.360.817.6278 E-mail: cec.us@us.ul.com
[17] "From Asbestos to Zinc, Gutters", Technical Preservation Services, National Park Service, U.S. Department of the Interior, web search 9./29.10, original source: http://www.nps.gov/history/hps/tps/roofingexhibit/gutters.htm
[18] Best Practices Guide to Residential Construction, by Steven Bliss. John Wiley & Sons, 2006. ISBN-10: 0471648361, ISBN-13: 978-0471648369, Hardcover: 320 pages, available from Amazon.com and also Wiley.com. See our book review of this publication
[20] Terry Anderson, "Snow Retention - the Invisible Code", web search 7/13/12, original source: http://snow.tra-mage.com/news-articles/snow-retention-the-invisible-code.html [copy on file as: Anderson Dec 2011 Interface.pdf ]
Building Pathology, Deterioration, Diagnostics, and Intervention, Samuel Y. Harris, P.E., AIA, Esq., ISBN 0-471-33172-4, John Wiley & Sons, 2001 [General building science-DF] ISBN-10: 0471331724 ISBN-13: 978-0471331728
Building Pathology: Principles and Practice, David Watt, Wiley-Blackwell; 2 edition (March 7, 2008) ISBN-10: 1405161035 ISBN-13: 978-1405161039
Built-Up Roof Systems, Manual, C.W. Griffin, Mcgraw-Hill (Tx); 2nd edition (July 1982), ISBN-10: 0070247838, ISBN-13: 978-0070247833
Concrete Folded Plate Roofs, C. Wilby PhD BSc CEng FICE FIStructE (Author), Butterworth-Heinemann, 1998, ISBN-10: 0340662662, ISBN-13: 978-0340662663
Concrete Shell Roofs, C. Wilby PhD BSc CEng FICE FIStructE (Author),
Concrete Dome Roofs (Longman Concrete Design and Construction Series),
Concrete Roofing Tile, History of the, Batsford, 1959, AISN B000HLLOUC (available used)
Copper Roofing, by CDA
Copper Roofing, Master specifications for copper roofing and sheet metal work in building construction: Institutional, commercial, industrial, I.E. Anderson, 1961 (hard to find)
Corrugated Iron, Building on the Frontier, Simon Holloway
Green Roof Plants: A Resource and Planting Guide, Edmund C. Snodgrass, Lucie L. Snodgrass, Timber Press, Incorporated, 2006, ISBN-10: 0881927872, ISBN-13: 978-0881927870. The text covers moisture needs, heat tolerance, hardiness, bloom color, foliage characteristics, and height of 350 species and cultivars.
Green Roof Construction and Maintenance, Kelley Luckett, McGraw-Hill Professional, 2009, ISBN-10: 007160880X, ISBN-13: 978-0071608800, quoting: Key questions to ask at each stage of the green building process Tested tips and techniques for successful structural design Construction methods for new and existing buildings Information on insulation, drainage, detailing, irrigation, and plant selection Details on optimal soil formulation Illustrations featuring various stages of construction Best practices for green roof maintenance A survey of environmental benefits, including evapo-transpiration, storm-water management, habitat restoration, and improvement of air quality Tips on the LEED design and certification process Considerations for assessing return on investment Color photographs of successfully installed green roofs Useful checklists, tables, and charts
Handbook of Building Crafts in Conservation, Jack Bower, Ed., Van Nostrand Reinhold Company, NY 1981 ISBN 0-442-2135-3 Library of Congress Catalog Card Nr. 81-50643.
Historic Preservation Technology: A Primer, Robert A. Young, Wiley (March 21, 2008) ISBN-10: 0471788368 ISBN-13: 978-0471788362
Historic Slate Roofs : With How-to Info and Specifications, Tina Skinner (Ed), Schiffer Publishing, 2008, ISBN-10: 0764330012 , ISBN-13: 978-0764330018
Low Slope Roofing, Manual of, 4th Ed., C.W. Griffin, Richard Fricklas, McGraw-Hill Professional; 4 edition, 2006, ISBN-10: 007145828X, ISBN-13: 978-0071458283

Roof failure causes in depth (and specific methods for avoiding them)
Roof design fundamentals and flourishes, based on voluminous industry research and experience
New technologies and materials -- using them safely and correctly
Comprehensive coverage of all major roofing systems pecifications, inspection, and maintenance tools for roofing work

Metal Roofing, an Illustrated Guide, R.A. Knowlton , [metal shingle roofs],
Patio Roofs, how to build, Sunset Books
Problems in Roofing Design, B. Harrison McCampbell, Butterworth Heineman, 1991 ISBN 0-7506-9162-X (available used)
Roofing The Right Way, Steven Bolt, McGraw-Hill Professional; 3rd Ed (1996), ISBN-10: 0070066507, ISBN-13: 978-0070066502
Slate Roofs, National Slate Association, 1926, reprinted 1977 by Vermont Structural Slate Co., Inc., Fair Haven, VT 05743, 802-265-4933/34. (We recommend this book if you can find it. It has gone in and out of print on occasion.)
Roof Tiling & Slating, a Practical Guide, Kevin Taylor, Crowood Press (2008), ISBN 978-1847970237,
If you have never fixed a roof tile or slate before but have wondered how to go about repairing or replacing them, then this is the book for you. Many of the technical books about roof tiling and slating are rather vague and conveniently ignore some of the trickier problems and how they can be resolved. In Roof Tiling and Slating, the author rejects this cautious approach. Kevin Taylor uses both his extensive knowledge of the trade and his ability to explain the subject in easily understandable terms, to demonstrate how to carry out the work safely to a high standard, using tried and tested methods. 
This clay roof tile guide considers the various types of tiles, slates, and roofing materials on the market as well as their uses, how to estimate the required quantities, and where to buy them. It also discusses how to check and assess a roof and how to identify and rectify problems; describes how to efficiently "set out" roofs from small, simple jobs to larger and more complicated projects, thus making the work quicker, simpler, and neater; examines the correct and the incorrect ways of installing background materials such as underlay, battens, and valley liners; explains how to install interlocking tiles, plain tiles, and artificial and natural slates; covers both modern and traditional methods and skills, including cutting materials by hand without the assistance of power tools; and provides invaluable guidance on repairs and maintenance issues, and highlights common mistakes and how they can be avoided. The author, Kevin Taylor, works for the National Federation of Roofing Contractors as a technical manager presenting technical advice and providing education and training for young roofers.
The Slate Roof Bible, Joseph Jenkins, www.jenkinsslate.com, 143 Forest Lane, PO Box 607, Grove City, PA 16127 - 866-641-7141 (We recommend this book).
Slate Roofing in Canada (Studi4es in archaeology, architecture, and history),
Smart Guide: Roofing: Step-by-Step Projects, Creative Homeowner (Ed), 2004, ISBN-10: 1580111491, ISBN-13: 978-1580111492
Solar heating, radiative cooling and thermal movement: Their effects on built-up roofing (United States. National Bureau of Standards. Technical note), William C Cullen, Superintendent of Documents, U.S. Govt. Print. Off (1963), ASIN: B0007FTV2Q
Tile Roofs of Alfred: A Clay Tradition in Alfred NY
"Weather-Resistive Barriers [copy on file as /interiors/Weather_Resistant_Barriers_DOE.pdf ] - ", how to select and install housewrap and other types of weather resistive barriers, U.S. DOE
Wood Shingle Roofs, Care and Maintenance of wood shingle and shake roofs(EC), Stanley S. Niemiec (out of print)
Books & Articles on Building & Environmental Inspection, Testing, Diagnosis, & Repair