This series of detailed slate roof inspection and repair articles describes procedures for evaluating the condition of slate roofing. How to inspect, identify defects, and estimate remaining life of slate roofs are addressed.
This slate roofing article series also references slate repair procedures, repair slate sources, slate tool sources, and slate quarries around the world.
Green links show where you are. © Copyright 2017 InspectApedia.com, All Rights Reserved.
Our photo (left) shows a slate roof being replaced in Duluth Minnesota.
Like many building topics, opinions run heavier than actual data. The abandonment of good slate roofs which should have been repaired is a financial shame and the destruction of a valued asset.
At the same time, careless optimism about a bad slate roof which is at the end of its life risks an angry inspection client. This article reviews types of slate, common defects, inspection topics, and some repair tips. We also provide slate sources and where to buy slate roofing materials and slate roofing tools and products.

Slate is a fine grained crystalline rock metamorphosed from bedded deposits of clay and silt. It can be worked into shingles readily because it has two lines of breakability: cleavage and grain. These occur generally at right angles to each other and are independent of the original bedding planes. [See Slate Colors, Chemistry for details.]
A specification for one of the designs included this direction for the French roof: "Slate the sides of the roof with slate 5 x 12 inches, nailed with galvanized nails; all hips and valleys to be flashed with tin in the best manner." the bedding remains in some slate deposits as visible bands running across the cleavage.
Other minerals, considered impurities (calcite and iron sulfides), are slowly transformed by weathering into gypsum, which expands and causes the slate to delaminate.
Slate has been used as a roofing material in Europe for hundreds of years [we believe for more like a thousand or so, or for millenia if stone slabs are included - Ed.], with surviving examples dating to the 8th century.
From the 17th to the 19th centuries, most of the roofing slate used in America was imported from North Wales, where slate quarrying was a major industry.
Although the first commercial slate quarry in the United States was opened in 1785 in Peach Bottom, Pennsylvania, the industry was limited and local until the second half of the 19th century.
At that time the industry grew and matured in response to a growing population, advancements in quarrying technology, an expanding rail system, and the immigration of Welsh slate workers to America.
The United States became a slate exporter after the Civil War, as quarries opened in Vermont, New York, Virginia, and Pennsylvania.
Architectural styles of this period emphasized prominent roof lines and decorative patterns, details that were well suited to the varied colors and shapes available in slate. Properties such as nonflammability, durability, minimal maintenance costs, and aesthetic value made slate all the more desirable. Its primary drawback was its weight, making shipping costly and requiring substantial roof framing.
Between 1897 and 1914 production peaked. Later use of slate often employed different thicknesses and colors, and unevenly cut or aligned butts to produce picturesque effects suitable for English revival styles popular in the early 20th century. After 1915 widespread use of slate roofing declined in the United States, due in part to a lack of skilled labor, but more importantly, due to the development of modern, mass produced materials such as asphalt shingles, which seemed the more economical alternative.
A slate is typically attached to wooden sheathing with two nails driven through prepunched holes, though as with tile, it may be wired or screwed to steel angles on a steel framed roof.
At the end of the19th century asphalt saturated felt laid over the wood sheathing became a standard part of most slate roof installations. Slate is installed with an overlap that depends on the slope of the roof and requires a minimum pitch (generally 4 inches of rise per 12 inches of run) to effectively shed water. Particularly in coastal areas slate can be found laid in mortar, providing extra protection against wind driven rain.
Today slate continues to be quarried domestically as well as being imported from Europe, the U.K., Canada, China and South America.
An abbreviated original version of this article appeared in the winter 1991 issue of the ASHI Technical Journal - the content has been extensively edited with corrections to the original, additional in-depth text explaining items cited in the original article and adding new material, as well as adding about hundreds of color photographs of slate types and slate roofs for this online version. Copies of the ASHI Technical Journal are available from the American Society of Home Inspectors - ASHI at ashi.com.
...
...
Questions & answers or comments about slate roof troubleshooting, leak diagnosis, & repair .
Use the "Click to Show or Hide FAQs" link just above to see recently-posted questions, comments, replies, try the search box just below, or if you prefer, post a question or comment in the Comments box below and we will respond promptly.
Slate Roofs, National Slate Association, 1926, reprinted 1977 by Vermont Structural Slate Co., Inc., Fair Haven, VT 05743, 802-265-4933/34. (We recommend this book if you can find it. It has gone in and out of print on occasion.)
The Slate Roof Bible, Joseph Jenkins, www.jenkinsslate.com, 143 Forest Lane, PO Box 607, Grove City, PA 16127 - 866-641-7141 (We recommend this book).
Slate Roofs , Steven Trapasso, presentation to NY Metro ASHI, Inc. chapter seminar, November 1990.
The Old-House Journal , Special Roof Issue , April 1983, The Old-House Journal, PO Box 50214, Boulder, CO 80321-0214
National Slate Technology Center courses for architects, builders, etc.
Handbook of Building Crafts in Conservation, Jack Bower, Ed., Van Nostrand Reinhold Company, NY 1981 ISBN 0-442-2135-3 Library of Congress Catalog Card Nr. 81-50643.
Slate Roofing Contractors Association of North America
National Slate Association includes list of slate testing laboratories
"From Asbestos to Zinc, Roofing for Historic buildings, Metals-part III, Slate", Technical Preservation Services, National Park Service, U.S. Department of the Interior, web search 9./29.10, original source:
http://www.nps.gov/history/hps/tps/roofingexhibit/slate.htm
Slate Roofs, National Slate Association, 1926, reprinted 1977 by Vermont Structural Slate Co., Inc., Fair Haven, VT 05743, 802-265-4933/34. (We recommend this book if you can find it. It has gone in and out of print on occasion.)
The Slate Roof Bible, Joseph Jenkins, www.jenkinsslate.com, 143 Forest Lane, PO Box 607, Grove City, PA 16127 - 866-641-7141 (We recommend this book).
Slate Roofs , Steven Trapasso, presentation to NY Metro ASHI, Inc. chapter seminar, November 1990.
The Old-House Journal , Special Roof Issue , April 1983, The Old-House Journal, PO Box 50214, Boulder, CO 80321-0214
National Slate Technology Center courses for architects, builders, etc.
Slate Roofing Contractors Association of North America
National Slate Association includes list of slate testing laboratories
The Slate Roof Bible, Joseph Jenkins, www.jenkinsslate.com, 143 Forest Lane, PO Box 607, Grove City, PA 16127 - 866-641-7141 (We recommend this book).
Slate Roofing in Canada (Studies in archaeology, architecture, and history),
Vermont Structural Slate Co., PO Box 98 Fair Haven, VT 05743 802/265-4933 802/265-3865 FAX (Green, purple, unfading red, and Spanish imported black.)
Rising & Nelson Slate Co., West Pawlet, VT 05775; 802/645-0150 (all VT colors plus Buckingham Gray from VA and blacks from PA.)
Evergreen Slate Co., 68 Potter Ave., Granville, NY 12832; 518/642-2530. Vermont slates in 10 colors.
Hilltop Slate Co., Middle Granville, NY 12849; 518/642-2270 (all VT colors plus imported Spanish Black)
Structural Slate Co., Pen Argyl, PA 18072; 215/863-4145 (PA black)
Buckingham Slate Co., 4110 Fitzhugh Ave., Richmond, VA 23230; 805/355-4351 (VA Buckingham Grey)
Eternit, Inc., rigid fiber reinforced cement roofing slates (and board products. Village Center Drive, Reading, PA 19607 800/233-3155
BritSlateTM are made from 100% quarried slate particles combined with an adhesive (epoxy?) and no fillers with no questionable side effects according to the manufacturer. According to the manufacturer, they can be cut, drilled, etc. and come with a 50-year guarantee. They're less prone to breakage than slate, fireproof, and do not absorb water (like natural slate), and do not encourage organic growth (moss and lichens) because they are not porous. BritSlate North America, Inc., 647 West Boylston St., Worcester, MA 01606 508/852-4888 508/852-7224 FAX 2/90.
Reinforced-cement shingles which "look like slate but are lighter and one-third the cost" are available from Atlas International Building Products, 5600 Hochelaga St., Montreal, Quebec, Canada H1N 1W1. [$180/square loose or $400./sq. installed, 30-year guarantee.]
Supra-Slate "looks like slate and is manufactured in colors of real quarry slate." Tegusol is a double interlocking clay roof tile. Available from: Supradur Manufacturing Corporation, PO Box 908, Rye, NY 10580 800/223-1948 or 914/967-8230. or 122 East 42nd St., NY, NY 10168 212/697-1160
Lifetile(R) Boral Concrete Products, Inc., produces high density extruded concrete roofing tiles meeting Class "A" requirements. Dallas, TX 214/544-2227
Procedures, Repair Methods, Slate and Replacement Sources
See SLATE ROOF INSPECTION PROCEDURE for details of this topic.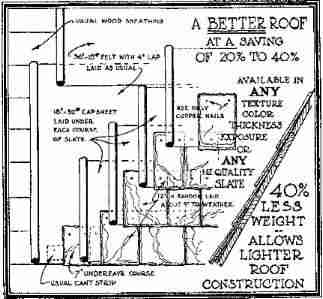 Alan Carson & Dan Friedman
Every slate roof looks terrific when it's wet - unless you're seeing leaks inside. There are, fortunately, some better ways to look at and think about this material. Slate roof failures result from breakdown of the material itself, from poor installation, or from poor maintenance.
Evaluation of the condition of slate roofing, and estimating its remaining life considers at least these factors:
type of slate - durability of the material itself
age and condition of the slates - where are we in the expected life of the material and what damage is visible
installation quality, fasteners used
evidence of repair history, quality of maintenance work
leaks - a telltale which could point to any or all of the above
This article discusses these concerns. Other very important factors in evaluating the condition of a building roof such as the condition of roof decking or sheathing, and roof structure and framing, and condition of valleys and other flashings. Many of the slate roof defects discussed below are illustrated in our online Slate Roof Photo Library included below in this document.
Inspectors should be cautious in evaluating roof condition to avoid failing the roof material itself when leaks are confined to flashing areas. We've found good Vermont slate roofs which have been "roofed over" with asphalt (and ruined) when the leaks were located in and only in metal valleys. Metal flashings may be deteriorating from slate particles washing off of the roof.
We read repair suggestions in the Old-House Journal involving use of roofing cement and felt for temporary purposes, as well as the preferable soldered or replacement repairs. We've found severe corrosion, particularly on copper, when asphalt roof cement has been used for temporary repairs. In our opinion this is a poor short-term repair which causes increased damage. On an historic restoration project involving slate roofs with copper flashings the worst corrosion we found on the copper was where roof cement had been used to patch leaks. Other patches and materials over similar leaks caused much less apparent damage.> are not considered in this discussion but must indeed be evaluated by the inspector.
Slate used in Roofing
See Types of Roofing Slate for details of this topic.
Variations occur in color, thickness, surface texture, graduated sizes and varying widths. Standard slate roofs use slates 3/16" to 1/4" thick of one uniform length and width with square tails laid to a line in a conventional shingling pattern.
Textural style roofs use rough-textured slates with uneven butts and varied thickness. Different colors and varying sizes are often used. The resulting roof has a very rustic look.
Graduated slate roofs use slates which vary in size and often in thickness, with larger slates at the eaves, smaller and with less shingle exposure at the ridge. Original work graduated roofs show smooth transition among the sizes from larger to smaller as each course of slates approaches the ridge line. Where lots of repair work was done this effect may have been lost. This roof style makes the roof and building look larger and taller than it actually is.
Shingle exposure is the portion of the shingle which you can see from outside, or the portion left exposed to the weather. In most shingle roofing systems the exposed portion of the shingle is considerably less than the total shingle length.
In addition to color, graduated and textural patterns, slates are placed in a variety of shingling patterns, of which several are illustrated in sketches throughout this paper and in the Slate Roof Photo Library, such as French, Dutch-lap, and open-lap patterns. The Dutch lap uses a 3" side overlap and a vertical exposure of all but 3" of the slate. The result is essentially a single layer of roofing with only 3" of overlap at the top and side. The open joints are all on one side or the other along any given row or course of slates. This system is extra vulnerable to wind-driven rain.
The French method slate pattern also offers essentially a single layer of roofing with three inches around the perimeter of each shingle.
Finally, slates have a natural "grain" in the material. Normally the slates are cut so that the grain runs the length of the slates. If the slate is quarried improperly, the nail holes create a perforated effect on the slate and it will break in half at the nail holes after the installation. Watch for this interesting defect.
See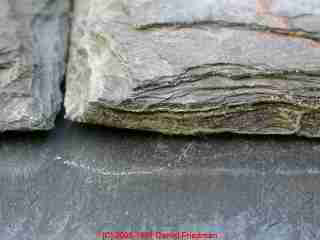 this slate edge close up, showing the natural layering of mineral deposits in the original stone.
Slate Colors, Chemistry, Durability
See Slate Colors, Chemistry for details of this topic.
According to the National Slate Association slate is a stone material which has an indefinite life.
Slate Roofs, reprinted by the Vermont Structural Slate Co. We caution readers that while this is absolutely the best reference we've found on slate roofing, the language on durability is a bit enthusiastic. You'll have to look closely at the footnotes to identify the less durable materials.
Because the actual composition of slate affects its durability (and cost), the identification of the source of existing slates is useful in evaluating the condition and future life of a roof. Common sources of roofing slates used in the US and Canada are Pennsylvania, Virginia, and Vermont. California, Georgia, Michigan, New York and Maine also have or had slate quarries. In 1924 the remaining active slate quarrying areas were Maine, Vermont-New York, Pennsylvania, and Virginia. Common slate names have British origins. Maine's Bangor recalls Bangor blue mined in North Wales.
Identification of the slate source by visual inspection is difficult by other than experienced slate handlers or laboratories. However as the slate source has such a dramatic effect on the expected life of the material, any anecdotal, historical, or visual clues are useful. Readers are cautioned not to assume that slates in their area necessarily came only from the nearest slate quarry. Though that's a reasonable bet in many cases, one might find Virginia slate or Maine slate on roofs as distant from the quarries as British Columbia! Vermont Structural Slate Co. will identify slates if you mail them a 1.5"x1.5" triangular sample.
Basic slate roofing colors, their composition, and their sources
Basic roofing slate colors are black, blue-black, gray, blue-gray, purple, mottled purple and green, green, and red. These color names should be preceded by designations of "unfading" or "weathering" (discussed later). Color is determined by variations in chemical and mineral composition.
The mineral composition of the shale from which slates are cut varies significantly among quarries and from state to state in the US. The primary constituents are white and black mica.
See later details in this article. A detailed procedure for analysis of slates was documented in US Geological Survey Bulletin #700, "The Analysis of Silicate and Carbonate Rocks", by Dr. W.F. Hillebrand.
Virginia roofing slate colors & characteristics
Virginia Roofing Slate is blue-gray in color, tough, durable, and considered a top quality material by most slate sources. This slate is notable for a peculiar luster giving attractive lights and shadows on roofs.
Vermont roofing slate colors & characteristics
Vermont roofing slate is typically green with purple, black, and red available. Vermont green slate is the most abundant, with well developed cleavage (easy to split into roofing slates), with good "fissibility" (relatively easy to work), making it the most common variety used. Slate from Vermont is lower in lime content than the Pennsylvania variety. Chemical composition of slates varies of course by quarry as does slate color. Slates are available in both fading and non-fading varieties. In Vermont slate fading color is not considered an indication of deterioration. Rather it's an aesthetic factor.
Blue-gray Pennsylvania roofing slate colors & characteristics
Pennsylvania blue-gray slate is possibly the best known and most widely distributed of the common slate colors. Some architects and roofers call these slates Pennsylvania black. But as "Black-Bed" slates, a less durable material, might be confused with the better quality Pennsylvania material, the blue-gray name should be used.
Unfading Pennsylvania gray roofing slate color, appearance, characteristics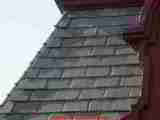 This is probably a Pennsylvania Gray slate roof on a NY College Campus in Poughkeepsie. Unfading Pennsylvania gray slate, which weathers or fades less than "weathering" varieties, has soft gray tones and may have additional strength or durability. Unfading Pennsylvania black, heavier than other slates, has a rougher appearance and does not, as its name claims, fade significantly. [Fading may be taken to mean a general "lightening" across the slate.] Blue-black "hard-vein" Pennsylvania slates are hard material which grows darker on exposure to weather.
Gray and Grey-Black roofing slates, where they are from, and their characteristics
Gray and gray-black roofing slates are quarried in Vermont and parts of New York. The gray is lighter than the Pennsylvania blue-gray. You may find it mixed with purple. Gray-black is quarried in both light and dark grays, some with a mottled effect. Unfading green, weathering green, unfading purple, unfading mottled purple and green, variegated purple have been quarried in Vermont and New York.
Unfading red roofing slate, where it is quarried, and its wear characteristics
Ribbon Slates, why they were used, and their wear characteristics
Most references claimed that ribbon slates were inferior and likely to have a shorter life due to their mineral inclusions. However in New York one of the authors (DF) has observed ribbon slate roofs which appeared to be in good condition after 90 years.
These slates were selected for cosmetic beauty in some installations and for lower price in others. The inspector needs to examine the specific roof to determine if the ribbon slates involved are deteriorating from mineral wash-out or alternatively if they are in good condition.
Freak slate colors, what are "freak roofing slates"?
If you find slate which is not one of these colors it's a "freak". It would be rare to find a freak which was quarried thinner than 1/4", usually in greater thickness up to 2". Some are not true slates in every quality and may not be salvageable when worn or on roofs in poor condition.
Aging and Durability of Slate Roofing - How Long Will a Slate Roof Last?
See Slate Roof Aging and Durability for details of this topic.
Close-up Inspection of Slate Roofs is Necessary to Evaluate Their Condition
We were warned by an experienced slate roofer and we have confirmed by field inspections of slate roofs that determination of slate condition other than by direct up-close inspection is highly unreliable. Slates may look fine from the ground, but be found soft and at end of life on close inspection. By direct inspection we mean looking at slates from a few inches, either from a ladder or some other point of view such as an attic window. We strongly advise inspectors not to walk on slate roofs. Risks include falling - very slippery, and extensive damage to the slates.
Trapasso, personal communication.
The photographs provided here show how soft roofing slates can become. These slates might, from a distance, look pretty good, but I was easily able to crush the slates with my fingers. we do not agree that we should call this "rotted roofing slate" as did Trapasso, but on seeing how soft and delaminated this slate can become, we can understand his loose use of that term.
Roofing Slate Life Depends on From Where Slates were Quarried
Life expectancy of Virginia Buckingham roofing slate
Darker gray "Buckingham" slates from Virginia are considered a durable high-quality material which, properly maintained, can have a near indefinite life. Average life of these slates is 175 years.
The Old House Journal, April, 1983 p. 57
Life expectancy of Vermont roofing slate
Vermont slate roofs, with proper maintenance, can last indefinitely.
The Old House Journal, April 1983, p.58, and Slate Roofs, National Slate Association, p. 71.
By other sources, Vermont slates have life expectancy of 100-200 years.
Steven Trapasso, personal communication. Also the Old House Journal April 1983 rates Vermont slates as having a 175 year life.
Such roofs should be maintained, not replaced. With proper maintenance such an asset may be continued for an indefinite period. Inspectors who do not know the composition and source of slates would not want to condemn, except in the worst of circumstances, a Vermont slate roof.
Life expectancy of Pennsylvania roofing slate
Typical life for Pennsylvania slate roofs is 40-50 years. These life expectancies are general experience with the material and do not consider installation or environmental factors which vary from one building to the next.
Life expectancy of British and Welsh roofing slate
Earlier British experimentation on slate durability and composition emphasized that variations in the tendency of slates to absorb water may be the principal cause of deterioration seen by modern inspectors. Slates which are soft, delaminating, and thus are at or near end of their useful life may have been damaged by frost. "That sort of slate", said Dr. Watson, the bishop of Llandaff, "other circumstances being the same, is esteemed the best, which imbibes the least water; for the imbibed water not only increases the weight of the covering, but, in frosty weather, being converted into ice, it swells and shivers the slate." Watson continued to suggest that slates, being less porous than clay roofing tiles of the day, were more durable. --The New Practical Builder and Workman's Companion , Peter Nicholson, 1823, reissued 1861, republished with companion modern opinions in Handbook of Building Crafts in Conservation , 1981.
Watson's opinion that slates are more durable than clay tiles is arguable as both materials are found with considerable variation in composition. Indeed unglazed clay absorbs more water (up to 10%) than slate (usually 1%) but tiles are not necessarily damaged by these freeze-thaw conditions. Watson's comments pertain to use of slate in Britain.
The extent of color change in Pennsylvania [and possibly other] slates often indicates the extent of deterioration. More white, more efflorescence probably means more deteriorated.
What is the normal rate of deterioration of roofing slates?
The rate of slate deterioration on roofs depends on the source quarry and the depth from which the slates were cut. These determine the density and composition of the slate. Site conditions, such as the roof pitch, exposure to sun, building moisture and ventilation and exposure to mechanical damage also affect slate life. It is interesting to note that several references indicate that slates actually harden after being quarried and exposed. We'd presume that observation pertains to the early or initial state of use of the slates, and we found no reference which claimed some chemical or molecular process of permanent or continuing hardening over life.
Signs of deteriorating roofing slate
Deteriorating Pennsylvania slate shows a mottled appearance, with white faded patches resulting from exposure to sunlight and moisture. The white areas generally begin at the three exposed sides of a slate, growing towards the center of the slate as a function of time and exposure.
The white visible in Pennsylvania slate is evidence of efflorescence - lime deposited on the slate surface. If the whole slate is white in color and scaling you should consider the slate to be at the end of its life. However as long as the slates are physically intact the roof is serviceable. If a roofer recommends tearing off the whole roof you should ask to be shown examples of failed slates.
Roofing slate fading versus mottling
Fading versus mottling: It is important for an inspector to distinguish between the mottled edges-in whitening (efflorescence) and fading. By contrast to the efflorescence process, fading slates generally fade monotonically across the slate rather than from edges in. Faded slates will not show an obvious whitish powder of surface deposited mineral salts as thick as that left by efflorescence. All slates will fade from weather exposure. Those which have only minimal color change are classed as "permanent" or "unfading". Those which change more markedly are classed as "weathering".
Monotonically means that the color change is even across the material rather than showing up as a splotch, or a ring of white around darker color, or in other variations. It's a nice word, not recommended for inspection reports.
We've heard several explanations for the mechanism by which Pennsylvania slates deteriorate, of which the most interesting was the opinion that lime in the slates in the presence of moisture reacts to break down organic components in the slate. For slates higher in carbon or carbonaceous materials this may be indeed the most accurate explanation. Pennsylvania "Black Bed" quarried slates were high in carbonaceous impurities and were recommended by the Slate Association only for temporary buildings or for chalkboards. By the 1920's this slate was recognized as not as durable; you'd not expect to find it surviving on a building in 1991.
The National Slate Association reference does not detail the mechanism of slate deterioration. It does point out that the slate roof on the Saxon Chapel at Stratford-on-Avon was built 1100 years ago - still in good condition.
Does slate "rot"? By Mr. Trapasso's account the decomposition of Pennsylvania slate may be understood as a process similar to decomposition of wood. The lime which was in the slate, when the slate was mined, had not caused deterioration because the slates were protected from sunlight. When the slate is split, cut, punched for use, the lime is in an inactive or dormant state.
Following application on a roof surface the slate material is exposed to ultraviolet rays (sunlight) and moisture. These components cause the lime to break down the organic materials in the slate (shale), making the slate increasingly porous and causing the white efflorescence. Lime and other mineral salts are dissolved and deposited on the surface of the slate when moisture evaporates.
Slate Roofs, National Slate Association, p.71-76.
Calcium Oxide - Sources of white minerals and oxides in roofing slates
Examining quantitative analysis of slates from nineteen quarries we observe that while oxides of silica (SIO2) and aluminum oxide (AL2O3) are the dominant components of slates, almost all have measurable levels of calcium oxide (CaO) and other carbonates and oxides. There are dramatically higher levels of these materials in Pennsylvania slates (3%) than in slates from Vermont (.3%-.7%). Clearly there is more material available to form calcium carbonates and efflorescence in the shorter lived materials. -- Slate Roofs p. 73 Carbon, which would be broken down in the process described by Trapasso, occurs in slates from only a few quarries, and then in usually small amounts of less than 1%. This would seem to argue against the "slate rots" explanation of deterioration.
Brown staining in roofing slate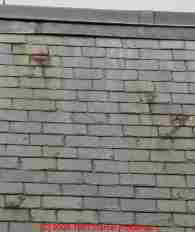 The brown color of some slate may be from oxidizing iron content in the slate which is following a similar reactive path. We did not find references to brown in Virginia slates.
The known chronological age of slates may be available from an owner or other documentation. As with all materials, experienced inspectors rate the apparent wear age of the roof, not the actual age.
Snow Guards on Slate Roofs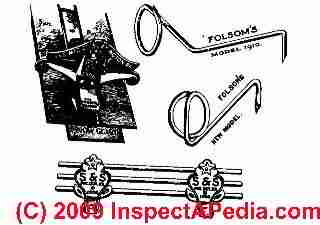 This snow guard intended to keep snow from sliding off of the roof, avoiding gutter damage or avoiding falling snow at building entrances.
Ribbon Slates
See Ribbon Slates for details of this topic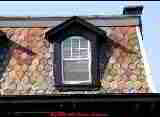 the ribbon slate on this mansard roof slope may have been chosen for appearance, though it was not installed so as to use the ribbon diagonals to form any particular pattern. In the first two photos at left the slates have diagonal colored stripes of mineral inclusion, but they do not show the characteristic delamination and wear we see on classic ribbon slates - we will replace this photo with one of the more typical ribbon slates when we can dig some out of my library.

Some ribbon slates have proven to be quite durable while others show mineral inclusions (making the ribbons of color in the slate) that are softer than the surrounding slate material. These latter ribbon slates were often considered, and proved to be, a less durable roofing slate.
So look closely at your ribbon slates to see if the mineral colored stripes have washed out or deteriorated to form holes or soft spots. If these conditions are not present your ribbon slates may be quite durable.
Slate Roof Installation quality
See Slate Roof Installation Quality for details of this topic.
The following may all be indications that the roof is failing from the condition of the slate nails:
many loose slates sliding down and often, pieces of slate on the ground around the building
numerous repairs showing old slates re-secured in place (could also indicate other problems)
improper tar and flashing materials used to secure loose slates
In our opinion, galvanized flashings (or too-thin thin copper or painted steel) are a mistake on slate roofs. The flashing is very likely to wear, rust, and fail before the slates. While replacing flashings is quite possible and appropriate, it's often expensive and if not done by an experienced slate roofer, there is risk of costly damage to the roof. We had a client this year whose slate roof was damaged by the mason working on the chimney. He accepted a low-bidder for roof repairs. We found asphalt shingles nailed over and around the area of damaged slates. To say that the roof leaked was the least aggravating observation concerning this work.
Inspecting from the attic interior may also give clues to fastener age, type, and condition if some nails are visible. You may see tips of nails, depending on the length of fasteners used.
Slate nails: Proper installations use copper, stainless, or hot-dipped galvanized nails for fastening slates. Very early slate roofs were secured using wood pegs. Later ones used tie-wires in some applications. Slaters' nails have a thinner head than conventional roofing nails, avoiding damage to the covering slates. We've found many slate roofs installed with steel nails in the Northeast. We've also found lots of roofs in that area which are losing good slates from nail failures.
Slate nail holes: When a slate is punched (usually at the quarry) the hole is driven from the back of the slate, leaving a ragged pit at the front (exposed) surface of the slate so that the nail head can be countersunk flush with the top of the slate. This avoids damage to the next course of slates which overlay the nail heads and which may crack under load.
Hand punching of nail holes in slates: Because most roofs have at least some custom slate fitting (for example at valleys), some slates are hand-punched and may be fractured around the nail hole. Usually only two holes are punched, 1.25" to 2" from either side and about a quarter of the length of the slate down from the top. More holes and more nails may be used to hang thicker heavier slates.
Where battens or spaced roof sheathing are used the spacing of the battens will affect where the holes are punched in the slates. Slates punched too close to their centers or too low in the slate are more likely to leak when water seeps down in a fan-shaped pattern from the vertical abutment of the sides of the slates in the next course up the roof. If you are inspecting a roof which frequently leaks following prolonged rains, and if the slates and flashings look pretty good, and if leaks are everywhere, you might look for improper punching or nailing errors. Don't rush to condemn the roof - how often and how badly does it leak? Under what conditions? What is being damaged? Where is water going?
Nail tightness: Slates should hang loosely on the nail. Nails too tight may break the slate as they're pulled through it as wood shrinks. Nails not driven fully are likely to break the slate above.
Other signs of poor installation include inadequate side laps. Side Lapped slate pattern.
Side laps on slate roofs should be not less than 3" and each side-joint should be as near as possible to the center of the slate below. Particularly where improper repairs have been done you may find violations of this rule. Inadequate side laps risk leaks as a result of wind-driven rain. Inadequate side laps might be suspected on roofs which use varying-width or graduated width shingles. However some experienced roofers and inspectors commented that graduated, random-width, graduated width slate roofs were more costly than other slate systems and were often installed by more skilled roofers. Do not mistake graduated or random slate sizes for necessarily improper application.
slate roof condition
See Other factors in Condition for details of this topic.
Roof slope, as with all roof systems, is a big factor in shingle wear. The steeper the slope, the more durable the roof. Slates have been used even on flat roofs, as ballast, and slates were used to line the reflecting pool at the US Capitol in Washington DC.
Condensation in attic interiors can be a problem. All slate roofs need ventilation to equalize the temperature between inside and outside the roof surface. Elimination of unwanted moisture in winter and heat in summer will both extend roof life. Serious damage from interior moisture is likely to be to roof sheathing and framing, but high interior moisture will shorten the life of most roof coverings as well. The open lap slate pattern was probably intended for use on buildings with high interior moisture - perhaps a cow barn.
Most normal slate roof installations, as originally built, may have had adequate ventilation. In our opinion, serious moisture problems may begin when modern renovations insulate between rafters and add interior finishes in attics. For those designs special provisions may be needed to cool and dry the roof cavity.
Mineral deposits found on the interior surface (attic view) of slates, when none are visible outside, are a sign of possible attic moisture problems. Where no outside staining or efflorescence match inside findings, the inspector may suspect that sun exposure is drying the outer surface leaving longer moist conditions inside. If these conditions are not consistent on all roof surfaces you may find the most mineral deposits on the north or shaded roof surfaces.
Moss on slates should be considered as damaging as on any other type of shingle. The moss retains moisture against the slate and its roots may actually penetrate and damage the material. On older roofs with heavy moss the growth can actually lift and separate the shingles. Chemical treatments may help with moss as it does on wood roofs. Extreme care should be used in working with chemicals.
Roof framing for slate roofs is often stronger than similar framing for houses of the same age for which lighter roof materials were used. A slate roof can weigh as little as 700 pounds per square up to 8000 pounds where 2" thick slates were used on a graduated slate roof. On a residential building the maximum weight per square you'd probably find would be 2500 pounds. The addition of slate to a house not framed for this purpose will require an analysis of the roof framing system.
one roofing square is 100 sq. ft.
Clues about the quality of a slater's work may be found in hip and ridge design. This topic is not discussed here. Flashing details, valley flashing methods, weather exposure, mechanical damage from falling limbs, foot traffic or improper workmanship, are examples of other factors which affect roof life. They are not discussed here.
See Alan Carson's "Slate Roof" presentation notes used at several ASHI Seminars.
Roof Repair history
See Slate Roof Repair history for details of this topic.
Tar or roofing mastic is normally an indication of improper maintenance. It should be considered a temporary, unreliable repair. Tar or roofing cement should not be found at chimneys, sidewall flashings, plumbing vents, or elsewhere. The tar itself usually remains effective as a sealant only for a year or so. While in place, tar traps moisture within the slates, causing the slate itself to deteriorate. When flashings leak on a roof they should be repaired or replaced as necessary, without using roof cement.
Copper tabs and fastener failures: Watch for numerous copper tabs at the center of replacement shingles. These indicate that repairs have been made and they may be a clue about the overall condition of the fasteners. In a first-class slate repair you should not be able to see the copper tabs. The Old-House Journal April 1984 roofing issue describes an alternative method for securing slates which will leave a copper tab exposed. Expert roofers have a less visible method of fastening the replacement slate. [See "Repairing Slates" sidebar article.]
Asphalt shingles applied over slate: Using asphalt over slates is surprisingly common "re-roof" procedure as it avoids labor and disposal costs for the slate material. [In some areas of the Northeast it also represents the popularity of lower-cost asphalt and the dearth of experienced slaters who might have repaired the slate roof.] When nailing the asphalt shingles it is common to find only a poor bond of new nails to original roof decking. The slates below tend to chip and bulge the new material resulting in a "peanut brittle" or "popcorn" effect. Since the comparatively large thermal mass of the slates retains heat, the asphalt shingles are "cooked" from their backside as well as from their front when exposed to sunlight. The life of such shingles is estimated by some to be half the normal span.
Leaks in Slate Roof
See Slate Roof Leaks for details of this topic.
All slate roofs probably have at least some flashing, slate, or other damage or mechanical installation errors. Some conditions such as a side lap error, damaged slate, or even flashing error may leak only in certain weather conditions such as windy rain storms from a particular direction, water backup behind ice dams, or prolonged rains. Where slates are missing near valleys the adjoining slates may be damaged as well. Openings may cause leaks or water to pass below the valley flashing even if the flashing looks intact. Where there were previous repairs it's common for the felt underlayment to be torn as well. If there are porous slates or openings above the tears in the felt, water may leak through.
Ice dams at roof eaves can be a serious leak source on slate as most other roof systems. Traditionally 30# felt was used at eaves as "insurance" against this problem. Some slate suppliers recommend this heavier felt for all underlayment, not just at the eaves. However two components conspire to reduce the effectiveness of felt as ice-dam protection: every nail at the eaves punctures the felt, and with age felts often dry and disintegrate before the slates have worn out.
Ice dam protection is improved in new or re-roof applications using the newer sticky membranes such as WR Grace's Ice and Water ShieldTM. However the preferred solution to this problem is proper attic ventilation. Good venting avoids the ice-dam problem and adds reductions in winter moisture and summer heat problems. Old houses whose attics have been converted to living space, particularly with un-vented ceilings following the underside of fully-insulated roofs are likely to be serious moisture and heat traps.
Slope requirements for slate roofs In conventional roofing design slates are used on roofs with a slope of at least 4" of rise in 12" of run, that is, on 4 in 12 roofs. A 3" head lap is used, often 4" when the slope is less than 8 in 12. So a 20" long slate, with a 3" head lap, would have an exposure of 8.5". For 18" slates the exposure is 7.5", and for 16" slates, 6.5". Roofs with less head lap or more exposure may be more leak-prone.
Some slate companies advertised A slate roof that cannot leak, yet [was] inexpensive, easy to apply, beautiful..., durable as time," using a design which was soon found to be a disaster: 12" slates were placed with 9" exposure, leaving 3" for headlap and 6" which was backed only by a cap sheet of 32# felt interlaced with the slates. Roofs were also installed following this poor design, using 14" slates with 10"-11" exposure. Felt is not functional as a permanent roofing material: even where it is not exposed directly to sunlight, as the organics dry out the felt cracks, disintegrates, and leaks. We have reports that inspectors have been the subject of legal actions following their failure to identify this defect in slate roofs. See the illustrations above.
Personal communication, Doug Sheldon, Vermont Structural Slate, December 1990.
Holding actions slate roofs
See Slate Holding actions for details of this topic.
If a client cannot afford to replace a slate roof a wiser course may be to do nothing in the short run, other than to trap small leaks in an attic, or to tar leaky areas. Although these steps are not preferred, they are often better than abandoning what may be a valuable roof of predominantly durable slates.
Tarring leaks in slate roofing systems is an ugly and desperate holding action. However if a roof may be salvaged by deferring a proper repair for a short time we'd probably tolerate this step. Advising clients that the only option is to complete a very expensive slate repair immediately is likely to result in an asphalt roof-over which may, in the long run, be a worse crime. This is clearly a matter of opinion.
Where the slates are good but fasteners are failing, some roofers may be willing to remove, salvage, and reinstall slates. Slates which are less than 1/4" thick should be discarded. The increase in labor costs for this procedure makes this "re-roofing" process expensive. Some slate companies suggest that this procedure might be selected as a continuing repair/maintenance process so that over a decade of maintenance the roof has been totally replaced. It's likely that the total labor bill for a drawn-out project will be larger than the costs of an all-at-once repair. However this approach permits spreading out a large investment over a longer and less painful period.
Personal communication, Vermont Structural Slate, December 1990
ASHI ethical guidelines require inspectors to have no financial connection with work performed on buildings they inspect. But where further evaluation and/or repair advice is needed it is perfectly proper, and in our opinion advisable, to refer clients to experienced, qualified slate roofers just as you would to an expert in another field for other concerns.
For slate roofs, refer clients only to roofers who have experience with slate materials. While we'd prefer to refer a client to three reputable experts, if we could locate only one in our area, by our opinion of what's most sensible, we'd refer to that one. Contractors who are not familiar with slate and confronted by a leak in a valley or in an area of limited mechanical damage, may sell a complete re-roofing job to an anxious owner.
Similarly, improper repairs or traffic on a roof with fragile fasteners or slates, may cause much more new damage than was present before.
Repair Slate Roofs
For illustrated details about slate roof repairs see How to Repair Slate Roofs, and Copper Tab Method and also Slate Hook Method
This section deals with repairs to damaged slate roofs as compared with complete new slate roof installation. A key difficulty is presented by the fact that unlike asphalt shingles, slates are rigid. The repair person cannot easily "lift" adjacent slates to install the fastener for the new replacement slate.
Replacing Lost Slates using the Copper Tab Method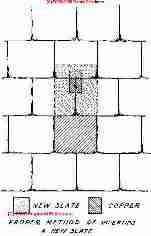 A proper slate repair involves several steps:
Cut the concealed nails, holding the damaged slate in place. There are usually two nails.
acquire the properly sized replacement slate. If the exposure is ten inches the slates should be twenty-three inches long. A proper slate application uses slates which are twice the exposure plus a three-inch allowance for head lap.
slide the slate into place, use the gap between the sides of the above-course of slates to mark the location of a single holding nail.
the nail hole is punched into the slate from the back, so that the ragged part of the hole is on the front or face of the slate. This will allow the nail to sit flush in the hole. It's a crude form of counter-sinking.
nail the replacement slate into place with a copper nail. Sometimes the edges of the nail head have to be cut off to pass between the sides of the two slates in the covering upper course.
cover the new nail with a copper "bib" which is slid up under the covering or overlaying slates to cover the nail hole and to extend up below the next upper covering slate whose bottom edge covers the upper portion of the gap through which the nail was placed. the copper bib should have its edges burred, or should be bent slightly so that it will not slide out. The top of the bib should extend well above the nail and under the slate above. Some roofers slide the bib up under all three of the slates above the repair slate making the copper totally hidden. The bib is bent slightly arched and burred to stay in place.
Using Slate Hooks for Inserting Replacements:
Slate Roof Photos
Books & Articles on Building & Environmental Inspection, Testing, Diagnosis, & Repair
Our recommended books about building & mechanical systems design, inspection, problem diagnosis, and repair, and about indoor environment and IAQ testing, diagnosis, and cleanup are at the InspectAPedia Bookstore. Also see our Book Reviews - InspectAPedia.
Handbook of Building Crafts in Conservation, Jack Bower, Ed., Van Nostrand Reinhold Company, NY 1981 ISBN 0-442-2135-3 Library of Congress Catalog Card Nr. 81-50643.
Historic Preservation Technology: A Primer, Robert A. Young, Wiley (March 21, 2008) ISBN-10: 0471788368 ISBN-13: 978-0471788362
Historic Slate Roofs : With How-to Info and Specifications, Tina Skinner (Ed), Schiffer Publishing, 2008, ISBN-10: 0764330012 , ISBN-13: 978-0764330018
Slate Roofs, National Slate Association, 1926, reprinted 1977 by Vermont Structural Slate Co., Inc., Fair Haven, VT 05743, 802-265-4933/34. (We recommend this book if you can find it. It has gone in and out of print on occasion.)
Roof Tiling & Slating, a Practical Guide, Kevin Taylor, Crowood Press (2008), ISBN 978-1847970237,
If you have never fixed a roof tile or slate before but have wondered how to go about repairing or replacing them, then this is the book for you. Many of the technical books about roof tiling and slating are rather vague and conveniently ignore some of the trickier problems and how they can be resolved. In Roof Tiling and Slating, the author rejects this cautious approach. Kevin Taylor uses both his extensive knowledge of the trade and his ability to explain the subject in easily understandable terms, to demonstrate how to carry out the work safely to a high standard, using tried and tested methods. 
This clay roof tile guide considers the various types of tiles, slates, and roofing materials on the market as well as their uses, how to estimate the required quantities, and where to buy them. It also discusses how to check and assess a roof and how to identify and rectify problems; describes how to efficiently "set out" roofs from small, simple jobs to larger and more complicated projects, thus making the work quicker, simpler, and neater; examines the correct and the incorrect ways of installing background materials such as underlay, battens, and valley liners; explains how to install interlocking tiles, plain tiles, and artificial and natural slates; covers both modern and traditional methods and skills, including cutting materials by hand without the assistance of power tools; and provides invaluable guidance on repairs and maintenance issues, and highlights common mistakes and how they can be avoided. The author, Kevin Taylor, works for the National Federation of Roofing Contractors as a technical manager presenting technical advice and providing education and training for young roofers.
The Slate Roof Bible, Joseph Jenkins, www.jenkinsslate.com, 143 Forest Lane, PO Box 607, Grove City, PA 16127 - 866-641-7141 (We recommend this book).
Slate Roofing in Canada (Studi4es in archaeology, architecture, and history),
...