Asphalt Shingle Cellophane Strip Guide: leave or remove?
Wind resistance rating of asphalt shingles depends on the combination of manufacturer's glue strips, cellophane separator, & possible additional onsite sealing.

CELLOPHANE STRIP REMOVAL? - CONTENTS: what's the purpose of the cellophane or paper release strip found over the glue strip on asphalt shingles? Should we remove the cellophane or silicone-treated paper release strip when nailing shingles or should it be left in place?
POST a QUESTION or READ FAQs about about the cellophane strip protecting the glue strip on asphalt roof shingles: should it be removed or not?
InspectAPedia tolerates no conflicts of interest. We have no relationship with advertisers, products, or services discussed at this website.
Cellophane strip found on / between asphalt roof shingles: this article describes the cellophane strips found between individual asphalt roof shingles - atop the glue strip.
We explain the purpose of this cellophane strip. We answer the question: " Should we remove the cellophane strip when nailing shingles or should it be left in place?" We cite authoritative research from industry experts as well as from shingle manufacturers themselves to give a definitive answer to the asphalt shingle release strip removal question: leave it in place.
Green links show where you are. © Copyright 2014 InspectApedia.com, All Rights Reserved.
Should the Cellophane Strip on the Back of Asphalt Shingles be Pulled Off?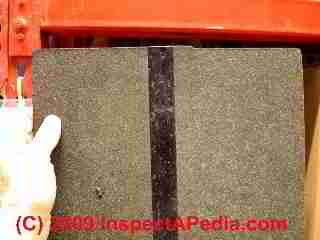 Our photo (left) shows the cellophane strip found on the back or "down"
side of a typical asphalt roof shingle. This one is a GAF™ product.
What is the Purpose of the Cellophane Strip on Asphalt Shingles?
The cellophane strip, found between individual asphalt roof shingles and located just over the glue strip that bonds shingles together is factory-installed to prevent shingles from sticking together while they are still in the bundle - in storage.
The success with which asphalt shingles bond together as the glue strip is heated by sun exposure is a factor in protecting roof shingles from wind-damage and blow-off.
Should we Remove the Cellophane Strip when Installing Shingles? Bottom line: NO!
The debate about whether or not a protective cellophane strip found atop this glue strip on new asphalt shingles has gone on for years and comes up again as new roofers enter the field. Do we remove the cellophane from the shingles as we place them on the roof for nailing or or do we leave it in place? Does it matter one way or the other?
No: In answer to a common reader question, not normally: according to roofing manufacturers, it is not required to remove the cellophane strip on the back of roof shingles before they are nailed. Below we quote from a major manufacturer's instructions.
In short, the people who make shingles tell us to leave the plastic or cellophane sealant protectgion strip in place, explaining that when the shingles are nailed in place the strip on the successive shingle course will no longer be in contact with the adhesive sealant strip on the upper surface of the lower or previous shingle course. [There may be other shingle products in which the strip dissolves, but the strip offset explanation is unambiguous - Ed.]
Yes: as we discuss in more detail below, experts familiar with wind damaged roofs (in coastal areas exposed to hurricanes and in other high-wind areas) previously recommended both the removal of the cellophane strip and the installation of double-sticky-sided roofing adhesive mastic tape or roof cement under shingle tabs at the time of asphalt roof shingle installation.
We agree that adding sealant may be appropriate for some shingle products in some wind zones or weather conditions and may even follow the manufacturers' instructions.
But you don't need to remove the protective stripon the under-side of an asphalt shiingle just to add sealant.
Watch out: furthermore, for some shingles or brands we have observed that tearing off a release strip that happens to have strongly bonded to a shingle can sometimes pull off part of the shingle back, damaging the product and shortening its life.
As Cramer reported in 2009 (see "More on the "yes" answer" just below, currently asphalt shingles sold in high wind areas adhere and cannot be pulled apart by wind (nor hand) once they have set on the roof.
What is the Purpose of the Glue Strip on Asphalt Roof Shingles?

Our photo (left) shows a typical 3-tab asphalt roof shingle (this one is made by GAF™). The shiny black strips form the "glue line" on the shingle.
Prevent shingle damage from wind uplift
This asphalt shingle adhesive strip is intended to bond to the three tabs of the next shingles nailed atop of this one when the roof is later warmed by sunlight.
On occasions, particularly during high wind conditions such as hurricanes, defective glue strips or adhesive strips on the underside of asphalt shingles may not provide sufficient adhesion, or if the shingles were not properly handled and the glue strip was dirty, an adhesion failure can lead to failure of the shingle tabs to adhere to the nailed-down header of the shingle above.
In this case exposure to high winds can cause shingles to tear or blow off of the roof, increasing the degree of water damage inside the building when such winds are accompanied by rain.
In most climates exposure to even a few weeks of normal sunlight will cause the glue tabs on the under-side of asphalt roof shingles to soften and adhere to the surface below.
We discuss the function of asphalt shingle adhesive strips, handling the protective cellophane strip, and shingle uplift wind damage prevention in more detail at WIND DAMAGE to ROOFS.
Certainly if you wait to remove the protective cellophane strip until the moment that the shingle is about to be nailed, taking it off might do no harm, but because it is nowhere near the actual glue tabs or strip of the shingle course below, removing the release strip will not speed the adhesion between shingles that is intended to resist wind blow-off of roof shingles. We suspect that few professional roofers will add to their roofing time and cost by taking a step that is not recommended by the product manufacturer.
And as we cite elsewhere in this article, in some cases pulling off the release strip can damage the underside of the upper shingle course being nailed.
Roofing Manufacturer's Advice about the Cellophane Strip on Shingles: leave in place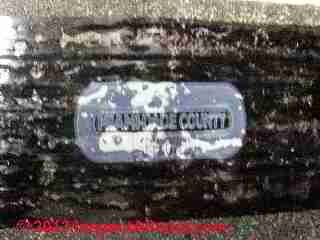 At ASPHALT SHINGLE INSTALLATION we include this quote from the GAF Materials Corporation, Grand Timberline™ Premium Architectural Shingle Application Instructions say about the glue strips and cellophane.
You'll note that according to the manufacturer we are to leave the cellophane strip in place, but if site conditions (high wind) require immediate shingle sealing, an extra step, using additional shingle tab adhesive, is permitted. [Italics ours.]
Our photo at left illustrates the "Miami-Dade County Approved" imprint found on the underside of an asphalt shingle that meets Florida's wind-resistance requirements.
WIND RESISTANCE/HAND SEALING: These shingles have a special thermal sealant that firmly bonds the shingles together after application when exposed to sun and warm temperatures. Shingles installed in Fall or Winter may not seal until the following Spring. If shingles are damaged by winds before sealing or are not exposed to adequate surface temperatures, or if the self sealant gets dirty, the shingles may never seal. Failure to seal under these circumstances results from the nature of self-sealing shingles and is not a manufacturing defect.

To insure immediate sealing, apply 4 quarter-sized dabs of shingle tab adhesive on the back of the shingle 1" (25mm) and 13" (330mm) in from each side and 1" (25mm) up from bottom of the shingle. Press shingle firmly into the adhesive. For maximum wind resistance along rakes, cement shingles to underlayment and each other in a 4" (102mm) width of asphalt plastic roof cement. [More details about this are at WIND DAMAGE to ROOFS]

Watch out: Excess tab adhesive can cause blistering of the shingle.

Watch out: tearing off the cellophane strip on some shingle products might remove shingle material, thus damaging the product.
In the warning just above the company is referring to the use of additional roof shingle adhesive, not the factory-applied glue strip. Also see BLISTERS on ASPHALT SHINGLES.
The film strips on the back of each shingle are to prevent sticking together of the shingles while in the bundle and to keep dirt and debris out of the adhesive material so that after installation the adhesive will work. Their removal is NOT required during application.
More on the "no" answer to removing roof shingle cellophane strips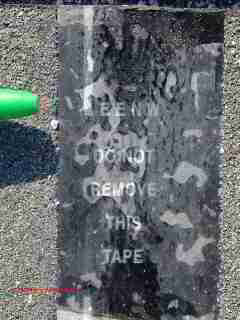 Asphalt roof shingle manufacturers recommend that installers leave that piece of cellophane in place. It does not need to be removed before, during, or after roof shingle installation.
Our photograph of the cellophane strip in place on the underside of an asphalt roof shingle (left) clearly shows that the shingle manufacturer says "Do Not Remove This Tape".
The cellophane tape on the back side of asphalt roof shingles is intended to prevent the glue strips from becoming activated prematurely, in storage or shipping, and equally important, to keep the glue-area clean during the roof installation process: jobsite debris (sawdust, dirt) can prevent the sealant from adhering.
What more can we say: the under-side of the asphalt shingle shown at left plainly says "DO NOT REMOVE THIS TAPE"
[Click to enlarge any image]
Once the roof is installed the heat from sunlight will activate the sealing mastic through the cellophane. It does not need to be removed as part of the roofing process.
Actually, trying to remove the strip after installation might also risk damaging the shingle since you'd have to run along the roof slope lifting nailed-down shingle tabs to try to (unnecessarily) pull off the cellophane - risking tearing shingles and causing also extra foot traffic wear. Indeed a few times we have seen actual pits and holes in the backs of shingles when a roofer ripped off the cellophane that was very bonded to the shingle surface.
More attempts at the "yes" answer on removing roof shingle cellophane strips
One of our readers, Leonard Wheeler, reported that independent analysis of wind damaged roofs concluded that "... many shingles and attachment adhesives used were not adequate for the wind speeds that occurred. The most common failure mode was lifting of the tabs due to failure of the self-seal adhesive, and subsequent tearing of the shingles at the fasteners (Smith, 1994)."
However, because the release strip is nowhere near the glue strip of the shingle course below, the release strip in place will have nothing to do with whether or not the shingle seals adequately from sunlight and heat on the roof. Rather, if more wind uplift resistance is needed, extra adhesive might be added during roof installation.
Our associate, Mark Cramer, a Florida home inspector and educator in the field, reported that houses suffering damage during Hurricane Andrew were generally those not built to code, and that code-built homes survived the hurricane with minimal damage. Mr. Cramer provides this update:
Asphalt roof shingles sold today (2009) in high wind zones are totally different from what we used in the early 90's. Forget the number of nails also, four is fine for most shingles used today. The problem was not number of nails but failure of adhesion.

Today's high wind [asphalt roofing] shingles can't be pulled apart once they seal.
Other measures to reduce water damage to buildings in coastal or high wind areas include use of roof flashing tape or strips of ice-and-water-shield type products over the butt joints between sections of plywood or OSB roof decking. The presence of roofing felt under shingles won't prevent roof leaks after shingles are installed, since the shingle nails will have made thousands of penetrations in that membrane.
A Forensic Engineer's View on Cellophane Strips on Asphalt Roof Shingles
The only time the cellophane strip protects the seal strips is while they are still in the package.
I am a forensic engineer who works for insurance companies. Occasionally I find a limited number of shingles on a roof did not seal because the cellophane strips have attached to the seal strips instead of staying on the underside of the shingles in the package. Let me try to explain that better.
The cellophane strips are attached to the center of the undersides of the shingles at the factory. The seal strips are on the top side at the center of the shingles.
The only time the cellophane strip protects the seal strips is while they are still in the package. Occasionally stacks of shingles are left out in the sun before they are installed, sometimes while at the distribution center, sometimes at the factory, sometimes on the truck that delivers them, sometimes in stacks in the yard before they are installed, and even sometimes across the roof before the roofers open the packages.
In those cases (you see above they can be many cases), the solar radiation can activate the sealing strip adhesive on the top shingle or two or maybe even three, and the cellophane attaches to the top side of the shingle covering the adhesive when the shingles are taken out of the bundle.
Most of the cellophane strips have the instructions not to remove printed on the surface. However, it will be printed in reverse when it sticks to the seal strip (since it is intended to be read from the bottom). However, to most of us that read English it still admonishes that it not be removed, even if it is printed backwards.
With the cellophane in place covering the sealant, the shingles installed over those individual two or three (per bundle) will never seal. This leads to blow-off failure more often than you would think.
I find several like this every year and there may be as many as ten to 15 complete missing shingles on a single roof because of the cellophane sticking to the seal strips.
That is usually enough to put the insurance company on the hook for an entire roof that somebody installed incorrectly.
- James A. Skees, PE [7]
Opinion on When to Remove Cellophane Strips on Asphalt Shingles -DF
Based on the above our opinion is that you may and should leave the cellophane strips in place on the shingle back surface (which is ok with the manufacturer) so long as the strip is intact and in its original position.
But when installing an asphalt shingle roof if you encounter cellophane strips that have already come loose, you may as well remove them and dispose of them off of the roof. The roof will look like a junky installation if there are inches of cellophane blowing in the breeze all over the new roof.
Watch out: Do not leave loose cellophane strips nor any other extraneous debris on a roof, especially when installing new roof shingles as those materials may interfere with proper roof tab sealing and may lead to future increased shingle blow-off in windy conditions.
About deliberately pulling off all of the tabs: if you are in a high wind area and are going to be adding additional sealant anyway, this step is probably unnecessary and is not specified by the manufacturer.
Earlier, in the 1990's we were concerned with excessive bonding between shingles that combined with a lack of tear resistance to lead to premature roof failures due to thermal splitting. It's fair to add, however, that the root cause of that problem was a specification that led to inadequate tear resistance, not an innate fault with shingle tab bonding.
Reader Question: so what happens to the plastic or cellophane strip? If we knew we might stop arguing about whether to remove the strip from shingles or not
[In the article above] you really should include an explanation from someone about what happens to the cellophane strip in the normal adhesion process. Does it break down and allow direct contact? Does it react with the sealant allowing the sealant to pass through?
Does the sealant simply flow around the strip to achieve adhesion? A proper understanding of any process is key to once-and-for-all removing doubt as to the correct interpretation of a procedure. Someone must know how this works. - D.C. 6/13/2013
Reply: the sealant protection strip is offset from the adhesive strip when the shingles are nailed in place - they no longer touch: leave the sealant strip in place
I certainly appreciate your comment and agree that your question is one that many people ponder. I thought we'd driven the nail in the coffin of this debate by citing the manufacturer's advice above, but your comment is a reminder that we never explained just what happens to the cellophane or "plastic" strip - if anything does happen for that matter.

The reason that some e.g. my FL buddies think the strips should be removed is that they're worried about wind blow-off either because of a windstorm before the shingles have sealed (more likely in areas or weather of little sun and low temperatures) or because they fear the factory stick-down sealant strip is inadequate and are trying to improve its performance.

Interesting that GAF and others respond to the early damage or high wind damage NOT by telling anyone to tear off the strips but to add mastic at each shingle tab to increase the total amount of bonding material.

I figure if the people who put the strips there thought the adhesive would bond better by pulling it off at time of shingle installation they would advise doing so in problem or high risk situations. They don't.

Nevertheless you're right, we'd like a clear explanation, and we've got one from GAF.
The company explains that the plastic sealant protection strip is not biodegradable, does not dissolve, melt or anything else. [We add that this means if you could pull off these strips, against the instructions of the manufacturer, you're creating a mess of stuff blowing all over the site: debris that does not magically disappear on its own.
The placement of the asphalt shingle sealant protection strip is the key.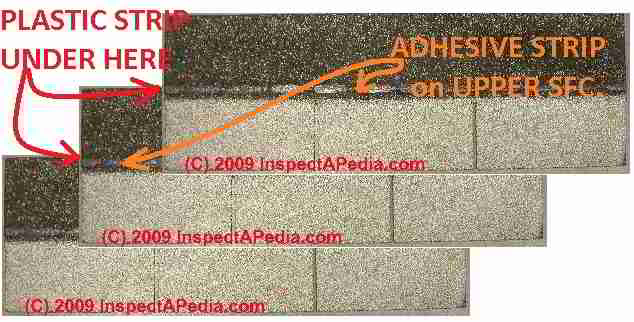 GAF explains that when shingles are in the bundle the plastic (or "cellophane") strip on the underside of a shingle surface is positioned so that it prevents sticking of that shingle to the self-sealing adhesive on the upper surface of the shingle beneath.
But when the roof shingles are installed according to specifications, the location of successive shingle courses will make sure that the stick-preventing plastic strip (bonded to the underside of a shingle) will be offset from the actual location of the sealing adhesive of the shingle course below.
You can see this by noticing where the adhesive strips are in an installed asphalt shingle roof in our illustration (above left).
On the topmost shingle in our illustration, the cellophane strip on that shingle would be on the shingle underside exactly the same distance from the shingle top as is the adhesive strip on that shingle - placing the strip a good 4-inches above the adhesive strip on the course below.
Here is how GAF explains the release strip found between asphalt roofing shingles:
Modern asphalt shingles utilize aggressive asphalt sealant bars or strips to adhere or seal the shingle courses to each other, thereby enhancing wind resistance. During installation, each row of shingles is offset from the prior one and the one above it, which results in the release film being offset. Unlike in the bundle, the release film is no longer positioned over the shingle's sealant bars or strips.

There is no need to remove this film. It should not be removed. DO NOT attempt to torch it off or melt it in any way.
So there is no need to remove the plastic/cellophane strip and further, it should not be removed. Why not? Well in some cases tearing off the strip may remove shingle material, thus damaging the shingle and reducing its life.
In any event, the guideline on leaving the strip in place is clear and unequivocal. Let's hope that with GAF's help we've driven a nail into this popular roofing legend.  GAF Technical services can be contacted online or by telephone as we cite in our references below.[8][9]
See CRACKS in FIBERGLASS SHINGLES
Reader Question: determine shingle age from presence of paper-type shingle release strips?
8/19/2014 Matt S said:
I was inspecting a roof the other day, and I found that the strip was made with a paper product (not plastic or cellophane). The roof appeared to be old; however I am unable to verify due to lack of knowledge of the homeowner and the lack of building permits. Would the paper strip help to speak to the age of the shingle? In other words, was there a time when they transitioned from paper to cellophane? Thanks.
Reply:
Matt that's a very interesting observation. I've installed a few roofs, dating back more than 20 years, without encountering a paper release strip for the adhesive tabs - so the variation may be as much by brand as by age.
These patent disclosures refer to paper release strips on asphalt shingle adhesive spots. The description typically is a silicone-treated paper rather than cellophane.
Bondoc, Alfredo A., Duane A. Davis, Stanley P. Frankoski, and Bruno E. Magnus. "Asphalt shingle." U.S. Patent 4,717,614, issued January 5, 1988.
Kalkanoglu, Husnu M., Robert L. Jenkins, and Stephen A. Koch. "Shingle with improved blow-off resistance." U.S. Patent 6,758,019, issued July 6, 2004.
Robinson, Norman M. "Adhesive arrangement for shingles and the like." U.S. Patent 5,239,802, issued August 31, 1993.
You'll see the years span quite a range, at least from 1988 through 2004. I *suspect* that the reason we see more cellophane than silicone-treated paper release strips is that should a segment of cellophane escape and show on the finished roof it will break down more quickly and be less visible than its paper cousin.
Continue reading at WIND DAMAGE to ROOFS or select a topic from the More Reading links shown below.
Suggested citation for this web page
CELLOPHANE STRIP REMOVAL? at InspectApedia.com - online encyclopedia of building & environmental inspection, testing, diagnosis, repair, & problem prevention advice.
More Reading
...
Frequently Asked Questions (FAQs)
Question: why are there glue strips or spots on asphalt shingles ?
(Apr 2, 2014) Pat said:
I have installed the shingles on my house and removed the cellophane and in the 20 years since then I have not lost one shingle. I moved to a senior housing development and the roofs here are 14 years old and low and behold we had a wind storm and shingles are all over the place along with the cellophane and now a contractor is going to try to sell us to replace all the houses that were not damaged to get new roofs. What ever happened to 20 or 25 year shingles?
Why put the glue strips in the first place?
Reply:
Pat, the glue strips are there to allow the single taps of each upper course to bond to the lower course (with a bit of time and heat from the sun). This bonding in turn prevents wind-damage that otherwise lifts the shingle tabs and blows them off of the roof.
The people with the most at stake in this argument are the roofing manufacturers- we should follow their advice.
Leave the cellophane or paper release strip in place; it's not interfering with bonding, it's job is to prevent the shingles from sticking together while still in the bundle. When the shingles are installed in offset courses up the roof the release strip stuck to the under-side of an individual roof shingle is no longer covering the wind-uplift-damage-prevention glue spots or strips that are exposed on the upper surface of the shingle in the course below.
This is of course a separate question from your last sentence.
Question: reader finds experts confirm: leave the release strips in place but still disagrees
(June 20, 2014) Mike O said:
I called the Roofers Union and they backed up the contractor and said leave the cellophane on.
It will disinigrate ( like his brain )
The dumbest statement that I ever heard was next:
The cellophane is for shipping. What a moron. So what he just said to me is that the tar was
placed on the shingle TO HOLD THE CELLOPHANE IN PLACE!!!!!!
That's called "Back up the love roofer"
THE REAL STORY IS THE TAR was put on the shingle to give it added strength and the cellophane was placed on the tar to prevent them from sticking to each other. STICKING key word The tar strip
is there to give STICKING POWER TO THE SHINGLE and stop them from lifting so rain can get in under them!!!!!!!!!!!!!!!
I have had my roof since 1999 and only 5 shingles blew off and they were the 5 shingles that still
had the cellophane on them.
Reply:
Mike, we have researched this question with great care to find and cite authoritative sources and to put the arm waving speculation. The article above gives correct information. Please take another look and let me know if anything you see there is unclear.
The glue strips or spots on shingles are there to bond down the tabs of the next upper shingle course to protect against wind-uplift damage. The release strips, once the subsequent shingle course is nailed in place, are no longer atop the glue strips on the shingle in the lower course. We leave the release strips in place because
The cellophane or silicone-treated paper release strips on the shingle under-side are doing no harm
The cellophane or silicone-treated paper release strips on the shingle under-side are not in the way of the now-exposed glue strips found on the upper suface of the shingle course below.
There is risk of shingle damage if you pull these release strips off
Question: reader doesn't understand that staggered shingle courses eliminate release-strip worries
(June 21, 2014) Anonymous said:
Try this simple logic: The manufacturer wouldn't have put the goo on the shingle unless it was going to be used to stick to another shingle. Obviously the cellophane strip is to keep it from sticking to other shingles while in transit. The only unanswered question is: Does the cellophane dissolve swiftly after installed, presumably due to the heat of the sun? If yes,the goo would be allowed to serve its purpose - eventually. How long or what minimum heat does it take to dissolve the cellophane? If the cellophane does not dissolve, the goo was put on for no reason whatsoever. If it does dissolve, removing the cellophane manually allows quicker sealing of the goo to the underlying shingle. In not taking the time to remove the cellophane on installation, the installer is gambling that a high wind won't occur before the tape dissolves. I presume also that, if the cellophane is removed, it opens up a lot of opportunities to touch down the shingle a bit crooked, probably without the ability to lift it back up and straighten it. That is another cost factor - lost time and damaged shingles.
Reply:
Simple but mistaken logic. Please read the article above. You'll see that at installation the self-adhesive tar strips and the cellophane strips remain nowhere near one another once the shingles are installed - see the arrows on our illustration, and also that forced tearing off of the cellophane is not recommended by the manufacturer, in part because doing so can cause shingle damage.
Question: reader questions why there is sticky stuff on the underside of the shingle
(July 30, 2014) pete ianuzzi said:
so why is there sticky stuff on the bottom, just to hold the cellophane tape in place?? and did mfr.'s original require you to remove this seal. I seem to remember reading that in the small print many years ago...40+years ago
Reply:
of course not Pete
The functional sticky stuff is the sealant that is present on the upper surface of the shingle in the course below. That sealant is heated by the sun, sealing the next upper course shingle tabs down on to the lower course of shingles.
A small amount of adhesive between the release strip (cellophane or silicone impregnated paper strips) holds the release strip in place bonded out of the way to the underside of the next upper course of shingles. It's not in the way and should be left in place.
Question: reader doesn't understand glue strips, shingle course offset, and does not agree with instructions from the shingle manufacturer
(Aug 8, 2014) Anonymous said:
I just read an article at Inspectapedia.com/roof/shingle....Anonymous below is correct!!!!! Although they go on to
say the bottom line is "NO" you do not need to remove it...There IS a "YES" argument....The YES argument makes more sense
then DanJoeFriedman.....The YES indicates that in high wind areas or areas subject to High WInds and Heavy rains, or if the roof was laid in cooler weather, the cellophane probably will not disintegrate immediately thus allowing dirt or
particles to get under the shingle which MAY NEVER SEAL PROPERLY. IN ADDITION TO REMOVING THE CELLOPHANE, IT IS NOT A BAD IDEA TO APPLY EXTRA SEALANT!
ROOFERS don't want to remove it because of 2 reasons....it takes too long AND if your working like a mad man
and just throwing them down, there is a chance that a misalignment would have to be redone and a shingle wasted.
ITS ALL ABOUT THE $
Reply:
Anonymous
One simply cannot imagine any economic benefit to roofing shingle manufacturers that would accrue from your argument.
But you are part of a considerable group of folks who have trouble picturing where the release strip ends up and where the actual glue strips or spots end up as shingles are placed on the roof. Check out the photo with arrows in the article above and you'll see why leaving the release strip alone is harmless and is recommended.
I should add that in a few instances we have actually seen shingles damaged by the pulling off of the cellophane strip.
Bottom line: remember that the manufacturers have a lot at stake in the successful installation and life of their product. While there may be some arguable compromises on product quality, life, warranty and other worries, following the roof shingle manufacturer's own instructions on how their product should be installed is the smartest approach to roofing.
It is unfortunate that so many people are confused about the cellophane strips and roof shingle tab sealant, particularly as the manufacturers and other experts have written so clearly on the matter. What we have published on this matter is hardly personal opinion. It's researched and cites authorities on the topic.
You are mistaken in your "all about money" claim in this case - the manufacturers don't make any more money with or without cellophane strip removal, but they do know what leads to product success or product failure - which is of great import, and which is why shingle tab sealant is provided in the first place - to protect against wind uplift.
It would appear that your confusion and that of some other readers stems from failure to notice that when shingles are taken out of a bundle (in which the cellophane on an upper shingle's underside prevents it from adhering to the adhesive tabs on the upper surface of a shingle below), and then placed onto the roof in successive courses, the underside of the upper shingle is a good 4-6 inches higher up-roof (depending on the shingle exposure) than the tab adhesive spots of the shingle below.
Thus the cellophane, left in place as the shingles are installed, is now here near the sealant tabs so it can not interfere with shingle adhesion.
Take a look at the annotated photograph just above in this article and you can see that shingle layout.
InspectAPedia is an independent publisher of building, environmental, and forensic inspection, diagnosis, and repair information provided free to the public - we have no business nor financial connection with any manufacturer or service provider discussed at our website.
We are dedicated to making our information as accurate, complete, useful, and unbiased as possible: we very much welcome critique, questions, or content suggestions for our web articles. Working together and exchanging information makes us better informed than any individual can be working alone.
...
Ask a Question or Search InspectApedia
Use the "Click to Show or Hide FAQs" link just above to see recently-posted questions, comments, replies, try the search box just below, or if you prefer, post a question or comment in the Comments box below and we will respond promptly.
Search the InspectApedia website
Technical Reviewers & References
Publisher's Google+ Page by Daniel Friedman
Click to Show or Hide Citations & References
[1] FEMA "Asphalt Shingle Roofing for High Wind Regions, Home Builders' Guide to Coastal Construction ", FEMA 499, August 2005, Technical Fact Sheet No. 20, [To recommend practices for installing asphalt roof shingles that will enhance wind resistance in high-wind, coastal regions.]
[2] [ FEMA, Asphalt Shingle Roofing for High Wind Regions, Home Builder's Guide to Coastal Construction, Technical Guide No. 73, retrieved 3/5/13
Mark Cramer Inspection Services Mark Cramer, Tampa Florida, Mr. Cramer is a past president of ASHI, the American Society of Home Inspectors and is a Florida home inspector and home inspection educator. (727) 595-4211 mark@BestTampaInspector.com
Hankey and Brown home inspectors, Eden Prairie, MN, technical review by Roger Hankey, prior chairman, Standards Committee, American Society of Home Inspectors - ASHI. 952 829-0044 - hankeyandbrown.com
Arlene Puentes, a licensed home inspector, educator, and building failures researcher in Kingston, NY.
[5] Thanks to Carl Gerosa, New Rochelle, NY for photos of cupping asphalt roof shingles. Carl J. Gerosa is an ASHI Certified home inspector who can be reached at 914-833-2900.
[6] Thanks to Leonard Wheeler, Retired DCA Disaster Assessment Engineer for Hurricane Andrew, for questions leading to clarification on the proper handling of asphalt shingle glue strip protective cellophane during roof installation 3/29/09 .
[7] Thanks to James A. Skees, PE, President and Sr. Forensic Engineer, OnTheRock Engineering, LLC, 604 W. Jefferson Street, LaGrange, KY 40031 502-225-6203 FAX 225-6204, for commenting on the roof cellophane strip problem, on wind damage to roof shingles, shingle blow off, improper shingle nailing, and roof shingle laddering underlying defects, August 2010. Mr. Skees is a forensic engineer who works for insurance companies. Mr. Skees can also be reached by email at jimskees@ontherockeng.com
The company has published online a sample Tornado Report
"Residential Wind Damage Evaluation", Wind Damage Sample, found at http://www.ontherockeng.com/Sample%20Tornado%20Report.pdf
[8] GAF Materials Corporation, Grand Timberline Premium Architectural Shingle Application Instructions.
http://www.gaf.com/Content/Documents/20573.pdf discusses the requirements for successful asphalt shingle installation including the condition of the roof deck, the use of roofing felt underlayment, the selection of roofing nails by type and length and penetration of the roof decking, and the role of glue strips on the back side of asphalt roof shingles.
[9] "Clear Plastic Release Film ... Leave On or Take Off?", Technical Advisory Bulletin No. TAB-R-2011-106, 04/11/2011, GAF Technical Services Department, GAF Corporation, Technical Services Tel: 800-766-3411, Website: www.gaf.com retrieved 6/13/2013 original source http://www.gaf.com/Warranties_Technical_Documents/Steep_Slope_Technical_ Advisory_Bulletins/2011_Steep_Slope_Technical _Advisory_Bulletins_English/TAB_R_2011_106_Clear_Plastic_Release_Film_ Leave_on_or_Take_Off_Steep_Slope_Technical_Point.pdf
Roofing The Right Way, Steven Bolt, McGraw-Hill Professional; 3rd edition (November 1, 1996), ISBN-13: 978-0070066502, p. 350 for one of many citations on this point.
"Hurricane Damage to Residential Structures: Risk and Mitigation", Jon K. Ayscue, The Johns Hopkins University, Baltimore, Maryland, published by the Natural Hazards Research and Applications Information Center, Institute of Behavioral Science, University of Colorado, November 1996. Abstract:
"Property damage and loss from hurricanes have increased with population growth in coastal areas, and climatic factors point to more frequent and intense hurricanes in the future. This paper describes potential hurricane hazards from wind and water. Damage to residential structures from three recent intense hurricanes - Hugo, Andrew, and Iniki - shows that wind is responsible for greater property loss than water. The current state-of-the-art building technology is sufficient to reduce damage from hurricanes when properly applied, and this paper discusses those building techniques that can mitigate hurricane damage and recommends measures for mitigating future hurricane damage to homes." - online at www.colorado.edu/hazards/publications/wp/wp94/wp94.html
"Evaluating OSB for Coastal Roofs," Paul Fisette, Coastal Contractor, Winter 2005, online at coastalcontractor.net/pdf/2005/0501/0501eval.pdf . Fisette cites: "Jose Mitrani, a civil engineer and professor at Florida. International University in Miami, was ... Florida's official damage assessment team. ... After Hurricane Andrew, Florida code advisers ruled OSB sheathing inferior to plywood."
Best Practices Guide to Residential Construction, by Steven Bliss. John Wiley & Sons, 2006. ISBN-10: 0471648361, ISBN-13: 978-0471648369, Hardcover: 320 pages, available from Amazon.com and also Wiley.com. See our book review of this publication.
Building Pathology, Deterioration, Diagnostics, and Intervention, Samuel Y. Harris, P.E., AIA, Esq., ISBN 0-471-33172-4, John Wiley & Sons, 2001 [General building science-DF] ISBN-10: 0471331724 ISBN-13: 978-0471331728
Building Pathology: Principles and Practice, David Watt, Wiley-Blackwell; 2 edition (March 7, 2008) ISBN-10: 1405161035 ISBN-13: 978-1405161039
Problems in Roofing Design, B. Harrison McCampbell, Butterworth Heineman, 1991 ISBN 0-7506-9162-X (available used)
Roofing The Right Way, Steven Bolt, McGraw-Hill Professional; 3rd Ed (1996), ISBN-10: 0070066507, ISBN-13: 978-0070066502
Smart Guide: Roofing: Step-by-Step Projects, Creative Homeowner (Ed), 2004, ISBN-10: 1580111491, ISBN-13: 978-1580111492
Steve Bliss's Building Advisor at buildingadvisor.com helps homeowners & contractors plan & complete successful building & remodeling projects: buying land, site work, building design, cost estimating, materials & components, & project management through complete construction. Email: info@buildingadvisor.com
Steven Bliss served as editorial director and co-publisher of The Journal of Light Construction for 16 years and previously as building technology editor for Progressive Builder and Solar Age magazines. He worked in the building trades as a carpenter and design/build contractor for more than ten years and holds a masters degree from the Harvard Graduate School of Education. Excerpts from his recent book, Best Practices Guide to Residential Construction, Wiley (November 18, 2005) ISBN-10: 0471648361, ISBN-13: 978-0471648369, appear throughout this website, with permission and courtesy of Wiley & Sons. Best Practices Guide is available from the publisher, J. Wiley & Sons, and also at Amazon.com
Carson, Dunlop & Associates Ltd., 120 Carlton Street Suite 407, Toronto ON M5A 4K2. (416) 964-9415 1-800-268-7070 info@carsondunlop.com. The firm provides professional home inspection services & home inspection education & publications. Alan Carson is a past president of ASHI, the American Society of Home Inspectors. Thanks to Alan Carson and Bob Dunlop, for permission for InspectAPedia to use text excerpts from The Home Reference Book & illustrations from The Illustrated Home. Carson Dunlop Associates' provides:

Commercial Building Inspection Courses - protocol ASTM Standard E 2018-08 for Property Condition Assessments
Home Inspection Education Courses including home study & live classes at eleven colleges & universities.
Home Inspection Education Home Study Courses - ASHI@Home Training 10-course program.
Special Offer: Carson Dunlop Associates offers InspectAPedia readers in the U.S.A. a 5% discount on these courses: Enter INSPECTAHITP in the order payment page "Promo/Redemption" space. InspectAPedia.com editor Daniel Friedman is a contributing author.
The Home Reference Book, a reference & inspection report product for building owners & inspectors.
Special Offer: For a 10% discount on any number of copies of the Home Reference Book purchased as a single order. Enter INSPECTAHRB in the order payment page "Promo/Redemption" space. InspectAPedia.com editor Daniel Friedman is a contributing author.
The Home Reference eBook, an electronic version for PCs, the iPad, iPhone, & Android smart phones.
Special Offer: For a 5% discount on any number of copies of the Home Reference eBook purchased as a single order. Enter inspectaehrb in the order payment page "Promo/Redemption" space.
The Illustrated Home illustrates construction details and building components, a reference for owners & inspectors.
Special Offer: For a 5% discount on any number of copies of the Illustrated Home purchased as a single order Enter INSPECTAILL in the order payment page "Promo/Redemption" space.
The Horizon Software System manages business operations,scheduling, & inspection report writing using Carson Dunlop's knowledge base & color images. The Horizon system runs on always-available cloud-based software for office computers, laptops, tablets, iPad, Android, & other smartphones.

...
Books & Articles on Building & Environmental Inspection, Testing, Diagnosis, & Repair
The Home Reference Book - the Encyclopedia of Homes, Carson Dunlop & Associates, Toronto, Ontario, 25th Ed., 2012, is a bound volume of more than 450 illustrated pages that assist home inspectors and home owners in the inspection and detection of problems on buildings. The text is intended as a reference guide to help building owners operate and maintain their home effectively. Field inspection worksheets are included at the back of the volume. Special Offer: For a 10% discount on any number of copies of the Home Reference Book purchased as a single order. Enter INSPECTAHRB in the order payment page "Promo/Redemption" space. InspectAPedia.com editor Daniel Friedman is a contributing author.

Or choose the The Home Reference eBook for PCs, Macs, Kindle, iPad, iPhone, or Android Smart Phones. Special Offer: For a 5% discount on any number of copies of the Home Reference eBook purchased as a single order. Enter INSPECTAEHRB in the order payment page "Promo/Redemption" space.