Rubber Roof Shingles & Slates

Rubber Shingle Product Sources, Installation, Defects, Repairs
InspectAPedia tolerates no conflicts of interest. We have no relationship with advertisers, products, or services discussed at this website.
Rubber roofing slate & shingle products, properties, sources, inspections, failures, life expectancy:
This article describes shingle or slate type roofing materials made of rubber, usually recycled rubber tires, possibly using granulated or crumb rubber or in some (older) products, actual pieces of recycled rubber tires.
We discsuss rubber shingle choices, rubber shingle, slate, or shake sources, rubber slate installations, inspection of rubber shake or slate roofs, defects in those roofs, rubber shingle roofing repairs, and rubber slate product warranties.
Page top image of composite wood-plastic shingles, source U.S.FPL. Photos of rubber roof shingles & slates and field reports are wanted - use the page top or bottom CONTACT link.
We also provide a MASTER INDEX to this topic, or you can try the page top or bottom SEARCH BOX as a quick way to find information you need.
Rubber-based Roof Shingles & Slates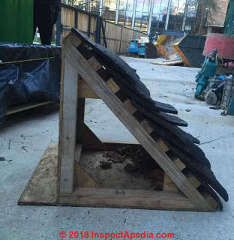 Rubber roof shingles or slate or wood shake look-alikes made from recycled rubber are available from a number of roofing product manufacturers and according to some roofing industry sources may have a significant impact on the roofing industry.
Photo: contributed by a student researcher whose curling rubber tire roof shingles are discussed just below. [Click to enlarge any image]
Rubber roofing products are also used in green roof systems as a roof surface covering over which soil and plants may be added in green roof designs. Typical rubber shingle or slate roof manufacturer's warranty periods extend for 30 years, some as much as 50 years.
But will a rubber based roof slate or shingle endure for that anticipated life expectancy?
As the question and reply below illustrate, the actual field performance of rubber slates or shingles does not yet (in 2016) have decades of installed field experience from which we may draw conclusions, and there may be some hints that more about rubber shingle life, durability, and defects remains to be learned.
Do-it-Yourself Roof Shingles Cut from Rubber Tyres?
Question: why are these rubber tire roof shingles warping & curling?
I am a 3rd Year Building Surveying Student at Coventry University, currently doing a dissertation project on 'the performance of tyres as roof shingles"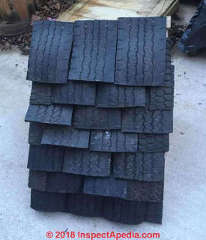 To test my idea, I constructed two mock roofs: one made of concrete slates, and one made of recycled tyre shingles.
I have recently come across the article on inspectapedia about Rubber Roof Shingles, and noticed you mentioned recycled tyre shingles.
An issue I had with my project is that the shingles experienced warping, I cannot seem to understand why this has happened (pictures attached).
I was wondering if you have any insight as to why this happened? It was stored outside in normal conditions (rainy, cold) but nothing out of the ordinary.
Any more research papers regarding this topic that you know of would be greatly appreciated. - Anonymous by private email 2018/04/02

Reply:
Roofing shingles made from re-cycled rubber tires are almost always described by their vendors and manufacturers as "non-warping" which is itself interesting since sometimes a claim that we would not expect to have to be made can hint that there have been such problems.
However using Google Scholar I did not find research on warping in rubber tire shingles prepared as you have done in your photos.

Your situation looks very different to me. Roof shingles made from tyres (or tires) are made by grinding up and reconstituting the rubber into flat sheets. That would in my view reduce any warping tendencies.
Your shingles, in your photo, look as if they were simply cut directly from the tread section of rubber tires.
Such a "shingle" is likely to react to temperature and moisture differences on its two surfaces.
The tire is not uniform throughout its thickness, containing a solid tread-cut rubber surface, a body combining fabric and rubber, and an inner surface that often sports more fabric.
Fabrics also vary in material, design, and can include steel or synthetic fibres. So I would expect warping in response to temperature or moisture or both.
Not all tires cut into shingles will warp the same as they will vary in thickness, composition, and details of just how they were cut from the tire body - how much sidewall is included, for example.
Still, these sources might be useful for your project, and I expect that some of these scholars and researchers could offer more technical explanation of the chemistry and physics of the curling tire sections in your images.
Gaggino, Rosana, María Josefina Positieri, Patricia Irico, Jerónimo Kreiker, Ricardo Arguello, and María Paz Amono Sánchez. "Ecological roofing tiles made with rubber and plastic wastes." In Advanced Materials Research, vol. 844, pp. 458-461. Trans Tech Publications, 2014.
Gray, Terry A. "Designing Building Products Made With Recycled Tires." (2004). [copy attached]
Hammer, Chris, and Terry A. Gray. Designing building products made with recycled tires. Integrated Waste Management Board, 2004.
There are people who've tried simply cutting tires directly into shingles
https://greenbuildingcanada.ca/2014/shingles-rubber-tires/
and
https://www.farmshow.com/a_article.php?aid=3045
for example, but there was no long term study report nor a discussion of leaks from warping or from wind-blown rain over the very uneven surface. None of these was described as suitable for a conventional residential structure but they might be suitable on an outbuilding.
See the rubber roof sources listed at the end of this article for more conventional approaches to rubber tire roof shingle materials.
Question: Bowing, fish-mouthing rubber roof slates on an 8-year-old home
2016/06/11 Brian Koepf ASHI #229 said:
I inspected an 8 year old simulated slate rubber roof yesterday on a huge house that are discolored in areas where they fish mouthed/bowing. I cannot find info on the web about this. Does anyone have experience with this condition?
I recommended that the manufacturer be consulted regarding their warranty, and that a licensed roofer who is qualified to to install this product be contacted.
This question was posted originally at PLASTIC ROOFING TYPES. Mr. Koepf is an ASHI-certified home inspector in Leesburgh, VA. - Ed.
Reply: research on field performance, inspection, life & defects in rubber roof slates & shingles is in process, contributions & comments invited
Thanks for the question, Brian. I was surprised to hear a report of actual fishmouthing on rubber-based simulated slate as I think of that material as not so likely to be affected by moisture from below - the common cause of fishmouthing on asphalt roofing shingles.
A first look through home inspector forum chats about rubber shingles finds many opinions and what sounds like some confusion about what rubber roof slates and shakes are and how they might preform.
Doing a little research on "rubber-based roof slate" materials I found a paucity of information reporting types and causes of roof failures but some references to these possible worries with rubber-formlated roof slates, shakes, or shingles:
Moisture retention in some formlations - this might contribute to later curling, buckling, or fishmouthing in any roofing product
Curling or buckling properties of shingles, slates, or shakes made from recycled rubber due to the product having a "memory" that might make cupping or curling that happened in storage or prior to or even during installation recur later.

Think: shingle made from a piece of recycled tire, or shingles made from ground rubber fabricated into a new product whose shingle bundle was improperly-stored or left lying across a ridge for a time.
Odor complaints
Possible environmental effects of chemicals in the runoff from these roofs - though certainly not unique as those issues occur with other roofing products as well including EPDM, metal, and asphalt roofing
We don't know exactly what roofing product is installed on the 8-year old home you inspected - let me know if you can find out what product (brand, model, color) was installed, and where the home is located. Photos would be very helpful as well - use the page top or bottom CONTACT link to send me what you can.
I have read that crumb rubber used in roof products including both "slate" products and green roofing substrates can contribute a porous and even water-retention property that may be involved in what you saw. We need to know more about what's installed. Here are some research papers that may be helpful.
Egodage, Shantha Maduwage, John F. Harper, and Shantha Walpalage. "Ground Tyre Rubber/Waste Polypropylene Blends—Effect of Composition on Mechanical Properties." Progress in rubber, plastics and recycling technology 25, no. 4 (2009): 213.
Gaggino, Rosana, María Josefina Positieri, Patricia Irico, Jerónimo Kreiker, Ricardo Arguello, and María Paz Amono Sánchez. "Ecological Roofing Tiles Made with Rubber and Plastic Wastes." In Advanced Materials Research, vol. 844, pp. 458-461. 2014.
Rubber-based roof shingles that resemble slate or wood shingles have been marketed by several companies for a while now and are promoted as durable, green (as they recycle materials), and perhaps more hail damage-resistant than some other roofing products.
I've had poor success so far finding scholarly reports of types of damage that are peculiar to rubber-based roofing slates or shingles. We never give up however.
The roofing industry companies who produce rubber-based roof shingles or slates say water absorption is low (according to some sources I read).
In reviewing the product literature for synthetic roofing slates, shakes, or shingles it can be difficult to find an actual description of the shingle ingredients at some manufacturers' websites where some products may say just "made of 95% recycled materials".
Interestingly, Enviroshake® roofing is "... made with 95 per cent reclaimed products, including post-industrial plastics, recycled rubber elastomers and cellulose fibres." [citation below]. It's that last ingredient, "cellulose fibres" that might make trouble in some roofing products, as it certainly did in earlier roof and siding materials.
See FIBER-WOOD & FIBERBOARD ROOFING for examples of an older cellulose fiber roofing product that was disappointing
and
See SIDING HARDBOARD for an introduction into the sea of complaints around hardboard siding.
Cellulose fibers may be an important factor in more recent complaints about shrinkage, gaps, and possibly buckling in newer fiber-cement siding products that we hoped would not suffer similarly.
See SIDING, FIBER CEMENT GAPS if you can stand reading more about those problems.
Rubber based synthetic slate & shake product reviews
Photos above: recycled automobile & truck tires find uses other than paving and roofing, as we illustrate: here recycled tires have been re-purposed to create outdoor furniture and childrens playground toys by the Venaneio-Escoye family in Husaca, Hidalgo, Mexico.
Miller, Stephani, "Exterior Products Review: Synthetic Roofing, Natural Impressions: Durability and realistic looks make synthetic roofing an attractive alternative to lsate and wood shakes", Architect Magazine, 10 Sept 2009, retrieved 2016/06/11, original source: www.architectmagazine.com/technology/products/exterior-products-review-synthetic-roofing_o
Excerpts:
Synthetic slate and shake products are manufactured from a variety of materials, primarily polymers and/or rubber along with fillers and modifiers. Although the products seem very similar, formulations vary among manufacturers.
"There are so many plastic or rubber compounds that can be utilized that to say they're all the same couldn't be farther from the truth," points out Brian Eberle, vice president of marketing and sales for Wellington Polymer Technologies, maker of Enviroshake.
The polymeric composition of most synthetic shingles and shakes generally includes advanced UV inhibitors and impact modifiers. Some products incorporate ingredients such as recycled rubber or plastic, mineral dust, or cellulose fibers, while others use virgin rubber and plastic.
The majority of the synthetic slates and shakes are backed by 50-year warranties. Most are UL-certified for Class 4 impact resistance, and many, but not all, also achieve a Class A fire resistance rating. Furthermore, some are rated to resist uplift in high winds.
This reviewer makes an important point: there is a wide range of formulations and ingredients in rubber-based roof shingle/slate lookalikes.
Rubber Shingle or Slate Field Performance, Installation, Inspection or Life Expectancy Concerns
Some suggestions in online forums for roofing contractors include comments that might point to an explanation for the fishmouthing that observed by Mr. Koepf.
Researching some roofer forums such as I have found some chatter about excessive water absorption of some rubber roof shingle products.
Excerpts: [Note that the following are opinions, not scholarly research - Ed.]
We install Euroshield on a regular basis. They are based here in Calgary, and manufacture their product from recycled tires. If I had a choice, this would go on my roof. Having said that, there are small details and issues it helps to be aware of (with regards to installation), as they are still a relatively new company in the market, and have yet to work out all the kinks. - Mr. Roofer, Calgary Alberta
I watched a roofer put some on a local restaurant 5 or 6 years ago. Looks great, however there are obvious patches since then and there is a hip that is missing quite a few and others lifted up ready to be blown off. - ronbryanroofing
Look to see jobs from at least 10 years ago. ... Generaly they do not seem to last. - Red_Cedar
Looks like siding on a roof once it's up. Not only that, unlike siding that has a lip to interlock it, there is nothing to prevent it from curling (which is what I've seen happened and which I predicted as a matter of common sense).
I haven't seen one simulated slate roof installed that has looked or performed as advertised. However, I must say that DaVinci is the best out there ... - 2ndGen
I saw the rubber slate for sale in the suppliers the other day, I must admit it looked good but the price was very off putting as it was nearly the same as a real slate! ... the supplier said it was really aimed at the diy market for porches and lean tos rather than main roofs. - expertroofer
... the installation is generally no different than ashphalt shingles and may even be quicker due to the size of the tiles. He explained that the product was made almost entirely out of used tires. More info can be found on their site here: http://www.euroshieldroofing.com/ If my memory serves, it goes for about $350/sq. - Bhodhisativa
- sources for the above opinions: RoofingTalk.com forum on Synthetic/Rubber Slate roofing, retrieved 2016/06/11, original source: www.roofingtalk.com/f2/synthetic-rubber-slate-roofing-631/
That opinion is consistent with what we read in some of the research about using crumb rubber based roofing substrate beneath "green" roofs - roofs on top of which soil and plants are added. There one finds discussions there about both the effects of crumb rubber based roof material water absorption (and its effect on soil and plants above) and also on zinc leaching from those products and the effects of zinc.
Ristvey, Andrew G., Lorelly Solano, Kimberly Wharton, Steven M. Cohan, and John D. Lea-Cox. "Effects of crumb rubber amendments on the porosity, water holding capacity and bulk density of three green roof substrates." In Proceedings of the 2010 International Low Impact Development Conference, April, pp. 11-14. 2010.
Solano Torres, Sonia Lorelly. "Investigating crumb rubber amendments for extensive green roof substrates." PhD diss., 2010.
The question raised by Mr. Keopf about the causes of buckling or fishmouthing observed in rubber-based roof slates may point to a significant development in the field performance of rubber-based roofing slates or shingles.
Defective U.S. Century Flex Shakes rubber roof shingle complaints & a company that has vanished
Question: Badly Deteriorated U S Century Flex Shake Roof
(Jan 8, 2016) casey said:
I have a home with U S century flex shakes (50 year warranty) and they are completely deteriorated....the company no longer exists...what do I do?
This question was posted originally at PLASTIC ROOFING TYPES.
Reply: the disappearance of U.S. Century LLC & its TruSlate roofs
Casey, not to be glib, it's time to re-roof. U.S. Century made a slate look-alike roofing product using recycled steel-reinforced rubber (recycled tires) with a stone coating (crushed slate) - U.S. Century Flex-Shake. Flex-Shake and U.S. Century LLC have for all practical purposes, disappeared from the roofing horizong.
Obsolete: Contact US Century, L.L.C., Address: 1100 NE Loop 410 #617 San Antonio, TX 78209 USA Phone: 210-826-8855
Watch out: this company and its website have disappeared as of 2016/06/11.
Website: www.truslate.com [listed by sources providing corporate location and information such as AECDaily]
Notice: as of 2016/06/11, the truslate.com link delivers the reader to a GAF TruSlate® web page.
Website http://www.flexshake.com/ now delivers the reader to a page offering this website name for sale. It was previously associated with US Century LLC Flex-Shake roofing. An architect's low-content website described FlexShake as "a shingle made from recycled tires, with the treads buffed off."
Other sources called it a "reinforced rubber shake" made from the steel belts of discarded tires. The product name also appears in Australian building sources.
Century Roofing continues in business in the U.K. but that's not going to help with a U.S. roof claim.
www.centuryplastics.co.uk/
Let us know what you're told. Also I'd like to see some sharp photos of the roofing - please use our email found at the page top or bottom CONTACT link.

More research on Flex Shake rubber roofing shingles:
Kiik, Matti, Michael Bryson, and Margie Beerer. "Metal flake-surfaced roofing materials." U.S. Patent Application 10/274,717, filed October 21, 2002.
Excerpt:

Flex Shake™ (US Century, California) is a roofing product made from used tires (recycled steel reinforced rubber). An adhesive coating is applied to the surface of the rubber for the application of slate chips or colored roofing granules. In accordance with the present invention, metal flakes may be correspondingly applied to the surface of the rubber using an adhesive coating.
Leitch, Olan T., John G. Freshwater, and Matti Kiik. "Colored metal flake surfaced roofing materials." U.S. Patent 8,197,893, issued June 12, 2012.
Rubber Roof Shingle Research
In addition to citations given earlier, these references include patent disclosures that illustrate some of the history, dates, & properties of roof shingles or shakes made from recycled rubber materials.
Blalock, Christopher, and Larry Nelson. "Products useful as roof shingles and a process for making such products." U.S. Patent 6,194,519, issued February 27, 2001.
Crivelli, Henry A. "Incorporation of rubber tire crumbs and siliceous crystalline grains in construction products." U.S. Patent 5,258,222, issued November 2, 1993.
Excerpt:

A rubber tire recycling process comprises the steps of granulating rubber tires to form coarse rubber crumbs, mixing the coarse rubber crumbs with coarse siliceous grains to form a closely packed mixture of coarse particles that are roughly commensurate in size, thoroughly wetting the surfaces of the coarse particles with a polymerizable liquid binder to provide a viscous slurry, casting the slurry into a sheet-like configuration, and curing the sheet-like configuration under sufficient heat and for a sufficient time to provide an environmentally compatible sheet-like product, e.g. a paver or tile for driveways, or a shingle for roof tops, that is characterized by excellent weather, wear and chemical resistance.

The surface characteristics of the coarse particles of vulcanized rubber and crystalline grains are critical to the present invention.
Gaggino, Rosana, María Josefina Positieri, Patricia Irico, Jerónimo Kreiker, Ricardo Arguello, and María Paz Amono Sánchez. "Ecological roofing tiles made with rubber and plastic wastes." In Advanced Materials Research, vol. 844, pp. 458-461. Trans Tech Publications, 2014.

Abstract:
The general objective of this research work was to contribute to the environmental decontamination. Its specific objective was to develop sustainable roofing tiles from the ecological, technical and economical points of view.

These roofing tiles are made from recycled materials such as plastics from industry, and rubber from tires into disuse. In this way this technology contributes in the decontamination of the environment, since it uses waste materials that are buried in municipal land without any use, or accumulated and burned in landfills, causing pollution.

The procedure used was the thermo-molding compaction. The available amounts of plastic waste are abundant.

According to data provided in 2012 by the Ministry of Health and Environment of Argentina, Argentina produces 1,639 tons / year. The available amounts of rubber tires are also abundant. According to data provided in 2012 by the National Institute of Industrial Technology -INTI, Argentina generates more than 100,000 tons / year.

Plastics and rubber are non bio-degradables materials, so nature can not absorb them as other waste.

One purpose of this research work was to provide an alternative to other traditional building technologies that consume non-renewable resources, or produce negative environmental impact.

The main technical advantages of these roofing tiles respect to other traditional such as ceramic or concrete tiles are their excellent resistance to hail and freezing, high flexural resistance, low specific weight, and low water absorption.
Lanphier, Robert R. "Method of making recycled tire roof sheeting." U.S. Patent 5,527,409, issued June 18, 1996.
Thiis-Evensen, Eyvind M. "Roofing shingle." U.S. Patent 4,317,853, issued March 2, 1982.
Votte, Andre T. "Synthetic roofing elements of the slate type and a method of manufacturing same." U.S. Patent 4,307,552, issued December 29, 1981.
Winters, Nancy, Graunke, Kyle, "Roofing Materials Assessment-Investigation of Toxic Chemicals in Roof Runoff." [PDF] Department of Ecology, State of Washington, Publication No. 14-03-003(2014).
Excerpts:
... little evaluation has been conducted of the newer, synthetic materials such as ethylene propylene diene monomer (EPDM or rubber roofing), thermoplastic polyolefin (TPO), or
flexible polyvinyl chloride (PVC). These types of roofs may also be expected to release phthalates into roof runoff.
Sources of Rubber-based Roofing Slates & Shingles
Ecostar, Designer Series Slate™, Majestic Slate™, Empire Slate™, EcoStar LLC., 42 Edgewood Dr., Holland, NY 14080, Tel: 800-211-7170, Website: http://www.ecostarllc.com/
Product literature excerpt from EcoStar's Majestic Slate product description [PDF]:

EcoStar LLC, the leading manufacturer of premium synthetic steep-slope roofing products, combines classic appeal with modern technology to offer the lightweight and affordable alternative – Majestic Slate™.

Created with recycled rubber and plastics, Majestic Slate offers a sustainable, lighter and easy-to-install roofing product that provides the appearance of natural slate with lower application costs.
Enviroshake® Tel: 1-866-423-3302, Email: info@enviroshake.com Website: http://www.enviroshake.com/
Excerpts:

Enviroshake® and Enviroshingle® are both composite roofing products that are designed to authentically replicate the look of natural weathered cedar roofing materials.
Enviroslate® is a composite roofing product that is designed to authentically replicate the look of natural slate roofing. Predominantly all of the materials (95%) used in Enviroslate® are reclaimed materials.

... That is because Enviroshake(R) is made with 95 per cent reclaimed products, including post-industrial plastics, recycled rubber elastomers and cellulose fibres. - http://www.enviroshake.com/enviroshake-puts-a-high-tech-and-hard-wearing-twist-on-cedar-shingles/
EuroSlate Product Description [PDF] Euroshield Roofing, 9330 48 St SE, Calgary, AB, T2C 2R2 Canada Tel: (403) 215-3333 Toll Free: (877) 387-7667 Website: http://www.euroshieldroofing.com/
Product description excerpt:

EuroLite Slate®, EuroSlate®, EuroLite Shake® and EuroShake® are Eco Friendly Green Roofing products made from up to 95% recycled materials, the primary ingredient being rubber from recycled tires.

A unique manufacturing process incorporating strict quality control methods results in a superior roofing product with durability characteristics unsurpassed in the industry. As you might expect with a roof made of rubber, impact damage, such as one would expect from large hail, is of no concern to those who own a Euroshield® roof. It simply bounces off.

EuroSlate® comes in 3 foot wide panels which lock down at the butt edge to the course of EuroSlate® below and fit into each other as you work your way across the roof, assuring a secure, weatherproof layer of protection against the elements. EuroSlate® installation is also fast and easy. Any scrap materials generated from the installation can be returned and recycled to produce more Euroslate® roofing materials. - retrieved2016/06/11, original source: http://www.euroshieldroofing.com/products/euroslate/

Product description excerpt:
EuroLite Slate® comes in 40″ wide panels, each featuring 4 slate-like sections measuring 10″ wide by 7 5/8″ high, in a "modified open keyway" design to replicate the depth and character of individual slate pieces.

Eurolite Slate® installation is fast and easy. The panels handle and install much like an asphalt shingle, held in place with 10 standard roofing nails and an adhesive strip on the underside to bond the panel above to the course below. The panels feature a unique raised nib strip on the reverse side that sets the correct exposure as you install, further simplifying the process.

The panels can be cut with a utility blade and each covers more surface area than a standard shingle. Less pieces to handle equals faster install. Any scrap materials generated from the installation can be returned and recycled to produce more Eurolite Slate®. - retrieved 2016/06/11, original source: http://www.euroshieldroofing.com/products/eurolite-slate/
Readers are invited to CONTACT us with field reports, photographs, or research concering the life, performance, inspection, & defects of rubber roofing slates & shingles.
...
Continue reading at PLASTIC ROOFING TYPES or select a topic from closely-related articles below, or see our complete INDEX to RELATED ARTICLES below.
Or see DURALITA & METAL TILE ROOFS
Or see RUBBER, EPDM, PVC ROOFING for discussion of rubber membrane type roof coverings
Or see WARRANTIES for ROOF SHINGLES
Suggested citation for this web page
RUBBER ROOF SHINGLES & SLATES at InspectApedia.com - online encyclopedia of building & environmental inspection, testing, diagnosis, repair, & problem prevention advice.
Or use the SEARCH BOX found below to Ask a Question or Search InspectApedia
...
Ask a Question or Search InspectApedia
Questions & answers or comments about all types of plastic roofing products..
Try the search box just below, or if you prefer, post a question or comment in the Comments box below and we will respond promptly.
Search the InspectApedia website
Technical Reviewers & References
Click to Show or Hide Citations & References
"Mira Vista", Birka White Law Firm, The Danville Hotel, 411 Hartz Avenue, Suite 200 Danville, CA 94526 (866) 474-9999 or email: info@birka-white.com. Web Search 07/12/2010 original source http://www.birka-white.com/cases/MiraVista_000.php
"Choosing Roofing," Jefferson Kolle, January 1995, No. 92, Fine Homebuilding, Taunton Press, 63 S. Main St., PO Box 5506, Newton CT 06470 - 800-888-8286 - see http://www.taunton.com/FineHomebuilding/ for the magazine's website and for subscription information.
Problems in Roofing Design, B. Harrison McCampbell, Butterworth Heineman, 1991 ISBN 0-7506-9162-X (available used)
Thanks to reader Brian Alden Pierson for discussing Plastic Roofing products May 2010
"Close-Up on Alternantive Roofing, New Materials Make Durable Shingles", Chris Marshall, Handy Magazine, March/April 2002 p. 26-32 - original source: Web-Search 07/12/2010 http://namgnewsletter.com/dy/ROOFING.pdf
Owens Corning Corporation, One Owens Corning Parkway Toledo, Ohio 43659 U.S.A. Telephone: (419) 248-8000 Fax: (419) 248-5337 http://www.owenscorning.com Owens Corning is credited as the inventor of fiberglass when Owens Illinois [O-I] researcher Dale Kleist and his colleague John Thomas stumbled onto and then realized the significance of producing glass fibers in 1932. O-I formed a joint venture with the Corning Glass Works in 1935, leading to the formation of Owens Corning Corporation in 1938. More on Owens Corning's history is at

Focus, Toledo, Ohio, Owens-Corning Fiberglas Corporation, October 1988. "A History of Innovation," http://www.owenscorning.com, 1997.
Stewart, Thomas A., "Owens-Corning: Back from the Dead," Fortune, May 26, 1997.
International Directory of Company Histories, Vol. 20. St. James Press, 1998.

"Two-Year Wisconsin Thermal Loads for Roof Assemblies and Wood, Wood–Plastic Composite, and Fiberglass Shingles [on file as Roof_Thermal_Loads.pdf] - ", Jerrold E. Winandy Michael Grambsch Cherilyn A. Hatfield, US Department of Agriculture, US Forest Products Laboratory, Research Note FPL-RN-0301
List of Producers Alternative roof products using composite, plastic, vinyl, polymer-based, metal, or other roof shingle, tile, or slate or wood look-alike materials

Atas International (metal roofing) Allentown, PA; 877-286-3320 www.atas.com
Crowe Building Products (Authentic Roof) Ontario, Canada (905) 529-6818 www.authentic-roof.com
Custom-Bilt Metals South El Monte, CA; 800-826-7813 www.custombiltmetals.com
Owens Corning (Mira Vista) Chicago, IL; 800-438-7465 www.miravistaroof.com
Re-Con Building Products (FireFreePlus) Portland, OR 877-276-7663 www.re-con.com
Re-New Wood (Eco-Shake) Wagner, OK 800-420-7576, www.ecoshake.com
U.S. Century (FlexShake) San Antonio, TX; 877-353-9742 www.flexshake.com
Books & Articles on Building & Environmental Inspection, Testing, Diagnosis, & Repair
Our recommended books about building & mechanical systems design, inspection, problem diagnosis, and repair, and about indoor environment and IAQ testing, diagnosis, and cleanup are at the InspectAPedia Bookstore. Also see our Book Reviews - InspectAPedia.
Best Practices Guide to Residential Construction, by Steven Bliss. John Wiley & Sons, 2006. ISBN-10: 0471648361, ISBN-13: 978-0471648369, Hardcover: 320 pages, available from Amazon.com and also Wiley.com. See our book review of this publication.
Decks and Porches, the JLC Guide to, Best Practices for Outdoor Spaces, Steve Bliss (Editor), The Journal of Light Construction, Williston VT, 2010 ISBN 10: 1-928580-42-4, ISBN 13: 978-1-928580-42-3, available from Amazon.com
The Journal of Light Construction has generously given reprint permission to InspectAPedia.com for this article. All rights and contents are ©Journal of Light Construction and may not be reproduced in any form.
Building Pathology, Deterioration, Diagnostics, and Intervention, Samuel Y. Harris, P.E., AIA, Esq., ISBN 0-471-33172-4, John Wiley & Sons, 2001 [General building science-DF] ISBN-10: 0471331724 ISBN-13: 978-0471331728
Building Pathology: Principles and Practice, David Watt, Wiley-Blackwell; 2 edition (March 7, 2008) ISBN-10: 1405161035 ISBN-13: 978-1405161039
Concrete Folded Plate Roofs, C. Wilby PhD BSc CEng FICE FIStructE (Author), Butterworth-Heinemann, 1998, ISBN-10: 0340662662, ISBN-13: 978-0340662663
Concrete Shell Roofs, C. Wilby PhD BSc CEng FICE FIStructE (Author),
Concrete Dome Roofs (Longman Concrete Design and Construction Series),
Green Roof Plants: A Resource and Planting Guide, Edmund C. Snodgrass, Lucie L. Snodgrass, Timber Press, Incorporated, 2006, ISBN-10: 0881927872, ISBN-13: 978-0881927870. The text covers moisture needs, heat tolerance, hardiness, bloom color, foliage characteristics, and height of 350 species and cultivars.
Green Roof Construction and Maintenance, Kelley Luckett, McGraw-Hill Professional, 2009, ISBN-10: 007160880X, ISBN-13: 978-0071608800, quoting: Key questions to ask at each stage of the green building process Tested tips and techniques for successful structural design Construction methods for new and existing buildings Information on insulation, drainage, detailing, irrigation, and plant selection Details on optimal soil formulation Illustrations featuring various stages of construction Best practices for green roof maintenance A survey of environmental benefits, including evapo-transpiration, storm-water management, habitat restoration, and improvement of air quality Tips on the LEED design and certification process Considerations for assessing return on investment Color photographs of successfully installed green roofs Useful checklists, tables, and charts
Handbook of Building Crafts in Conservation, Jack Bower, Ed., Van Nostrand Reinhold Company, NY 1981 ISBN 0-442-2135-3 Library of Congress Catalog Card Nr. 81-50643.
Historic Preservation Technology: A Primer, Robert A. Young, Wiley (March 21, 2008) ISBN-10: 0471788368 ISBN-13: 978-0471788362
Historic Slate Roofs : With How-to Info and Specifications, Tina Skinner (Ed), Schiffer Publishing, 2008, ISBN-10: 0764330012 , ISBN-13: 978-0764330018
Low Slope Roofing, Manual of, 4th Ed., C.W. Griffin, Richard Fricklas, McGraw-Hill Professional; 4 edition, 2006, ISBN-10: 007145828X, ISBN-13: 978-0071458283

Roof failure causes in depth (and specific methods for avoiding them)
Roof design fundamentals and flourishes, based on voluminous industry research and experience
New technologies and materials -- using them safely and correctly
Comprehensive coverage of all major roofing systems pecifications, inspection, and maintenance tools for roofing work

Problems in Roofing Design, B. Harrison McCampbell, Butterworth Heineman, 1991 ISBN 0-7506-9162-X (available used)
Roofing The Right Way, Steven Bolt, McGraw-Hill Professional; 3rd Ed (1996), ISBN-10: 0070066507, ISBN-13: 978-0070066502
Slate Roofs, National Slate Association, 1926, reprinted 1977 by Vermont Structural Slate Co., Inc., Fair Haven, VT 05743, 802-265-4933/34. (We recommend this book if you can find it. It has gone in and out of print on occasion.)
The Slate Roof Bible, Joseph Jenkins, www.jenkinsslate.com, 143 Forest Lane, PO Box 607, Grove City, PA 16127 - 866-641-7141 (We recommend this book).
Slate Roofing in Canada (Studi4es in archaeology, architecture, and history),
Smart Guide: Roofing: Step-by-Step Projects, Creative Homeowner (Ed), 2004, ISBN-10: 1580111491, ISBN-13: 978-1580111492
Tile Roofs of Alfred: A Clay Tradition in Alfred NY
"Weather-Resistive Barriers [copy on file as /interiors/Weather_Resistant_Barriers_DOE.pdf ] - ", how to select and install housewrap and other types of weather resistive barriers, U.S. DOE
Wood Shingle Roofs, Care and Maintenance of wood shingle and shake roofs(EC), Stanley S. Niemiec (out of print)
...