How to Diagnose, & Repair Roof & Structure Noise Problems in Buildings
InspectAPedia tolerates no conflicts of interest. We have no relationship with advertisers, products, or services discussed at this website.
Roof & building structural noise transmission &control, causes & cures:
How does exterior noise (rain, hail, highways, aircraft noise) transmit through a roof to the building interior and how can we soundproof building roofs for a quiet building interior?
We also provide a MASTER INDEX to this topic, or you can try the page top or bottom SEARCH BOX as a quick way to find information you need.
These articles discuss building noise control: how to inspect, diagnose & cure noise or sound problems in homes or commercial buildings.
Information is provided about auditory (hearing), visual, historic, medical, or other clues of building condition that explain various sounds heard in buildings. We also discuss methods of sound or noise control in buildings during construction or as a building retrofit.
Roof & Structure Noise Transmission & Structural Noises in buildings: Sources, Causes, Remedies

Are metal roofs more noisy than other roof covering types?
Metal-covered roofs in modern building installations are not necessarily noticeably noisier than other roof covering types - depending on the choice of type of metal roofing, underlayment, roof decking, fastener method, and roof insulation method.
herefore when investigating a specific roof noise complaint it makes sense to first understand how roof noise is transmitted to the building interior and second to check the most-common roof noise sources such as thermal movement, fastener errors, undelayment errors, or rain and hail noise transmission through or around insulation to the building interior.
The metal roof home shown in our photo (left, courtesy Galow Homes), was installed on a New York home and used solid metal plywood roof decking.
The roof framing support is comprised of I-joists, and the roof cavity is insulated with blown-in foam. During heavy rain, from inside the space below the roof, we could hear only a very muted sound of rainfall on the roof surface and in our opinion the sound level was not different than under an asphalt-shingle roof of similar design and use.
Nevertheless, reader questions & comments (see our roof noise FAQs below) as well as our own field experience make clear that some metal roofs and some roofs covered with other materials can be very noisy and at some buildings there are serious occupant complaints about roof noise levels observed at roofs of various designs and materials.
How is Roof Noise Transmitted into a Building?
Regardless of their source, roof noises are transmitted into buildings by two methods.
Airborne Sound: Sound waves traveling through air move between building areas - such as through open windows, doors, or stairwells.
Mechanically transmitted sound: When sounds move through solid building components such as floors, ceilings, walls, framing, carrying sound from one area to another the sound transmission is referred to more technically as impact insulation class transmission or IIC sound transmission.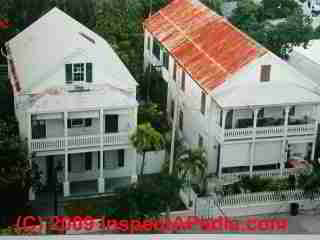 Certain building configurations, such as occupied attics or under-roof areas with cathedral ceilings, low slope or flat roofs, and metal roofed buildings may transmit noises to the building interior through the roof sheathing and building framing.
Where roof-transmitted sound reduction is most sought is in buildings located close to high noise areas such as under the flight path to airports.
Our photo of metal roofed homes (left) shows two older houses in Key West, Florida.
A Catalog of Types of Roof Noises & Sounds
Roof noises may be described as those attributed to an obvious source: the patter or even the roar of falling rain or hail, popping and cracking noises (perhaps due to thermal expansion and contraction of roof coverings, metal roofing, or roof structure), and transmitted noises from other external sources such as low-flying aircraft or nearby trains or auto & truck traffic from a nearby highway.
Very loud roof "booming" noises may be heard in cold climates when water freezing on a flat or low slope roof becomes cold enough to fracture.
Other noises sometimes attributed to building roofs are actually traced to other building components on or near the roof, such as antennas, wires, cables, signs, and roof-mounted equipment.
Also see BANGING BOOMING NOISE DIAGNOSIS & CURE
Role of Roof Covering Material in Noise Transmission
Choice of roof covering affects roof noise: Choices of roofing materials can reduce roof transmission of sound to the interior, including use of bituminous or asphalt shingles, or more effective, higher-mass roofing materials such as roofing tiles of clay or concrete. Metal roofing can be sound-transmission reduced by installing the metal roof over plywood and solid foam insulation. Keep in mind that roof skylights are likely to increase sound transmission through roofs.
Green roofs reduce roof noise transmission: One of the benefits claimed for "green roofs" is that by virtue of their stiffness and high mass, green roofs provide very good resistance to sound transmission from outside the building. Quoting:
Green roofs can provide a higher [noise] transmission loss than the additional ceiling element and improve [sound] transmission loss throughout the full architectural frequency range, specifically desirable in residential occupancies below aircraft flight paths. the field testing conducted on two 33 m2 low profile extensive green roofs indicated an increase of 5 to 13 db in [sound] transmission loss over the low and mid frequency range (50 Hz to 2000Hz) and 2 dB to 8dB increase in [noise] transmission loss in the higher frequency range relative to the transmission loss [sound transmission resistance] of a reference roof. - Connelly & Hodgson, [1]
Connelly & Hodgson reference Dr. Ben H. Sharp, an expert in sound transmission through structures who developed sound transmission theory and who proposed (Sharp 1973) improvements to roof sound transmission resistance thorough roof/ceiling assemblies that combined increased mass with low stiffness.
Accurate diagnosis of the source of roof noise transmission is important in deciding what remedy may work best. For example, check during rainfall to accurately determine the loudest sound source - you might find that more noise is transmitted to the building interior through skylights than through the roof surface itself.
Below at our roof noise FAQs we suggest investigative steps useful in diagnosing and thus curing annoying roof noises & sounds.
Metal Roof Noises & Roof Underlayments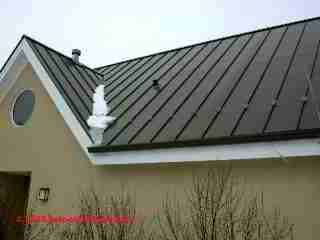 Depending on installation details, metal roofing can transmit rain noise into buildings at levels exceeding 70 dB (equivalent to street traffic noise).[2]

Noise generated by the roof covering material itself may be a factor where metal roofing is installed, particularly if the metal roofing is not properly insulated and if its connections to the roof deck fail to secure the material properly, including providing an allowance for movement. A 10-meter metal roof panel can easily have 8 mm. of thermal expansion over its length. (NZSteel Company 2005)[6].
Quoting from another source: :
Enkamat underlayment and composites made with Enkamat reduce sound levels from 9.5 to 13.5 decibels compared to a metal roof directly over a weather barrier fabric.
When the entangled filament underlayments were combined with a gypsum ceiling and thermal insulation the sound reduction further increased to 21.5 decibels. When considering that a sound reduction of 10 decibels is perceived by the human ear as cutting noise levels in half, a reduction of over 20 decibels is significant. (Colbond 2011 [2])

As we explain at METAL ROOF EXPOSED FASTENER FLASHING
One frequently cited disadvantage of metal roofing is that it generates a noticeable noise when struck by rain, hail, or even dropping acorns. If installed directly to purlins with no roof sheathing, the noise might be heard in the building interior. However, when installed over a solid substrate, with normal levels of insulation, the noise should not be noticeably different than with other roofing types.
Noise From Thermal Expansion in Metal Roofs
The metal roof expansion data given here is adapted from the New Zealand Steel Company's metal roof installation manual cited at the end of the table.
Metal Roof Expansions by Colour & Roof Panel Length

Roof Colour Range
Expansion in 8 Metre Length
Expansion in 12 Metre Length
Expansion in 18 Metre Length
Comments
Light
5 mm
7 mm
11 mm
Medium
6 mm
10 mm
14 mm
Dark
7 mm
11 mm
17 mm

Notes:

These expansion amounts are based on 0.01 mm / m / °C for Zincalume® and steel roof panels.

Sources:

Ellen, C. H., C. V. Tu, and W. Y. D. Yuen. "Theory for thermally induced roof noise." Journal of Structural Engineering 111, no. 11 (1985): 2302-2319.
Abstract:
This paper presents a theoretical analysis of thermally induced noise in sheet metal roofs. A quasi‐static model of the roof behavior is developed based on roof support batten frictional forces constraining the thermal expansion and contraction of the sheeting. As a result, in‐plane stresses, set up in the sheeting, build up until the static frictional force limit is exceeded at one of the fasteners. At this point the sheeting slips over the batten at that fastener, the local frictional force is reduced to the dynamic frictional force limit, and a redistribution of in‐plane stresses and fastener forces occurs. The redistribution can cause an overload of an adjacent fastener frictional force to exceed its limit, thereby inducing another slip. The sequence will continue until all frictional forces are below the static frictional force limit. The change in deflection pattern of the roof accompanying each slip is used to estimate the noise generated. With the assumptions that the curvature strain is small relative to the thermal strain, the coefficients of friction at each batten are identical and the batten spacing is uniform, the theory may be used to derive considerable detail of the slip cascade pattern and to determine expressions for the rate of noise bursts, for the necessary temperature change to cause a roof to change from "heating" to "cooling" cycling, and for the impulsive noise level.
Fisher, James. "Expansion joints: where, when, and how." In NASCC Proceedings, The Steel Conference, Montreal, Canada. 2005.
Garden, George Kirby. "Thermal considerations in roof design." In Canadian building digest 1-100, p. 4. National research council of canada, 1968.
Meyers, Larry R., Richard S. Koziol, Dennis K. Johnson, And Norbert V. Krogstad. "laboratory Testing Of Low Slope Standing Seam Metal Roof Application." In Proc., 4th Int. Symp. On Roofing Technology, Pp. 144-152. Nrca/nist, 1997.
Movement, B. Thermal. "Rigidly fasten metal roof panels to structure at one and only one location for each panel." Allow remainder of panel to move freely for thermal expansion and contraction. Predrill panels for fasteners 1: 07411-8.
Panels, Standing-Seam Roof. "Fasten to purlins with concealed clips at each standing-seam joint." Install clips over top of insulation. Crimp standing seams with manufacturerapproved motorized seamer tool. Rigidly fasten eave end of metal roof panels and allow ridge end free movement due to thermal expansion and contraction.
Roof, C. "Roof to Wall Transition." Roof to Sheet Metal Roof Edging Transition Expansion-Joint Cover: Fabricate from the following material 1.
New Zealand Steel Installers Guide, NZ Steel Co. "New Zealand Steel Installers Guide, COLORSTEEL®, ZINCALUME® steel and GALVSTEEL™ Installer's Guide", [PDF], (2005), New Zealand Steel Limited, Private Bag 92 121, Auckland, New Zealand. Tel: 0800 100 523, or 0-9-375 8999 Fax 0-9-375 8213, Website: http://www.nzsteel.co.nz/, Email: info@colorsteel.co.nz - retrieved 2015/12/07, original source [check for and remove any blanks in the following URL] : http://www.nzsteel.co.nz/content/media/ 77012/New%20Zealand%20Steel%20Installers%20Guide%20-%20November%202005.pdf

Excerpt: [Metal roof panel] Fixing systems used must allow for expansion and accommodate the longitudinal movement which results. If this is not done, 'canning' of the profile may occur and ponding of low pitch roofs, or noise may become a problem.
Warseck, K. A. R. E. N. "Roof failure: effect and cause." Building Operating Management', Available from http://www. findarticles. com/p/articles/mi_qa3922/is_200304/ai_n9220745, accessed 8th December (2006).
The Role of Metal Roof Profile Type in Roof Noise Levels
The metal roof profile type may also affect the level of noise transmitted by the roof to the building interior. Raised profile metal roofs may be noisier than a flatter profile roof on the same building. Metal roofing that is supported directly by the roof deck below will deflect less and should be more noise and sound resistant than metal roofing that has a raised profile. For example, some metal roof shingles employ a raised profile that includes an empty air space below the metal shingle surface.
The Role of Metal Roof Fasteners in Roof Noise Levels
Because improper choice of fastener, improper fastener location, or improper number of fasteners may permit metal roof components to move in ways that increase the roof noise level during temperature changes, review the manufacturer's specifications for your particular roof product to be sure that the roof was installed as recommended.
Check panel lengths, panel side-interconnections, fastener type, size, interval, location, and any other fastener and panel specifications in the roofing manufacturer's product installation guide. Pay particular attention to panel end abutments against immovable surfaces. A roof panel, even a fairly short one, that tightly abuts a vertical surface such as a chimney, wall or parapet, may be noisy when heated by normal temperature changes.
Suggestions for Reducing Noise Transmission Through Metal-Covered Roofs
These metal roof installation options can reduce roof noise transmission from metal roofs, such as the sound from falling rain or hail:
Re-roofing with metal roofing over existing asphalt shingles, if permitted by local building codes, will afford some sound insulation.
Install metal roofing over sound-absorbing foam insulating panels to reduce noise transmission through the roof to the building interior.
Installing metal roofing over an insulated attic space will transmit less noise to the building interior than installing a metal roof over a flat or low slope roof that does not include an insulated attic space between the roof and the occupied space.
Install metal roofing over underlayment products designed to permit ventilation and whose properties also are sound-isolating. Colbond underlayments; Enkamat 7008/1010 reduce the sound transmission of the impact noise of rainfall or hail on metal roofing.
Selecting a heavily-formed, heavily profiled, or textured metal style roof product may reduce its noise transmission property.
Use the proper metal roof fasteners, in the right location, and at the right interval as specified by the roofing manufacturer. Too few fasteners, or loosely-fastened or improperly secured metal roofing is likely to be more noisy as temperatures vary.
Use multiple layers of building insulation, tight construction, and sealants in gaps or sound transmission pathways - NAIMA [4] quoted just below:
Adding faced metal building insulation alone to the metal building construction can reduce noise levels in a metal building by 5-6 dB. However, construction techniques do impact the way sound travels. To maximize a metal building's acoustical performance, the wall and/or roof panels should include at least one layer of faced metal building insulation, and one layer of unfaced metal building insulation. Additionally, the construction should be tight, with attention to detail such as filling gaps with flexible sealants to assure that sound does not transit via air leaks from one space to another. - NAIMA [4]

See METAL ROOFING and METAL ROOF EXPOSED FASTENER FLASHING for details.
Metal roofing references and other detailed articles about metal roof selection, installation, diagnosis & repair begin at METAL ROOFING

Sound Transmission Class - STC & OITC: Sound Transmission Loss Properties for Building Walls & Roofs
STC or sound transmission class is defined as the level of reduction of sound transmission from outside noise sources to the building interior. Higher STC numbers mean higher resistance to sound transmission to the building interior, or as acousticians would describe it, higher STC means greater sound transmission loss between outdoors and the building interior. Typical STC values for metal buildings are STC=20 to STC=55.
OITC or Outdoor-Indoor Transmission Class describes the sound transmission loss properties of building exterior components like windows and walls against noise from traffic, trains, or low flying aircraft. - General Steel Corporation [3]
Details about sound transmission are at SOUND TRANSMISSION CLASS RATINGS
TPO Roof Noise
Reader Question:
5/9/2014 LarryDri@aol.com said:
Interested in rain impact sound transmission on TPO Roofs
Reply:
Larry,
Thermoplastic polyolefin (TPO) single-ply roofing membranes are rather recent roof products for which I have not seen much research on noise transmission. Here are a few citations of interest but you'll see the focus has been for the most part elsewhere. Nebesnak (patent disclosure) discusses the need for sound-isolating underlayment. Baskaran et al have done a bit of research and may have some data for you as may Beer who've researched a decade of TPO roof performance. Thanks for the query. I'll continue to look at this question.
Baskaran, B. A., R. M. Paroli, and P. Kalinger. "Advancements and changes in the North American commercial roofing industry." In International Conference on Building Envelope Systems and Technology, vol. 2007, p. 275e86. 2007.
Baskaran, A., Y. Chen, and U. Vilaipornsawai. "A new dynamic wind load cycle to evaluate flexible membrane roofs." Journal of testing and evaluation 27, no. 4 (1999): 249-265.
Beer, Hans-Rudolf, and Stefan Keiser. "Flexible polyolefin roofing membranes: ten years of field experience." In Proceedings of Waterproofing technology and the environment, IXth International Waterproofing Association Congress, Amsterdam, pp. 154-172. 2000.
Nebesnak, Edward, and Li-Ying Yang. "Flexible polypropylene roofing membrane." U.S. Patent Application 10/925,097.
Yang, Li-Ying. "Single ply thermoplastic polyolefin (TPO) roofing membranes having superior heat seam peel strengths and low temperature flexibility."
Reader Question: What causes roof noise in our flat roof during cold nighttime weather? How can we fix it?
Roof noise - during the winter our torched-on membrane (180g. polyester base sheet & 280g. polyester SBS Cap Sheet) covered flat roof (installed 2002 on the apartment building) makes noises typically at night which disturbs the tenants and has caused some to move out.
There are no leaks and the roof looks properly installed. What causes the noise and what can be done about it? Regards, Steve Rickard
Reply: suggestions for diagnosing cold weather flat roof noise - the diagnosis will define the steps to cure roof noise
Steve: re: how to diagnose & cure annoying night time noise from a flat roof.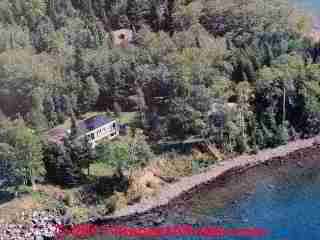 With no information and no building inspection, we can't say with confidence exactly what is causing the annoying roof noise you report. An onsite expert should be able to help however. Here are some of the roof noise diagnosis observations that we would expect a roof noise consultant to consider:
What are all of the materials in the roof structure: support, roof deck, layers and coatings - thermal expansion rate differences during night time cooling might explain movement between materials and thus the noise.
How are the various roof layers fastened to the roof deck itself? What is the roof decking material? For example movement of materials over a metal roof deck may indeed telegraph noises to the interior
What is the leak history of the roof; even a roof that is not leaking now may contain moisture from prior leaks or from condensation due to moisture penetration from the building interior (again material and installation dependent) that could in cold weather be forming ice or contributing to thermal movement and noises
What is the roof insulation scheme - where has insulation been placed and using what materials. It may be possible to correct the noise problem by a review and improvement of the roof insulation.

For example, adding insulation at the building interior may reduce the differences in temperatures experienced by the two sides of the roof structure - the interior side vs the exterior side. If thermal changes are a key in movement that is the source of the roof noise problem.
What else is on or near the roof and the rest of the building structure that might be moving or otherwise serving as a noise
source: loose building components, antennae etc. ?
What HVAC or mechanical systems are mounted on the roof or penetrate the roof?
Where is the building located? To what extremes of temperature is the roof exposed?
Is there standing water on the roof - are the roof drains working? See our photo [above left] of a tar and gravel flat roof located in northern Minnesota.[5]
Is there ice formation on the roof surface? In some climates such as northern Minnesota, as standing water on a flat roof freezes during temperature drops, very large booming sounds can be produced by the roof.

These roof booming noises are familiar to Minnesotans who live along the shores of Lake Superior, as ice freezing and fracturing on the lake itself produce the same sounds. [5]
Are there other nearby external sources of noises that may be transmitted through the roof (falling acorns, airports, road traffic)?
Other more general observations that can help track down roof noise sources
Weather & roof noises: At what times, weather conditions, temperatures, wind directions, operation of mechanical systems etc. map to when the noises are observed; where, spatially, are the noises loudest? Are there movable components on a building such as signs or weather vanes that may be noise sources during windy conditions?

Also see WIND NOISES at BUILDINGS
Building components & roof noises: Do those locations track possible noise sources to specific building components.
Comments, suggestions, or questions from readers are welcome in helping to diagnose this roof noise issue.
...
Continue reading at SOUND ABSORPTION vs. SOUND ISOLATION or select a topic from closely-related articles below, or see our complete INDEX to RELATED ARTICLES below.
Also see BANGING BOOMING NOISE DIAGNOSIS & CURE
Or see NOISE / SOUND DIAGNOSIS & CURE - home, where we describe how to locate the source of, identify and correct various building sounds and noises indoors or on occasion, noises from outside that penetrate indoors at annoying levels.
Or see SOUND CONTROL in BUILDINGS - home , we provide a series of detailed articles on reducing unwanted building noise levels through building design, insulation, sound isolation, and noise barriers.
Or see SOUND CONTROL for FLOORS - methods that may help with roof noise control
Or see SOUND ISOLATION STRATEGIES
Or see SOUNDPROOFING MATERIAL PROPERTIES
Suggested citation for this web page
ROOF NOISE TRANSMISSION at InspectApedia.com - online encyclopedia of building & environmental inspection, testing, diagnosis, repair, & problem prevention advice.
Or use the SEARCH BOX found below to Ask a Question or Search InspectApedia
...
Frequently Asked Questions (FAQs)
Try the search box below or CONTACT US by email if you cannot find the answer you need at InspectApedia.
Question: howling noise on roof when windy
(Apr 3, 2012) Cheryl Sayer said:
Hi. We have just had new house built and in 35km+ North and North west winds we get a howling noise that we originally thought were the windows. The windows were checked for leaks and sealed inside and out with no effect. We even bought expenive external electric shutters to cover the windows in wind without effect, hence we believe its the roof. The roofing people inspected it and said there were no problems. The roof is colorbond - coragated steel. It has flashing and gutter with weep holes. We tried covering up the weep holes with out any luck. Can you please help. I have search your site but can't find anything that fits.
Reply:
Cheryl, I've been thinking about your question off and on for days and am almost as stumped as you. But don't give up. As long as we can rule out apparent noises that actually are neurological in origin (such as tinnitus and sounds suffered by people like my mom with dementia) then what's left are noises that are physical in origin and that can eventually, with care, be tracked down.
You've already related the noise to wind. Try:
- careful detection of sound source by direction, perhaps using a simple hearing amplifier sold by RadioShack
- asking the roofing manufacturer or other property owners with the same roof product installed if they are familiar with any noise issues and if so what solutions they use
- making some temporary air blocks or baffles to amend wind direction over leading edges of the roof or areas of roof surface. For example some readers had success with tracking down wind noise to some loose asphalt shingles by temporarily placing sheets of plywood over the suspect surface area. (Watch out that plywood doesn't blow off and hit someone/something).
Keep us posted, what you find will help other readers, and I'll continue to think about it and do some more research to be reported here.
Question: squeaky roof insulating board
(June 21, 2012) geoffm52536@charter.net said:
I stripped existing shingles off the roof added 2 inch thick blue board on top of existing OSB then added 3/4 OSB and reshingled with architectural shingles. Now get cereaking noises in the roof at beginning and end of day probably expansion/contraction but what of? Blue board was fastened to OSB with nails and top layer of OSB with screws. Ideas?
Reply:
Goeff,
About squeaking creaking roof surfaces using foam board insulation:
I suspect that because the solid foam insulating board is just nailed, not glued, to the two layers of plywood and OSB, that foam and sheathing sandwich is making the creaking noise due to thermal expansion and contraction of the whole roof deck assembly.
Roof surface temperatures run through a very wide range of temperature swings, even moreso if the shingles are dark in color.
Solid foam board, moving over plywood or OSB, will sometimes make a creaking or squeaking noise.
It's possible that you might get a slight reduction in the noise if you assure that you have good under-roof ventilation, as cooling the whole roof assembly may have a small effect on temperatures throughout your plywood-solid foam insulating board-OSB sandwich.
At the time of construction one might reduce noise from foam board roof insulation panels by applying a glue rated for use with the particular insulating material. But once you've sandwiched it between plywood, without glue, securing the plywood further may not do much about this noise complaint.
Otherwise, I'm afraid you're stuck with those noises until it's re-roof time.
Question: noisy neighbor's roof
(July 10, 2012) MIke said:
Our neighbor is installing a metal roof near our bedroom window. Will this increase noise when we are trying to sleep?
Reply:
Mike as you may want to read in the article above, the noise transmission into the building that the roof covers is affected by how the roof is installed and how the under-roof space is insulated. The source of noise on a metal roof is primarily the weather: rain or hail. I can imagine that a poorly secured metal roof might creak or make noises during thermal changes but I have not come across that complaint. In the occupied space below the example roof shown in our photos above, there was no significant noise level difference during rain than below the flat rubber-roofed sections of the same building.
Complaints by neighbors about noise from buildings with metal roofs is not an issue we've had reported.
Question: adequacy of bubble wrap as sound insulation in a roof?
(July 30, 2012) Madhu said:
I am building a single storey house in the tropics with a permaclad roof on top of pine rafters. The rooms will all have false ceilings with either gypsum or dry wall. I plan to use one layer of refledtive insulation (the one with bubbles in the centre an foil outside. Will this help with rain noise? What is the best way to apply this insulation? If it doesn't dampen sound the only other available insulation in my area is fibreglass. Can this be used and if so, how should it be applied in relation to the reflective insulation? Please help. Thanls
Reply:
Madhu, I doubt that the thin insulation you describe will do much to reduce noise transmitted through the metal roof. You could add insulation betweeen the foil/bubblewrap "insulation" and the roof underside for added sound deadening.
Question: wind & air movement noise generation on roofs
(Feb 1, 2013) jeff said:
wind noise from front of bungalow roof
(Apr 2, 2014) Anonymous said:
I had square plastic roof vents installed when the roof was reshingled 3 years ago. Prior to that the attic was vented only by soffit vents.
I am now experiencing resonating vibration in my home (starting December 2014). I am wondering if the cause of the vibration is due to the helmholtz effect of wind and sound from heat pumps and hot tubs in the area entering the house through the vents.
Is there a possibility of increased noise in my house due to the vents? How would I close the openings without tearing off the shingles?
(Apr 2, 2014) Ken said:
I had square plastic roof vents installed when the roof was reshingled 3 years ago. Prior to that the attic was vented only by soffit vents.
I am now experiencing resonating vibration in my home (starting December 2014). I am wondering if the cause of the vibration is due to the helmholtz effect of wind and sound from heat pumps and hot tubs in the area entering the house through the vents.
Is there a possibility of increased noise in my house due to the vents? How would I close the openings without tearing off the shingles?
Reply:
Ken, your guess that air movement across the roof vents is producing a sound is possible, but it would surprise me first because I think that the effect would be so stunningly common, and the subject of so many complaints that the roof vent manufacturers would have changed the vent design, and next because I'm not sure that Hermann's explanation would apply to this sort of vent.
I'd check for some visually obvious snafus fist, like loose flashing or even loose soffits- as now you're actually providing a partial air outlet that may change the air inflow into the attic. That change can cause anything in the air path to move and perhaps produce a sound.
I'm not a big van of spot vents like those you describe because of their lack of effectiveness - venting only portions of the roof deck. But better than nothing.
If you want to perform a test, try just temporarily taping the roof vent openings with blue masking tape.
Let us know what you find.
Question: noist transmission through steel roof to neighbors invades privacy
(Sept 7, 2014) Kathy Mirza said:
Hello, currently we have a steel roof top and all the inside sound exits the roof to neighboors homes. Looking for a product to use as prevention. What product can be installed to cancel the current noise out of the building
Reply:
Kathy as a retrofit you may find best results adding closed cell spray foam insulation; some noise transmission will still pass through framing in contact between the interior ceiling and exterior roof sheathing but you'll largely attenuate the noise.
Question: noise transmission through rubber roof
(Sept 14, 2014) Jamie said:
Just moved into a home with a rubber roof. Rain noise, sounds of acorns falling and animals scurrying across the roof is unbearable. There is no attic. The ceiling has some insulation (r30) and we just had rockwool blown into to fill the 4 inch gap between the insulation and the roof but that did not help. We are desperate, literally cannot sleep under this roof.
Reply:
Jamie,
If you have sufficient headroom to be willing to give up some of it you can install a layer of solid foam insulation then more sound-resistant drywall atop that. More extensive sound-isolation framing is also possible (offsetting an additional set of ceiling joists from the original ones) but that is both more costly and much more space-consuming.
Question: severe cracking noises in roof in windy conditions
(Nov 14, 2014) Martha said:
Please help....we experience severe cracking noises during windy days/nights, that are isolated to one area of attic.....over the master bedroom. The very loud, scary cracking noises wakes us up and I'm afraid something is going to come crashing down through the ceiling. That's how loud it is.
Our ceilings are 10 ft. tall, we have trusses in the attic with sprayed foam insulation in between the floor boards in the attic. The builder sent a fellow to brace up some of the 2x4's last year...but that didn't help. Do you have an answer to our dilemma? We can not live with this! Thank you for any assistance you may offer.
Reply:
Martha,
I'd like to help but don't know a thing about your home, its location, construction, history, conditions, materials. I agree that we want the noise cause diagnosed. Wind usually relates to noises either as air movement across or through building materials or perhaps temperature changes or even pressure loading on the structure. Try calling some of the home inspectors listed in your area to see who has experience and interest in tracking down noise and sound problems, or see

NOISE / SOUND DIAGNOSIS & CURE - home In the ARTICLE INDEX found among the Continue Reading links at the end of this article .
Question: aircraft noise transmission through roof of West Texas home
(Jan 15, 2015) Kelley Galloway said:
So happy to find you. I'm planning to build in West central Texas. We are near the flight path of C-130's and B-1 bombers. We would like a metal roof.
Our builder has said that with our desired closed foam insulation mechanical noise will actually increase over a metal roof with more "traditional" and less effective insulation. Would you be able to recommend the absolute best way to construct the home (ideally with a metal roof) for mechanical noise reduction and optimal energy conservation? I, of course, imagine will transpire to the "most expensive"
If you can, please try to let me know some idea of a relative cost statement and perhaps a few options with various cost bundles. I know this is a a lot to ask and I would appreciate anything you might suggest. (Note: we do get a lot of hail, but that noise is of much less concern than airplane noise :). Thanks for helping all of us!
Reply:
Kelley
A foam insulated roof is described by the expert sources we reviewed as providing more sound transmission insulation than simple fiberglass. I believe that in part this is because the fiberglass will do nothing to dampen sound transmitted through the roof covering to sheathing to rafters to the interior.
You will want to get some bids on insulation alternatives. Foam sprayed in placed is more costly than fiberglass (and has a higher R-value as well), perhaps 2x. However one should when assessing roof insulation cost for noise, also consider the payback time in heating or cooling cost savings: a figure that varies depending on the home's heat gain or loss rate through the roof and of course on heating or cooling methods and operating costs.
23 January 20145 Kelley Galloway said:
Thanks, Dan for your response. I'm a little confused. Let me restate so I understand. I see that foam has less sound reduction qualities than fiberglass. You say, however, that "fiberglass will do nothing to dampen sound transmitted through the roof cover (i.e. metal roof) to sheathing to rafters to interiors". Those words to me sound as though fiberglass is not a good buffer for sound with a metal roof. Am I reading this incorrectly? I'm not sure where to go for bids of insulation. Perhaps my builder will know. Thanks.
Reply:
Kelley
Unless something is done to attenuate the sound transmission through framing, the noise reduction by insulation alone will be limited. Foam has the advantage that its contact with wood framing seems to help attenuate that sound path, but using solid foam under the roof and atop the framing is still more effective.
Insulators are likely to be nervous about promising anything about sound reduction since by definition the client has already indicated that they're sound-sensitive.
The suggestions in the article above and in the FAQs are the best I've found to date.
You might need an architect or engineer who is expert in sound control to look at your specific structure to identify the sound pathways so that you can be sure you don't have to do the job twice.
...
Ask a Question or Search InspectApedia
Try the search box just below, or if you prefer, post a question or comment in the Comments box below and we will respond promptly.
Search the InspectApedia website
Technical Reviewers & References
Click to Show or Hide Citations & References
Acoustical Society of America - http://asa.aip.org/ Elaine Moran, ASA Office Manager, Suite 1NO1, 2 Huntington Quadrangle, Melville, NY 11747-4502 516) 576-2360, FAX: (516) 576-2377 email: asa@aip.org.
ASA is an excellent source of noise and sound standards. Quoting from the associations history page:

"From the Society's inception, its members have been involved in the development of acoustical standards concerned with terminology, measurement procedures, and criteria for determining the effects of noise and vibration. In 1932, The American National Standards Institute (ANSI), then called the American Standards Association, appointed the Acoustical Society as sponsor of a committee, designated as Z-24, to standardize acoustical terminology and measurements. The work of this committee expanded to such an extent that it was replaced in 1957 by three committees, S1 on Acoustics, S2 on Mechanical Shock and Vibration, and S3 on Bioacoustics, with a fourth, S12 on Noise, added in 1981. These four committees are each responsible for producing, developing a consensus for, and adopting standards in accordance with procedures approved by ANSI. Although these committees are independent of the Acoustical Society, the Society provide s the financial support and an administrative Secretariat to facilitate their work. After a standard is adopted by one of these committees and approved by ANSI, the Secretariat arranges for its publication by ASA through the American Institute of Physics. The ASA also distributes ISO and IEC standards. Abstracts of standards and ordering information can be found online on the ASA Standards Page. More than 100 acoustical standards have been published in this way; a catalog is also available from the Standards Secretariat (631-390-0215; Fax: 631-390-0217). The Society also provides administrative support for several international standards committees and acts as the administrative Secretariat (on behalf of ANSI) for the International Technical Committee on Vibration and Shock (TC-108)." - http://asa.aip.org/history.html


ANSI/ASA S12.60, Acoustical Performance Criteria, Design Requirements, and Guidelines for Schools, 2002.


[1] Connelly, Maureen, Hodgson, Murray, "Thermal and Acoustical Performance of Green Roofs", Sound Transmission Loss of Green roofs, [presentation, Session 1.5], Greening Rooftops for Sustainable Communities, conference, awards, trade show, Baltimore MD, 30 April-2 may 2008. Web search 4/3/2011 original source: http://commons.bcit.ca/greenroof/publications/
2008_grhc_connelly_hodgson.pdf. These authors provide an excellent bibliography of references for sound transmission in buildings, including some of the references cited just below:

Sharp, BH 1973, Study of Techniques to Increase the Sound Insulation of Building Elements. U.S. Department of Commerce PB-222 829, Washington.
Sharp, BH & Martin S 1996, "The Measurement of Aircraft Noise Reduction in Residences", Proceedings of Inter-Noise, Liverpool, 1996, pp. 2747-2752.
Friberg, R 1973, "Transmission Loss and Absorption Factors for Corrugated Steel Roofs, Insulation on the Outside", Proceedings of Inter-Noise, Copenhagen, 1973, pp. 213-217.

[2] Colbond, EnkaTech Note, "Acoustical Benefits of Roof Underlayments", Colbond Inc., PO Box 1057, Enka NC 28728, gtel: 800-365-7391, website: www.colbond-usa.com web search 4/3/2011, original source: http://products.construction.com/
swts_content_files/1329/E835617.pdf
[3] General Steel Corporation, "The Facts About the Acoustical Performance of Metal Building Insulation 2", Sound Transmission Class, General Steel Corporation, 10639 W. Bradford Road, Littleton, CO 80127, web search 4/3/11, original source: http://www.gensteel.com/insulation_facts-5a.htm
[4] North American Insulation Manufacturers Association NAIMA, "Insulation Facts #58: The Facts About the Acoustical Performance of Metal Building Insulation", NAIMA, 44 Canal Plaza, Suite 310, Alexandria VA 22314, tel: 703-684-0084, website: http://www.naima.org/
[5] Booming roof noises in Northern Minnesota caused by freezing water and ice fracturing, personal communication, JC to DF, 12/8/2011
[6] "New Zealand Steel Installers Guide, COLORSTEEL®, ZINCALUME® steel and GALVSTEEL™ Installer's Guide", [PDF], New Zealand Steel Limited, Private Bag 92 121, Auckland, New Zealand. Tel: 0800 100 523, or 0-9-375 8999 Fax 0-9-375 8213, Website: http://www.nzsteel.co.nz/, Email: info@colorsteel.co.nz - retrieved 2015/12/07, original source: http://www.nzsteel.co.nz/content/media/ 77012/New%20Zealand%20Steel%20Installers%20Guide%20-%20November%202005.pdf


Best Practices Guide to Residential Construction, by Steven Bliss. John Wiley & Sons, 2006. ISBN-10: 0471648361, ISBN-13: 978-0471648369, Hardcover: 320 pages, available from Amazon.com and also Wiley.com. See our book review of this publication.
Developments in Noise Control, NRCC, National Research Council, Canada, suggestions for noise control, sound transmission through block walls, plumbing noise control, noise leaks, and sound control advice. Web search 01/17/2011, original source: https://www.nrc-cnrc.gc.ca/eng/ibp/irc/bsi/90-noise-control.html
Eric Galow, Galow Homes, Lagrangeville, NY. Mr. Galow can be reached by email: ericgalow@gmail.com or by telephone: 914-474-6613. Mr. Galow specializes in residential construction including both new homes and repairs, renovations, and additions.
Thanks to audiologist Cheryl P. Harllee, licensed hearing specialist, for discussing noises and noise problems in preparation for this article. Ms. Harllee can be located at the Village Hearing Center, 249 U.S. Highway One, Tequesta FL 33469 561-744-0231
Thanks to reader Sue Hazeldine, from the U.K. for discussing how she tracked down a whistling chimney noise to an antique hanging sign on the building exterior - 01/19/2010.
Thanks to reader Michael Anderson, 8 May 2009, for discussing clicking sounds coming from air conditioning equipment.
Thanks to reader Erna Ross who described loss of sleep due to a hissing noise at her home 06/15/2008.
Marpac, produces white sound generators, a product that they identify as the Marpac sound conditioner. Marpac can be contacted at http://www.marpac.com/ or contact the Marpac Corporation, P.O. Box 560 Rocky Point, NC 28457 Phone: 800-999-6962 (USA and Canada) Fax: 910-602-1435 1-910-602-1421 (worldwide), 800-999- or email: info@marpac.com
Sound Oasis sound conditioners are produced by Sound Oasis: http://www.sound-oasis.com/ email: info@sound-oasis.com or 1-866-625-3218
Barrier Ultra-R super high-R building panels, produced by Glacier Bay, use Aerogel and are rated up to R-30 per inch, or in Barrier Ultra-r™ panels, R-50 per inch. The company also produces acoustic panels that are Ultra-db resistant and lightweight. Unlike the appliance insulation panels discussed in the original Q&A above on miracle insulation, these Areogel based panels will continue to retain some, though reduced insulating value if punctured, performing at perhaps R-9 per inch. The product is used in marine refrigerators, but in the future may be available as a residential construction product. The company is researching specialized products in medical, transportation, and aerospace applications. Contact: Glacier Bay, Inc., 2930 Faber Street, Union City, CA 94587 U.S.A., (510) 437-9100, Sales and Technical Information - sales@glacierbay.com
Tremco, Tremco Global Sealants Division, 10701 Shaker Blvd., Cleveland OH 44104 - see www.tremcosealants.com/
Ideal Tape, Inc., 1400 Middlesex St., Lowell MA 01853 - see www.abitape.com/tape/iframe_ideal.htm Tel: 1-800-284-3325
3-M Corporation, tape products, see solutions.3m.com/
US EPA Noise Regulations & References

Noise Control act - http://www.nonoise.org/epa/act.htm
Federal Regulations from the EPA's Office of Noise Abatement & Control - http://www.nonoise.org/epa/reg.htm
A Basis for Limiting Noise Exposure for Hearing Conservation - http://www.nonoise.org/epa/Roll1/roll1doc1.pdf
Noise - a Health Problem - http://www.nonoise.org/library/epahlth/epahlth.htm - quoted below


Racket, din, clamor, noise. Whatever you want to call it, unwanted sound is America's most widespread nuisance. But noise is more than just a nuisance. It constitutes a real and present danger to people's health. Day and night, at home, at work, and at play, noise can produce serious physical and psychological stress. No one is immune to this stress. Though we seem to adjust to noise by ignoring it, the ear, in fact, never closes and the body still responds - sometimes with extreme tension, as to a strange sound in the night.

The annoyance we feel when faced with noise is the most common outward symptom of the stress building up inside us. Indeed, because irritability is so apparent, legislators have made public annoyance the basis of many noise abatement programs. The more subtle and more serious health hazards associated with stress caused by noise traditionally have been given much less attention. Nonetheless, when we are annoyed or made irritable by noise, we should consider these symptoms fair warning that other things may be happening to us, some of which may be damaging to our health.

Protective Noise Levels - 1979, basis for many local noise ordinances and codes - http://www.nonoise.org/library/levels/levels.htm
This publication is intended to complement the EPA's "Levels Document,"* the 1974 report examining levels of environmental noise necessary to protect public health and welfare. It interprets the contents of the Levels Document in less technical terms for people who wish to better understand the concepts presented there, and how the protective levels were identified. In that sense, this publication may serve as an introduction, or a supplement, to the Levels Document.

"Measurement of Highway-Related Noise", US Department of Transportation, Federal Highway Administration, http://www.fhwa.dot.gov/environment/noise/measure/chap8.htm
Books & Articles on Building & Environmental Inspection, Testing, Diagnosis, & Repair
American Plywood Association, APA, "Portland Manufacturing Company, No. 1, a series of monographs on the history of plywood manufacturing",Plywood Pioneers Association, 31 March, 1967, www.apawood.org
Animal Allergens: Dog, Cat, and Other Animal Dander - Cleanup & Prevention Information for Asthmatics and regarding Indoor Air Quality.
ASHRAE resource on dew point and wall condensation - see the ASHRAE Fundamentals Handbook, available in many libraries. The following three ASHRAE Handbooks are also available at the InspectAPedia bookstore in the third page of our Insulate-Ventilate section:
Best Practices Guide to Residential Construction, by Steven Bliss. John Wiley & Sons, 2006. ISBN-10: 0471648361, ISBN-13: 978-0471648369, Hardcover: 320 pages, available from Amazon.com and also Wiley.com. See our book review of this publication.
"Insulation: Adding Insulation to an Existing Home," U.S. Department of Energy - tips on how to do your own check for the presence of absence of insulation in a home
Insulation: Selecting Insulation for New Home Construction, U.S. Department of Energy - "Your state and local building codes probably include minimum insulation requirements, but to build an energy-efficient home, you may need or want to exceed them. For maximum energy efficiency, you should also consider the interaction between the insulation and other building components. This is called the whole-house systems design approach."
Insulation Types, table of common building insulation properties from U.S. DOE. Readers should see INSULATION R-VALUES & PROPERTIES our own table of insulation properties that includes links to articles describing each insulation material in more detail.
...