Fiberboard Roof Tiles / Shingles
Masonite™ Woodruf™ Fiberboard Roof Shingles
FIBERBOARD ROOFING & FIBER-WOOD ROOFING - home - CONTENTS: Masonite Fiberboard Roofing Shingles failures, settlements. Masonite Woodruf Shingle Life Expectancy & Wear Factors. Woodruf Fiberboard Roof failures, claims, settlements. List of fiber cement & hardboard roof shingle failures, warranty claims, manufacturer.
POST a QUESTION or READ FAQs about Masonite & Woodruf fiberboard roof shingles, failures, warranties, class actions, inspection, maintenance, repair, or replacement
InspectAPedia tolerates no conflicts of interest. We have no relationship with advertisers, products, or services discussed at this website.
Masonite shingles information website:
This website provides detailed information about Masonite™ Woodruf™ fiberboard roof shingles and includes advice for home inspectors, home buyers, and homeowners where these roofing products are used.
Several hardboard-based and fiber cement based roofing products have not performed as well as originally anticipated, experienced early failure, and were the subject of roof warranty claims. Masonite Woodruff™, Cemwood™, Hardishake/Hardislate™, CalShake™ and Fire Free™ are examples of product names that have suffered these problems.
We also provide a MASTER INDEX to this topic, or you can try the page top or bottom SEARCH BOX as a quick way to find information you need.
Wood Fiber Based Roofing, including Masonite Woodruf™ Fiberboard Roofs: inspection, failures, warranty information, replacement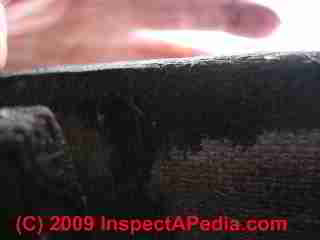 This article explains wood-fiber based shingle failures such as Masonite Woodruf fiberboard shingle life, failures, and warranty claims for this and other wood-fiber roofing products.
Woodruf™ roof shingles, a fiberboard roofing product, were a Masonite™ roofing product consisting of "pressure bonded fibers designed to resemble natural cedar roofing" sold in the United States into the 1990's and have also been found installed on homes in Canada.
Masonite Woodruf shingles were the subject of a class action lawsuit and settlement concerning the durability of this roofing product - we discuss the Woodruf roofing class action settlement below.
However the Woodruf™ shingle claims period expired on January 6, 2009.
Our photo (left) shows how easily a Woodruf roof shingle panel can be identified if you have access to its under-side.
The roofing shingle product was produced in four-foot sections that were 12" wide and with a nominal thickness of 7/16". The actual thickness varies due to raised ridges that give Woodruf shingles the appearance of a wood shake or shingle.
Original Life Expectancy of Woodruf Shingles
While we have observed statements that the original life expectancy of Woodruf shingles was 30 years, 40 years, and even 50 years, (including some original Woodruf shingle brochures), our sources principally indicate that Woodruf shingles were marketed with a 30 year life expectancy.
As of this artcle's last update (October 2014) there is no warranty service remaining on this roofing product.
Composition of Woodruf™ Fiberboard Shingles
The Woodruf™ shingle fiberboard was treated with a water repellant and a bonding agent to permit outdoor exposure.
This product is softer than Masonite's hardboard products and to remain durable required an installation that permitted good roof drying (similar to the requirement for wood shingles or shakes). This is particularly true because the factory edges as well as any cut edges made during installation were not sealed.
Intended Use of Woodruf™ Fiberboard Roof Shingles
Masonite Woodruf roofing was intended for steep slope roofs and should not be installed on slopes lower than 4" of rise in 12" of run (a 4/12 roof). The shingles were to be installed over roofing felt on a sound roof deck, with a 9" shingle exposure and requiring eight nails per roofing panel.
Special Flashing Required for Woodruf™ Roofing Shingles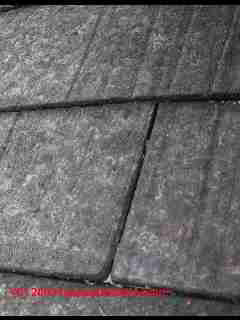 Between every Woodruf roofing panel and its abutting neighbor an alumium flashing strip was installed under the butt joint.
You can see this special Woodruf flashing strip at the bottom of the butt joint in the lower center of our photograph (left).
This strip should be 12" in length and should extend to the head or upper edge of the shingle. Flashing for shingle butt joints provided by the manufacturer included a lip at the upper edge to keep the strip from sliding out of place.
A raised ridge in the center of each flashing section acts as a spacer and allows for thermal expansion of the shingles without buckling the roof.
Common Defects and Signs of Deterioration found on Masonite Woodruf™ Roofs and on Fibre Cement Roof Cladding
Masonite Woodruf™-type Roof Shingles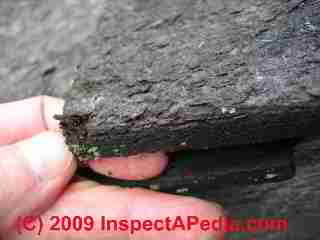 Buckling Woodruf™ shingle panels may occur if the proper aluminum flashing strips were not used at the butt joints
Cut edges in the Woodruf™ shingles, made to fit to rake edges, valleys, and around chimneys or roof penetrations are more likely to be deteriorated from weather exposure and water.

Swollen, delaminating Woodruf shingle material becomes soft and easily crumbles, suggesting that an on-roof inspection may further damage already-fragile or worn materials.

Our photo (left) shows typical softening and aging at the edge of a Woodruf shingle panel.
Fungal growth in fiber-cement roofing products: modern wood-cement and other fibre cement products are not impervious to deterioration or fungal growth. Branko (2006) points out that in modern cement-bonded aggregate and fibre products, especially in prolonged-wet environments, particularly in wood-cement and straw-cement products (such as StrawCrete™ - illustrated at below left from Branko, or HempCrete™ or HLC™ - illustrated as a modular building block at below right from Wikipedia). Branko's article illustrates by on-site photos of roofing materials that these materials can support fungal growths, even visible "mushrooms" such as the genus Peziza. - Branko (2006).

HempCrete™, used as a masonry block building material (below right - Wikipedia.com 2014) is a mixture of hemp hurds and lime, sand, or cement. - Elfordy (2008). Hempcrete is a light-weight Australian building product used in both roofing and building blocks, also referred to as HLC or "Hemp Lime Composite" described by the manufacturer as fire, rot and insect-resistant.
Thick, swelling Woodruf™ shingles may be found anywhere in the roof area, indicating material that is at the end of its life.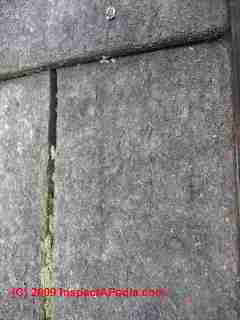 Moss, lichens, and deterioration caused by shading from overhanging trees and tree debris can substantially reduce the life of any roofing product, particularly one that may absorb moisture, swell, and delaminate when wet

Our photo (left) shows moss and lichens growing in a butt joint between two Woodruf roof shingle panels.

It appears that the desired special flashing strip may have been omitted at this location as well.
Replacements for Masonite™ Woodruf Shingles?
Question: what is an appropriate replacement for Woodruf shingle roofs?
I own a roofing company, have an insurance adjuster background, and also do roof inspections for insurance companies.
My opinion on the Woodruf product is to replace it with a 30 year laminate shingle. I have another roofing company stating the Woodruf product was marketed as high quality and that it was expensive. Thus a higher quality shingle should serve as a replacement.
They do not agree with my replacement with the 30 year laminate. This particular Woodruf roof is in considerably good shape considering the product, but replacement hinges on one shingle found missing during my inspection. Do you know of any Woodruf shingle replacements available, like say one shingle?
Lastly, what supportive document do you have regarding the marketing of Woodruf shingles as a 30 year product that you can share with me? - Anon.
Reply: High quality laminate asphalt shingles or cedar wood roofing?
To replace a single roof shingle for the case you mention, you might try
Removing a shingle in good condition from an area on the roof that is not visible from the ground, repairing the spot of removal using another durable roofing product.
Using a slate of similar color and thickness. You may be able to install the replacement in either case using slate hooks to minimize the disturbance to surrounding roofing.
A more general question has been brought by several readers about the appropriate roofing material to use when the entire Woodruf shingle roof is ready for replacement.
Our OPINION is that a high quality laminate roofing shingle would be an appropriate replacement for Woodruf in that case.
It may be a difficult argument to claim that the original Woodruf roof met the quality and durability expected by the building owner and that therefore its replacement should be a product of the same original cost. The durability and quality of Woodruf roofing that was anticipated by the manufacturer, roofers, and consumers was unfortunately not met, and is brought into question by the early failure issues that are well documented.
We would welcome suggestions about top-end in appearance and durability roofing products that meet the original life-expectancy claimed for the Woodruf product (and that deliver that performance).
Slate? Not likely to be technically possible due to weight and structure issues.
Wood? A close cosmetically similar roof would be red cedar shingles but there may be local fire and code issues, maintenance costs, etc. that won't appeal to some building owners, not to mention the short roof life if you install wood shingles over solid plywood decking - so is it cost justified to redesign the roof deck or add venting?.
Perhaps cement roofing tiles? Weight and appeaarnce issues. Do you know what product the other roofer wants to install?
All of the Woodruf roofing material information we have readily found is published at this website.
We are looking for early Woodruf Roof Shingle marketing brochures that included life expectancy statements - CONTACT us if you find such documents.
About the anticipated product life, we have seen life expectancy claims of 30, 40, and even 50 years but not a public document with those numbers.
We would welcome your views and added suggestions
Masonite™ Woodruf Shingle Class Action Lawsuit Settlement Information for Homeowners
Also see MASONITE WOODRUF® ROOFING OR MASONITE OMNIWOOD® SIDING LAWSUIT SETTLEMENT NOTICE - PDF file
If you qualify as an Eligible Claimant, you may be entitled to recover under the Settlement. However the claims period expired on January 6, 2009.
To be an Eligible Claimant, you must:
Own property in the United States or its Territories on which Woodruf roofing has been incorporated and installed since January 1, 1980, and have not assigned the claim regarding the alleged damage caused by Woodruf;
Be a subsequent purchaser of such property and have properly documented assignments determined to be valid under the Settlement; or
Own or have formerly owned such property and have made Prior Un-Reimbursed Expenditures as defined by the Settlement.
Eligible Claimants do not include persons, associations or entities who made claims or filed lawsuits against Defendants other than in the Smith class action, if they were represented by counsel other than Plaintiffs' Class Counsel in the Smith class action, and their claims or lawsuits were resolved by payment based upon the entire square footage of Masonite Woodruf roofing on the structure, full release or judicial action
Masonite Woodruf Siding Claims Period: now expired
The Masonite Woodruf Shingle / Siding settlement allowed 10 years for filing defective hardboard siding claims by providing proof of ownership and a separate verification of the siding as Masonite. Claims were filed beginning in the middle of 1998.
The settlement class was defined as all individuals across the United States who own a house or other structure upon which Masonite hardboard siding, manufactured since 1980, has been installed. More usefully: the class action pertained to owners who had Masonite siding installed between January 1, 1980 and December 31, 1989. Claims could thus be filed until the 15th of January 2008 or by other sources the Woodruf shingle claims period expired on January 6, 2009.
Current information about Masonite Woodruf settlement and claims assistance was available by calling 1-800-256-6990.
Watch out: This information was originally available on the Internet at: http://www [dot] masoniteclaims [dot] com but we have disabled the link because it currently hosts a "made for ad-sense" advertisement page offering no useful information for homeowners.
If you are experiencing a problem or failure with any brand of Hardboard Siding or other wood fiberboard siding products see SIDING HARDBOARD.
Also see fiber cement or asbestos cement siding information at SIDING, ASBESTOS CEMENT
Masonite Siding on Homes For Which Claims Have Not Been Made
If you own a home with Woodruf siding installed and did not file a claim, depending on when your siding was installed, the remaining portion of its 25-year original warranty could remain in effect.
If you own a home with other Masonite siding products installed, such as Omniwood siding, the class action, settlement, or warranty coverage periods are different: that action pertained to Omniwood siding installed between January 1, 1992 and January 6, 1999. Omniwood siding is identified by a stamp on the siding back: "Masonite Omniwood" and there may be date data. This is a wood fiber siding product.
There were other legal filings including an appeal, cases involving people who elected to opt out of the original Masonite class action group, and related cases. There were also reports of mishandling of funds and possible fraud by companies offering assistance in filing Masonite siding claims. So a generic web search will yield a drown-in list of articles and web pages. I will include the legal citation as a source for more information.
Reference: Naef v. Masonite Corp, International Paper Co., Cosby v. Masonite Corp., Smith v. Masonite Corp, International Paper Co. | Mobile County, Alabama | Case No. CV-94-4033, Case No. CV-98-2446, Case No. CV-98-2447 also cited as Naef et al. v. Masonite Corp. et al., No. CV-94-4033 (AL Cir. Ct., Mobile Cty., proposed settlement July 14, 1997
Reader Questions: how do I determine the life expectancy of my Woodruf or Masonite Roof Shingle, where is my warranty & where is the explanation of the replacement roof choice and its life expectancy?
How do I get warranty info or any documentation explaining the life expectancy or comparable replacement for Masonite Woodruf? - Ben 2/27/2013
Reply:
Ben,
The contact information for the manufacturer of your roof is in the article just above. If you can provide the product name of what's on your roof and a reasonably accurate guess at when the roof was installed, the company should have no trouble giving you a copy of the appropriate warranty. It's important to have a good idea of when the roof was installed or when the material was manufactured because like many manufacturers, roofing product manufacturers may offer different warranty terms for products made during different eras.
If you are asking about the life expectancy of a replacement product you'd need to specify what the product is.
If you are asking about the existing product, given the failures already reported, and with not a shred of information about your particular installation, with respect, I'm doubtful that a guess about the remaining life of your roof would be more than wild arm-waving.
Most home inspectors, seeing a known-problem-product will be reluctant to bet their house and kids'education money on promising you any remaining life whatsoever, or more accurately, would report on the evidence of current leakage and give a warning that you need to be prepared (financially) to replace the roof at any time
If you can provide the product name of what's on your roof and a reasonably accurate guess at when the roof was installed, the manufacturing company should have no trouble giving you a copy of the appropriate warranty.
Watch out: It's important to have a good idea of when the roof was installed or when the material was manufactured because like many manufacturers, roofing product manufacturers may offer different warranty terms for products made during different eras.
List of Fiberboard Roof Shingle Companies Warranty Claims & Website
(George Podrug provided Masonite Woodruf roofing information for home inspectors in 1999)
See WARRANTIES for ROOF SHINGLES for our complete list of roofing maufacturer contact information and various roofing claims, settlements, and warranty information.
Reader warning: plagiarist alert: beware of Infinity Roofing & Restoration who have copied our original InspectAPedia.com ® article above. Infinity's page http://www.infinityrooferblog.com/expired-roofing-alert-masonite%E2%84%A2-woodruf%E2%84%A2-fiberboard-roof-shingles/ (October 2010) plagiarized original text from this website. Notice sent 2x 10/27/2010. Only the claims lawsuit text at the very end of this document is public domain.
...
Continue reading at FIBER-WOOD & FIBERBOARD ROOF CLAIM FAQs or select a topic from closely-related articles below, or see our complete INDEX to RELATED ARTICLES below.
Or see AMERICAN CEMWOOD ROOFING
Or see ASBESTOS & FIBER CEMENT ROOFING - home - where our page top photo of material described as asbestos-cement roofing looks a lot (from the ground) like wood-fiber cement roofing -
Or see HAIL DAMAGED SHINGLES
Or see SIDING HARDBOARD for Exterior siding defects: hardboard siding failures, warranty claims - where to submit siding failure claims.
Or see ROOF LEAK DIAGNOSIS & REPAIR - home
Or see WARRANTY & Class Actions, Fiber Cement Shingles
Suggested citation for this web page
FIBERBOARD ROOFING & FIBER-WOOD ROOFING at InspectApedia.com - online encyclopedia of building & environmental inspection, testing, diagnosis, repair, & problem prevention advice.
Or use the SEARCH BOX found below to Ask a Question or Search InspectApedia
...
Frequently Asked Questions (FAQs)
Ask a Question or Search InspectApedia
Use the "Click to Show or Hide FAQs" link just above to see recently-posted questions, comments, replies, try the search box just below, or if you prefer, post a question or comment in the Comments box below and we will respond promptly.
Search the InspectApedia website
Technical Reviewers & References
Click to Show or Hide Citations & References
Wolfe, Ronald W., and Agron Gjinolli. "Cement bonded wood composites as an engineering material." The use of recycled wood and paper in building applications. Madison, WI: Forest Products Society (1996): 84-91.
Hemp-Lime Composit building materials: HLC Construction Group Address: Po Box 1227 Maleny QLD 4552 Website : www.hlccgroup.com Contact Name : Johan Tijssen Email : admin@hlccgroup.com Phone : 07 5429 6634 Mobile : 0416 331 008 Fax : 07 5429 6635
Bevan, Rachel, and Tom Woolley. "Constructing a low energy house from Hempcrete and other natural materials." In Proceedings of the 11th International Conference on Non-conventional Materials and Technologies (NOCMAT 2009), Bath, UK, pp. 6-9. 2009.
Eires, Rute, J. P. Nunes, Raúl Fangueiro, Said Jalali, and Aires Camões. "New eco-friendly hybrid composite materials for civil construction." (2006).
Eires, Rute, and Said Jalali. "Not conventional materials for a sustainable construction: a bio-construction system reinforced with cellulose fibres." (2005).
Elfordy, S., F. Lucas, F. Tancret, Y. Scudeller, and L. Goudet. "Mechanical and thermal properties of lime and hemp concrete ("hempcrete") manufactured by a projection process." Construction and Building Materials 22, no. 10 (2008): 2116-2123.
Babic, Branko R. "The use of cement fibre composites in prolonged wet environments." In 10th international inorganic-bonded fiber composites conference, pp. 260-73. 2006. - retrieved 11/19/2014, original source: http://iibcc.net/media/9691/iibcc_o6-1.pdf
Ramirez, Francisco and Vitali, Marco, Low Carbon Strawcrete: Material Testing and Applicability for a Rural Community, LAP LAMBERT Academic Publishing (February 28, 2014),ISBN-10: 365951800X ISBN-13: 978-3659518003
Masonite Woodruf roofing class action lawsuit: On January 6, 1999, the Circuit Court of Mobile County, Alabama, granted final approval to a settlement in the lawsuit known as Smith, et al. v. Masonite, CV-98-2447. The Settlement provides a program for eligible claimants to recover the costs associated with damage caused by the installation and incorporation of Masonite Woodruf roofing. For more information please call 1-800-256-6990. ® Woodruf is a registered trademark of Masonite Corporation. See http://www.masoniteclaims.com and also see a law firm's Masonite Woodruf class action litigation notice.
Masonite, Chicago, IL, 312-750-0900 (George Podrug provided Masonite Woodruf roofing information for home inspectors in 1999)

Thanks to roofing contractor and reader (anonymous by request) for discussing Woodruf shingle replacement options and warranty periods, October 2010.
Books & Articles on Building & Environmental Inspection, Testing, Diagnosis, & Repair
Our recommended books about building & mechanical systems design, inspection, problem diagnosis, and repair, and about indoor environment and IAQ testing, diagnosis, and cleanup are at the InspectAPedia Bookstore. Also see our Book Reviews - InspectAPedia.
Best Practices Guide to Residential Construction, by Steven Bliss. John Wiley & Sons, 2006. ISBN-10: 0471648361, ISBN-13: 978-0471648369, Hardcover: 320 pages, available from Amazon.com and also Wiley.com. See our book review of this publication.
Decks and Porches, the JLC Guide to, Best Practices for Outdoor Spaces, Steve Bliss (Editor), The Journal of Light Construction, Williston VT, 2010 ISBN 10: 1-928580-42-4, ISBN 13: 978-1-928580-42-3, available from Amazon.com
The Journal of Light Construction has generously given reprint permission to InspectAPedia.com for this article. All rights and contents are ©Journal of Light Construction and may not be reproduced in any form.
Building Pathology, Deterioration, Diagnostics, and Intervention, Samuel Y. Harris, P.E., AIA, Esq., ISBN 0-471-33172-4, John Wiley & Sons, 2001 [General building science-DF] ISBN-10: 0471331724 ISBN-13: 978-0471331728
Building Pathology: Principles and Practice, David Watt, Wiley-Blackwell; 2 edition (March 7, 2008) ISBN-10: 1405161035 ISBN-13: 978-1405161039
Concrete Folded Plate Roofs, C. Wilby PhD BSc CEng FICE FIStructE (Author), Butterworth-Heinemann, 1998, ISBN-10: 0340662662, ISBN-13: 978-0340662663
Concrete Shell Roofs, C. Wilby PhD BSc CEng FICE FIStructE (Author),
Concrete Dome Roofs (Longman Concrete Design and Construction Series),
Handbook of Building Crafts in Conservation, Jack Bower, Ed., Van Nostrand Reinhold Company, NY 1981 ISBN 0-442-2135-3 Library of Congress Catalog Card Nr. 81-50643.
Historic Preservation Technology: A Primer, Robert A. Young, Wiley (March 21, 2008) ISBN-10: 0471788368 ISBN-13: 978-0471788362
Historic Slate Roofs : With How-to Info and Specifications, Tina Skinner (Ed), Schiffer Publishing, 2008, ISBN-10: 0764330012 , ISBN-13: 978-0764330018
Problems in Roofing Design, B. Harrison McCampbell, Butterworth Heineman, 1991 ISBN 0-7506-9162-X (available used)
Roofing The Right Way, Steven Bolt, McGraw-Hill Professional; 3rd Ed (1996), ISBN-10: 0070066507, ISBN-13: 978-0070066502
Slate Roofs, National Slate Association, 1926, reprinted 1977 by Vermont Structural Slate Co., Inc., Fair Haven, VT 05743, 802-265-4933/34. (We recommend this book if you can find it. It has gone in and out of print on occasion.)
The Slate Roof Bible, Joseph Jenkins, www.jenkinsslate.com, 143 Forest Lane, PO Box 607, Grove City, PA 16127 - 866-641-7141 (We recommend this book).
Slate Roofing in Canada (Studi4es in archaeology, architecture, and history),
Smart Guide: Roofing: Step-by-Step Projects, Creative Homeowner (Ed), 2004, ISBN-10: 1580111491, ISBN-13: 978-1580111492
Tile Roofs of Alfred: A Clay Tradition in Alfred NY
"Weather-Resistive Barriers [copy on file as /interiors/Weather_Resistant_Barriers_DOE.pdf ] - ", how to select and install housewrap and other types of weather resistive barriers, U.S. DOE
Wood Shingle Roofs, Care and Maintenance of wood shingle and shake roofs(EC), Stanley S. Niemiec (out of print)
...