Corrugated Asbestos Cement Roof Materials
InspectAPedia tolerates no conflicts of interest. We have no relationship with advertisers, products, or services discussed at this website.
Guide to asbestos cement corrugated roofing:
This article provides a photo guide and text that can identify the condition of cement asbestos roofing products like asbestos-cement roof shingles.
We discuss how to identify corrugated cement asbestos roofing and how to treat this material when found on a building.
We also provide a MASTER INDEX to this topic, or you can try the page top or bottom SEARCH BOX as a quick way to find information you need.
Corrugated Cement-Asbestos Roofing Guide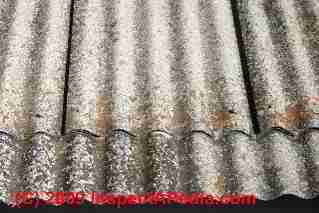 Asbestos cement roof shingles were in popular use in the U.S. from the 1920's (est) through the 1960's (est) and were sold in the U.S. into the 1970's and according to some sources even in the 1980's.
The mixture of asbestos fibers and portland cement to form a hard material that was was durable and fire resistant is credited to Ludwig Hatschek who, in 1900, came up with the name Eternit associated with a U.S. producer of these products.
[Click to enlarge any image]
Article Contents
Large Asbestos-Cement Sheet Goods Production
Amy Lamb Woods, in "Keeping a Lid On It" Asbestos-Cement Building Materials" provides a superb and concise description of the history and properties of asbestos cement building products, while beginning at ASBESTOS ORIGIN & NATURE we provide the compete text of Rosato's 1959 seminal work on this topic. The following excerpts are from Woods (2000):
Large flat asbestos - cement sheets were available in sizes of twelve - feet long by four - feet wide and thicknesses ranging from approximately an eighth of an inch to one inch. Asbestos-cement flat sheets were, at one time, manufactured only in the typical gray color of cement and usually only accepted for industrial purposes.
Eventually sheets were made with smooth surfaces, waxed or lacquered, with a variety of colors for use as office partition walls, kitchen walls, tabletops, acoustical panels, and building corridors.
They were often used where ease of cleaning was important. One popular material for interior lining was an embossed sheet with a figured pattern that could be painted or distempered, thus providing the effect of plaster at a relatively low cost.
Another popular variation consisted of a smooth surface and wood - grain appearance available in a range of colors. Some sheets were glazed, thus presenting a smoother, more resilient finish. Flat sheets were often incorporated into composite products. 'Transitop' was a typical composition board consisting of an integrally impregnated insulating board core, faced on both sides with asbestos-cement board.
Waterproof adhesives were used to laminate the insulating core as well as to bond the noncombustible asbestos - cement faces to the core. ...
The Hatschek machine made possible the production of large asbestos-cement sheet goods. See CEMENT ASBESTOS PRODUCT MANUFACTURE for details of the Hatschek machine and its operation.
With the advent of asbestos-cement corrugated sheets, the enclosure of factory buildings, warehouses, and train sheds was simple, economical, an d effective for either permanent or portable structures. Corrugated asbestos - cement sheets were applied in the same way that corrugated iron was applied, either nailed to wooden strips, bolted to the purlins, or clipped directly to the purlins by clips of hoop - iron or wire.
They were available in standard sheets, twenty - seven and a half inches wide and in lengths of four, five, six, seven, eight, and ten feet.
Two primary shapes were Trafford (with peaks), and Fibrotile (with waves). A series of special hardware devices was designed for use with corrugated sheets so that buildings could be completely encased in the material. Corrugated asbestos - cement sheeting was also used for decorative purposes in uniquely styled buildings of all descriptions.
During the 1940s construction boom, a wider variety of colors became available, including a spackled look, where the colors were impregnated throughout the sheet so they would not powder or peel off.
When color change became desirable after installation, owners we re encouraged to paint the asbestos-cement products.
It was the "attractive home safeguarded with modern asbestos siding, fireproof, rot proof, termite proof" idea that intrigued many Americans during this era. By 1950, approximately one billion square feet of asbestos-cement products had been produced for use in the building industry. - Woods (2000)
Typical Life of Cement Asbestos Roofing
The typical life expectancy of an cement asbestos shingle roof was given as 30 years, But we have seen these roofs that were now 50 years old in good condition. Typical roof wear or failure patterns are either failure of the shingle fasteners or broken and falling shingles.
Virtually all of the asbestos cement roof shingle inspection points, installation limitations, and environmental concerns which we discussed at Guide to Cement-asbestos roof shingles also apply to corrugated asbestos-cement roofing products.
OPINION: The lichens growing on cement-asbestos roofing (photo at left), especially this thick corrugated material, is probably less of a wear concern than when that material appears on asphalt shingles or roll roofing.
Do not try to walk on this material without taking the same precautions as if accessing a slate roof: the material is easily damaged by foot traffic.

Cleaning stains, mold algae, lichens from cement-asbestos roofs
Watch out: As we discuss at POWER WASHING ROOFS we do not recommend power-washing asbestos-cement nor any other roofing.
However there are techniques for preventing or killing off algae growth that stains roof surfaces.
See BLACK ROOF STAIN REMOVAL & PREVENTION for advice on diagnosing, cleaning, and preventing stains on roofing.
Maintain or Remove Corrugated Asbestos or Fiber Cement Roofing?
Reader Question: What should I do about corrugated fiber cement roofing on my home - is it asbestos? Is it dangerous?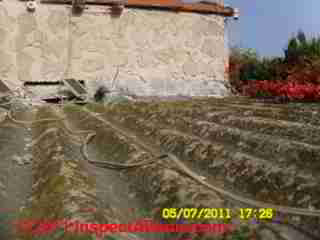 I just bought my house. It was inspected a friend who saw my roof, photos [above and below] and who says it is asbestos. Can you tell by looking at a photograph if this is an asbestos-cement roof ?
How do I determine if this corrugated roofing is asbestos cement?
Do I need to remove it?
Is corrugated asbestos cement roofing a problem as it is? - S.S.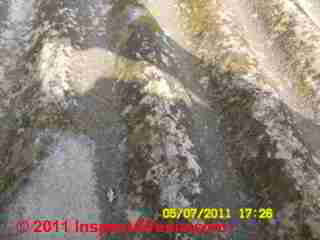 Reply: It depends ...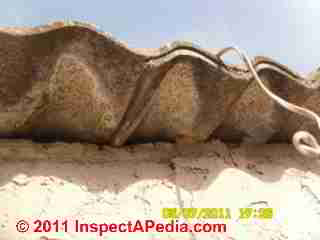 A competent onsite inspection by an expert usually finds additional clues that help accurately diagnose a problem or that can more accurately estimate the age and thus the chances that your corrugated roof is an asbestos-containing product.
That said, here are some things to consider:
If you know that the material is quite old, say from the 1970's or older, it may be a cement-asbestos product
Because there are fiber cement roofing products that replaced asbestos-fiber-cement roofing products that were subsequently made when asbestos use stopped, and because those newer roofing products look so much like the older asbestos-containing product, without a marking stamped into the roofing material that gives an age, product number or date, or without a lab test on a material sample, and without an idea of the age of the material, one cannot can't reliably guess at whether the material contains asbestos or not.
Were is the building located?
How old is the building?
Are there any receipts for roofing installation that show the date, age, materials, or roofing supplier?
Those questions can also help answer your question about asbestos roofing.
What to do with this corrugated fiber cement or asbestos cement roof
Remember that asbestos is not harmful by its presence alone - it's not radioactive. The potential hazard would be from disturbance and fiber release at high enough levels to form a health risk. In any case the roofing material, even if it contains asbestos, is not an "asbestos roof" - it is a cement roof that may or may not include asbestos in its mix. The "cement" means it's not easily friable - it should not easily crumble in to dust if mashed between your thumb and forefinger.
If the roof is not leaking nor damaged, and provided that the roofing has not become soft or broken-up, you do not need to remove it
Asbestos cement roofing is more likely to be a possible problem source of asbestos material if the roof is power-washed or mechanically damaged (such as by running a power saw through it) during demolition or replacement.

Watch out

: don't let an inspector or contractor walk on the roof - fiber cement roofing material (asbestos or not) is often fragile enough that it could be broken leading to costly damage.
Planning demolition of corrugated cement asbestos roofing materials?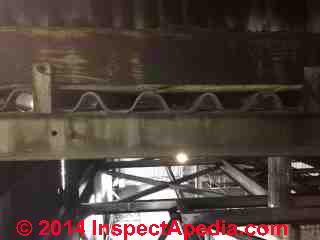 The risk of high levels of airborne asbestos from cementious roofing products is probably very low unless the workers are using power equipment like sanders and saws on these substances.
[Click to enlarge any image]
According to NRCA, the National Roofing Contractors' Association, their studies up to February 1992 had not found a single roofing job at which these limits were exceeded, and NRCA reported that in some cases no fiber release was detected.
But it appears that the association may have been referring only to asphalt-based roofing materials, not jobs involving the demolition of other ACRM such as cement-asbestos roof shingles (or "asbestos roof tiles" as some consumers refer to them) which might produce different statistics.
See ASBESTOS MATERIAL REGULATIONS
and ASBESTOS REGULATION Update that address the handling of asbestos containing building materials, including ACM (asbestos containing materials), PACM (presumed asbestos containing materials), SACM (suspect asbestos containing materials), and ACRM (asbestos containing roofing materials).
Reader Question: what are the engineering properties of transite roof decking (cement asbestos roofing)?
I need to find the engineering properties of a specific profile of transite roof deck. Please see the attached sketch and picture. I will gladly purchase the correct catalog if you can help me identify which catalog that is. - Anon, 11/18/2014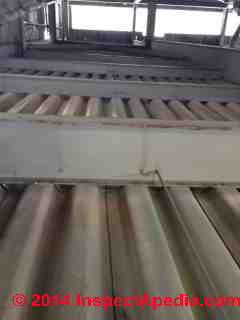 Reply:
For engineering properties of a contemporary material you'd find easiest results contacting the manufacturer. And Woods (2000) cites Hannant (1978) as a source for the engineering properties of various fiber cement roofing materials.
The original properties of corrugated cement roofing using asbestos, which you referred to as transite roofing, can also be found in some early patent applications, though I have not seen complete engineering analysis of the materials strengths and other properties in those documents.
For the engineering properties of an older asbestos-cement roofing product (which is what I think I see in your first photo above and again at left) that is of course no longer in production one might find an old specification document but in my OPINION that would be dangerously misleading as weathered, worn building materials change in properties such as density and impact resistance.
My experience with direct inspection as well as owner reports of older fiber cement and asbestos cement and corrugated asbestos cement is that the material becomes quite fragile - at that age its properties would be quite different from the original product specifications.
For that situation, if it were actually justified, one would have to send representative samples of the material to a materials testing laboratory - which of course raises its own issues about roof damage and material disturbance.
Reader Follow-Up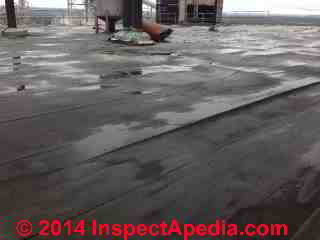 I notice in one of the links you provided that the life expectancy of cement asbestos shingles was given as 30 years with some 50 years old roofs in good condition.
Can you reference any documents that extensively discuss life expectancy, types of failures, etc. for cement asbestos roof deck that has not been exposed to direct sunlight?
Do you think it will be possible to determine the original manufacturer?
Can you offer opinions on the structural stability of the existing roofs?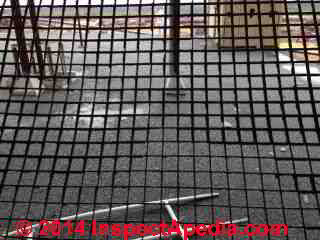 Reply:
The most detailed analysis of the engineering properties of Asbestos-Cement roof decking materials is the by el Hakim cited below. His conclusion begin on p. 280 of the thesis and are illuminating.
But again I emphasize that as with other building materials, after years of service the mechanical properties of asbestos cement are likely to be different than when first produced, more-so if exposed to the weather or to leaks and/or freeze-thaw cycles or to the effects of algae or cyanobacteria and of course if exposed to mechanical damage or stresses.
El Hakim, Noor El-Din Mohamed, "Diaphragm-Action of Asbestos-Cement Decks" [PDF] , Thesis in the Faculty of Engineering, Concordia University, Montreal, Quebec, Canada, 1980. Retrieved 11/19/2014, original source: http://spectrum.library.concordia.ca/3009/1/NK49609.pdf
My own direct inspection as well as field anecdotal data show that the when exposed to the weather, more water and temperature variations than sunlight, asbestos cement products used on roofs tend to become soft and quite fragile. Effects of biological agents, particularly lichens, moss and to a degree, fungi also play a role in this deterioration.
Common Forms of Cement Asbestos Roof Wear & Deterioration
My opinion (I am not an engineer but have field experience and have done some research on the topic) is that if the corrugated asbestos-cement roof decks you describe have been protected from the weather (including leaks through the roof membrane) and thus from water and freeze-thaw cycle effects then the materials may be in better condition than the roofs I've inspected that have been directly exposed to the weather. Asbestos cement roof deterioration elements we expect to find in the field include:
Algal or cyanobacterial growth that through penetration of filamentous components into the roof material soften and weaken it. Murphy (2002) on fiber cement roofing shakes cites the effects of algae or cyanobacteria that take several forms that reduce the roof service life: structural and mechanical stresses, effects of nitric acid interacting with lime components in the roofing material, mechanical deterioration, loss of original polymer coatings, moisture migration, water absorption and other forces.
Embrittlement: Amasco (1987) cites asbestos cement sheeting embrittlement with age and cracking as a result of wind or . vibration.
Cracking of the asbestos cement materials, usually from mechanical stress from walking on, impact, or around fasteners or due to thermal movement of the materials (See Larsen (1990) and Hansen (2009)). Some experts add effects of wind and vibration such as from nearby street traffic or in locations such as New Zealand, earthquake-induced roof movement.
Larsen concludes:
... that natural and glass fibres are losing strength and ductility in a cementitious matrix. This results in a drastically reduced fracture energy of the composite material over the years. In the worst cases practically no fibre effect is left after some ten years of normal out-door exposure. - Larsen (1990)
Leafing or delaminating of the asbestos cement material from water and freeze-thaw cycles
Leaks in to the roof deck contribute to softening, acidification, and mechanical damage through temperature or freeze-thaw cycles
Softening of the asbestos cement materials
Importance of Visual Assessment of Asbestos-Cement Roof Condition
However without lab testing combined with an intelligent assessment of the extent of roof area over which a particular form of deterioration is observed, in my opinion, a quantitative statement of roof life remaining would be unreliable. See Giller (1993) on visual assessment of roof decking.
A more detailed inspection of the asbestos-cement corrugated material-roofed building(s) you are evaluating is needed to determine the leak history as well as to find other instances of mechanical or other damage to the roofs. Certainly one of your photos shows one of the worst, most heaved, out of flat membrane roof surfaces I have seen. One might choose the most-suspect roof area for further, more invasive inspection or materials testing.
In my opinion, an astute roofer would be reluctant to accept a roof-over job on such a roof because of lack of confidence in the durability of that approach, or s/he would make clear in writing that there was little or now warranty on the roof job unless the new roof could be installed over an appropriately secure and smooth roof deck.
Also you may want to take a look at ASTM E2394 and at Oberta's proposed Standard for repair and maintenance of Asbestos-Cement materials.
Fiber cement roof life expectancy research & maintenance standards of interest:
Akers, S. A. S. "Cracking in fibre cement products." Construction and Building Materials 24, no. 2 (2010): 202-207.
Amasco Ltd, Briggs. "The Maintenance and Refurbishment of Commercial Roofing." Property Management 5, no. 3 (1987): 222-228. This same reference is often cited to "Board, Contractors Advisory, and Employers Federation."
ASTM E2394-11, "Standard Practice for Maintenance, Renovation and Repair of Installed Asbestos Cement Products", available from ASTM, http://www.astm.org/Standards/E2394.htm
Babic, Branko R. "The use of cement fibre composites in prolonged wet environments." In 10th international inorganic-bonded fiber composites conference, pp. 260-73. 2006.
Belardi, G., and L. Piga. "Influence of calcium carbonate on the decomposition of asbestos contained in end-of-life products." Thermochimica Acta 573 (2013): 220-228.
Campopiano, Antonella, Deborah Ramires, Aneta Maria Zakrzewska, Rosa Ferri, Antonio D'annibale, and Giancarlo Pizzutelli. "Risk assessment of the decay of asbestos cement roofs." Annals of occupational hygiene 53, no. 6 (2009): 627-638.
Chiappino, G., and I. Venerandi. "[The erosion of asbestos cement roofs: an important source of environmental pollution]." La Medicina del lavoro 82, no. 2 (1990): 99-121.
Dias, C. M. R., M. A. Cincotto, H. Savastano Jr, and V. M. John. "Long-term aging of fiber-cement corrugated sheets–The effect of carbonation, leaching and acid rain." Cement and Concrete Composites 30, no. 4 (2008): 255-265.
Giller, Richard A., Ronald M. McCoy, Gary R. Wagenblast, and Westinghouse Hanford Site. "Structural assessment of roof decking using visual inspection methods." In Mitigation Conference, p. 571. 1993.
Hannant, D. J., and S. Magnani. "Designer's Corner: A comparison of severe hailstorm damage on two types of fibre-reinforced cement roofing sheets." Composites 25, no. 3 (1994): 243-245.
Hansen, Klavs Feilberg, and Birgitte Dela Stang. "Safety against formation of through cracks of profiled fibre-reinforced cement sheets for roofing." Construction and Building Materials 23, no. 1 (2009): 334-339.
Larsen, Erik Stoklund, and Herbert Krenchel. "Durability of FRC-materials." In MRS Proceedings, vol. 211, p. 119. Cambridge University Press, 1990.
Murphy, Colin Murphy, and FRCI RRC, "Blue Green Algae and its Effect on Fiber-cement-cement Roofing Within a Microclimate - an investigation of biodeterioration of fiber-cement roofing by cyanobacteria and its implications for the roofing industry in Hawaii." Interface (2002). - retrieved 11/19/2014, original source https://www.rci-online.org/interface/2002-01-murphy.pdf
Murphy found that algal growth (or more precisely cyanobacteria) did not significantly impact the water-shedding properties of the roofs he examined in Oahu bu that "... the service life of the roofing system has been compromised significantly" [by Scytonema cyanobacterial filaments growing on and into the roof material and the effects of bacteria-fixed organic acid (nitric acid) on the fiber cement]
Note: Also see ALGAE STAINS on ROOFS
Neumann, S. M., K. N. Popov, and A. G. Mezhov. "Investigation of the chrysotile cement roofing sheets properties of various operation term Хризотилцементтен жасалған əр түрлі мерзім қолданылған жамылғы табақтардың қасиеттерін зерттеу." ХАБАРШЫСЫ ВЕСТНИК (2012): 66.
Oberta, Andrew F. "A New Standard for Repair and Maintenance of Installed Asbestos-Cement Materials." - retrieved 11/19/2014, original source: http://www.worldasbestosreport.org/conferences/gac/gac2004/pl_6_06_e.pdf
Andrew F. Oberta, MPH, CIH The Environmental Consultancy www.asbestosguru-oberta.com (512) 266-1368 andyobe@aol.com
Abstract Excerpt:

The ASTM Standard Practice for Maintenance, Renovation and Repair of Installed Asbestos Cement Products has been developed by ASTM International 1 and assigned the designation E2394. The standard provides the underlying rationale and detailed procedures for working with asbestos-cement products – roofing, siding, ducts, pipes and other construction materials – that have already been installed in and between buildings.

It covers operations that can produce dust and airborne asbestos fibers – drilling, cutting, breaking, filing, etc. – during routine maintenance, repairs and small-scale renovation. Control of dust and fiber release using wet methods – soapy water, shaving cream and similar substances – is stressed.

Four appendices cover underground pipes, buried ducts, drilling holes and removing panels, and addi tional appendices will be prepared to cover other operations and materials. Installation of new asbestos-cement products is not encouraged by the standard. Large-scale abatement is not the intended purpose, although some of the procedures may apply to such operations.


Spurny, K. R. "Asbestos fibre release by corroded and weathered asbestos-cement products." IARC scientific publications 90 (1988): 367-371.
References for the Properties of Corrugated Cement Roofing & Siding Products
In addition to the citations at REFERENCES
Amasco Ltd, Briggs. "THE MAINTENANCE AND REFURBISHMENT OF COMMERCIAL ROOFING." Property Management 5, no. 3 (1987): 222-228.
Ashman, Herbert William. "BUILDING PANEL UNITS AND ROOFS OR WALLS." U.S. Patent 2,873,008, issued February 10, 1959.
Babic, Branko R. "The use of cement fibre composites in prolonged wet environments." In 10th international inorganic-bonded fiber composites conference, pp. 260-73. 2006.
Baker, Jenifer M., H. Davies, A. J. Majumdar, and P. J. Nixon, eds. Durability of Building Materials and Components: Proceedings of the Fifth International Conference. Routledge, 2006.
Berry, James A., and Morton Sherman. "Structure for retrofitting corrugated building exteriors." U.S. Patent 4,494,343, issued January 22, 1985.
Buttiker, Gero, Otto W. Gordon, and Peter E. Meier. "Method for the production of a fiber-reinforced hydraulically setting material." U.S. Patent 4,306,911, issued December 22, 1981.
Harper, Stephen, and David G. Hiscock. "Boards and panels." U.S. Patent 4,637,860, issued January 20, 1987.
Hannant, D.J., Fibre Cements and Fibre Concretes (New York: John Wiley & Sons, 1978), 146 - 155. This reference give qu
antitative engineering properties for asbestos- cement and other fiber-cements.
Heinemann, Horst D., and Alfred Jost. "Roof construction." U.S. Patent 4,691,482, issued September 8, 1987.
Johnson, Robert M., and Elmer M. Melling. "Reinforced cement sheet product containing no asbestos for fabricating on hatschek machine." U.S. Patent 4,428,775, issued January 31, 1984.
Johnson, Robert M., and Elmer M. Melling. "Reinforced cement sheet product containing wollastonite for reduced shrinkage." U.S. Patent 4,377,415, issued March 22, 1983.
Johnson, Robert M., and Elmer M. Melling. "Reinforced cement sheet product containing fibers other than asbestos, clay and thickener." U.S. Patent 4,363,666, issued December 14, 1982.
Marchioii, Giorgio. "APPARATUS FOR SHAPING AND COMPRESSING SHEETS OF ASBESTOS." U.S. Patent 3,099,061, issued July 30, 1963.
Russell, Harrap Eric. "Reinforced asbestos-cement sheet." U.S. Patent 2,335,208, issued November 23, 1943.
Seipt, Willard R. "Composite building unit." U.S. Patent 2,946,158, issued July 26, 1960.
Simon, Hans. "THE ROOF OF A BUILDING." U.S. Patent 3,660,955, issued 1972.
Woods, Amy Lamb. "Keeping a lid on it: asbestos-cement building materials." Preserving the recent past 2 (2000).
"Roof and roofing sheets for use therein." U.S. Patent 2,417,899, issued March 25, 1947.
Other Research Citations on Asbestos Cement Roofing
Dias, W. "Useful life of Buildings." University of Moratuwa, Moratuwa, June. http://www. slaasmb. org/USEFUL LIFE OF BUILDINGS. doc. Accessed 23, no. 03 (2003): 2012.
Dong, Jin Mei, Hong Fa Yu, and Qian Qian Liu. "The Study on Accelerated Life Mechanism of Glass Fiber Reinforced Magnesium Oxychloride Cement." Advanced Materials Research 306 (2011): 1118-1121.
Dyczek, Jerzy. "Surface of asbestos-cement (AC) roof sheets and assessment of the risk of asbestos release." In conference presentation Krakow, Poland, September 28e29. 2006.
Education Administration. Roofing farm buildings. No. 2170-2175. Dept. of Agriculture, Science and Education Administration: for sale by the Supt. of Docs., US Govt. Print. Off., 1978.
Gehrke, H. "[Precautionary measures for asbestos-cement corrugated roofs]." Zentralblatt fur Arbeitsmedizin und Arbeitsschutz 22, no. 8 (1972): 227-228.
Gilbert, O. L. "Further studies on the effect of sulphur dioxide on lichens and bryophytes." New phytologist 69, no. 2 (1970): 605-627. - describing effects of Sulphur dioxide on lichens and bryophytes that in turn affect the life of asbestos roofing and siding.
Hannant, D. J. "Fibre reinforcement in the cement and concrete industry." Materials science and technology 11, no. 9 (1995): 853-862.
Milani, A. P., F. A. Souza, J. E. P. Turco, and E. A. Almeida. "Thermal behavior of materials used in coverage of roofs of husbandry buildings." In Structures and Environmental Technologies. International Conference of Agricultural Engineering-CIGR-AgEng 2012: agriculture and engineering for a healthier life, Valencia, Spain, 8-12 July 2012., pp. P-0420. CIGR-EurAgEng, 2012.
Poole, Anthony L. "Roof slates and tiles–the cheaper alternative to the "real thing"." Structural Survey 10, no. 2 (1992): 123-126.
Sebastien, P., J. Bignon, and M. Martin. "Indoor airborne asbestos pollution: from the ceiling and the floor." Science 216, no. 4553 (1982): 1410-1412.
Spurny, K., H. Marfels, C. Boose, G. Weiss, H. Opiela, and F. J. Wulbeck. "[Fiber emissions from weathered asbestos cement products. 1. Fiber release in ambient air]." Zentralblatt fur Hygiene und Umweltmedizin= International journal of hygiene and environmental medicine 188, no. 1-2 (1989): 127-143.
Subramanian, V., and N. Madhavan. "Asbestos problem in India." Lung cancer 49 (2005): S9-S12.
Viani, Alberto, Alessandro F. Gualtieri, Michele Secco, Luca Peruzzo, Gilberto Artioli, and Giuseppe Cruciani. "Crystal chemistry of cement-asbestos." American Mineralogist 98, no. 7 (2013): 1095-1105.
Woods, Amy Lamb. "Keeping a lid on it: asbestos-cement building materials." Preserving the recent past 2 (2000).
Sources of Replacements for Corrugated Asbestos Cement Roofing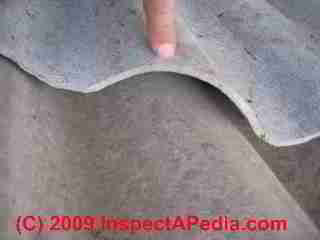 Contemporary roofing product manufacturers make reinforced fiber-cement roofing shingles and other roofing products which look like, perform similarly to, and need to be installed similarly to the original corrugated asbestos-cement sheet roofing - but these new products are free of asbestos. (Photo at left: author points to new fiber cement roofing product.)
As we explained in our discussion of cement asbestos shingles, the replacements for corrugated asbestos cement roofing products are reinforced with a variety of fibers including fiberglass.
Other replacements for asbestos-cement roofing use both different fibers and a different aggregate (perlite) to replace the asbestos. Some of the substitute products have been in use for more than 30 years (2008).
Sources of modern fiber cement corrugated roofing (non-asbestos):
For maintenance or replacement of asbestos-cement roofing products contact Supradur Manufacturing Corporation, PO Box 908, Rye NY 10580 800-223-1948, or from within New York State, call 914-967-8230. Ask about their Supradur(R) mineral fiber shingles.
See DURALITA Roofing Alternatives for an example of cardboard-reinforced cement roofing products that include corrugated roofing panels.
Also see CORRUGATED ROOFING where we list other corrugated roofing products that do not contain asbestos.
For handling and disposal guidance concerning old roofing material contact the US EPA, your state Department of Environmental Protection/Conservation, or your local building and health departments.
Asbestos-Cement Roofing Articles
...
Continue reading at ASBESTOS ROOFING / SIDING DUST or select a topic from closely-related articles below, or see our complete INDEX to RELATED ARTICLES below.
Or see ASBESTOS & FIBER CEMENT ROOFING
Or see ASBESTOS CEMENT ROOF REPAIR
Or see DURALITA Roofing Alternatives
Suggested citation for this web page
CORRUGATED CEMENT ASBESTOS ROOFING at InspectApedia.com - online encyclopedia of building & environmental inspection, testing, diagnosis, repair, & problem prevention advice.
Or use the SEARCH BOX found below to Ask a Question or Search InspectApedia
Or See
Or use the SEARCH BOX found below to Ask a Question or Search InspectApedia
...
Ask a Question or Search InspectApedia
Try the search box just below, or if you prefer, post a question or comment in the Comments box below and we will respond promptly.
Search the InspectApedia website
Technical Reviewers & References
Click to Show or Hide Citations & References
Woods, Amy Lamb. "Keeping a lid on it: asbestos-cement building materials." Preserving the recent past 2 (2000). Retrieved 11/19/2014, original source http://atlantapreservation.com/buildingmaterials/AsbestosCementBldgMats.pdf
Arnon Bentur and Sidney Mindess, Fibre Reinforced Cementitious Composites (London: Elsevier Applied Science, 1990), 288 -304. Woods (2000) reports "This text reviewed long -term performances of asbestos -cement and concluded that "in natural weathering the composite is excellent." More detailed quantitative material properties are also given in this text."
D.J. Hannant, Fibre Cements and Fibre Concretes (New York: John Wiley & Sons, 1978), 146 - 155. This reference give qu antitative engineering properties for asbestos - cement and other fiber - cements.
D.V. Rosato, Asbestos: Its Industrial Applications (New York: Reinhold Publishing Corp., 1959), 1, 62.
"The Industrial Uses of Asbestos," Scientific American (22 April 1876), 258 - 259.
John E. Wilden, A Guide to the Art of Asbestos Cement (Winchester, England: Taylor & Part ners Translations, 1986)
L. Michaels and S.S. Chissick, eds., Asbestos, Properties, Applications, and Hazards (New York: Wiley, 1979), 1 - 2. Resource for various kinds of asbestos, their properties and chemical constituencies.
United States Department of the Interior Bureau of Mines, Mater ials Survey: Asbestos , (Washington D.C.: US Government Printing Office 1952), I - 1 - I - 4
Caleb Hornbostel, Construction Materials: Types, Uses and Applications (New York: John Wiley & Sons, 1978), 82.
.
H. W. Johns, Patent Trademark Materials: Asbestos ( New York: H. W. Johns Manufacturing Co., 1878), 12.
D.A. St John, A.B. Poole, and I. Sims, Concrete Petrography: A Handbook of Investigative Techniques (London: Arnold Publishers, 1998), 320 - 322.
"Asbestos - Cement Products for War Building s," Asbestos (April 1942), 2 - 4
Ernest G. Blake, Roof Coverings: Their Manufacture and Application (New York: D. Van Nostrand Company, 1925), 144 - 171. Resource for detailed descriptions of many asbestos - cement roof shingle forms, styles, and hardware.
.
James McCawley, Asphalt and Asbestos - Cement Shingle Residing (New York: United Roofing ContractorsAssociation, 194 0).
E. Lechner, "Recent Innovations in the Manufacture of Asbestos - cement," Cement and Cement Manufacture , 7:6 (June 1934), 180 - 181.
Asbestos Shingle, Slate and Sheathing Company, Asbestos Corrugated Sheathing (Ambler, Pennsylvania: The Keasbey & Mattison Company, 1913), 1.
"Johns - Manville" product advertisement, Sweet's Catalogue of Building Construction (F. W. Dodge Corporation, 1906 - 1961)
National Trust for Historic Preservation, "Coping with Contamination: A Primer for Preservationists," Information Bulletin No. 70 (1993)
Asbestos Shingle, Slate and Sheathing Company, Asbestos Corrugated Sheathing (Ambler, Pennsylvania: The Keasbey & Mattison Company, 1913), 1.
Eric Galow, Galow Homes, Lagrangeville, NY. Mr. Galow can be reached by email: ericgalow@gmail.com or by telephone: 914-474-6613. Mr. Galow specializes in residential construction including both new homes and repairs, renovations, and additions.
Mark Cramer Inspection Services Mark Cramer, Tampa Florida, Mr. Cramer is a past president of ASHI, the American Society of Home Inspectors and is a Florida home inspector and home inspection educator. Contact Mark Cramer at: 727-595-4211 mark@BestTampaInspector.com 11/06
Roger Hankey is principal of Hankey and Brown home inspectors, Eden Prairie, MN. Mr. Hankey is a past chairman of the ASHI Standards Committee. Mr. Hankey has served in other ASHI professional and leadership roles. Contact Roger Hankey at: 952 829-0044 - rhankey@hankeyandbrown.com. Mr. Hankey is a frequent contributor to InspectAPedia.com.
Arlene Puentes, an ASHI member and a licensed home inspector in Kingston, NY, and has served on ASHI national committees as well as HVASHI Chapter President. Ms. Puentes can be contacted at ap@octoberhome.com
Wikipedia provided background information about some topics discussed at this website provided this citation is also found in the same article along with a " retrieved on" date. NOTE: because Wikipedia entries are fluid and can be amended in real time, we cite the retrieval date of Wikipedia citations and we do not assert that the information found there is necessarily authoritative.
...
Books & Articles on Building & Environmental Inspection, Testing, Diagnosis, & Repair
Our recommended books about building & mechanical systems design, inspection, problem diagnosis, and repair, and about indoor environment and IAQ testing, diagnosis, and cleanup are at the InspectAPedia Bookstore. Also see our Book Reviews - InspectAPedia.
...
Publisher InspectApedia.com - Daniel Friedman