InspectAPedia tolerates no conflicts of interest. We have no relationship with advertisers, products, or services discussed at this website.
Antique or abandoned gas piping & fixtures: this article describes how to recognize & evaluate the safety of antique gas fixtures and piping that may be found in historic homes or other older buildings. Gas piping in older buildings may have been cut-off from its source, re-used for electical wiring, or, surprise, antique gas piping is sometimes found still connected and "live"!. Here we provide descriptions and photographs of unsafe gas piping, indications of unsafe or improperly operating gas appliances, gas meters, and other gas installation defects are provided.This document series on inspecting gas piping in buildings also provides free sample draft home inspection report language for reporting defects in oil and gas piping at residential properties. For more about lighting in buildings see LIGHTING, INTERIOR GUIDE.
Green links show where you are. © Copyright 2013 InspectAPedia.com, All Rights Reserved. Author Daniel Friedman.
How to inspect, report, & correct antique or old gas lighting piping & fixtures
Watch out: improper installation and even improper inspection and testing methods involving natural or "LP" gas can involve dangerous conditions and risk fire or explosion. If you smell gas you should leave the building immediately and should do so without doing anything that could create a spark such as operating a light switch or telephone. From a safe location, call your gas company's emergency line and/or your fire department.
Contact us to suggest text changes and additions and, if you wish, to receive online listing and credit for that contribution. Also see How to Report Defects in Oil Piping. NOTICE: while example report language is provided here, reproduction of this or any of our web pages or their contents at other websites or in printed documents for sale is prohibited.
Gas Fixtures & Piping in Historic & other Older Homes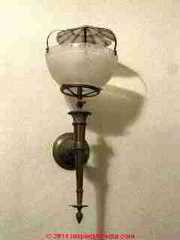 Evaluating old gas lighting and other gas fixtures and fittings in older homes. It may be possible to make safe use of gas lighting in homes, both indoors and out, provided that the piping and fixtures have been installed according to contemporary building codes and that the piping and fixtures are in good condition.
But here we address the discovery of antique gas lights and piping in homes. Generally such fixtures and pipes should be considered a safety hazard, unless the system has been thoroughly inspected and brought to modern safety standards.
Our photo (left) and the next wall-mounted antique gas-light shown below illustrates an intact wall lighting sconce located in the Samuel Morse Home in Poughkeepsie, NY.
The photographs of various antique and even historic gas lights as well as remains of wall-mounted gas lights in other older buildings found in this article are a reminder that a building owner or her home inspector should never assume that old gas lines in a building are no longer connected to a gas source.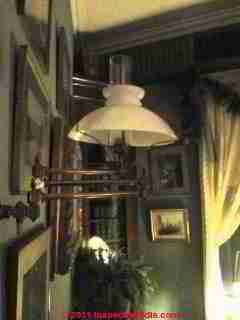 Watch out: don't assume that all "old or antique gas pipes" in a building have been actually disconneted from the gas supply. The photograph at the top of this page shows our discovery of an antique indoor gas lighting fixture which was being used as a towel rack. The building owner had always assumed the gas piping was inactive.
The photo at left shows another type of wall mounted gas light, also in the Samuel Morse historic homestead in Poughkeepsie, NY.
While the gas piping routes in some older Victorian homes have often been converted to use for electrical wiring, often we've been surprised to find that supposedly long-abandoned gas fixtures, pipes, and fittings, are actually still active, and potentially dangerous.
These photographs show still-active gas-lighting piping in homes built around 1900, with the gas fittings still active nearly 100 years later! A child pulling on the towel on that funny "towel rack" could have resulted in a catastrophe.
Old or Abandoned Gas Piping & Fixtures: safety warnings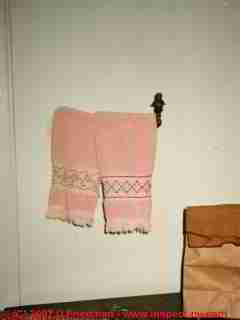 Immediate LP or natural gas safety hazards: if there is evidence of an LP or natural gas leak at a building, gas odors, for example, you should:
Do not do anything that is likely to cause a gas explosion, such as lighting a match, operating an electrical switch, or even using a telephone in the building
Leave the building immediately and keep a safe distance away - 100 feet or more.
Notify other building occupants of the safety concern
Contact the local gas company and/or fire department

Heating equipment which the inspector (or building occupant or manager) judges to be an immediate life safety hazard should be shut down and appropriate emergency services called.
See GAS LEAK DETECTION, LP / NG for leak detection procedures and alternatives.
Other LP & Natural Gas Home Safety recommendations
Gas piping support: check that gas lines are adequately supported - this will help avoid leaks.
Abandoned gas piping in buildings: we recommend that unused gas equipment be removed and that you have the unused section of gas line properly sealed by a qualified plumber or by your gas supplier. Leaky old appliances or gas lines are dangerous.
Frequently Asked Questions (FAQs)
...
Ask a Question or Search InspectApedia
Questions & answers or comments about gas piping in antique or other old buildings: gas piping, gas lighting & other gas fixtures in historic homes.
Ask a Question or Enter Search Terms in the InspectApedia search box just below.
Technical Reviewers & References
Related Topics, found near the top of this page suggest articles closely related to this one.
U.S. Energy Information Administration - eia.doe.gov/
U.S. Environmental Protection Agency - epa.gov/solar/energy-and-you/affect/natural-gas.html
At Natural Gas.Org www.naturalgas.org/environment/naturalgas.asp#emission you'll find a table of combustion products
At geocities.com/rainforest/6847/report1.html is an interesting and detailed though not "neutral" report on the components and contaminants in the combustion of natural gas. You'll see a long long list of emissions products, but look again – most of the contaminant levels listed are in the picograms.
apvgn.pt/documentacao/iangv_rep_part1.pdf lists the components in natural gas exhaust from vehicles
The Need Project, Manassas, VA: need.org/needpdf/infobook_activities/SecInfo/NGasS.pdf
Kroschwitz, Jacqueline I., and Mary Howe-Grant (eds.). "Gas, Natural." In Encyclopedia of Chemical Technology. 4th ed., vol. 12. New York: John Wiley and Sons, Inc., 1993.
Tussing, Arlon R., & Bob Tippee. The Natural Gas Industry: Evolution, Structure, and Economics. 2nd ed. Tulsa, OK: PennWell Publishing, 1995.
Books & Articles on Building & Environmental Inspection, Testing, Diagnosis, & Repair
The Home Reference Book - the Encyclopedia of Homes, Carson Dunlop & Associates, Toronto, Ontario, 25th Ed., 2012, is a bound volume of more than 450 illustrated pages that assist home inspectors and home owners in the inspection and detection of problems on buildings. The text is intended as a reference guide to help building owners operate and maintain their home effectively. Field inspection worksheets are included at the back of the volume. Special Offer: For a 10% discount on any number of copies of the Home Reference Book purchased as a single order. Enter INSPECTAHRB in the order payment page "Promo/Redemption" space. InspectAPedia.com editor Daniel Friedman is a contributing author.

Or choose the The Home Reference eBook for PCs, Macs, Kindle, iPad, iPhone, or Android Smart Phones. Special Offer: For a 5% discount on any number of copies of the Home Reference eBook purchased as a single order. Enter INSPECTAEHRB in the order payment page "Promo/Redemption" space.