Water Softener Bypass Valve Operation & Repair Guide

InspectAPedia tolerates no conflicts of interest. We have no relationship with advertisers, products, or services discussed at this website.
Water Softener Bypass Valve Operation & Repair Guide: This article explains how to use & repair the water softener or water conditioner system bypass valve. We explain what is the bypass valve on a water softener & where to find it, and we describe when & how to position the valve to take the water softener/conditioner in or out of service. We detail how to shut down or turn off a water softener - avoid leaks, wasted water when not in use and we answer the frequent question of Which way do I push or turn the water softener bypass valve? Examples are given of various water softener bypass valve types including Autotrol, Culligan & Kinetico water conditioner bypass valve operation as well as standard plumbing valve arrangements.
Green links show where you are. © Copyright 2014 InspectApedia.com, All Rights Reserved.
How to Use & Set the Water Softener Bypass Valve
The water softener bypass valve is normally included as part of the control valve assembly on top of the water softener media tank (the smaller tank that handles the actual ion exchange that is the real work of a water softener).
How to Place the Water Softener Out of Service or Off
If your water softener has a manual bypass valve (photo at page top and sketch at left), you can temporarily take the water softener "out of operation" - that is, you can put the the valve into bypass position so the water softener is not in the piping loop at all.
[Click to enlarge any image]
In the Culligan sketch at left the water conditioner bypass valve is that horizontal tube at the left side of the sketch.
Culligan calls this the Cul-Flo-Valve® and suggest that when you are using the valve it should be pushed slowly. Pushing in the blue knob on the valve is turning the water conditioner on and allows water to enter and fill the media tank - thus putting the unit in use.
When the water softener is on "bypass" water used in the building is not passing through the water softener - the unit will not be treating the building water supply.

Bypassing the water softener and turning it off when the building water supply is not going to be in use removes one more possible source of freeze and or leak damage and it also isolates the water softener equipment from the rest of the building water supply piping.

Also see our advice on using the water conditioner bypass valve during winterizing or de-winterizing a water softener when taking steps to protect building plumbing from freezing. See these details on water softener bypass valve use at Winterize Water Softener & Treatment Equip and at RestoringWater Softener & Treatment Equip. Other water softener controls and how they should be adjusted are discussed at SOFTENER ADJUSTMENT & CONTROLS.

The bypass valve shown above is operated simply by pushing in on the valve end whose valve stem is visible - or in the "out" position. Our pen is pointing to the valve stem. When you push horizontally on this bypass valve end (the black knob in our photo) the valve slides - in this case from right to left. You will see that a corresponding valve or knob on the other end of the bypass valve will move "outwards" at the same time.
Most water softener models using this "push-push" style of bypass valve include colored knobs on each end of the valve as well as text on the knob that indicates whether or not the valve is in "on" position or "bypass" position.
How to return the water softener to use or operation
To restore the water softener bypass valve back to its prior position (such as restoring the water softener to in-use) simply push on the now protruding knob found on the other end or other "side" of the bypass valve.
How to Fix a Leaky or "Stuck" Water Softener Bypass Valve
In our experience these manual bypass valves work pretty well on most water softeners, but on occasion we find one that is leaking. Usually the valve was just fine (not leaky) until we disturbed it. You may need to ask for bypass valve repair assistance from a water conditioner service company, but a few repair details below may help.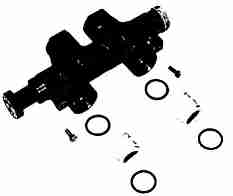 Lubricate the water softener bypass valve? The bypass valve on a Culligan™ water softener (and probably most others) connects to the back of the main control valve assembly with two screws.
If the valve is difficult to operate it may need lubrication. Inside are o-rings that permit the valve to operate without leaking.
If these parts appear to need lubrication, use a silicone-based lubricant, not a petroleum-based lubricant which could damage the control.
Leaky Water Softener Bypass Valve? the bypass valve shown in this sketch from a Culligan water softener installation manual includes replaceable o-rings that may be needed if your bypass valve is leaky.
The process of returning a water softener to service in a winterized building is detailed at Restoring Water Treatment Equipment - How do We Return the Water Softener to Operation & Use at the End of Winter?
Rotating Bypass Valves on Water Conditioners - Water Softeners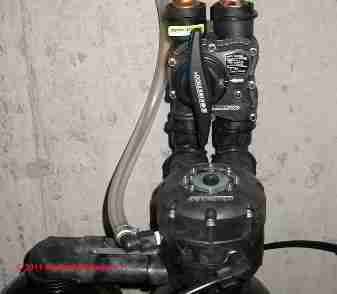 Other water softening equipment may not use the Push-Push type of bypass valve we illustrated above on Culligan Equipment.
The Kinetico water conditioning equipment Mach Series uses a rotating bypass valve shown in our photo (left).
Look closely at the photo (click to enlarge) and you'll see red and green labeling instructions that explain which way this valve is turned to place this water conditioning equipment on "bypass" and which direction the valve is turned to restore it to operation.
See that white arrow to the right of the valve handle (the handle is in a "vertical position)? The tiny green arrow showing in the window pointed-to by the white arrow shows that this unit is in operation.
If the bypass valve is turned until the yellow arrow is showing in the indicator window, this water softener is in "bypass" position.
Autotrol Water Conditioner Bypass Valves
Some water conditioners such as the Autotrol Series 255 use a different (and optional) bypass valve that has two individual knobs that must be turned to switch between in-service and bypass modes - shown at below-left.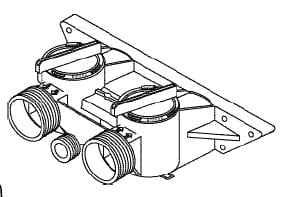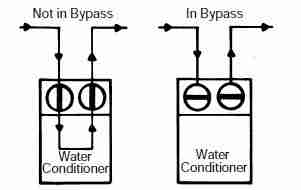 The sketch at above left shows the optional Autotrol Series 255 Valve / 460i bypass valve. Adapters are available to permit connections to various sizes of copper, NPT (threaded), plastic, and brass water piping.
The second sketch (above right) shows the position of the Autotrol bypass valve handles when the water softener is placed in service "Not in Bypass" and "out of service "In Bypass".
Remember that if an additional external manual bypass valve is "open" (on bypass or in bypass) you will need to also close that valve when the water softener is returned to service ("off bypass"). See Piping for Manual Water Softener Bypass Valves
Piping Arrangement & Valve Location for Manual Water Softener Bypass Valves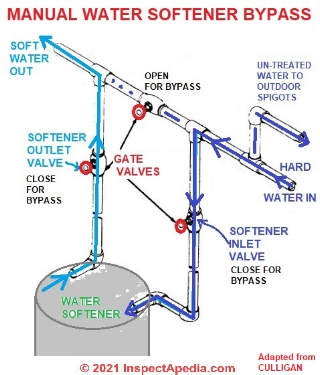 As this sketch from a Culligan water conditioner installation manual shows, a water conditioner, or any water treatment equipment for that matter, can be installed with piping that includes a manual bypass valve (top center in the sketch). We use this piping arrangement at water filters, for example, not just water conditioners.

The small cost of installing that extra manual bypass valve (and the two service valves shown as outlet valve and inlet valve in Culligan's sketch) means that you can service, repair, or even completely remove the water softener (or other water treatment equipment) when needed, without interrupting water supply to the building.
The Outlet valve and Inlet valve are both closed (turned clockwise) and the bypass valve is opened to achieve this condition.
Watch out: do not leave off the water softener indefinitely. As we explained at SOFTENER ADJUSTMENT & CONTROLS, a water softener is not there just for fun.
If your water is hard and you leave the water conditioner off completely, you can expect to face expensive plumbing repairs when the water supply piping, water heater, or tankless coil become clogged with minerals.
[An exception might be if your building is converted from using a private well with hard high-mineral content water to a municipal water supply hookup whose water is low in mineral content. In that case you might no longer need the water conditioner.]
What About Turning off Electricity to the Softener to put it temporarily out of service?
What's the difference between using the water softener bypass valve and simply pulling the (electrical) plug to turn off power to a water conditioner?
Functionally either step is about the same, but when you turn off electrical power (or pull the plug) to a water softener, water is still passing through the equipment.
So, for example, if your water softener is leaky and needs repair, or if you are shutting down the system in order to clean it, you might be better off using the bypass valve to stop water from flowing through the system.
More information about the use of water softeners is at Water Softener Operation & Maintenance.
More Reading
Green link shows where you are in this article series.
...
Frequently Asked Questions (FAQs) about the water softener bypass valve
Question: does a water softener let salt water into the plumbing system?
why does softner let salt water into lines - Anonymous 5/23/12
Reply: a review of water conditioners & salt effects
Anon:

There are two "salt in water" topics when discussing as water softener or water conditioner: 1 = salt in the backwash or regen or recharge water run through the resin tank during a regen cycle and discharged into the sewer or septic tank, and 2 = salt that may be dissolved in to the building's water supply as that water passes through the water softener.

1. A water conditioner uses dissolved salt in water during the water softener regen cycle. A water conditioner or water softener works by exchanging sodium ions (salt) for magnesium or calcium ions that are dissolved in the water. It's magnesium and calcium at high levels in water that make it "hard" - high in mineral content. \

In order to recharge the resin tank in which the ion exchange process occurs, salty water is washed back through the tank - simultaneously moving calcium and magnesium out with the rinse water and recharging sodium ions in the resin tank. Because not all of the salt in the regen or recharge water stops in the resin tank, the remaining salt in the water being discharged exits into wherever the water softener backwash water is being drained.

2. A water softner will leave a small amount of dissolved salt or sodium in the building water supply as it passes through the water softener or water conditioner. If the conditioner is not properly adjusted the salt level in water could be excessive and can be both a health problem and a source of damage to septic systems. (See SALT OR WATER INTO SEPTIC and also REDUCE IMPACT of SOFTENER on SEPTIC).

But normally it's harmless. For people who need to be extra careful to eliminate all salt intake from their diet, some recommend installing a water supply line that can deliver water from ahead of or before the water softener, or installing equipment such as a reverse osmose system that will remove all salt and other minerals from just drinking water in the building. Details are at HEALTH RISKS & WATER SOFTENERS.
...
Ask a Question or Search InspectApedia
Questions & answers or comments about how to put the water softener or water conditioner into bypass mode..
Try the search box just below or if you prefer, post a question or a comment in the Comments box below and we will respond promptly.
Search the InspectApedia website
Technical Reviewers & References
Related Topics, found near the top of this page suggest articles closely related to this one.
Click to Show or Hide Citations & References
[1] Autotrol Series 255 Valve / 460i Water Conditioning Control System, Installation, Operation, and Maintenance Manual, web search 09/01/2010 original source: http://www.qualitywatertreatment.com/PDF/Autotrol%20255-460i_Manual.pdf
[2] Aquatell (Nelsen Corporation) produces Autotrol Water Conditioners. Email: sales@aquatell.com Tel: Toll Free 1-866-966-9951 Website: Toll Free 1-866-966-9951 Website: http://www.aquatell.com/
[3] Culligan System 19 and 23 Water Conditioners (Filament Wound Tank) Installation and Operating Instructions, Cat. No. 00-8816-57 (Printed 6/89), Culligan INternational Company, Northbrook IL. 60062, San Bernadino CA 92402, Culligan NV/Brussels, Belgium, Culligan Italiana SpA/Bologna, Italy, Culligan of Canada, Ltd., Mississauga, Ontario, Canada L5K 1A5
[4] North Dakota Standards for Water Softeners, North Dakota General Authority Law, Chapter 62-04-08, Water Softener Units http://www.legis.nd.gov/information/acdata/pdf/62-04-08.pdf. "The objective of this chapter is to provide a standard of quality, capacity, and performance for water softener units. Water softener performance is to be based upon referee tests procedures described in section 62-04-08-09."
[5] Culligan Mark 10 Water Softener 1994-1998 Installation and Operating Instructions (covering models manufactured after 1995) (1-96) 01881948.pdf available from www.culligan.com
[6] Water Softeners, CMHC, Canadian Mortgage and Housing Corporation, cmhc-schl.gc.ca/en/co/maho/wawa/wawa_005.cfm - October 2008. Canada Mortgage and Housing Corporation acknowledges the contribution of Health Canada to the development of this document. For further questions regarding water treatment and water quality, contact Health Canada at watereau@hc-sc.gc.ca or call 613-957-2991 or 1-866-225-0709.
[7] "Commercial Water Softener Installation and Operating Instructions", IBC Filtration & Water Treatment Products (Australia) for commercial, industrial and residential application www.ibcwater.com.au (07) 3219 2233
[8] "Non electric water softener, Installation and Operating Instructions", IBC Filtration & Water Treatment Products (Australia), op.cit.
[9] "Water Softener Twin Tank Installation and Operating Instructions", IBC Filtration & Water Treatment Products (Australia), op.cit.
Books & Articles on Building & Environmental Inspection, Testing, Diagnosis, & Repair
The Home Reference Book - the Encyclopedia of Homes, Carson Dunlop & Associates, Toronto, Ontario, 25th Ed., 2012, is a bound volume of more than 450 illustrated pages that assist home inspectors and home owners in the inspection and detection of problems on buildings. The text is intended as a reference guide to help building owners operate and maintain their home effectively. Field inspection worksheets are included at the back of the volume. Special Offer: For a 10% discount on any number of copies of the Home Reference Book purchased as a single order. Enter INSPECTAHRB in the order payment page "Promo/Redemption" space. InspectAPedia.com editor Daniel Friedman is a contributing author.

Or choose the The Home Reference eBook for PCs, Macs, Kindle, iPad, iPhone, or Android Smart Phones. Special Offer: For a 5% discount on any number of copies of the Home Reference eBook purchased as a single order. Enter INSPECTAEHRB in the order payment page "Promo/Redemption" space.
Carson Dunlop, Associates, Toronto, have provided us with (and we recommend) Carson Dunlop Weldon & Associates' Technical Reference Guide to manufacturer's model and serial number information for heating and cooling equipment
Special Offer: Carson Dunlop Associates offers InspectAPedia readers in the U.S.A. a 5% discount on any number of copies of the Technical Reference Guide purchased as a single order. Just enter INSPECTATRG in the order payment page "Promo/Redemption" space.

...