Hot Water Heater Temperature Pressure Relief Valves
Inspect, install, troubleshoot, repair

RELIEF VALVES - Water Heaters - CONTENTS: Water Heater Safety Inspections - check the TP Relief Valve. BLEVEs: Boiling Liquid Expanding Vapor Explosions at Water Heaters (or heating boilers). How to use, test, inspect water heater temperature and pressure safety relief valves. How to fix or replace leaky water heater relief valves. ANSI and water heater standards and advice: water heater relief valve requirements. Water heaters: how to inspect, test, adjust, repair, and choose among types of hot water heaters
POST a QUESTION or READ FAQs about water heater pressure/temperature relief valves or TP valves on water heating appliances
InspectAPedia tolerates no conflicts of interest. We have no relationship with advertisers, products, or services discussed at this website.
Water heater safety valves: Here at we discuss temperature and pressure relief valves used on residential water heaters. We explain the function, inspection, and maintenance of temperature & pressure relief valves on water heaters used to produce hot water for washing and bathing.
We describe how to diagnose and cure just about every problem with T&P valves on water heaters and we describe how to inspect the hot water supply system for unsafe or improper Temperature & Pressure Relief Valve installation.
Green links show where you are. © Copyright 2014 InspectApedia.com, All Rights Reserved.
Water Heater Temperature & Pressure Relief Valves
The Temperature &
Suggestions for Testing the Water Heater Temperature Pressure Relief Valve (TP Valve or "Safety Valve") on a Water Heater
Requirement for Installation of Water Heater T&P Valves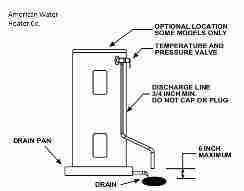 To reduce the risk of abnormally high and dangerous pressures in the hot water system and to reduce chances of a dangerous explosion, water heater manufacturers, building codes, and independent standards require that a temperature and pressure relief valve be installed on the water heater - a T&P Relief Valve.
[Click to enlarge any imabge]
The tag providing information on any T&P relief valve describes its operating pressure and temperature rating. The T&P Valve installed on your water heater must be marked with a "set pressure" (the pressure at which the valve will open to relieve pressure) must be equal to or less than the maximum working pressure of the water heater.
The Temperature/Pressure Relief valve installation sketch shown at left is from American Water Heater Co'.s installation guide. [1]
Testing the T&P Valve on a Water Heater
Some manufacturers (Rheem) recommend that the temperature and pressure safety relief valve be tested once every six months. To test the valve the lever on the valve is lifted, which should result in (hot) water flushing through the valve and its discharge tube into a bucket placed below the discharge tube for that purpose or into a floor drain. In Australia and New Zealand the test lever is called an easing lever but performs the same purpose.
After lifting the easing lever or relief valve opening lever, lower it gently back to its closed position. Rheem points out that rough handling of the relief valve test lever, such as allowing it to "snap" closed, can damage the temperature and pressure relief valve - a dangerous condition that could lead to a water heater explosion or BLEVE explosion.
If water does not flow freely when the temperature/pressure relief valve is opened, the valve should be replaced by a licensed plumber, making sure that an approved, properly-rated TP valve is installed.
If your temperature/pressure relief valve has not been tested or replaced sooner than five years, Rheem recommends that the TP valve should simply be replaced. More frequent replacement of the safety valve may be needed in areas where hard water is found.
Other Versions of Pressure or Temperature & Pressure Relief Valves on Water Heaters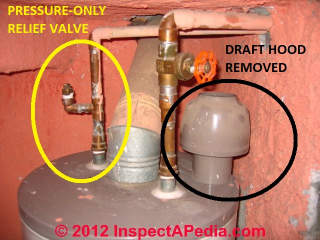 The funny little device on the elbow seen at the left hot water riser on this water tank is in common use in Mexico.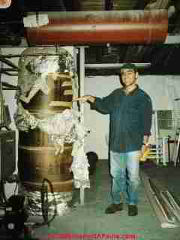 Covered-Over relief valves:
The relief valve on this water heater has been covered by owner-installed water heater insulation.
This is an unsafe condition as the operation of the temperature or pressure relief valve may be interfered with by the insulation and also because the valve cannot be inspected for evidence of leaks or failure.
T&P Valve Installation Location, Position, & Drain Discharge Line Routing Rules
Proper location for water heater TP relief valve
The water heater temperature/pressure relief valve is installed into an opening directly on the water heater at a location marked for that purpose, usually at or near the top of the heater (where water temperatures will be greatest).
Watch out: for these unsafe water heater relief valve or pressure-only relief valve installation mistakes [10]
Do not depend on a pressure-relief only valve to protect a hot water heating system. Pressure relief alone can't prevent a water heater tank explosion. See BLEVE EXPLOSIONS for details.

Pressure relief valves are only intended for protection of tanks that are not heated - such as a well water pressure tank or a cold water storage tank. Where a pressure-only relief valve is to be used it should be installed as close as possible to the equipment it's protecting.
Shutoff valves should never be installed between a relief valve and the tank it is designed to protect
Reader Question: Red Tagged Water Heater Safety Issues: water heater discharge tube
(Mar 7, 2013) Christian said:
Question: I went and looked at a house today. On the water heater, there was a tag, it was red and white. It stated "notice of unsafe condition". However on the check boxes there was nothing checked IE stuff like CO or ignition risk. However, on the bottom it said "no water, copper through floor". What does this mean? the house is vacant and has been for some time. Thanks
Reply:
Christian, Without some photos or other details, I don't know, but I speculate that if the discharge tube on the relief valve is piped down through the floor to a non-visible location, that's improper & unsafe and may be what the tagged meant.
Proper Temperature & Pressure Relief Valve Size for Water Heaters
All pressure/temperature relief valves include a tag or label that indicates the valve discharge capacity in BTUs - heat energy discharge rate. The installation or technical data or data tags for all modern water heaters include the water heater's BTU input rate capacity (and some indicate the specifications for the TP valve too.)
The Temperature/Pressure relief valve for a water heater must have a BTUh discharge rate (BTUs per unit time, such as BTUs per hour) that is equal to or greater than the BTU input rate of the heating appliance the valve is supposed to be protecting. [10]
As we discuss at BLEVE EXPLOSIONS, it is the release of heat (or "temperature" or "energy") that prevents a water tank from exploding when it is being overheated, not the release of pressure.
Proper position for water heater TP relief valve
The Temperature/Pressure relief valve mouth must point down, and a 3/4" I.D. (or greater) discharge tube must be attached to the T&P Valve's opening and routed down close to but not touching the floor level, typically near a floor drain and stopping 6" above the floor. This permits emergency hot water to be discharged without risk of burning the face and body of a bystander.
Our photo above illustrates a T&P valve installed on the water heater top and connected to a discharge tube that passes outside the building through the wall. This Tucson Arizona home installation disposes of any water heater T&P discharge outside to about 6" from the ground surface - not to a hidden location. And because there is no freeze risk in this climate the local installation was approved.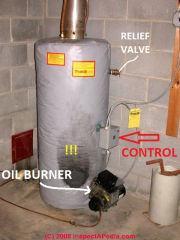 T&P valve discharge tubes are permitted to discharge below the floor of a structure but should not be piped to a hidden location where you won't notice that the valve is dripping or leaking. Never close off or block the discharge opening of the discharge tube, just as you wouldn't plug the discharge opening of the T&P valve itself.
Missing Water Heater Relief Valve Discharge Tube
[Photo at left]
Relief valve missing its discharge tube or drip line, also called an extension tube: this is an unsafe condition - someone may be scalded should the relief valve open.
Relief valve installed through an elbow, coupling, or pipe nipple: do not install a temperature & pressure relief valve through any intermediary plumbing fittings. Doing so can cause the T&P valve to fail to operate safely when it should. For example, an air pocked in a coupling can prevent proper sensing of water temperature.
We inspected a hot water tank installation at which the installer actually cut off the temperature sensing probe from the T&P valve so that he could install it through an elbow. This was a stupid and dangerous modification. - Ed.
Constricted, Under-sized, or Mis-Routed Relief Valve Discharge Tubes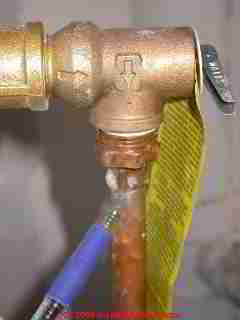 The discharge tube attached to the water heater pressure/temperature relief valve should be the same diameter as the opening of the valve itself. In our photo someone has fastened a 1/2" pipe discharge tube onto a 3/4" diameter relief valve.
Leaky or Dripping Water Heater Pressure & Temperature Relief Valves
Evidence of dangerous leaks and corrosion at water heater temperature/pressure safety valves

Temperature & Pressure Relief valves may open, leak, or drip for a variety of reasons that we list and explain in detail at RELIEF VALVE LEAKS. You should review that article. But here we some common water heater relief valve leak causes:
The water heater temperatures are excessive
The building water supply pressure is too high or periodically water pressure fluctuates and is too high at times
Periodic discharge of the temperature and pressure relief valve may be due to thermal expansion in a closed water supply system. Details are at Closed Hot Water Systems A closed water system with thermal expansion and no means of relief can cause leaks at the pressure/temperature relief valve, such as

on a hot water heater with some building piping arrangements
on a hot water heating boiler at which its expansion tank has become waterlogged - see EXPANSION TANKS for diagnosis & repair procedures

Dirt or debris are preventing proper closure of the relief valve valve
A deteriorated gasket inside the relief valve or corrosion on the valve seat can cause leaking at the valve; we find this mess occurring when someone lifts the "test lever" on a older P/T valve that has not been tested or operated for some time. A brittle piece of gasket can be spit out of the valve and it will then keep leaking.
Water expansion pressure (thermal expansion) increases in a closed system with a check valve installed close to the water heater. The increase in plumbing system pressure to a level that opens the TP valve is called "thermal expansion pressure". Watts suggests installing a bypass model water pressure regulator that lets the excessive pressure head back to the street main or building water supply system - a solution that only works if the supply pressure is lower than the T&P relief valve spill pressure - which it usually is. (See THERMAL EXPANSION of HOT WATER for further explanation in horrible detail. )
The T&P valve is installed on a sidearm gas heater that is causing an overheat condition at the sensor point of the valve (This thermal expansion is discussed at T&P Valves Installed on Gas Sidearm Heaters)
Watch out: a dripping or frequenly spilling T&P valve is dangerous because those very leaks can eventually cause the valve to clog and then to fail to open when it should.
As our photo shows (above left), mineral salts left behind as hot water evaporates from the mouth of a pressure or temperature relief valve can completely clog the spring that is intended to allow the relief valve to open under excess (unsafe) pressure.
This relief valve needs to be replaced immediately and the cause for the valve's leakage also needs to be determined.
Accidental or deliberately plugged Temperature & Pressure Relief Valves
Watch out: Never remove nor plug a pressure/temperature relief valve. This [water heater pressure/temperature relief] valve must be marked with the maximum set pressure not to exceed the marked maximum working pressure of the water heater. Install the valve into an opening provided and marked for this purpose in the water heater, and orient it or provide tubing so that any discharge from the valve exits only within 6 inches above, or at any distance below, the structural floor, and does not contact any live electrical part.
The discharge opening must not be blocked or reduced in size under any circumstance. [1] [2]
Technical note: why must the TP Valve point "down"? Take a look at the photo above. If a relief valve is dripping the deposit of minerals inside the valve will accumulate still more rapidly if the valve points to the side or upwards. The result is a clogged valve as we explain above - a dangerous situation that risks an explosion.
Other safety valves and devices found on some water heaters include the following:
A Temperature Limiting Valve that limits the outgoing water temperature to 50 degC in order to prevent scalding. This valve should be checked annually by measuring water temperature at a nearby water taps, making sure that the water delivered closest to the water heater is not hotter than 50 degC. See ANTI SCALD VALVES.
An Expansion Control Valve is used on water heaters in south and Western Australia where hard water is found, and in some other countries or other jurisdictions. The Expansion Control Valve discharges water into a drain to relieve excess pressure in the hot water tank. The purpose of this valve is to release pressure through a separate control so that the safety provided by the Temperature and Pressure Relief valve is not compromised by clogging from minerals should that valve frequently open.
The expansion control valve should be tested every six months, following the same procedure as for temperature and pressure relief valves as we described above.
Readers of this article should see RELIEF VALVES - TP VALVES where we include additional relief valve information including for hydronic heating and steam heating boilers used for central heating.
And see WATER HEATER SAFETY for our complete list of water heater safety devices and water heater safety inspection advice.
At TUNDISH used in PLUMBING we describe special devices designed to provide an air gap in the relief valve discharge tube and piping: a feature that can permit visual detection of a spilling TP valve if its discharge has been piped to an otherwise not visible location, and a feature that can protect the potable building water supply system against contamination from cross connections.
If the building water pressure gauge reading is ever found at 80 psi or higher, you will want to install a water pressure regulator at the point where water supply enters the building.
If your building already has a water pressure gauge installed, it may be defective or it may be set too high. The articles listed just below discuss how to adjust a water pressure regulator:

WATER PRESSURE REDUCER / REGULATOR
What's a Water Pressure Regulator?
WATER PRESSURE VARIATION CAUSES
Diagnose Poor Municipal Water Pressure
WATER PRESSURE REGULATOR ADJUSTMENT

Expansion tanks to relieve high water pressure:
An alternative to installing or changing a water pressure regulator when building water pressure is occasionally 80 psi or higher is the installation of an expansion tank to temporarily absorb that pressure increase. Proper use of an expansion tank can help avoid unnecessary opening of the pressure/temperature relief valve on a hot water heating tank or a hot water heating boiler.
What is the Proper Size & Rating for Temperature/Pressure Relief Valves on Water Heaters?
A relief valve on a water heater should have a BTU or heat spillage release capacity greater than the BTU input rating of the water heater. Othewise even if the valve opens it can't release heat fast enough and there is a real risk that the water heater could explode.
The pressure-relief component of a TP valve or of a separate additional pressure-relief valve should be at least 20 to 30 psi above the maximum working pressure in the system. Otherwise you will find occasional "nuisance dripping" at the relief valve due to normal water pressure variations or due to water hammer.
The standard opening pressure for TP valves on residential water heaters is usually 150 psi, and most water heater tanks also have a standard operating pressure of 150 psi. If the building water supply pressure is above 125 psi, Watts recommends that a pressure-reducing valve be installed to reduce pressure to 40-45 psi so that a standard TP valve set can be used.[10]
Note: we recommend that for most conditions residential water pressure inside the building should not exceed 70 psi. We observe an increase of leaks and drips at faucets and toilets at higher building pressures as the pressure may exceed the design pressure of some plumbing fixtures. See WATER PRESSURE REDUCER / REGULATOR.
Watch out: as we discuss above, dripping TP relief valves are unsafe. The hazard is that minerals in the water supply accumulate inside the valve during the passage of hot water through the valve assembly. That accumlation of scale will eventually block operation of the relief valve, causing the relief valve to fail to operate properly if unsafe pressure or temperature occurs in the water heater in the future. The risk, ultimately, is a water heater tank or heating boiler explosion.
How Mineral Deposits and Heating May Weaken a Water Heater Tank Bottom, Contributing to BLEVE Explosion:
What is a BLEVE or Boiling Liquid Expanding Vapor Explosion?
BLEVE explosionsor boiling liquid vapor explosions can occur at both domestic water heaters (calorifiers or geysers) and at hot water heating boilers (hydronic heating systems). In a BLEVE explosion, the state change of superheated water from a hot liquid to a vapor (steam) form releases an enormous amount of energy.
We can understand the huge energy release involved in a BLEVE explosion by a quick review of the extra energy required to change the state of water from a liquid to a gas.
At SEER RATINGS & OTHER DEFINITIONS in our discussion of BTUs (British Thermal Units, a measure of energy), we point out that while only 180 BTUs of energy are needed to raise one pound of water at 32 degF to 1 pound of water at 212 degF, a much larger amount of energy, 970 BTUs, are needed to raise 1 pound of water at 212 degF to 1 pound of steam vapor at 212 degF.
Notice that the temperature has stayed the same! What has changed is the state of our pound of water: from a liquid form to a vapor form. This figure is the latent heat of vaporization, the number of BTUs of energy used to raise one pound of water at 212 degF to one pound of steam vapor at the same temperature; in other words, the temperature is unchanged but the state of matter is changed from liquid to vapor. State changes involve large amounts of energy.
We discuss the role of pressure/temperature relief valves in protecting against these hazards at RELIEF VALVES - TP Valves on Boilers and at RELIEF VALVES - Water Heaters.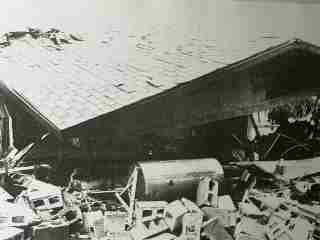 Water heater tank explosions are rare thanks to the widespread requirement for and use of pressure and temperature relief safety valves.
But if the safety valve has been damaged, modified, or even omitted (as we saw on our neighbor's water heater), that condition, combined with overheating can cause a water tank to explode, creating a BLEVE - Boiling Liquid Expanding Vapor Explosion that releases tremendous force and causing extreme damage to a building.
Because repeated heating of the water tank bottom may combine with other conditions (such as corrosion or excessive heating due to mineral deposits on the tank bottom) to produce a weak water heater tank bottom, that is the part more likely to fail in an overheat and overpressure condition.
A failure at the water tank bottom may explain why a BLEVE can produce a water tank explosion that behaves like a rocket, sending the water tank skyrocketing up through a building.


Using the Temperature & Pressure Valve to Aid Draining a Hot Water Storage Tank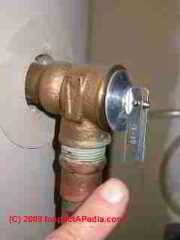 How to Let Air Into the Hot Water Tank to Speed the Tank Draining Process
It is possible to speed the heater draining and also to ease the flushing procedure if you open a hot water tap nearby so that you can let air into the heater as water leaves it
Some plumbers open the water heater pressure/temperature relief valve for this air-in purpose - but there is risk that you'll later be unable to get the valve to shut fully again - debris can clog the valve seat - sometimes we can stop a relief valve from dripping by tapping on the valve lift rod that protrudes through the valve lift lever
Other plumbers simply remove the relief valve entirely - this is the process recommended by some water heater manufactures such as A.O. Smith. Removing the relief valve makes it easy to inspect this critical safety component itself, and it's easy to clean or replace the safety valve at that time.
When replacing the relief valve use an approved teflon tape or pipe sealant and work neatly and with care so that there will be no leaks at this location.
Safety Warning- a damaged, improperly-selected model, or modified pressure/temperature relief valve is dangerous and could lead to a serious BLEVE explosion should the water heater later overheat.
For a general discussion of temperature and pressure relief valves used as safety devices on heating boilers and other pressurized please see RELIEF VALVES - TP VALVES.
Pressure relief valves (that sense pressure only, not temperature) are also required on pressurized tanks such as water tanks in buildings.
Reader Question: explain the concern for a water heater discharge line above the TPR valve - why can't we pipe a TP valve discharge tube "up"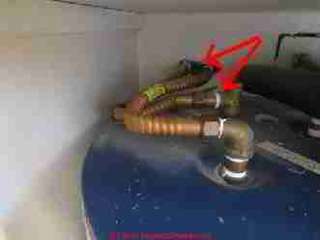 I am ... in the process of selling a condo I own. I got this request for repairs for the hot water heater with a picture of the heater. On the picture it shows the that the discharge line is above the TPR valve, and that this is a problem (see description on attachtment). This doesn't make any sense to me. Can you help me decide what the best action would be? thanks. - R.N. 7/11/2013
Quoting from the inspection report:
The overflow line is higher than the Temperature and Pressure Relief (T & P) valve. The over flow line should always allow to water to drain to a point lower than the valve without backing up to the valve. Water trapped in the discharge line may cause the T & P valve to corrode and malfunction. (The concern is if the water overheats and turns to steam, and the temperature control valve fails to function, the over pressure may cause the heater to burst or explode.) Lowering of the discharge line to a point below the valve and replacement of the valve should solve the problem.
Reply:
The photo is a bit difficult to read but if you look closely where the two flexible copper lines enter the wall behind the water heater, you'll see that the smaller leftmost flexible tube, connected back to the water heater TP valve, enters the wall at a height above the valve outlet opening. What the home inspector said was perfectly correct and represents a safety hazard.
Perhaps if I explain the concern in my own words it will be more clear:

The temperature/pressure relief valve on a water heater is connected to a drain line so that if the valve  opens someone nearby is not shot in the face with hot water. The discharge drain extension is typically taken to just a few inches above the floor or in some jurisdictions it may be directed outdoors - a solution that I think is risky because IF the valve should be leaking, dripping, etc., one wants to notice that and fix it to keep the system safe.

The inspector's report makes a valid point: we should never route the discharge tube "up" from the actual outlet opening of the TP valve. That's because if the valve should develop a small leak or be discharged on occasion, the up-routed discharge tube will keep water and debris remaining in the tube at the valve outlet where debris or mineral accumulation clog the valve or interfere with its operating spring. The result over time could be that the valve becomes clogged and would then fail to open in a true emergency - risking, ultimately a dangerous BLEVE or water heater explosion.

Watch out: ALSO, I suspect from the photo that your water heater has a discharge tube that directs the valve outlet into a wall and going to who knows where. If the other end of that line is not already readily visible and in a location where it would be noticed, that too would be unsafe and improper.

The FIX for this unsafe condition is usually trivial: the discharge tube must be routed only "downwards" from the TP valve outlet opening, and the end of the discharge tube must be in a readily accessible, visible, and safe location. You'd probably find these same instructions in the installation manual for the water heater.

The COST for this repair should be no more than a simple plumbing service call and perhaps a few piping connections. What would make sense to me and what would be most economical would be to combine this repair with any other plumbing repairs that are needed at the home.

The TIME to fix this problem is as soon as possible, without handling it as an extra-cost "immediate-emergency" plumbing repair. That means, call a plumber and schedule the work for as soon as possible and practical, but not sounding so scared that the plumber gouges the customer with extra fees.
When should the temperature/pressure relief valve on a water heater be tested? And what is a "test"?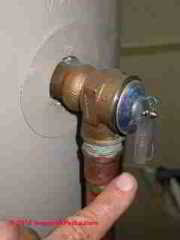 One has to consider that the manufacturer would not be likely to include the test-lever feature on relief valves if it had no intended uses whatsoever. Water heater manufacturers' installation instructions for at least some water heaters advise building owners or maintenance personnel to manually operate the TP valve at least once a year to make sure it is working properly.
Recommendations for testing versus inspecting temperature and pressure relief valves vary.
Watts recommends inspection of temperature & pressure relief valves every three years - Quoting:

Temperature and pressure relief valves should be reinspected at least once every three years by a licensed plumbing contractor or authorized inspection agency to ensure that the product has not been affected by corrosive water condtiion [sic] and to ensure that the valve and discharge line have not been altered or tampered with illegally. Certain naturally occurring conditions may corrode the valve or its components over time, rendering the valve inoperative.

Such condtions are not detectable unless the valve and its components are physically removed and inspected.

An unauthorized person must not attempt to conduct this inspection. Contact a plumbing contractor for a reinspection to assure continuing safty. Failure to reinspect as directed could result in unsafe temperature or pressure build-up that can result in serious injury or death and/or severe property damage. - Watts Water Corporation, "T&P and ASME Safety Relief Valves", retrieved 8/22/14, original source: http://media.wattswater.com/PG-TP-ASME.pdf


Some older installation guides instruct that the TP valve should be tested annually
Some building codes require periodic TP valve testing
Home inspectors do not normally test a TP valve out of concern that if it leaks and won't shut off the test has created a building flood.
Plumbers, prepared to replace a leaky TP valve can certainly test it.
Neverthess, Ken, I agree with you that while the "easing lever" can be used to open or "operate" a TP valve, that does not promise that the valve will necessarily open at the rated pressure or temperature.
But by making this test you might find by that the valve is "stuck" or clogged and will not operate. Not finding that the valve is stuck is not a 100% promise of proper function but the risk is reduced. Here are detailed TP valve testing instructions from American Water Heater:
Standing clear of the outlet (discharged water may be hot), slowly lift and release the lever handle on the temperature and pressure relief valve to allow the valve to operate freely and return to its closed position. If the valve fails to completely reset and continues to release water, immediately shut-off the electrical power and the cold water inlet valve and call a qualified service technician. [1]
Watch out: Opening or operating the pressure relief valve using the lever is not a complete test and it should not be used by home inspectors nor by anyone who is not prepared to shut down the water heater and replace the TP valve immediately should the valve fail to operate or should it fail to close and stop leaking or dripping after it has been tested using the lever.

And in sum, I agree completely that a questionable or used or leaky TP valve should be replaced immediately.
Continue reading at WATER HEATER SAFETY or select a topic from the More Reading links shown below.
More Reading
Green link shows where you are in this article series.
...
Frequently Asked Questions (FAQs)
Some of the FAQs discussed below are adapted from information provided by the Watts Regulator Company in "52 Questions and their Answers", Watts Regulator Corporation (1973) [10]
Question: Leaky pressure relief valve blamed on bad expansion tank bladder ?
I have a weil McLain hot water boiler, which is about 20 years old. It was leaking out the pressure relief valve, so we changed out the expansion tank which had a bad bladder in it, as well as the pressure relief valve, but now I noticed it has continued to leak out of the new pressure relief valve when the boiler is running. Any ideas? - Vincent Nizzardi
Reply:
A bad expansion tank bladder would certainly be a cause of relief valve leakage. As you replaced both the tank and the TP valve, and now see a leak at the new valve, there are other possible explanations such as:
dirt on the valve seat due to crud that flowed into the valve during testing after installation. A technician might try flushing the valve and gently tapping the lift rod to be sure the valve is seated properly.
high water pressure in the boiler - check the water pressure with a reliable gauge
high boiler temperature
a defective automatic water feeder that is putting too much water or water at too high a pressure into the system
a leaky tankless coil that leaks into the boiler
you may need an expansion tank on your water heating system. See the explanation and cure described in the article above at Closed Hot Water System & Thermal Expansion Problems.
Keep us posted - what you learn may help other readers. - Editor
Question: Do I also need a TP valve on the cold water line? What about a check valve on the cold water supply main line?
Do I need a pressure-relief valve on the cold waer pipe that feeds my hot water heater tank? - Watts
Do I need to install a check valve on the cold water supply main line? Is it safe to do so? - Watts
On a municipal water supply system, do I need a check valve on the cold water line if a TP valve is installed on the water heater? - Watts
Reply: no
No, there is no need for a separate pressure relief valve on the cold water line feeding the water heater. That's because water pressure within the system is common throughout all of the plumbing system: cold water line into the tank, hot water in the water heater, and hot water in the hot water lines leaving the water heater tank all see the same pressure. [10]
... the original purpose of a check valve was to protect the [water] meter by preventing superheated water from backing up into the cold supply main from range boilers and heaters. However, the very condition that can cause this, can also cause explosions and the temperature and pressure relief valve principle protects against both excessive temperature and [excessive] pressure, thereby eliminating the need for a check valve. A check valve closes the [plumbing] system, thereby allowing pressure to build up from thermal expansion higher than the city main pressure, and therefore should not be used except where required by local codes. [10]
Note: We add that there are other reasons for a check valve or backflow preventer valve on water systems: to prevent water from the building from flowing backwards into the city supply mains during an interval of loss of pressure in the mains. Should such a pressure loss occur the risk is that unsanitary water from buildings connected to the mains could flow backwards into and thus contaminate the water supply mains in a community. Most community water supply systems include a pressure regulator combined with a backflow preventer or check valve at the water meter. Watts' note above was penned in 1973. The company may have more to say on this topic today.
When a hot water system includes a temperature & pressure relief valve installed on the water tank or heater there is no advantage to installing a check valve to protect the water meter - as Watts explained in the quotation above. Watts points out that if a check valve is installed on the cold water line to the water heater, a result is a pressure rise in the system each time water is heated in the hot water tank.
Question: What is an "open main" water system and does it have safety implications for water heaters?
Does the water pressure in my house plumbing system ever increase under any circumstance (hot water heater or something else) on an open main water supply system? - Watts
Reply:
In an "open main" system nothing is closed between the house [plumbing] system and the street main. Therefore, water pressure [in the house] cannot increase above the street main pressure from the reservoir regardless of any expansion [in the hot water system] from temperature. Consequently, a straight pressure relief valve cannot operate unless a system is closed.[10]
Note: By "straight pressure relief valve" we think Watts means a valve that responds only to water pressure and that does not include a response to hot water temperature. Such a system could be unsafe.
Question: Why is hot water pressure going up to 150 psi in my water heater tank?
I had to install a new temp controller in my hot water tank. It is a bourdon tube type and I installed exactly like the original one. The water in the tank is heated by a coil as a separate zone from the furnace. The house water pressure is about 50 psi. I have the tank temp set at 125 degrees.
I installed a pressure gauge between the pressure relief valve and the top of the tank. When the hot water from the furnace enters the tank the water pressure goes from 50 psi to 150 psi and the relief valve discharges a little and then stops. The water temp is 101 degrees at this time. Why is the hot water tank pressure increasing to 150 psi? - Alan
Reply:
Alan you may need an expansion tank on your water heating system. Heating water in a closed container increases the pressure. See our discussion above about Closed Hot Water System & Thermal Expansion Problems.
Question: can I use a combination of check valve and pressure-only relief valve to protect against overheating my hot water tank?
Will a "straight" pressure-only relief valve prevent overheating and thus keep my hot water system safe if a check valve is also used?
Reply: No. Such a system is unsafe
No. Overheating in the hot water system depends entirely on the BTU input rate to the water heater. A relief valve that operates on pressure only (ignoring temperature), regardless of its size or rated discharge capacity, can't prevent overheating nor reduce temperature. Such a sysetm is unsafe.
Question: Should TP Valve Discharge Lines be Trapped?
Does TP valve on residential water heater use a p-trap - Xavier
Reply:
No Xavier, the discharge from a TP valve should not be trapped it's discharge end should be visible
Question: will the relief valve affect building water pressure delivered to faucets?
Can the relief valve affect the pressure of water coming out of faucets? - Pam Gregg
Reply:
No, Pam, not under normal circumstances. That's because hot water leaving the water heater may pass BY a relief valve en route to your faucets (depending on where it is installed) but the water is not passing THROUGH it.

But if a water heater pressure-relief valve were stuck wide open flushing hot water continuously down a drain, building water pressure would probably fall noticeably - that would be an unusual circumstance and surely you would know it, from the flooding water out of the valve and quickly by the loss of hot water.
Question: using the "easing lever" on TP Valves? When should a TP valve be replaced?
I don't understand how simply lifting the "easing lever" verifies that the temp./psi. relief valve is intact and will function properly at factory set limits. Most water supplies have trace elements , including some non- toxic metals.
These elements usually collect and build up on the sensing stem of a water heater relief valve. If a relief valves "easing lever " is tripped, valves with lime and trace metal accumulation often will not re-seat, resulting loss of heated water,shutting off the water supply to the unit, shutting down the power to the unit, ordering a new relief valve and installing the replacement. It's seems to thoroughly test a water heater relief valve, Psi. and temp. limits would have to applied that would require the relief valve to engage.
Once a relief valve has released at its set point it should never be put back into service. - Ken Hansen
Question: since a TP valve releases excessive pressure in a water heater or boiler, isn't pressure-release enough protection against a water heater tank explosion?
If the condition of too much hot water pressure is corrected by the automatic opening of the pressure/temperature relief safety valve or "blowoff valve", why was I told that a water tank can still blow up?
Reply: relieving pressure alone won't prevent a hot water tank from exploding - that's why a TP valve also responds to temperature and the TP valve has to release heat at a rate equal to or greater than the BTU input rate for the water heater
One would think that the TP valve alone would always be enough protectin on a water heater tank. But as Watts Regulator Company explained back in the 1970's and as was demonstrated in the film "Explosion Danger Lurks", even a wide-open pressure relief valve can not prevent water in a water heater tank from becoming overheated.
At WATER TANK PRESSURE CALCULATIONS we discuss the calculations behind the increase in temperature and pressure in an enclosed water tank or water heater tank. In the case of a hot water storage tank, Watts points out that
The reason that the volume of pressure discharge [through the relief valve] is not enough to overcome the BTU heat input [into the hot water heater tank] is because thermal expansion pressure is approximately 2 1/2% of volume for every 100 degree rise. [The] fluid heat discharge ... necessary to relieve the extra BTU heat input for every 1000 heat units is about 20 times greater in volume.

In a [hot water heating] system with a check valve and a pressure relief valve, the relief valve opening by pressure increase due to expanding water will discharge approximiately 1/2 lbs. of water for each 1,000 heat units (BTUs) put into the water - because that is the rate at which the water expands when heated.

To release 1,000 heat units when the temperature is at 210-212 degF, there must be approximately 6 2/3 lbs. of water released from the system. In other words, to prevent overheating [water in the hot water storage tank] a means must be provided to relase about 20 times as much water from the system as a pressure relief valve can discharge from thermal expansion [alone], when there is a check valve in the supply line or [when there is] an accidental stoppage [of the water piping] to make the system a closed one.[10]
In other words, in a closed hot water piping system (closed by the presence of a check valve or a blockage in the water piping to prevent expanding hot water from "pushing" water volume back out of the watertank, to prevent a hot water tank from overheating, the TP valve has to discharge heat [not pressure] at or greater than the rate that the heater's burner or electrodes are putting heat into the water in the tank.
But on a typical water heater, the heat input rate in BTUs is about 20 times more than the heat output rate through a TP valve if it operated on pressure alone.
Watch out: the conclusion of this technical discussion is that it is absolutely essential that the BTU (heat or energy) dumping rate for a TP valve must be properly matched to the BTU input rate of the heater. And a pressure-only relief valve on a water heater, that is excluding a valve that also responds to temperature, would be an unsafe installation.
Question: figure out this relief valve problem
(Feb 20, 2012) Jeff Garmel said:
I had a new water heater installed. It leaks at the relief valve. There is a 10-15 year old Amitrol Therm-x-trol ST5 (2 gallon) expansion tank on the cold water line before the heater. is it possible that the installation drained the air out of the tank? thanks Jeff
(Mar 7, 2012) Sunil Jay said:
Water is leaking from the bottom opener near electric connection. Is it through the heating element bushes
(Mar 7, 2012) sunil_nemindra@yahoo.co.nz said:
Very fast and reliable guidance. Thank you.
(May 26, 2012) pam said:
there is water coming out of my hot water heater and it's making a funny noise the water is turned off and so is the gas
Reply:
Sunil,
I have found that leaks anywhere in a water heater will often appear as both water on the floor and water appearing at the water heater tank metal jacket bottom and vertical sides around the heater base where there is a sheet metal seam. In other words the leak may be from somewhere higher up. You should not try to remove the heater jacket, but you can remove the covers over the electrical water heater controls and elements (if yours is an electric heater as your message suggests). That will give view of the mounting of the two heater elements and you will see directly if the leak is from one of those locations.
Send along photos if you like and I can comment further - use the CONTACT links found at page top or bottom.
(May 29, 2012) DanJoeFriedman (mod) said:
Pam if the water is leaking out of the heater itself it's probably time to replace it.
Question: is a TP valve required on a wall mounted water heater?
(Oct 2, 2012) Bill Miller said:
Is there a rule or code on how many 90 degree 3/4" fittings can be used on the drain line of a T&P at a 75 gallon State water heater?
(Oct 4, 2012) James said:
IS a TP valve required for storage wtaer heaters that are wall mounted, 50 liter capacity. I ahve noted that most household storage water heaters in the middle east have on TP valve except a releif valve on the water INLET of the heater. Yet all these are listed and registered to be complying with the IEC 60335-2:2002 Household and similar Electrical appliances: Storage Water heaters? would appreciate guidance. cheere
Reply:
James a temperature and pressure relief valve is required on any hot water tank or cylinder regardless of how the tank is mounted.
James, yes. I worry that a relef valve on the cold inlet is not what the manufacturer specified, and that even if it responded to overpressure it won't respond safely and reliably to an over temperature condition.send us brand and model numbers for research.
Question: handling TP valve discharge
(Nov 12, 2012) W Fisher said:
My new tankless water heater is in a place in my basement (finished) where there is no floor drain. A sump pit and pump exist in the area. Obviously if my relief valve activates, if it were to just be allowed to dump onto the floor, the water would travel through a finished part of my basement before reaching the drain.
Right now I have a piece of plastic tubing attached to the bottom of the 3/4" relief valve pipe. This is probably not the best or legal solution but it would keep my basement from flooding (so long as sump pump operates.) Is there a legal uption of looping the relief valve dicharge tube up through the band board of my house so it can drain to the outside?
Reply:
Plastic discharge tube extensions may be unsafe if the plastic is a type that may deteriorate, melt, or rupture when exposed to hot water.
Do not pipe the TP valve discharge tube UP - the result (because dripping or leaks can remain in the piping and valve opening) can be a clogged, failed TP valve and a fatal BLEVE explosion.
You can pipe a tp valve down and to a floor drain provided the end ofmthe extension remains visible.
Question: tested the TP valve now it keeps leaking
(Dec 2, 2012) Sun said:
After lifting the lever of temperature and pressure relief valve for annually maintenance,hot water leaking for hours,i wonder when its stop?
Reply:
Sun,
Tap gently on the pin that pulls the valve open. If that doesn't reseat the valve, and if flushing the valve doesn't remove debris from the valve seat it's time to replace the valve.
A valve that keeps dripping is unsafe and could risk becoming clogged, failing to open on overpressure and leading to a dangerous oe even fatal boiler explosion. When in doubt replace the valve. You should be using a heating service professional.
Question: Thermal expansion valve on cold line leaks
(Dec 22, 2012) charles said:
I have a thermal expansion valve that is installed on my inlet line (cold water line going into my hot water tank) that is leaking, now the question that I have is, is it required to be on the inlet line . Talking to a few friends that do plumbing and they are saying that it is not required, but they recommend that I install a expansion tank. So, another question is if the system was installed without a expansion tank is it a good idea to install one are just replace the thermal expansion valve that was installed when the hot water tank was installed, are just remove the old system and install a new hot water tank system per new system directions ? So many questions, but can't find all the answers! NEED HELP !
Reply:
Sounds like you need an expansion tank but first I'd check for any other sources of abnormal system pressure such as water hammer.
Question: Rheem PVW50 TP valve leaks
(Jan 11, 2013) Wayne said:
I have a 9 year old Rheem PVW50. Last year I replaced the drain valve, T&P valve and the anode rod. The old anode rod was worn out. A couple of months ago I noticed the T&P valve was leaking every once in a while. Then it started every day.
I read an article that said if the T&P is leaking to open the cold water faucet, if the T&P stops dripping it is not the water heater. But to check it out get a watts gauge with high pressure marker. So I purchased one and found out the cold water was going up to 110 psi and hot water heater up to 150 psi. Found out I need to replace the Watts Pressure Reducting Valve AU25B.
After replacing valve cold side is now 50 to 60 psi. However, the hot water heater registers 50 to 60 and when the water is being heated may go up to 100 psi. No water is leaking out of the T&P valve or anywhere else. Putting my ear to the heater I can hear a little grumbling out of the tank but not overly so.
So my question is 2 fold. First, is the water pressure of 50 to 100 in the tank ok? Secondly, when is the best time to replace the tank but still get maximum usage out of the water heater? I've been told by a friend at Rheem that they have seen 15 to 20 years out of the tanks.

Reply:
Opening a cold water faucet isnot a proper fix for a leaky TP valve. Replace the valve; if the new one leaks check the system temperature and pressure; Your system may need a hot water expansion tank.
Question: nipple between water heater and TP valve
(Feb 12, 2013) Ethan said:
Hello! I have a question here, not addressed by any web info I can find:
Is it against any code to have a nipple (about 1" long) installed in between water heater and the T&P valve? (instead of having the T&P valve threaded directly into the tank). I'd rather not use an extra-long T&P valve. Much thanks!
Reply:
In my OPINION the installation you describe is improper and unsafe and if it violates the manufacturer's installation instructions, indirectly by that error it's "against code" as you put it.
The short nipple you describe raises the valve, reduces the depth of extension of its temperature sensor into the water heater, so is improper.
Question:
(Mar 4, 2013) ron goodrick said:
hi there just replaced an expensive basin mixer cartridge leaked installed new one .. 3 days o ring blew in hose //sticking temp relief valve ? dodgy taps ??
Mar 6, 2013) SOMIDI MAHESHWRA said:
IF A SAFETY VALVE IS GETTING RELEAF AT 250 Deg centigrade and presuure 20 kgs/sq cm if my temperature is 30 deg centigrade what is the pressure of release in kg/sq cm.
Reply:
These questions are a bit unclear leaving us reluctant to guess at an answer.
Question: washing machine blows the TP valve
(Mar 16, 2014) mike said:
I have a front loader washing machine and it blows the T&P Valve on my electric hot water tank. Any solution on how to fix this problem. I have put in a pressure reducer coming into the house and water hammer behind the washing machine and nothing. Should I replace the T&P valve again since it has blown 50 plus times. Only with the washing machine nothing else it blows
Reply:
I'm unclear how the washer is causing the TP valve to blow or leak - and because there could be a very serious safety hazard involved, some accurate diagnosis is in order.
For example, if the problem is due to water hammer caused by the washer operation, there are water hammer control devices you can install at strategic locations on the system to solve the issue - search InspectApedia.com for
WATER HAMMER to read details.
But if the washer cycle is for some reason causing the hot water source - a water heater - to overheat or malfunction, that could be a serious safety hazard.
Question: new TP valve for new water heater?
(Mar 29, 2014) henry parker said:
when I buy a new water heater do I also need to buy a temp relief valve?
Reply:
Absolutely, if a TP was not included with the heater. Be sure to buy the proper valve matched to the water cylinder (heater) capacity and design and mount location.
I would never risk re-using an old TP valve on a new heater.
Question: why is just one TP valve leaking?
(Mar 29, 2014) C. David Hensley, cdjhensley@morrisbb.net said:
30 gallon water heater less than a year old with pop-off value leak, I have replaced the value, city water pressure is 40 -45 lbs., heat controls on 120 degrees top and bottom, this is the only water heater out of 12 apartments in the same building that leaks. What happen?
Reply:
C. David,
You want to diagnose the reason the valve is leaking. In the More Reading links above click on
RELIEF VALVE LEAKS
Question: constant discharge or leak from pressure relief valve
(Apr 20, 2014) John L said:
I had my hot water heater pressure relief due to a constant discharge of water. The plumber said the seat had worn over time allowing water to bypass. A few days later...leaking again. Checked the pressure on the water line closest to the meter and got a reading of 80 psi. Installed a pressure regulator set it at 60 and one day later relief still has a intermittent discharge, the water thermostat on the heater is set to normal and I pulled some hot water directly form the heater and it tested at 120 degrees. What other problems could cause this? I have just paid this plumber $500.00 and still have the same problem. I am in the hydraulic industry and very well understand pressures and flows and never did believe a relief set at 150 psi would open at 60 psi.
Reply:
John I don't understand the 'worn seat" in a temperature/pressure relief valve - but then I'm not on the scene. The valve does not normally open nor cycle open and shut so "wear" ought not to be a factor.
It is the case however that when someone messes with a TP valve it can open and then fail to shut - e.g. if debris then enters the valve seat or if its gasket blows out at that time.
More likely there is a cause of overpressure that needs to be found and corrected. You may need a hot water heater expansion tank. If the incoming water pressure is within normal ranges (80 is a bit high - about 10 psi over what I'd recommend but alone not likely to explain the issue you are having), and if the water heater temperatures are within normal range (where you tested is of course at a lower point than in the heater at the temperature sensor but 120 is well below the opening temp of around boiling) then the problem is elsewhere.
Question: can't test the relief valve - it won't open
(May 2, 2014) Anonymous said:
I tried to open the pressure relief valve on my water heater and It won't open by my hand and I don't want to use a wrench or pliers to force it. How should I get it open. It has been 7 or 8 years since it was installed.
there is no visual corrosion.
Reply:
Good question anon.
Watch out: IF the test lever is stuck this is an important discovery, as it quite possibly means that the valve opening mechanism is stuck as well - that would be very dangerous - should an overpressure occur and the valve fail to open as it should the water heater becomes a rocket or a bomb. (Search InspectApedia for BLEVE EXPLOSION)
And if you use a tool to force the valve open there is a risk that it won't close and you'll have a flood.
And you'd risk damaging the valve (as you understand).
I would replace the valve.
Question: water heater whistling noise
(June 11, 2014) jane said:
My water heater is making a loud (very loud) whistling noise- my water heater normally makes loud banging noises and loud gurgles and popping sounds- I called maint- they said it is "normal" - the water heater is 12 yrs old and as he puts it "everyone's does that" - but the last time it whistled- we ended up having no hot water and they had to replace the element. My question is this- will it leak or explode and is there a auto shut off when the pressure gets too high and causes it to whistle? Will the gas leak and will the water leak out of the tank in the next 24 hours? I have kids and animals in the room with the water heater. It should be outside like most apts- but they have it in the bedroom and it's not safe.
PS- now there is NO noise coming from the water heater- and there is always some type of noise - so now it really makes me nervous and it's 12 am. I'm afraid to take a shower in the morning for fear of the water tank blowing up.
Reply:
Jane,

Watch out: Installing a gas fired water heater in a bedroom is unsafe and is prohibited by code, whistling a tune or not.
Question: water heater in a cupboard, TP valve dripping
(June 23, 2014) Noel said:
With a hot water system located inside a cupboard what do you do with the "drip drip drip" coming with pressure relief? Is it simply dropping onto carpet?
Reply:
Noel,
Watch out: FIRST you are describing an UNSAFE CONDITION - a dripping relief valve ultimately clogs and stops dripping - at which point it also is no longer protecting the building from an exploding water heater.
So the cause of the trouble needs to be diagnosed: a leaky TP valve, overpressure in the system, overheating at the water heater, or water hammer or some other cause.
Do NOT simply route the dripping valve to a disposal location that is no longer visible or in the future the dangerous condition might remain undetected. (search InspectApedia.com for TUNDISH to read about a solution).
Temporarily, put a bucket under the end of the discharge tube so you're not also flooding the floor.
Then call a plumber to diagnose and fix the trouble.
Question: what is the overhead clearance space required for a TP valve installed on a water heater top?
Julie said:
I have a hot water heater with the temperature relief valve on the top. It is a short 30-gal water heater that is under a counter top. What is the minimum clearance distance that is required from the bottom of the countertop to allow the temperature relief valve adequate clearance? Is there a code spec for this?
Reply:
Julie a look at installation details for TP valves on water heaters didn't come up with an over-head clearance, though some common sense would indicate you'd need enough space for the test lever to be operated AND enough space to remove and replace the valve when needed. Since a top-mounted TP valve has a temperature sensing stem that protrudes downwards into the water heater the removal space will be more than you think
On a small water heater (cylinder) the extension of the sensor is about 3" while on larger water heater cylinders that added length could be as mmuch as 9" below the inlet. Adding that 9" of sensor to the TP valve body and lever height (anywhere from 5 5/8" to 9 1/4") means the minimum (for the smallest valve size) valve total length is about 9" and the larger valve could be much larger.
Now we can slightly tip a valve to get it out of the heater, buyt - I'd like to see 12" or more to give both working space and space to remove the valve.
...
Ask a Question or Search InspectApedia
Use the "Click to Show or Hide FAQs" link just above to see recently-posted questions, comments, replies, try the search box just below, or if you prefer, post a question or comment in the Comments box below and we will respond promptly.
Search the InspectApedia website
Technical Reviewers & References
Publisher's Google+ Page by Daniel Friedman
Click to Show or Hide Citations & References
Carson, Dunlop & Associates Ltd., 120 Carlton Street Suite 407, Toronto ON M5A 4K2. (416) 964-9415 1-800-268-7070 info@carsondunlop.com. The firm provides professional home inspection services & home inspection education & publications. Alan Carson is a past president of ASHI, the American Society of Home Inspectors. Thanks to Alan Carson and Bob Dunlop, for permission for InspectAPedia to use text excerpts from The Home Reference Book & illustrations from The Illustrated Home. Carson Dunlop Associates' home inspection education products include
[1] "Residential Electric Water Heater Installation Instructions and Use & Care Guide", American Water Heater Co., October 2001, American Water Heater Co., Johnson City, TN, [manufacturer of residential & commercial water heaters, also manufacturer of Polaris/Commercial water heaters], Tel: 800-999-9515, web search 1/12/2012, original source: americanwaterheater.com/support/manuals/res-elect.pdf [copy on file] [Technical review requested 1/25/2011]
[2] ANSI Z21.22 - 1986, provides requirements for pressure/temperature relief valves and automatic shutoff devices for hot water supply systems

[3] Pounds of lime deposited vs. temperature and hot water usage: see Purdue Bulletin #74 (also provided by A.O. Smith in the article below). Purdue's chart shows the number of pounds of lime deposited per year as a function of the water usage in gallons per day, with an assumed 10 grains of water hardness.
[4] "When, Why, and How to Remove Water Scale from Tank Type Glass-Lined Water Heaters (for non glass-lined tanks, consult water heater manufacturer)" PDF provided by A.O. Smith Water Products Company - hotwater.com/lit/training/4800r9.pdf 800-433-2545 - 01/07/2009.
[5] A.O. Smith's Form No. 4800 Rev. 8 Why? When? & How? /UN•LIME Specific De liming Instructions for use with Up-N-Down Transfer Kit for Tank Type Heaters. (Normally supplied in UN-LIME shipping cartons), Supersedes Form Nos. 4800 Rev. 7 and 4813-100.
[6] A.O. Smith's Form No. 4778* All about Deliming Coil-Type/Tube-Type Commercial Water Heaters and Hydronic Boilers *Normally supplied when ordering Part No. 4930 Motorized Deliming Pump Kit
[7] "Building Owner Water Heater Safety Notice", Building Department, City of Colleyville TX, web search 09/24/2010, original source: http://www.colleyville.com/dmdocuments/Building%20
Owner%20Water%20Heater%20Safety%20Notice%203-6-102.pdf
Quoting:
Water heater safety is imperative to the occupants of a building or structure. If improperly installed, water heaters can be detrimental to the structure, as well as being potentially fatal to its occupants. The proper installation of a water heater is so important that according to Texas State Law all water heater installations must be inspected by a state licensed plumbing inspector.
[8] Rheem Electric Water Heater "Owners Guide and Installation Instructions", (Australian models) rheem.com.au/images/pdf/owners_dom-elec_121996C_0707.pdf
[9] Watts, 815 Chestnut Street, North Andover, MA, USA 01845-6098, web search 09/18/2010 original source: http://www.watts.com/pages/learnAbout/reducingValves.asp?catId=64
[10] 52 Questions and thier Answers [about] Hot Water [Heaters, Explosions & Water Heater Safety], Watts Regulator Company (1973)
[11] "Four hurt as water heater explodes", Elaine Porterfield, Paul Shukovsky, Lewis Kamb, Seattle Post Intelligencer, 28 July 2001, web search 25 Sept 2010, original source: http://www.seattlepi.com/local/33094_boom28.shtml
Quoting from the original news article:
The powerful blast occurred at 10:23 a.m. at Plaza Zacatecas -- a small strip mall that includes four Mexican American-run businesses: a video store, a butcher shop, a Mexican restaurant and a shop that sold clothing and other items. ... The steam-powered tank hurtled across the busy intersection at First Avenue South and South 152nd Street -- over at least six lanes of traffic -- before landing more than 439 feet away in the parking lot of a Pizza Hut. ... The tank then tumbled another 25 feet before coming to rest. Four people were injured in the blast. Three were treated and released from a local hospital, but one woman was admitted to Harborview Medical Center with second-degree burns to her arm.
[12] Water heater rocket myth: Mythbusters water heater explosion video produced ihn 2007, web search Sept 25 2010, original source: http://www.youtube.com/watch?v=JmJoyuUJj2Q
Website: http://dsc.discovery.com/tv/mythbusters/
Quoting from Mythbusters: (Discovery Communications,
In small scale testing, the Mythbusters started with a small six gallon water heater and disabled all of its safety features under the theory of poor installation or neglect. While the water heater eventually ruptured, it did not explode like a rocket. The Mythbusters then upgraded to larger thirty gallon water heater which exploded with significantly greater force, sending the water heater several hundred feet into the air. In order to confirm the stated myth, the Mythbusters obtained a full size fifty two gallon water heater and built a shack around it with a roof that followed standard California building codes. The water heater eventually exploded, shooting through the roof five hundred feet into the air and disintegrating the shack. In light of these results, and the fact that there is documented evidence corroborating the myth, the Mythbusters deemed it confirmed.
[13] Water heater video #2, Mythbusters exploding water heater demonstration, a 50 gallon water tank explosion
http://www.youtube.com/watch?v=0rXwcDkobUY&feature=related

http://www.waterheaterblast.com/
Because of built in safety devices most water heaters safely operate day in, day out without any major problems. But don't let the excellent safety record of water heaters lull you into forgetting about the explosive potential of these marvels of convenience. When a water heater explodes, it releases a tremendous blast force which can easily demolish a building.
Randall Hilton and crew, with help from the Service Roundtable has prepared this video of a water heater explosion as a demonstration of the explosive power of a simple water heater. The hot water tank explodes using the steam pressure that any water heater can generate when the thermostat and temperature pressure relief valve (T&P valve or PT valve) malfunction. We were impressed by how far the tank flew after the water heater exploded. Click on the links below to view the video. Then, visit the Q&A page for warning signs as well as simple steps which can help you prevent your own water heater from exploding.
Books & Articles on Building & Environmental Inspection, Testing, Diagnosis, & Repair
The Home Reference Book - the Encyclopedia of Homes, Carson Dunlop & Associates, Toronto, Ontario, 25th Ed., 2012, is a bound volume of more than 450 illustrated pages that assist home inspectors and home owners in the inspection and detection of problems on buildings. The text is intended as a reference guide to help building owners operate and maintain their home effectively. Field inspection worksheets are included at the back of the volume. Special Offer: For a 10% discount on any number of copies of the Home Reference Book purchased as a single order. Enter INSPECTAHRB in the order payment page "Promo/Redemption" space. InspectAPedia.com editor Daniel Friedman is a contributing author.

Or choose the The Home Reference eBook for PCs, Macs, Kindle, iPad, iPhone, or Android Smart Phones. Special Offer: For a 5% discount on any number of copies of the Home Reference eBook purchased as a single order. Enter INSPECTAEHRB in the order payment page "Promo/Redemption" space.