Water Hammer Plumbing Noises - Diagnosis, Causes, Cures

WATER HAMMER NOISE DIAGNOSE & CURE - CONTENTS: What is water hammer noise - also called "air hammer" noise in pipes & how do we stop this source of banging clanging pipes?


Definition of water hammer or hydrostatic shock noise in plumbing pipes
How to diagnose & cure water hammer noises & banging pipes
Curing water hammer by adding an air chamber or surge buffer
Curing water hammer by draining pipes to restore air charge in risers
Diagnose & cure other water supply & Drain Piping Noises
Sources of water hammer noise suppression devices
Plumbing supply and drain piping system inspection, testing, & repairs

PLUMBING SYSTEM NOISES - separate article
POST a QUESTION or READ FAQs about banging pipes and water hammer noise: how to find, fix, or prevent banging water pipes or heating pipes
InspectAPedia tolerates no conflicts of interest. We have no relationship with advertisers, products, or services discussed at this website.
Banging pipes & water hammer noise diagnosis, cure: water hammer noises in plumbing is also called hydrostatic shock. Our page top photo shows a water hammer noise suppression device produced by Oatey and available at building suppliers. This particular water hammer noise suppressor is interesting because it's designed to be added to a hose bib or washing machine hose connection by a homeowner, avoiding having to cut and solder pipes.
Green links show where you are. © Copyright 2014 InspectApedia.com, All Rights Reserved.
Water Hammer Noises in buildings: Diagnosis & Cure
For steam heat piping noise, see BANGING HEATING PIPES RADIATORS. Also see NOISE CONTROL for PLUMBING and SOUND CONTROL for PLUMBING for an extensive list of causes and cures of building plumbing noises. Reproduction of this web page electronically at other websites is prohibited.
The articles at this website will answer most questions about plumbing noise associated with water hammer or water surge, including the diagnosis and cure of water hammer noises as well as many other building plumbing system inspection or defect topics.
We divide water hammer or banging pipe noises in buildings into two categories:
Water hammer noises in house plumbing systems, typically water supply piping
Banging heating pipes heard mostly on steam heating systems but occasionally (more creaking and cracking noises) on hot water heat systems as well
How to Fix Water Hammer Noises in House Plumbing Systems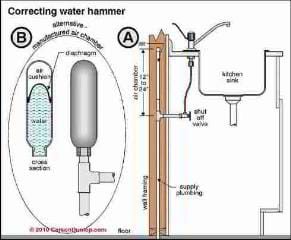 Water hammer (or hydrostatic shock) is a noisy pipe problem that occurs when valves are shut off quickly. You may hear banging water pipes, or clanging, rattling, or rumbling noises in the water piping when a plumbing fixture, sink, or clothes washer turns off. Here is a more scholarly definition of water hammer that is rather clear:
Water hammer is a hydraulic phenomenon that is caused by a sudden change in the velocity of the water. This velocity change results in a large pres- sure fluctuation that is often accompanied by a loud and explosive noise. This release of energy is caused by a sudden change in momentum followed by an exchange between kinetic and pressure energy.

The pressure change associated with water hammer occurs as a [shock] wave, which is very rapidly transmitted through the entire hydraulic system. Severe or repeated water hammer events can lead to pipe failure. The sudden change in velocity caused by the rapid closing of a valve can produce very high pressures in the piping system.

These pressures can be several times the normal operating pressure and result in burst pipes and severe damage to the irrigation system [Dr. Boman's interest, but also impacting any plumbing system - Ed.]. The high pressures resulting from the water hammer cannot be effectively relieved by a pressure relief valve because of the high velocity of the pressure wave (pressure waves can travel at more than 1000 ft per second in PVC pipe). - Boman (2014)
Water hammer can damage pipe connections and result in leakage.
In more layman-like terms, water hammer works like this: water passing through a pipe has momentum or velocity. When the valve is shut quickly, the momentum of the water carries it into the valve with considerable force. Since water is essentially incompressible, a large pressure is built up against the valve, and there is low pressure upstream in the pipe. The high-pressure water wants to flow to the low-pressure area.
This happens so quickly that a small vacuum is created against the valve as the water moves away from it. This can result in cavitation as the water is pulled back against the valve a second time. This continues back and forth in slowly diminishing shock waves. Pressures up to 600 psi (some sources say 1000 psi) can result from water traveling up to 3,000 miles per hour, for very short periods.
Water hammer can result in loud noises in supply plumbing pipes. Water hammer only occurs as valves are closed. If a valve is closed slowly, and the noise does not occur, one can be sure that water hammer is the problem.
Water hammer is common with quick-closing electrically operated valves on appliances such as washing machines and dishwashers. Air chambers can be installed to control water hammer, as Carson Dunlop's illustration (above) demonstrates.
Causes of Water Hammer / Hydrostatic Shock Include
Excessive building water pressure
Poorly supported water supply piping
Certain fixture valves and controls may be prone to causing water hammer as they shut off high velocity flow very quickly
Water piping that is too small for the flow rate of water through the building piping. This is more likely to be noticed if the building water piping makes long straight runs, especially vertical runs of 12 feet or more.
Missing water hammer noise suppression device or air riser to absorb the shock of change in water velocity when water is suddenly shut off
Cures for Water Hammer or Air Hammer - Hydrostatic Shock Noises in buildings
Again quoting our admired hydraulics expert Brian Boman,
The best prevention of water hammer is the installation of valves that cannot be rapidly closed and the se- lection of air vents with the appropriate orifice that do not release air too rapidly. Pipelines are usually designed so that velocities remain below 5 fps in order to avoid high surge pressures from occurring. - Op. Cit.
Try draining the building water supply piping: if your building supply piping includes one or more air risers - vertical water pipes that end in a cap or stub - you may be able to stop water hammer noise by draining the building piping to re-admit air into the riser pipe. This should fix the problem for several years though eventually air in the riser may become absorbed into the water and need to be recharged. If your air risers don't keep working there may be a plumbing air leak in the building piping system.
Try adding a water hammer arrestor or noise suppression device sold at building or plumbing suppliers (see Oatey). Water hammer arrestors are designed not to lose their air charge. Install the water hammer arrester at or close to the plumbing fixture or faucet that seems most to cause the water hammer noise.
Check the building water pressure: if the building water pressure is too high, water hammer noise may be more likely. If water pressure is 80 psi or higher you almost certainly need to install a pressure regulator or adjust the existing one. See WATER PRESSURE REDUCER / REGULATOR.
Check the support for building water supply piping: water pipe noises may also be due to excessive movement (which also risks water pipe leaks), especially if your water supply piping is copper or another metal. (Plastic water supply piping is pretty quiet). All piping and tubing should be adequately supported with hangers. Copper piping should not be supported with steel hangers because of the corrosion that will take place. Copper pipes should not contact heating ducts for similar reasons. Plastic piping and tubing should be well supported and be kept away from heat ducts.
Also see SOUND CONTROL for PLUMBING for an extensive list of causes and cures of building plumbing noises. Also see NOISES COMING FROM WATER HEATER for the diagnosis and cure of clanking or thumping noises that may be coming from your water heater or heating boiler.
- Adapted with permission from The Home Reference Book
Heating Pipe Noises: Banging Pipes on Steam or Hot Water Heating Systems
Please see our complete articles on heating system noise diagnosis and cure at HEATING SYSTEM NOISES and BANGING HEATING PIPES RADIATORS. Excerpts are below.
If it sounds as if someone is down in your BASEMENT or cellar banging on the heating pipes with a hammer, and particularly if your buildijng is heated with steam radiators (see STEAM HEATING SYSTEMS), the noise you hear may be due to water hammer in the steam piping system. In both one-pipe and two-pipe steam heat systems steam rises into the building's heating radiators, forcing air out of the radiator's steam vent (see STEAM VENTS), then making the radiator hot. Inside the hot radiator steam condenses back to water as heat is radiated (by the "radiator") into the room.
This steam condensate must drain back into the steam boiler where it is subsequently re-heated to steam to continue the heating cycle. But if the condensate is having trouble returning to the steam boiler your heating pipes may become waterlogged. This happens because when the steam boiler water level drops and is not replenished by returning condensate, the automatic water feeder will just send more water into the boiler.
Condensate accumulating in the steam piping (when it should be returning to the boiler) not only water-logs the system, it also means that cooler condensate (water) comes into contact with hotter rising steam in the piping. This contact can cause rapid expansion/contraction in the heating pipes and produces the loud "pipe banging" noise we are discussing.
Your heating service technician should be someone familiar with steam heating systems and the proper layout and function of condensate return lines in your home. The tech will look for a problem that is blocking condensate return to the heating boiler, such as a clogged strainer in the system piping, a steam trap clogged with rust, minerals, or sediment, or a similar problem.
A separate problem: failure of individual steam radiators to get hot, could also be due to blocked condensate return. If a radiator's steam vent is not working, or if a one-pipe steam system's radiator has settled so that it is no longer properly tipped to send condensate back into the steam pipe (and back to the boiler), that radiator will stop working. But individual radiator troubles do not usually explain banging heating pipes.
Watch out: If your heating boiler does not have an automatic water feeder and you've been putting makeup water into the boiler manually, a blocked condensate line and low water in the boiler will eventually lead to total loss of heat when the low water cutoff switch (see LOW WATER CUTOFF CONTROLS) , a key boiler safety device, simply shuts down the boiler.
Other causes of heating system noises are discussed at HEATING SYSTEM NOISES.
More Reading
Green link shows where you are in this article series.
...
Frequently Asked Questions (FAQs) about Water Hammer problems in building plumbing systems
Some of the FAQs discussed below are adapted from information provided by the Watts Regulator Company in a 1973 publication.
[10]
Question: does water hammer in my plumbing system cause damage?
What effects can water hammer have on my house plumbing system? Other than making noise, does it actually hurt anything?
Reply:
Water hammer causes a sudden "banging" of water supply piping that creates movement and stresses in the system, not just annoying noise.
Water hammer can cause loosening of water supply piping connections, leading to plumbing leaks and related damage
Water hammer shocks to the water supply system are more serious at higher operating pressures. On hot water heaters the TP valve is usually set 20 to 30 psi above the anticipated maximum system water pressure. This is high enough that the relief valve won't leak or spill when water hammer occurs in thte system. But at higher water pressures, say 70 psi to 90 psi, the relief valve may be damaged or leak when water hammer occurs. At our article on WATER PRESSURE REDUCER / REGULATOR you 'll see that we recommend against operating a home at pressures above 70 psi because of the increased risk of plumbing system or plumbing fixture leaks. [10] paraphrased
Question: will the Temperature & Pressure relief valve protect the hot water tank against water hammer damage?
Will the T&P valve protect the tank against breaking from excessive water hammer? - Watts
Reply:
An "excessive" water hammer is an abnormal but momentary condition that causes a very brief surge in water system pressure. The pressure-relief component of a temperature and pressure relief valve can only discharge a verly limited amount of the surged pressure during the moment of shock of the water hammer event, possibly none.
If water hammer is causing frequent opening of the temperature and pressure relief valve there may also be a risk that the frequent passage of hot water through the valve deposits scale that eventually accumulates to a level at which it prevents safe reliable operation of the valve in an emergency.
And the fact that temperatures inside the hot water storage tank are elevated above cold water temperatures makes no difference - with the exception of the warning we issue next.
Watch out: if the hot water tank is in an abnormal overheated condition, that is water in the tank has become superheated above its atmospheric boiling point water hammer could actually lead to a water heater tank explosion. According to Watts Regulator Company, "Water hammer conditions are believed to be a partial factor in starting off an explosion of overheated tanks besides "pressure heat rupture". [10] paraphrased
Ask a Question or Search InspectApedia
Questions & answers or comments about banging pipes and water hammer noise: how to find, fix, or prevent banging water pipes or heating pipes
Try the search box just below or if you prefer, post a question or a comment in the Comments box below and we will respond promptly.
Search the InspectApedia website
Technical Reviewers & References
Related Topics, found near the top of this page suggest articles closely related to this one.
Click to Show or Hide Citations & References
Brian Boman, "Chapter 21, Hydraulics", University of Florida, Indian River Research & Eductation Facility, 2199 South Rock Road, Fort Pierce, Florida 34945-3138 Tel: (772) 468-3922, Email: bjbo@ufl.edu, retrieved 3/3/2014, original source: http://irrec.ifas.ufl.edu/citrusbmp/ Water%20and%20FL%20Citrus/21%20Chap21.pdf
Oatey Plumbing, website: http://www.oatey.com/ Oatey U.S., 4700 W.160th Street Cleveland, Ohio 44135, PH: (800) 321-9532, and Oatey Canada: 218 Wilkinson Road Unit 3, Brampton, Ontario Canada L6P 4M4, PH: (800) 321-9532 email: customerservice@oateyscs.com
[9] Watts, 815 Chestnut Street, North Andover, MA, USA 01845-6098, web search 09/18/2010 original source: http://www.watts.com/pages/learnAbout/reducingValves.asp?catId=64
[10] 52 Questions and thier Answers [about] Hot Water [Heaters, Explosions & Water Heater Safety], Watts Regulator Company (1973)
Drain Noises: may indicate defective or clogged plumbing: how to diagnose and cure drain sounds
HOT WATER HEATERS - a detailed guide to all types of hot water sources, problems, inspection, repair
Water Pressure Loss - Diagnosis how to determine why water pressure has been lost or why there is no water at all in a building
WATER PUMP REPAIR GUIDE an specific case offers an example of diagnosis of loss of water pressure, loss of water, and analyzes the actual repair cost
Water pressure tank failures & water pump short cycling diagnosis and repair
Books & Articles on Building & Environmental Inspection, Testing, Diagnosis, & Repair
The Home Reference Book - the Encyclopedia of Homes, Carson Dunlop & Associates, Toronto, Ontario, 25th Ed., 2012, is a bound volume of more than 450 illustrated pages that assist home inspectors and home owners in the inspection and detection of problems on buildings. The text is intended as a reference guide to help building owners operate and maintain their home effectively. Field inspection worksheets are included at the back of the volume. Special Offer: For a 10% discount on any number of copies of the Home Reference Book purchased as a single order. Enter INSPECTAHRB in the order payment page "Promo/Redemption" space. InspectAPedia.com editor Daniel Friedman is a contributing author.

Or choose the The Home Reference eBook for PCs, Macs, Kindle, iPad, iPhone, or Android Smart Phones. Special Offer: For a 5% discount on any number of copies of the Home Reference eBook purchased as a single order. Enter INSPECTAEHRB in the order payment page "Promo/Redemption" space.