Toilet Repair Guide:
How to Diagnose & Repair Toilets

TOILETS, INSPECT, INSTALL, REPAIR - home CONTENTS: List of Toilet Fill, Flush, Drain, Odor, Noise, Problems & Solutions How to diagnose & fix a slow-flushing toilet or a clogged toi8let drain. How to diagnose and fix a clogged toilet drain - How to fix a toilet that is overflowing when flushed - in an emergency

How to diagnose and correct drain noises occurring when the toilet flushes & how to repair problems causing plumbing drain sounds. Slow toilet tank fill problems. Toilets that keep running - fill valve does not shut off the toilet tank fill valve? Toilet flush valve or flapper valve problems. Toilet tank fill valves and water sanitation. Sewer gas odors in buildings traced to loose or leaky toilet drains

POST a QUESTION or READ FAQs about fixing toilets: clogged toilet repair, overflowing toilet repair, running toilets, leaky toilets, etc.
InspectAPedia tolerates no conflicts of interest. We have no relationship with advertisers, products, or services discussed at this website.
How to diagnose and fix a toilet: this article series discusses the cause, diagnosis, and repair of toilet problems (water closet problems) such as a toilet that does not flush well, clogged toilets, slow-filling toilets, running toilets, loose wobbly toilets, and odors at leaky toilets. Here we explain how to diagnose and repair problems with toilets, leaks, flushes, odors, noises, running and wasted water.
Our page top photo shows ugly staining in a toilet bowl - strong evidence that this toilet has been running, wasting water, possibly flooding the septic system, and sometimes giving bad flush performance as well.
Green links show where you are. © Copyright 2014 InspectApedia.com, All Rights Reserved.
List of Toilet Fill, Flush, Drain, Odor, Noise, Problems & Solutions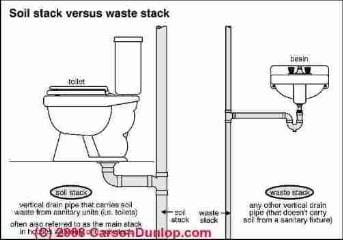 If your toilet is overflowing or about-to see TOILET OVERFLOW EMERGENCY
All modern toilets receive human waste, urine, feces, and are intended to dispose of that matter in a sanitary fashion.
By the late 1800's the development of the modern flush-toilet, replacing chamber pots and outhouses, toilets have relied on a dose of water to flush waste out of the toilet bowl into sewage piping or into a private septic system for wastewater treatment and disposal.
Some sources refer to a toilet as a water closet. Thomas Crapper & Co. (London) called their scary-looking toilet contraption an "Elastic Valve Closet".
Early flush toilets like this 1890 model used a high wall-mounted reservoir tank, typically wooden, to provide adequate pressure and flow rate to clean and empty the toilet bowl.
Contemporary toilets use a tank attached to the toilet bowl itself, relying on improved flush valve controls to provide the water flow rate into the bowl to empty it and clean the bowl sides.
We discuss onsite waste disposal systems - septic tanks, drainfields, separately at SEPTIC SYSTEM INSPECT DIAGNOSE REPAIR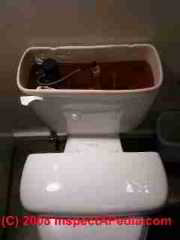 Before launching into our series of articles on diagnosing and repairing toilet problems such as clogged toilets, toilets that don't flush properly, running or leaky or noisy toilets, toilet odors, and loose toilets, take a look at the simple connection between a typical reservoir-tank toilet and the soil stack (waste piping) in the Carson Dunlop Associates sketch (above left).
At page top or left please see our list of toilet trouble diagnosis and repair articles.
You will see that some toilet problems are fixed easily and right at the toilet by a simple adjustment, while others may not be the toilet's fault at all, and may need more thoughtful diagnosis and repair.
Taking off the toilet tank top: Some of these simple toilet diagnosis steps require that you look into the toilet flush tank on the back of the toilet.
Just lift the top off of the toilet tank and set it carefully aside on the floor where you won't break it or trip over it.
If you leave the tank top on the toilet seat (as we did for this photo) you're asking for trouble, and also, it's a bit in the way.

Our sketch below shows the parts you'll see inside the toilet tank. You may want to refer back to this drawing while reading the details of each class if individual toilet problems listed above and how they are detected, diagnosed, and repaired.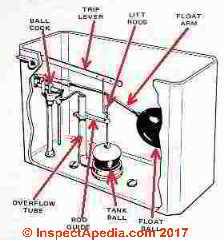 Tank reservoir toilets like the toilet in the sketch at left and in our photo just below, have been in wide use in North America since the 1940's.
While there have been improvements in toilet tank fill valves, flush valves, floats, and water savings, the design has remained about the same.
A flush lever moves an arm to lift a flapper valve or tank ball to permit water to rush into the toilet bowl below, washing away waste into the sewer pipe.
At the end of the flush cycle, a float arm, or a float moving on a vertical stalk (newer valves) drops to open a valve permitting the toilet tank to refill with water.
When the toilet tank water level reaches the proper level, the float closes the toilet tank fill valve.
Toilet Won't Flush at All - Tank Water, Disconnected Flush Controls?
If the toilet won't flush at all, what happened when you pushed the flush lever ?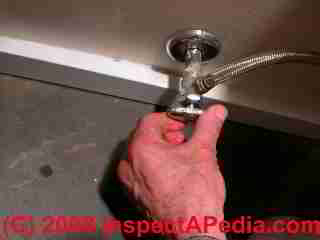 Nothing happened when we tried to flush the toilet:

See if there was water in the toilet tank - if not water has been turned off or water pressure is lost, or a valve supplying water to the toilet has been closed.
See if the flush lever is connected to the toilet tank flapper valve in the bottom center of the tank. In a proper setup, pushing the toilet flush lever down or to one side will move an arm inside the toilet tank.

At the end of the arm is a chain, string, plastic strip, or wire that goes descends in the toilet tank to a connection at one edge of the tank flush valve or flapper valve.

Moving the toilet flush lever should pull up the flapper valve to let water rush out of the toilet tank into the bowl below to flush the toilet. Make sure these connections are in place and that the toilet flapper is lifted when you push the toilet flush lever. Reconnect the chain or plastic strip if necessary.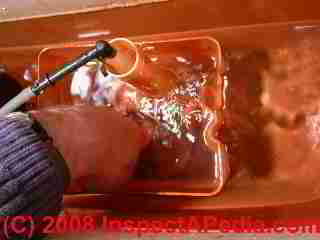 The toilet tank flapper opened, water ran into the toilet bowl below, but the bowl didn't drain.

The toilet drain is probably blocked. See BLOCKED DRAIN REPAIR METHODS and CLOGGED DRAIN DIAGNOSIS & REPAIR

If the toilet is about to overflow you can stop it before waste and water run onto the floor, using the procedure at TOILET OVERFLOW EMERGENCY - obviously you'll want to have looked at that procedure in advance.

Basically, just reach into the toilet tank and push the flapper valve shut so you stop sending water into the toilet bowl. But to be prepared, read the details at TOILET OVERFLOW EMERGENCY.
Toilet Flushes Slowly or Backs Up - Clogged Toilet or Sewer Drain?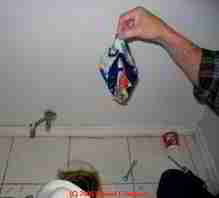 Is the sewer line or soil stack clogged? Our grandson Chase Patrick Gilligan, learning toilet training, flushed his peed-in underpants down the toilet. We have also found child's toys, and once, a dog's bone clogging the waste line just below the toilet.
If other building drains are working fine, but one toilet is flushing poorly, it is possible that there is a local blockage close to the toilet itself.
Brian found this drain clog by asking Chase what happened to the missing underpants. He then removed the toilet from the floor, and by luck, the underpants were able to be easily retrieved - unblocking the clogged toilet drain before a backup and toilet overflow catastrophe had occurred.
See Toilet Drain Clogged to continue with blocked or clogged toilet diagnosis and repair.
See TOILET TYPES, CONTROLS, PARTS for a guide to identifying toilets by type, brand, parts & features. Also see ALTERNATIVE & WATERLESS TOILETS for a discussion of camping toilets, chemical toilets, emergency-use toilets, waterless toilets, graywater systems, composting toilets, home health care toilets, incinerating toilets, outhouses, and latrines.
For toilets (and urinals) that are operated by building water pressure alone and without a reservoir tank, see FLUSHOMETER VALVES for TOILETS URINALS.
Stains in Toilets
Question: pink or black algae in toilet bowl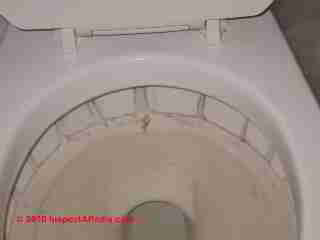 My toilet bowls develop a pink and / or black algae (?) after only a week of non-use (or use, for that matter). Is there something I can safely add to the tank water (I have a septic system) to prevent this? Why does it happen? - Anon 6/7/12
Reply:
Anon, indeed I occasionally find both mold growth and algal growth in toilet bowls, usually when a toilet has been left un-used for a time (not flushed often enough to wash contaminants down the drain).
Try cleaning the toilet bowl thorougly with any toilet cleaning product. While you're at it, if your water is supplied from a private well or cistern, you might have your drinking water tested for contaminants as well.
Also check to be sure that the toilet is not running constantly like the one shown in our photo just above.
Question: Disaster zone toilet guide - emergency toilet flushing procedure & alternatives - can I use lake water to flush toilets?
Post hurricane sandy question:
Can I use lake water to flush my toilets. We still have no power, heat or water in Stamford, Connecticut - S.D., Stamford CT 11/5/2012
Reply: Suggestions for emergency flush procedures for conventional toilets when heat, electricity, or water are not available
Here are some suggestions for & warnings about using lake water or other reasonably-clean water from other sources to flush toilets in an emergency. Details about various options for flushing toilets in a disaster zone or ways to come up with emergency toilets are at DISASTER ZONE TOILET GUIDE

In short, yes. Rather than living with un-flushed toilets, you can use lake water, snow melt, rainwater collected at a downspout, etc. to flush conventional water type toilets (or urinals or bidets) in a building connected to a public sewer or private septic system.

Watch out: but be warned: if your septic system is itself flooded, tank and drainfields, then there is some risk of a sewage backupinto your building when you try flushing a toilet. If you are pretty sure your septic tank and fields are at least not under water, or that the public sewer is no longer under water and flooded, you can test the private or public sewer system to see if you can begin flushing toilets:
Select water that is free of debris and is clean as you can (it does not have to be sanitary, clear lake water would be fine) - don't use water loaded with weeds or other trash to flush a toilet as you risk clogging the drain system.
Test a lowest-floor sink or tub drainage first: try pouring a few gallons of clean lake water (no weeds etc) down a bath tub drain or sink drain on your lowest floor. If that drain doesn't back up and no water comes up in nearby drains (floor drains, sink, shower, tub), then
Test a toilet on the lowest floor next: try flushing the lowest toilet in the building - you can fill the toilet tank to the fill line and then flush, or (messier) you can try pouring some water directly into the toilet bowl until it begins to flush. We chose a toilet on lowest floor to avoid the unpleasant surprise of flushing an upper floor toilet only to see the sewage boil up out of a lower floor toilet in the building.
Watch out: if you flush via the toilet tank and flush valve and the toilet starts to back up or overflow, quickly
Other emergency toilet options for use when your home or building have no power, water, etc. include some simple and easy expedient methods for holding feces, toilet paper, and if necessary, urine such as using a plastic bag lined bucket or just using a plastic bag alone.
Continue reading at TOILET WON'T FLUSH or select a topic from the More Reading links shown below.
Or see TOILET TYPES, CONTROLS, PARTS.
Suggested citation for this web page
TOILET REPAIR GUIDE at InspectApedia.com - online encyclopedia of building & environmental inspection, testing, diagnosis, repair, & problem prevention advice.
More Reading
Green link shows where you are in this article series.
...
Frequently Asked Questions (FAQs)
Question: toilet makes a loud noise after it is flushed
why does my second floor toilet make a loud noise after it is flushed (not a water hammer noise) - Sandy 10/22/11
Reply:
Sandy, we'd need more information - like the toilet brand and model or type. Some toilets designed to use the smallest possible volume of water to flush the bowl may use water pressure or even a mixture of compressed air and water to scour and clean the bowl; these as well as toilets using a flushometer valve often make more noise than a gravity-operated standard tank-type flush toilet.
Reader comment
(Jan 31, 2013) Joe said:
going back to Sandy's question ? please ,,how do we avoid that noisy toilet flashes on the 2nd floor ? some plumbers are asking me remove the wall and cover the drain pipe with special sound proof material . is it a good idea?
thanks for ur help
Reply:
If the complaint is around the noise of wastewater passing thorugh the drain line, sound insulation around the drain piping is the common solution.

Question: how to I determine if a toilet has a leaky wax ring seal?
So I am interested in inspected whether or not I have a leaky seal on my wax ring, and here's my situation:

I don't have any sewage or poopy smells in my bathroom. I just installed a tile floor in that bathroom. Rather than remove my flange and raise it up to match the new floor height, I tiled around it, so my actual flange is lower than my floor. This means that any seepage would seep onto the subfloor, not my tile. I bought extended mounting bolts and used shims to steady the toilet. I also have a wax ring with a flange attached to it and a wax ring without a flange because of the extra separation from the floor. How can I tell if I've installed my toilet correctly without removing it and installing it again? - Alex 10/25/2011
Reply:
Alex,

I am doubtful you can tell for absolutely certain that the toilet is not leaking - at least not until weeks or months of use have taken place with no stains on the ceiling below. But what I'd do, and what some plumbers do to get the best possible seal of the toilet to the flange is to use TWO wax rings.

Usually there's enough room in the cavity on the toilet base to accept any excess wax spreading out during installation.

The first one is mashed against the toilet bottom and the second placed atop that and the toilet is then pressed to the floor. Just be sure no wax will ooze into and block the drain itself.

Also you can buy wax rings that include a plastic funnel-shaped internal sleeve to help direct wastewater past that raised floor edge and into the waste pipe. I'd use one of those for the second ring. That version also helps prevent wax from being pushed into the drain opening during installation.
[Some plumbers use two wax rings, mashing the first one onto the bottom of the toilet to be certain of a perfect seal, then placing the second ring in place just before the toilet is pressed down onto the floor drain flange for securing.]

Just reinstall the toilet securely to the floor with your extended bolts. If you want to make the toilet extra secure against wobbling and loosening during use (as now you're depending on just the two extended bolts), you can also caulk the exterior edge of the toilet base to the tiled floor. That's what I do. If later we need to remove the toilet for service or repair it's a simple step to just cut away the caulk and unbolt the toilet.
Question: sound of draining pipes after new toilet installation
My husband just installed a new toilet. When we go to the bathroom it sounds like the pipes are draining. I just poured water into the toilet so I could figure out where the noise was coming from. It's not coming from the tank area. I can hear it clearly when my ear is at the bottom of the toilet, by the floor. I don't feel or see any leaking. Any ideas what this noise is and if it's a problem? - Mary 10/17/2012
Reply:
Mary,
I presume "when we go to the bathroom" refers to entering the room, not actually using the toilet. If you hear drainage noises continuously most likely somewhere a fixture is sending water into the drain line. Look for a running toilet, either this one or one that also shares the same drain.
Question:
I live in a multi-unit building, the gentleman on the bottom floor was experiencing soap suds coming though his toilet. The plumbers came and installed longer pipes, which solved his problem. Immediately after, however, my toilet (I'm on the top floor) stopped flushing and my water pressure in all faucets/showerheads increased tenfold.
Could these things be related in any way? Plumbers have come back twice and said they fixed the problem, that the toilet was just clogged, and that it's a new "green" toilet so it doesn't have as powerful of a flush. Unfortunately I am now stuck with a toilet that has not been flushed in days and threatens to overflow every time I try.
I've tried plunging to no avail multiple times. Thank you. - Kristen 10/23/2012
Reply:
Kristen:

It sounds as if the building plumbing drain layout may be improper - but obviously I can't tell from just an email note;

The soapsuds backup describes a blocked drain or perhaps less likely a venting problem; adding longer pipes ? I'm unclear what that fixed. Longer what, and where?

And if a fixture is too far from its vent (i.e. "longer pipes?) it will often not drain properly.

You can test the "green toilet" low flush volume to see if that design is not working in your installation by trying a larger flush volume temporarily - pour water from a 5-gallon bucket into the toilet, being careful not to overflow. Poor toilet flush problems, discussed in detail at TOILET REPAIR GUIDE, can be due to
blockage in the drain
improper drain piping diameter, routing, distances from plumbing vent, slope
inadequate flush volume, possibly due to mis-adjustment of the toilet fill level or due to improper operation of the flush control valve
fixture design and shape (some toilets are just bad flushers)
Try looking through the additional toilet repair articles found Related Topics.
Question: toilet backs up through tub drain
(Oct 27, 2012) james said:
hi just earlier today i had a backup happen in my one and only bath, it didnt overflow but some watse came up threw the tub, then slowly drained back out, i went to go look at the pipes downstairs and found water had escaped out from what looks like under the toliet and ran down the pipe. This is a recently purchased home and was not lived in for the prior 2 years, i went and purchaced a toliet snake and some septic treatment products, im still unable to get a full flush so i havent used the treatment yet but the snake gave me no results. any ideas?
Reply:
James,
What you describe sounds like a partially blocked drain line. The plumbing snake may not have been long enough to get to the blockage. Sometimes a drain treatment will clear a blockage, but if not, the plumber won't be happy to have to work with acid or otherwise dangerous chemicals in the wastewater. I'd guess, if the drain works slowly you can go ahead and try it.
Question: how much water is used when flushing a toilet - normally?
(Nov 23, 2012) ISSY said:
When flushing the toilet there seems to be a lot of water filling up into the main water system in the loft, is this normal? Thanks
Reply:
ISSY
A conventional tank type toilet uses about 1-2 gallons of water per flush; if your water system is doing something else, there should be a different reason for it.
Question: toilet flushes but water doesn't spin or clean the bowl
(Nov 30, 2012) Cassy said:
So, my toilet suddenly stopped working. It will flush, but no "whirlpool" action occurs and it over flows. I've tried plunging it, it doesn't help. It's a traditional toilet, one commonly used in apartment buildings(I don't know the brand). The tank fills normally, but the bowl itself seems as though there is too much water in it when it's calm and filled. Any advice would be appreciated!
Reply:
Typically we see this problem when the toilet drain is partly blocked, slowing the toilet drainage. It may also occur if the dose of water entering the bowl is too small, for example if the toilet is flushed a second time before the flush tank has re-filled.
Question: toilet sounds
(Dec 12, 2012) Allan said:
when I go to the bathroom, I sometimes hear the toilet like its finishing up... What is causing that
Reply:
Baffled in Boca Raton - I don't understand the sound description
Question: repeated toilet clogs
(Jan 2, 2013) DONNA KRUPINSKI said:
What causes toilets to overflow when plumber has been called each time and he snakes out to the main line.
Reply:
Most likely either the plumber hasn't been able to clear the actual blockage or the main drain line is damaged, leaky, root invaded, or is feeding into a failed septic system.
Question: toilet water disturbances
(Jan 5, 2013) Dorothy said:
I have two toilets back to back in separate bathrooms. After remodeling in both bathrooms, (both toilets were removed and replaced) the water moves a lot in the other toilet when one or the other is flushed! There is nothing leaking on the floor (as this is been happening for more then a year). Can you help me with this problem.
Reply:
Water zooming down the waste line is perhaps creating a vacuum due to inadequate, blocked, or improper plumbing vent piping. The vacuum from the flushed toilet may then disturb water in a nearby toilet. You may also hear gurgling at nearby sink or tub drains.
Question: water from the toilet splashes bystanders
(Jan 18, 2013) Donna said:
water shoots up in bowel when flushed must shut lid when flush.
Also bowel only fills with small amount of water.
This was not a problem until water main broke and toilet was flushed without water comming into it, when we did have water it sounded like pipes were full of air, thinking the sir in line causes to litte waater to fill bowel I tried pouring water to fill bowel and tank with flush, still didn't not add to volume of water in bowel and still shoots up.
Any help, Thank You
Reply:
This sounds to me like a power-flush low-water-consumption toilet whose flush mechanism needs adjustment. If you tell us the brand and model of the toilet I'll research the question further.
Question: sink gurgles when toilet is flushed
(Apr 2, 2013) Tammy in Wiscconsin! said:
Hi Mr. Plummer! Wondering why my sink in Bathroom gurgles & "spits" up water when the toilet is flushed! Seems like the water pressure in toilet is low. Any suggestions_? Thanks
Reply:
Tammy there are twi usual explanations for gurglilng at nearby drains when a toilet is flushed
One is that the plumbing vent system is defective or incomplete or blocked.
Two, gurgling at nearby drains might be heard if the main drain is partly blocked.
Question:
(Mar 2, 2014) chentell said:
hello, my toilet is running water/a steady stream constantly in the back of the bowl. then every 2 minutes it sounds as though it's just beginning to flush every 2 minutes and i hear and see even more water flowing into the bowl. then the clang clang of the pipes/whatever. then it goes back to just the steady stream of water running in from the back of the bowl and repeats this process OVER AND OVER AND OVER. i wish i could fix it myself, just don't know what to do. please help me b/c it could be days before i can get someone who might be able to help and this is driving me nuts as well as a terrible waste of water. i'd at least like to know what is wrong.....and thank you so much in advance!
i might also add that when i actually do go to flush the toilet, it does feel the same like a definite flush used to. like the flapper is not sealed to begin with or something. it used to just feel like you pushed down and it definitely flushed now it's just so weak, i don't know if it's going to flush or not but it does. i just wanted to add this to my question b/c my problem might be two-fold. thank you so much.
Reply:
Chantell, in the links at More Reading just above you can take a look at
Question: toilet bowl doesn't fill to normal level after a flush
Mar 16, 2014) Jim in pgh said:
After flushing the bowl dose not refill to the usual level. There is about two inches of water in the bottom of the bowl. The tank refills to the usual level. If I add water to the bowl it stays at the filled level but when flushed again the bowl does not refill.
(Aug 6, 2014) Bryan said:
My tank fills up after the flush but it seems the bowl is less than full.. Any ideas??
Reply:
Jim,
Lift off (careful not to drop it) the toilet tank lid and look inside.
Flush the toilet. Watch what happens.
If the small diameter fill tube that is supposed to be sending water into the toilet bowl (it connects from the toilet tank fill valve to the top of the toilet tank overflow standpipe) is not connected properly the water level in the bowl post-flush will be too low.
Let me know what you find. Send along photos using the CONTACT US link if you wish and I can comment further.
Bryan
Lift off the toilet tank lid and check to see if the small diameter bowl-fill-tube that is supposed to be inserted into the overflow tube in the tank (where it sends water into the toilet bowl during fill cycle) has come out of its proper postion.
Question: toilet clogs up with feces
(Mar 29, 2014) MARIE said:
My toilet always clogs up when you do #2. I have been able to unclog by using a plunger and it take a while to unclog. I tested the toilet by pouring a bucket of water down the toilet, i can hear a gurgling noise once all the water drains out and also when i use the plunger. When you first unclog and flush , dirt is always in the bottom of the toilet.
Reply:
Look for a partly clogged main drain or a failing septic system.
Question: toilet flush tank fills too slowly
(June 10, 2014) Sharon said:
I don't understand why my toilet takes so long to refill now. It used to refill rather quickly. Now it seems to take forever before it finishes refilling. I'm assuming it's using the same amount of water, but it takes soooo much longer.
Reply:
Perhaps the valve on the toilet water supply line is partly closed, or the valve or small diameter piping have become mineral-clogged. Minerals can also clog the fill valve assembly itself. I'd start by replacing that.
Question: toilet bowl empties too slowly
(June 12, 2014) Vicky said:
When I flush my toilet the bowl will fill with water but goes around the bowl and goes down slow until all the water is gone. Then the water fills the bowl to normal level. If I put toilet paper in it acts like is getting stopped up. What could be the problem?
Reply:
Vicky if the flush waster quantity is normal then the drain is clogged.
Provided that the flush volume remains normal, the most likely explanation of a slow emptying of the toilet bowl is that the main drain is partly clogged. A second cause of slow toilet bowl draining can be a clogged plumbing vent.
Question: contagious toilet flushing
(June 13, 2014) jim said:
we flush the toilet on the first floor and second floor toilet will also flush just for a few seconds. What is the problem?
Reply:
That's a curious problem, Jim. Perhaps a surge or drop in water pressure is stimulating the fill valve in the second toilet.
Jim, I suspect the toilets are not properly vented, or perhaps not vented at all.
Question: hearing water in the walls
(June 17, 2014) beth said:
hey. since my husband replaced our toilet, i keep hearing water switching on and off (in the walls. almost sounds like the icemaker in the fridge.), and it appears to be going in to the toilet bowl. happens every several minutes. wtf?
Reply: check for running toilet
Beth it appears that the toilet is running. Look for a leaky flush valve, fill valve, or at the gasket between bowl and tank.
Question: toilet flush handle direction causes stress
(July 29, 2014) Scott said:
I installed a new toilet handle (Danco Universal Toilet Handle) and something is wrong because in order to flush the toiletI have to pull the handle up instead of pushing it down. (It is a side mount Toto toilet)
I have tried the handle every which way I can (handle pointing forward, handle pointing backward, handle pointing upward) without solving the problem.
Reply:
The geometry of some replacement flush control handles might indeed swap the direction of movement. You may have found a flush lever intended for mounting on the right side of a flush tank but installed it on the left side. Some of these levers can be inverted by disassembling the flush lever and flipping over the plastic or metal handle-limiting lugs.
Question: toilet sounds like it's flushing but no water enters the toilet bowl
8/21/14 Rachel Foulger said:
On some occasions I press the flush lever and the toilet makes a flushing sound but no water enters the bowl. This happens about once a day but the rest of the time the flush is normal.
Reply:
Rachel
What a fabulous question - I'm baffled. If the toilet is "flushing" where is the water going if it doesn't enter the bowl.
If your toilet has a removable top lid, please lift it off and carefully (not to break it) place it on the floor.
Look into the toilet tank. Grab a camera and use the email at our CONTACT link to send me some sharp photos of what you see along with an image of the toilet brand (usually on the base). If there's a date stamped in the lid or in the tank tell me that too.
I wonder if your toilet is an older "low flush" water saving toilet that uses an internal baffle in the tank.
...
Ask a Question or Search InspectApedia
Use the "Click to Show or Hide FAQs" link just above to see recently-posted questions, comments, replies, try the search box just below, or if you prefer, post a question or comment in the Comments box below and we will respond promptly.
Search the InspectApedia website
Technical Reviewers & References
Publisher's Google+ Page by Daniel Friedman
Click to Show or Hide Citations & References
Mark Cramer Inspection Services Mark Cramer, Tampa Florida, Mr. Cramer is a past president of ASHI, the American Society of Home Inspectors and is a Florida home inspector and home inspection educator. Mr. Cramer serves on the ASHI Home Inspection Standards. Contact Mark Cramer at: 727-595-4211 mark@BestTampaInspector.com
John Cranor is an ASHI member and a home inspector (The House Whisperer) is located in Glen Allen, VA 23060. He is also a contributor to InspectApedia.com in several technical areas such as plumbing and appliances (dryer vents). Contact Mr. Cranor at 804-747-7747 or by Email: johncranor@verizon.net
Carson, Dunlop & Associates Ltd., 120 Carlton Street Suite 407, Toronto ON M5A 4K2. (416) 964-9415 1-800-268-7070 info@carsondunlop.com. The firm provides professional home inspection services & home inspection education & publications. Alan Carson is a past president of ASHI, the American Society of Home Inspectors. Thanks to Alan Carson and Bob Dunlop, for permission for InspectAPedia to use text excerpts from The Home Reference Book & illustrations from The Illustrated Home. Carson Dunlop Associates' provides:

Commercial Building Inspection Courses - protocol ASTM Standard E 2018-08 for Property Condition Assessments
Home Inspection Education Courses including home study & live classes at eleven colleges & universities.
Home Inspection Education Home Study Courses - ASHI@Home Training 10-course program.
Special Offer: Carson Dunlop Associates offers InspectAPedia readers in the U.S.A. a 5% discount on these courses: Enter INSPECTAHITP in the order payment page "Promo/Redemption" space. InspectAPedia.com editor Daniel Friedman is a contributing author.
The Home Reference Book, a reference & inspection report product for building owners & inspectors.
Special Offer: For a 10% discount on any number of copies of the Home Reference Book purchased as a single order. Enter INSPECTAHRB in the order payment page "Promo/Redemption" space. InspectAPedia.com editor Daniel Friedman is a contributing author.
The Home Reference eBook, an electronic version for PCs, the iPad, iPhone, & Android smart phones.
Special Offer: For a 5% discount on any number of copies of the Home Reference eBook purchased as a single order. Enter inspectaehrb in the order payment page "Promo/Redemption" space.
The Illustrated Home illustrates construction details and building components, a reference for owners & inspectors.
Special Offer: For a 5% discount on any number of copies of the Illustrated Home purchased as a single order Enter INSPECTAILL in the order payment page "Promo/Redemption" space.
The Horizon Software System manages business operations,scheduling, & inspection report writing using Carson Dunlop's knowledge base & color images. The Horizon system runs on always-available cloud-based software for office computers, laptops, tablets, iPad, Android, & other smartphones.

Thanks to reader J.D. for discussing troubles getting a toilet to flush properly. The supposition that the toilet flushing problem was due to a defective toilet bowl, versus due to improper fill and flush control setup, was tested ad nauseam by this homeowner, her son, plumbers, and plumbing suppliers. 05/29/2010
"Water Saving Tips: For Residential Water Use, Indoors and Out", Alliance for Water Efficiency, 300 W Adams Street, Suite 601 Chicago, Illinois 60606, Tel: 773-360-5100, 866-730-A4WE, Email: jeffrey@a4we.org, web search 12/14/11, original source: plumbingefficiencyresearchcoalition.org/
Composting Toilet System Book: A Practical Guide to Choosing, Planning and Maintaining Composting Toilet Systems, David Del Porto, Carol Steinfeld. Quoting an Amazon review: Del Porto's book is the definitive composting toilet book at this time. There is nothing even close. His book covers all aspects of composting toilet systems and touches on graywater issues as well. He treats the composting toilet as part of the home system. If a person is seriously interested in installing/having a composting toilet, this book can save him/her all of the mistakes people usually make. He even (carefully) explodes some of the advertising myths that the purveyors of composting toilets would have us believe. The book covers ready-made systems as well as home built systems. As trite as this sounds, the book truly is a must for someone considering installing composting toilet.
The Humanure Handbook: A Guide to Composting Human Manure, 3rd Ed., Joseph C. Jenkins. Quoting part of an Amazon review: The Humanure Handbook provides a wealth of thoroughly researched, hands-on experience and scientific data that demonstrates that after a natural process called "thermophilic" bacterial digestion, which occurs in a compost bin and where all pathogens are killed, excreta is then converted to a valuable nutrient for agriculture and thereby completing a full-circle life cycle. Most importantly, effluent can then be kept out of our drinking water and not treated or referred to as an undesirable "waste product".
The information is conveyed in a humorous, folksy, down-to-earth easy to understand style along with drawings, charts, tables, photos and a wealth of resource info for further research. Jenkins' website has a forum for sharing more info, experiences and to answer any and all questions in the process of humanuring and constructed wetland gray water treatment.
Thermal composting of fecal matter as treatment and possible disinfection method--laboratory-scale and pilot-scale studies, B. Vinneras, A. Bjorklund, H. Jonsson. Quoting Amazon review: When using toilets where the urine and faeces are collected separately for reuse as nutrients in agriculture, the collected matter should be disinfected. One way to do this is by thermal composting. Composting of different material mixes was investigated in a laboratory-scale experiment. This showed that the best mixture for dry thermal composting was a mix of faeces, food waste and amendment. The urine was collected separately by use of urine-diverting toilets. A new method was developed to mathematically evaluate and estimate the safety margins of pathogen inactivation during thermal composting. The method is based upon a mathematical calculation of the number of times total inactivation (at least 12log"1"0 reduction) of the organisms is achieved. In a pilot-scale experiment, the disinfection of a faeces/food waste mix was performed with a calculated safety margin of more than 37 times the total die-off of Enteroviruses and some 550 times that of Ascaris. Thus, well functioning composting seems to be effective for disinfection of faecal matter. To get a high temperature in all of the material, the reactor has to have sufficient insulation. A major disadvantage is the initial need for handling the raw un-disinfected material. The degradation of the organic matter in the compost was almost 75%, resulting in a small final volume that could safely be recycled.
Experiences with a composting toilet article from: Countryside & Small Stock Journal, available as HTML download. Quoting Amazon review: This digital document is an article from Countryside &amp Small Stock Journal, published by Countryside Publications Ltd. on May 1, 1994. The length of the article is 1516 words. The page length shown above is based on a typical 300-word page. The article is delivered in HTML format and is available in your Amazon.com Digital Locker immediately after purchase. You can view it with any web browser.
From the supplier: A composting toilet is a good alternative to propane burning toilets, but it also has many problems. The worst part is emptying the waste and compost every 4-6 weeks. Other problems are the fan that must be kept running constantly and bug infestation.
Decentralized Systems Technology Fact Sheet: Septic Tank - Soil Absorption Systems, U.S. EPA, PDF Document provides basic information about septic tanks and drainfields.
US EPA Onsite Wastewater Treatment Systems Manual [online copy, free] Top Reference: US EPA's Design Manual for Onsite Wastewater Treatment and Disposal, 1980, available from the US EPA, the US GPO Superintendent of Documents (Pueblo CO), and from the National Small Flows Clearinghouse. Original source http://www.epa.gov/ORD/NRMRL/Pubs/625R00008/625R00008.htm Onsite wastewater treatment and disposal systems, Richard J Otis, published by the US EPA. Although it's more than 20 years old, this book remains a useful reference for septic system designers. U.S. Environmental Protection Agency, Office of Water Program Operations; Office of Research and Development, Municipal Environmental Research Laboratory; (1980)
Eco John® Innovative Toilet Solutions, Global Inventive Industries, Fountain Valley CA, PDF, product brochure
"International Private Sewage Disposal Code," 1995, BOCA-708-799-2300, ICBO-310-699-0541, SBCCI 205-591-1853, available from those code associations.
"Manual of Policy, Procedures, and Guidelines for Onsite Sewage Systems," Ontario Reg. 374/81, Part VII of the Environmental Protection Act (Canada), ISBN 0-7743-7303-2, Ministry of the Environment,135 St. Clair Ave. West, Toronto Ontario M4V 1P5 Canada $24. CDN.
Manual of Septic Tank Practice, US Public Health Service's 1959.
...
Books & Articles on Building & Environmental Inspection, Testing, Diagnosis, & Repair
The Home Reference Book - the Encyclopedia of Homes, Carson Dunlop & Associates, Toronto, Ontario, 25th Ed., 2012, is a bound volume of more than 450 illustrated pages that assist home inspectors and home owners in the inspection and detection of problems on buildings. The text is intended as a reference guide to help building owners operate and maintain their home effectively. Field inspection worksheets are included at the back of the volume. Special Offer: For a 10% discount on any number of copies of the Home Reference Book purchased as a single order. Enter INSPECTAHRB in the order payment page "Promo/Redemption" space. InspectAPedia.com editor Daniel Friedman is a contributing author.

Or choose the The Home Reference eBook for PCs, Macs, Kindle, iPad, iPhone, or Android Smart Phones. Special Offer: For a 5% discount on any number of copies of the Home Reference eBook purchased as a single order. Enter INSPECTAEHRB in the order payment page "Promo/Redemption" space.